Once you've been to Sardinia, you'll realise why this dream destination is sometimes referred to as the Caribbean of Europe. It's popular with water sports enthusiasts, but caravanners and motorhome owners will also find great conditions for a camping holiday by the sea or road trip across the island. Freeontour has put together the most important information you'll need for your next camping adventure in Sardinia.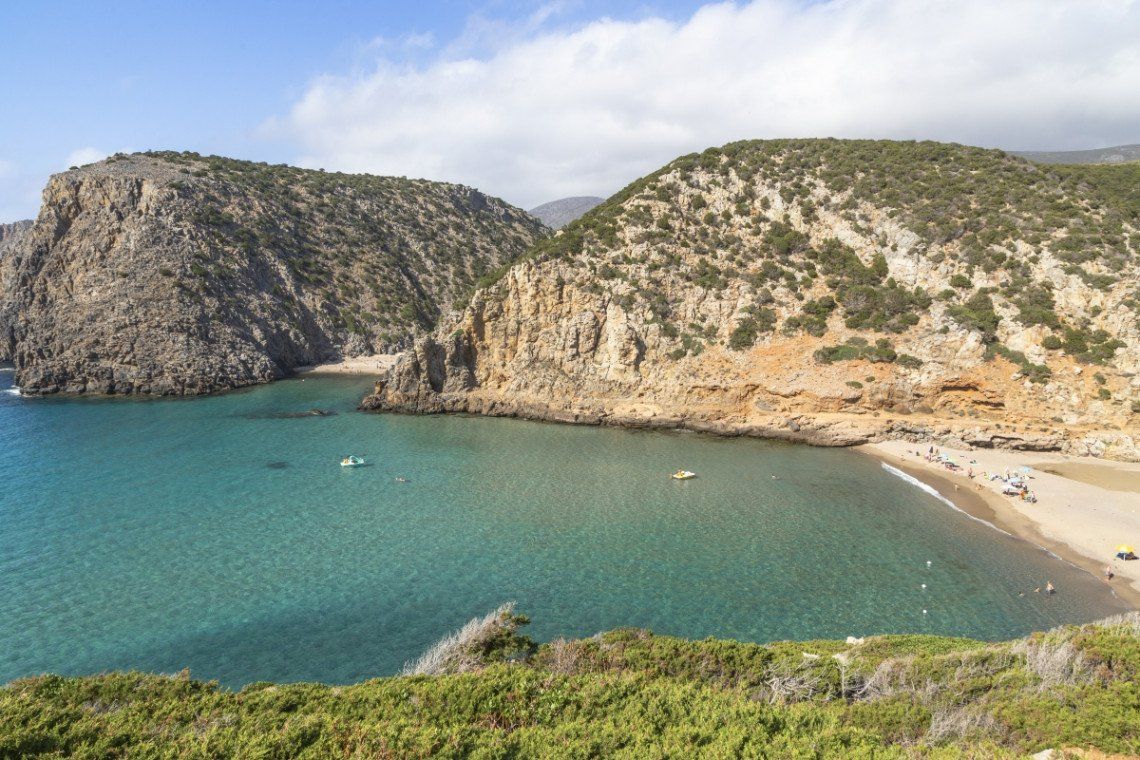 Sardinia offers countless bays and beaches, such as here in the bay of Cala Domestica near Buggerru on the west coast. Photo: Simone Antonazzo / Open Library ENIT
Where exactly is Sardinia?
Sardinia is the second largest island in the Mediterranean Sea. Covering an area of 23,821 km², it has a coastline that is 1,849 km long. Sardinia is only about 12 km south of Corsica in the Tyrrhenian Sea and almost 200 km west of the Italian mainland, roughly on the same latitude as Rome. The island stretches about 270 km north to south and about 145 km east to west. By way of comparison, Sicily, the largest Mediterranean island, is only about 1,600 km² larger than Sardinia; Corsica is only about a third the size of Sardinia; and Mallorca is just one-sixth of the area of Sardinia.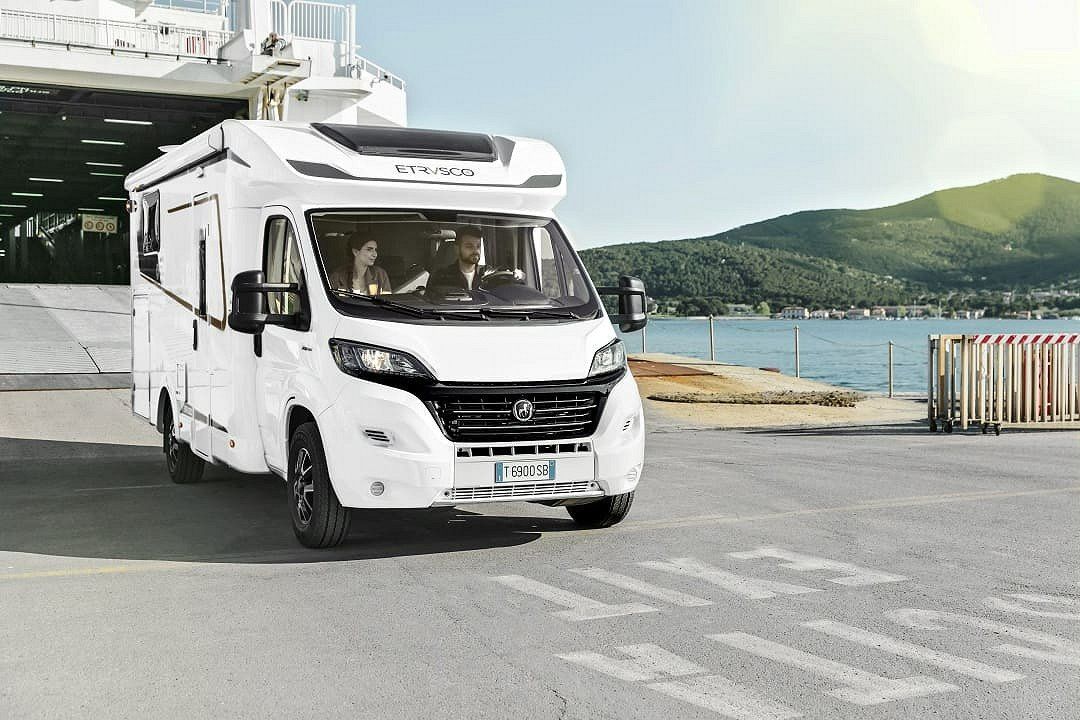 Depending on the port of departure, the crossing to Sardinia can take a few hours to more than a day. Photo: Etrusco
Which ferry services operate to Sardinia?
A number of ferry services connect Sardinia to mainland Italy: there are even connections to Spain, France and naturally the French island of Corsica. Most ferries arrive in Olbia on the northeast coast of Sardinia and usually depart from Livorno or Civitavecchia in Italy. Moreover, the ports of Genoa, Piombino, Naples and Palermo are connected to Sardinia by various ferry routes and ports. Several ferry operators offer crossings to Sardinia, including MOBY Lines, Corsica Sardinia Ferries, GNV and Grimaldi Lines, a Freeontour partner, which grants a 10% discount on online bookings upon presenting the Freeontour member card.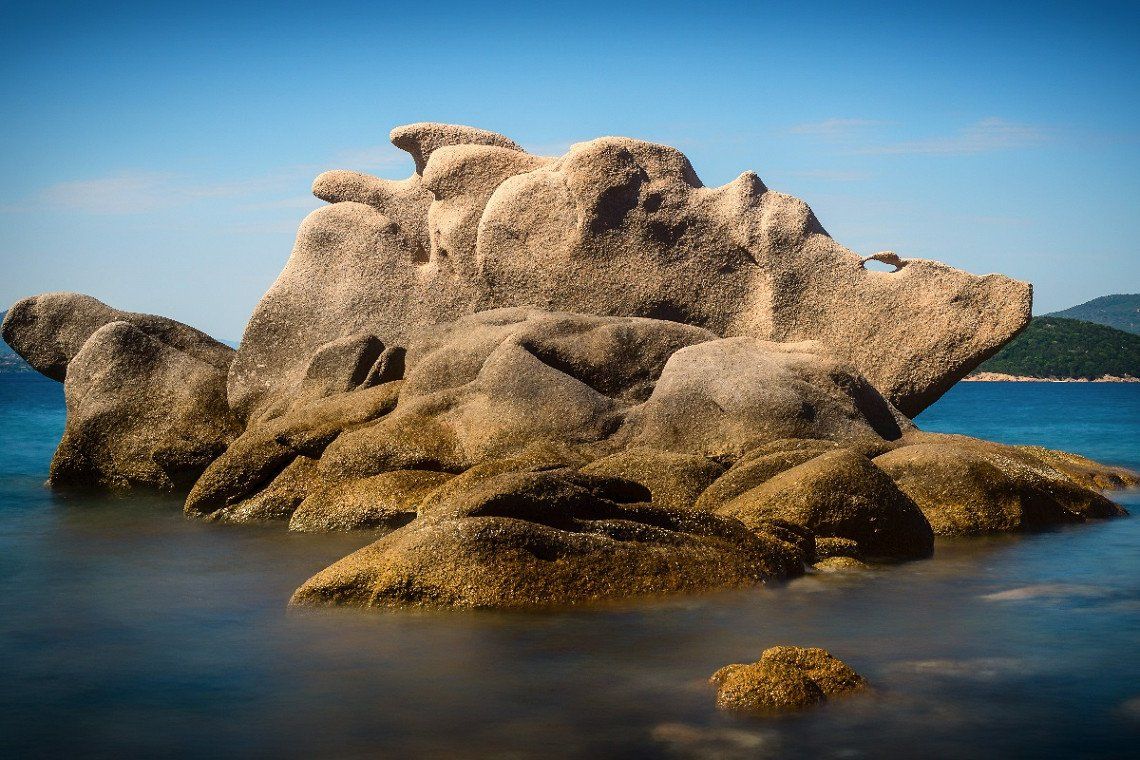 Unusual rock formations – like here on the Costa Smeralda – can be found frequently along the coast of Sardinia. Photo: Pixabay
When is the best time to go camping in Sardinia?
Sardinia is generally best visited between May and October due to the mere fact that most campsites by the sea are open during this time. With temperatures of up to 40 °C, the peak season in July and August attracts the majority of holidaymakers who flock to the many beautiful beaches to cool off by sunbathing or doing water sports. If you want to go hiking, cycling, mountain biking, horseback riding or climbing in addition to water sports or if you want to visit the sights of the island when it's not too hot, opt for the off-season in spring or autumn. You can even combine these activities with a beach holiday in September and October, since the water is still above 20 °C. After all, Sardinia boasts roughly 278 days of sunshine a year – hardly surprising then that it's a popular island to visit. If swimming doesn't appeal to you, there's still enough to see and do in Sardinia in spring or November when it's still relatively mild. December, January and February tend to be the coolest months with the most rainfall in Sardinia.

Our tip: although it's usually warm in Sardinia even in the off-season, the nights can get cold outside of the peak season. So don't forget to pack warm clothing for your caravan holiday or motorhome trip in this Mediterranean island.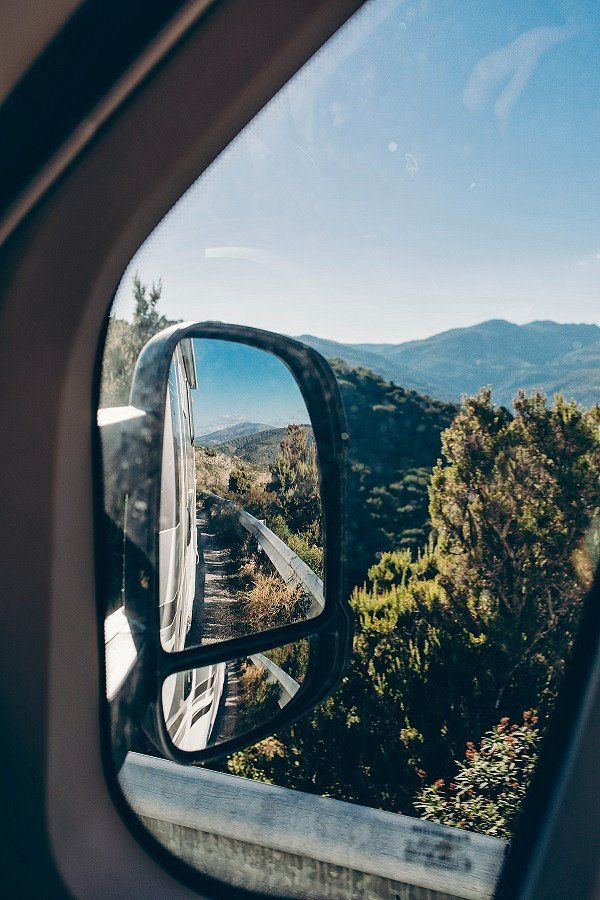 Many roads in Sardinia are suitable for motorhomes, but hard shoulders for emergency stops are quite rare. Photo: Sunlight / Martin Erd
Are the roads in Sardinia suitable for motorhomes?
Generally speaking, Sardinia has a well-developed road network, most of which is also suitable for motorhomes and caravans. This is true especially of the clearways (Strade Scorrimento Veloce/SSV) and the larger country roads (Strade Statale/SS), but also to a large extent of the smaller provincial roads (Strade Provinciale/SP) in the hinterland.

Dirt roads and narrow side roads, which are usually white on maps (Strade Bianche), can become quite challenging for larger cars even and should, therefore, be avoided by campervans, motorhomes and caravans.

This also applies – as in almost all of Italy – to the entrance to towns. Small mountain villages in particular can sometimes have very narrow thoroughfares.

This is why we always recommend you find a parking space or pitch outside of the town or village early on and then explore the place on foot or by bike. It's also important to keep an eye out for signs prohibiting motorhomes, which are often found in highly frequented tourist spots.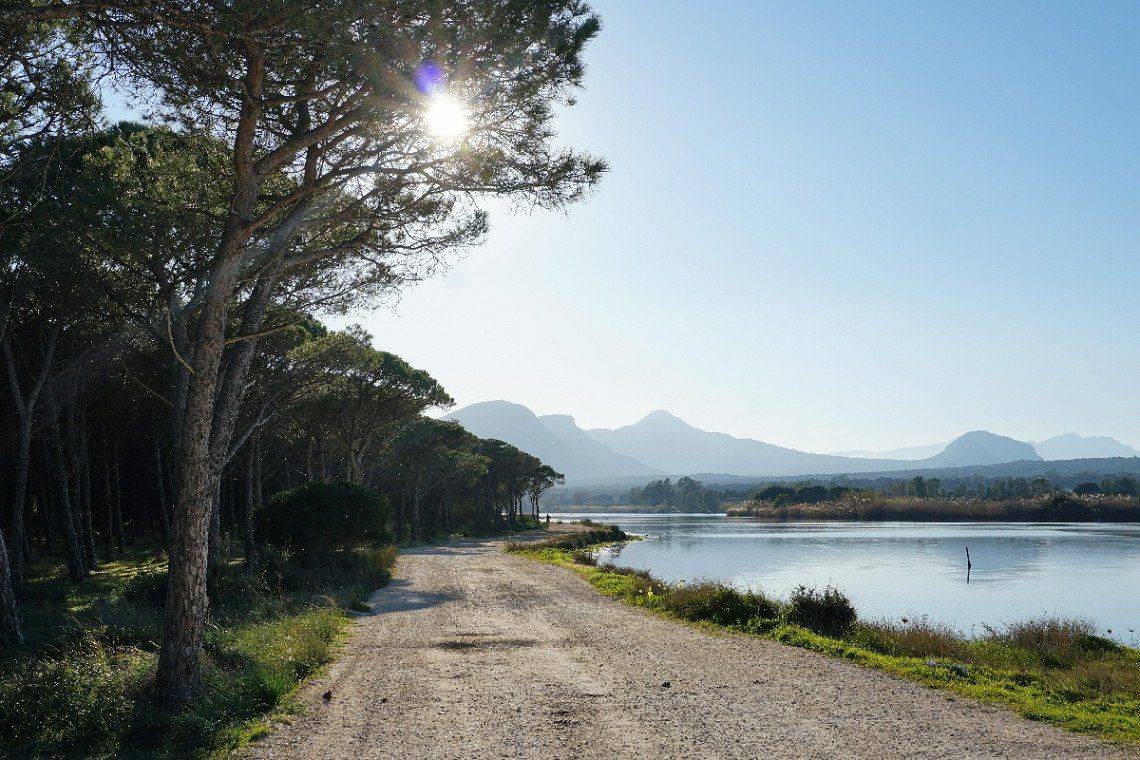 Potholes are not uncommon in Sardinia, especially on dirt roads. Photo: Pixabay
Toll roads, speed limits and road conditions in Sardinia
The good news first: unlike on the Italian mainland, there are currently no toll roads in Sardinia. The slightly worse news – depending on your perspective: you always have to plan a little more time to get anywhere in Sardinia. One reason is that the maximum speed permitted on clearways and country roads is mostly 90 km/h and the speed limit in built-up areas is 50 km/h unless stated otherwise. The speed limits for caravans and heavy motorhomes are the same as in mainland Italy.

The condition of the roads will also contribute to slowing you down, as a) you will frequently come across potholes, and b) many serpentine roads – apart from the clearways – zigzag their way through the landscape on the coast and inland. For example, the coastal road from Alghero towards Macomer twists and turns its way up the promontory and back down to the sea. You won't get there quickly, but the great panoramic views are definitely worth the slower pace. Expect a lot of traffic on the coastal roads in July and August, so plan more time to get to your destination or set off early in the morning during these months.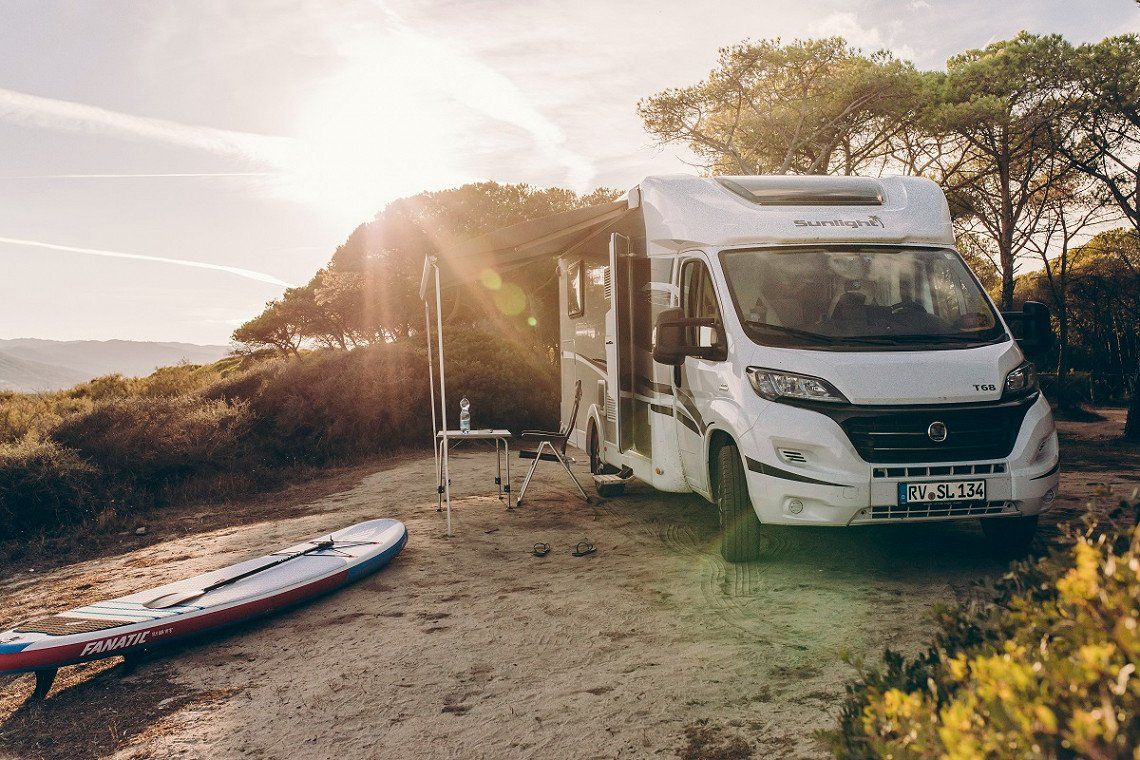 Sardinia has many campsites, especially along the coast. Photo: Sunlight / Martin Erd
Where are the most campsites in Sardinia?
As previously mentioned, most campsites in Sardinia are only open between May and October. Nevertheless, an array of campsites welcome guests in April and November, with only a few open all year round. But many RV sites can be used throughout the year. Most of the official campsites are on the north and east coasts of Sardinia, making them the ideal base for seaside camping or a motorhome trip along the coast. However, the number of Agricampeggio businesses, which offer small natural campsites in rural areas on farms, has also been growing lately. There are also several campsites on the south coast and west coast.
Online Bookable
Book a campsite on Sardinia now!
You can book these campsites in Sardinia directly online via Freeontour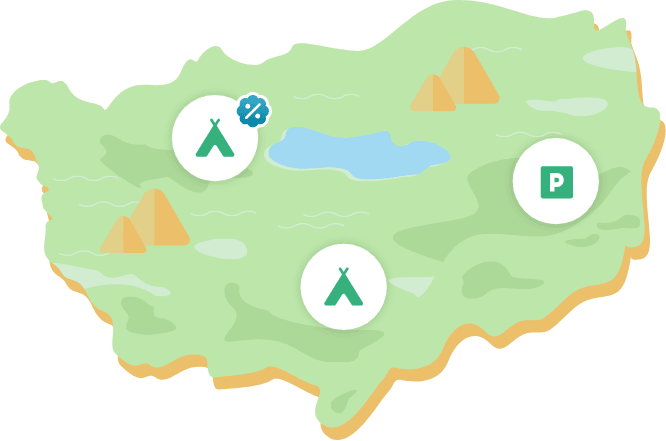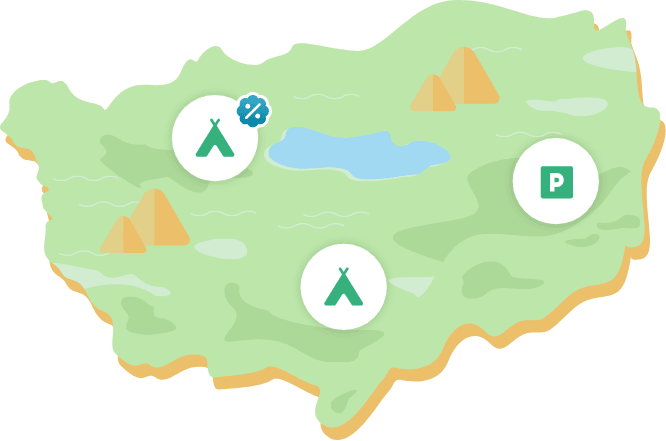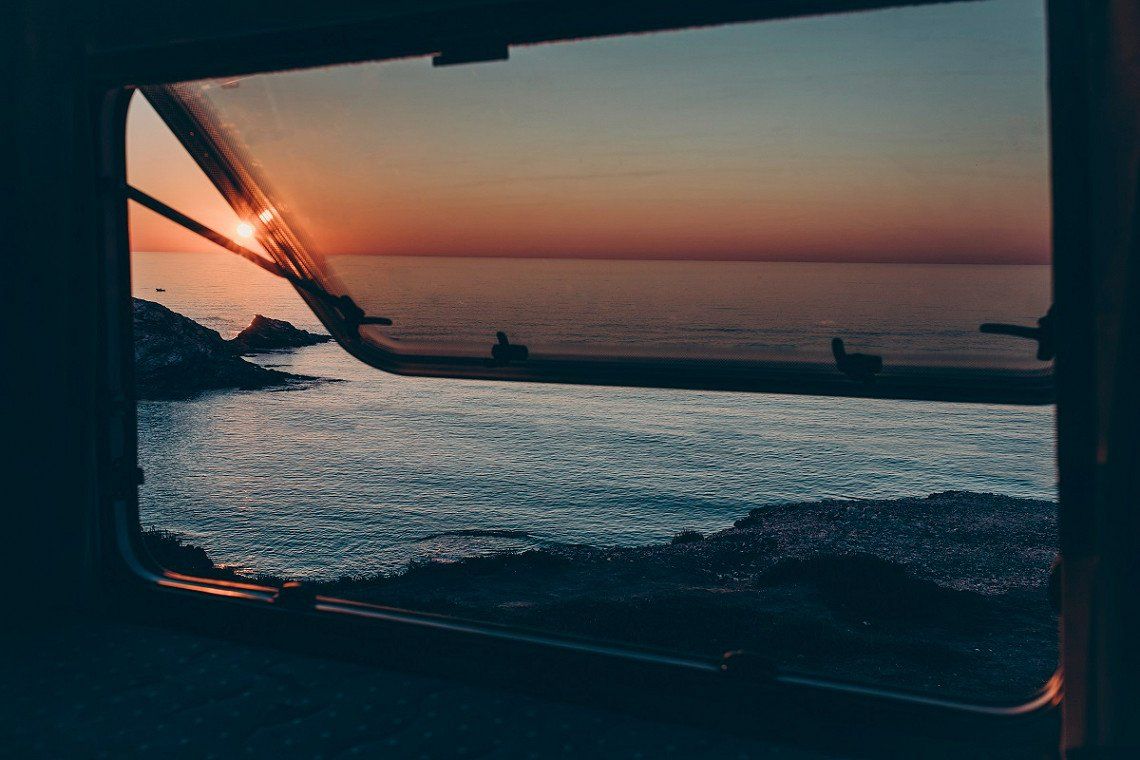 Many campsites and pitches in Sardinia are right by the sea, so you can watch the sunset from your campervan. Photo: Sunlight / Martin Erd
Sardinia is widely considered to be less popular with tourists than the neighbouring French island of Corsica. If coming over during peak season, make sure you book your campsite as early as possible. There are a variety of campsites to choose from, ranging from large campsites with an entertainment programme for children to small natural campsites if you're looking for some peace and quiet. Some seaside resorts even set up small amusement parks with merry-go-rounds, bouncy castles, trampolines and more during the high season.

Incidentally, wild camping or free standing is not allowed in Sardinia, nor in Italy in general. Although various blogs and forums claim that free standing is tolerated under certain conditions, the Sardinian authorities have imposed increasing penalties for wild camping in recent years.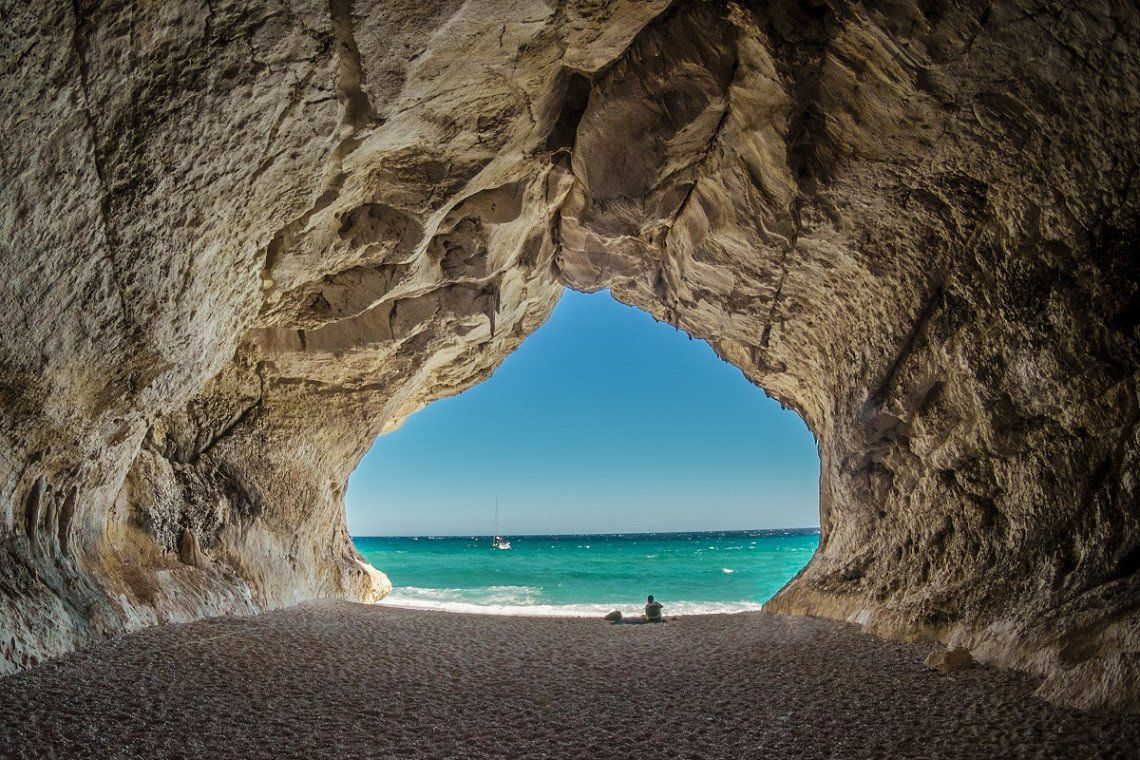 The beautiful beaches in Sardinia – here at Cala Gonone – are not only perfect for swimming, but also for snorkelling, diving and surfing. Photo: Pixabay
What is there to do in Sardinia?
Let's get straight to the point: Sardinia is a large island, which makes it almost impossible to discover all of the island's highlights on just one holiday. Sardinia is simply too diverse. It's with a heavy heart that you'll have to pick out the best sights and activities based on your interests.

You'll not only come across countless Caribbean sandy beaches and secluded bays where you can sunbathe, swim, snorkel, dive, go stand-up paddling, surf and do other water sports, but you'll also find a wide range of things to see and do in the hinterland.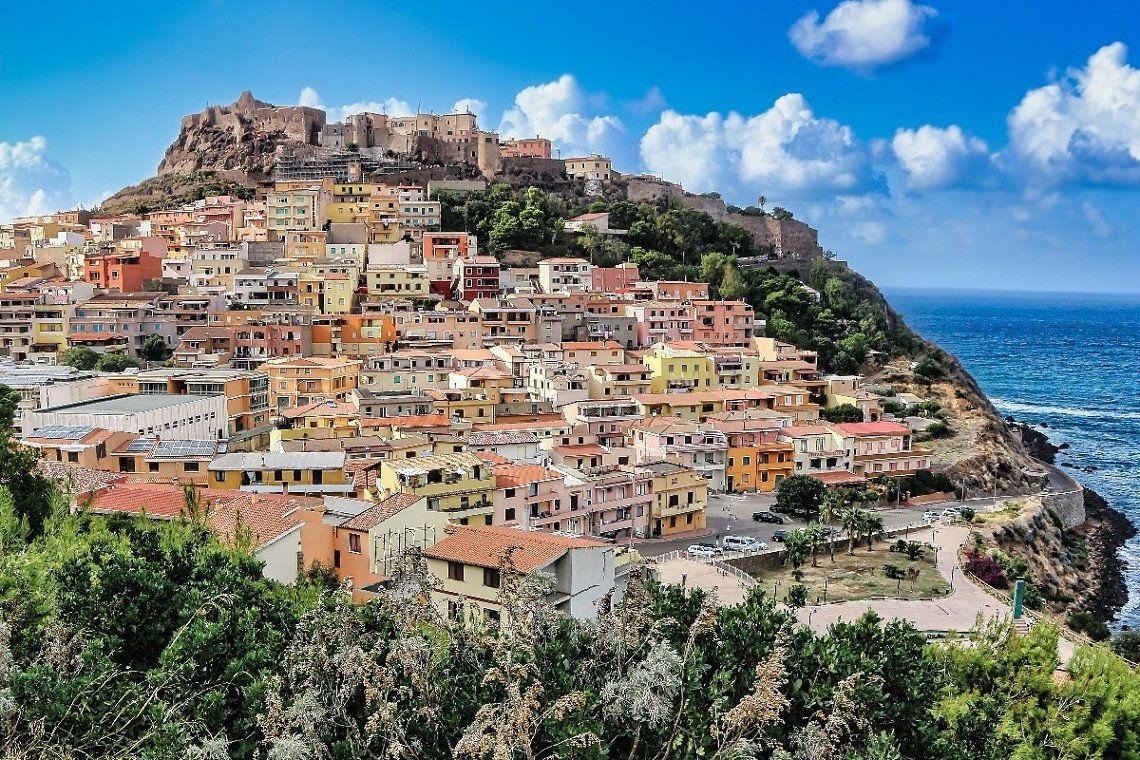 If travelling to a town, such as Castelsardo here, make sure you look for a parking space early on. Photo: Pixabay
While the coast alternates between long sandy beaches and high foothills, the interior of the island is abundant in hilly and mountainous landscapes of volcanic origin, which are crossed by large plains. There are 33 small and large natural reserves in Sardinia, which are ideal for hiking, mountain biking, cycling and horseback riding. Four of them are national parks and three are Marine Protected Areas. There are also many historical and prehistoric sights, charming mountain villages, exciting geological formations and a varied flora and fauna – not forgetting the small offshore islands, which are also worth a visit.

Curious about Sardinia?
Freeontour has put together a selection of highlights for camping holidays and motorhome trips in Sardinia which will be presented here in a couple of weeks. Whatch out for it!