If you are looking for an excellent place to camp in spring - then take a good long look at Corsica. On the fourth largest Mediterranean island, the camping season for motorhome and caravans often starts as early as March - with the beautiful flowering Maquis, pretty campsites at the sea, and superb hikes through the island's countryside. Freeontour offers you practical tips and information about Corsica and ferry connections to the island, and gives you the chance to put together your own individual travel route using the free route planner.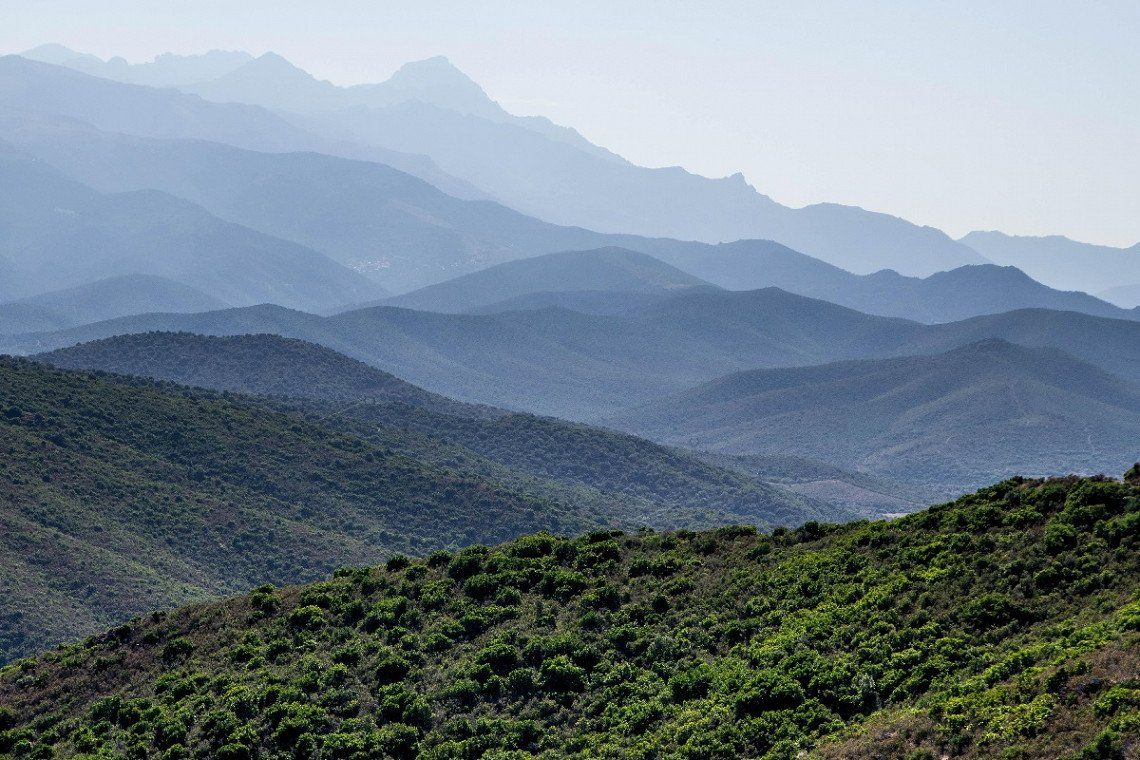 The impressive hinterland of Corsica with its many mountain peaks and ridges. Photo: Pixabay.
The best times to travel to Corsica
Of course, many places pride themselves on having a very specific charm in any season. And Corsica is no different. Indeed, Corsica's countryside changes dramatically throughout the year, and therefore offers a wide variety of activities and charm. But more than anything, the Mediterranean climate on Corsica from spring to late into autumn makes it an ideal destination for camping holidays with a caravan, motorhome or camper van. Even in November, the average coastal temperature on Corsica is still 18 °C, and in February and March, the temperatures are already in the region of 15 to 20 °C. But spring on Corsica, between March and May, is certainly the most impressive, when the Maquis is in full bloom, with all its colours and fragrances. All in all, the perfect time to go hiking or cycling, and the temperatures are also ideal for climbers wanting to explore the cliffs. But for mountain tours at high altitudes, we recommend you wait until at least mid-May, otherwise it could turn into a snowy winter holiday. And with the coastal water temperatures already exceeding 18 °C from the end of May, you can climb, camp, hike and bathe without any restrictions. This is perhaps the best time to visit Corsica for a seaside holiday, because the water is already comfortably warm but the beaches are still relatively empty. And the campsites generally have spaces until the end of June.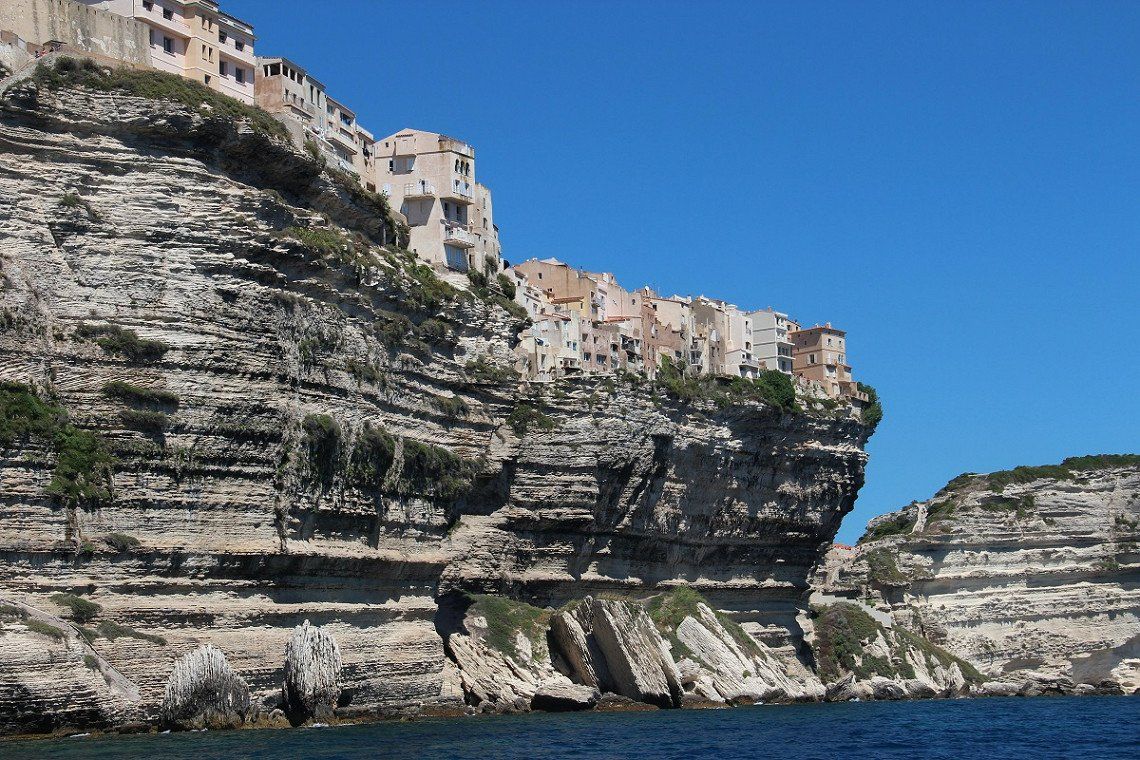 The old town of Bonifacio stands high on the cliffs overlooking the coast of Corsica. Photo: Pixabay
Beaches and attractions on Corsica
Corsica has the most mountains and peaks of any island, with many reaching over 2,000 m high. No wonder then, that the island is also known as the Mountain in the Sea, with the countryside offering a wide range of opportunities for hiking tours. And beneath the backdrop of the impressive rocky landscape, there are numerous beaches for bathing trips and walks along the seashore. On the east coast, south of Phare d'Alistro (Alistro Lighthouse) and south of Porto Vecchio there are numerous naturist beaches and holiday complexes, and the prettiest seaside campsites on Corsica. And it's worth taking a trip around the island to visit the different little towns and mountain villages with their hidden attractions. But try to do this in spring, when they are not so overrun with tourists. For example, take time to visit the town of Sartène and the steep coast at Bonifacio, the southernmost city on Corsica. Bonifacio old town sits high up on the white chalk cliffs, and from the viewing platform below the old town you can even see as far as Sardinia on a good day. Also be sure to see the places of interest in Ajaccio on the west coast, and visit the harbour town of Bastia in the north-east.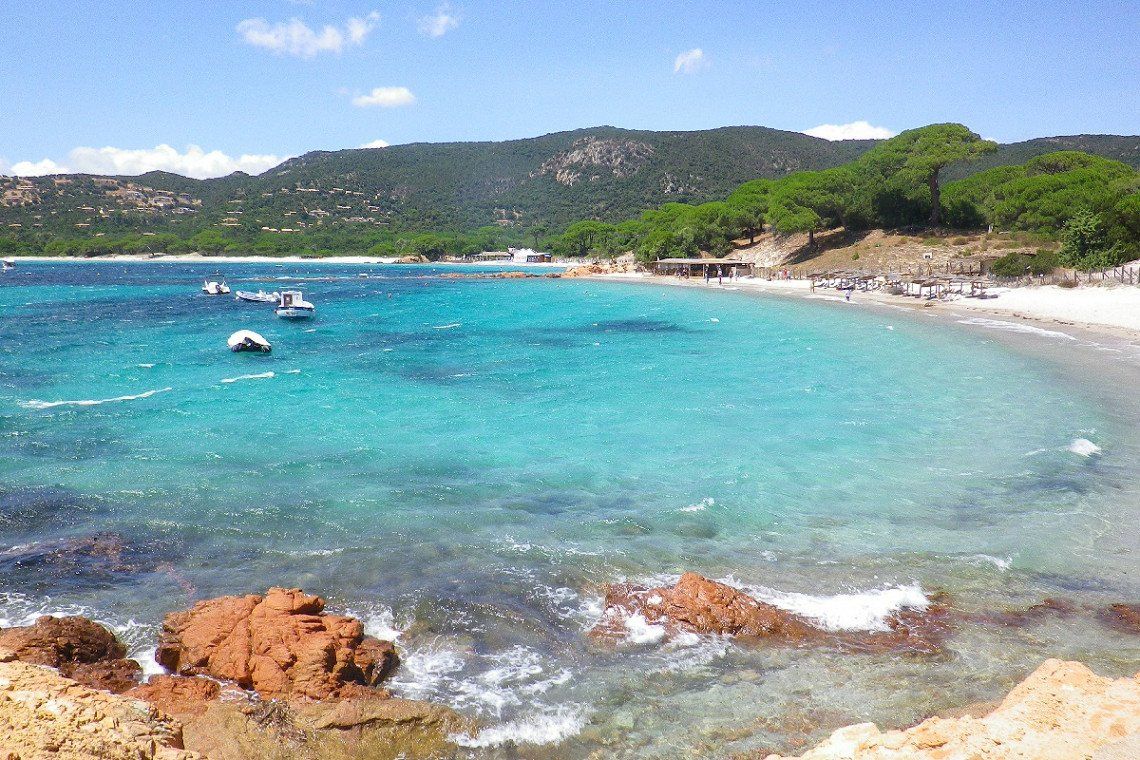 The beach Palombaggia is generally considered to be one of the most beautiful on the island of Corsica. Photo: Pixabay 
If you ask where the best beaches on Corsica are, you will receive different answers. Really the question should be, do you prefer somewhere lively or somewhere quieter. In spring you are still likely to find quieter areas on the popular beaches, like Palombaggia beach in Porto Vecchio. This is an exquisite bay, with white sand, turquoise-blue water and reddish rocks. But there are also many, many other beautiful beaches and bays to be found along Corsica's 1,047 km of coastline, for example on the north coast between Calvi and Saint-Florent, around the Cap Corse, and along the south coast between Porto Vecchio and Bonifacio. Many of the beaches on Corsica are very gently sloping, so that they are perfect for camping holidays with small children.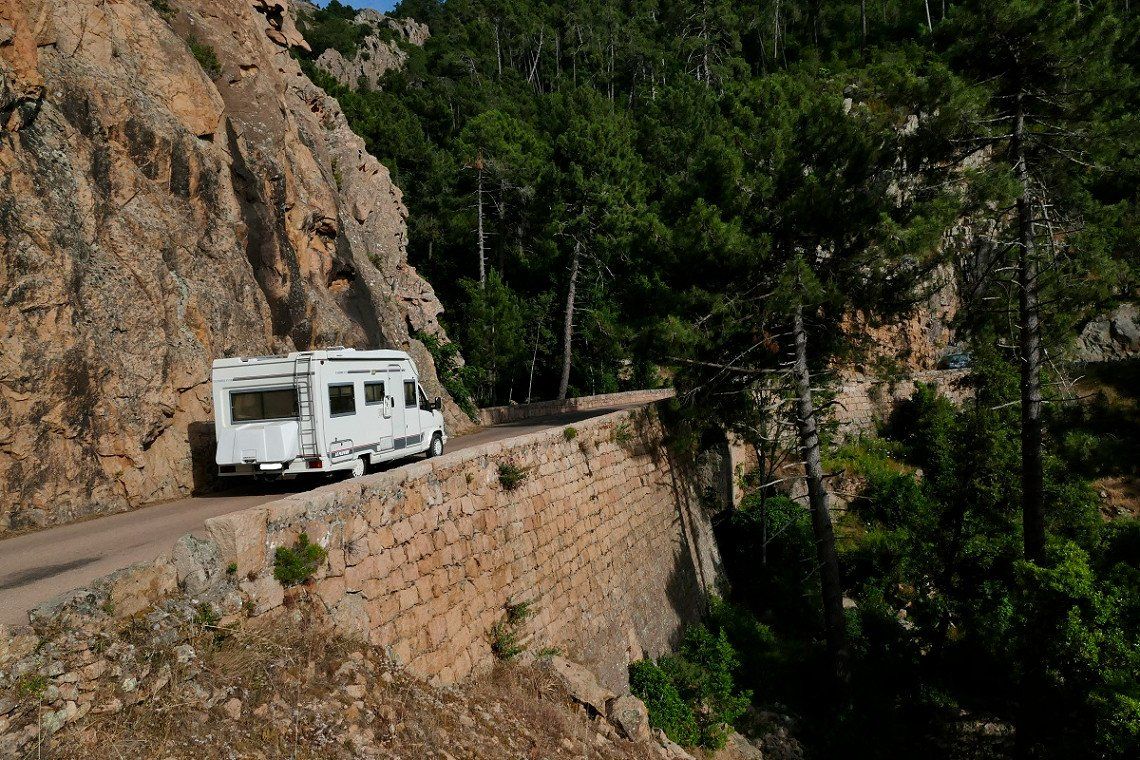 Travelling with your motorhome on Corsica on the Calanches de Piana. Foto: Claudia Rothkamp
Travelling with your motorhome on Corsica
You need to be careful if you are travelling with a motorhome or caravan on Corsica: The road conditions are very variable, as are the widths of the roads. Between the larger towns, the roads are in good condition and there are also some fast roads. The traffic conditions along the flat east coast are, for example, good. However, you need to take care in the rocky areas of the west coast and particularly in the mountains, where the roads can be very narrow and in poor condition. In places they are only single-track and sometimes not even allowed for motorhomes. Even travelling along the D 81 through the Calanche area with a motorhome requires good nerves, especially if you meet a coach or lorry coming from the opposite direction. You can reach many of the attractions using public transport, particularly in the towns. In highseason you'll also find shuttle services into the mountains.
Information for travelling on Corsica
If you are travelling on Corsica with a motorhome, do make note of the following information: 
1. Unless otherwise indicated, the rule is right before left, i.e. give way to traffic coming from the right, including side streets and on roundabouts. 
Speed limits:
- 50 km/h within urban areas
- 90 km/h on country roads
- 110 km/h main roads
2. You have to reduce your speed if it is raining: 
- 50 km/h within urban areas, if there are no signs indicating otherwise
- 80 km/h on country roads
- 100 km/h main roads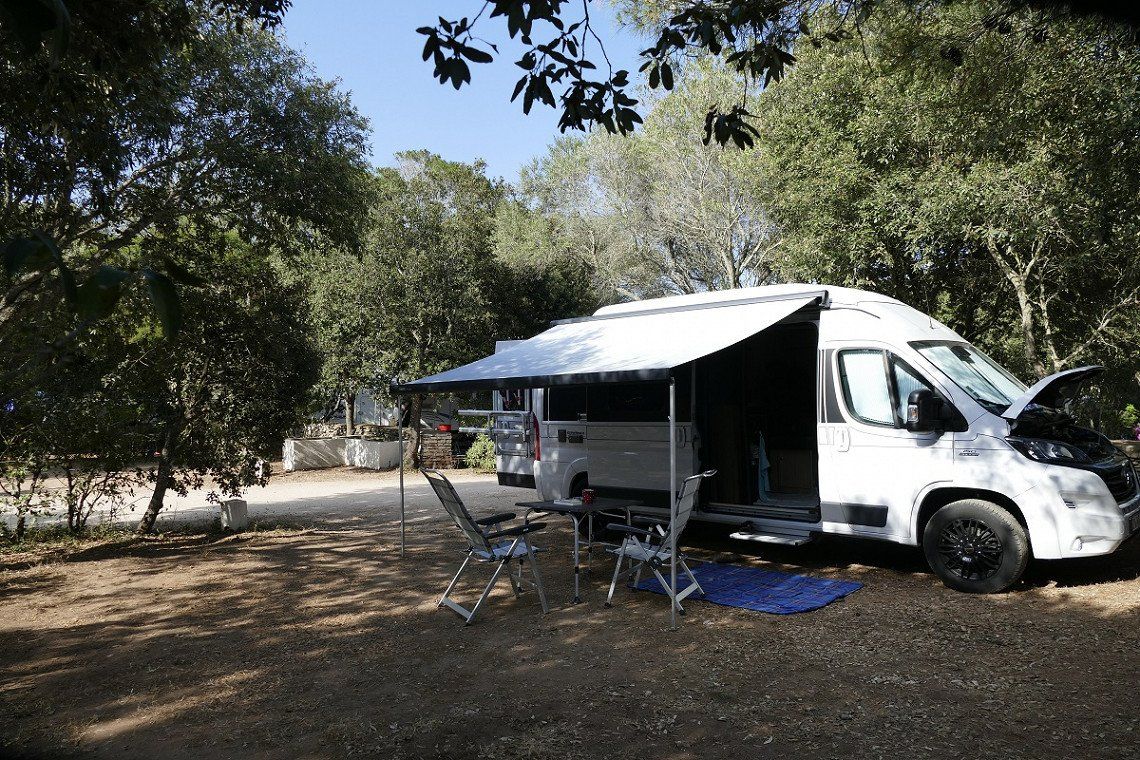 There is a large selection of campsites of different categories on Corsica. Photo: Claudia Rothkamp 
Camping on Corsica
Right at the sea in your own motorhome, what could be better? Anyone travelling with a caravan, motorhome or camper van will find himself well catered for on Corsica, because there really is an enormous selection of campsites here: In fact, there are over 200 campsites, predominately at the sea, but also some further inland. And what's more, dogs are allowed almost everywhere and are welcomed in the majority of places on Corsica. Considering the sheer number of campsites, almost every camping wish is catered for here - from very simple pitches to extremely comfortable campsites focussing strongly on quality. Some have retained their natural aspect and are somewhat uneven, but the majority offer an electric hook-up. But it's always worth having an extension lead tucked away in your kit. Many of the campsites also have their own shops; however, we recommend you bring some supplies with you because imported goods and Corsican products can be pretty expensive during the peak season.

The campsites locations are simply fantastic, with the majority of them right at the sea, but the best campsites also have their own pool and sauna, great restaurants with Corsican dishes, an entertainment programme and miniclub for kids. Freeontour offers you a selection of campsites and tips to find the best Campsites on Corsica at the end of this piece.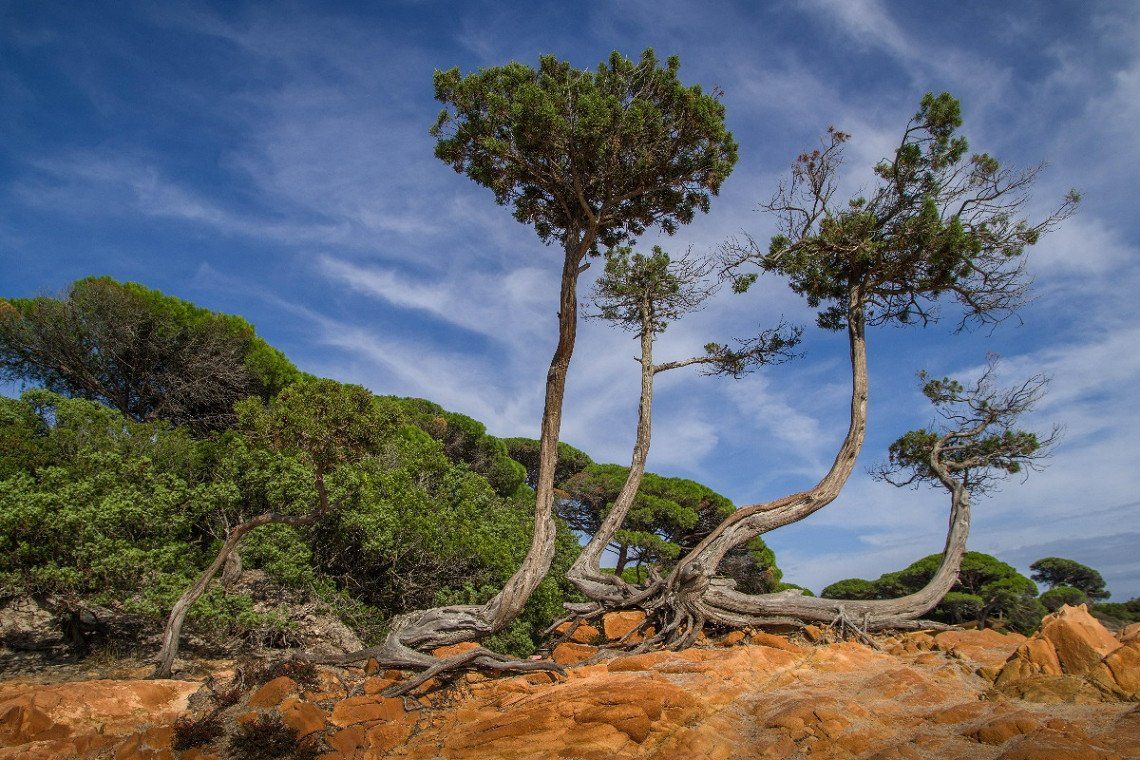 Occasionally, the nature on Corsica is evidence of the power of survival. Photo: Pixabay
Campsite opening times on Corsica
Not all the campsites on Corsica are open all year round, with majority starting the season sometime between March and April. But do check the campsite opening times in advance. If you want a really special experience, try an overnight in the mountains in a survival sack. You can book this outdoor adventure through a local tourist guide. Note: Wildcampers will be fined €400! Wild camping is not allowed on the island. Wild camping is not desirable on the island. In the south of Corsica, some campsites have even decided in recent years not to use supply and waste disposal stations so as not to attract day visitors who then return to wild camping.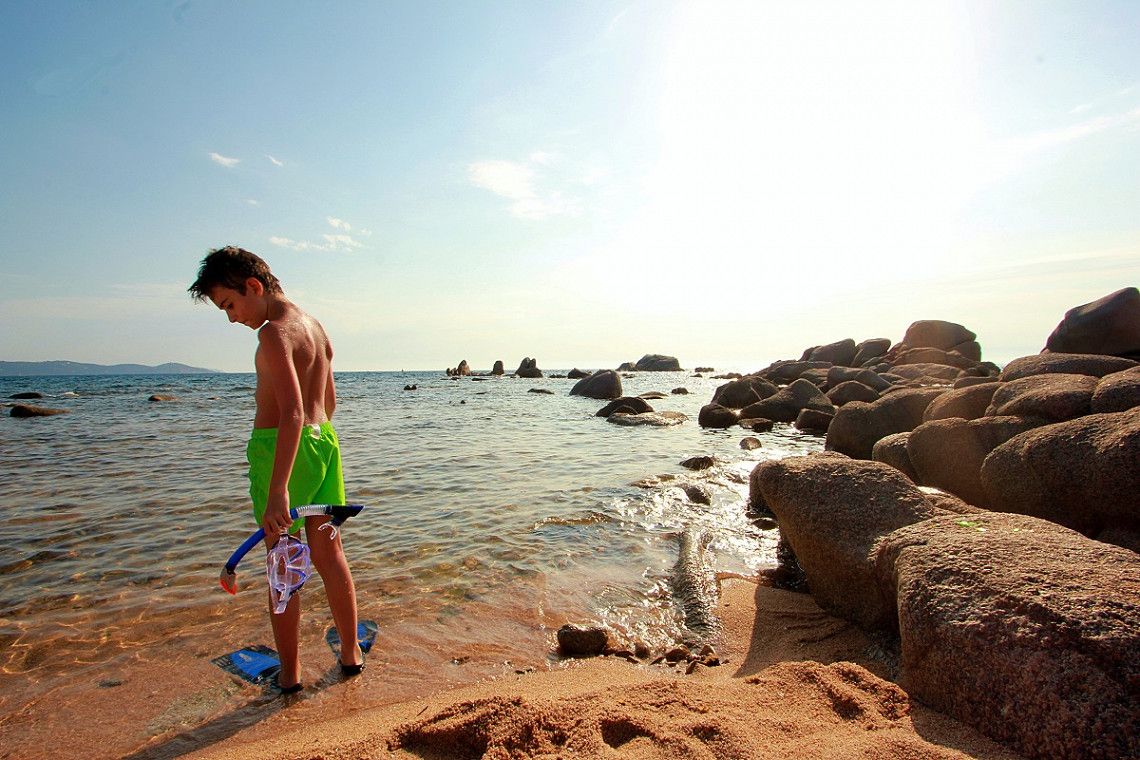 Corsica also offers great opportunities for snorkelling and diving. Photo: Pixabay
Activities on Corsica
It's not only campers who are welcome on Corsica, families are too, and you can see that on the campsites. Many have entertainment programmes for children, or a Kid's Club for group organised fun and games. Not forgetting the children's disco in the evening. The leisure activities on Corsica range from spa facilities, riding, sporting activities such as cycling and mountain biking, sport climbing and mountaineering tours, to water sports such as diving, surfing and canoeing. There is something for everybody, but more than anything, the island is a paradise for hikers. Corsica offers easy walking trails, more demanding hiking routes and even high alpine mountain tours. But thanks to Corsica's geography, wherever you hike you are always rewarded with an amazing view of the sea.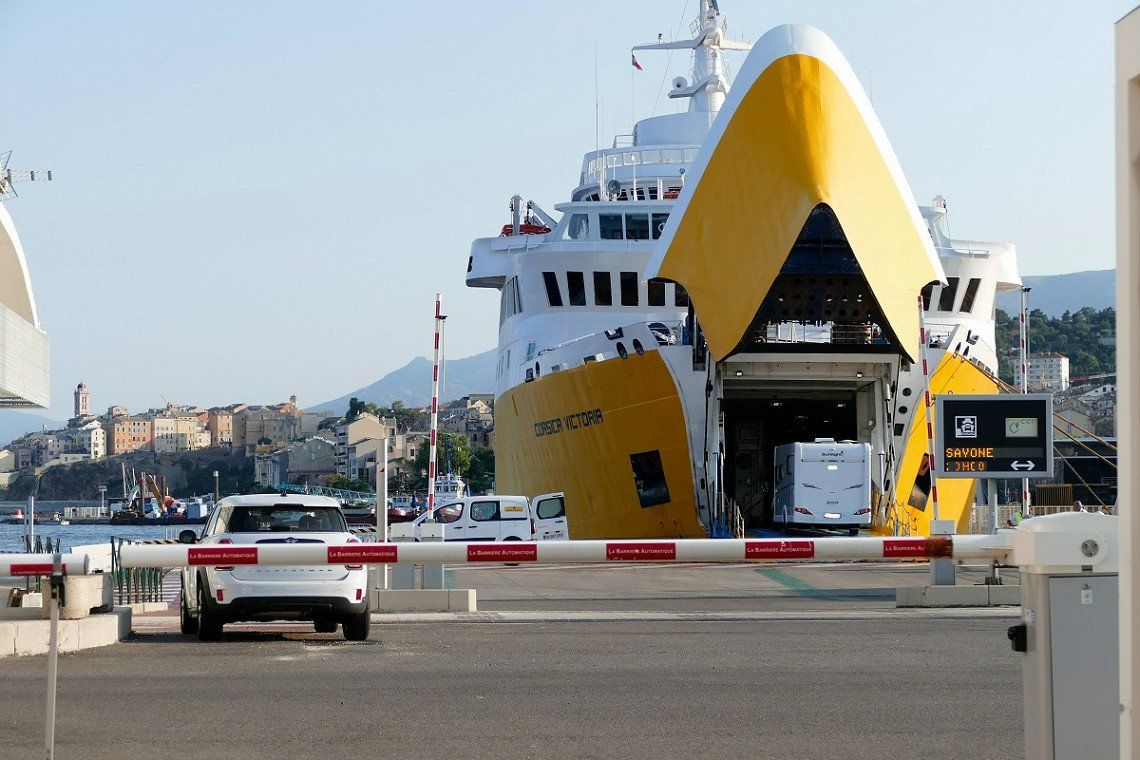 A variety of ferry companies link Corsica to the mainland. Photo: Claudia Rothkamp 
Arriving on Corsica by ferry
There are a number of companies, leaving from either Italy or France, which are happy to carry you across the water to Corsica. If you are coming from Central Europe, we suggest travelling through Switzerland to the Italian port of Genoa, although Nice (France) and Livorno (Tuscany) are both viable options. There is also a ferry from Sardinia, if you fancy a bit of island-hopping. We recommend you buy the tickets before your trip, because there are limited numbers and they can sell out quickly during peak season. 


Some of the ferries to Corsica:
- Moby Lines: From Genoa and from Livorno (Italy) to Bastia
- Corsica Ferries: From Livorno (Italy) to Bastia and Ile Rousse; from Savona (Italy) to Bastia; from Nice (France) to Bastia, Calvi, Ajaccio and Ile Rousse; from Toulon (France) to Bastia, Ajaccio and Ile Rousse

Free route planner for your trip to Corsica
Plan your motorhome tour to Corsica now! In the Freeontour route planner you can create and plan your individual Corsica tour for free.