Latest update: January 4, 2023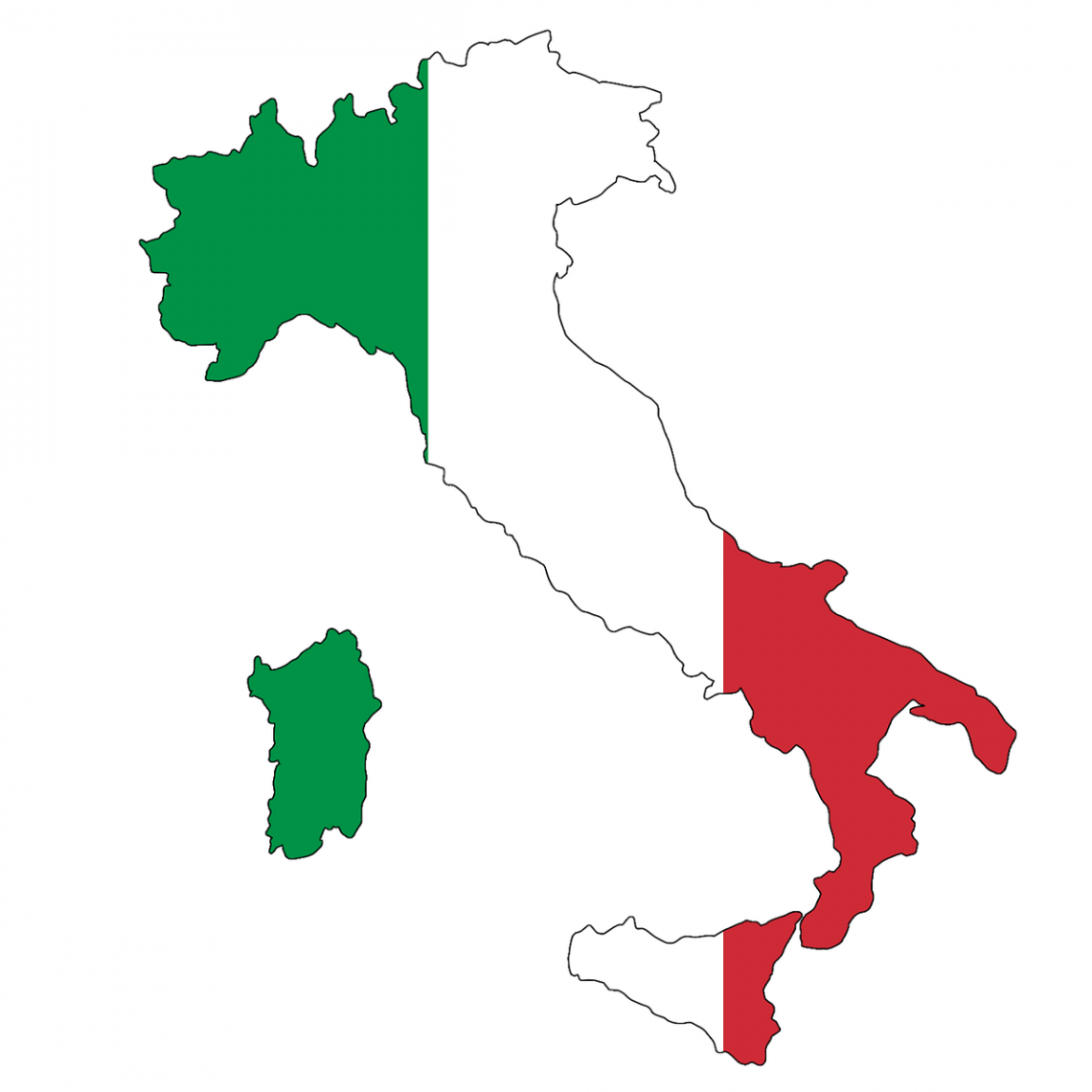 Entry into Italy
Entry requirements for EU citizens
For a tourist stay of up to three months, a (temporary) passport or a (temporary) identity card or a child's passport is sufficient for entry into Italy. The identity documents must not have expired for more than twelve months - a provisional identity card must not have expired at all. When travelling further by ferry from Italian ports, each passenger - including children of any age - must be able to present a valid travel document. Persons under the age of 15 travelling alone should have an officially certified declaration of consent from their parents/guardians with them - this is not mandatory, however.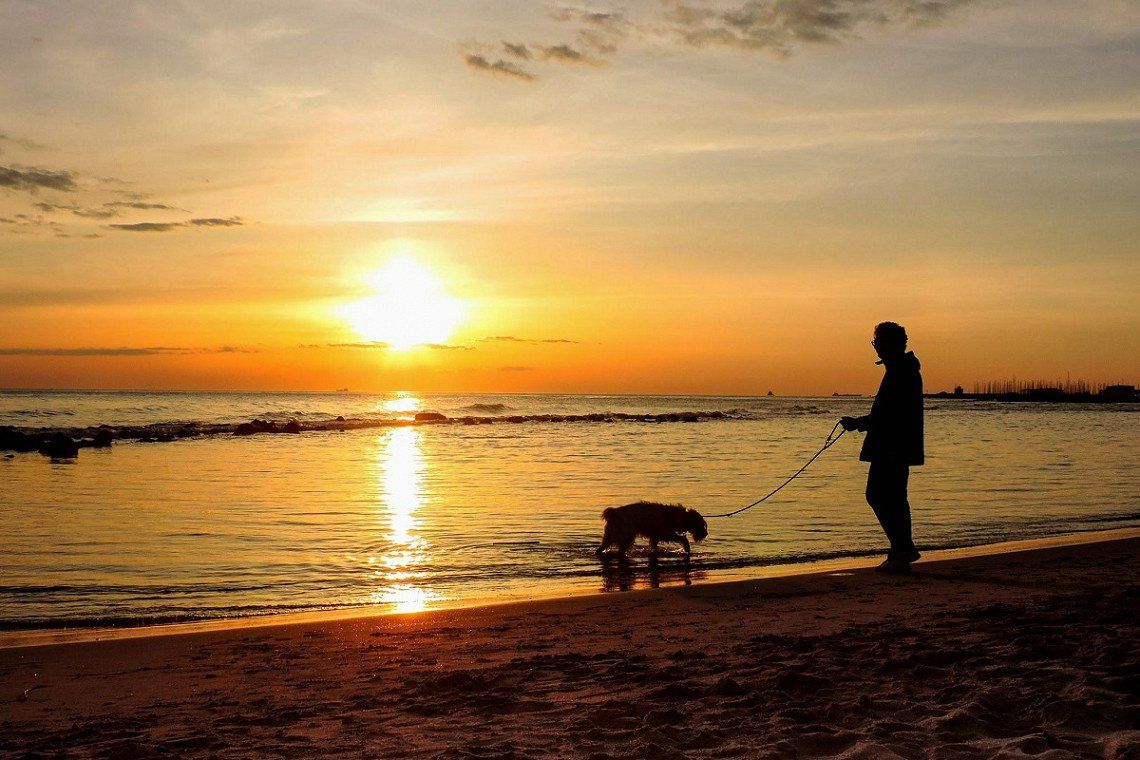 Dog beaches are not very common in Italy, but are increasingly finding their way into many regions. Photo: Pixabay
Entry of pets into Italy
Dogs and cats that are younger than 15 weeks and have not yet been vaccinated against rabies are not allowed to travel. Otherwise, you need the EU pet passport for dogs, among other things with a veterinary confirmation of the rabies vaccination, which must be at least 21 days old, and a microchip. A muzzle and a leash no longer than 1.5 meters must also be carried and sometimes put on, for example, on public transport. In general, the leash and muzzle requirements in Italy are regulated differently in each region or municipality, so you should always inquire locally at your travel destination. Cats also need a microchip or a tattoo that is clearly legible and was done before 7/11/2011. In total, the number of five pets per person may not be exceeded. Otherwise, separate rules apply to trade in animals.
Speed limits for caravans and motorhomes in Italy
Speed limits in km/h in dry road conditions:
Special speed limits in rain or snow and for novice drivers:
For those who have not held their driver's license for more than three years, the speed limit on clearways is 90 km/h, and only 110 km/h is permitted on motorways in these cases. The same speed limits apply to all drivers in rain or snow.

The fine for speeding is significantly higher in Italy than in some other European countries. Fine notices should be paid on the spot if possible, as delivery abroad is associated with a surcharge.
Special regulations for motorhomes and caravans in Italy
In general, motorhomes and trailers must not be wider than 2.55 m. Motorhomes are permitted without a special permit up to a length of 12 m, caravans may be a maximum of 18.75 m long.
Most motorways in Italy are toll roads. Photo: Autostrade per l'Italia Spa
Information on tolls in Italy
Tolls are charged on most motorways in Italy. Italy has a distance-based toll system - so the charges are based on the number of kilometers actually driven. In some regions, the toll is also calculated as a flat rate. Tolls are paid at toll stations either with cash or card or via an electronic toll box from various providers. This requires a transponder that is installed inside the vehicle and ensures that the barrier at the toll station opens automatically. There are usually specially reserved lanes in front of toll stations for users of an electronic toll box, which are marked with a "T" for Telepass. A fully automated toll system called Free Flow is used on some motorways, such as the Autostrade 36 near Milan, the A59 and the A60. Here, sensors record the number plates of passing vehicles, stopping is not necessary - but manual payment is also not possible. Here, travelers without a toll box have to pay the road toll themselves, for example by registering online, otherwise they face high fines.

For example, cars, caravans and motorhomes with a maximum height of three meters can use the toll transponder from Freeontour's partner Bip & Go , which can also be used in Spain, Portugal and France. In France, however, it only applies to vehicles up to 3.5 t.
Overview of vehicle classes for tolls in Italy
In Italy, the toll fee depends on the height of the vehicle and the number of axles or trailers:
Additional tolls apply at some tunnels, passes and on the Brenner motorway (Austrian side section toll, Italian side separate toll). In Milan, Bologna and Palermo there is a congestion charge for restricted traffic zones in the city center at certain times of the day. Important: in Milan it is not allowed to enter these zones with vehicles and trailers longer than 7.50 m. This also applies in general to diesel vehicles Euro 0 to 5 since October 2022. In Bologna, there is a ban on entry for vehicles with the Euro 0-2 exhaust emission standards and, since 1 January 2023, also for diesel vehicles up to Euro 3. Also in Palermo, entry for diesel vehicles with Euro 0 to 3 is not allowed.
Petrol stations - opening hours and means of payment in Italy
Motorway petrol stations are open around the clock and strikes are not allowed. Most other petrol stations are usually open from around 7:00 a.m. to around 12:30 p.m. and between around 3:30 p.m. and 7:30 p.m. - but no later than 10:00 p.m. Payment can be made in cash or by credit or EC/bank card. Outside the opening hours, you can also fill up at self-service machines, although some European bank and credit cards are not accepted. But it's not a problem with banknotes.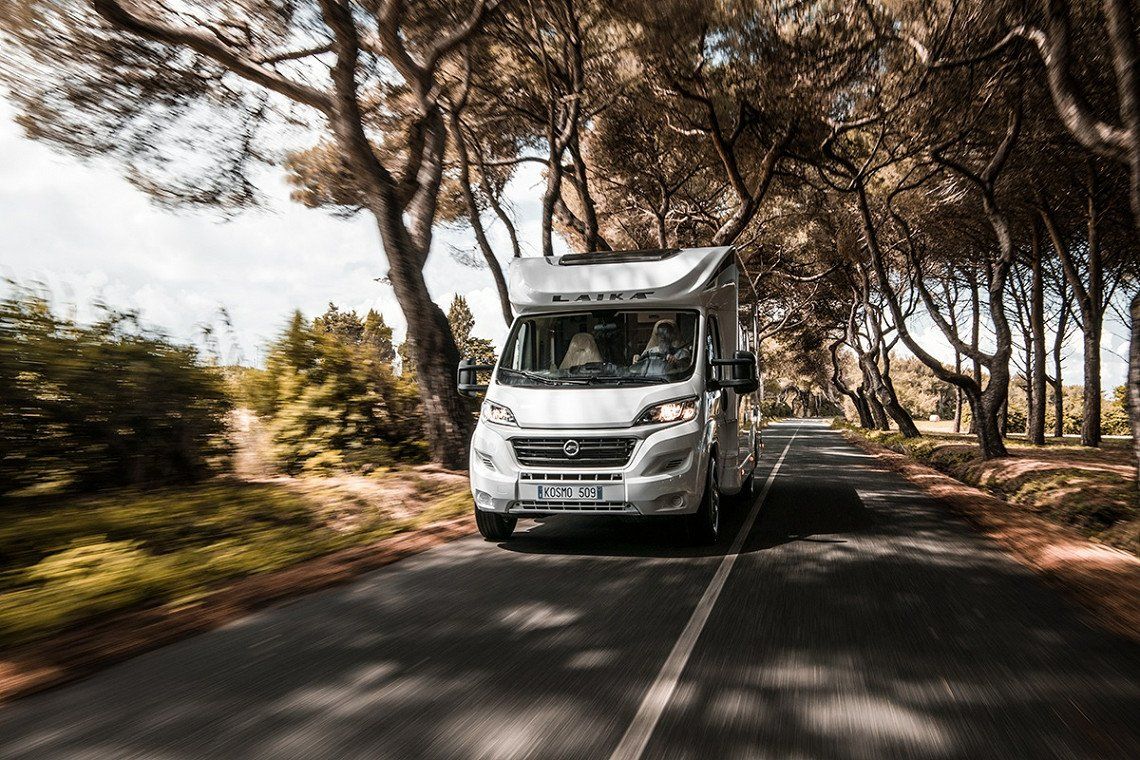 In Italy you have to drive with daytime running lights or dipped beams all year round outside built-up areas. Photo: Laika
General traffic rules in Italy
Driver's license and vehicle registration: The national EU driver's license is sufficient for driving a motorhome or a car caravan combination in Italy. The registration certificate part 1 (formerly the vehicle registration document) must also be taken with you when you travel. Taking an international insurance card with you is recommended.

Alcohol limit in Italy: In general, the alcohol limit for the combination of alcohol and driving in Italy is 0.5 ‰. For novice drivers who have held their driving license for less than three years or who are younger than 21 years of age, there is an absolute alcohol ban of 0.0 ‰. By the way: the blood alcohol limit of 0.5 ‰ also applies to cyclists in Italy.

Light requirements: In Italy, it is compulsory for all types of vehicles to be driving with lights on during the day on motorways and outside of towns all year round - both daytime running lights and dipped beams are accepted. For motorcycles and other motorized two-wheelers, headlights are compulsory all year round, even in built-up areas.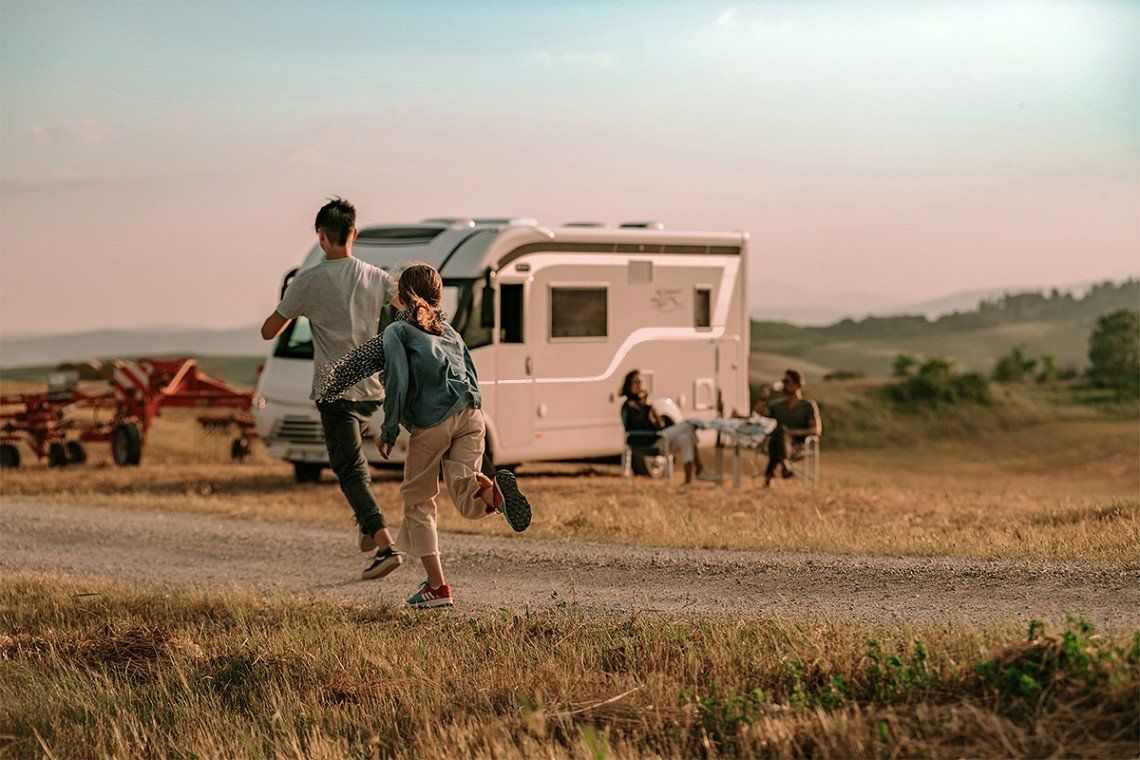 In Italy, children up to the age of twelve or 150 cm in height require a child seat in the motorhome. Photo: Laika
Child car seats in the vehicle: In Italy, children up to 12 years or 150 cm tall need a child car seat that corresponds to their weight and height. For vehicles registered in Italy, the child car seat must even have an alarm function. If you rent a motorhome in Italy - for example from the Freeontour partners McRent or rent easy - you should clarify this with the motorhome rental company in advance.

High-visibility vest requirement: In the event of a breakdown or an accident outside of built-up areas, the driver must wear a high-visibility vest if he or she leaves the car or camper, e.g. to set up a warning triangle. The same applies to all passengers as soon as they leave the vehicle and are on the road.

Mobile phone use in vehicles: Drivers may only use their mobile phone while driving with a fully hands-free device. It is also forbidden to use tablets or other devices that require you to take your hands off the steering wheel to operate them. In the event of violations, an immediate driving ban is possible in addition to a fine.
In Tuscany, too, like here at Doganaccia, winter tyres may be compulsory in winter. Photo: Pixabay
Winter tyres: In Italy there is no country-wide winter tyre obligation, but there are for certain regions. Even as a transit traveller, you can quickly come into contact with the various regulations on compulsory winter tyres in Italy. In addition, winter tyres are compulsory in Italy for different lengths of time depending on the province or are imposed at short notice by signs depending on the weather conditions. In order to be safely prepared for the whole country, you should therefore drive with winter tyres when traveling to Italy between October 15th and April 15th. However, studded tires may only be used between November 15th and March 15th.
Important: While in large parts of Italy winter tyres are usually only compulsory in wintry road conditions, in South Tyrol there is a so-called winter equipment requirement all year round. This means that snow chains should also be carried in summer. There is also an absolute obligation to have winter tyres on the Brenner motorway for the section between Brenner and Affi and for the municipality of Bozen. From November 15th to April 15th, this section of the route may only be used with winter equipment – regardless of whether the conditions are wintry or not. The same applies to the Aosta Valley between October 15th and April 15th. Conversely, between May 16th and October 14th, you can only drive with winter or all-season tyres if the tyres have a speed index that at least corresponds to the speed index specified in Part I of the registration certificate (vehicle registration document).
In Italy, you can only park your motorhome where it is expressly permitted. Photo: Pixabay
Wild camping in Italy: Overnight stays with the camper outside of campsites or pitches are only permitted in certain cases. It is generally not allowed in national parks and state forests - and it is also generally prohibited in many communities in northern Italy. In principle, you can only spend the night with a camper or caravan away from the official campsites and pitches where the responsible municipality expressly allows this. This applies to both one and several nights. On private property, of course, the permission of the property owner is required as well.

Obligation to label protruding loads: Every vehicle load that protrudes to the rear must be provided with a warning sign - even if it protrudes by less than one meter. This also applies, for example, to rear bicycle racks even when folded. In Italy, the load is identified by a red and white hatched sign with minimum dimensions of 50 cm x 50 cm.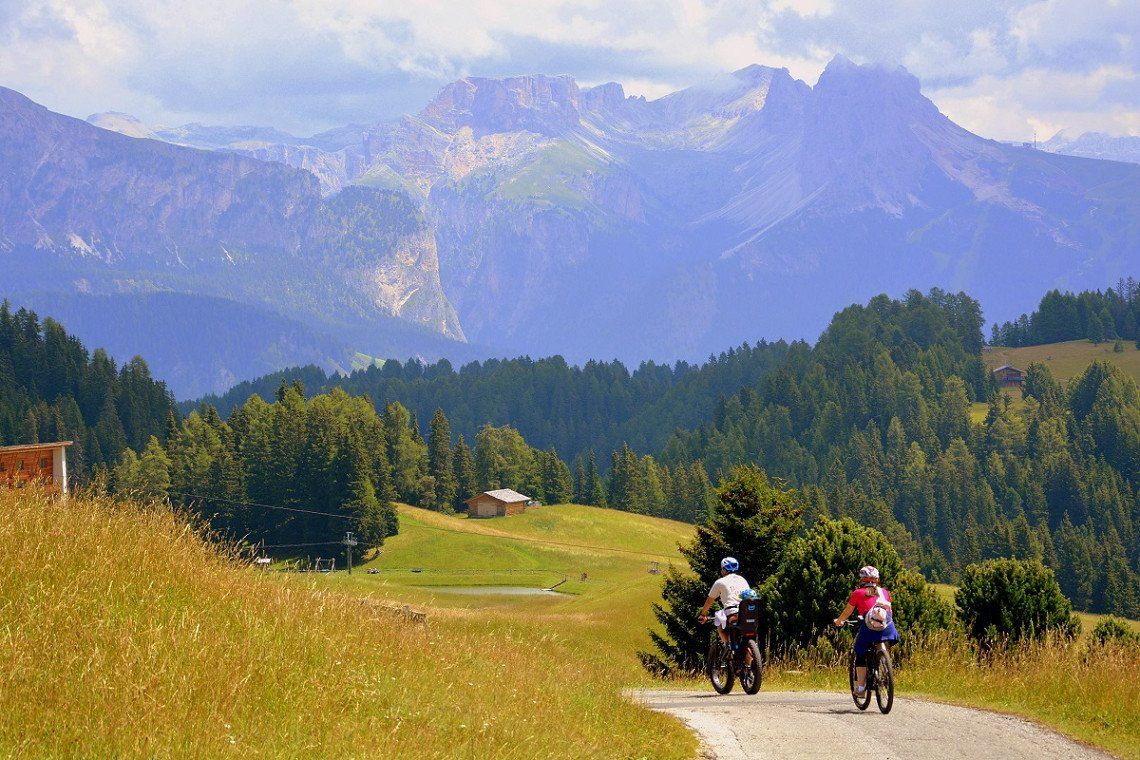 Mountain bikers and racing cyclists have also had to equip their bikes with working lights since 2022 in order to be able to ride on Italian roads. Photo: Pixabay
Traveling by bike in Italy: If you want to switch to your bike for a change, you will be accompanied by Italians in many places during weekends. Often perfectly styled, they travel alone or in groups on sporty racing bikes on country roads. Since 2022, however, cyclists have encountered more difficult conditions: According to the new road traffic regulations in Italy, all bicycles - including racing bikes and mountain bikes - must now be equipped with working lights in order to be allowed to ride on Italian roads. However, the new traffic regulations do not clearly define when the lights must be switched on and whether clip-on lights are also accepted. In addition, theoretically racing bikes and mountain bikes must now also be equipped with reflectors on the pedals. If you cycle outside of built-up areas in the dark or in tunnels, you must also wear a high-visibility vest. Helmets are compulsory in Italy for children up to the age of 14. The alcohol limit on the bike is 0.5 ‰ and having the mobile phone on the ear as well as using  a headset is not allowed on the bike.

Right of way on hills and in roundabouts: Uphill vehicles always have the right of way unless there is an option to evade. However, this does not apply to regular buses - these always have the right of way on the mountain. In roundabouts, the right-before-left principle applies as long as the right of way is not otherwise regulated by traffic signs.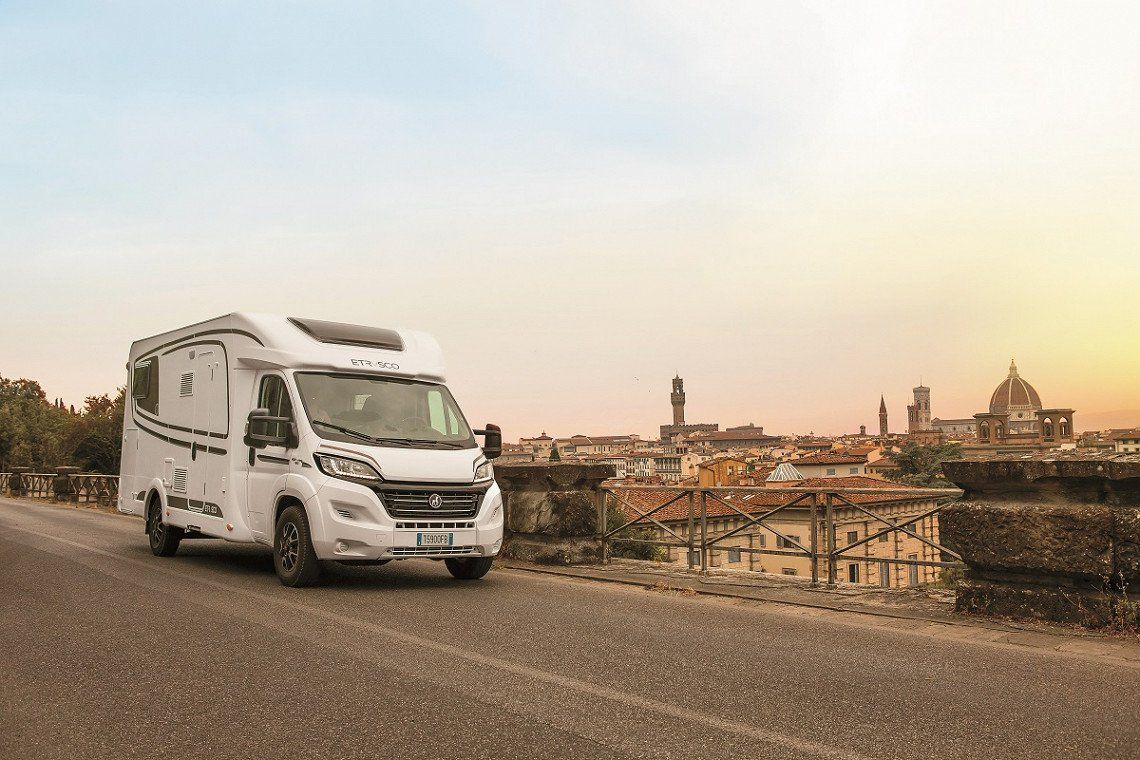 The no-drive zone in Florence covers the entire area of the historic center. Photo: Etruscan
Traffic restrictions in Italian inner cities: Numerous Italian cities and municipalities have closed their inner cities and town centers to tourist motor traffic or only allow access at certain times. These driving ban zones are called Zona a traffico limitato (ZTL) and in many cases affect the historic city centers (centro storico), which in this way should be largely spared from traffic. Entry into these areas is usually only permitted for residents and suppliers. In larger cities, access is often monitored by video cameras, which register all vehicles entering the ZTL. In smaller communities, access is controlled by the local police.

Parking in towns and cities: Colored markings at the edge of the road provide information on where in Italy you can park in town.
- White = free parking
- Blue = parking zone subject to parking disc or fee at certain times. The parking tickets are then available from the machines, where the license plate number often has to be entered.
- Yellow = reserved spaces for taxis and buses
- Green = in some cities no parking on weekdays at certain times
- Black and yellow = absolute parking ban
Important addresses and telephone numbers for vacationers in Italy
European emergency number: 112
You can get help from the local police, fire brigade, an emergency doctor or an ambulance via this central emergency number, which can be reached free of charge both via landline and mobile phone without an area code. An interpreter is usually also available on this number.