Latest update: January 4, 2023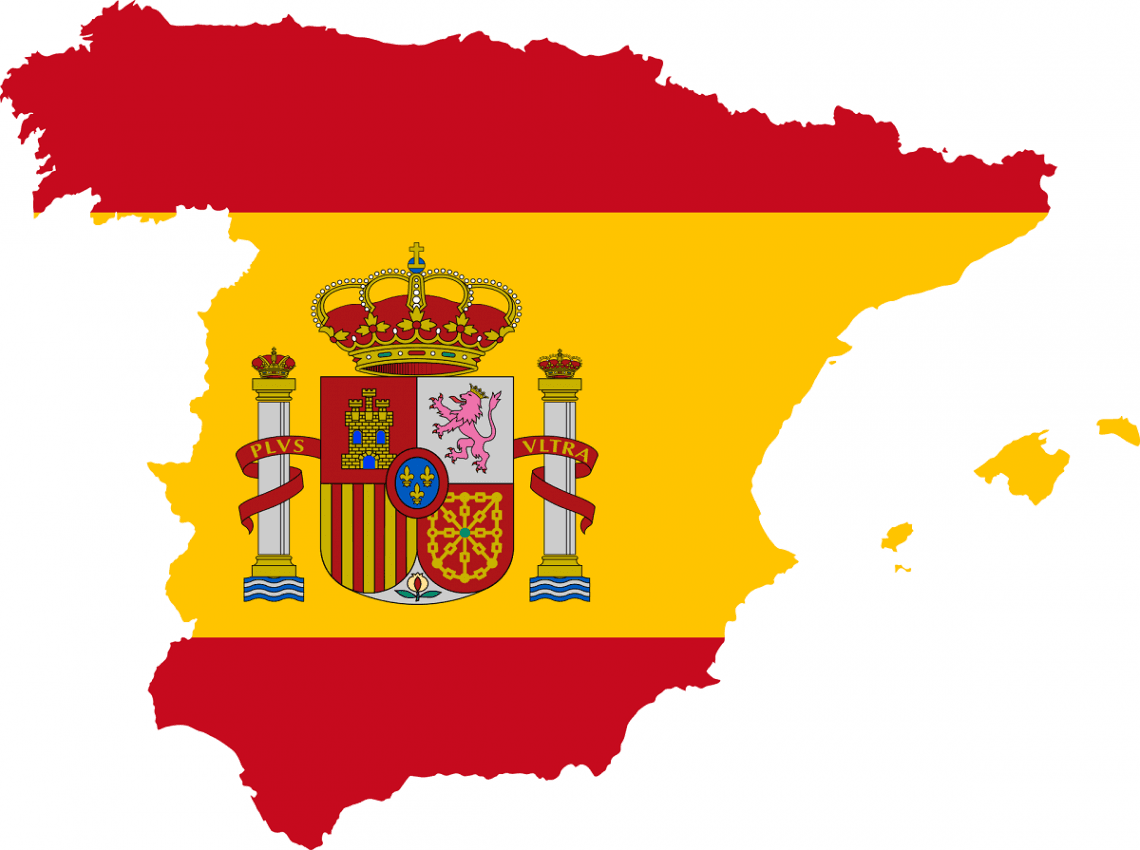 Graphics: Pixabay
Entry into Spain
Entry requirements for European citizens
To enter Spain, European citizens need a (provisional) passport, a (provisional) identity card or a children's passport. With the exception of the temporary identity card, these documents must not have expired for more than one year (those arriving by plane should check with their airline whether they accept expired documents). Anyone traveling with minors who do not belong to their own family should carry a written declaration of consent from their legal guardians.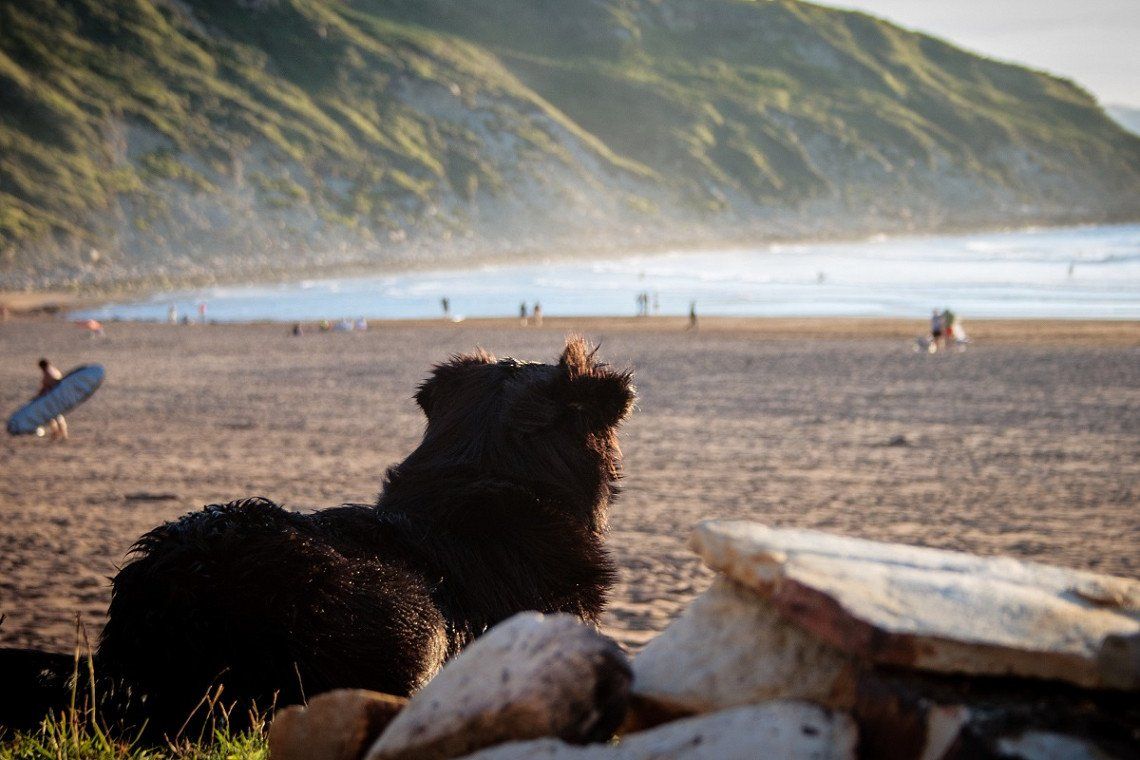 Dog on Sopelana beach in northern Spain. Photo: Pixabay
Travelling to Spain with pets
Pets such as dogs, cats and ferrets must meet the following requirements in order to enter Spain: They must be at least 15 weeks old. They also need an EU pet passport as well as a microchip identification and a valid rabies vaccination. Vaccination must be carried out according to the vaccine manufacturer's recommendations using an approved vaccine preparation and must be documented and carried out at least 21 days before entering Spain. A tattoo identifying the animal is only allowed if it was done before July 3, 2011. A maximum of five animals may be taken along for private purposes. Veterinarians often recommend vaccination against leishmaniasis when traveling to the Mediterranean region, but the vaccination is not mandatory.
Speed limits for motorhomes and caravans in Spain
Since mid-2021, there has been a speed limit in Spanish towns that depends on the number of lanes available:
- one lane in each direction = 30 km/h
- one lane for both directions without lane markings and without sidewalks = 20 km/h
- two or more lanes per direction = 50 km/h

In Madrid and Barcelona there are also environmental zones, which you can enter depending on the time of day or generally only with an environmental badge. Environmental badges are not available for vehicles with foreign license plates - we recommend using public transport.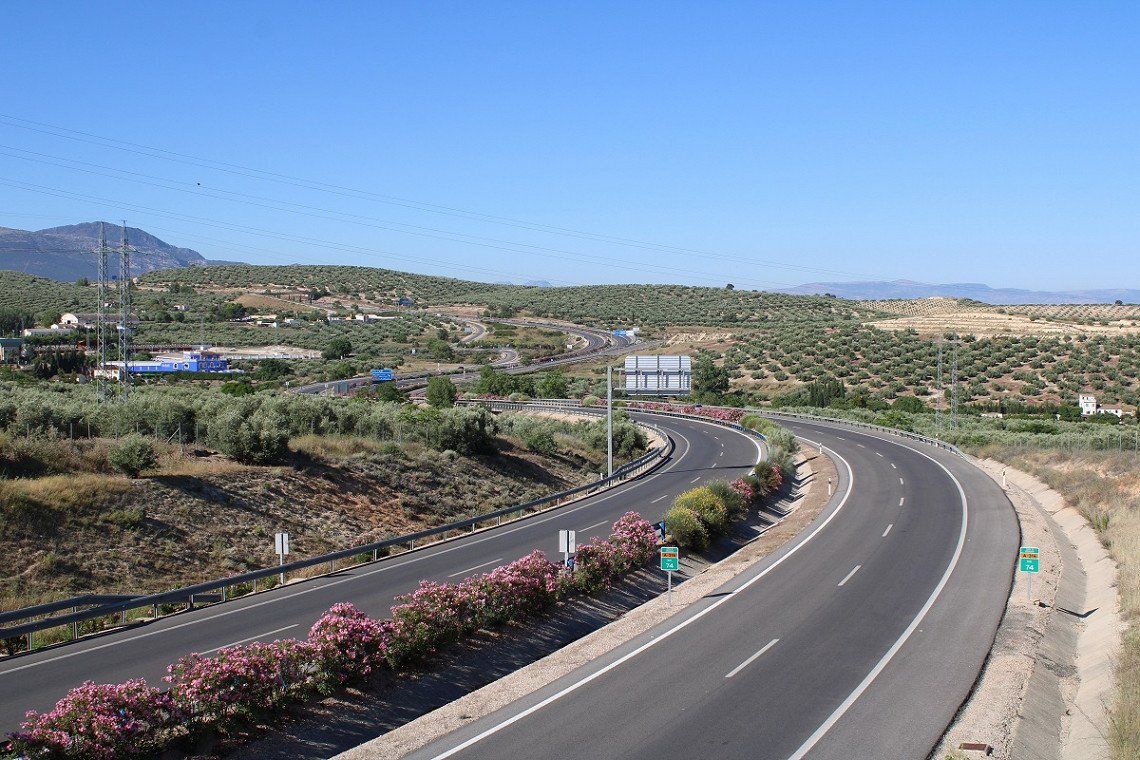 There are usually no tolls in Spain for publicly operated motorways such as the A44, but there are on privately operated routes. Photo: Pixabay
Information about the toll in Spain
Spain has a well-developed network of motorways and clearways, some of which are toll roads. In the case of motorways, a distinction is made between the publicly operated and mostly toll-free Autovías (A) and the privately operated and accordingly mostly toll Autopistas (AP). Sometimes both categories run parallel to each other, but often they merge after certain sections. Clearways are usually free of charge. Tolls are collected at toll booths in Spain and can be paid in cash or by credit card - debit/bank cards are not accepted. With the VIA-T Box, the Bip & Go toll transponder or other toll transponder systems, it is also possible to electronically debit the fees and thus use the faster lanes at the toll station. These lanes are typically marked Télépéaje , VIA-T, or just with a T. The amount of the toll usually depends on the length of the route covered and the vehicle category. There are these categories:

Category 1: Motorbikes (with/without sidecar), motor vehicles with or without trailers up to 3 axles without twin tires (including caravans and mobile homes)
Category 2: Vehicles with up to 3 axles with twin tires (including caravans and mobile homes)
Category 3: Vehicles with 4 or more axles

Petrol stations - opening times and payment methods in Spain
Motorway petrol stations are usually open around the clock. On country roads and in towns, however, they close around 8 p.m. Payment can usually be made to the petrol station staff – in cash, by credit card or EC/bank card. Fuel dispensers are also common. However, some of these do not accept the credit cards issued in Germany, but sometimes EC/bank cards with a chip. In general, however, it is not a bad idea to ensure that the tank is full before you get into the vehicle on weekends, at night and on routes with limited infrastructure.
You should only treat yourself to a sangria when the camper no longer needs to be moved. Photo: Pixabay
General traffic rules in Spain
Driver's license and vehicle registration: The national EU driver's license is sufficient for driving a mobile home or a caravan combination. The registration certificate part 1 must also be taken with you when you travel.

Drink-drive-limit: Whether a refreshing sangria or a delicious Rioja - the combination of alcohol and driving is not a good combination in Spain either. During controls, the Spaniards distinguish between blood alcohol levels and alcohol levels in the breath. The blood alcohol limit is 0.5 ‰, the breath test may not exceed 0.25 ‰. For novice drivers with less than two years of driving experience, the blood alcohol limit is 0.3‰ and the breath test is 0.15‰.

Daytime running lights: In Spain, daytime running lights are not compulsory. However, driving with daytime running lights is generally recommended.
Child safety car seats: In Spain, too, children up to 135 cm tall need a suitable child safety seat, which may only be placed on the back seats. Exceptions are permitted if the vehicle has no back seats or if the back seats are already fully occupied by other child safety seats.

High-visibility vests are compulsory: Every vehicle should have at least one high-visibility vest for the driver. In the event of a breakdown or accident on motorways or country roads, in which the occupants have to leave the motorhome or car, they must also wear a reflective safety vest.

Winter tyres: Winter tyres are currently not compulsory in Spain. Depending on the season and region, these might be useful anyways. Snow chains may be used on completely snow-covered roads, with a maximum speed of 50 km/h.
Sunset over the mountains of Murcia. Photo: Pixabay
Talking on the phone while driving: Drivers may only use their mobile phone when driving with a fully hands-free device. Wearing headphones or earphones is prohibited. The fine for violations starts at 500 euros.

Marking of protruding loads: Loads protruding to the rear (max. 10%) must be marked with at least one red and white hatched warning sign (50 cm x 50 cm). This also applies to bicycle carriers, even if they are not loaded. If the load extends over the entire width of the vehicle, two warning signs are required on the right and left.

Camping outside of campsites or official pitches: Overnight stays with the camper outside of camping sites or pitches are only permitted in certain cases. It is generally not allowed in residential areas, near a campsite and on the beach. It is permitted to park on streets or parking lots for a maximum of three nights, provided that the respective municipality expressly signs this up. Even on private property, camping is - logically - only allowed with the permission of the owner and for a maximum of three nights.
Parking in towns and cities: The colored markings at the edge of the road reveal whether or not you are allowed to park in urban areas in Spain:
Yellow = absolute parking ban
Blue = fee-based and time-limited parking zone (parking tickets from machines)
Green = resident parking (sometimes you can park there at certain times with a parking ticket)
White = free parking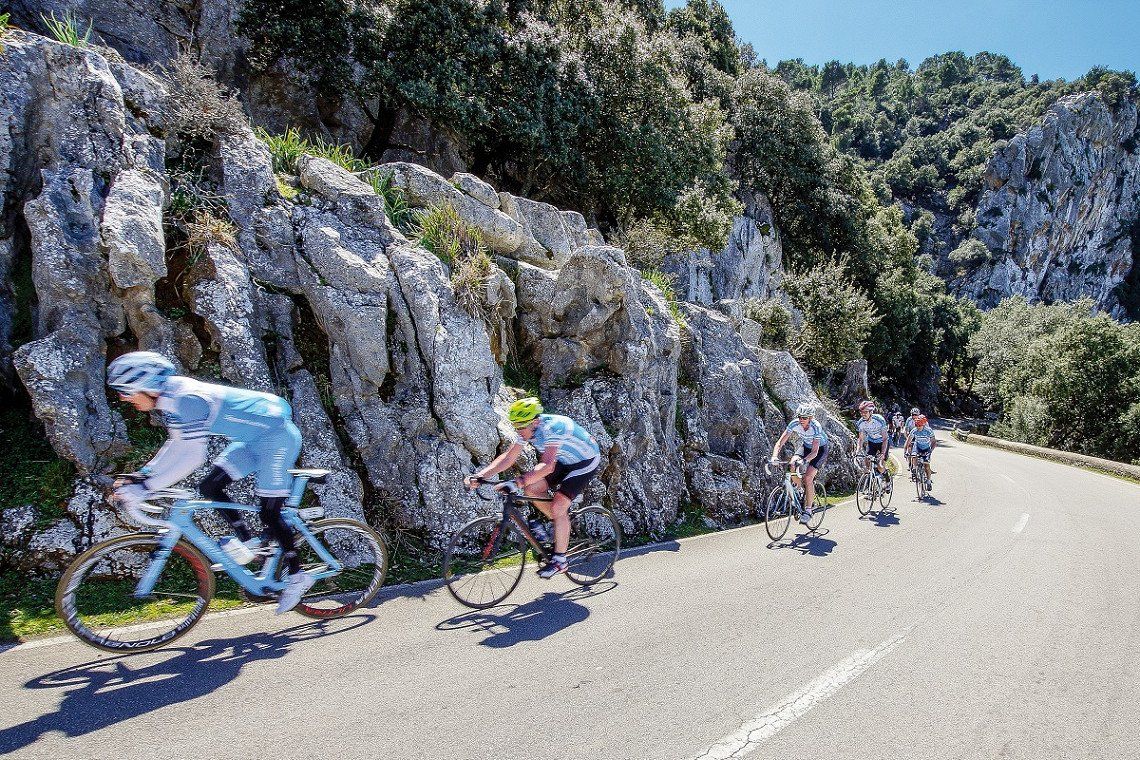 If you want to overtake a group of cyclists in Spain, you often have to switch to the oncoming lane. Photo: Pixabay
Cyclists: If you have your bike with you in your caravan or motorhome, you should bear in mind that helmets are compulsory for anyone outside of towns in Spain. Inside a town, this only applies to cyclists under the age of 16. If you want to overtake one or more cyclists with your camper or car, you must keep a minimum distance of 1.50 m. As an exception, you can also drive over the continuous white line, as long as oncoming traffic is not endangered. In general, cyclists in Spain are allowed to ride in pairs next to each other and even a larger group of cyclists is defined as a single vehicle. This is important to remember when entering a roundabout, for example: If there is already a cyclist in the roundabout, the entire group has the right of way.
Important addresses and telephone numbers for holiday makers in Spain
European emergency number: 112
You can get help from the local police, fire brigade, an emergency doctor or an ambulance via this central emergency number, which can be reached both via landline and mobile phone without any area code. An interpreter is usually also available on this number.
Looking for a campsite or camping pitch in Spain?