If you've been to Barcelona before, you'll understand why it is one of the trendiest and most popular destinations for a cultural city break in Europe. This coastal metropolis promises a colourful history, unique architecture, an array of sights and a host of culinary delights. The off-season is usually the best time to experience the city without hordes of tourists crowding the streets or attractions. Freeontour has put together five tips for your next trip to Barcelona between autumn and spring.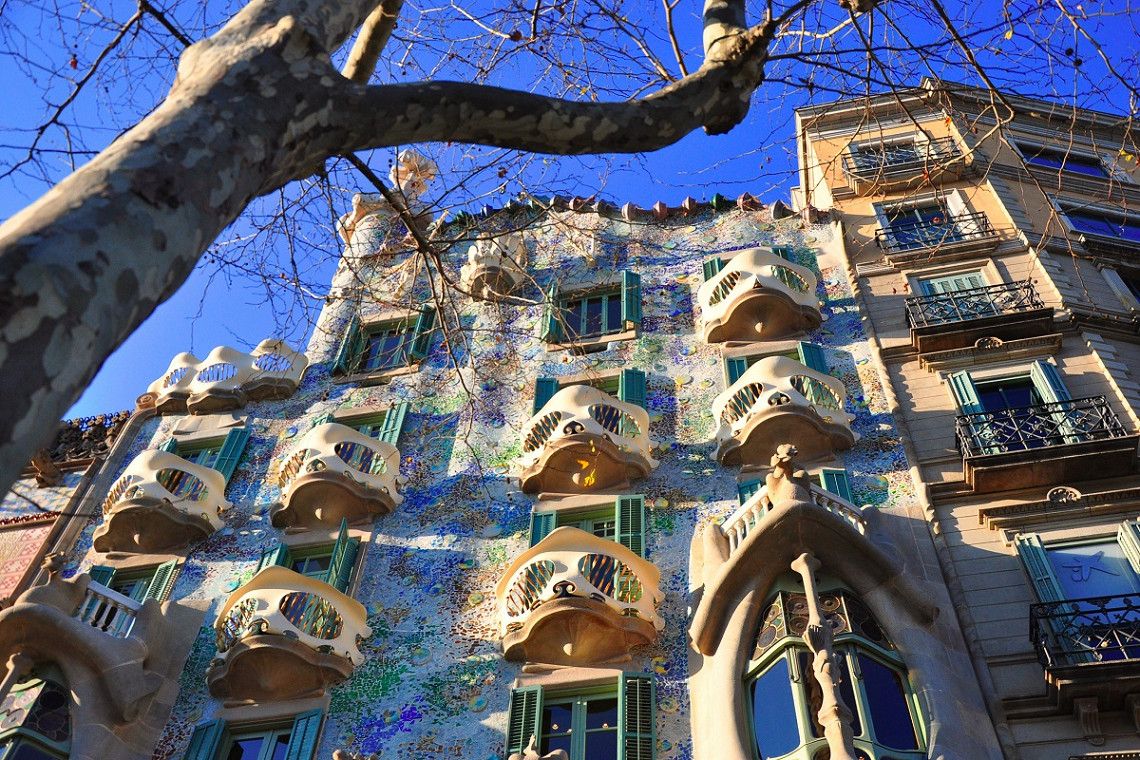 The façade of Casa Batlló – naturally designed by Antoni Gaudí – at Passeig de Gràcia, 43 is one of the architectural highlights of Barcelona. Photo: Pixabay
Barcelona: when to go and weather in the off-season
If you don't necessarily need to sunbathe on the beach, go swimming or bask in hot temperatures when you go on holiday, you can enjoy Barcelona from its cooler and quieter, but no less beautiful, side in the off-season between October and April. The beaches at this time of year are perfect for relaxing, taking walks with hardly anyone about or picnicking in the sun. This time of year is also fantastic for exploring the city's many sights and attractions. Finding a parking space is slightly easier, prices are often lower and queues are considerably shorter than during the high season. With three to four days of precipitation a month, around 15 °C during the day and rarely below 5 °C at night, the climate is comparatively mild even in winter.
Parking, campsites and the low emission zone in Barcelona
Parking in Barcelona: as in most large towns and cities, we recommend parking your motorhome or caravan outside of Barcelona and then getting around the city by bicycle, e-bike or public transport. This is good for both the environment and your nerves! If you still want to drive into the city with your campervan, you'll find two monitored car parks for caravanners in the city centre: the BSM García Fària car park (Garcia Fària 71, 08005 Barcelona – max. vehicle length of 7 m) about ten minutes' walk from the El Maresme metro station (L4, yellow line) and the Parking Freser Trinxant car park (Carrer Freser, 103, 08041 Barcelona) near the Camp de l'Arpa (L5, dark blue line, three minutes' walk), La Sagrera (L9, orange line & L10, light blue line, eight minutes' walk) and Navas (L1, red line, eight minutes' walk) metro stations.

Barcelona's beaches tend to be quiet in the off-season. Photo: Pixabay
RV parks and campsites in Barcelona: there are hardly any options for motorhome overnight stays in the centre of Barcelona, the exception being the bus and coach park on Avinguda dels Montanyans. However, there are a number of campsites nearby that are open all year round, including the free bus and coach park in Vilafranca del Penedès or Área Autocaravanas en Calaf. A few campsites are also open throughout the year in the wider Barcelona area, whereas most sites can only be used between April and October. Campsites open in the off-season include Camping Estrella de Mar about 15 minutes from the city centre, Camping Bellsol near Pineda de Mar and Camping Botànic Bona Vista-kim near Calella.

Low emission zone in Barcelona: since January 2020, Barcelona has had a year-round driving ban from Monday to Friday from 7 am to 8 pm for certain vehicles, including petrol vehicles with the Euro 0-2 emission standards (first registered before 2000) and diesel vehicles with Euro 0-3 (first registered before 2006). You can apply for a single-day permit, which you can purchase up to ten times a year for vehicles in these categories. However, vehicles with foreign number plates that exceed these emissions standards have to be registered online in advance. The label costs €7 and is valid for two years.
Sights and highlights in Barcelona
Barcelona has so many attractions that you could easily spend a week in the capital of Catalonia. Freeontour has selected five must-see sights and highlights for your stay in Barcelona: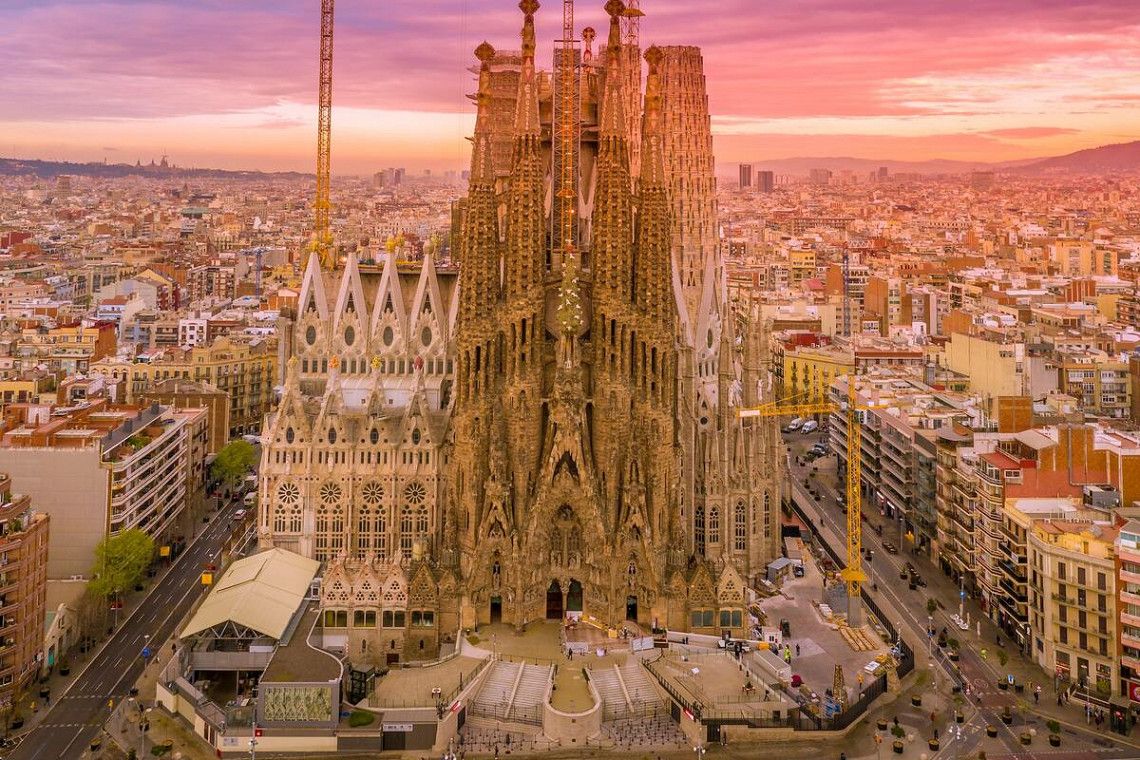 La Sagrada Familia is dedicated to the Holy Family of Mary, Joseph and baby Jesus. Photo: Pixabay
1. La Sagrada Familia, Gaudí's temple
The church of La Sagrada Familia, The Holy Family in English, is one of the TOP sights in Barcelona. Around three million people visit this sacred place every year, most of them during the summer months. Every entry ticket contributes to the completion of the mighty building as Gaudí's basilica is still not quite finished, despite its construction having begun in 1882. When its architect Antoni Gaudí died in 1926, only a quarter of his masterpiece was complete. La Sagrada Familia is expected to be completed by 2026 – and will be the tallest basilica in the world.

To avoid long queues, we recommend booking your tickets online in advance. There are several providers for Barcelona, such as Tiqets.com, Barcelona-tickets.com, Getyourguide.com as well as the city's official tourism portal Barcelonaturisme.com. Since the prices vary and fluctuate seasonally, it's worth comparing a few ticket portals before buying.

A little insider tip: Monday is considered to be the best day to visit the Sagrada Familia. Many museums and other attractions are closed on this day of the week, so many tourists assume that Gaudí's temple is, too. But it isn't.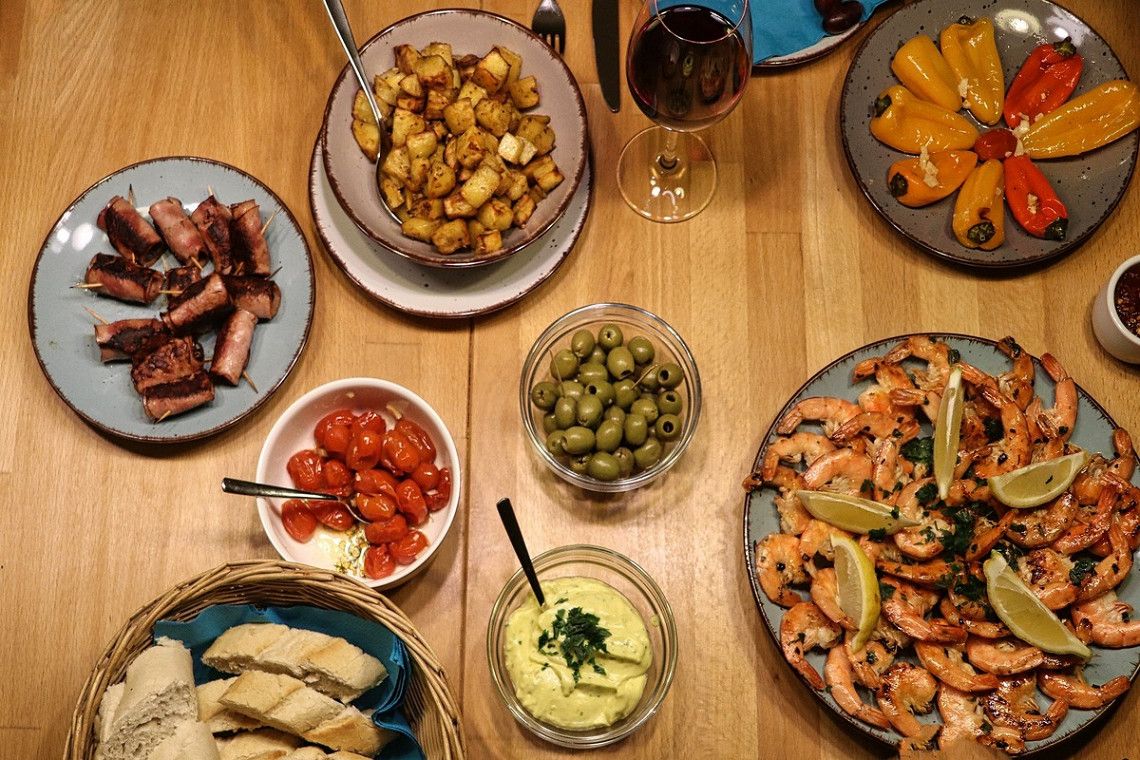 Tapas are as much a part of Barcelona as the sea and Gaudí. Photo: Pixabay
2. Tapas tour through Barcelona's ornate streets
There's an unspoken truth in Barcelona – if you haven't tried the city's tapas, then you haven't actually been there. So you can't leave this tapas stronghold without tasting any culinary delights.

A small excursion into the Catalan world of tapas: recommendations include Pan y Alioli (farmhouse bread with garlic mayonnaise and olives), Patatas Bravas (crispy potatoes with one hot and one garlic dip), Pimientos de Padrón (small fried green peppers), Camembert (crispy fried with a sweet cranberry sauce), Rabo de Toro (stewed oxtail), Jamón Ibérico (very fine ham from black pigs that eat acorns and herbs) and Tarta de Queso (the Catalonian answer to cheesecake).

By the way, since Catalonia is a popular wine-growing region, make sure you also try the local red and white wines during your trip to its capital as well as cava, a fine sparkling wine from the region.

On the Barcelona by Locals website, where locals share their favourite spots, seven tapas bars were voted the best in the city: Bar Calders and Bar Ramon in the Sant Antoni district, Bar del Pla and Tapeo in the Old Town, El 58 and Can Recasens in Poble Nou and Bitácora in the former fishing district of Barceloneta.

If you want to check out several tapas bars, but aren't sure where to go, you can sign up for one of many different tapas tours with local guides – a great opportunity to immerse yourself in the culinary world of the city and try local specialities. Simply enter tapas tours in the ticket portals mentioned above, browse and choose the one that best suits you.
The Telefèric cable car takes you straight from the centre of Barcelona to Montjuïc, the local mountain. Photo: Pixabay
3. High up on Montjuïc with Barcelona's cable cars
Towering over Barcelona, Montjuïc, the local mountain, is a green sanctuary from the hustle and bustle that often dictates the way of life at its feet. It also offers beautiful viewpoints, the proud 17th-century Castell de Montjuïc, the National Museum of Catalan Art as well as the museum and reconstructed historical village of Poble Espanyol. Therefore, it's worth paying a visit to the mountain, which incidentally can be combined with another attraction in Barcelona – a cable car trip to the summit.

Two cable car lines float over the city and up to Montjuïc: the Telefèric line from the city centre and the Aeri line from the port near Barceloneta. The cable cars offer 360-degree panoramic views from above. Alternatively, it will take you about 30 minutes to walk up Montjuïc and then you can take one of the cable cars down or vice versa.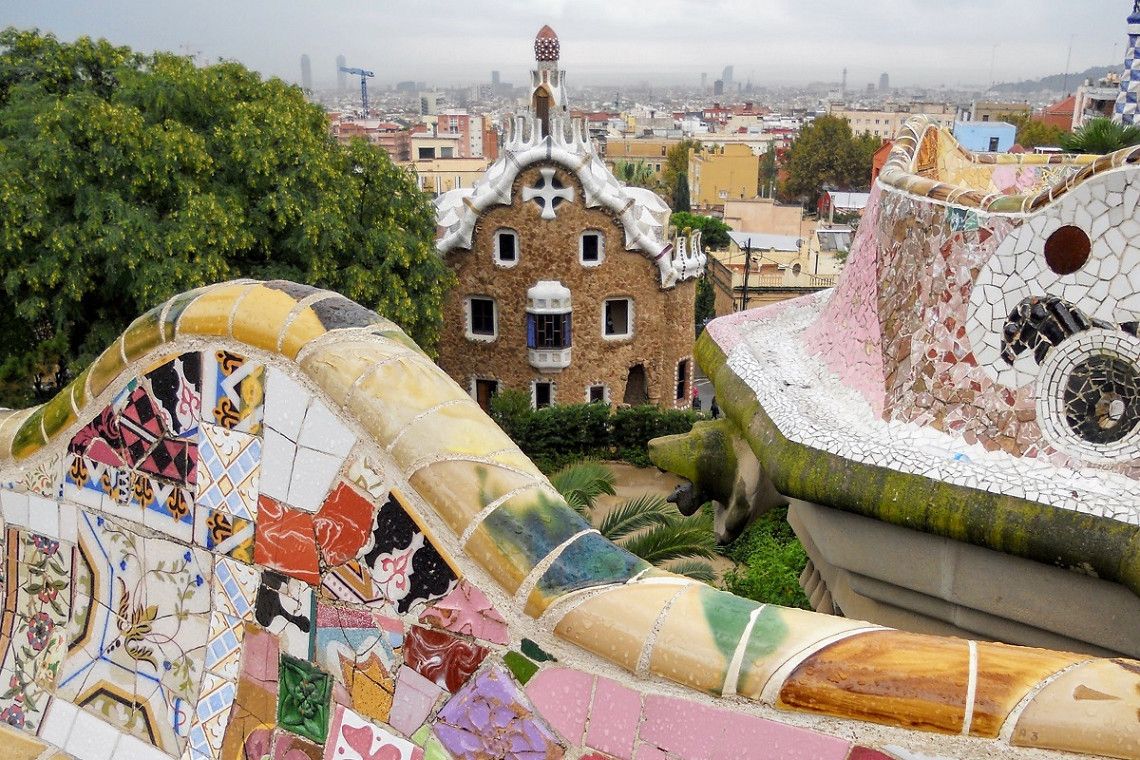 Barcelona gets to show its colourful and creative side once again in Park Güell. Photo: Pixabay
4. Gaudí's colourful Park Güell
Gaudí's creative legacy is not only reflected in La Sagrada Familia, his cheerful and colourful Park Güell also reminds us of the artist and architect who has shaped Barcelona to this day. This large artistic park is regarded as Gaudí's homage to nature. It was created in 1900 as a joint project between Gaudí and the entrepreneur Eusebi Güell. They envisioned a residential area for Barcelona's upper classes, inspired by the English garden city movement. This also explains why Park Güell is written with a k at the end, as in English, instead of with a c, as in Spanish. However, the original dream never became a reality as it was hard to sell the plots of land on the hill, which was out of the way at the time, to wealthy city dwellers. Instead, the city of Barcelona later bought the site, turning it into a public city park – allowing Gaudí to leave an extraordinary open-air museum behind for future generations. He once called the colourful park his home because he lived in one of the houses, which is now a museum.

Park Güell is a great place to visit if you want to combine art and nature with walks around the park while enjoy amazing views of the city from the hill and learning more about Barcelona's history.

A little fun fact: the vibrant mosaic benches in the park are back-friendly! Not just satisfied with coming up with impressive designs, Gaudí also turned his hand to creating ergonomic pieces of furniture. When you sit on a bench, you'll notice that the backrests adapt to the natural shape of the human spine.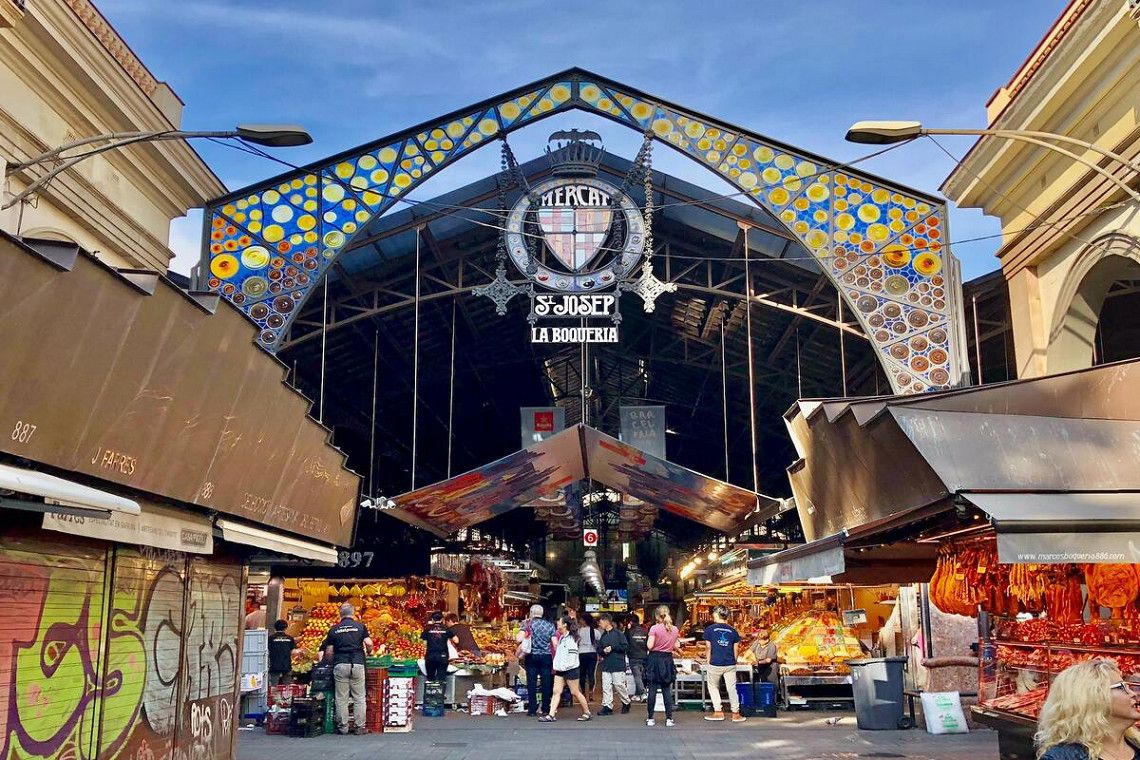 You should bring plenty of time when you visit the market as there's a lot to see and try. Photo: Unsplash.com
5. Feasting at Mercat de la Boqueria
Mercat de la Boqueria is Barcelona's largest covered market. Hardly any other place brings together the everyday life of the locals with a tourist attraction as seamlessly as this one. The strategic location of the indoor market, right on the Las Ramblas promenade, lets you combine a stroll through the city with a visit to the market. Barcelona's first commercial market was established here as early as the 13th century when the Ramblas was used more and more frequently as a footpath. Some things have hardly changed since then, such as the vendors touting their wares, often loudly proclaiming the quality of their goods, or the hustle and bustle that still prevails here. The brave throw themselves into the middle of the action, taste ham and cheese at every other stall, look huge fish and skinned rabbits in the eye and admire the towering mountains of fruit and vegetables, the many colourful spices, the large selection of honey and other specialities.

If you'd rather take it easy, you can also watch the activities from one of the many small cafés or bars. Or turn your visit into an authentic culinary experience by eating lunch in the covered market where the restaurants cook using fresh ingredients straight from the market.

If you prefer to cook in your motorhome, you'll also find what you need here. Should you want to buy some fish, come first thing in the morning when the fishermen are laying out their fresh catch. The market is open every day except Sunday.

Want more experiences on the Spanish Mediterranean coast?