The caravanning travel trend is going strong, with more and more people in Europe enjoying holidays with their newly purchased or rented motorhome. But no matter how easy and uncomplicated caravanning can be, there are a few things that you have to keep in mind to enjoy it to the full. In cooperation with McRent, Europe's largest motorhome rental company, Freeontour has put together ten typical mistakes motorhome newbies make, along with tips on how to avoid them.
1. Incorrect weight distribution
There are a few key factors that you have to consider when it comes to loading your motorhome or campervan. You obviously have to stay within the weight limit as well as distribute the weight in your vehicle properly. Heavy objects should be stowed at the bottom or close to the axle, whereas the top cabinets are more suitable for light objects. Moreover, secure any loose items to avoid them moving about when the vehicle is being driven. Incidentally, we recommend opening the cupboards cautiously after you've stopped or parked as, no matter how careful you were, plates and cups can still slip during transit and then cause damage or injure someone when they fall out after the doors are thrown wide too abruptly or hastily.
2. Holidaying without driving experience
It's completely understandable that the first thing you want to do after picking up your new motorhome from the dealer or a rental motorhome from the rental company is to simply drive off into the sunset and fulfil your dream of freedom on the road. But we would strongly advise against it, and instead recommend taking the time to get used to driving and handling the motorhome and its size when it's not loaded. For instance, large, little used car parks or empty country roads or country lanes are perfect for practising manoeuvring and parking.

Newbies tend to forget that protruding parts such as awnings or bicycle racks make the motorhome slightly wider or longer. It can be extremely annoying to then discover damage caused from driving down narrow alleys or tree-lined avenues or from parking that could have easily been avoided. Ask your passengers for help when parking and manoeuvring, especially at the beginning of your trip – after all, two to three heads are better than one, even if a large number of vehicles are equipped with a reversing camera.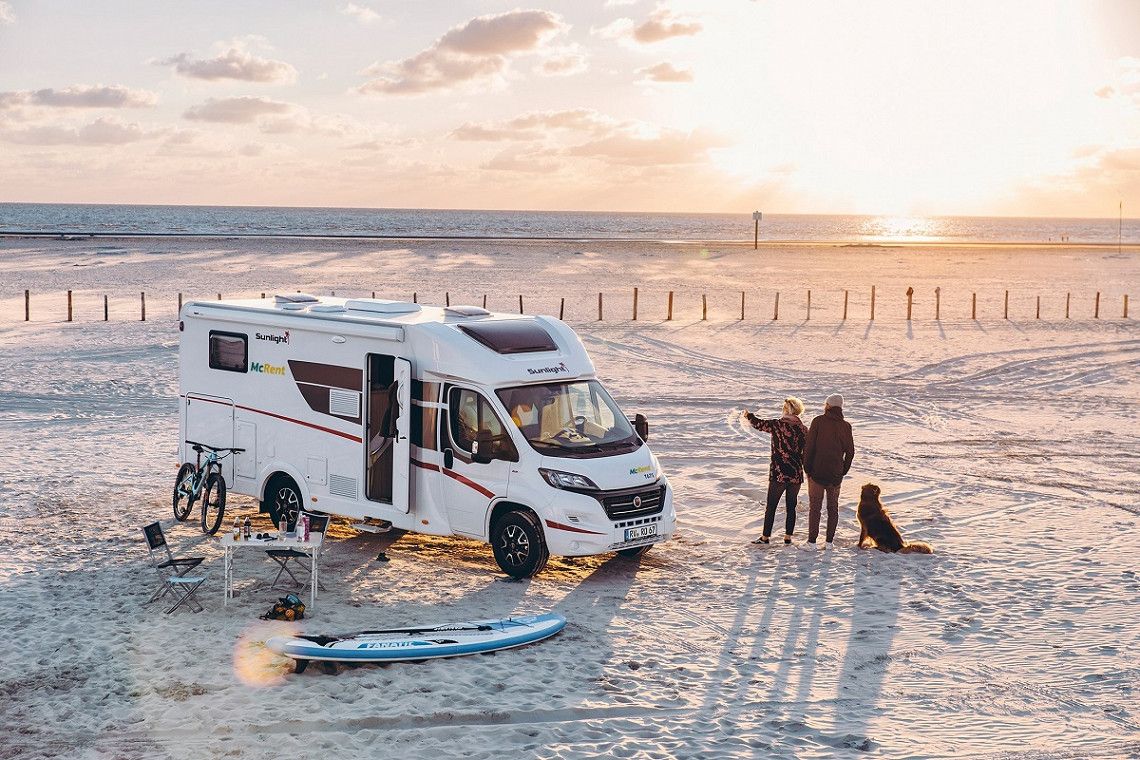 Camping right on the beach and enjoying the sunset - a dream idea, but not allowed everywhere. Photo: McRent
3. Unauthorised free or wild camping
Ever wanted to simply travel across Europe in your campervan and stay overnight wherever you like? Experienced motorhome holidaymakers know that it's not always that easy. Free or wild camping is prohibited in most European countries or only permitted for one night under certain conditions, otherwise you could end up with a heavy fine if caught. In Germany, for example, campers are allowed to stay overnight where it's not expressly forbidden and where no camping-like behaviour is displayed, e.g. you can't take out your tables and chairs or extend the awning. In Italy, however, wild camping is generally prohibited and also strictly enforced depending on the region. And contrary to popular belief, free camping is only allowed under certain conditions in the Scandinavian countries.

If you're thinking about not staying at official campsites or RV parks, read up on the rules for the country you're travelling to and through beforehand. Freeontour has compiled the most important traffic rules and other regulations for campers in the most popular European countries for camping.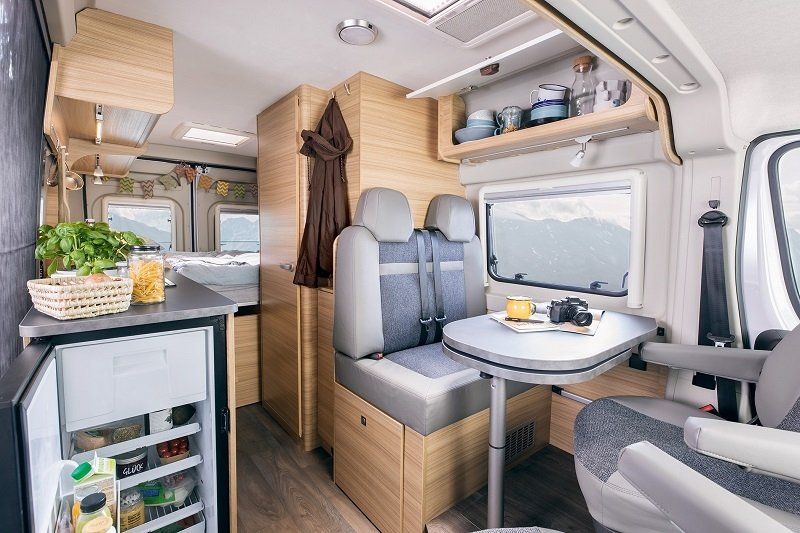 Before setting off on your trip, make sure that all cupboards in the vehicle are closed and that everything outside is also stowed away. Photo: Sunlight
4. Setting off without inspecting your motorhome
It might sound obvious, but many a camper has in fact set off without inspecting the inside and outside of their motorhome when they first started caravanning. But it does eventually become an automatic part of your pre-holiday routine. However, if you're new to motorhome holidays, print out the checklist below as an aid or attach a note to the steering wheel as a reminder: is the refrigerator and, if applicable, the heating switched to driving mode? Has the gas been turned off and electricity disconnected? Are all the windows, skylights and outside storage areas closed and the side steps retracted? Have the jacks been raised and ramps stowed away? Moreover, make sure that all cupboards and doors are closed and the table and storage compartments emptied – after all, the last thing you want is to have your expensive camera flying through the motorhome or the contents of the refrigerator being strewn across the inside of the campervan when you brake.

Remember to empty the grey water and black water – and if necessary the fresh water tank – before setting off on your trip as it not only makes it easier to steer the vehicle, but also avoids unpleasant odours caused by waste water sloshing around. The main points to consider have been summarised in the printable checklist below: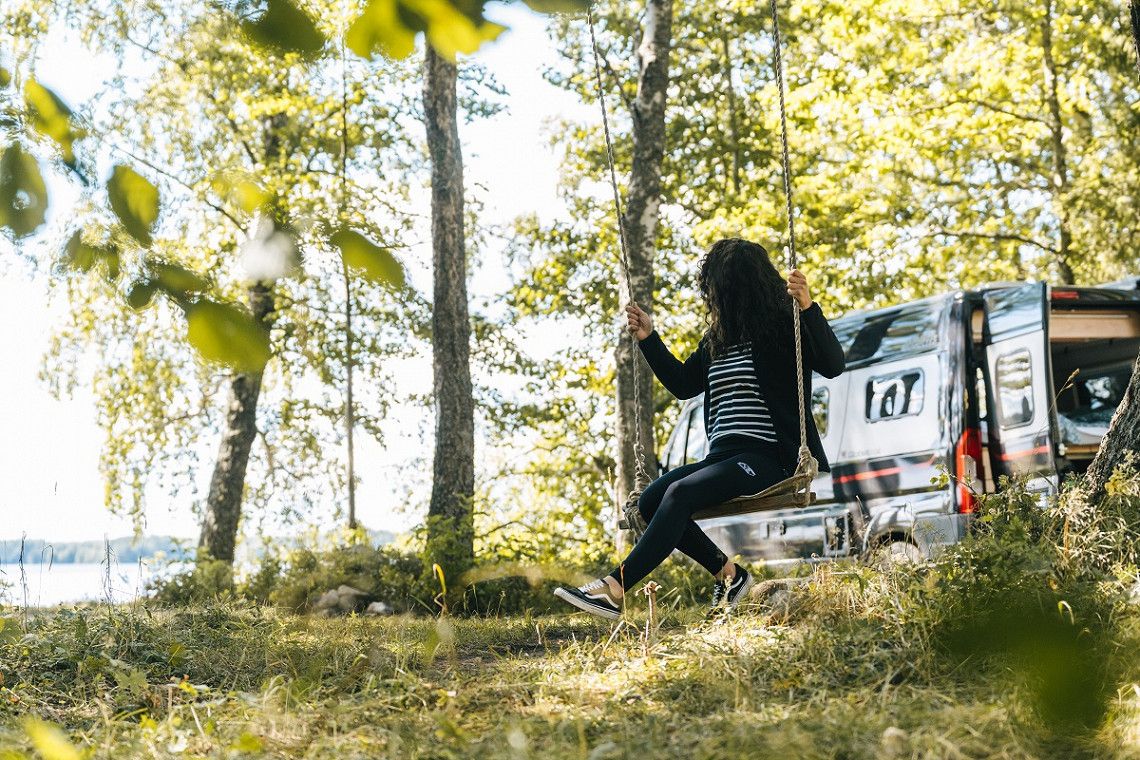 In summer, choose a pitch that offers both sun and natural shade. Photo: Dethleffs
5. Choosing the wrong campsite or pitch
Motorhome novices might not realise that campsites come in all shapes and sizes. As with hotels, comfort, size and amenities vary. If you're just looking for some tranquility and basic facilities, avoid the large, family-friendly sites with water parks and entertainment. If you prefer to have premium restaurants, spa treatments and childcare on site, you probably won't feel at home in a simple field. Then when you get to the campsite, you have to choose the right pitch for your motorhome: the spot should generally be as level as possible and offer sufficient sun and shade. Large and tall trees will provide additional shade for your campervan in summer. If you want to avoid having to walk long distances, look at how far the washhouses, bakeries, swimming pools and supermarkets are from your pitch. The size of the plot is also key as you not only need space for your motorhome, but also for your chairs, table, sun lounger and awning. Once you've chosen the right plot for you and your vehicle, nothing can stand in the way of a relaxed stay.

There is also a large variety of RV pitches that you can choose from – ranging from simple parking bays to small pitches at vineyards or farms to large motorhome parks with a strong infrastructure. You should also consider beforehand what type of pitch is suitable for you and your camping vehicle and save it to your planned route before setting off.
6. Disregarding (unwritten) camping rules
Every campsite has its own rules that visitors have to observe to ensure a peaceful coexistence with other holidaymakers. This ranges from quiet times, barrier closing times and waste separation to camping with pets. But there are also some unwritten camping rules that apply to campsites and RV parks alike to ensure that everyone can enjoy their camping holiday in their own way.

This includes greeting your immediate neighbours, keeping to the plot boundaries and using the fresh water and waste water stations properly. Campers should not walk across someone else's plot to take a short cut. If you want to watch your favourite football team on TV, then do so inside your motorhome, not outside. And if you use the washhouse, leave it clean and tidy. Freeontour has compiled the ten most important camping rules here: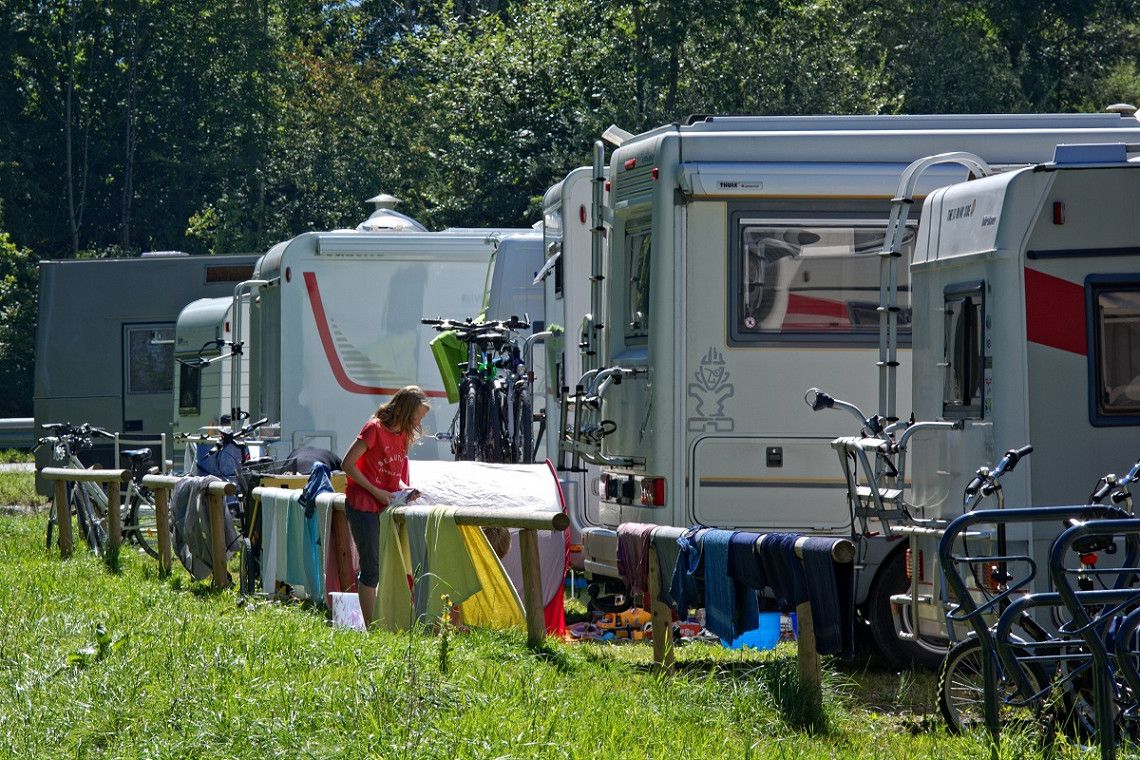 Campsites and RV parks get full very quickly near popular travel destinations during peak season. Photo: Pixabay
7. Travelling in peak season without a plan
If you're travelling by motorhome during peak tourist season, you should really think about reserving a plot at a campsite or – if possible – an RV park ahead of time. This is especially true if your destination is a tourist hotspot as campsites there are often fully booked months in advance. Families in particular who want to holiday by the coast in popular countries such as Italy, Croatia, France or even Germany during the holiday season should book a plot at their campsite of choice as early as possible. The same applies to ferry tickets if you have to cross the sea with your motorhome. Our practical tip: some ferry companies actually offer camping on board, so that you can stay (and sleep and eat) in your vehicle on the open camper deck during the crossing.
Online Bookable
Book a campsite online at Freeontour
You can book the perfect campsite online at Freeontour.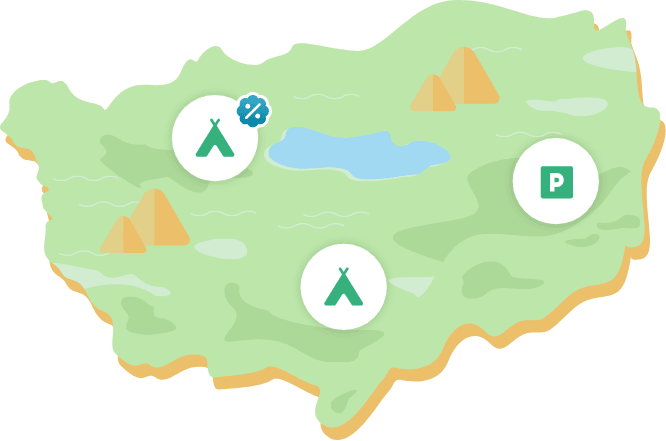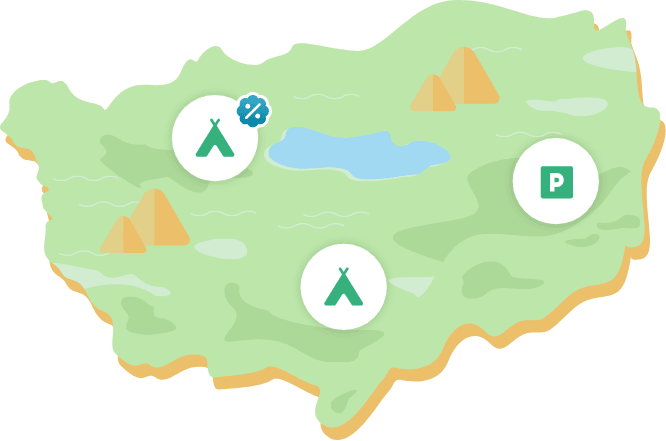 8. Travelling unsecured
No matter how tempting it is and how comfortable the beds in your motorhome are, it's neither a good idea nor permitted to take a nap in the back of your camping vehicle while your partner is driving. The unsecured use of beds during transit can have devastating consequences in the event of an accident. This also applies to walking around and sitting unsecured in your motorhome – both to the people and the animals travelling with you.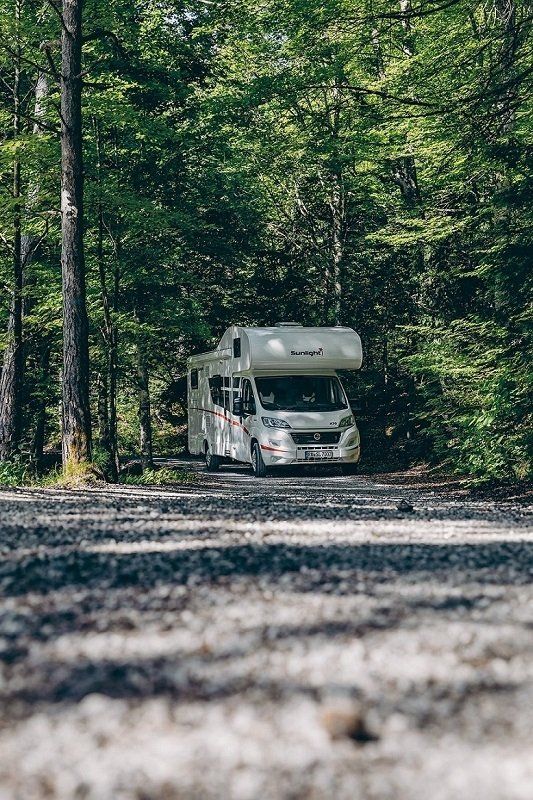 Not every road can or may be driven on with a motorhome. Photo: Sunlight
9. Ignoring road signs
It'll be alright – or not... If you ignore road signs while driving your motorhome, you risk getting stuck under a bridge or realising too late that the road is not wide enough for your vehicle. It can be very stressful trying to turn around, and your beautiful vehicle will often end up with a scratch or worse.

In addition to information about road width, bridge height and the maximum permissible weight on bridges and flyovers, caravanners should also pay attention to traffic signs indicating environmental zones, speed limits and parking regulations. We also recommend finding out about tolls and driving bans before setting off on your trip. Freeontour has put together the most important road rules for specific European countries here.

It's also vital that the navigation device or app that you're using takes the size and weight of your vehicle into account. If you rely on a navigated route for a car while driving a motorhome, you might end up in a dead-end road (or worse) and will have to travel twice the distance.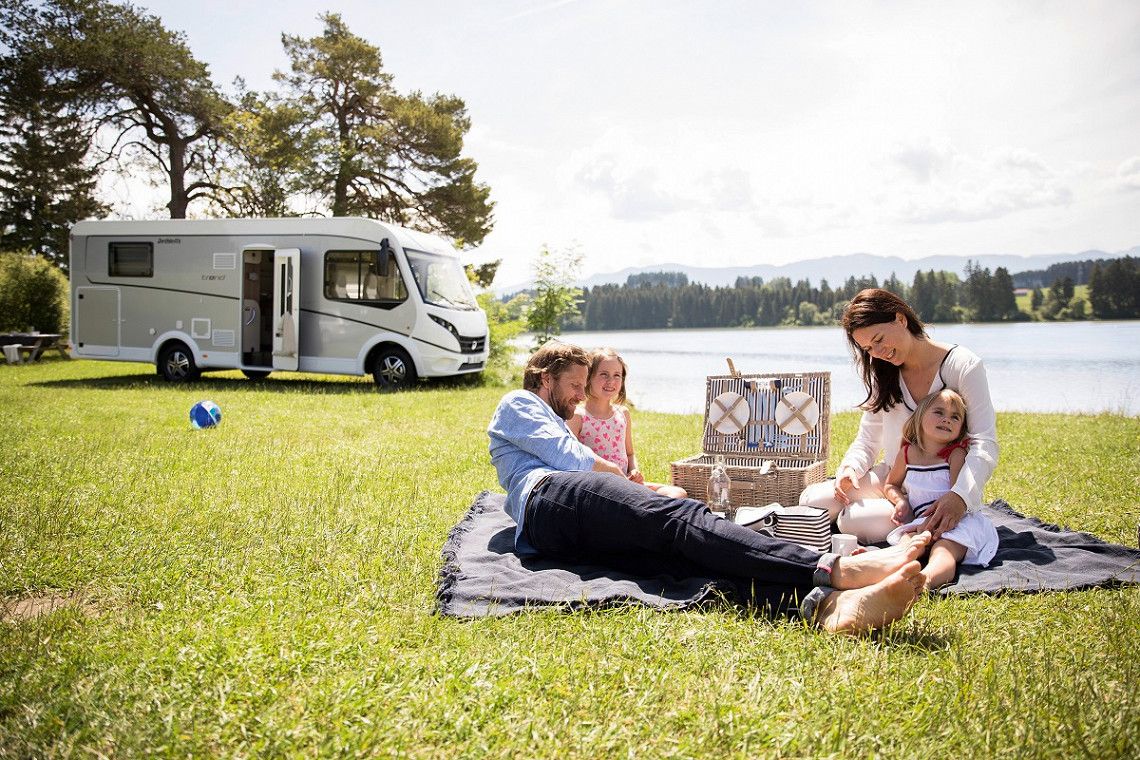 If you're travelling with children, plan a break in a pretty spot before continuing your journey. Photo: Dethleffs
10. Driving for too long
If it's your first motorhome holiday, take it easy and plan plenty of time for your daily routes. True to the motto the journey is the destination, travelling by motorhome is simply slower than by car and it will, therefore, take you longer to get to where you're going. Don't try to cover more than 300 to 400 kilometres per day to make driving an unfamiliar vehicle less stressful. Many experienced campers prefer to drive about 200 kilometres per day – after all, you want to savour your surroundings and relax while you're on the road. Moreover, families with children should choose the time of travel wisely: if you set off at night, let your children sleep in the child car seat and then start the day relaxed with breakfast in the campervan before continuing on your way. You can spend the rest of the journey playing entertaining travel games.