When loading your caravan or motorhome, you not only need to make sure you do not exceed the maximum weight permitted, you also need to distribute the load properly to ensure safe driving behaviour. We have put together a few tips and tricks on how to load your mobile home properly:
The right distribution strategy for your camping vehicle: find the ideal centre of gravity
You have probably heard of the term "ideal centre of gravity", which greatly affects the driving stability of a vehicle. The rule of thumb is: the lower and more central, the safer; the higher and more off-centre, the more unstable. This is particularly true for motorhomes and caravans as the high centre of gravity increases the likelihood of tilting to the side when driving in a curve, and in turn raising the risk of tipping over. Generally speaking, the following applies to all vehicles: stow heavy objects as low as possible. Take note also of the following tips for making it safer to drive your camping vehicle:
Tips for loading your caravan
- Stow luggage preferably above the axles or just in front of them to make full use of the drawbar support load
- Make sure to distribute your luggage or equipment evenly on the left and right side, which will make the caravan well-balanced with an even load on the wheels
- Towing vehicle: load your boot evenly as the caravan will be more stable and the likelihood of swinging out significantly lower
- Empty the waste water tank before setting off
- Do not fill the fresh water tank to the rim (approx. 20 l is sufficient)
Tips for loading your motorhome
- Stow heavy objects in the side storage boxes (outside) and in the double floor (inside)
- When loading the rear garage with bulky and/or heavy objects such as camping furniture, bicycles or scooters, take the bearing load into account. Caution: avoid shifting the centre of gravity towards the rear. If you exceed the rear axle load and take the load off the front axle, it will have a negative impact on steerability and handling
- Pay particular attention to the rear axle load and shift in the centre of gravity when attaching and using bicycle or motorcycle rear racks
- Empty the waste water tank before setting off
- Flip the fill level limit switch and fill the fresh water tank with about 20 l
- Do not store luggage or storage boxes on the roof rack as this will make the centre of gravity higher and the motorhome more susceptible to crosswinds
Tips for loading your campervan
- Stow heavy luggage preferably in the load area of the living quarters in front of the rear axle
- Place heavy equipment on the roof rack in the middle of the vehicle to optimise the centre of gravity. Secure firmly and tighten the straps!
- When using roof racks for sports equipment, use suitable/special brackets, e.g. kayak, canoe or surfboard carriers.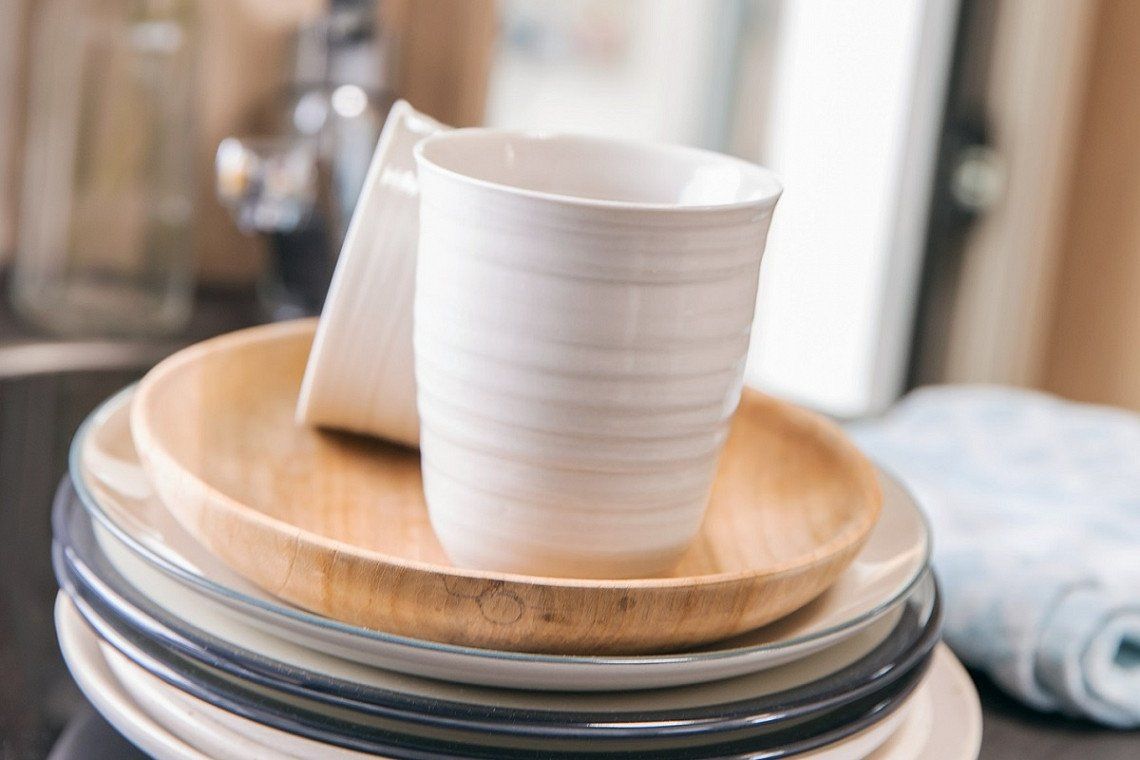 Crockery also comes in a range of different materials and weights. Photo: Sunlight
Freeontour tip: save on weight with the right accessories
It is understandable that you want to take as many items as possible on your trip to make your holiday more enjoyable and entertaining. In addition to beach chairs, camping furniture, crockery or a barbecue, this can also include bicycles or e-bikes. Therefore, when buying accessories, pay attention to how heavy each product is. In fact, you can save on quite a bit of weight: for instance, folding tables with solid tops are heavier than folding tables with aluminium tops. When choosing a barbecue, the weight of individual products can vary by as much as 10 kg. And even with bicycles, e-bikes and pedelecs, comparable products can quickly differ by several kilos.
Reduce the weight of fixtures & fittings
You can also save on a few kilos easily with your travelling companion's technical equipment: for instance, by replacing the standard 11 kg gas cylinders made of steel with aluminium ones, which tend to be about 5 kg lighter. You can even reduce weight with standard leisure batteries by using lithium-ion batteries, which weigh around 30 kg less, depending on their size.
Payload can be problematic, especially with motorhomes in the popular 3.5-tonne class. Despite manufacturers' efforts in making furniture as light as possible, a number of models in this category weigh just under 3000 kg in the basic version alone. This leaves a maximum payload of 500 kg. Let's work it out using a family of four as an example: taking the weight of four people, holiday luggage and camping equipment plus any provisions, 500 kg is not really very much. And when you buy a new RV and order a few additional features beforehand, you can see how quick and easy it is to exceed the weight limit.
With this in mind, our tip: add up the weight of the extras you order. For example, the following additional fixtures & fittings weigh on average: 
• Awning, 4 m: approx. 40 kg
• Oven: approx. 15 kg
• Satellite system: approx. 25 kg
• Roof air conditioners: approx. 27 to 39 kg