When holidaying in a motorhome or caravan, bicycles, e-bikes and scooters expand your mobility and activity options at your destination. But the question then arises of how to transport them. If you have a conventional motorhome with a GRP or aluminium sandwich structure, you can simply use a bicycle rack at the rear of the vehicle. When it comes to caravans, the drawbar is a good alternative for attaching a bicycle rack. However, not every carrier system is suitable for every camping vehicle. There are various factors to look out for when buying one: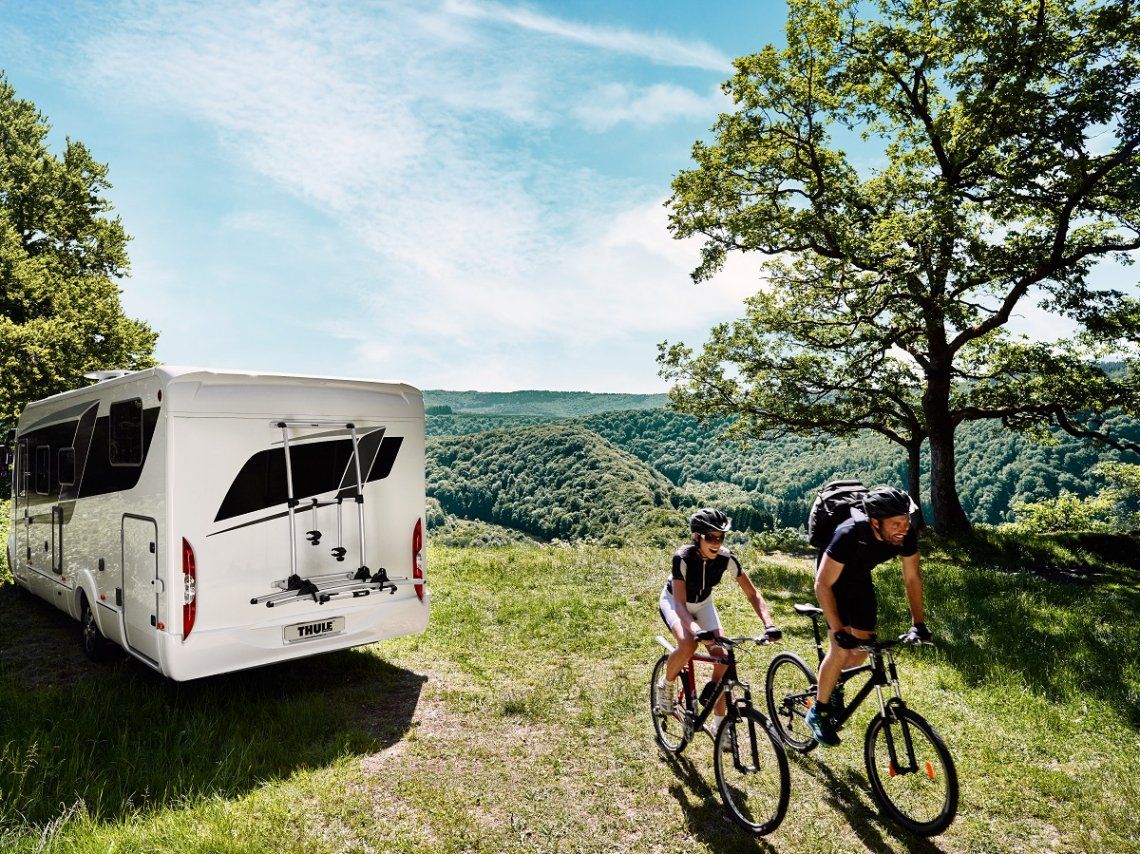 The Thule Excellent Standard is specially designed for motorhomes and caravans and can transport up to 60 kg, including e-bikes. Photo: Thule
Special bicycle rack solutions for motorhomes
The straight and mainly windowless rear walls of alcove motorhomes, partially integrated motorhomes and fully integrated motorhomes – as well as caravans – seem to be ideal for attaching rear bike racks. And in fact, they are, but with a few restrictions. These lightweight motorhome constructions do not allow for a sturdy and secure installation, which means that screws will not hold for long. Motorhome and caravan manufacturers are also aware of this, which is why they fit reinforcements in the rear wall as standard.

However, as they are not visible from the outside, never try to attach a rear bike rack on the chassis yourself. Always enlist an expert – only they know the exact position of the mounting points. What's also important to know: with this type of installation, it's not only the bike rack that determines the maximum load that can be transported. The motorhome manufacturers also specify the permitted load, which motorhomers must also observe to ensure the bikes are transported safely and securely.
The Thule Lift V12 is an easy-to-use bike carrier that can be lowered electrically. Photo: Thule
Caravan and motorhome bike racks with an adjustable platform
One factor you should definitely bear in mind before buying a rear bike rack for your caravan or motorhome: it takes a lot of effort to lift a bike or e-bike (that can easily weigh 25 kg) onto a rear carrier that could be 1.5 metres high. Some RV enthusiasts find this too burdensome, others fail completely due to their height or lack of strength. This is where rear rack systems with an adjustable platform come into play as they are extremely easy and convenient to use: when loading and unloading, they can be lowered to ground level and then folded up or cranked back up to the actual transport height. Bike racks that can even be operated at the push of a button have been on the market for a few years now – an electric motor does all the work.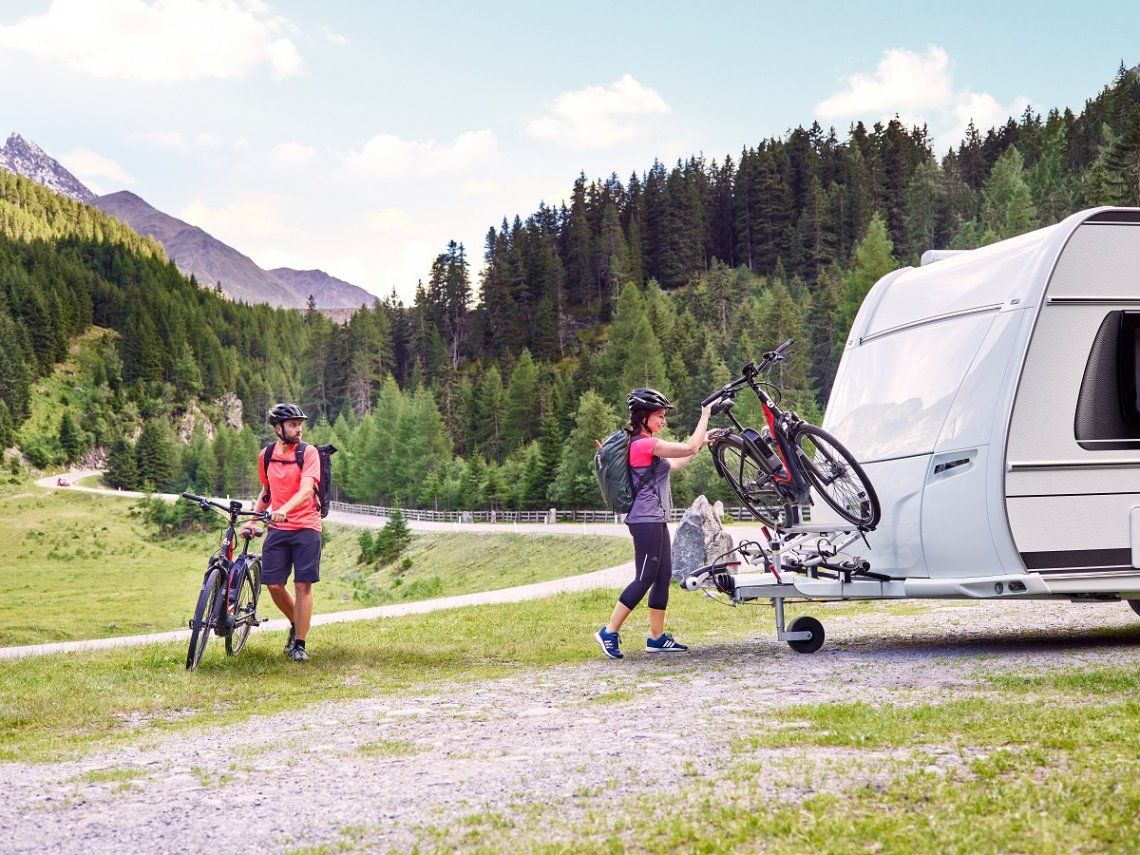 The Thule Caravan Superb Standard drawbar carrier has an adjustable tilt-stop system. Photo: Thule
An additional solution for caravans: the drawbar carrier
In addition to bicycle racks for the rear wall, special caravan drawbar racks that transport bicycles between the caravan and the towing vehicle are also available. By attaching a drawbar adapter, you can also mount a carrier system for tow couplings onto the caravan drawbar. This provides more flexibility in transporting your bicycles using the same drawbar – with your caravan attached to get to your destination and then on the tow coupling of the towing vehicle, e.g. your car, to explore your destination more easily.

However, all drawbar carriers increase the vertical load, which you will need to pay special attention to. The extended position of the bicycles will restrict the articulation angle of the car/caravan combination noticeably. Therefore, careful manoeuvring is required in order to avoid scratches or dents. It's also important to be able to access the drawbar box even with bicycles mounted, therefore it's practical if the handrails and bicycles can be folded down forwards. As you can see, there are many aspects that you have to consider beforehand. Always discuss your needs with a dealer who will be able to help and advise you in choosing the right drawbar carrier.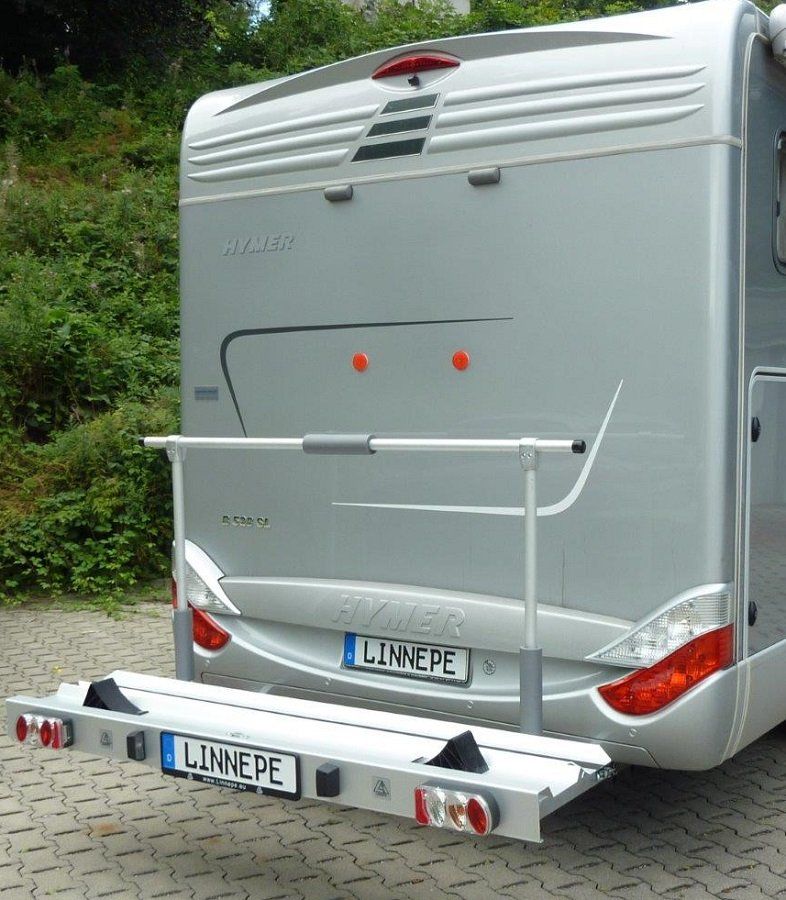 The Linnepe Porto load carrier is made of both steel and aluminium and can also carry heavier loads such as scooters. Photo: Linnepe
When it gets really heavy: carrier systems for scooters
The rear rack system or drawbar carrier attached to the rear wall of your motorhome is perfect as long as you only transport relatively light items such as bicycles or e-bikes. However, if you want to take something heavier on your trip, such as a scooter, you will need a transport system that is attached directly on the vehicle frame. The selection is similar to that of bicycle racks for tow couplings. Incidentally, they can also be attached to RVs using a frame extension. Here, too, you can choose between rigid carriers, folding or sliding models and retractable bumpers to accommodate the items you want to transport.

Systems with a load platform, onto which you can mount individual brackets for all types of two-wheelers or storage boxes as required, are very adaptable. But before you decide on a specific rear rack or load carrier, you first need to think about what you actually want and are allowed to pack onto it. A weighty decision in the truest sense of the word, where you have to take both the maximum payload and the rear axle load of the motorhome into account.