Last update: January 24, 2023 
Travelling to Sweden
Entry requirements for European citizens: For a tourist stay, European citizens need a passport or an identity card or a children's passport, which is valid until the end of the stay. Temporary identification documents are also accepted.

Entry of children into Sweden: There are no special regulations for the entry of minors. For the sake of simplicity, minors travelling without a legal guardian should carry a certified declaration of consent from a parent or guardian.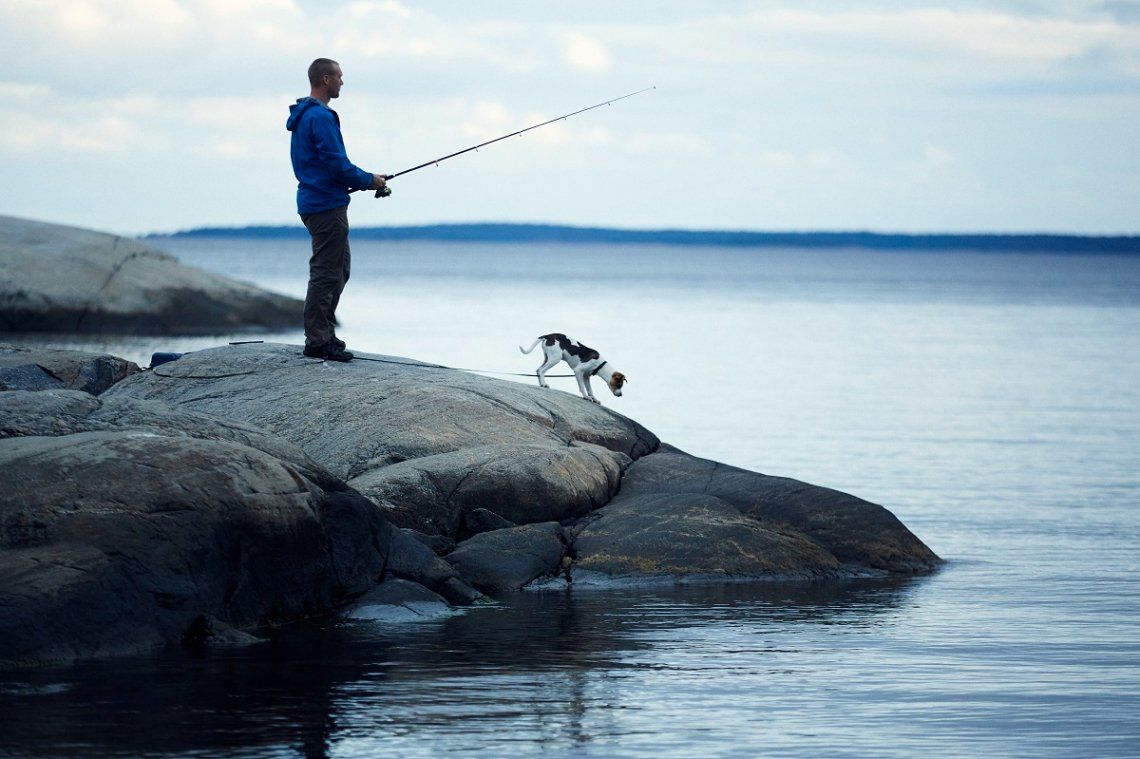 The vast nature of Sweden has a lot to offer people and animals alike. Photo: Lindsten & Nilsson / imagebank.sweden.se
Travelling to Sweden with pets: Pets such as dogs, cats and ferrets must meet the following requirements in order to enter Sweden: They must be at least 12 weeks old. They also need an EU pet passport as well as a microchip identification and a valid rabies vaccination. The vaccination must be carried out in accordance with the recommendations of the vaccine manufacturer. It needs to be documented and carried out at least 21 days before entering Sweden, provided that the basic vaccination is involved. You don't have to wait 21 days for booster vaccinations. A tattoo to identify the animal is only permitted if it was done before July 3, 2011. The previously mandatory blood tests and worm therapies are no longer necessary - but regular worm therapies are still recommended. Pets traveling with you should also officially be registered with Swedish customs - this can also be done online in advance. The following video explains the entry requirements again:
Video: What do dog and cat owners have to consider before entering Sweden?
Further rules for dog owners in Sweden
- Between March 1st and August 20th it is mandatory to keep your dog on a leash on forest and field paths in order to protect wild animals. Even outside of this time it is often common in Sweden for dogs to be on a leash in the wild. This often also applies to many cities and campsites.
- Dogs are often not allowed on official beaches and bathing areas. There are usually special dog beaches or alternative beaches in the vicinity where the four-legged friends can let off steam and cool off.
- Dog waste must also be disposed of by the owner.
- In Sweden dogs are sometimes not allowed to go into the restaurant - it is best to ask before you order a table.

The journey to Sweden is possible either over the Öresund Bridge by land or by ferry. Photo: Pixabay
The main traffic rules for motorhomes and caravans in Sweden
In general, there are no generally applicable speed regulations or recommended speeds on Swedish roads - the current signs in the respective areas always apply. But there are certain base values that can be used to guide you, whereby there is an increasing trend towards speed limits with straight numbers. These include, for example, speed limits of 40 km/h within built-up areas and 80 km/h outside built-up areas. The following table serves as a orientation guide:
Attention: There are no tolerance limits in Sweden for exceeding speed limits. Penalties are significantly higher than in some other European countries.
Information about the toll in Sweden
The good news for holiday makers in Sweden: In Sweden there is no general toll on motorways or on country roads. However, in the two major cities of Stockholm and Gothenburg there is an inner city toll that also applies to cars, trucks and buses up to 14 t registered abroad - including motorhomes and caravan teams. The so-called Essingeleden, Stockholm's inner city bypass, has also been subject to tolls since 2016.

Unlike in other European countries, there are no toll stations in Sweden where you have to stop and no transponder is required. Instead, the license plates of the vehicles are automatically recorded by camera as they drive through the checkpoints called Betalstation. The vehicle owner will then receive the invoice at home by post via the company Epass24. Caution: Invoices that are not paid by the stated payment deadline always incur an additional penalty fee of SEK 500. It is therefore always advisable to register your vehicle online with Epass24 before travelling to Sweden (and also Norway) and to pay outstanding tolls automatically by credit card or direct debit. If you are travelling with a rental vehicle, you can and should enter the corresponding rental period in your account with Epass24.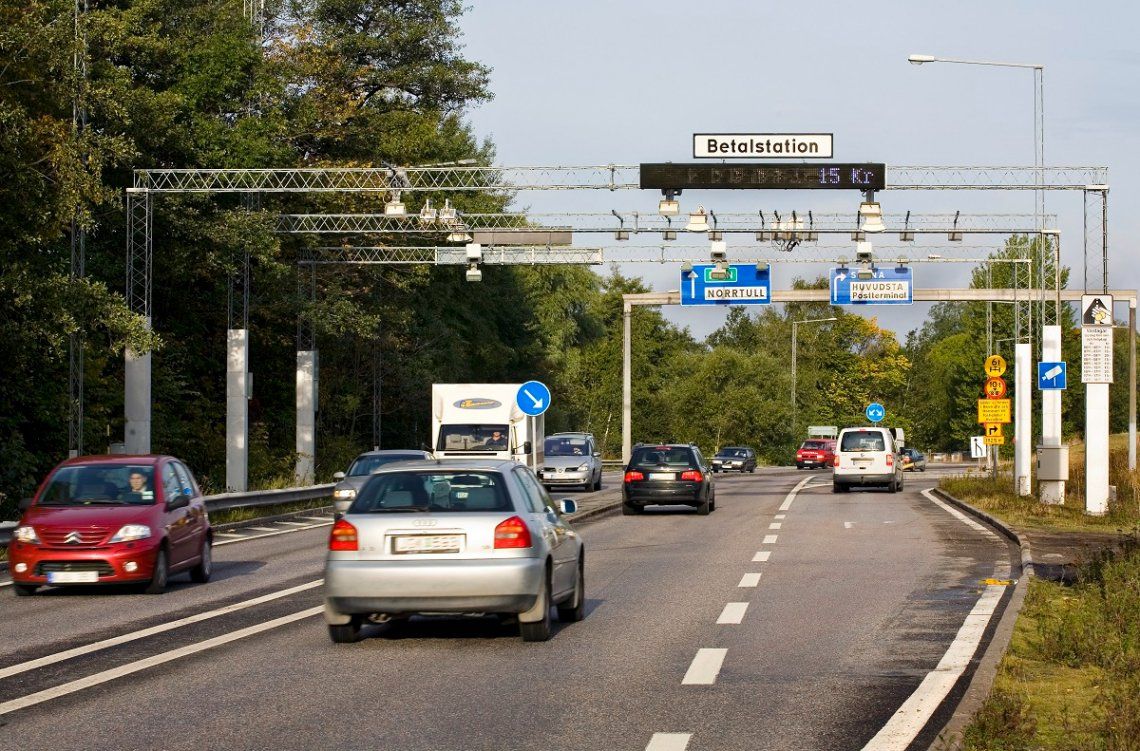 The current city toll tariff is displayed dynamically at the checkpoints, as shown above in Stockholm. Photo: Mikael Ullén
How much does the city toll cost in Stockholm and Gothenburg?
The city toll is a kind of traffic jam fee and is therefore different depending on the day of the week and the time of day as well as the season of the year. No fees are charged on Saturdays, Sundays, the day before a public holidays and the public holiday itself as well as in the month of July (exception Stockholm: the first five working days of the month July are subject to tolls). The same applies daily for the time between 6:30 p.m. and 5:59 a.m. the following day. Different charges apply between 6:00 a.m. and 6:29 p.m.: they are highest during traditional rush hour traffic and lowest between 9:30 a.m. and 2:59 p.m. In Stockholm the lowest fare is 11 SEK, in Gothenburg it is 9 SEK. The maximum amount per day per vehicle is SEK 60 in Gothenburg, in Stockholm, a maximum of SEK 45 is charged each way (prices as of January 2023). The category of the respective vehicle does not matter.
By the way: In Gothenburg the one-time fee rule applies: if you pass several checkpoints within 60 minutes, you only have to pay one fee. The highest tariff applicable for the transit will be charged.

Tip: There is a very well developed network for public transport in both Stockholm and Gothenburg. Ideally, you should look for a campsite, motorhome site or Park & Ride parking space outside the city centers and travel into the city by bus, train or bike.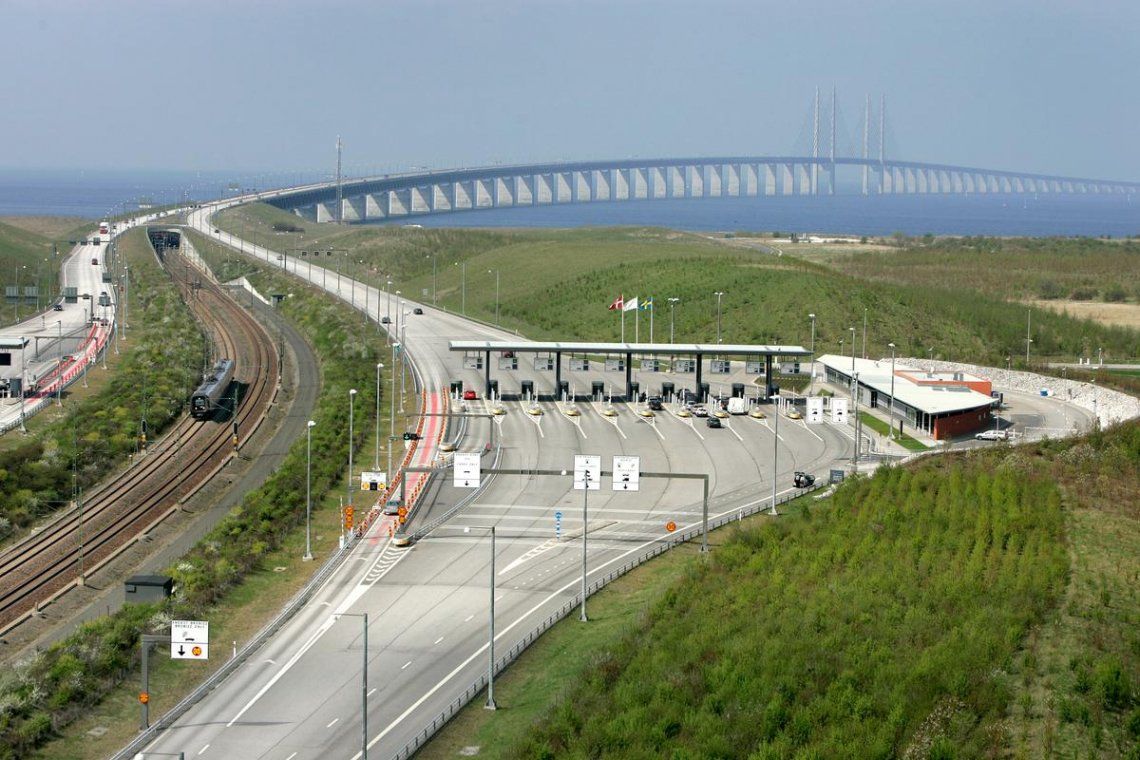 Malmö-Lernacken toll station on the Swedish side of the Öresund Bridge. Photo: Stig-Åke Jönsson / MalmöBild
Bridge toll in Sweden
There are currently three bridges in Sweden where a toll is charged for using them. The most famous of these is certainly the impressive Öresund Bridge, which connects Sweden with Denmark. It runs from Malmö-Lernacken in Sweden to Copenhagen-Kastrup in Denmark. The tariffs depend on the type of vehicle and the height and length of the vehicle. Motorhomes and caravan combinations are tolled according to the total length in the categories up to 6 m, from 6 m and from 10 m. The crossing of the Öresund Bridge costs for cars, caravans and motorhomes up to 10 meters between about 57 euros and 114 euros per one-way trip without a so called BroPass (prices as of January 2023). The fees are paid on site in cash or by credit card. But there is also the option of buying an online ticket in advance, which comes a little cheaper.

The use of the bridges in Sundsvall and Motala is also currently chargeable. It is expected that the infrastructure charge will also be levied on the new Skurubron (Skuru Bridge), which crosses Skurusund southeast of Stockholm, from the summer of 2023. But there are no toll stations here. Similar to the city toll in Stockholm and Gothenburg, the fees for using these bridges are levied through the automatic registration of the vehicle registration number via Epass24. The invoice will be sent by post or paid automatically when the licence plate is registered with Epass24.
Petrol stations - opening times and means of payment in Sweden
In Sweden there is a well-developed network of petrol stations, which, however, becomes increasingly thinner the further north you travel. For this reason, you are allowed to carry a reserve canister with up to 30 liters of fuel within Sweden. Almost all petrol stations are self-service and are open seven days a week, some even around the clock.

Manned petrol stations are increasingly becoming the exception in Sweden, instead there are more and more petrol terminals where you have to pay with credit card and PIN code. Most of the time, MasterCard and Visa cards are accepted. There are also petrol terminals where you can pay with Swedish banknotes (Sedel). However, these are becoming increasingly rare in Sweden.
Whether at dusk or in broad daylight - in Sweden you always have to drive with lights. Photo: Fredrik Broman / imagebank.sweden.se
General traffic rules in Sweden
Compulsory daytime running lights: In Sweden there is a light requirement all year round at all times - even in summer under the light of the midnight sun. So always remember to turn on your headlamps or daytime running lights. The light requirement also applies to trailers, including the rear lighting of the caravan.

Drink-drive limit: The blood alcohol limit in Sweden is 0.2 ‰. Anyone who "can no longer safely drive a vehicle" under the influence of alcohol or narcotics can also be convicted of drunkenness. There are high penalties in the event of a violation - including prison sentences of up to two years or driving license revocation.

Child safety car seats: Children under 1.35 m need a child safety seat that is suitable for the weight and height of the child. Anyone driving with a child on the front passenger seat in a rear-facing child seat must deactivate the airbag.

Talking on the phone while driving: The mobile phone may only be used in the vehicle with a hands-free device for telephone calls and for navigation. It is expressly prohibited to use any communication devices that you hold in your hand.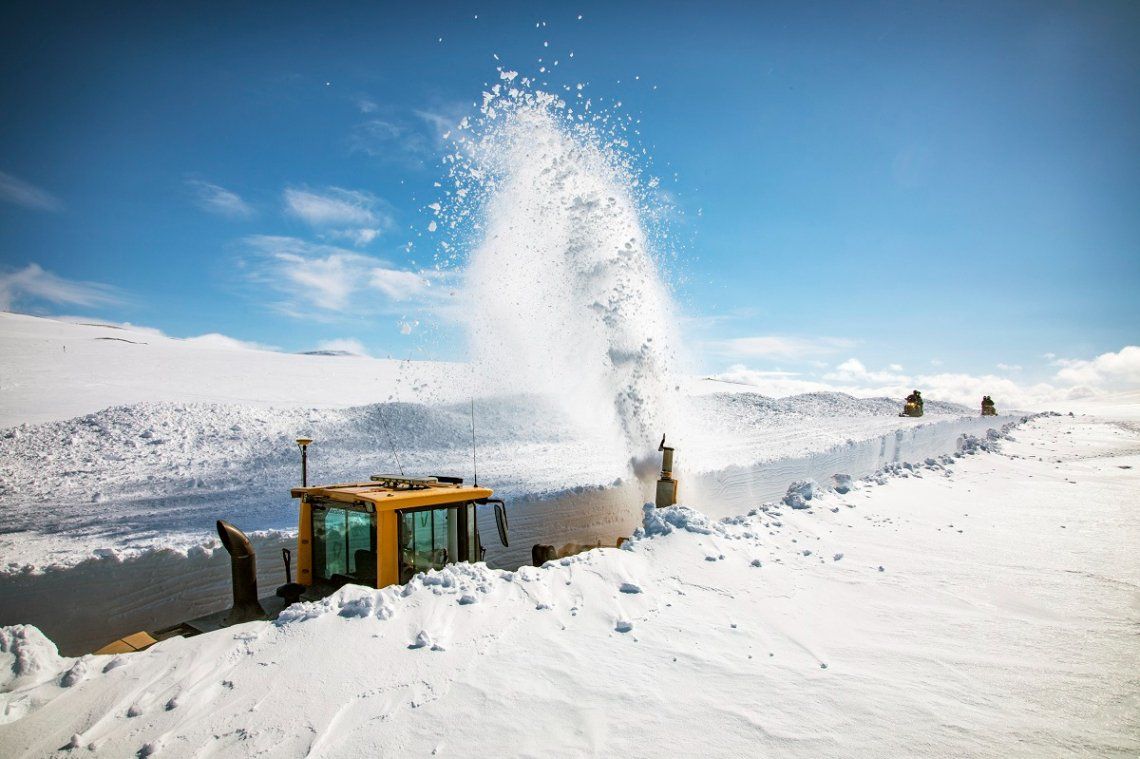 Such masses of snow cannot be expected everywhere in Sweden as here in Stekenjokk, Vilhelmina. But you should be prepared for winter road conditions throughout the country. Photo: David Sandström / imagebank.sweden.se
Compulsory Winter tyres: In winter road conditions, both cars, mobile homes, and caravans must be equipped with winter tyres that carry the marking M + S. Snow chains or spikes can also be used if necessary.

Marking of protruding cargo: protruding load (such as bike racks) may protrude a maximum of 1 m at the front and rear and a maximum of 20 cm at the sides. If the load exceeds these dimensions, it must be marked. During the day a conspicuous cloth or flag is sufficient, in the dark a white light and white reflectors must be attached to the front and a red light and red reflectors to the rear. Including the load, a vehicle may not be wider than 2.60 m and not longer than 13 m.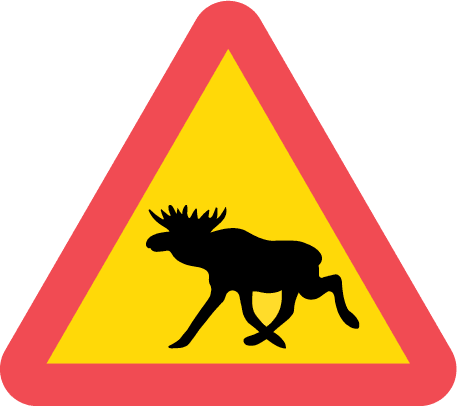 The warning about moose crossing should always be heeded.
Beware of moose crossing: There is hardly a visitor to Sweden who would not like to see at least one moose in the wild during his stay. However, this should not be while driving and being on the road. Because even if the moose population in Sweden has decreased in the past decade, accidents with elk are not uncommon. This is especially true in the time between dusk and dawn. Therefore, you should definitely take the moose warning signs on the roadside seriously and take a little off the accelerator. A collision with a full-grown moose can have bad consequences for everyone involved, as the animal's weight and increased center of gravity are very unfavorable, especially for cars. For this reason you should always try to avoid a moose. Any collision with an elk or a larger animal such as deer, reindeer, wild boar, bear, wolf, lynx or the like must be reported to the police immediately, even if the animal was not injured or killed. The scene of the accident must be marked. This is not necessary for smaller animals such as badgers, rabbits or foxes.
Important addresses and telephone numbers for holiday makers in Sweden
European emergency number: 112
You can get help from the local police, fire brigade, emergency doctor or ambulance via this central emergency number, which can be reached free of charge via landline or mobile phone without a dialing code.