Nature, nature and more nature – this is what Sweden is known for. And as a country where you can pursue outdoor activities without seeing a single person for miles on end. Freeontour has put together a selection of destinations for your summer motorhome trip, most of which are off the beaten track and offer great opportunities for hiking, mountain biking, paddling and swimming surrounded by a diverse natural landscape. Our journey starts in the southern Swedish county of Skåne and continues through the provinces of Småland, Västergötland and Bergslagen to Dalarna in central Sweden and goes back south again through the provinces of Dalsland and Bohuslän.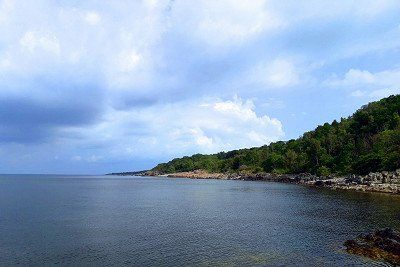 The Kulla Peninsula will surprise you with a landscape that you would not necessarily expect in Skåne, Sweden's southernmost region. Photo: Claudia Rothkamp
Stopover #1: Hiking and mountain biking on the Kulla Peninsula
Many campers who travel to Sweden by ferry or across the Öresund Bridge will start their holiday in the southernmost Swedish county of Skåne. At first, this region may appear to be rather flat and agricultural, but soon enough you will also come across landscapes that bear no resemblance to this initial image. For instance, just a few kilometres north of Helsingborg is the Kulla Peninsula where the landscape has an impressive rocky coastline as well as secluded beech forests, moorlands, heathlands and small picturesque coastal towns. The biggest attraction for most tourists is the Kullaberg Nature Reserve at the western end of the peninsula. The Naturum Kullaberg information centre at the lighthouse offers information, hiking maps and guided tours. However, most visitors tend to be more interested in the rocks at the lighthouse, close to which they can find some natural and artificial rock grottos. However, some sections of the descent are very steep.
Another popular attraction is the Nimis – a giant labyrinthine work of art made from driftwood. The best way to see it is to cycle to Himmelstorpsgården, then follow the yellow "Ns" markings on foot for about 30 minutes, when you will eventually have to climb down rocky terrain to get to the coast. Sturdy shoes are a must! It is also worth stopping over quickly at Arild, a small town near Himmelstorp and a former fishing village with the charm of a summer idyll from the 1900s.
The Kulla Peninsula has an abundance of hiking trails, especially along the coast, some of which are also used as mountain bike trails. This applies in particular to the Kullaberg Nature Reserve, which has a number of longer trails, single trails of various levels of difficulty as well as technically demanding routes. The information centre at the Kullaberg lighthouse is a good place to start to get your bearings.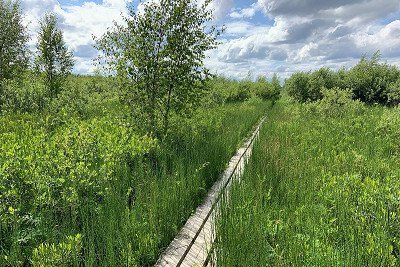 Boardwalks take you through the moorland in Store Mosse. Photo: Claudia Rothkamp
Stopover #2: Hiking through Store Mosse National Park
A completely different landscape awaits visitors to Store Mosse National Park north of Värnamo in the province of Småland. There's a reason that this national park is roughly translated as big marsh: it is the largest bogland in Sweden south of Lapland. There are about 40 kilometres of signposted hiking trails, some with shorter or longer loops, so that everyone can choose the route that best suits them. The trails are on boardwalks that take you through areas of peat moss and fen as well as moorland and sections of forest. You will see stunted pine and birch groves paired with countless blueberry bushes, cotton grass and carnivorous sundews, various birds and plenty of dragonflies, too. However, when the weather is good, insects such as mosquitoes and horseflies are not too far away, so don't forget to pack protective clothing or other insect protection. And wear non-slip shoes when it's wet.
Tip for campers: there are several hiking car parks in Store Mosse National Park, which are also suitable for larger mobile homes. Overnight stays are only allowed in the main car park at Naturum.

There are great panoramic views of the moorland from various viewpoints in Store Mosse. Photo: Claudia Rothkamp
Stopover #3: Hiking in Tiveden National Park
A unique beauty spot that is almost hidden between the two large lakes of Vänern and Vättern is Tiveden National Park, southwest of Askersund. It is definitely not one of the largest national parks in Sweden, but undoubtedly one of the most beautiful. If you like hiking up and down narrow trails over roots and rocks, don't mind easy ascents and occasionally want to cool off in a lake, then this is the place for you. The national park has nine different and well-marked circular hiking trails of different lengths, some of them even connecting with each other.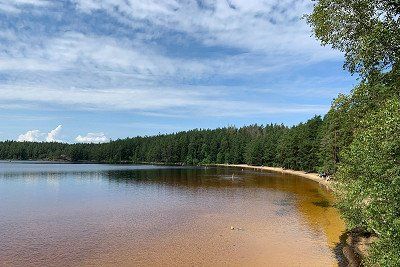 Picnic benches on Vitsand beach are ideal for taking a break and going for a swim in Lake Stora Trehörningen. Photo: Claudia Rothkamp
The prettiest and most diverse trails include the short Tärnekullerundan loop (1.3 km from Vitsand car park) and the Stenkällerundan loop (2.2 km from Huvudentrén main car park), which can be connected, for example, to sections of the Trehörningsrundan loop to form a longer trail – obviously with a break and swim at the sandy beach at Lake Stora Trehörningen. The almost 5 km loop to the large Troll's Church is also perfect for anyone who likes wild nature, rocks and lakes. However, sturdy shoes are more than just a recommendation on all of these trails – which, by the way, are not at all suitable for prams. Nor are they suitable for mountain bikers as you will end up carrying the bikes more often than actually riding them. But the national park has set up bike trails in the outskirts of the park, parts of which are shared with horse riders. However, they are not really trails per se, instead slightly wider gravel and forest paths. If you want to ride technically demanding trails, you can ride parts of Bergslagsleden, a long-distance hiking trail, which goes through the middle of the national park.

The hiking trails in Tiveden often go through difficult terrain, like here on the Tärnekullerundan trail. Photo: Claudia Rothkamp
There are designated bays for large motorhomes and caravans at three car parks in the national park. Overnight stays are not usually allowed, but are sometimes tolerated in the motorhome car park at the main entrance. The Stenkällegården campsite is just 5 km south of the main entrance and is the perfect base for your holiday.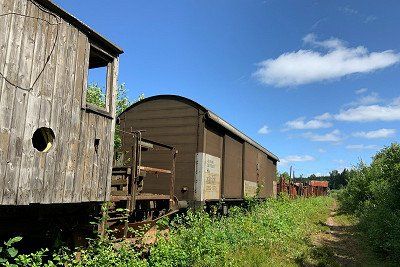 If you set off from Pershyttan on your mountain bike and go into the woods, you will regularly come across remnants of former mining activities. Photo: Claudia Rothkamp
Stopover #4: Mountain biking around Pershyttan, a former mining settlement
The Bergslagen mining district in central Sweden was one of the most economically important regions in the country from the Middle Ages until about the mid 20th century. Falun is a well-known mining town, but there are still a few smaller places where you can trace the history of mining in Sweden. If you want to combine some cultural history with beautiful mountain bike trails, you should stop over at the Pershyttan Culture Reserve near Nora. Parts of the former mining settlement are very well preserved, with some buildings serving as an open-air museum village, while others are inhabited. You can still see the old blast furnace, remains of the former wooden shaft pumping system, which is still powered by a waterwheel at specific times, slag heaps, the former train station and many smaller buildings.

Parts of the former wooden shaft pumping system still demonstrate today how the underground treasures were once excavated by hydropower in Pershyttan. Photo: Claudia Rothkamp
A few well-signposted mountain bike trails start at the car park next to the small Pershyttan information centre, with levels of difficulty varying from easy to very technically demanding. A map of the area at the car park provides an overview of the various routes, which
you can also see online here
. Some trails can also be combined with a swim in the lake. Motorhomes and caravans can stay overnight in the visitor centre car park free of charge, so you can get on your bike in the morning and take a break in your motorhome when you want to.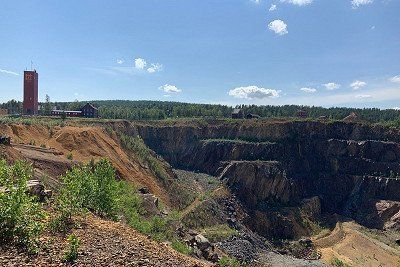 The Stora Stöten mine brings to mind the dramatic collapse of three pits in the 17th century, without a single miner losing their life. Photo: Claudia Rothkamp
Stopover #5: Mining history & mountain bike adventures in Falun
When it comes to mining, the first place you will hear about in Sweden is Falun. The huge copper mine, which is now a UNESCO World Heritage Site, was in use until 1992. Gold and silver were also mined here. In the 17th century, Falun even accounted for two-thirds of the world's copper production. The most famous residual product from the pit is the colour Falun red, which is still used to paint the typical red Swedish wooden houses. Today, the pit area can be explored both above and below ground. Parts of the city's industrial history are still reflected in certain districts, notably in Elsborg, Gamla Herrgården and around the central market square.
However, Falun is not only a great place to visit if you are interested in cultural history – this area is also considered to be the cycling capital of Sweden. For instance, visitors to the small popular ski resort of Källviken can enjoy
the Källvikens Svarta
in summer, a very challenging cross-country single trail that combines blocked terrain with a flow trail. There is also a downhill track and a number of artificial jumps in the car park area. You will find several trail parks in Falun, e.g. around the Lugnet sports complex, in Gruvriset and Grycksbo.
Video: Källvikens Svarta, mountain bike single trail
Stopover #6: Sightseeing and relaxing at Lake Siljan
A little further north in Dalarna is Lake Siljan, a very popular holiday region for Swedes. The sixth largest lake in the country offers countless bathing opportunities, a good campsite and RV park infrastructure and some pretty little towns to explore. And there is obviously plenty of unspoilt nature for hiking, biking and relaxing.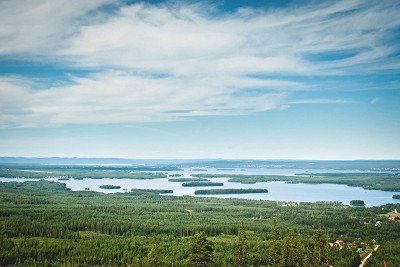 Lake Siljan is the sixth largest lake in Sweden and offers many opportunities for outdoor activities. Photo: Jacque de Villiers/Imagebank.sweden.se
Popular places around the lake include Mora, Leksand, Rättvik and Nusnäs. The latter is known for the colourfully painted Dala horses, and you can visit the factories there and see how they are made. The small town of Leksand is one of Sweden's largest producers of crispbread and is famous for hosting the country's largest midsummer festival. With a 600 m long bathing jetty, Rättvik attracts countless swimmers in summer and is a favourite with families, not least because of the very shallow and long sandy beach. The small town of Mora is traditionally the finish of the long-distance cross-country Vasa Race in winter, which can now also be completed by mountain bike in summer. The former home of the painter Anders Zorn and the Zorn Museum next to it are also worth a visit.

But you will also find what you are looking for if you just want to relax by Lake Siljan for a few days and escape the tourist crowds, e.g. on the small island of Sollerön, south of Mora, which is connected to the mainland by two bridges. There are also several campsites and small motorhome sites here. The Kulåra Camping campsite, for instance, is perfect for relaxing and swimming. There's not a lot of infrastructure here, but that's what makes it all the more idyllic and tranquil.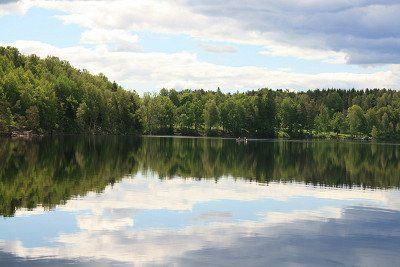 The lakes in the Dalsland region are ideal for short and long canoe trips. Photo: Claudia Rothkamp
Stopover #7: Paddling in Dalsland
If you want to go canoeing or kayaking when heading back south, then the Dalsland region is perfect for you, especially around the Dalsland Canal. After all, the area around the Dalsland Canal is made up of countless small and large lakes and watercourses, therefore strictly speaking not actually a canal. Only ten of 240 navigable kilometres go through the manmade canal sections. The rest of the lake system is pure nature. Accordingly, there are also a number of canoe rental companies, including Silverlake, which is based both in Bengtsfors and in the northern part of the Dalsland Canal in Kråkviken at Lake Västra Silen. The banks are surrounded alternately by high cliffs, green meadows and small fir, birch, spruce and beech forests – and naturally by a scattering of the typical red and white summer houses.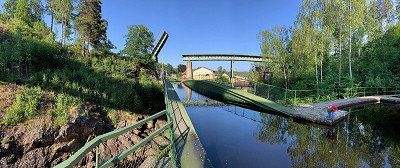 The Håverud aqueduct is one of the most unusual structures in Sweden. Photo: Claudia Rothkamp
It is also possible to simply follow the course of the Dalsland Canal and then e.g. paddle the easy stretch from Bengtsfors to Håverud, passing numerous locks, and then return either on a historic steamship or a historic rail bus. You can also see the unusual Håverud aqueduct up close: in the 1860s, when the canal was built, it was impossible to install a conventional lock system here due to the loose rock, the strong current and the steep slopes. Instead, a sheet steel trough, floating above the rapids, was built to transport the ships to the next lock. Held together by 33,000 rivets, this unconventional 32.5 m long structure is one of Sweden's most extraordinary structures.
Stopover #8: Swimming, hiking and mountain biking in the Bohuslän archipelago
The Bohuslän province on the Swedish west coast north of Gothenburg is one of the top holiday destinations for Swedes in the country. We, therefore, recommend booking a campsite early if you are planning to visit in the high season in summer. If you prefer pitches, then you should arrive at the site early in the day to have a chance of getting a spot as it can get full quite quickly when the weather is nice.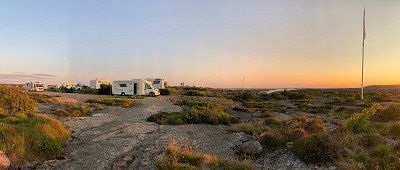 The motorhome area at Sotenäs campsite near Kungshamn lies on top of the rocks and offers a beautiful view of the sea. Photo: Claudia Rothkamp
Despite its popularity, you can still experience the natural surroundings in Bohuslän without seeing another person. Many places rent out kayaks for solo tours or offer guided tours. If you are out and about by yourself, you can also look for your own small rocky island to go swimming. Moreover, almost every town has one or more beautiful bathing bays for enjoying the cool water. And depending on the area you choose, you will also find a wealth of hiking and biking trails.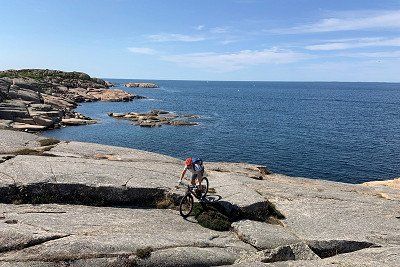 Mountain biking on the granite cliffs in Ramsvik is a great experience, but occasionally requires technical skills. Photo: Claudia Rothkamp
Should you, for instance, decide to stay in a campsite or motorhome car park near Kungshamn, you can easily explore any of the scenic attractions nearby by bike. This includes Kungshamn itself as well as the island of Smögen and the neighbouring Ramsvik Peninsula whose nature reserve, Klippornas Rike, is ideal for hiking and mountain biking. Mountain bikers looking for a challenge will find many rocky trails that require technical ability. But the peninsula has great trails for less experienced cyclists as well. And if you prefer having terra firma under your feet, then you can choose from a number of hiking routes of different lengths. Or you could simply rent a kayak at Ramsvik Camping and explore the area from the water.