Last update: 26 January 2023
Entry to Norway
Entry requirements for European citizens: European citizens need a (provisional) passport or a (provisional) ID card or a child's passport when entering the country. The identity cards must be valid for the entire duration of the stay in Norway. Some Norwegian authorities, e.g. banks, but do not recognize the European identity cards, though. For a longer stay, it is therefore advisable to carry a passport. If you want to stay in Norway for more than three months, you should apply for a residence permit from the Norwegian police at the latest two weeks after entry.  
Entry of children to Norway: If young people under the age of 16, for whom you are not a legal guardian, travel with you, they are are required not only to have a valid ID, but it is also advised to carry a power of attorney to issue a parenting contract for the duration of the trip.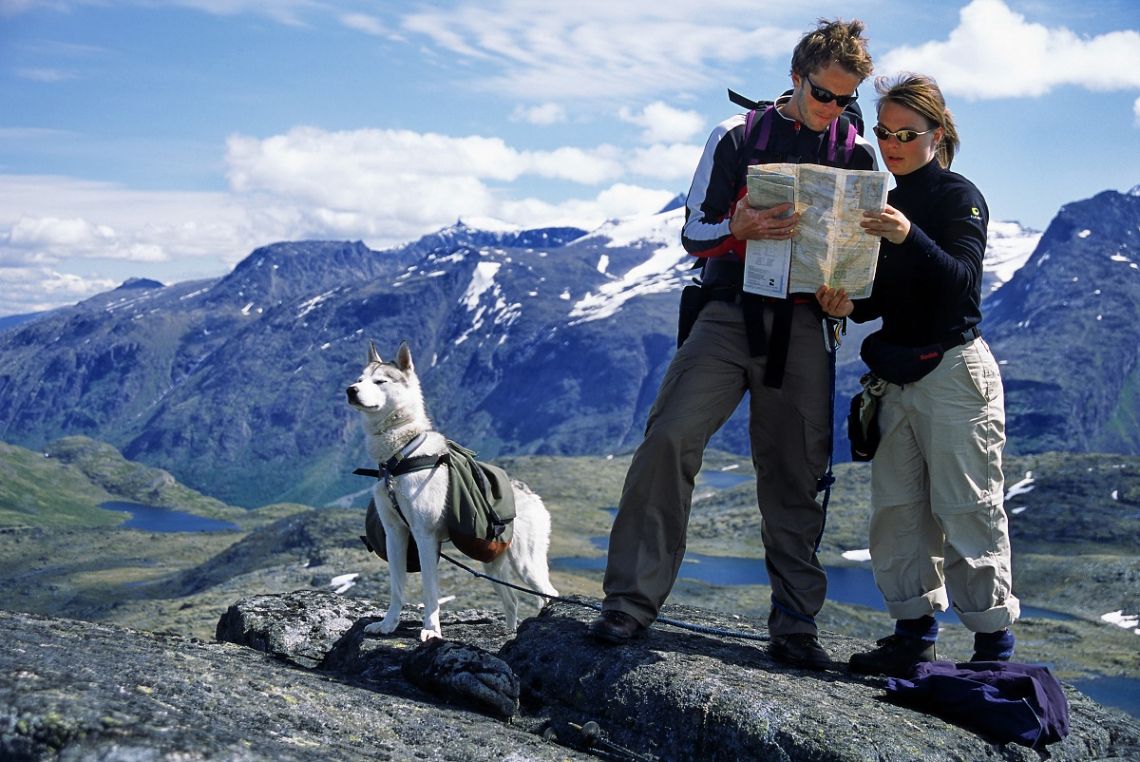 With regard to wild animals, dogs should also be kept on a lead outdoors in nature.
Photo: Anders Gjengedal - Visitnorway.com
Entry of pets to Norway: Since Norway is not part of the EU, entry with pets is somewhat more complex than in other countries. In recent years, however, entry has also been made easier here. If you are traveling with pets such as dogs, cats or ferrets, you should note the following: The animal must have an identification in form of an easily legible tattoo (before July 3, 2011) or a microchip, and have a valid rabies vaccine that was at least 21 days ago, and have a pet ID. Dogs must also be verifiably treated with a recognized tapeworm infestation 120 to 24 hours before entering the country. Important: Both the rabies vaccination and the tapeworm treatment must be officially registered by the veterinarian in the pet ID! In the meantime, however, a renewed tapeworm treatment in Norway is no longer necessary, so that you no longer have to go to a Norwegian veterinarian during your trip.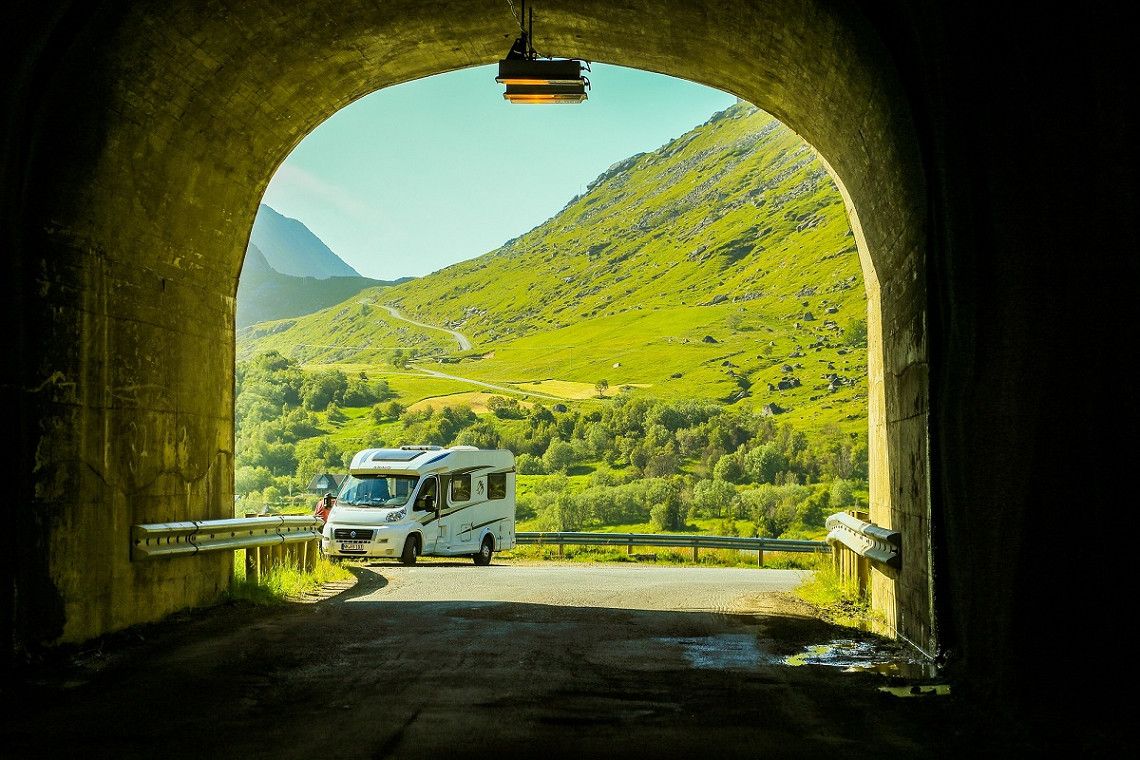 Most of the roads in Norway are well suited for motorhomes and caravan combinations. Photo: cabday / Foap / Visitnorway.com
It is important, however, that if you are traveling to Norway with a pet - up to five animals are considered private imports - you have to present yourself at the border and present the documents and treatments as described above. There are also a number of dog breeds that are not allowed to be imported into Norway per se. These include Pit Bull Terrier, Fila Brasileiro, American Staffordshire Terrier, Dogo Argentino, Tosa and Czechoslovakian Wolfhound. The same applies to hybrids of these breeds and hybrids between dog and wolf. The Norwegian Embassy provides more information about traveling with pets. 

Please also note: In Norway dogs generally need a leash in public areas and in nature. If you want to give your four-legged friend a little more freedom of movement in nature without endangering wild animals, you can help yourself with a towline, for example.
Speed limits on Norwegian roads
In Norway there are two speed limits that you can stick to: The maximum speed limit is 50 km/h in built-up areas and 80 km/h out of towns. Deviating speeds must or can only be driven if they are explicitly signposted - this also applies to clearways and motorways.
Violations of the top speed can very easy become expensive in Norway. For example, 130 euros are due for exceeding the speed limit by 10 km/h, 210 euros for 15 km/h, 300 euros for 20 km/h and 640 euros for 30 km/h above the permitted speed limit.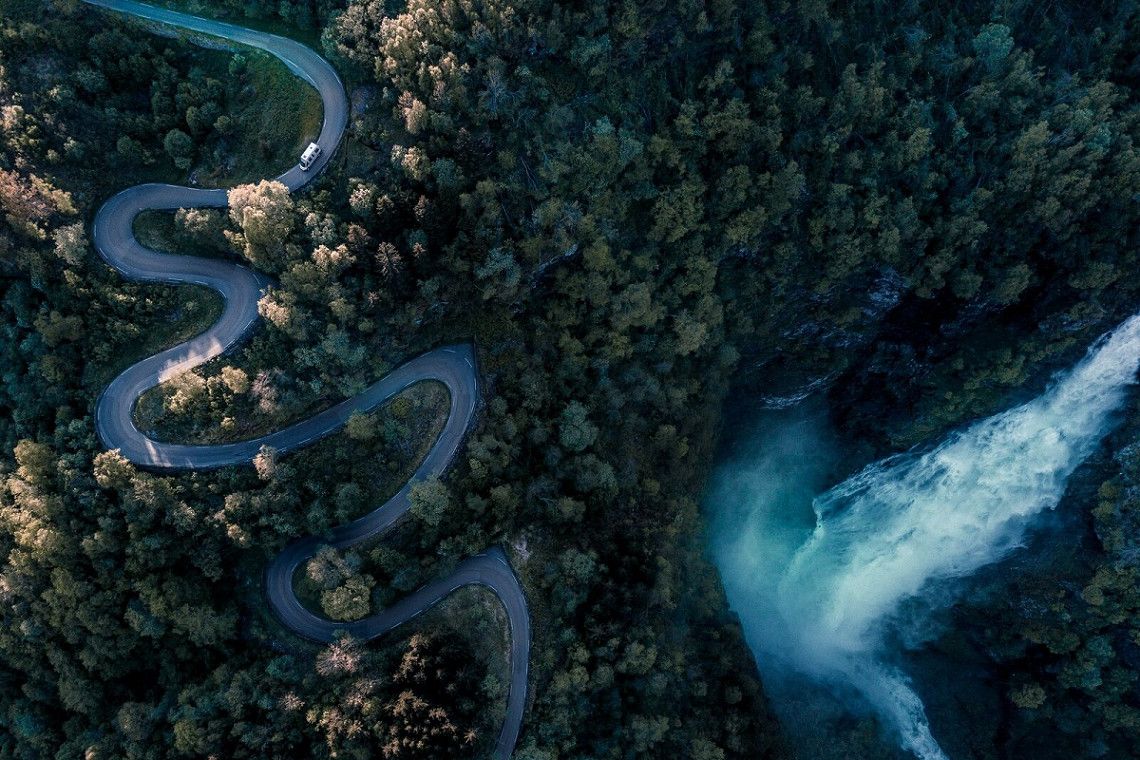 There are countless beautiful routes in Norway - like here at Stalheim in the heart of Fjord Norway. Photo: Sverre Hjørnevik / Visitnorway.com
More information for motorhome and caravan drivers in Norway
Petrol stations - opening hours and payment: Norway has a high density of petrol stations, but it is decreasing towards the north. If you drive to remote areas, you should fill up with plenty of fuel beforehand. Most petrol stations are open from 7 a.m. to 10 p.m. There are also a few petrol stations and (motorway) petrol stations with longer opening hours. You should always carry enough cash with you. Alternatively credit cards are usually accepted without any problems (an exception can be American Express). 

Caution when refueling: In Norway there is a very cheap, tax-free diesel fuel, which is called "avgiftsfri". However, this is only intended for agricultural vehicles, military vehicles, fishing boats, and other commercial vehicles. It is not permitted to fill up this fuel as a tourist.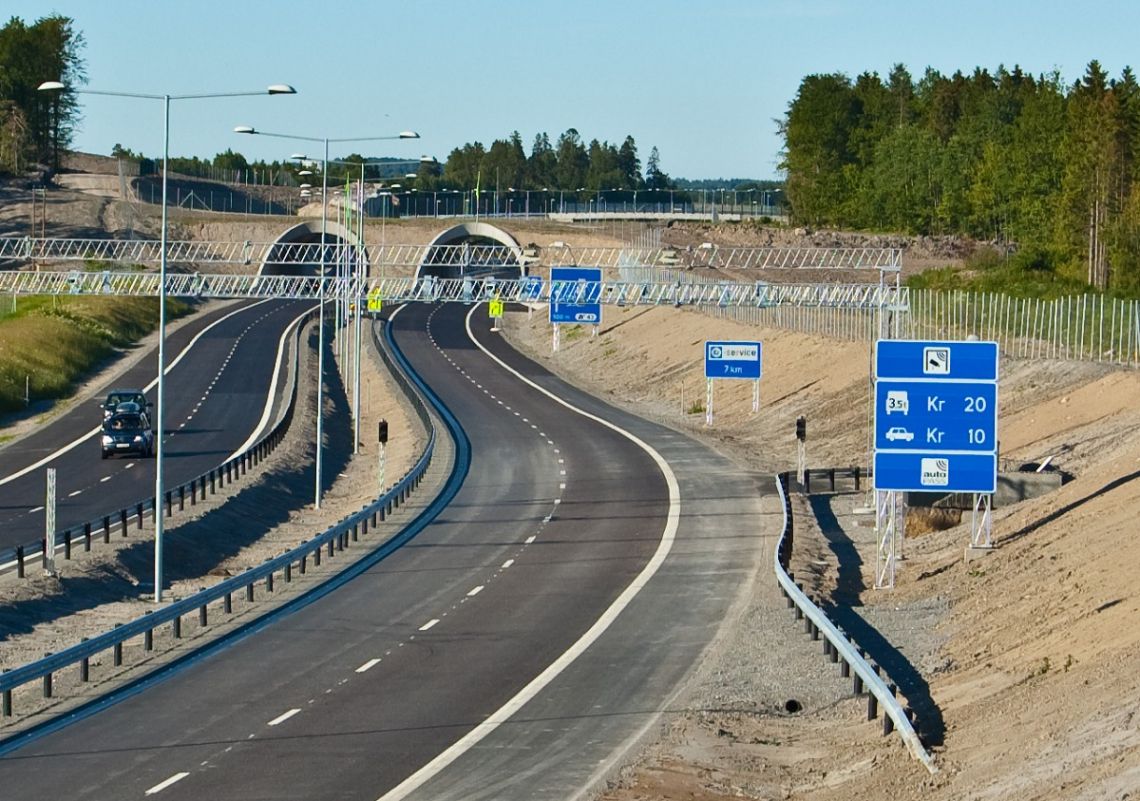 Toll roads are clearly marked in Norway. Photo: Peter Fiskerstrand
Toll fees in Norway
Road tolls in the classic sense do not exist in Norway, but a lot of routes are still subject to a fee. Because in Norway, new tunnels, bridges and roads are almost always financed through temporary toll payments. They are subject to charges until the construction costs are paid off. These routes are marked by blue signs with the words "automatisk bomstasjon", "automatic toll" or "toll plaza". There is a difference between tariff group 1 (vehicles up to 3.5 t GVW and all motorhomes over 3.5 t GVW with a valid AutoPASS contract) and tariff group 2 (commercial vehicles over 3.5 t GVW and motorhomes over 3.5 t GVW without AutoPASS contract). You can find exact details of the toll fees at the toll operator Autopass. 

Important: in Norway the toll is recorded electronically. There are no manual payment stations. Therefore, you should register your vehicle with Epass24 in advance of your camping holiday or - in the case of motorhomes over 3.5 t - get an AutoPASS box.
City toll in Norwegian cities
In larger cities such as Oslo and Bergen, there is also a city toll that takes into account not only the vehicle class, but also a time and environmental factor. A cheaper way to go to Oslo, for example, is outside of traditional rush hour traffic. In addition, owners of an electric or hydrogen vehicle pay less than gasoline or diesel vehicles. Other cities in Norway that charge a city toll include Bodø, Førde, Porsgrunn, Skien, Harstad, Haugesund, Kristiansand, Stavanger, and Trondheim. Important: If you have not entered the drive type of your vehicle in AutoPass or Epass24, you will automatically be charged at the most expensive environmental tariff.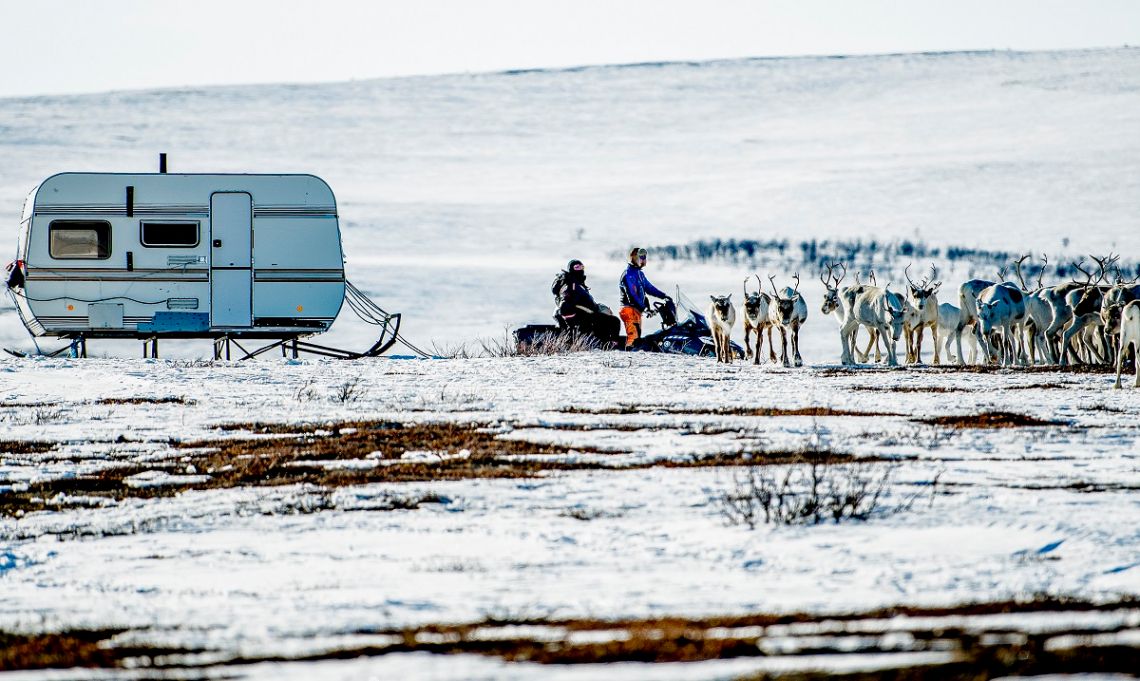 Warning signs when it comes to game change are to be taken very seriously in Norway - regardless of the season. Photo: Thomas Rasmus Skaug / Visitnorway.com
General traffic rules in Norway
Alcohol limit in Norway: A maximum of 0.2 ‰ is allowed in Norway. Violations of this limit are very expensive and start at 520 euros. Depending on the severity of the violation, you will quickly end up in the 4- or even 5-digit range - license withdrawal included.

Telephoning in the car: Telephoning in the car is only permitted via a hands-free system. Anyone who violates this can expect a fine of at least 155 euros.

Light requirement: In Norway it is a legal obligation to always drive with your lights on! Violations are estimated at 185 euros.

Winter tires and snow chains: Surprisingly, there is no general requirement for winter tires for vehicles under 3.5 t in Norway, but they are strongly recommended for all motor vehicles. However, if you are using summer tires while driving on snowy or icy streets in winter, you must carry and use snow chains. If winter tires are fitted, this must be done on all four wheels with a minimum tread depth of 3 mm.

In Norway, winter tires are generally required for vehicles and their trailers who each weigh more than 3.5 t. The minimum profile depth is 5 mm. The regulation applies from November 15 to March 31. All-season or all-weather tires can also be considered as winter tires, provided they have the M * S mark. Between October 15th and the first Sunday after Easter, vehicles with a weight of more than 3.5 t must have snow chains on board.

The use of studded tires is allowed between November 1st and the first Sunday after Easter Sunday - in the northern regions of Nordland, Troms and Finnmark there is an extended period from October 15th to May 1st. If the weather and road conditions require it, studded tires may also be used outside of these periods.

Beware of game changes: Always observe the game change warning signs! Reindeer and elk often cross the streets at dusk and this is where the greatest attention is needed, especially in rural areas. If you are involved in a game accident, immediately inform the police (112) or the road service (175).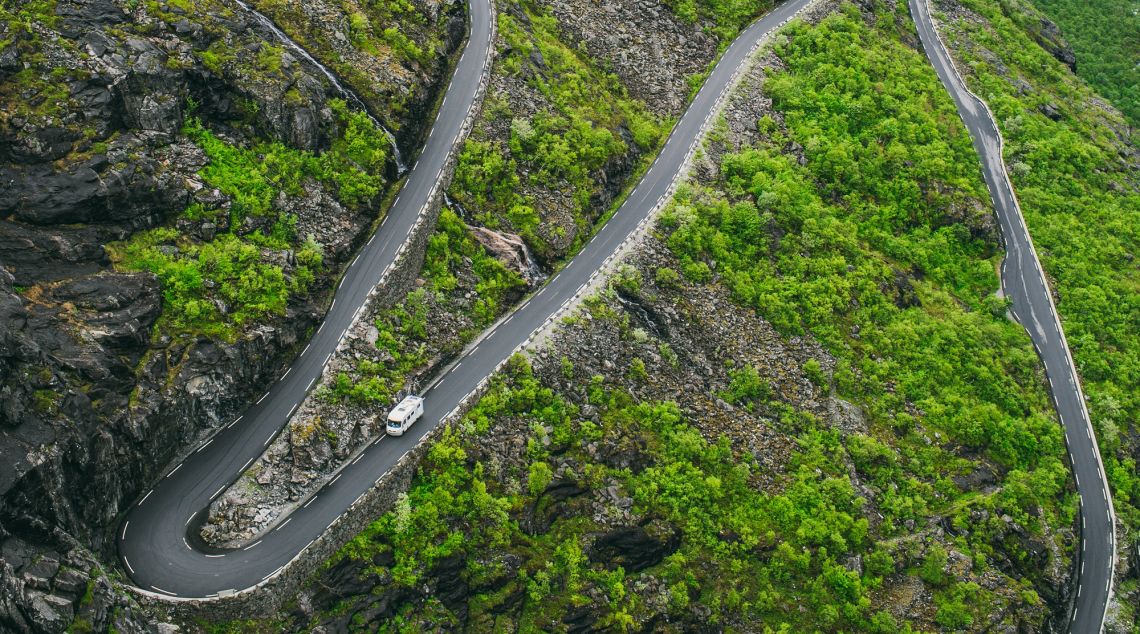 Even the famous Trollstigen in Norway can easily be driven on with the motorhome. Photo: Samuel Taipale / visitnorway.com
Important addresses and telephone numbers for holidaymakers in Norway
European emergency number: 112
You can get help from the local police, fire brigade, an emergency doctor or ambulance via this central emergency number, which can be reached free of charge via the fixed network or by mobile phone without a code.