Latest update: January 24, 2023 
Entry to Denmark
Entry requirements for EU citizens: For a tourist stay, EU citizens need a (provisional) passport or (provisional) ID card or a child's passport when entering the country.

Entry of children to Denmark: If you travel with minors under the age of 18 of which you are not the legal guardian, for example friends of your own children, you should carry an officially certified declaration of consent from a legal guardian.
The lighthouse in Lyngvig is the last in the series of lighthouses along the North Sea coast and also the highest in Denmark. Photo: Visit Denmark / Niclas Jessen
Entry of pets to Denmark: EU regulations apply to the entry of pets into Denmark. Dogs, cats and ferrets must meet the following requirements: If a dog, cat or ferret is imported to Denmark from an EU country, it is very important that the animal is identifiable - either by a chip or by a legible tattoo (e.g. an ear tattoo). The microchip is mandatory for animals that have been labeled for the first time after July 3, 2011. In addition, an EU pet passport issued by a veterinarian must be carried for the animal. It needs to state a proof of a valid rabies vaccination. It is important that the last vaccination or re-vaccination is not older than the tattoo or the insertion of the chip. A new vaccination must have been carried out at least three weeks before entry.

It is also important to note that if the pet is not accompanied by the owner or by someone who is responsible for the pet on behalf of the owner, the import is considered a commercial import.


Denmark can also be explored by bike - as here in the Djursland region. Photo: Visit Denmark / Niclas Jessen
Special rules for the Faroe Islands and Greenland: Holiday makers and tourists are generally not allowed to take their pets to the Faroe Islands. Only people who either intend to settle on the Faroe Islands or who already live there can, under special conditions, obtain permission for a permanent import of a pet.

The following applies to Greenland: Dogs can be brought into the municipalities of Ivigtut, Manütsoq, Nanortalik, Narsaq, Nuuk, Paamiut and Qaqortoq. A rabies vaccination must be carried out at least 30 days and a maximum of 12 months before the import. Timely vaccination is immediately valid, but evidence of previous vaccinations must be shown. In addition, a health certificate (La23.0-783.1a) must be presented and treatment for tapeworms must be documented at least 14 days before import. In addition, the animal must not have been in contact with other animals from the time the health certificate was issued until it was imported into Greenland (isolation). Dogs must also have been vaccinated against canine distemper and canine parvovirus. Females also need to be sterilized. If you stay for a maximum of 3 months, "sterilization" by medical treatment is permitted.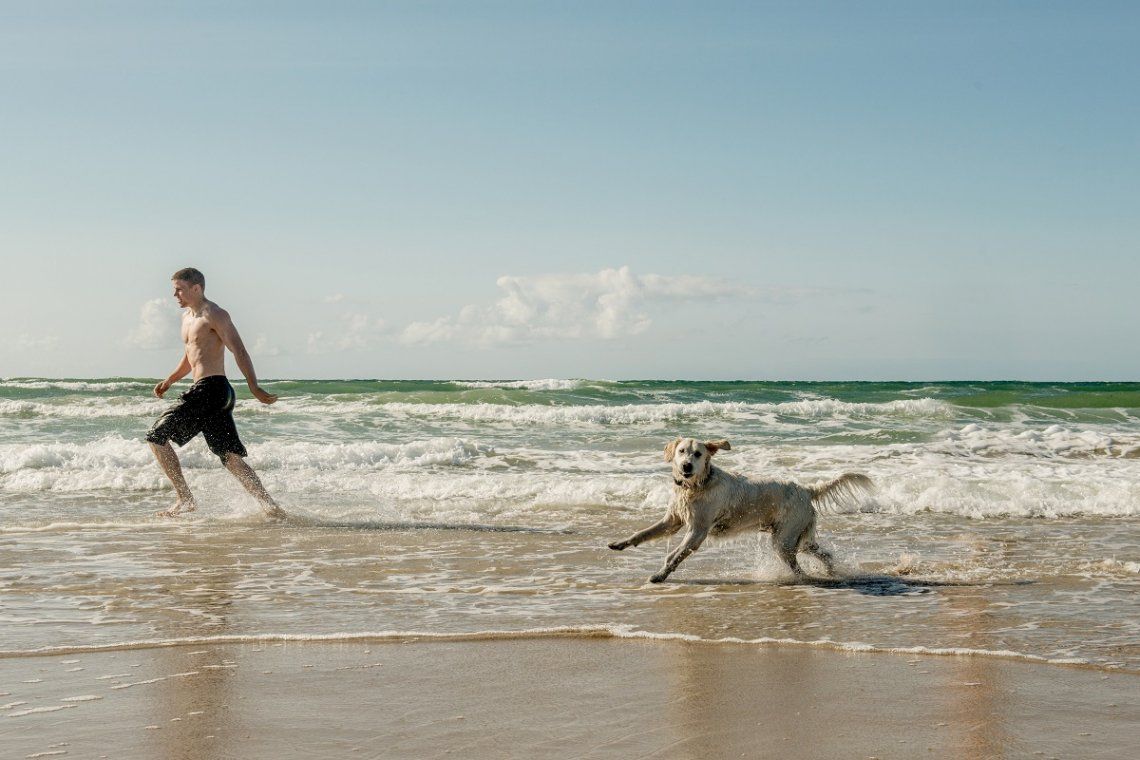 If you travel to Denmark with your dog, you should inform yourself well in advance about the applicable regulations. Photo: Visit Denmark / Mette Johnsen
The dog law in Denmark
In the past decade, there has been a lot of discussion around dog legislation in Denmark, which says dogs should be put to sleep if they attack a person or another dog and cause bite injuries. This law still applies, but was revised on July 1, 2014 with a more precise definition of such bite injuries. This is supposed to offer holiday makers with dogs more security in case any bite injuries should occur "within the normal behavior of a dog". The exact provisions are explained on the website of the Danish Ministry of Environment and Food . There is also detailed information on the entry of the so-called list dogs of the following 13 breeds: Pit Bull Terrier, Tosa Inu, American Staffordshire Terrier, Fila Brasileiro, Dogo Argentino (Argentine mastiff), American Bulldog, Boerboel, Kangal, Central Asian Owtscharka, Caucasian Owtscharka, South Russian Owtscharka, Tornjak and Šarplaninac. These breeds are not allowed to enter Denmark unless it is a mere transit. For all dog breeds or mixed breeds that are similar to one of the breeds mentioned above, it is definitely advisable to carry documents stating the breed of the dog. With mixed breeds, however, this is likely to be difficult.
Other regulations for dogs in Denmark
Dog bans in restaurants: If you want to take your dog on holiday in Denmark, you should be aware that a cozy restaurant visit with your dog is not possible, as a general dog ban applies here. The exception are guide dogs and assistance dogs.

Leash requirement: Having your dog on a leash is mandatory on the beaches in Denmark between April 1st and September 30th. In forests even all year round.
The main traffic rules for motorhomes and caravans in Denmark
Speed limits on Danish roads for cars, campervans and motorhomes

* The following applies since 2016: You can drive up to 100 km / h on the motorway with a Danish sticker for teams or heavy motorhomes (available from the Danish test centers). Without the badge, the speed limit of 80 km / h still applies. **The speed limit for trailers over 3.5 t is 70 km/h outside built-up areas. 
In the event of speeding violations, fines from 135 euros apply at 20 km / h above the speed limit and from 300 euros at 50 km / h above the speed limit.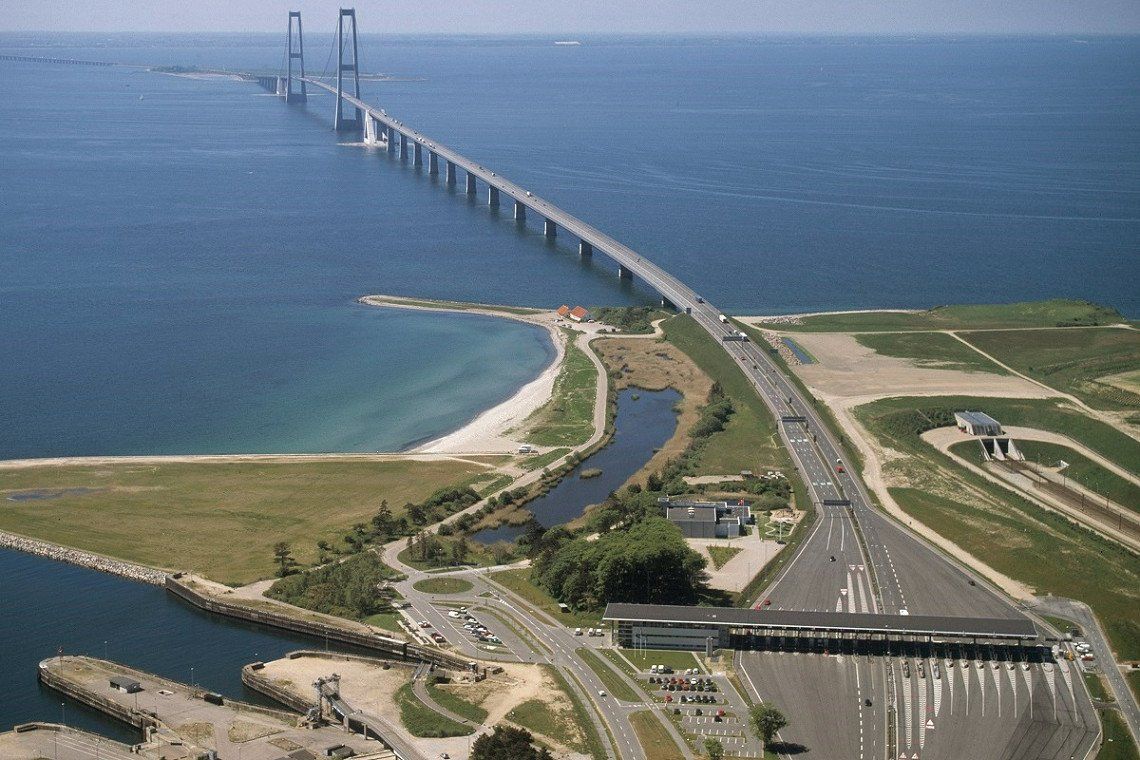 Toll station at the Storebaelt Bridge in West Zeeland. Photo: Visit Denmark / Jørgen Schytte
Information about the toll in Denmark
The good news is that there are no tolls in Denmark on public roads and highways. However, there are two bridges where you have to pay for the use: the Great Belt (Storebaeltsbroen ) bridge between Knudshoved (Funen Island) and Halsskov (Zealand Island) and the Oresund Bridge between Copenhagen-Kastrup and Malmö-Lernacken in Sweden. The tariffs depend on the vehicle type as well as the height and length of the vehicle. Motorhomes and teams are tolled according to their overall length in the categories up to 6 m, from 6 m and from 10 m. The crossing of the Øresund Bridge usually costs between around 57 euros and 114 euros per one-way trip without BroPass (prices as of January 2023). For the Storebaelt bridge, the fees for a one-way trip are between 36 euros and 82 euros (prices as of January 2023). The fees are paid on site in cash or by credit card. With both bridges there is also the option to purchase online tickets in advance, which are a little cheaper.
Petrol stations - opening times and means of payment in Denmark
There are fewer petrol stations in Denmark than e.g. in Germany. It is therefore advisable to fill up when the opportunity arises. There are 24-hour petrol stations on the motorways and in major cities, otherwise the opening hours during the week are between 5:30 a.m. and 9 p.m. and on weekends between 7 a.m. and 9 p.m. Many petrol stations have automatic dispensers and usually only little staff. But don't worry: Instructions on the machine are always available in English as well. The general rule is: pay first and then fill up! You can pay in cash or by credit card. Most petrol stations and automatic dispensers also accept Maestro cards.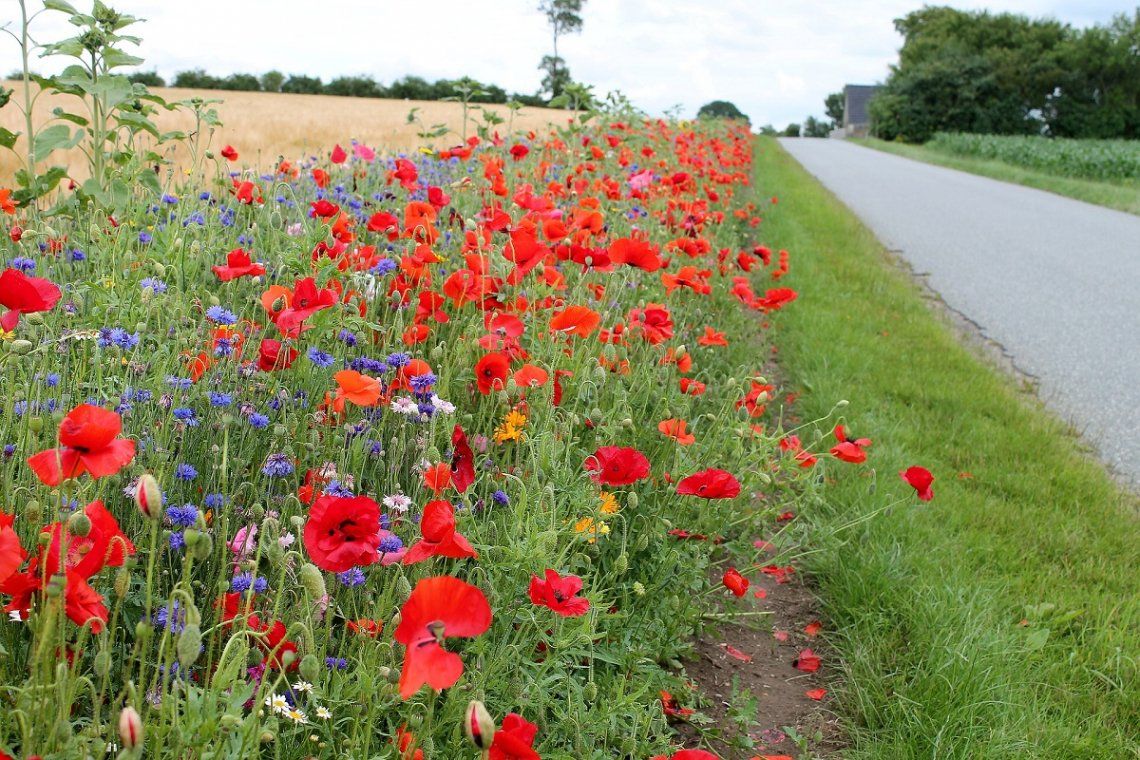 Most of the roads in Denmark are also easy to drive with a camper or caravan. Photo: Pixabay
General traffic rules in Denmark
Compulsory daytime running lights:
In Denmark there is a light requirement all day and all year round. So always remember to turn on your headlamps or daytime running lights.

Drink-drive limit:
The alcohol limit in Denmark is 0.5 ‰. Violations are not punished with a uniform fine, but the sum is calculated individually. For this purpose, the amount of blood alcohol will be multiplied with the respective monthly net income. So this could become rather expensive! Also: If the blood alcohol level exceeds 2 ‰, your car will be confiscated and then auctioned off. The proceeds will then go to the Danish state treasury.

Child safety car seats:
In Denmark, children shorter than 135 cm must travel in a child safety car seat or on a special booster seat.  

Safety vests:
There is no statutory safety vest obligation in Denmark, but it is recommended that you carry safety vests in the event of a breakdown or accident.
Marking of protruding cargo:
Protruding cargo (such as a bicycle rack) may protrude a maximum of 1 m at the front and rear and a maximum of 15 cm at the side of the vehicle. If the load exceeds these dimensions, it must be labeled. A warning sign is recommended, but not a requirement. Instead, the load can also be marked with a conspicuous cloth or flag. Including cargo, a vehicle must not be wider than 2.55 m, no longer than 12 m and no higher than 4 m. In case the lights or the license plate are covered by the cargo, they must be visibly attached in another way.

Telephoning while driving:
The mobile phone may only be used in the vehicle with a hands-free device for telephone calls and for navigation.
Important addresses and telephone numbers for holidaymakers in Denmark
European emergency number: 112
You can get help from the local police, fire brigade, an emergency doctor or ambulance via this central emergency number, which can be reached free of charge via the fixed network or by mobile phone without a code.