The majority of the campsites in Sweden are in the south of the country – up to about level with Stockholm, geographically speaking. This is primarily due to the sheer geographical extent of Sweden. After the long journeys many holidaymakers have already made just to reach the country, southern Sweden is where most people stop and begin their holiday. But this by no means means that there are no great 5-star campsites in central and northern Sweden, or that there is nothing to do there.
On the contrary: If you are looking for a family camping holiday with outstanding nature and outdoor experiences, then central and northern Sweden are the areas for you. For example, if you are arriving from Travemünde, then you can comfortably overnight on the ferry and arrive ready to get going in southern Sweden in the morning. You can find some examples of good intermediate stops in 
Part 1
 and 
Part 2
 of our series.
In this final part of our series about 5-star campsites for family holidays in Sweden, we will "travel" through the central Swedish regions of Närke, Värmland and Dalarna, up to the Swedish Lapland area in northern Sweden. The further north we travel, the wilder and lonelier the countryside becomes. We begin near to the town of Örebro, which describes itself as the heart of Sweden: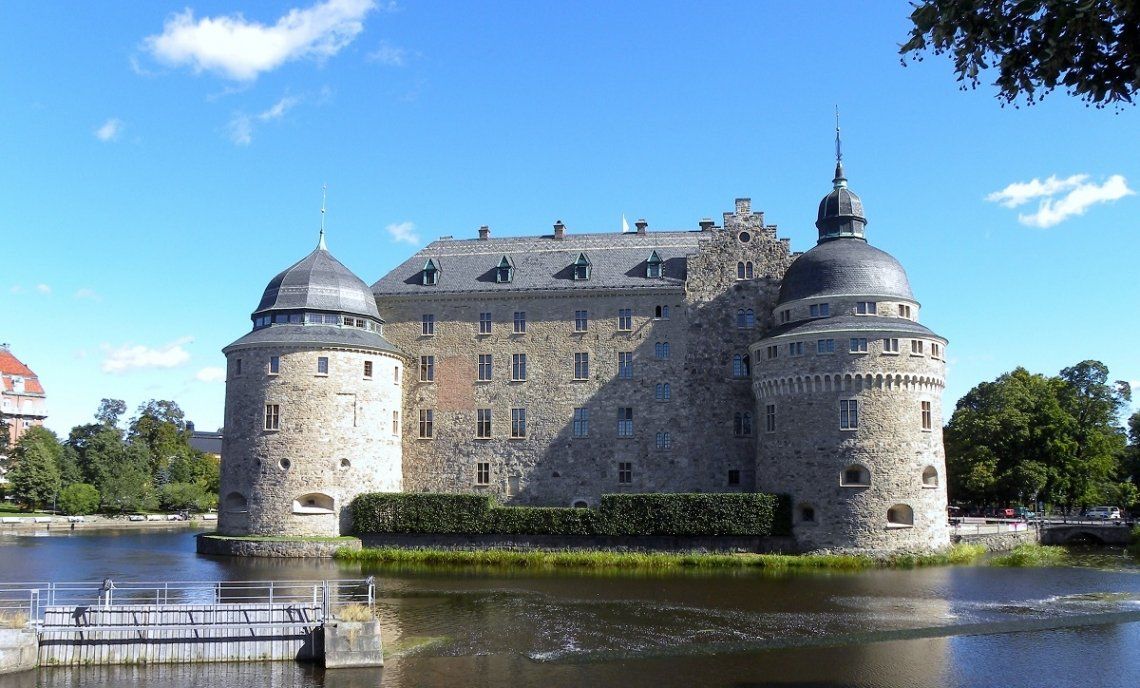 Castle Örebro at the centre of Sweden is an ideal daytrip destination during your family holiday, and is not far from the campsite. Photo: Pixabay 
Camping with children in Örebro / Närke: Gustavsviks Resort
The campsite 
Gustavsviks Resort
 in Örebro is open all year round and is ideal for families and those who enjoy water. With its indoor water park Lost City, it claims to have one of the largest leisure pools in Europe. Here you will find a variety of action-packed waterslides, as well as waterfalls and hanging bridges, giving the complex a jungle-like atmosphere. The children's adventure club with treasure hunts adds to the excitement. And while the smaller water fans splash about here, parents can relax, for example, in the whirlpool or sauna area in the spa, or even treat themselves to a massage. Fun for all the family, even on rainy days. And in summer, the water park is extended by an outdoor pool area. But the fun doesn't have to stop when you get out of the water; the campsite offers an adventure crazy golf course, playgrounds and even a private fishing lake, if you want to try your hand at catching premium fish.
The campsite Gustavsvik Resort makes an ideal intermediate stop on your motorhome tour to central and northern Sweden or through southern Sweden, and not just because of its water park. The campsite is only about ten minutes walk from the centre of Örebro, so you can leave your motorhome on the campsite and take a city tour and visit the places of interest on foot. Why not start off in the town centre, where you will find 
Castle Örebro
, with its history stretching back to the 14th century.
But after several periods of renovation, the Renaissance castle saw its heyday in the 15th and 16th centuries, when the political powers of Sweden were concentrated here. A variety of tours and activities are offered for families and children, especially during the summer. Other attractions in Örebro include the open-air museum Wadköping, with its historical wooden houses and courtyards, which represent the development of the town from the 17th through to 19th century. Here there is also a special programme and calendar of activities for children.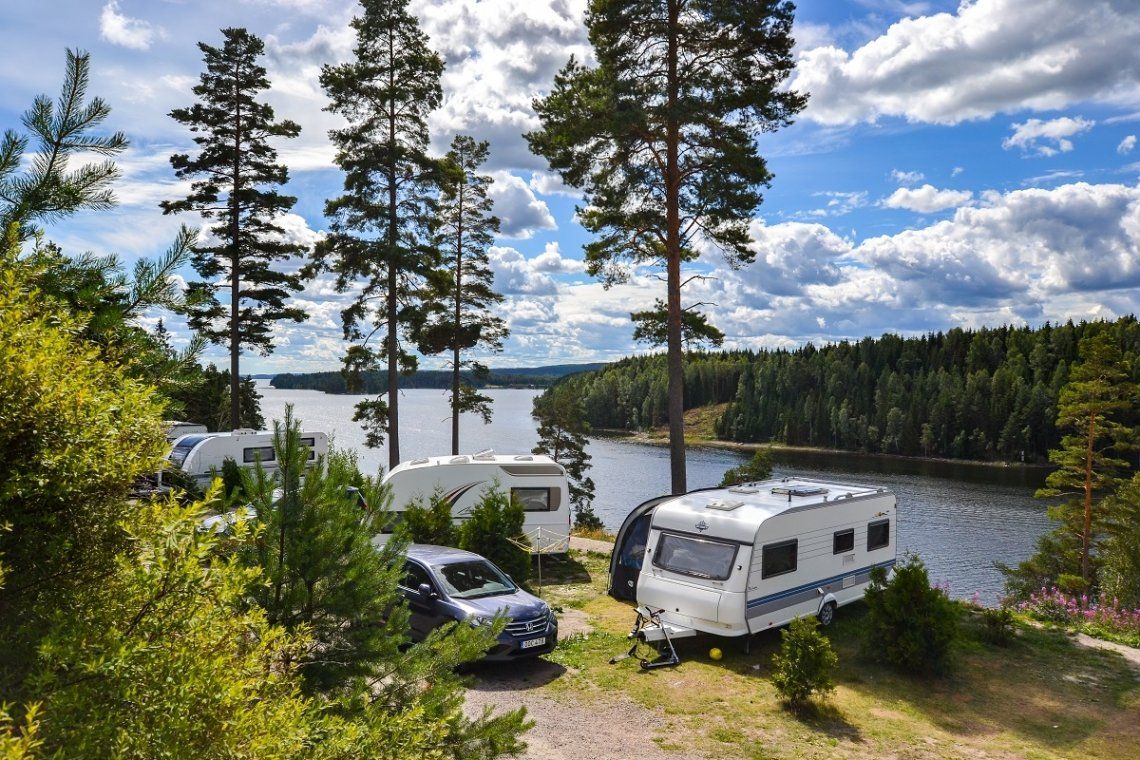 The campsite can be found at Lake Västra Silen, at the heart of Sweden's spectacular countryside. Photo: Årjäng Camping & Stugor Sommarvik
Camping with children in Värmland: Årjäng Camping & Stugor Sommarvik
The 5-star campsite 
Årjäng Camping & Stugor Sommarvik
can be found considerably further west, surrounded by pure countryside but geographically on a similar level to Örebro. With an area of 160,000 m² and around 200 pitches, it offers a clear contrast to the more urban Gustavsvik Resort. While there is an area with two heated outdoor pools, the real star of the campsite is Lake Västra Silen with its pure, crystal clear water and gently sloping beach. The campsite is at the northern end of the lake, which belongs to the natural lake system of the Dalsland Canal, and with its partly forested and rocky banks and little islands, it has a real sense of wilderness about it. A canoe or kayak tour, or a fishing excursion with a rowing boat, are almost compulsory around here.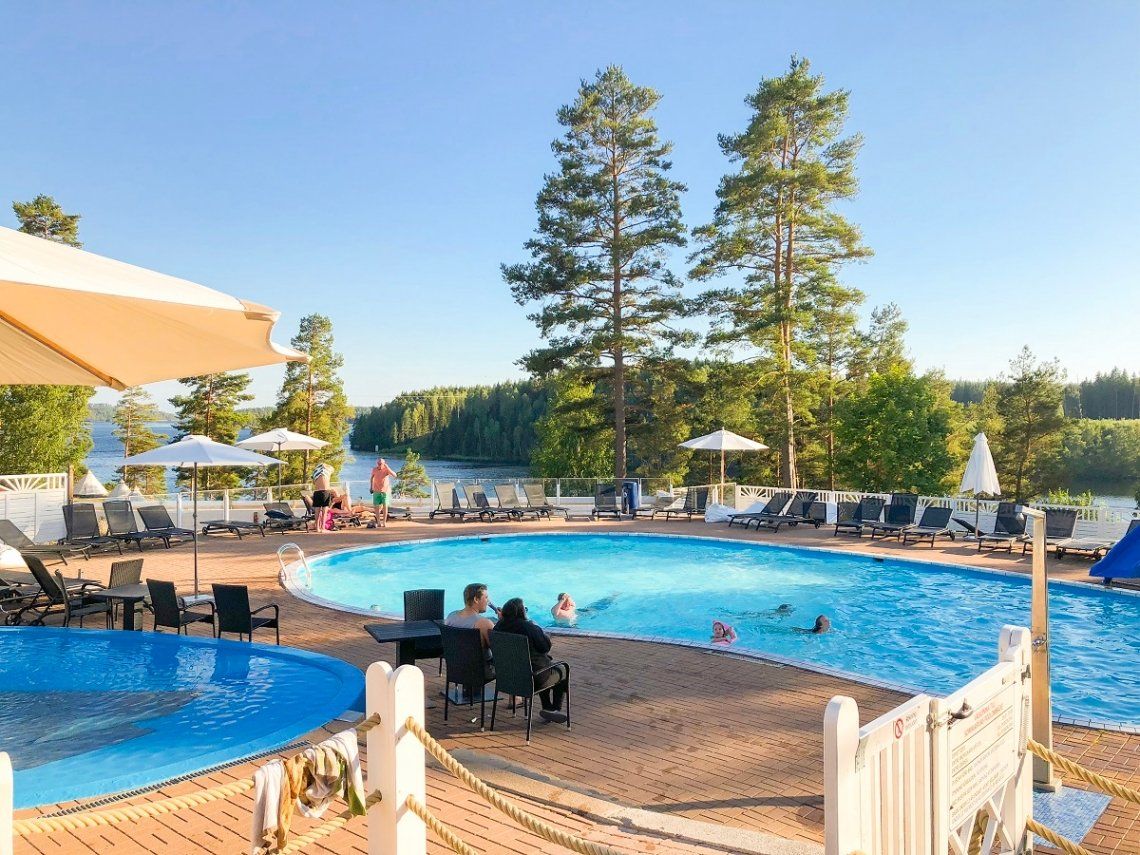 If you don't fancy swimming in the lake, then there's always the pool on the campsite. Photo: Årjäng Camping & Stugor Sommarvik
Naturally, you can hire canoes, kayaks and rowing boats on the campsite. After all, Västra Silen is one of the most popular paddling areas in the whole of Sweden. In summer, the campsite also offers a wide range of activities for children and adults, including playgrounds, a crazy golf course, a wood heated sauna and a spa area.
And around 15 km south-east of the campsite is also an 18-hole golf course, which is considered to be one of Sweden's finest, and in Årjäng itself is a golf centre with golf and hunting simulators. But if you're looking for something different, there is a sculpture walk including some pieces to climb on, so you can appreciate the art at really close range.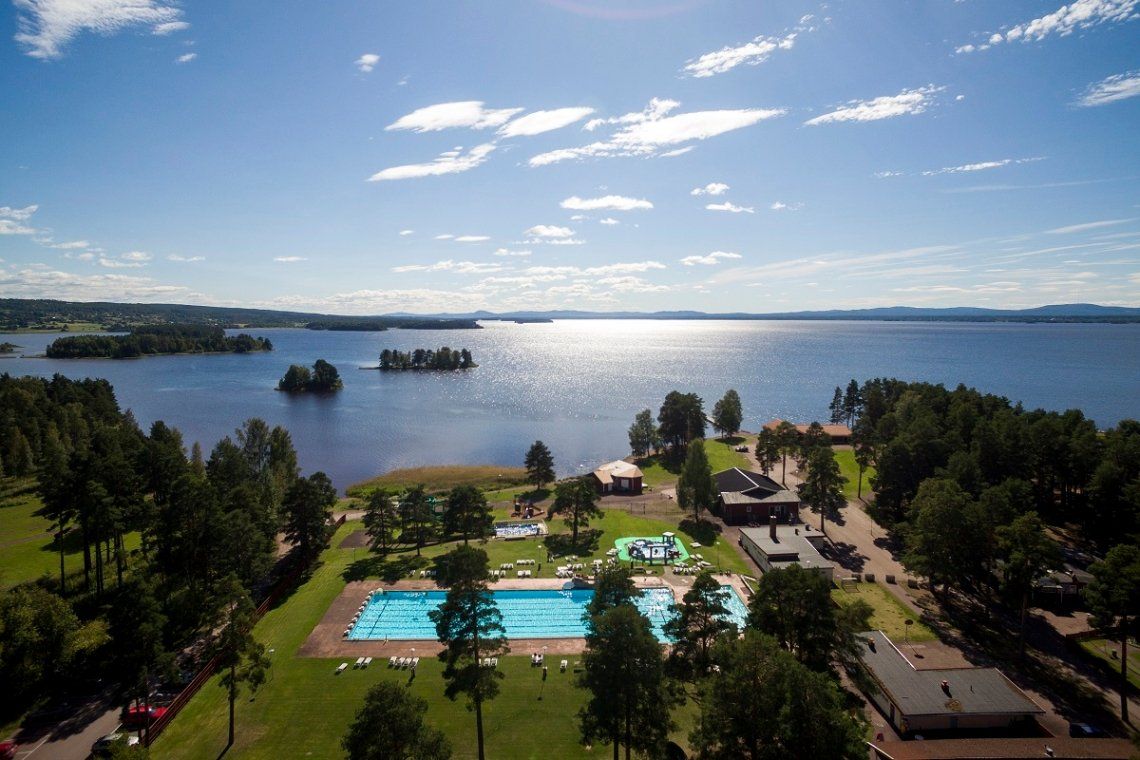 The campsite Orsa Camping is right on Lake Orsasjön in central Sweden. Photo: Orsa Camping / SCR 
Camping with children in Dalarna: Orsa Camping
The campsite 
Orsa Camping
 is one of those that has received its 5-star rating for the first time in 2019. In fact, it is currently the only 5-star campsite in the Dalarna region, which is often considered to be the most Swedish region in all of Sweden. The campsite is found to the north of the town Mora on the northern end of Lake Orsasjön in the Dalarna Riviera. Here are kilometres of lightly sloping sandy beaches, ideal for bathing and swimming, complemented by children's playgrounds along the banks. The campsite also has a dog beach for your four-legged family members. But if you find the water in the Orsasjön too cold for bathing, then try out the campsite pool complex with its three heated pools, water slides and baby pool.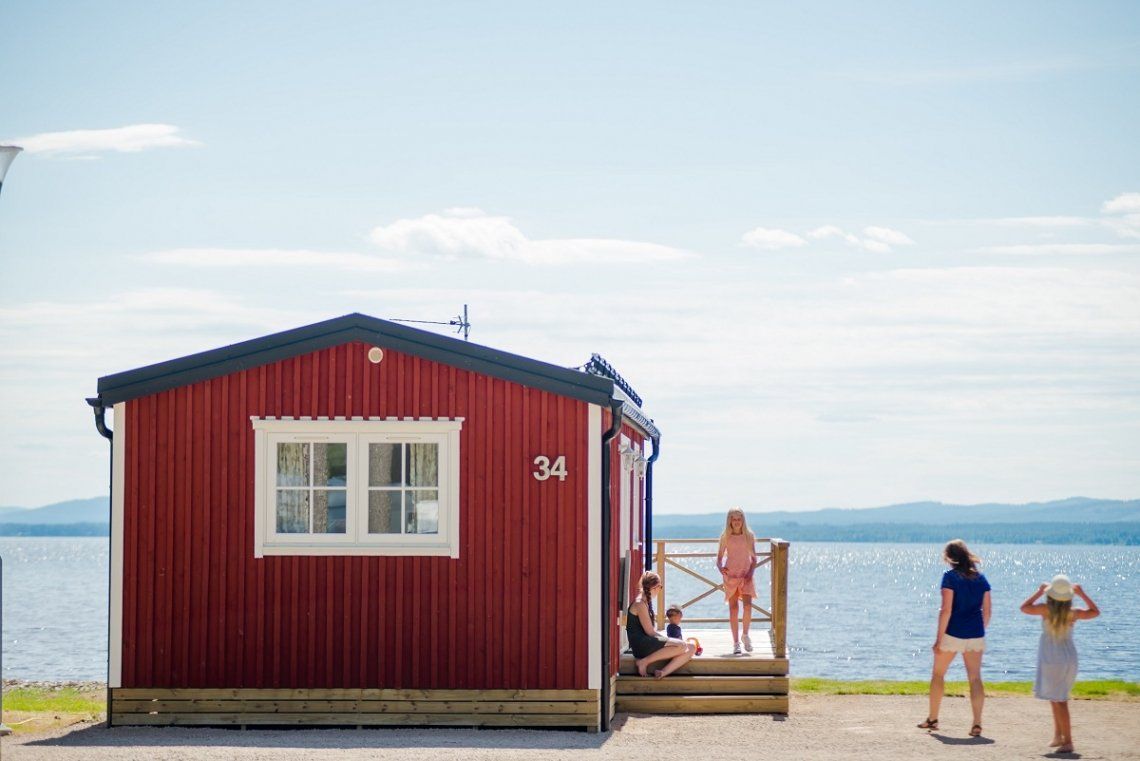 You can also hire cabins right at the lake on the campsite Orsa Camping. Photo: Orsa Camping 
The campsite aims to be the most family-friendly campsite in all of Sweden. To achieve this, it offers a wide range of activities for children of all ages during the summer, as well as excellent infrastructure for families, including play areas, jumping pillows, crazy golf, bowling, fishing, pedalos, an adventure park with pirate ship and an activity centre. And about 15 km from the campsite is the Orsa Predator Park, which is also a popular destination for family excursions. The former bear park has expanded to include not only polar bears and Kodiak bears, but also other northern predators, some of which are endangered. Covering 325,000 m², the Orsa Predator Park is the largest of its kind in Europe. Another, and very different, daytrip destination is Nusnäs. Only a short drive away, here you can learn about the famous colourful Dalecarlian horses and see them being carved and painted by hand.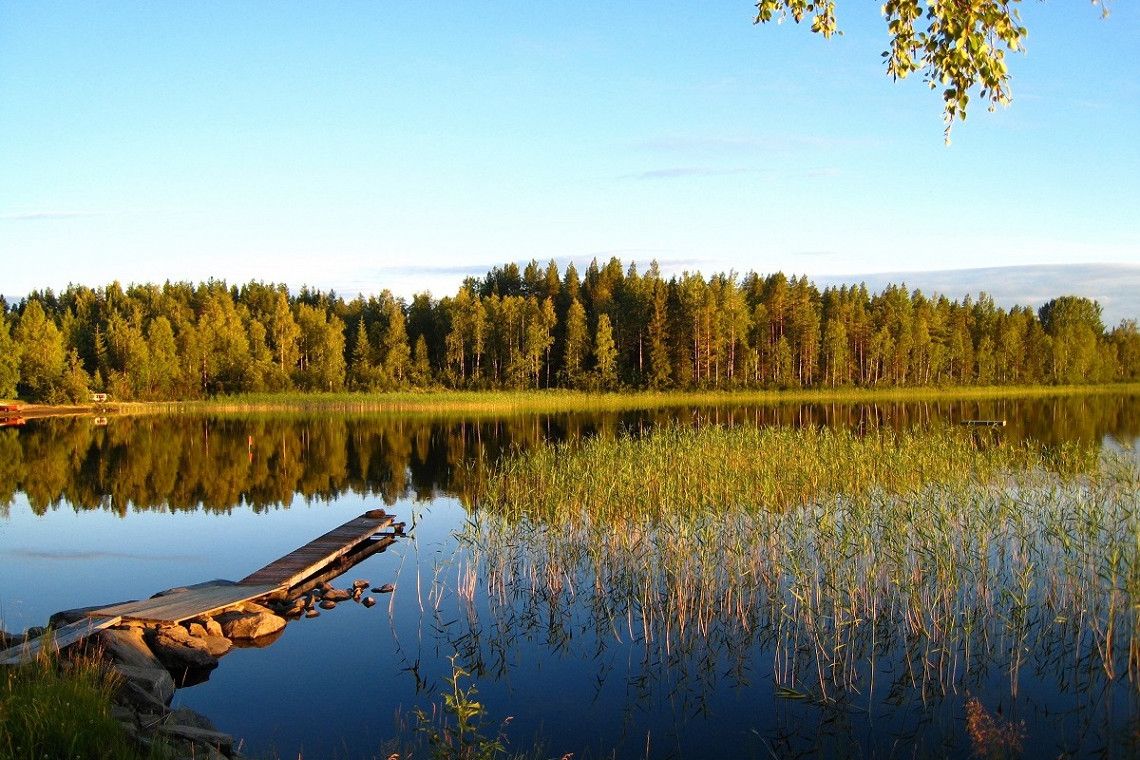 A camping holiday in the Västerbotten region of northern Sweden is an extremely natural experience. Photo: Pixabay 
Camping with children in Lycksele / Västerbotten: Ansia Resort
Whether the campsite 
Ansia Resort
 in the little north-Swedish town Lycksele lies in the Swedish Lapland region or not is always a matter of discussion. In principle, it is found in the Västerbotten region, to the north-west of Umeå, but historically it belongs to the Lapland landscape. Whatever the case, this is where you find the typical lonely scenery and incredible vastness of Swedish Lapland. Here you can certainly speak of wilderness without being accused of exaggeration. Even though the campsite is right on the river Umeälv, at the heart of the town Lycksele with its almost 9,000 inhabitants, the wilderness is all around you. The campsite itself offers over 470 pitches with electricity hook-up, has its own stretch of beach at the river, playgrounds, jumping pillows, an entertainment programme in summer, a crazy golf course, amusement arcade and other activities.
Lycksele is also home to the most northern zoo in Europe. But if you have made the effort to visit north Sweden, you should really use the opportunity to go on a guided wild animal safari in the surrounding wilderness. There are a few different ones on offer in the region, including beaver safaris, lynx spotting trips, and wolf watching. You are likely to see reindeer simply by hiking or touring through the countryside. If you would like to take your kids on a very special adventure (depending on their age), you should definitely plan a trip to Granö Beckasin, about 60 km south of Lycksele. Here, with your children, you can build your own raft under supervision and then sail it down the river Umeälv – either as a day trip, or over several days with nights in a tent.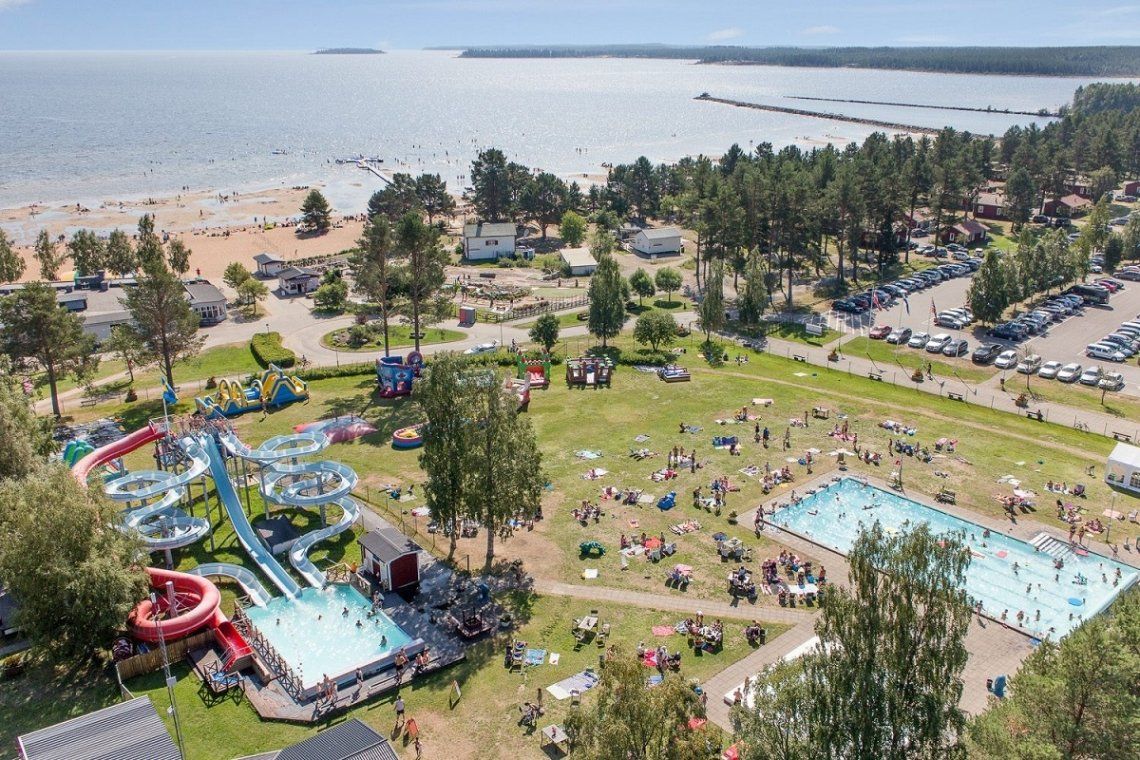 Even in northern Sweden, swimming is an important part of a camping holiday. Photo: Byske Havsbad 
Camping with children in Skellefteå: Byske Havsbad
A campsite with sandy beach on the Gulf of Bothnia in Swedish Lapland? Admittedly: Very few holidaymakers from central Europe would consider driving to north Sweden for a beach holiday. But if you are here and the weather is right? Then book into the 5-star campsite 
Byske Havsbad
 in Skellefteå. It is an especially family-friendly campsite at the mouth of the river Byskeälv in Bothnian Bay. Besides bathing in the sun, the sea or the heated pool, it also offers a range of activities for children of all ages, from cycle paths, pedalos, canoeing trips, and crazy golf, to entertainment for the very small guests in the children's club.
And with 450 pitches, the campsite isn't particularly small. Despite its northerly location, the campsite is open all year round and has plenty to offer in every season. If you fancy trying river fishing with your children, here is good place to begin. Fishing permits can be purchased at the campsite reception. Did you know - the river Byskeälv is one of the few rivers that is still home to an original strain of wild sea trout.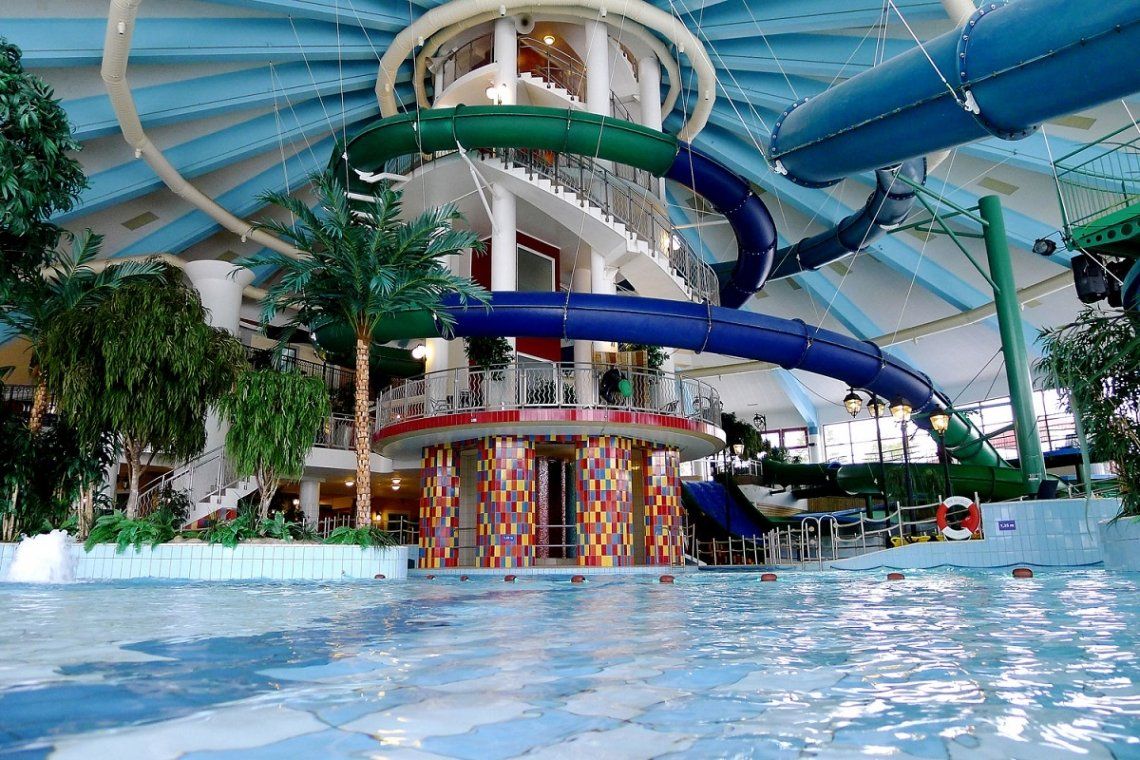 Pite Havsbad is one of the largest campsites in all of Sweden. Photo: Pite havsbad
Camping with children in Swedish Lapland: Pite Havsbad
The most northern 5-star campsite in Sweden is in the city of Piteå, which, with slightly more than 23,000 inhabitants, is relatively large by north Swedish standards. And the same can be said of the campsite 
Pite Havsbad
: With 1,100 pitches, the site is one of the largest all-year tourist and conference complexes in the whole of Sweden. But even here, you can still request a pitch right by the sandy beach. For children, there is an indoor tropical water park, an indoor play area, jumping pillows, riding on the beach, water activities, crazy golf, bouncy castles and fairground rides in the adventure play area and amusement park, and beach volleyball, to name just a few of the attractions. And parents can look forward to a relaxing spa area.