In 
Part 1 of the series about 5-star campsites
 for family holidays in Sweden, FREEONTOUR covered the southern regions of Skåne and Halland, as well as the islands Öland and Gotland. In Part 2, we venture a little further north but are still very much in southern Sweden. We start with a campsite in Småland, a region that many tourists to Sweden automatically and understandably associate with the image of Sweden they know from their favourite Astrid Lindgren books and films. But the region also has a very different face, as the (at present) only 5-star campsite in Småland demonstrates: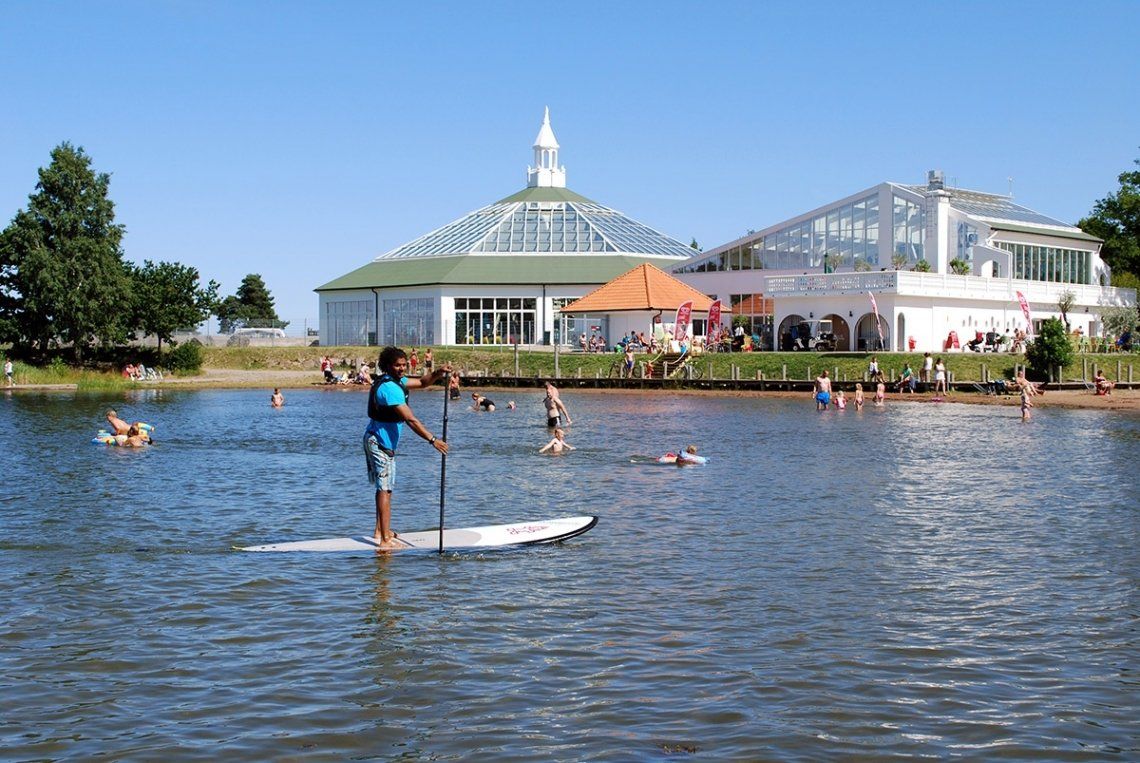 The campsite Västervik Resort in Sweden offers a full range of activities for your family holiday. Photo: Västervik Resort  
Camping with children in Småland: Västervik Resort
With almost 900 pitches and over 150 chalets and apartments, the 
Västervik Resort
 in Småland is an extremely large campsite. Furthermore, it has a big indoor and outdoor pool complex, its own jetty for leisure boats and its own sandy beach and rocky coastal area, although you might imagine Småland is a forested and lakeland area, it is in fact on the Baltic coast with its archipelago. Around 5,000 islands make up the archipelago of Småland, and the little town of Västervik is slap bang in the middle of it all, but still on the mainland, so that you don't need a bridge or a boat to reach it with your motorhome or caravan. You can hire a boat at the campsite Västervik Resort and cruise around the islands of the archipelago, or perhaps you'd rather look for your own little island by kayak.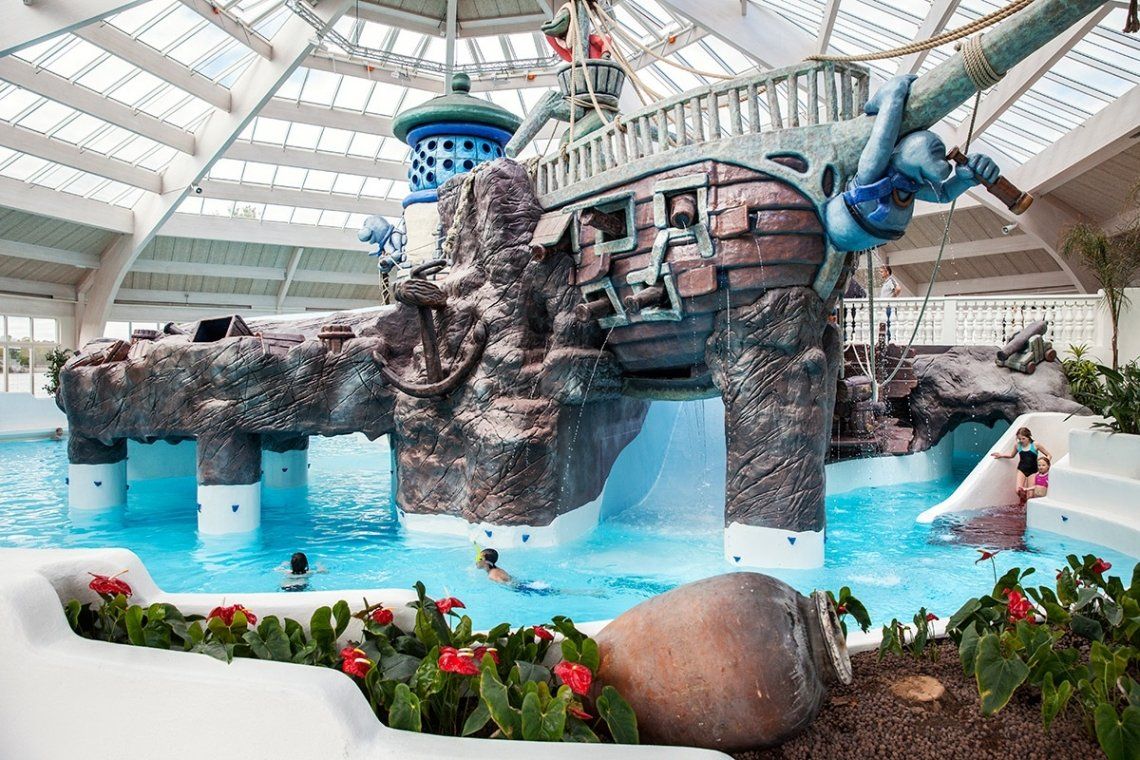 The campsite Västervik Resort is open all year round and with its indoor adventure pool, it offers lots of fun for your family holiday. Photo: Västervik Resort
Besides boats and kayaks for hire, the Västervik Resort has so much more to offer family campers during summer season, for example a children's club with mascot, child supervision and various activities, a crazy golf course, playgrounds, bouncy castles, a football pitch, a climbing pyramid and a whole lot more. If you want to, you can spend your entire family holiday on the campsite without ever getting bored. But that would be a pity, as there is so much to do in the area around the campsite. How about, for example, a bit of island hopping with a hiking tour over six islands joined together by little hanging bridges, an eagle or seal safari, or a day excursion with the car or motorhome to Vimmerby? This little village is the birthplace of Astrid Lindgren, and it can be found only 60 km from Västervik, an absolute must for a family holiday in Sweden.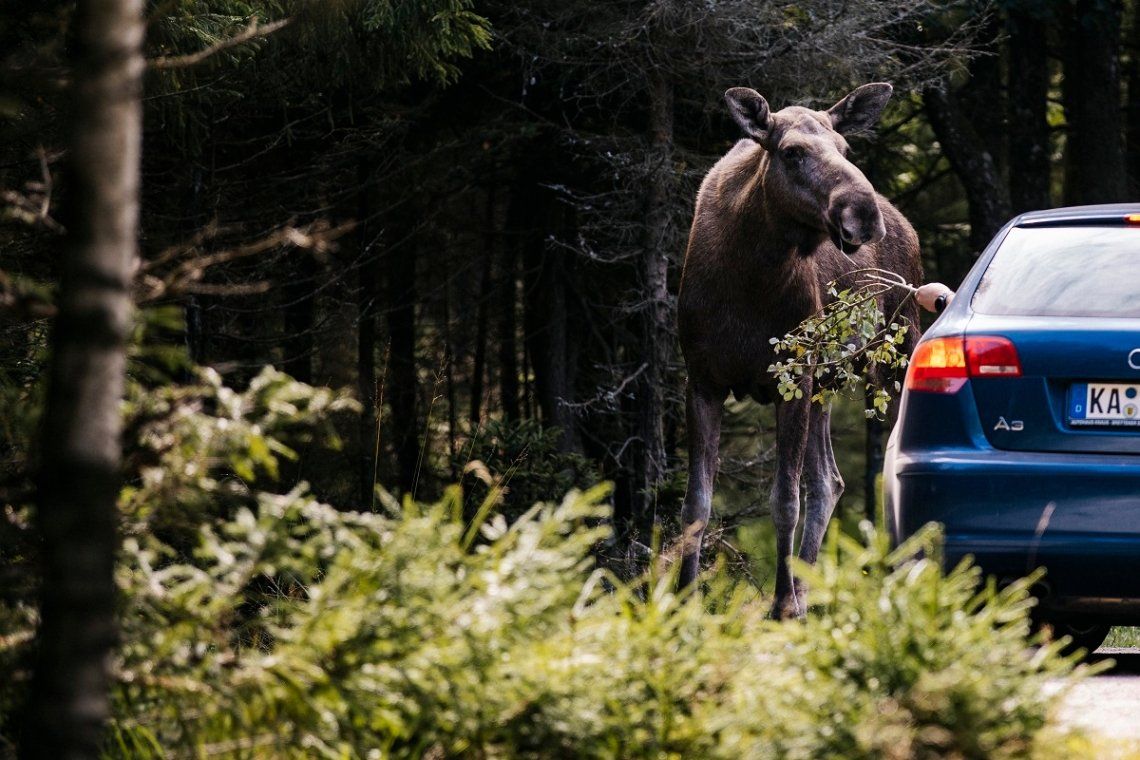 The elks in Smålandet Elk Park in Markaryd will come right up close to your car or motorhome. Photo: Alexander Hall/imagebank.sweden.se
The theatre and fun park 
Astrid Lindgren's World
doesn't only make children's eyes sparkle with delight, because here fans can spend their days with Pippi Longstocking, Emil, Ronja and co. Another tip for your family holiday in Sweden: On the way to Västervik through Småland, you should plan in a stop at one of the numerous elk parks.
Children particularly love the elk park 
Smålandet
 near Markaryd in south Småland, because here you drive up close to the elk enclosures with your own car or motorhome and you're even allowed to feed the animals with birch branches. What child could resist that?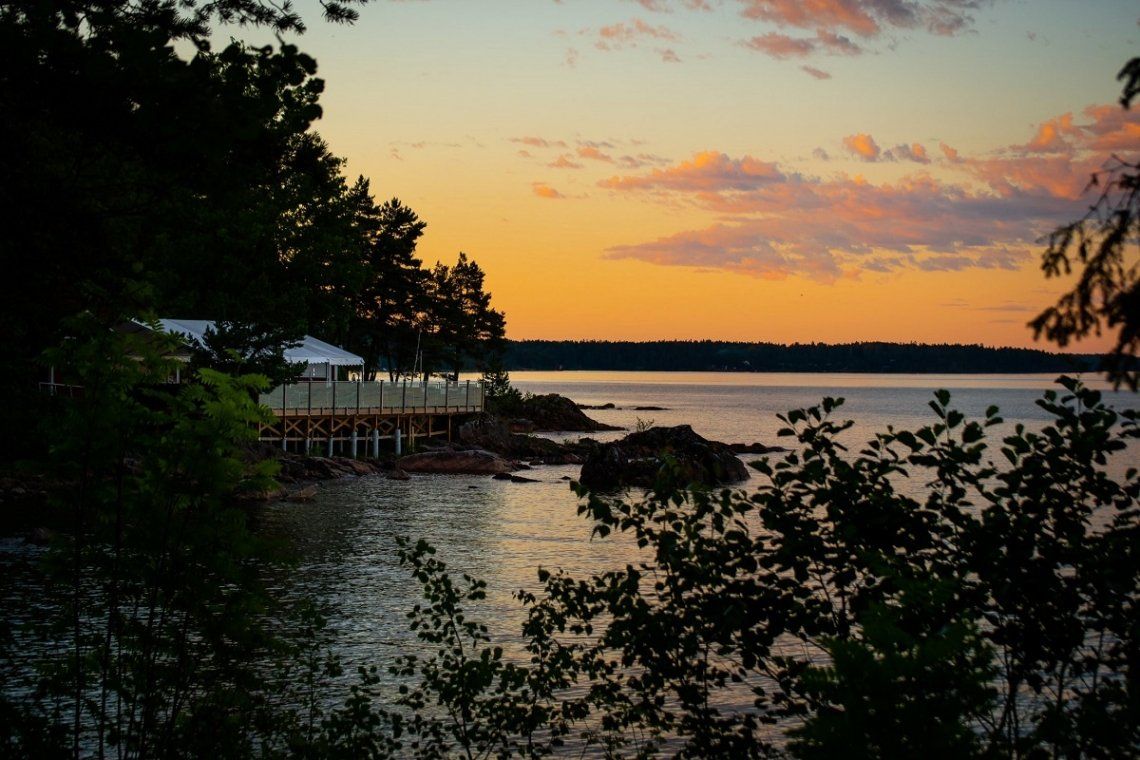 A view of Lake Vänern from the Ursand Resort & Camping campsite. 
Photo: Ursand Resort & Camping  
Camping with children in Västergötland: Ursand Resort & Camping
The campsite 
Ursand Resort & Camping
was awarded 5 stars for the first time in 2019. With a total of 400 pitches, this campsite is considered middle-sized in Sweden, but this doesn't make it any less popular with families. The campsite gains points in the National Swedish Campsite Association (SCR) rating scheme thanks to its position right on the southern-most tip of Lake Vänern, the largest lake in Sweden and the European Union. The extremely gently sloping sandy beach is perfect for families holidaying with young children, but if the water is still too cold for your liking, the campsite has its own bathing complex with waterslides and a baby pool - both heated to 28 °C.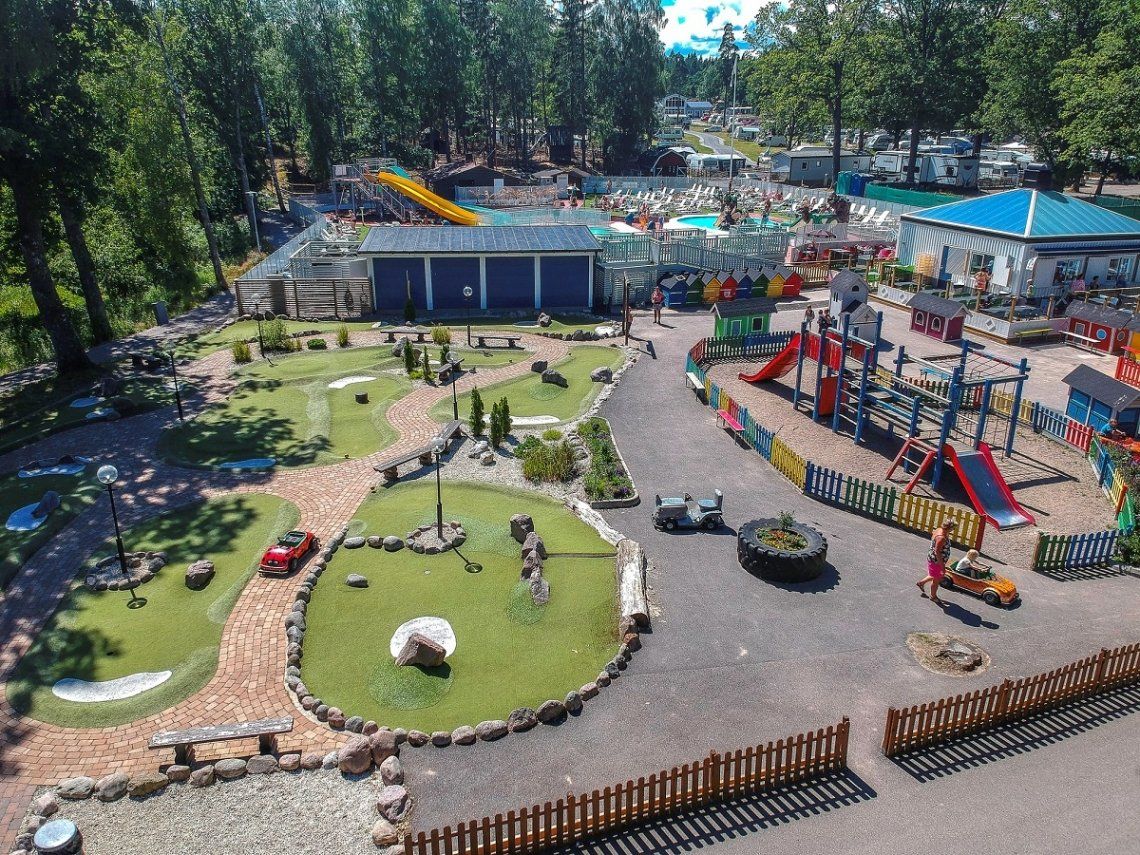 Even very small guests are catered for at this campsite. 
Photo: Ursand Resort & Camping 
The campsite claims to be one of the fastest growing campsites in Sweden and to prove it, has invested heavily in new infrastructure, modernisation and additional services in recent years.
This is obvious when you see what the campsite has for children, including an obstacle course, alpaca enclosure, ice cream parlour, crazy golf course, jumping pillows and bouncy castles, trampolines, slides and a whole host of other opportunities to really burn off some energy.
And the forests surrounding the campsite are also full of hidden adventures, as well as being perfect for long family walks.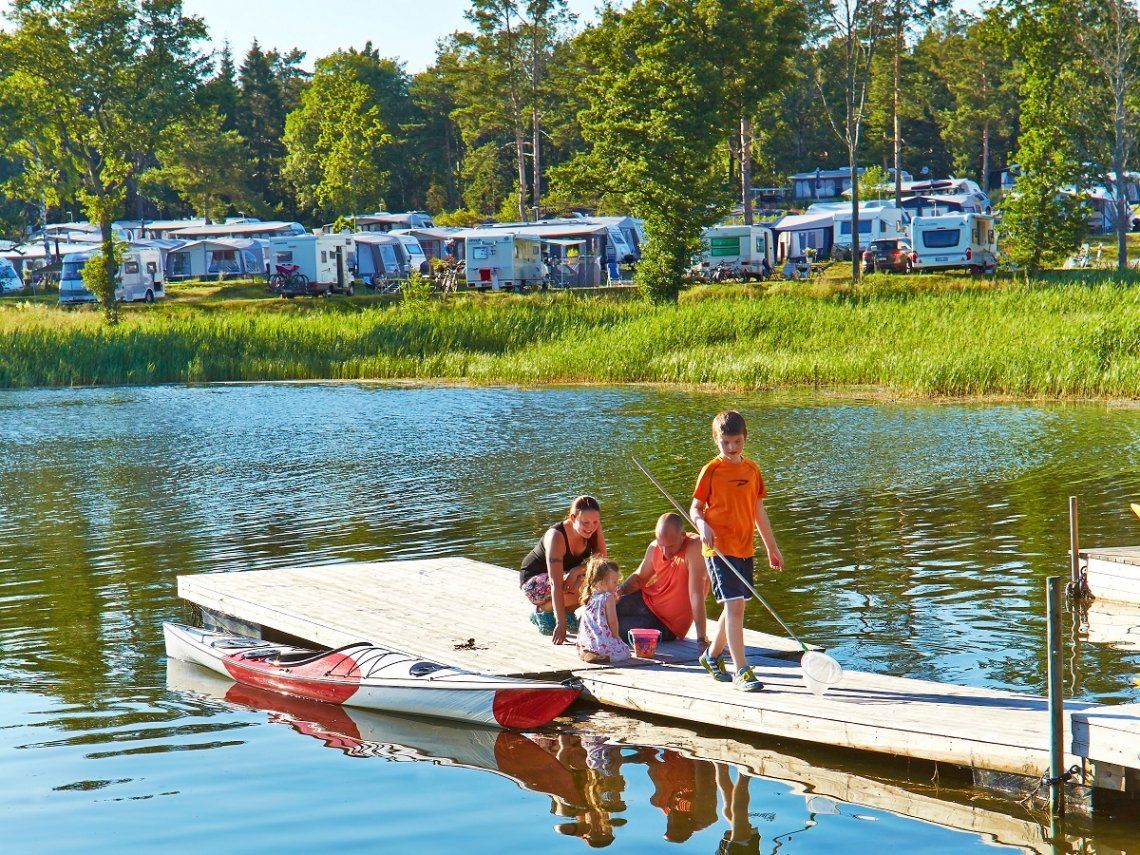 Not every holiday needs the sea. A lakeside camping holiday with children also offers lots of opportunities for fun and action for all the family. Photo: Anna Hult / SCR 
Camping with children in Västergötland: KronoCamping Lidköping
Also on Lake Vänern, but a little further north, is the campsite 
KronoCamping Lidköping
. This campsite is open all year round and has over 500 pitches. For families with young children, this campsite scores it points thanks to the sandy beach with its very gently sloping access to the water making it ideal for paddling. Older children enjoy the proximity of the campsite to the heated outdoor pool Framnäsbadet, which allows free entry to campsite guests. Back on the campsite, there is an activity house, a crazy golf course, playgrounds, an area for ball games, a beach volleyball pitch, and during the summer months, a children's club also offers a wide range of activities.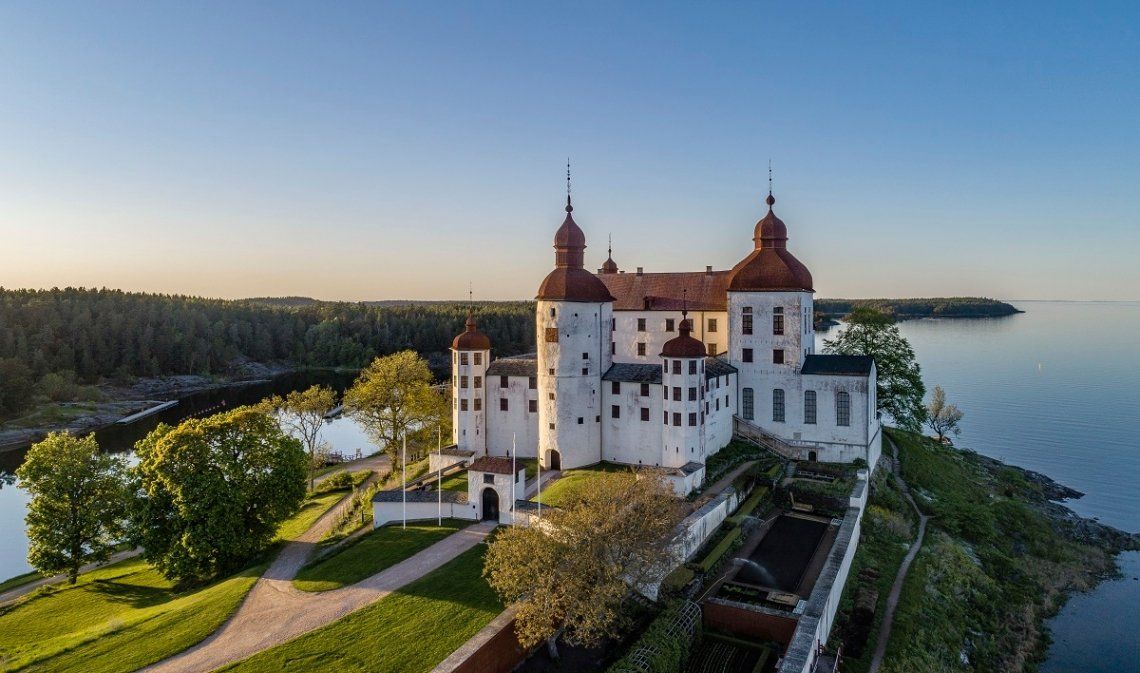 Be sure to visit the baroque castle Läckö during your stay at Lake Vänern in Sweden. Photo: Per Pixel Petersson/imagebank.sweden.se
The island of Kållandsö is also popular for a family excursion. Starting from Lidköping, you can reach the island either by bike or motorhome by crossing a short bridge, which links the island to the mainland. Kållandsö is the second largest island on Lake Vänern and is home to the perfect fairytale castle for many children - magnificent baroque castle Läckö. Make sure you pick up some freshly smoked fish for your picnic in the friendly little fishing village Spiken. The island is also a wonderful place for a range of outdoor activities, but if the weather turns against you, then we recommend spending some time in the Naturum Vänerskärgården, where you can find plenty of information about the specific flora and fauna of the area.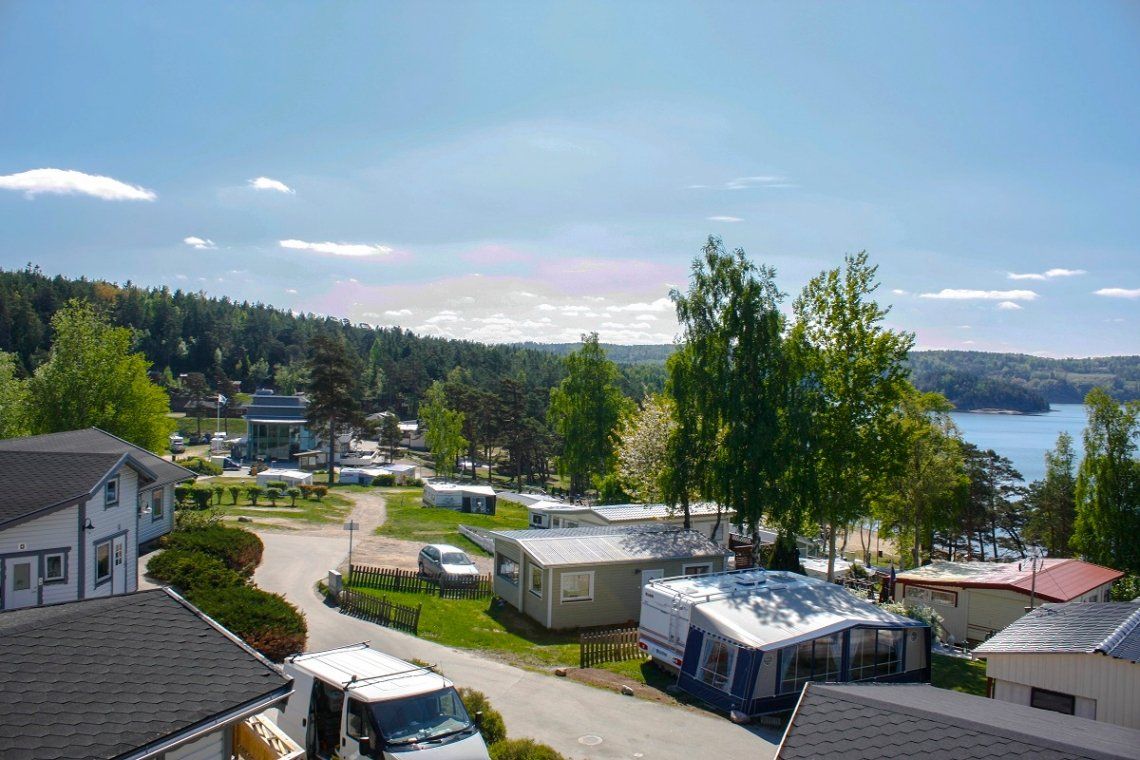 Almost every pitch on the Hafsten Resort campsite has a sea view. 
Photo: Hafsten Resort and Camping 
Camping with children in Bohuslän: Hafsten Resort and Camping
Camping in Bohuslän primarily means seaside camping in the heart of the islands making up the archipelago of western Sweden. This is also the case for families holidaying at 
Hafsten Resort and Camping
. The campsite is about 100 km north of Göteborg on a peninsula in the Bohuslän region, close to the town Uddevalla. The campsite is arranged in terraces, so that the majority of the 330 pitches have a view of the sea. Perfect for family holidays as the parents can relax a little while their children enjoy the numerous activities offered on the campsite, and there are 63 to choose from!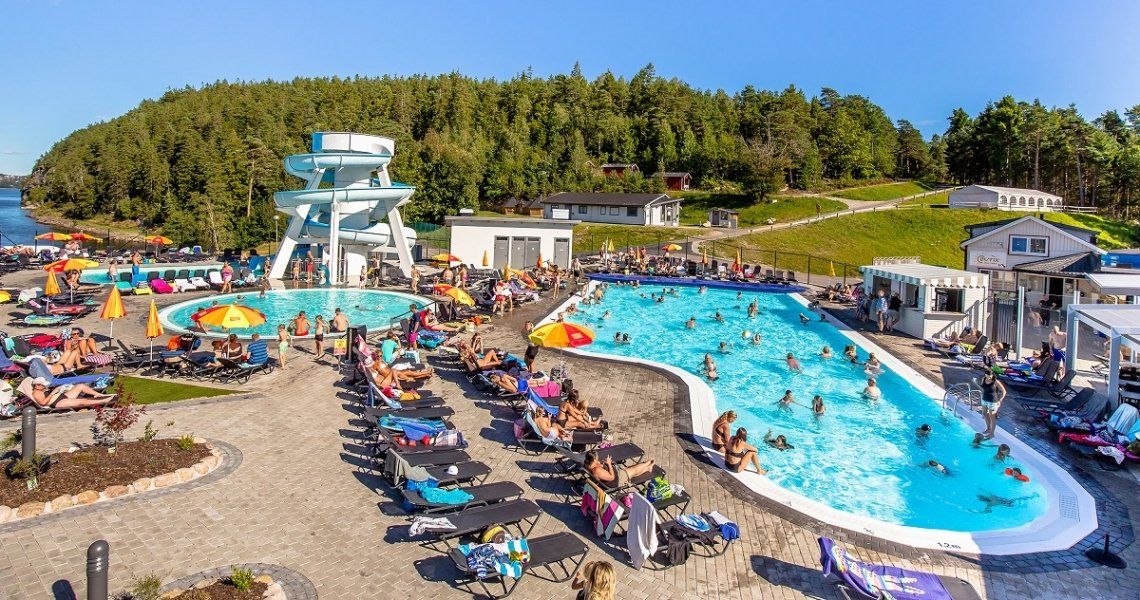 There are two children's pools in the Hafsten Resort. Photo: Hafsten Resort and Camping
These range, depending on age group, from playgrounds and obstacle courses in the forest, to crazy golf, kayaking, play grotto, jumping pillows and beach volleyball, to water fun in the sea or in the large pool complex, which includes two heated children's pools. You can also hire a boat and take a family tour through the archipelago, but inexperienced sailors are advised to stay within the archipelago. If you want to explore the outer archipelago, where the waves are considerably stronger, we recommend a trip with one of the public archipelago boats that can be found regularly cruising between the larger and smaller islands during the summer months.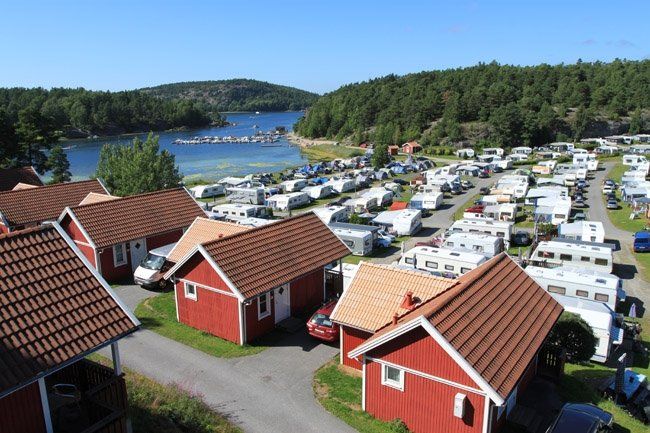 The campsite Daftö also offers chalets to those who don't have their own motorhome or caravan. Photo: Daftö Camping Resort  
Camping with children in Bohuslän: Daftö Camping Resort
The campsite 
Daftö Camping Resort
 in Strömstad is also in the archipelago region Bohuslän. And the first thing to say about it is: In summer, Strömstad is one of the most popular holiday towns in Sweden for Swedish people. So if you're looking for some peace and quiet, then you're better off choosing one of the less popular places in the archipelago. And with over 700 pitches, the campsite isn't exactly small, drawing campers and families keen to take part in the action offered in the theme park Daftöland, located right next door.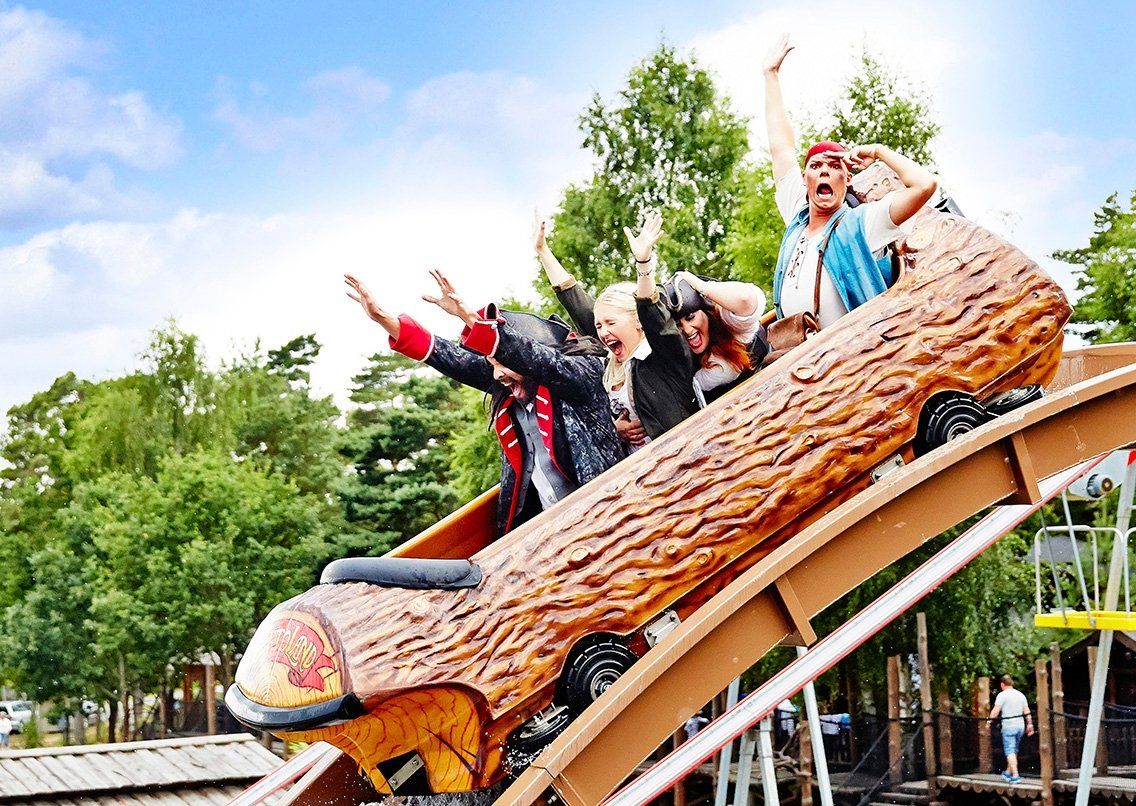 The amusement park Daftöland is right next door to the campsite. 
Photo: Daftö Camping Resort
The National Swedish Campsite Association has awarded Daftö Camping full marks in every category, which is reflected by the vast array of activities the campsite has to offer. These range from swimming in the sea or the heated pool, to supervised activities for the children.
A plus point when holidaying with children is also the geographical location of the campsite: It is mid-way between the exciting cities of Göteborg and Oslo, and is the ideal starting point for excursions in Sweden's only marine national park Kosterhavet.
Why not follow a snorkelling trail and go on a family exploration to discover the underwater nature.