For many parents, a camping holiday with children means looking for a compromise: On the one hand, they want to spend as much time as possible in the countryside with their children; on the other hand, they want some time to grab a bit of peace and quiet and relax. This means that campsites for family holidays are often deep in the rural countryside but at the same time offer a wide range of leisure activities and amenities for children. The 5-star campsites in Sweden presented in this Freeontour series (covering Southern Sweden, central Sweden and Northern Sweden) are specifically designed to cater for children. We start off the series with five campsites in Southern Sweden, all situated very close to the sea.
How are the campsites rated?
At present, 16 campsites in Sweden have received a 5-star rating from the National Swedish Campsite Association (SCR). These can be found spread out throughout the whole of Sweden. The rating is put together by an independent company, which takes into consideration factors such as hygiene, environmental issues, services, leisure facilities and events /activities. You can view these on the 
SCR website
, where the ratings for each campsite are clearly shown using diagrams. In general, the 5-star campsites have good to very good ratings in all the categories. Above all, they have a high rating in the leisure facilities and activities section, meaning they are perfect for camping holidays with children, as the kids can burn off some energy without their parents, making the holiday a pleasure for everyone involved.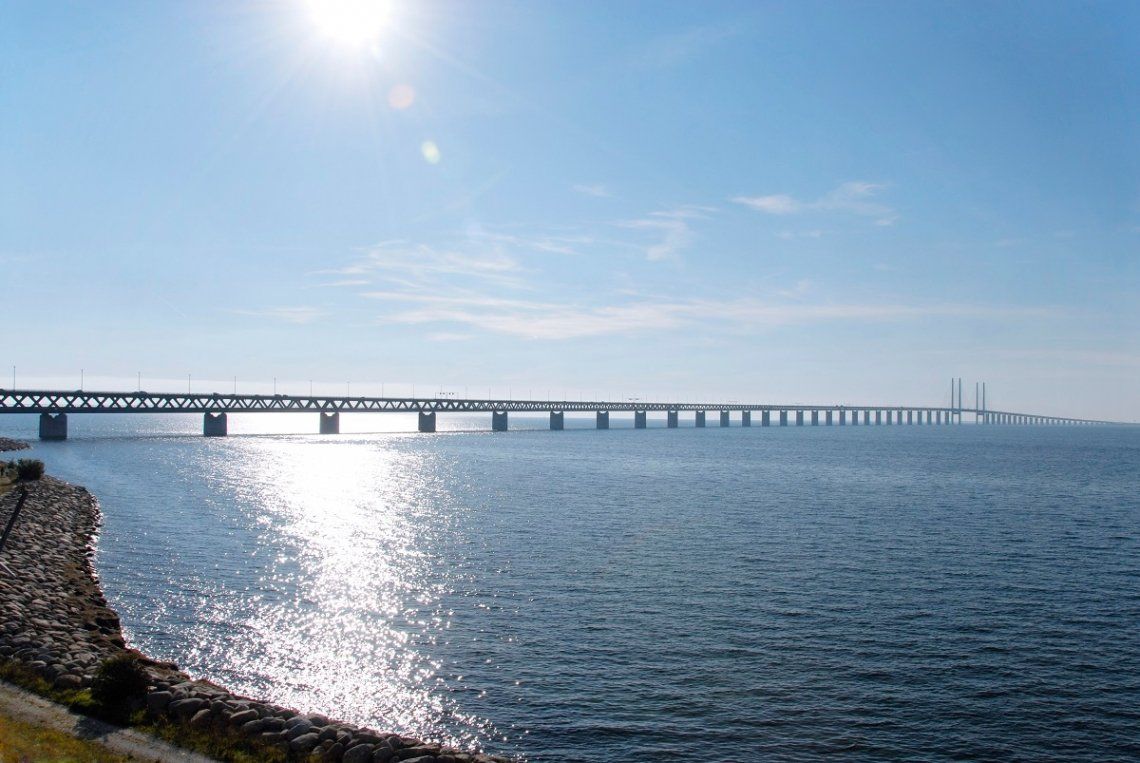 The campsite can be found about 70 km north of Öresund Bridge. 
Photo: Silvia Man/imagebank.sweden.se
Camping with children in Skåne: Campsite Mötesplats Borstahusen
The campsite 
Mötesplats Borstahusen
was awarded 5 stars for the first time in 2019. It is found in Southern Sweden, slightly north of the little town Landskrona right on Öresund strait (the Sound), so it not only benefits from a relatively sheltered area but also has pretty, gently sloping sandy beaches where even small children can play without any worry. Besides its own bathing jetty, a playground and a crazy golf course, the area also offers a wide range of activities and excursion possibilities, for example the car-free island of Ven, clearly visible from the campsite, is a great destination for a family bike ride. The cities Malmö, Landskrona and Helsingborg are easy to reach for daytrips, and the peninsula Kullaberg is ideal for hiking tours and other outdoor activities. Besides circular walking tours and adventure hikes, for example to the driftwood art Nimis, which is a particularly highlight for older children, porpoise safaris are also available. Not forgetting the golf club Landskrona right next to the campsite, which is one of the best golf resorts in Sweden and is also open to guests.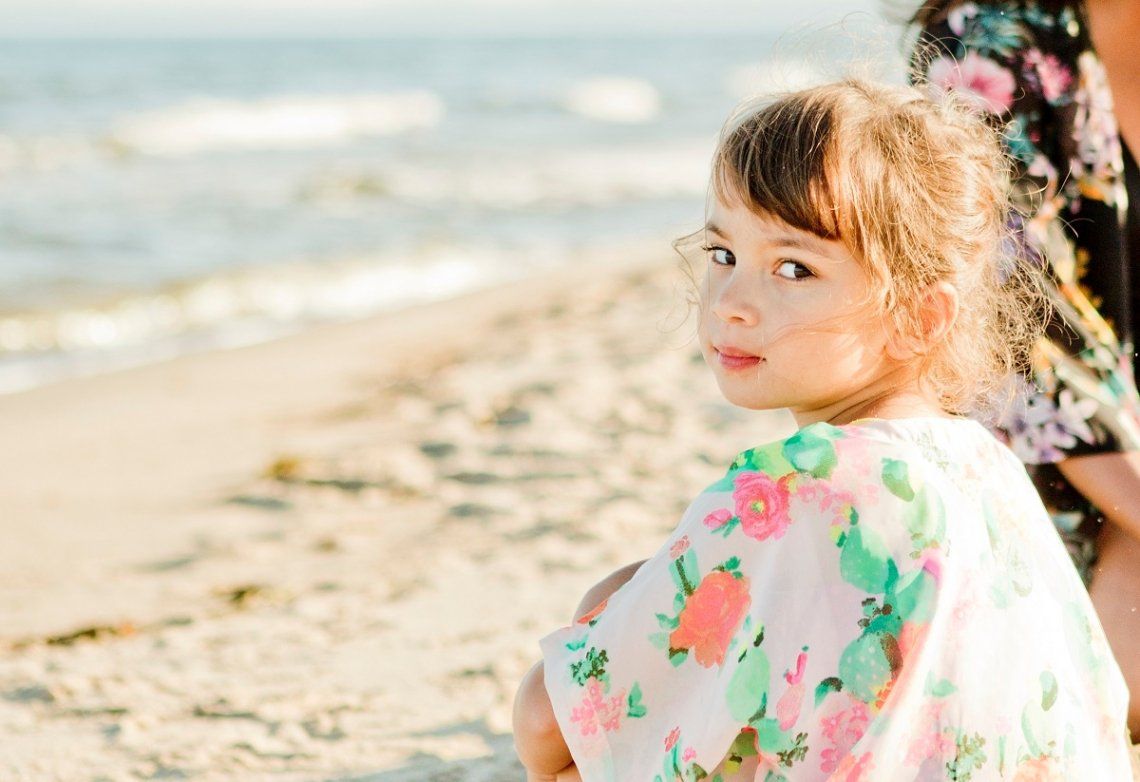 Both sandy beaches and rocky coasts can be found in the region Halland in Southern Sweden. Photo: Lina Roos/imagebank.sweden.se
Camping with children in Halland: Campsite Apelviken in Varberg
The 
Campsite Apelviken
 in Varberg is in the southern region of Halland, which runs along the west coast of Sweden, from Helsingborg in the north to Göteborg in the south. So this means: A camping holiday at the seaside with either fine sandy beaches or the amazing rocky coastline of Kattegat. If you can't decide which you prefer, then the campsite Apelviken is ideal for you, located exactly half way between the two different beach areas - one sandy and one rocky. Depending on your pitch, it's only 50 to 250 m to the sea, and if that's still too far, there's also a heated pool on the campsite grounds. With 500 pitches, it is one of the biggest campsites in Sweden, and the range of activities offered to families is correspondingly large. Besides a children's pool, playgrounds, crazy golf and bouncy castles, there is also a comprehensive programme of activities for different age groups. And as Apelviken is one of the best surfing areas in Sweden, there is, of course, a surfing school. Why not add a family course in stand-up paddling to your list of holiday experiences?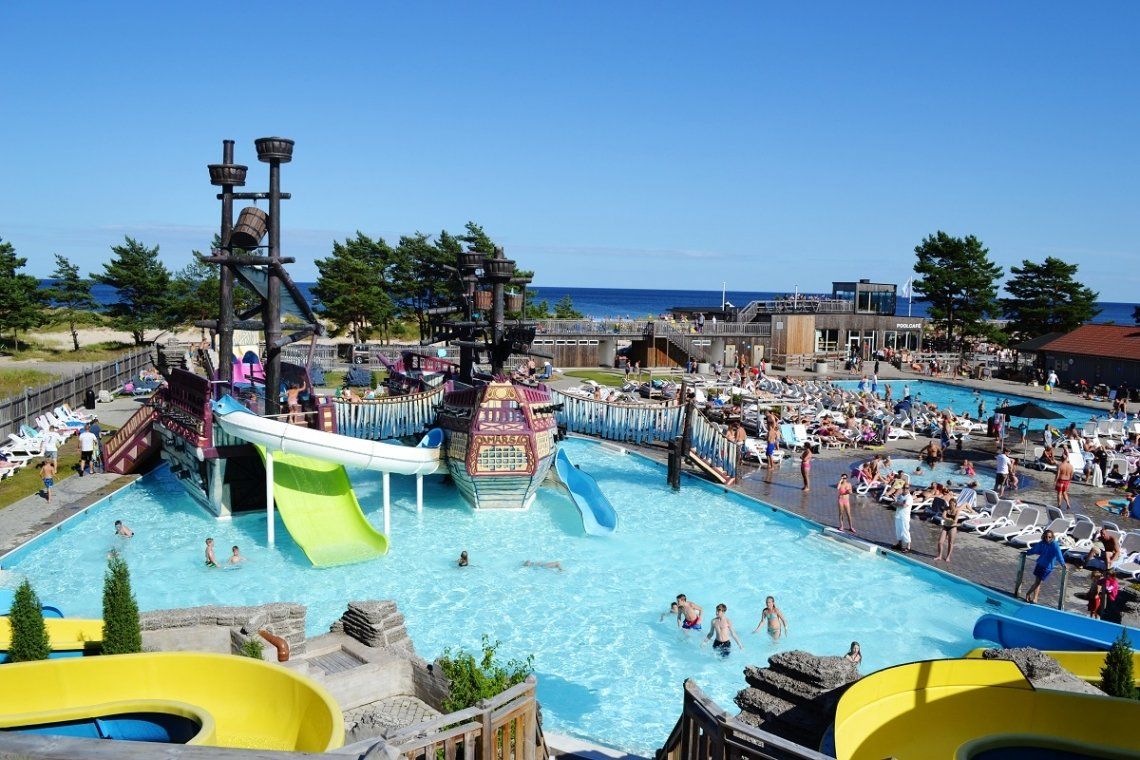 The pool area of Böda Sand is designed for specifically family camping holidays. Photo: Böda Sand Beach Resort
Camping with children on Öland: Campsite Kronocamping Böda Sand
With over 1100 pitches, the campsite 
Kronocamping Böda Sand
 on the island Öland is one of Sweden's really huge campsites. The site is so large, in fact, that it is split into various areas, and not only has a kilometre-long, child-friendly sandy beach, but also has two separate dog beaches. Here you will find a wide range of activities and excursion options for a caravanning family holiday, because although Öland is Sweden's second largest island, numerous places of interest are not more than a 2-hour drive away. And there are also plenty of daytrips only a bike ride away. By the way, the island of Öland is linked to the Swedish mainland by the 6 km long Öland Bridge at Kalmar so you don't need to take your motorhome or caravan on a ferry, and luckily, the bridge is also toll-free. What's more, the campsite offers a wide range of activities for all age groups to make the holiday as pleasant and diverse as possible, from a children's club, crazy golf, and large pool area, to a youth camp with skater-park, kick bikes and trampoline zone, to a spa and well-being options, and a 9-hole golf course.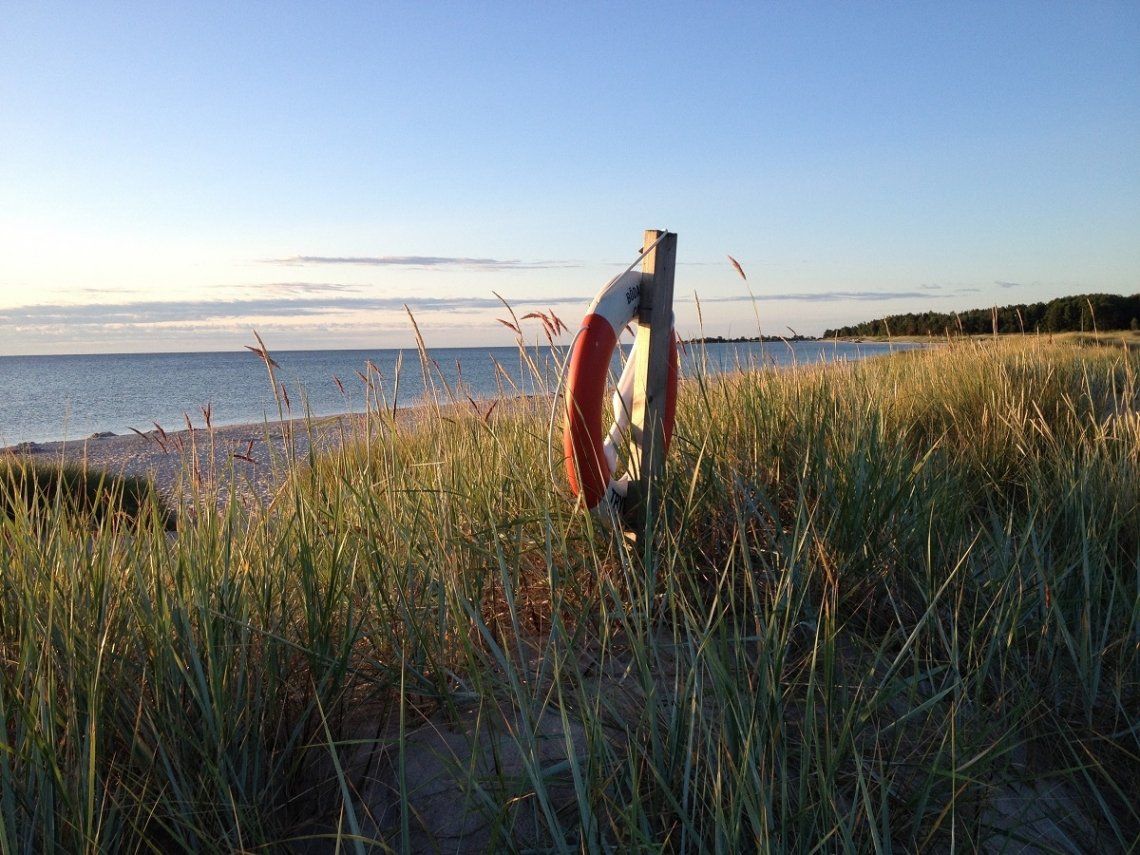 The beaches on the island of Öland attract numerous summer holidaymakers every year, especially those with families. Photo: Pixabay
Camping with children on Öland: Sonjas Camping & Stugor in Löttorp
Only about 15 km south of Böda Sand is a second 5-star campsite on the island of Öland: 
Sonjas Camping
 & Stugor (chalets) in Löttorp. This campsite is also on the east coast to the north of the island, but with only 341 pitches, it is considerably smaller and quieter. But here as well, the campsite focusses on families. The campsite has two swimming pools, with one specifically reserved for young guests. Furthermore, children under 10 have their own toilet and shower area. Besides the playgrounds and a crazy golf course, there is also a skater ramp, table tennis tables and a football and volleyball pitch. And, of course, a long sandy beach with beautiful shoreline meadows, which are home to the island's unique flora.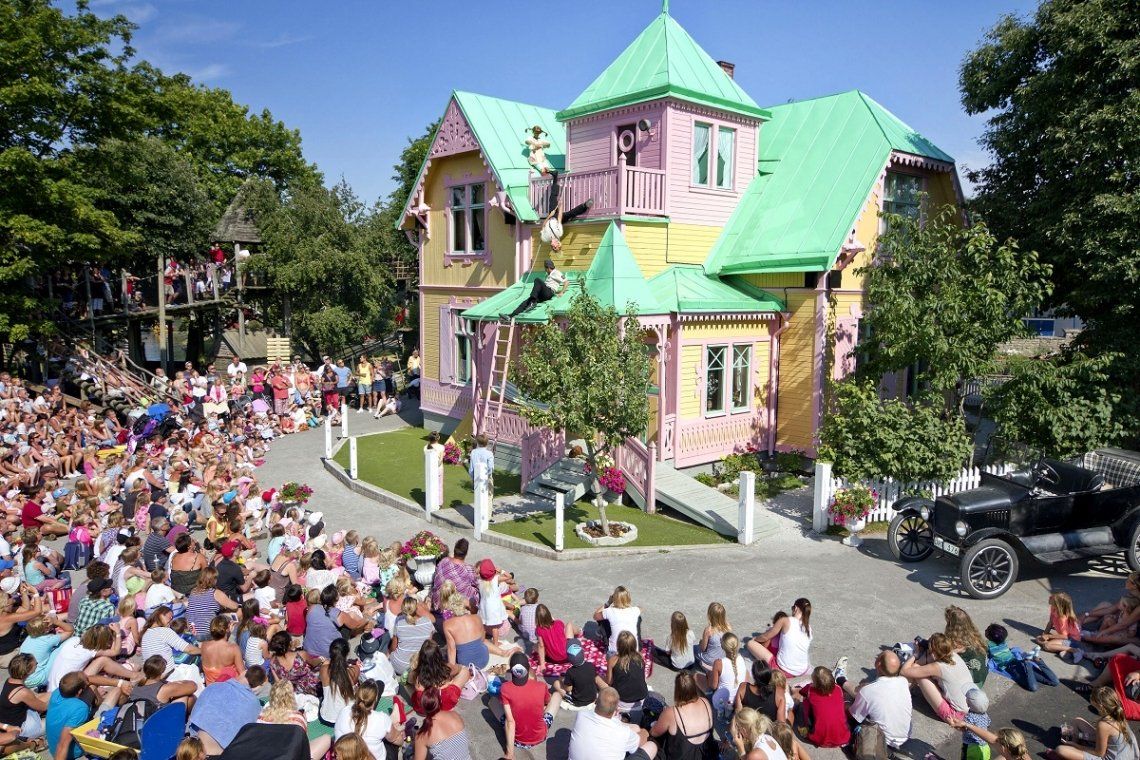 The original Villa Villekulla from the Pippi Longstocking films is a visitor magnet in the Kneippbyn Resort. Photo: Kneippbyn
Camping with children on Gotland: Kneippbyn Resort near Visby
The 5-star campsite 
Kneippbyn Resort
 on Sweden's largest island, Gotland, is an ideal place for a family holiday, as it is right by the sea, close to the leisure and waterpark Kneippbyn, and not far from Villa Villekulla and Pippi Longstocking. Something no Pippi fan would dream of missing. Then here is the original Villa Villekulla, which was the setting for the famous Pippi Longstocking movies and today is the setting for summer theatre productions and other activities for children, including, of course explore Villa Villekulla for themselves in between showings. And you are bound to recognise other Pippi Longstocking filming locations all over the island of Gotland, particularly in the cobbled alleys on Visby, which makes tracing Pippi's steps another popular family activity on the island. With 200 pitches, this is one of Sweden's middle-sized campsites, but its proximity to the waterpark means that there is always plenty going on here. Add to this the beach, supervised children's activities, a crazy golf course, and of course, the various attractions in the Kneippbyn summer park for a superb fun-packed family holiday. And we mustn't forget to mention the countryside on the island of Gotland, which is a real adventure playground in itself, with its fascinating stack-like rock formations (rauks), caves and other incredible natural wonders.