Setting up a new motorhome or caravan is like setting up a new home. The basic structure is already there, but the equipment is missing. New campers often don't fully realise what you really need on a camping trip. Therefore, Freeontour has put together a check list of your basic camping equipment.
Many people take their vehicle for a quick test camping trip over a weekend and slowly get a feel for camping. Experienced campers often start with a long holiday straight away. Whichever you prefer, a good kitchen is essential. Even if you don't feel like spending hours over a hot stove or scrubbing dishes while on holiday, a well-equipped kitchen takes the stress out of meal preparation. So to make sure that all the most important utensils are available, we'll start here. After all, being hungry is never fun, and will put a damper even on the best camping holiday.
Our tip: Depending on how often or how quickly you want to start your camping holiday, we recommend keeping certain items in your vehicle permanently, for example standard condiments, pots and crockery. This means you don't need to rummage through the kitchen at home before each expedition.
Check list camping kitchen:
Cutlery
Crockery
Glasses
Cups
Dish soap
Sponge
Condiments
Pots
Pans
Fish slice
Whisk
Scissors

Corkscrews/ bottle openers
Coffee filters
Coffee machine or kettle / Coffee filter holder
Strainer
Tea towels
Hand towels
Kitchen knife
Chopping board
Bowls
Ladle
Tin opener
dishpan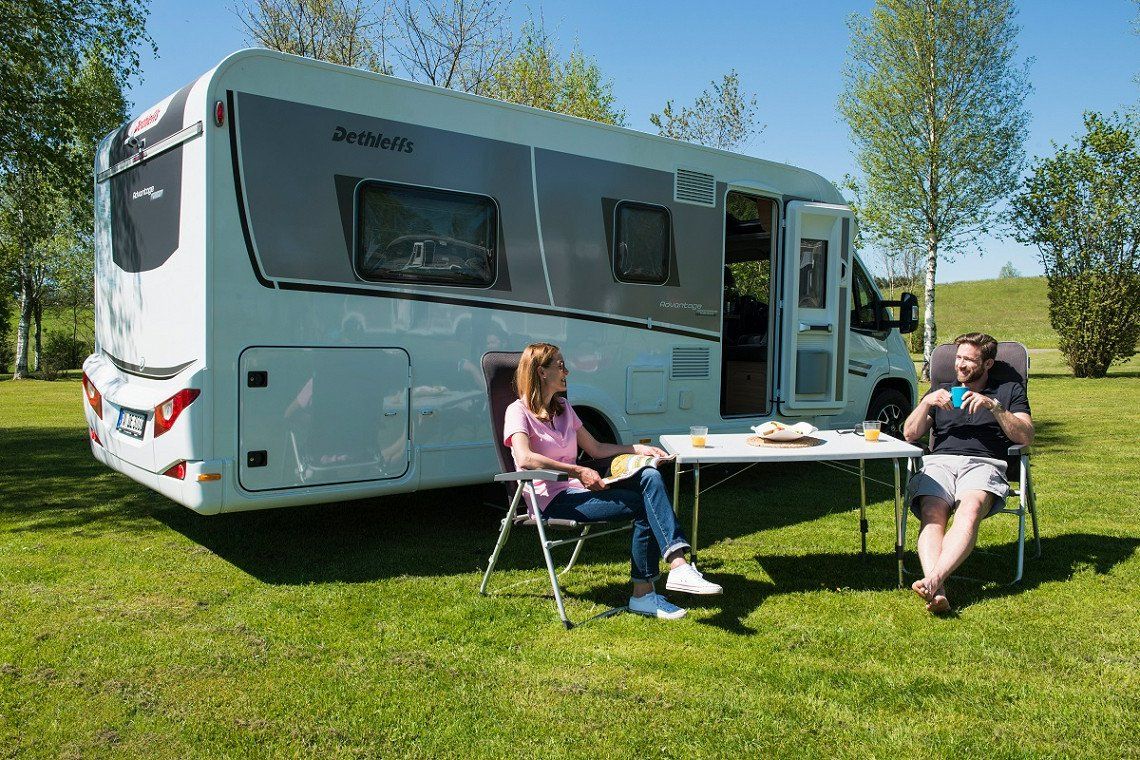 The right camping furniture for the outdoor area is simply part of a camping holiday or motorhome tour. Photo: Dethleffs
For outside
There is no better place to enjoy your meal than under an awning or canopy, and for this to be possible, we recommend some comfortable chairs and a height-adjustable table. This way, you have a flat surface and the food stays where it should. For a little more homely comfort, don't forget a tablecloth, flowers, serviettes or numerous other accessories that personalise and enhance your caravan or motorhome. Many campers also lay out a tarpaulin or awning rug in front of the camping vehicle, if only to keep dirt out. It is important to note that this should be water- and air-permeable so that the grass or ground underneath is not damaged. Many campsites now prohibit the use of waterproof tarpaulins for underlaying. 
o Comfortable chairs
o Height-adjustable table
o Awning
o Awning rug
o Barbecue
o Charcoal / gas / matches / lighter
o Barbecue utensils
o Hammock

The bathroom in modern camping vehicles often offers quite a bit of storage space. Photo: Carado
Checklist for the bathroom in your camper
What could be more pleasant than a little freshen-up and pampering after an enjoyable meal? For this, you have your own bathroom in your motorhome or caravan, or the well designed bathroom on the campsite. The latter may even have a swimming pool and sauna for a perfect holiday evening. So that you always have the most important bathroom equipment at hand, and your cupboard holds the most important things for your daily routine, we recommend you pack a beauty bag. If you choose one to hang up, then you will have additional storage space in your vehicle and it is protected against moisture in the bathroom. We also recommend a beaker that fits in your bathroom cupboard for your toothbrush and toothpaste. A beaker can also be used to store other small items besides toothbrushes, for example ear buds, razors, etc. And don't forget the toilet paper - check it's a brand that dissolves easily.
o    Mat for the shower / bathroom floor
o    Squeegee for the shower
o    Toilet paper
o    Toilet cleaner
o    Bathroom cleaner
o    Towels
o    Bathroom utensils
Sleeping
To protect the cover of the mattress and promote the longevity of the sleeping surface, it is recommended to use a mattress protector. It also has the advantage of being able to go into the washing machine and thus ensures more hygiene in the camper. What else you need to make yourself comfortable in the sleeping area is certainly very individual. It is best to make a personal list before the holiday. However, the basics include the following things:
o Mattress protector
o Sheets
o Bedding (pillows/duvets)
o Blankets
o Also useful: a charger for your mobile device

Checklist around the vehicle
After equipping the motorhome, now we move to the outdoor area and technical matters. Freeontour has put together a list of the most important equipment you need for a relaxed camping holiday – we don't want you to be stuck with a gas bottle that just won't open, or a groundsheet that blows away because you can't hammer the pegs into the ground, or something as small but annoying as a loose screw. With this basic kit, you're ready to face the most important issues that can occur during a camping trip with your caravan or motorhome.
o    Garden hose / watering can for water fill up
o    Power cable (with CEE/Schuko adapter)
o    Jump leads
o    Basic tools (screwdriver, pipe wrench, rubber mallet, cable ties, duct tape, torch)
o    possibly (levelling) blocks or chocks
o    Jerry can
o    Shovel
o    Fire extinguisher
o    Gas cylinders
During a camping holiday, there's bound to be one or other crumb to brush away. So don't forget to pack a classic dustpan and broom, or even a vacuum cleaner - these are available as battery-operated models, which are charged using 230 V, or there are models with a 12 V connection.