The feeling of freedom experienced during mobile travel is attracting more and more people. There are several good reasons for this, most of which are being punctuated once again by the current corona situation. Caravaning stands for a self-determined, flexible, natural, and yet comfortable form of holiday. Add to this the trend towards Slow Travel and a shift towards more conscious holiday planning. Freeontour summarizes the main advantages and safety aspects of caravaning: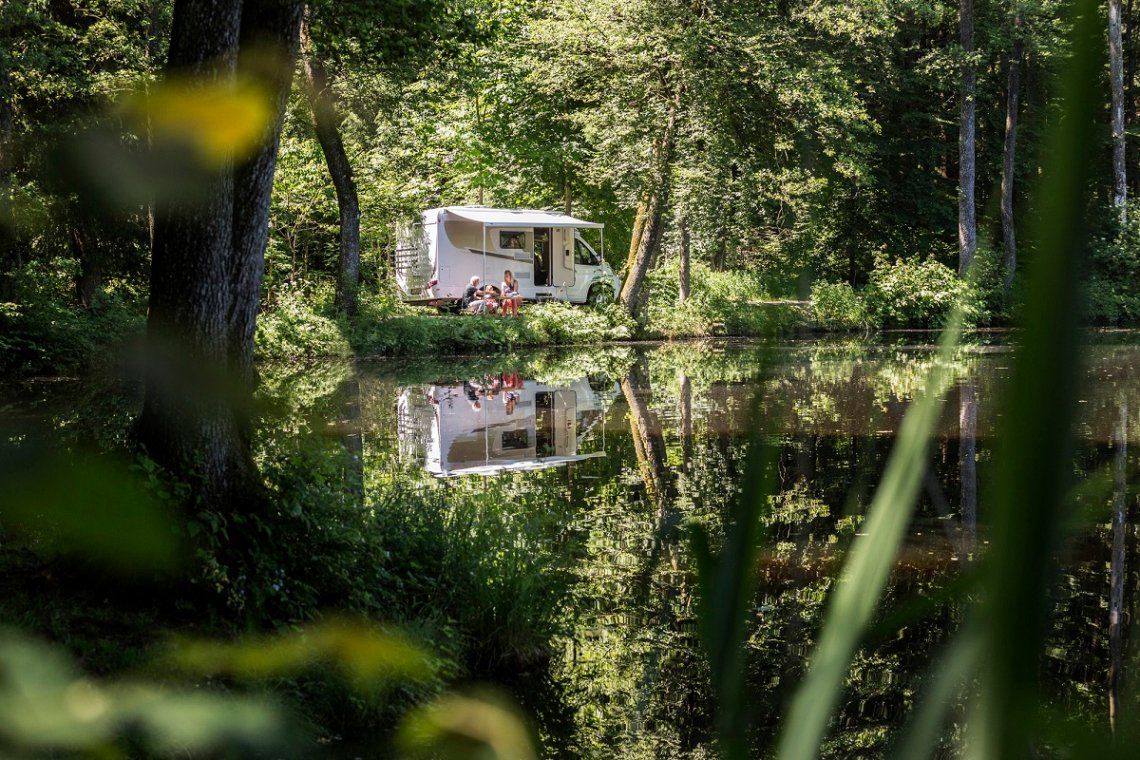 Find a cozy place to have a coffee on the go? No problem with a motorhome. Photo: Carado
1. Caravanning stands for self-determination and independence
Self-determination and independence on vacation are at the top of many travelers' wish lists – and not just since the restrictions of the Corona pandemic were put into place. No other form of holidays meets these criteria quite like a holiday with a motorhome or caravan. Because with your own accommodation on four or two wheels, you have a wide range of possibilities on the road without any time or other constraints: Just drive off spontaneously and stop wherever you like. Of course, self-sufficient motorhomes and campervans still have a small advantage over a caravan tandem, as they can use a large number of campervan sites for overnight stays in addition to the camping sites. And if you have the Freeontour app with you on your smartphone, you can usually easily find a campsite or pitch nearby and can concentrate entirely on your holiday experience without having to organize much. 
The same goes for the food, by the way: Because campers eat when and where they feel like it. Contrary to a hotel or package vacation, you don't have to adhere to certain meal times, you can enjoy your first coffee in the morning in pajamas, and you don't have to wait in line at the buffet in the evening. Whether you want to cook for yourself in the camper or try out regional specialties in the nearby restaurant is naturally up to you.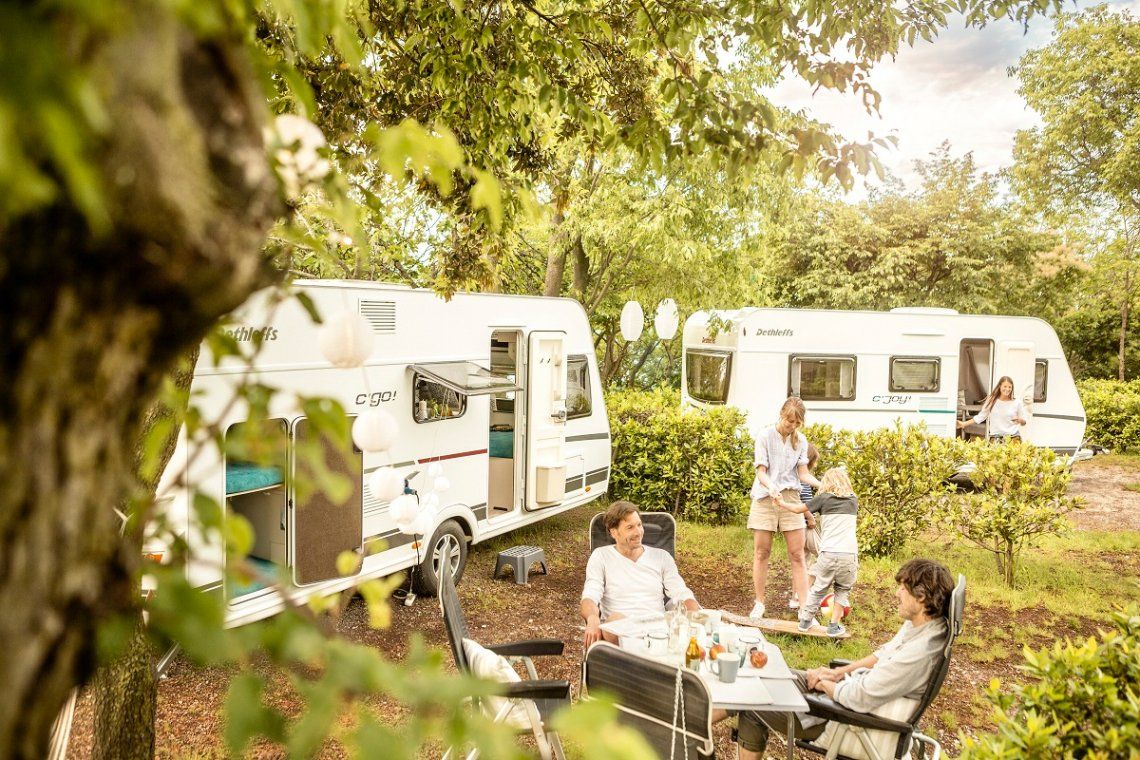 Spacious camping plots in nature are perfect for relaxing and romping around. Photo: Dethleffs
2. Camping is a holiday in the fresh air in harmony with nature
Anyone who travels with a caravan or motorhome also likes to spend a lot of time outdoors. The majority of campsites in particular have the advantage that they are often surrounded by beautiful nature. Hikes, bicycle tours, canoe adventures, and many other outdoor activities can often be started directly at your campsite. At the same time, the sites offer a good infrastructure for the most necessary errands and plenty of space for small campers to run around, play, and swim. When the weather is nice, the campsite pitch easily transforms into your own garden, where you can set up a hammock or deck chair to relax – and if it rains, you can spend the day reading, playing games, or doing other activities together in the camper.

Dog owners can also spend their holiday here completely relaxed with their four-legged friend. And since there are campsites and motorhome pitches in Germany as well as in Europe for a variety of demands and requirements, everyone is guaranteed to find his or her favorite spot for a camping holiday. The options range from very simple nature campsites and sites with basic facilities to luxury campsites with spa and wellness facilities, private baths, and excellent restaurants. In short: If you do not want to do without luxury and various amenities during your camping holiday, you do not have to.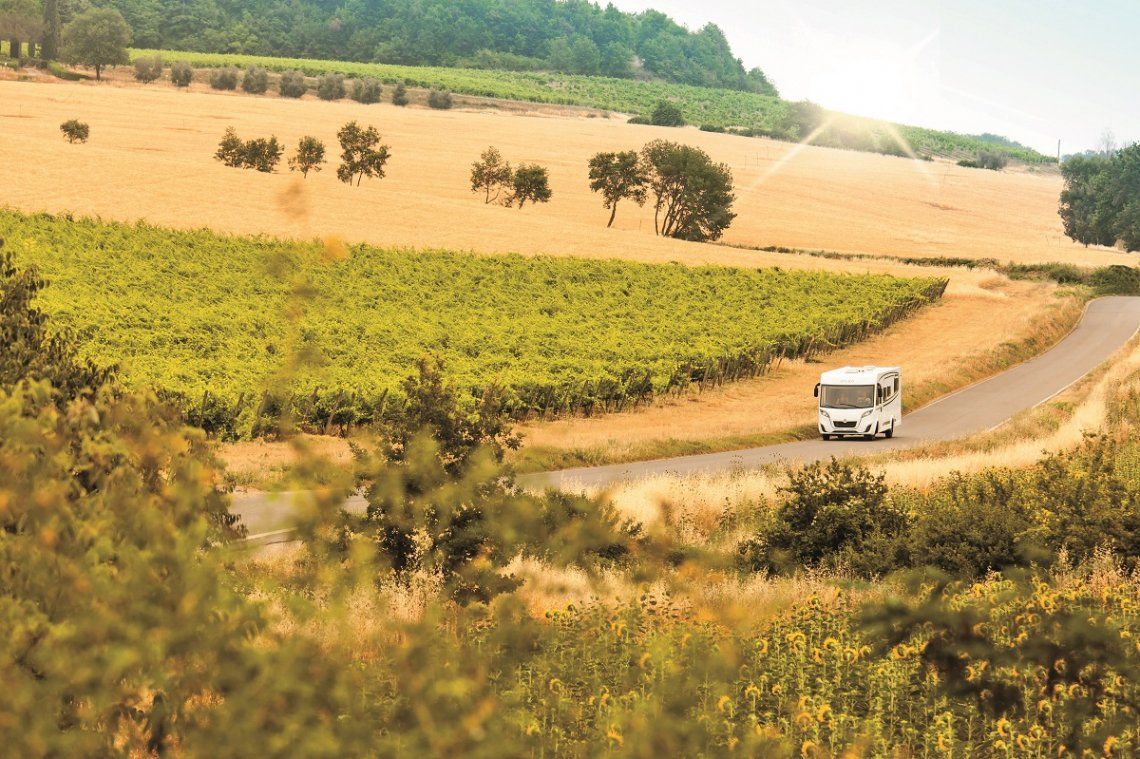 The statement "the journey is the goal" is at the heart of motorhome tours and the slow travel principle. Photo: Etrusco
3. Caravaning means deliberately slowing down and the freedom to be flexible
Simply living for the moment, consciously shedding the pace and pressure of everyday life, and taking time for yourself, your family, or your friends – more and more people in today's fast-paced world have this need for deceleration. And this need is fulfilled in many different ways when you travel by motorhome, caravan or campervan. Because like hardly any other type of vacation, caravaning already has the concept of slow travel anchored in its DNA, so to speak: With caravaning it's not just about getting where you need to be, but about the journey there. The somewhat slower cruising speed compared to other types of travel invites you to make discoveries along the way and easily deviate from the planned route.
Make discoveries on the go and simply stop where you want your motorhome or camper van - Slow Travel par excellence. Photo: Sunlight

On this kind of trip it's not about how fast you get to your destination but the possibility to make a flexible and spontaneous stop where you like. Self-sufficient motorhomes and campervans in particular are predestined for this. Just as flexible you can easily change your campsite or campervan site if you don't like it or drive towards the sun in the event of bad weather. And if there are different preferences in terms of destinations and activities within your family or circle of friends, they can easily be combined into a motorhome tour to visit different regions. Particularly in the time of a Corona pandemic, the flexible freedom of caravaning also means that you can determine or adapt your travel destinations on short notice depending on the infection situation – and without having to pack your suitcase. After all, anything you need is always available in your mobile home.
But Slow Travel also means limiting oneself to just the really important things. Of course, it's up to the individual to determine what's important. Because even though motorhomes, caravans, and campervans offer plenty of space and storage, you should not ignore the weight of the maximum permissible payload of your recreational vehicle. At the same time, a motorhome tour or camping holiday always provides you with the opportunity to discover simplicity – and how few things are really necessary to feel good.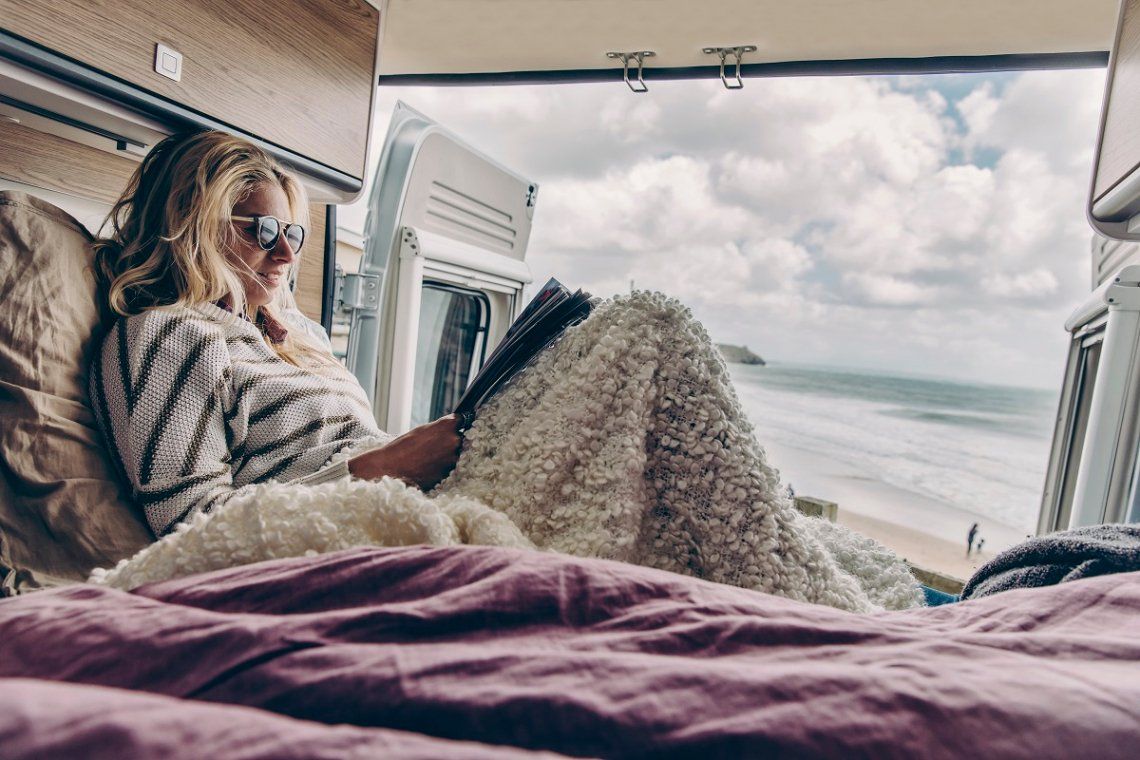 You can make yourself comfortable in your own caravan, mobile home or camper van. Photo: Sunlight
4. Caravaning means safe travel and comfortable living in a mobile home
Your own bed, your own table, your own shower and toilet, and your own kitchen even on vacation: For many people, these are all convincing arguments for motorhomes, caravans, or campervans – and not only in the midst of the Corona pandemic. Because regardless whether it's a hotel holiday, cruise, or holiday home: You never know exactly what to expect in terms of cleanliness and hygiene. In your own camper, however, you have control of both and are on the safe side. As far as comfort is concerned, the fact that you can furnish and equip your recreational vehicle according to your personal taste should not be underestimated – from the mattress and slatted frame to a cuddly blanket, kitchen equipment, and your favorite cup for your morning coffee. Anything you need is always on board and when it comes to comfort there are recreational vehicles for every taste and need.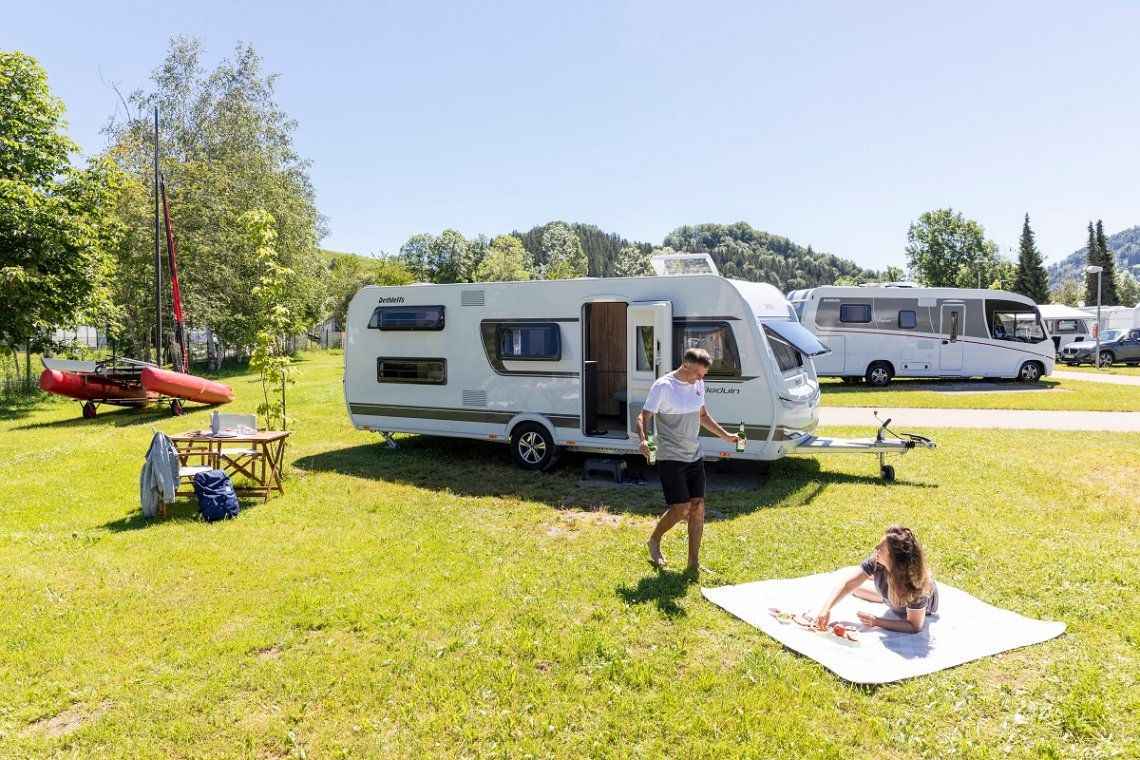 When camping, the necessary distance from other holidaymakers is provided by nature. Photo: Dethleffs
Another plus in the age of social distancing: The division of the plots on campgrounds and camping pitches generally ensures that one's distance to other campers is maintained. Nevertheless, nobody has to forego being social with his or her fellow campers. A quick talk about recommended excursion destinations in the area, discussions about new features in the field of camping vehicles, or just a cozy get-together in the evening – all in compliance with the regionally applicable rules surrounding social distancing – is also not a problem. Finally, the flexible camping furniture can be set up outside in whichever way you please. And if you want to limit your social contacts to a minimum, you can keep to yourself with your family, partner, or friends. As with all other forms of holiday or in everyday life, the risk of infection cannot be completely ruled out when caravaning. But it can be contained very well. This is because the operators of campsites and pitches have also drawn up comprehensive hygiene concepts in recent months, especially in the area of generally accessible and usable areas.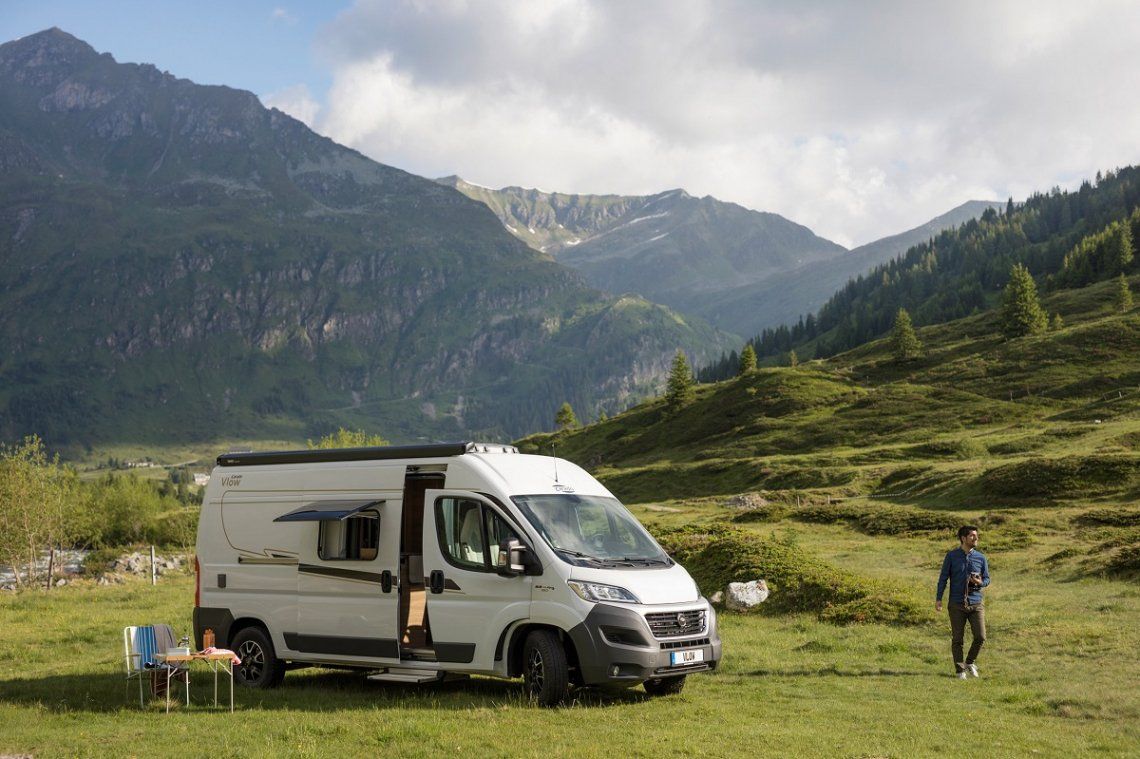 Lots of peace and nature - camping and caravanning are the opposite of mass tourism. Photo: Carado
5. Camping is an attitude towards life and the epitome of an individual holiday
Whether in the dining room, at the hotel pool, or sightseeing: Mass transit and large crowds of people are not everyone's cup of tea – especially not in the time of Corona. Caravaning, on the other hand, has always stood as a kind of alternative to package trips and mass tourism and focuses on the individual desires and needs of the traveler. After all, hardly any other form of travel offers such diverse and flexible possibilities for you to design your very own ideal holiday. It combines one's desire to be close to nature with the feeling of independence and the freedom to leave at any time to follow one's own curiosity for new things.

Curious to try it out? Professional rental companies like McRent or rent easy offer a wide range of different motorhomes and campervans for every taste.