If you've ever thought about camping on a farm, at a winery or in an orchard belonging to a private individual instead of a conventional campsite, then you're not the only one. An increasing number of caravanners and motorhome owners are choosing alternatives to conventional campsites and motorhome pitches – preferably in the countryside and as secluded as possible. You can now find these camping options, check availability daily and book directly online at Freeontour.
Current information from Freeontour
For technical reasons, the bookable pitches are currently not displayed in the Freeontour pitch guide. We are working on a solution and hope that they will be available again soon!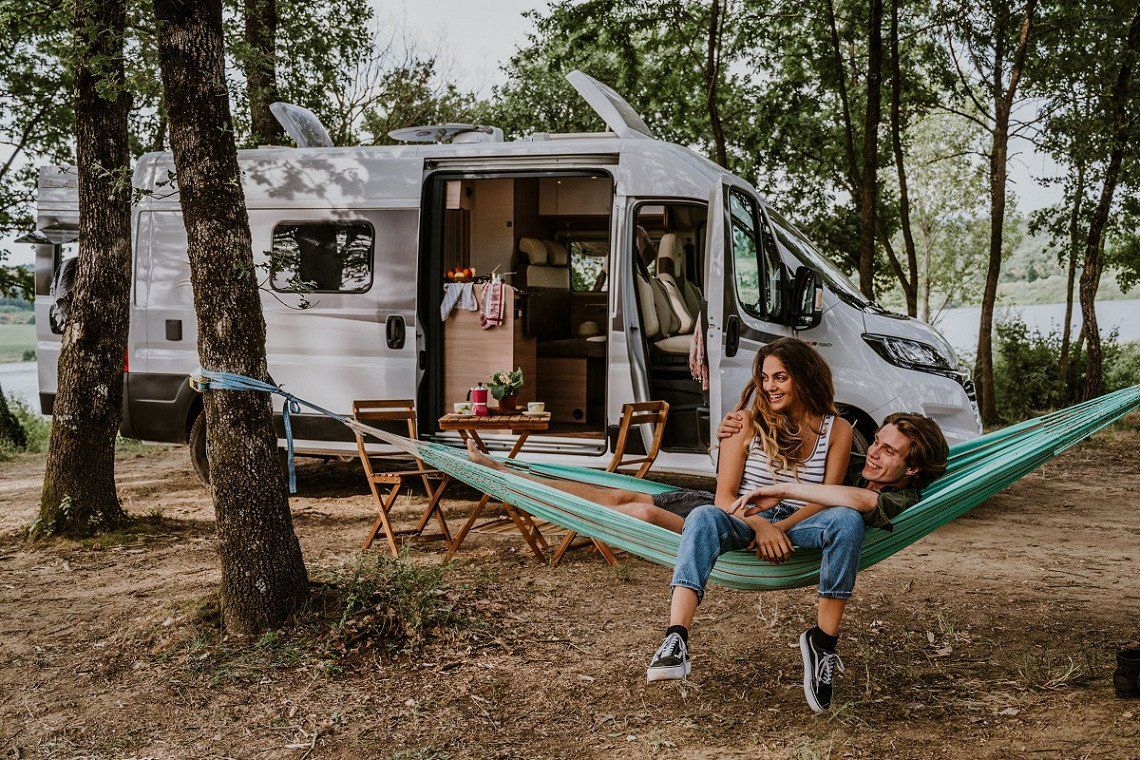 When micro camping, you often only have to share the pitch with one or two other campers. Photo: Laika
Micro camping – camping away from campsites, legally
Every camper has a different opinion on what makes a perfect motorhome trip. Some insist on the best possible camping infrastructure with sanitary facilities, a bread service or swimming pool, others long for peace and solitude in nature. However, the latter, i.e. wild camping, is by and large strictly regulated in Europe and can sometimes result in hefty fines if caught. A great – and legal – alternative is micro camping, which involves camping on private property, farms or at vineyards as well as motorhome pitches surrounded by nature. You'll find an abundance of insider tips on lesser known camping spots.
Micro camping can also include pitches that can be used by campers with a caravan or tent. Photo: Carado
The best thing is that these alternative pitches are often not only limited to self-contained motorhomes and campervans, but can also be used by campers with a caravan or tent. In this case, there needs to be some kind of basic infrastructure with toilets and fresh water. Some camping spots now even provide electricity, showers and waste disposal.

Depending on the facilities available at the micro campsite, the price for staying overnight is usually a little cheaper than at a conventional campsite.


Freeontour: Find available RV sites and book online
So it's hardly surprising that more and more of these small and unique pitches are emerging around Europe. But where can you find these lesser known camping spots? Freeontour makes it easy – on the online portal and in the Freeontour app when on the go:

1. Select Campings in the menu
2. Enter the country and date of travel
3. Activate the options Pitch and Bookable in the filter

...you can use the list or map view to see which pitches are available on your desired dates and then book the motorhome pitches directly once you've found what you were looking for.
Good to know: you can easily find an available motorhome pitch nearby and book it spontaneously online while on the go when you do a regional search in the Freeontour app. You will find almost 200 RV sites at the moment, most of which are in Germany. More are in the pipeline.
You and a View pitches focus on micro camping on farms and other agricultural businesses. Photo: You and a View
Our cooperation partner You and a View: Pitches in the countryside
Camping in the countryside with a different kind of host, far away from the crowds – true to this credo, the Freeontour cooperation partner You and a View lists almost 200 small and unique sites with roughly 400 pitches in total. Acting as a broker, their aim is to promote micro camping on farms, at wineries or other agricultural businesses. But they also offer pitches in the countryside and camping on private property, e.g. in an orchard. It's not just about the overnight stay itself, but also about the contact with the farmers and other hosts who provide campers, caravanners and tent campers with an authentic rural experience.
The You and a View pitches in the countryside are marked with their logo in the Freeontour pitch guide. Photo: You and a View
These pitches in the countryside are marked with the You and a View logo in the Freeontour campsite and pitch guide. You can choose from a wide range of options – from secluded meadows for self-contained campers to pitches with electricity, toilets, showers and sometimes even a sauna on site.

However, what they all have in common is that you can check real-time availability of the pitches and book them directly online.





Want to find out more about pitches in the countryside at Freeontour?