Entry into Portugal
Entry requirements for EU citizens: when visiting as tourists, EU citizens need a (temporary) passport or a (temporary) ID card or a child passport.
Entry requirements for British citizens: when visiting as tourists, British citizens need a (child) passport that has at least six months of validity and is not older than ten years when entering the country. You will not need a visa if you stay up to 90 days every 180-day period. Stays of more than 90 days will require a visa.
Entry requirements for children:minors (under 18 years of age) travelling with you, e.g. friends of your children, should carry a certified declaration of consent from their parents or legal guardian.
Leashes are mandatory in many places in Portugal. Photo: unsplash.com
Entry requirements for pets: dogs, cats and ferrets need an EU pet passport, microchip identification and a valid rabies vaccination that is at least 21 days old.

Animals younger than 15 weeks are not allowed to enter Portugal. You can travel with up to five pets. If you exceed this amount, you will have to observe the commercial import regulations. You should always carry a leash with you as it is mandatory in many places.
Latest travel advice during the COVID-19 pandemic
The most important traffic rules for motorhomes and caravans in Portugal
| | | | | |
| --- | --- | --- | --- | --- |
| | Towns | Open roads | Clearways | Motorways |
| Car | 50 km/h | 90-100 km/h * | 90-100 km/h * | 120 km/h |
| Car/caravan combination | 50 km/h | 70 km/h | 80 km/h | 100 km/h |
| Motorhome up to 3.5 t GVW | 50 km/h | 90-100 km/h * | 90-100 km/h * | 120 km/h |
| Motorhome over 3.5 t GVW | 50 km/h | 80 km/h | 90 km/h | 110 km/h |
* depending on the signs
Special speed limits for novice drivers:
if you have only had your driving licence for less than a year, you will have to attach an appropriate sticker to your car and are only allowed to drive up to 90 km/h, including on motorways.
Speeding can be costly in Portugal. Photo: Pixabay
Fines: if you exceed the speed limit by 20 km/h, you will have to pay a fine of at least €60; by 50 km/h and at least €120 will eat into your holiday budget. You will also be fined at least €120 for not wearing a seat belt or for overtaking when not allowed. And since the beginning of 2021, anyone who uses their mobile phone without a hands-free system while driving will be charged at least €250.
Toll roads in Portugal
Most motorways in Portugal are toll roads. Payment is made either in the traditional way at the toll stations or via an electronic payment system. Since 2011, only electronic toll payments are accepted on specific routes. These routes are marked with blue signs saying "Electronic Toll Only". This means that you can only pay online to use these motorways, which include the A4, A8, A13, A17, A19, A22, A23, A24, A25, A27, A28, A29, A33, A41, A42.

You have to register in advance to pay the toll electronically. When entering the country, head for one of the "Welcome Points" at the border to register your vehicle for the tolling system. You will find "Welcome Points" here: A28 - Viana do Castelo, A24 - Chaves, A25 - Vilar Formoso, A22 - Vila Real de Santo António.

The toll amount depends on how far you drive and the vehicle category. However, there is a 12-hour time limit between two toll booths. If you want to take a break in a car park or a nap in your motorhome, try not to exceed the time limit, otherwise you will be charged double the fee for the longest possible route to the toll booth.

Vehicle classes: the toll in Portugal is calculated according to four vehicle classes, which are based on the number of axles and the height of the front axle.

Class 1
All vehicles (incl. the trailer) whose first axle is less than 1.10 m. This class does not take the number of axles into account

This class includes motorcycles, cars, depending on their height, and car/caravan combinations, provided the first axle of the towing vehicle is less than 1.10 m.
Class 2


All vehicles (without a trailer) with two axles and at least 1.10 m high, measured on the first axle

This class includes larger passenger vehicles such as SUVs and campers, campervans and most motorhomes
Class 3
All vehicles with three axles (incl. the trailer) and at least 1.10 m high, measured on the first axle

This class includes larger motorhomes (liners), vehicles in Class 2 with a trailer, car/caravan combination whose towing vehicle falls into Class 2, smaller lorries and coaches
Class
4
All vehicles with four or more axles (incl. the trailer) and at least 1.10 m high, measured on the first axle

This class includes large lorries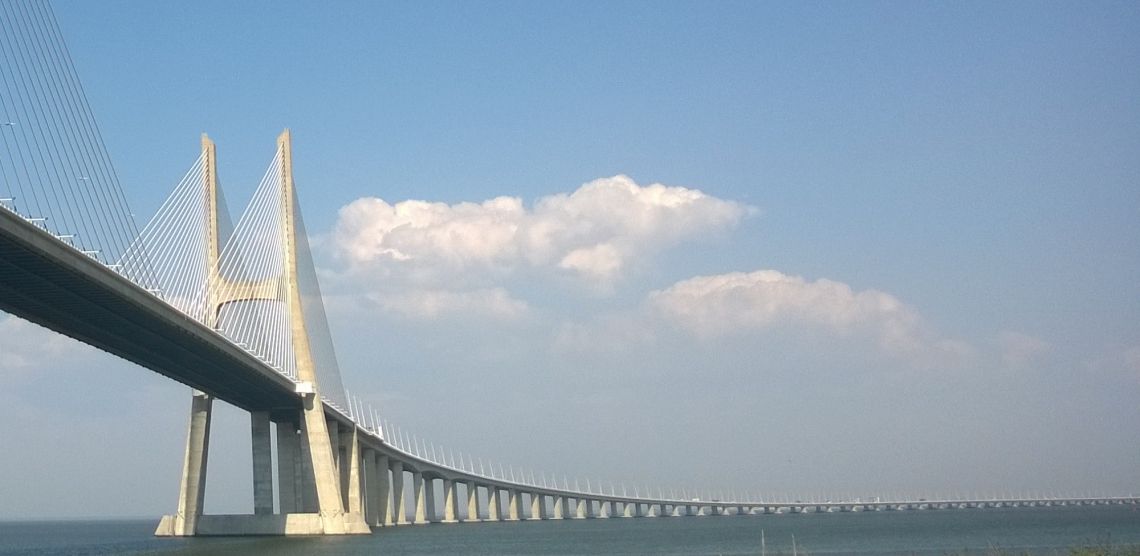 Tolls are also levied on some bridges in Portugal, such as the Ponte Vasco da Gama near Lisbon. Photo: Pixabay
Toll systems in Portugal
There are four different ways of making electronic toll payments in Portugal. Depending on the type and length of your stay, choose the system that makes the most sense for you:

1. Easy Toll: this variant is the best choice for longer stays of up to 30 days. A valid credit card is required, which you have to present at one of the "Welcome Points". Your number plate will be photographed and linked to your credit card. All accruing tolls will then be automatically deducted from your credit card account. When you register, you will receive a ticket that you must keep. It is proof that you have paid the toll, for example during a police road check.

2. TollService: this system is perfect for a short holiday in Portugal. When you arrive, you have to buy a kind of vignette for €20 and can then drive as much as you want for 3 days. Alternatively, you can pay for a certain section of the route, for example from Faro airport to the Spanish border. You can pay for the vignette in cash or by credit card and top it up for a year. TollService is not only available at the border crossings, but also at all branches of the Portuguese Post (CTT), tourist offices, motorway service stations and online.

3. TollCard: this solution is suitable for anyone who frequently travels to Portugal. It is valid for one year and can be topped up online with €5, €10, €20 or €40. The TollCard is activated by SMS and you will also receive messages on your mobile phone to tell you when your credit is about to run out. You can get the TollCard not only at the border crossings, but also at all branches of the Portuguese Post (CTT), tourist offices, motorway service stations and online. Please note: this only applies to the electronic toll routes. You will have to pay an additional toll for the other "classic" sections of the route.

4. Via Verde Box: another system called "Via Verde Box" can also be used to pay all tolls. The Via Verde Box is an RFID chip that is attached to your windscreen and collects payments directly from your account. However, you need a Portuguese tax number and a Portuguese bank account to use this service, which makes it difficult for holidaymakers to access. There are service providers who act as intermediaries, but they charge quite high processing fees. Toll stations have a separate lane for Via Verde Box users where they no longer have to stop.

Petrol stations – opening times and payment methods in Portugal
In general, petrol stations in Portugal open at 6 or 7 a.m. and close between 9 p.m. and 11 p.m. Many motorway service stations offer a 24-hour service ("aberto 24 horas"). You can pay in cash or by credit card. Some petrol stations also accept EC cards.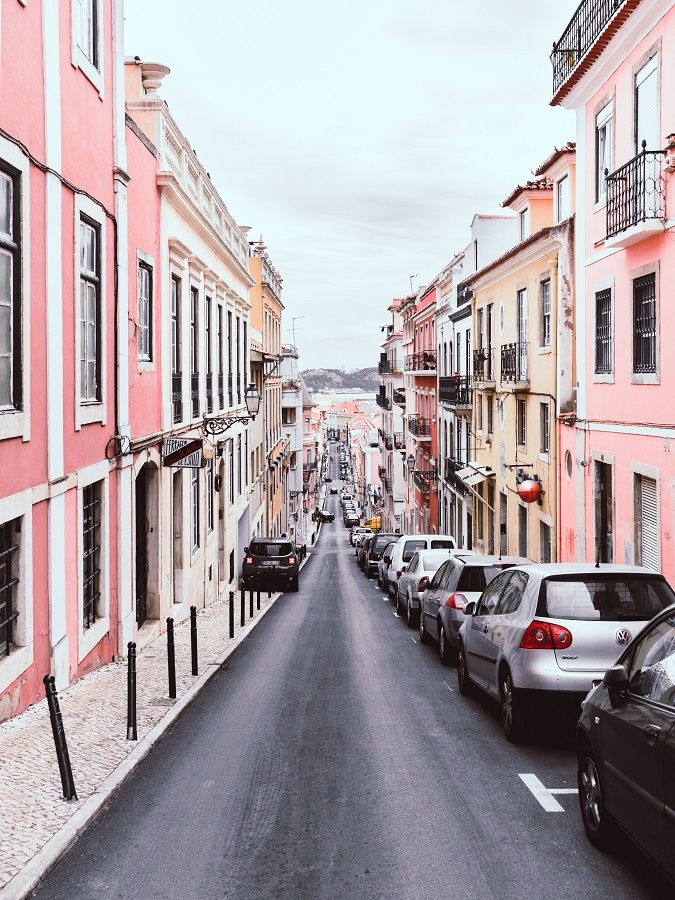 When looking for a parking space in Portugal, pay attention to the colour of the parking bays. Photo: unsplash.com
General traffic rules in Portugal
Overview of important parking rules:
- Yellow markings and signs with "Estacionamiento prohibido": no parking
- Blue markings: parking is allowed with a parking ticket
- White markings: free parking allowed
- Be careful with bus stops: parking is prohibited 5 m before and 25 m after
- Tram stations: no parking within 6 m on either side
- Road crossings: parking is prohibited 5 m before
- Vehicles may not be parked outside built-up areas at night (fine of up to €1,250).

New rule for overnight stays in motorhomes and caravans:
In principle, free camping was not officially allowed in Portugal, not even in the last few years. However, at the beginning of 2021, the rules were tightened again. Accordingly, motorhomes and car/caravan combinations are now only allowed to park in areas specifically designated for these vehicles. Overnight stays are also only permitted at campsites and caravan sites. Penalties for free camping can cost as much as €60-€300, in Natura 2000 areas or in nature reserves between €120 and €600.

Alcohol limit in Portugal:
The permitted alcohol limit in Portugal is 0.5‰. The limit for drivers with less than three years' driving experience is 0.2‰.

Child car seats:
Child seats are compulsory for children under twelve years of age and smaller than 1.35 m. The airbag should be deactivated when a child under three years of age is travelling in the front passenger seat, and the child should be strapped in a rear-facing car seat.

High-visibility vest requirement:
In Portugal, high-visibility vests are mandatory, but not for vehicles registered abroad. For your own safety, however, you should always carry high-vis vests with you.

Overhanging load markers:
Overhanging loads (such as bike carriers) may protrude up to 55 cm at the front and up to 45 cm at the rear. They must be marked by a panel with red and white stripes.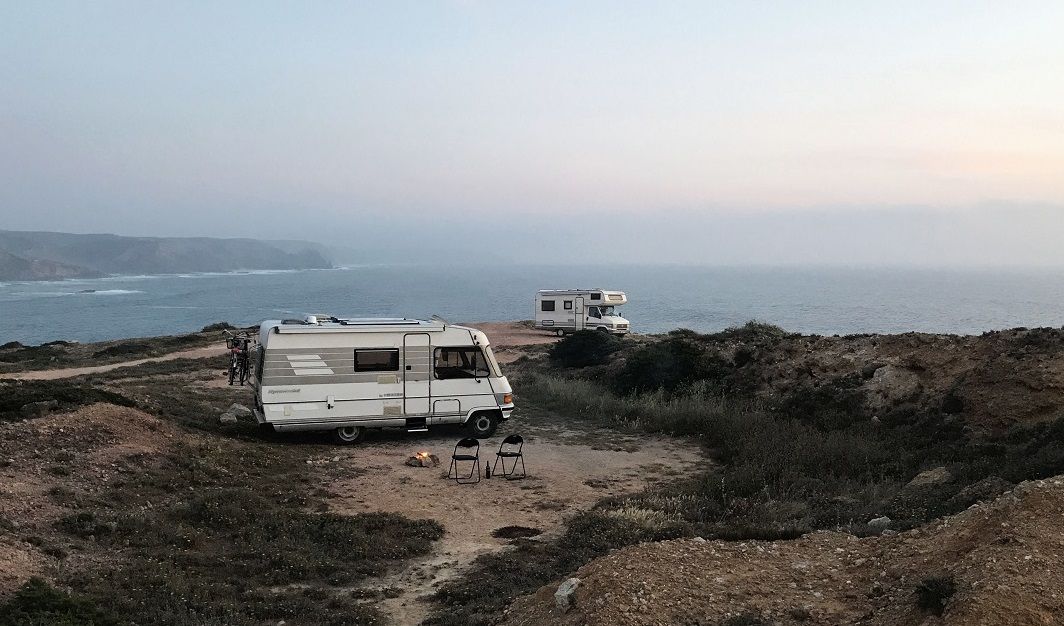 You will always find a beautiful spot for a short break along the Portuguese coast. Photo: unsplash.com
Important addresses and telephone numbers for holidaymakers in Portugal
European emergency number: 112
Ring this central emergency number to get help from the local police, fire brigade, emergency doctor or ambulance. Calls are free from a landline and mobile phone, no area code is needed.

Roadside assistance: please check with your car insurance company or breakdown cover provider before travelling to Portugal.