Dense steam rising in the ice-cold night; a bottle of champagne and two glasses on the side of a hot jacuzzi; lamps illuminating this relaxing scene while the Northern Lights shimmer red and green in the sky above at "Spa 4 You" in Koskullskulle, a small town a few kilometres from Gällivare – just one of many great winter experiences that awaits travellers in and around Gällivare in Northern Sweden...
Where is Gällivare?
The mining town of Gällivare is located about 100 kilometres north of the Arctic Circle in Swedish Lapland, in the heart of the Laponia World Heritage Site, which is renowned for its national parks. Just over 10,000 people live in the main town of this region, which can be reached by taking the Inlandsvägen (The Inland Road), otherwise known as the European route E45, or the E10. The city boasts a modern centre with a wide range of shops and restaurants as well as a pretty train station where the famous Inlandsbanan (The Inland Railway Line) stops in summer. In winter, tourists come here not only to visit Santa Claus, who is called Tomte in Swedish, but also to experience exciting activities from snowshoe tours and dog sledge rides to two must-see attractions above and below ground.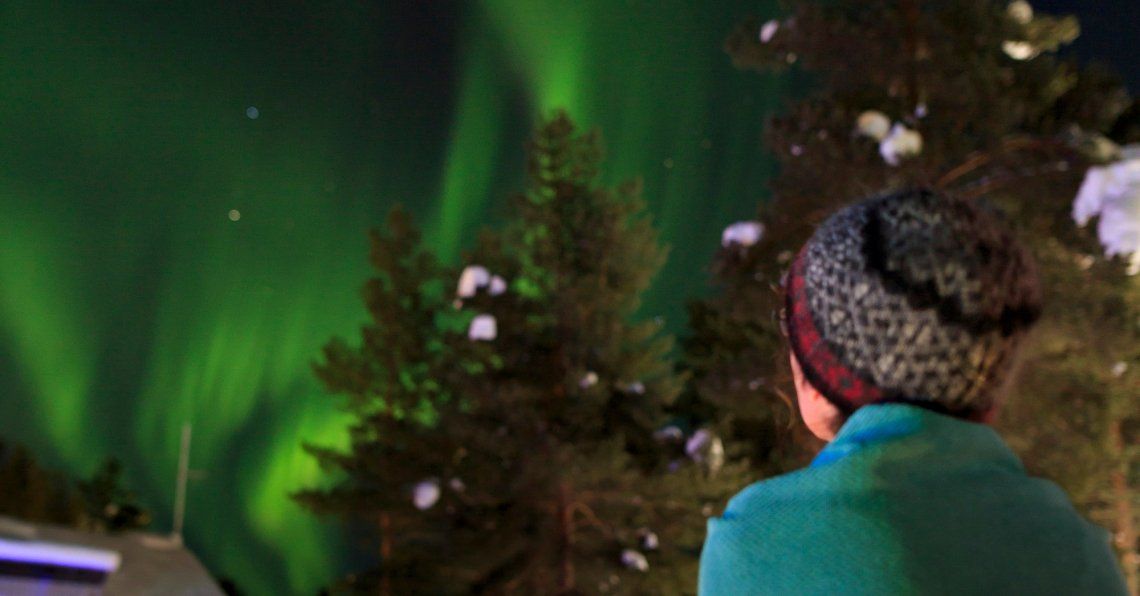 There is a good chance of seeing the Northern Lights in Gällivare. Photo: Thomas Krämer
Gällivare viewed from below
More than 300 years ago, people in Northern Sweden knew that the rock here contained metal – and iron ore has been excavated here ever since, currently on a large scale. You can see it for yourself at the LKAB mine near the city. A minibus will take you into the mountain: metre by metre, curve by curve. It's somewhat of an uneasy feeling knowing that the deeper you go, the more tonnes of rock there are above your head. But you won't regret it as you'll get to see how a rock crusher reduces man-sized boulders into tiny pieces. Drilling is fully automated and monitored on POC screens by employees. What you won't see anymore are miners carrying pickaxes, scurrying through the low tunnels with dirty faces.
A copper mine of superlatives
It was in 1930 when a block of stone with a high copper content was found a few kilometres from Gällivare. But it wasn't until nearly 40 years later that ore started to be mined in the Aitik copper mine for the first time. It took this long to develop a technology that could extract 3.8 kilogrammes of copper from a tonne of rock containing ore in such a way that made it economically feasible. Two million tonnes of Malm were exploited in the first few years of operation, today it's more than 40 million tonnes from which copper, gold and silver are extracted.

Aitik is full of superlatives. Measuring roughly 3,000 by 1,100 metres and 450 metres deep, it is the largest open pit copper mine in Sweden. But you can only truly understand these figures when you stand at the top of the pit, look down and see what looks like convoys of toy lorries snaking their way down to the bottom. If you scuttle down the gravel paths during a guided tour, these toy cars will suddenly turn into huge giants, weighing over 200 tonnes each. These vehicles are powered by engines with 2,000+ HP in order to bring the loads of rock, which incidentally also weigh more than 200 tonnes, to the top.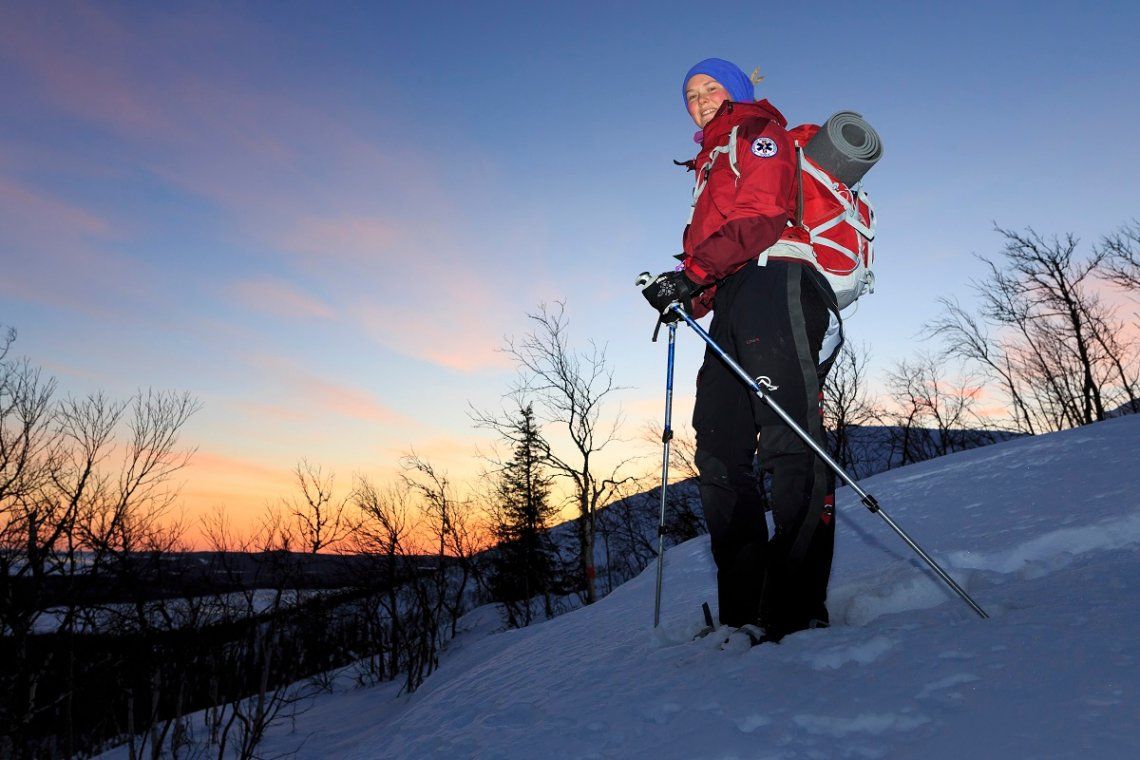 A snowshoe tour on Dundret in the wintry morning sun. Photo: Thomas Krämer
A snowshoe tour to Dundret
On the other side of the city, Dundret has a completely different atmosphere and, above all, a completely different background noise. It is the highest peak in the region around Gällivare and a great outdoor area for a host of activities. The bald-headed mountain is just over 800 metres high. In summer you can hike here and enjoy the midnight sun; in winter it's a great spot to chase the Northern Lights. You can go up it with cross-country skis or snowshoes or in a chairlift that skiers use during the day. It's especially exciting when the morning sun shyly pops its head over the horizon in the depths of winter, bathing the surrounding area in a warm, orange light. You'll soon start sweating a little while hiking through the snow-covered landscape. This is usually the moment when your guide hands you some steaming-hot tea and biscuits. Reenergised, you can either continue towards the summit or return to your motorhome in the valley.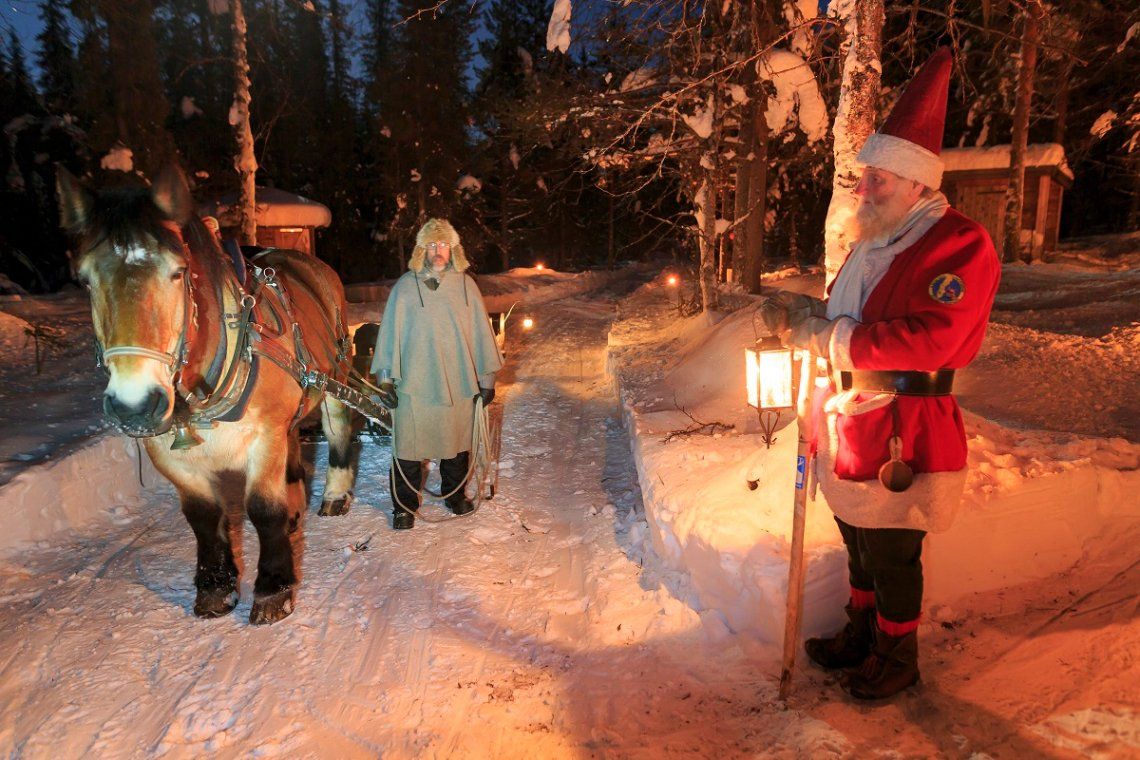 A horse-drawn sleigh ride through a snowy forest in Northern Sweden will definitely get you in the Christmas spirit. Photo: Thomas Krämer
A horse-drawn sleigh ride to Santa Claus
Take in the mountains and the snowy forests around Gällivare and you'll undoubtedly come to the conclusion that Santa Claus does in fact live here in Sweden in a rustic log cabin bathed in soft candle light. So you won't be surprised to find out that you can take a horse-drawn sleigh ride to his home. It gets dark early in December and January in Swedish Lapland. The long twilight that immerses the landscape in fantastic pastel tones is long gone. The moonlight accompanies you now through the snowy Swedish forests. The bell hanging around the neck of the strong horse rings with every step it takes while pulling the heavy wooden sleigh, illuminated by stable lanterns, to your destination. The animal knows how to get to Santa Claus, who has lit up the path leading to his home for his guests. This jolly, white-bearded man wearing a red coat not only likes romantic mood lighting, but also sausages grilled over a campfire, freshly brewed coffee and talking about the magnificent nature of his homeland.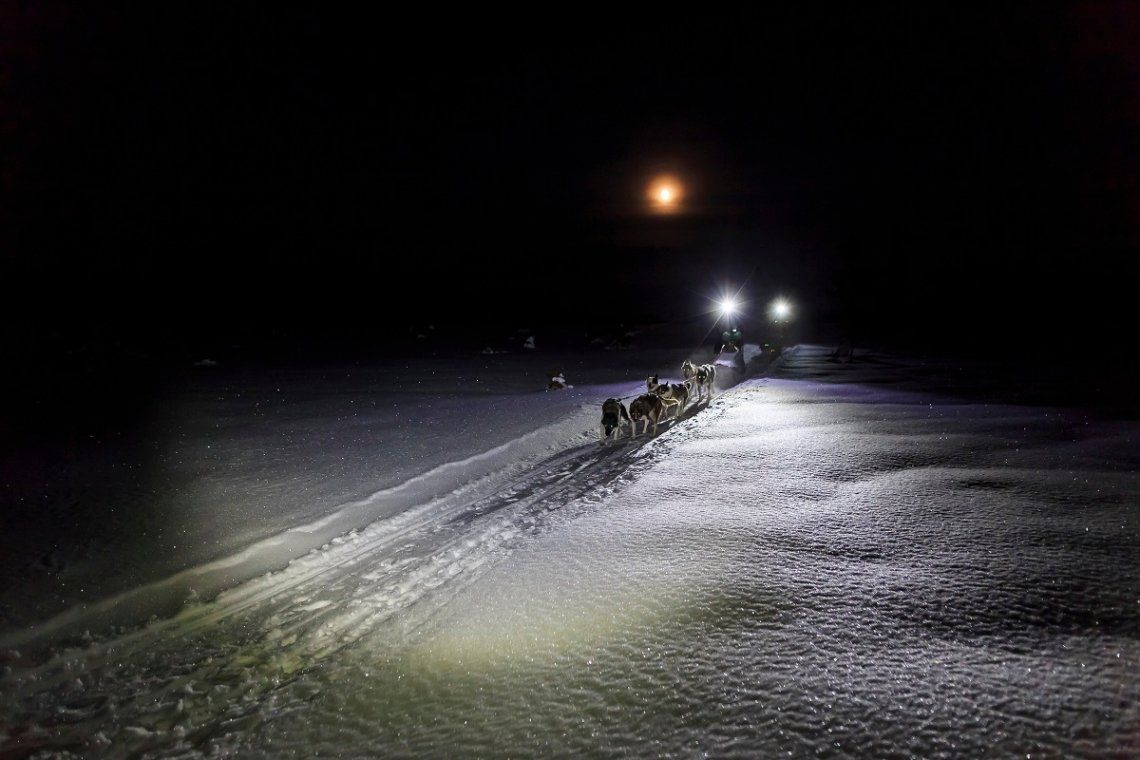 Only the moon and head torches can break through the darkness of the polar night. Photo: Thomas Krämer
A dog sledge tour through the polar night
If you prefer a little more speed, then head to Lappeasuando, about an hour's drive from Gällivare, where a lodge of the same name lies by the Kalix River. You will easily find a parking space here during and outside of the winter months. People go fishing and hiking here in summer and snowmobiling or dog sledging across the vastness of Lapland in winter. The huskies sense that they are about to go on a run – you will hear them howling, whining, almost begging for the harness to be put on. They set off quickly, but after just a few metres the excitement in the pack subsides. They now trot at a steady pace across a treeless expanse that is a moor in summer. At first, a pale glow in the sky illuminates the landscape, but later during the polar night you will have to rely on your head torches for light. You lose all sense of space and time, you focus your gaze on the cone of light in front of the sledge, now and then looking up at the moon, which keeps peeping through the clouds. This is a journey through another world, to say the least.