The free Freeontour app is the ideal camping app for planning your trip and when you're on the move. Regardless of whether you're going on a short caravan break or organising a long motorhome getaway, this app is an all-in-one solution for campers, providing a free route planner, campsite guide, motorhome pitch guide and travel magazine under one roof.
Freeontour app overview
Inspiring travel stories for your next camping holiday and useful information on travelling and camping vehicles
Digital campsite and motorhome pitch guide with more than 30,000 camping possibilities in Europe – some with real-time availability and online booking
Numerous filter categories for more than 24,000 campsites and 6,000 motorhome pitches with descriptions, images and customer reviews
Easy route planning with the free route planner for campers, including a travel diary and navigation options
Exclusive send-to-car function for transferring your route to specific navigation devices in your car or campervan via Bluetooth
Real-time synchronisation between different terminal devices (PC, laptop, tablet and smartphone)
Route-planning feature where you can share your travel experiences with the camping community
Savings with Freeontour cooperation partners and participating retail partners with the Freeontour member card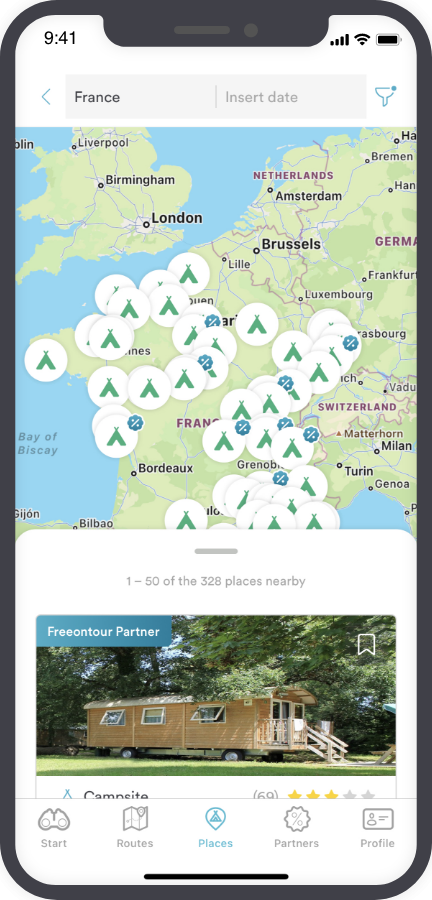 The green icon instantly shows you which campsites and pitches can be booked directly online.
What are the advantages of the Freeontour camping app?
1. Find and book your motorhome pitch or campsite quickly and easily

Whether you're at home planning your journey or already on the road: the Freeontour camping app helps you find the nearest campsite or motorhome pitch quickly and easily. Thanks to the comprehensive filter categories, you can adapt the search to your preferences and filter out your ideal campsites and pitches:

- Find motorhome pitches and campsites on the go or at your destination
- Filter search settings to suit your needs
- Campsites & pitches marked green: check availability in real time and book directly online
- Save, rate and select your favourite campsites and RV sites
- Send reservation requests to campsites straight from the app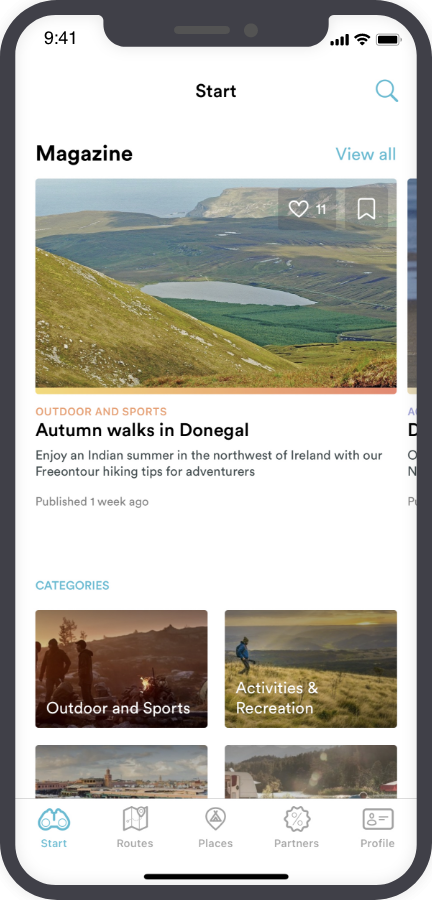 The contents of the Freeontour magazine are divided into eight categories for easy reading.
2. Useful information & inspiring ideas for your next camping trip
Divided into eight different categories for easy reading, the Freeontour magazine provides a wealth of information for campers as well as inspiring travel experiences to help you choose your next destination. This is not only practical for getting ready for your next camping trip, but also provides up-to-date information and entertaining content while on the go.
3. Free route planner for at home and on the go
The free Freeontour route planner helps you plan your next camping holiday or motorhome trip as you can select waypoints and then simply adapt them while on the go. You can even combine the Freeontour app with a map app on your smartphone or tablet to navigate your route. If you have a navigation device with the send-to-car function, you can send your complete pre-planned route to the device via Bluetooth. You can also easily turn your experiences into a travel diary during and/or after your trip.

Select waypoints based on the map or by search term and add them to your route
Select campsites or motorhome pitches and add them to your itinerary
Record your travel experiences with notes and images while on the road
Copy public routes from the community and adapt them for your trip
Share your route and travel adventures with friends and family while on the go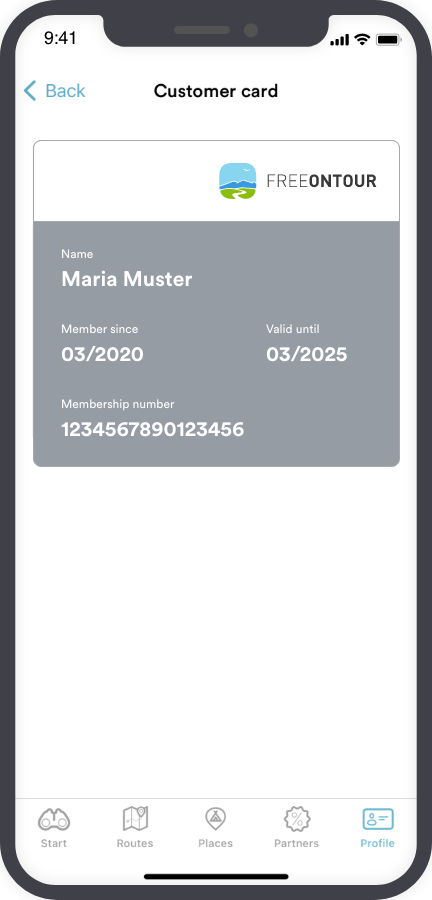 Your digital Freeontour member card is always at hand in the app.
4. Benefit from numerous partner offers with the digital Freeontour member card
Anyone who registers with Freeontour – whether in the app or on the online portal – automatically receives a digital member/loyalty card. You can find it in the app in the bottom menu bar in the Profile section under the Member card button, therefore always at hand on your smartphone. You can also switch to the Partner section straight from the Customer card section to see all Freeontour partner offers. And when you're on the go, you can also view nearby partners, provided the settings on your mobile device allow access to location data. Read more about the Freeontour member card here.
How much does the Freeontour camping app cost?
The Freeontour camping app is completely free to download, with no hidden in-app purchases. To make full use of the Freeontour camping app's features, you'll simply need a free account, which you can also use to log in to the Freeontour online portal. As data is synchronised between the portal and the app, you can use Freeontour both online or in the app and see your data, favourites and planned routes whenever and wherever you want.




Where can I find the Freeontour app?
The Freeontour camping app is available for Android and iOS devices and works on smartphones and tablets. The free camping app can be downloaded from the Google Play Store or the Apple App Store.