Check out your new Italian destination. Dreamy sandy beaches, surrounded by crystal clear sea. Historical treasures, art and gastronomy, natural diversity combining mountains and sea, and Italian traditions and customs that are utterly unique - that is the beauty of the Italian island Elba. Discover the loveliest campsites at the water's edge and enjoy Italian culture.
Elba is one of the largest islands in the archipelago of Italian Tuscany and is a magnet for European visitors as much as it is for Italians. The island's greatest attraction is its natural beauty, with every type of coastline - ranging from sandy beaches to rocky cliffs.
6 reasons why a motorhome trip to Elba is an excellent idea:
We have put together 6 arguments to convince you that Elba is a fantastic camping destination, and present you with an overview of the island.
(1) Elba is a very colourful island
Simply forget your grey everyday life and immerse yourself in Elba's colourful atmosphere. The range of nuances the sky offers in every season are a source of fascination themselves on Italy's third largest island. They range from the glowing break of dawn in Rio Marina, to clear blue midday skies with a north-east breeze, and end with the sunsets of Pomonte, which are different every evening but always spectacular. And the sea, with its incalculably blue shades, the colourful spring blossoms, the glitter of the iron-rich red soil or the local granite immerse the visitor in a very special atmosphere. Enjoy your camping holiday at the sea and let yourself imagine you are in paradise. Which colour will remind you of your holiday on Elba? 
Photo: Capoliveri - La spiaggia di Laconella Elba
(2) Elba caters for every type of holidaymaker  
Without doubt: The locals are very visitor-friendly and provide a wide range of activities for every taste and requirement. Families with children can spend the day at the beach, splashing in the sea, while active campers can pack their rucksacks and quench their thirst for exploration in the countryside, following in the footsteps of "Indiana Jones". Anyone looking for some peace and quiet will welcome spending time in La Zanca and the Costa dei Gabbiani. And in the evenings, you can let yourself be carried away by the vibrancy of the island in street markets at Porto Azzurro.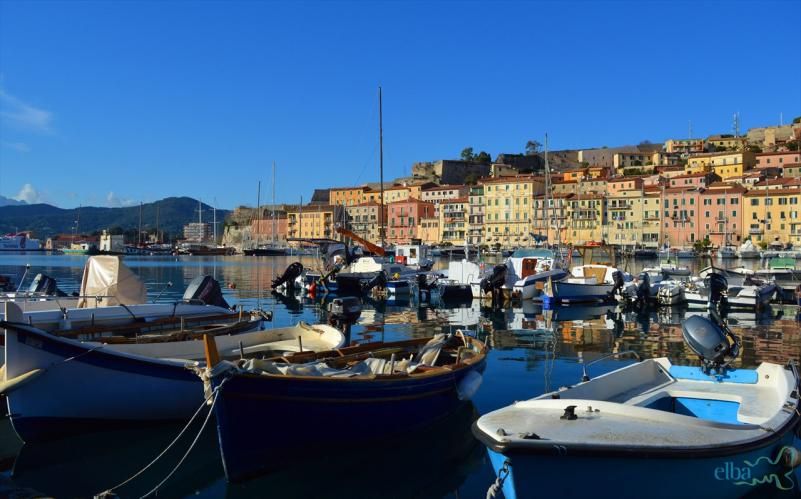 Porto Ferraio Federica Mazzei © visit.elba flickr.com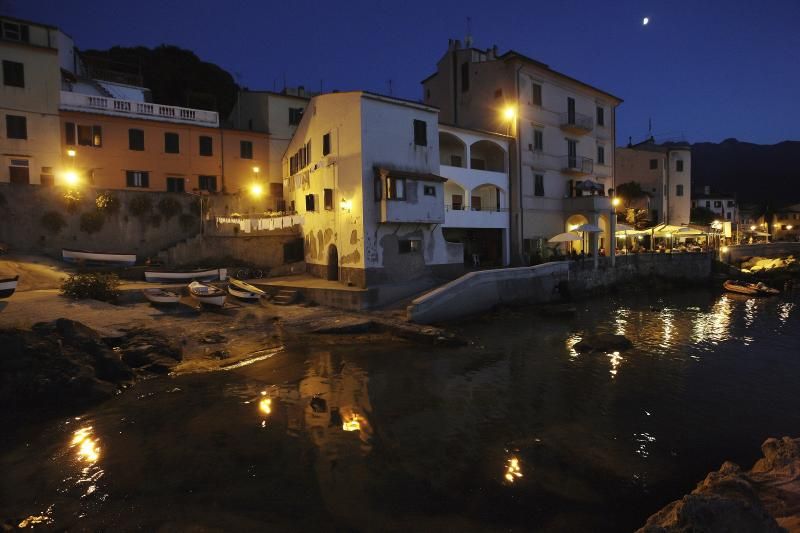 Marciana Marina, Elba - Angolo del Cotonort
(3) Elba's wonderful submerged world - a paradise for water sports fans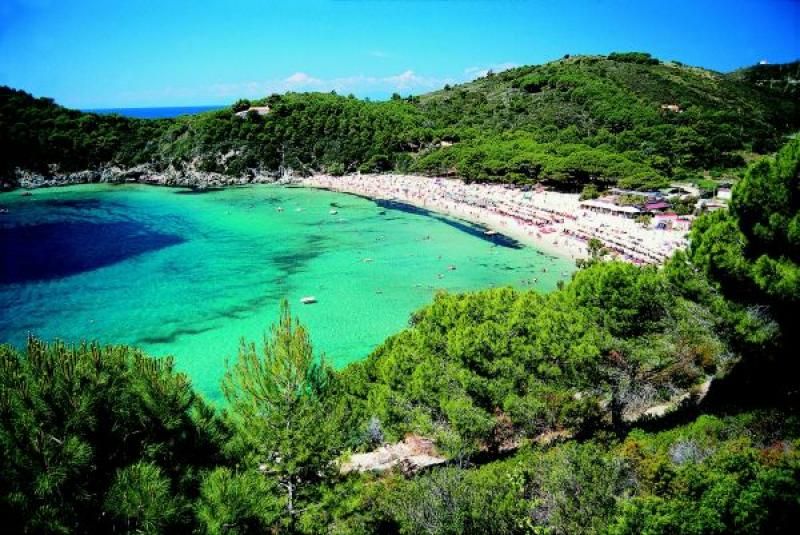 The sea has a magical allure for both holidaymakers and locals. How do you fancy jumping from the cliffs at Portoferraio; the perfect spot for professional divers? Or perhaps go snorkelling around the wreck of Pomonte? Elba offers a range of activities for beginners and advanced fans of water sports. Perhaps tomorrow you could be snorkelling around the island Ortano, and then, driven by your curiosity, go on to discover the wild coves between Calanova and Innamorata, which are only accessible by dingy. Or perhaps you will jump on a surfboard at Chiessi and roll over the waves while the sunlight kisses the water and illuminates the sea floor. 
Photo: Its magical coves, tiny villages and hilly landscape with its fresh air make the island of Elba paradise

(4) To the mountains or the sea? Elba has both on offer!
If you can't decide between a motorhome holiday in the mountains, or rather at the sea - then Elba is perfect as it offers the best of both worlds. It takes 20 minutes by gondola lift to reach the top of Monte Capanne. From there, you can begin an amazing hiking tour and discover the other nearby islands, other distant lands! With this view, it is easy to understand why the inhabitants of Elba colonised this mountain and coastal area over the centuries. We discover an island shaped like a fish. A safe cliff, luscious and full of life, nestled in the enchanting blue of the Tyrrhenian Sea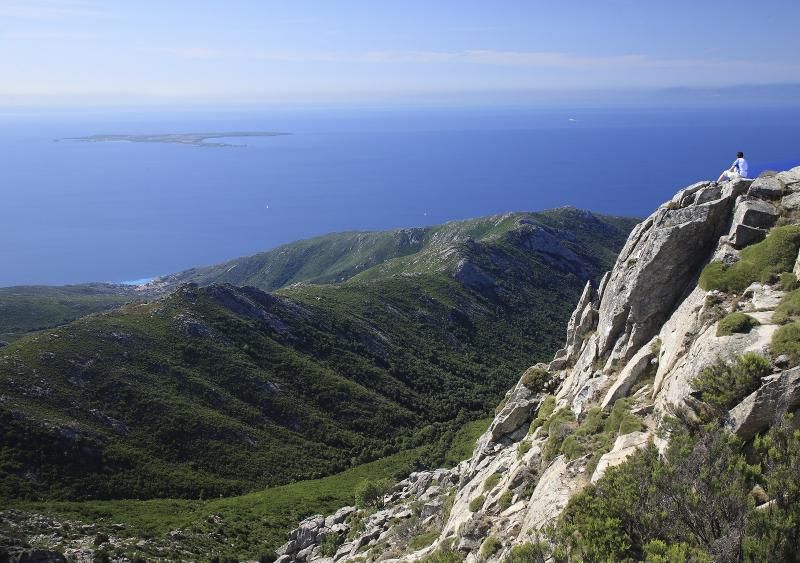 Ridi - Marciana - Veduta dal Monte Capanne


(5) Elba's huge variety of leisure activities
Elba is an extremely varied island, rich in history and nature. It offers the holidaymaker numerous ideas for passing the time, such as sailing, climbing, swimming and diving, archery, golf or cycling in Capoliveri Park. Let yourself be enticed onto a hiking tour to discover the local butterflies, or search for the orchids of the fragrant Mediterranean Macchia covering valleys and cliffs. You'll never be bored on Elba. Relax on a boat trip or simply enjoy the sunset on the beaches of Chiessi and Pomonte, or from the terraces of Capoliveri. Here you will find information about Elba boat tours and excursions.
Natur Federica Mazzei; San piero, Chiara Luciani, Elba © visit.elba flickr.com

(6) Elba represents pleasure
Simple ingredients, but unforgettable flavours. How does the fish taste when it is cooked at the sea shore? A wide selection of traditional restaurants in Elba's bays offer you a chance to find out. Here you can sip an aperitif or enjoy a tasty evening meal of typical Italian dishes during your Elba holiday. Those who prefer a more rustic style will be surprised by the exciting new interpretations of traditional dishes, based primarily on the mining area in the eastern part of the island. And nobody can help but become besotted by the intensive aroma of Aleatico DOCG (famous red wine variety on Elba), which is unique and intense, just like the island of Elba itself. 
Photo: Palamita del Mare di Toscana, Roberto Ridi
Elba ferries
Elba is approximately 10 km from the mainland and the ferry takes between 40 and 70 minutes, depending on which harbour you sail into. You always leave from the Port of Piombino, where you can choose between four different ferry companies: MOBY Lines, Toremar, Blu Navy and Corsica Sardinia Ferries.                                       
Elba campsites
There are over 25 campsites for your motorhome holiday on Elba, and a few pitches for short duration stays. The Elba campsites are predominantly in the coastal regions and offer perfect conditions for a camping holiday by the sea. Many campsites have received excellent visitor ratings and have high quality amenities for discerning guests, while there are also a number of more natural, rural campsites on Elba. You will find some recommendations at the end of this article in the overview.