Where to take those remaining holiday days? Our tip: While March is still bringing cooler temperatures and clouds to German regions, the sun is already making a regular appearance in Northern Italy - the perfect destination for the first tour of the year with the camper, before spring really gets going at home.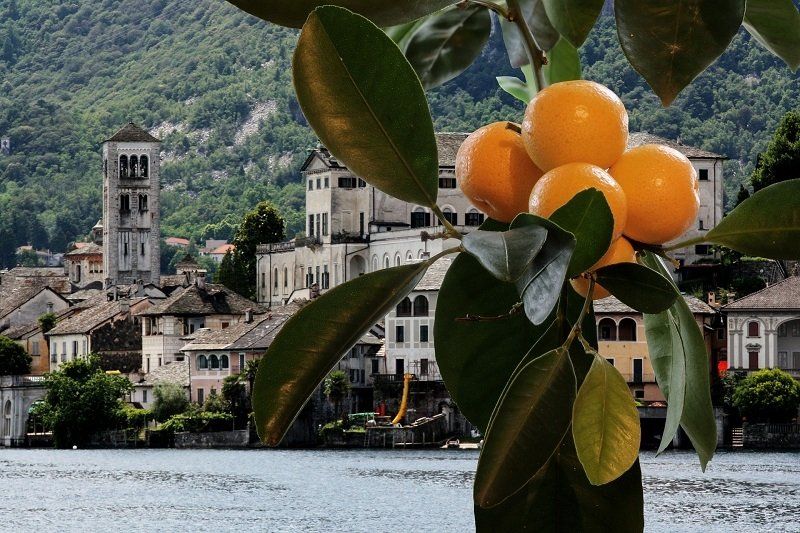 Spring is already in full swing in northern Italy in March. Photo: Pixabay
What does spring in northern Italy have to offer?
Many restaurants and shops awake from their winter sleep during March, and once again, the piazzas are buzzing with life. Also, the first campsites reopen for business. So it is high time for an Italian ice cream in the sun, extensive shopping trips, and hiking or cycling tours in the countryside. The huge advantage of northern Italy: the diverse attractions can be found relatively close to each other, making it possible to explore many interesting locations in only a few days. The contrast between the vibrant cities, the sleepy villages and the idyllic countryside is simply magical. Come with us for about a week on our tour of beautiful northern Italy. We will explore Lake Garda, Verona, Milan, Turin and Lake Maggiore, and in doing so pass through the regions of Trentino, Lombardy, Veneto and Piedmont.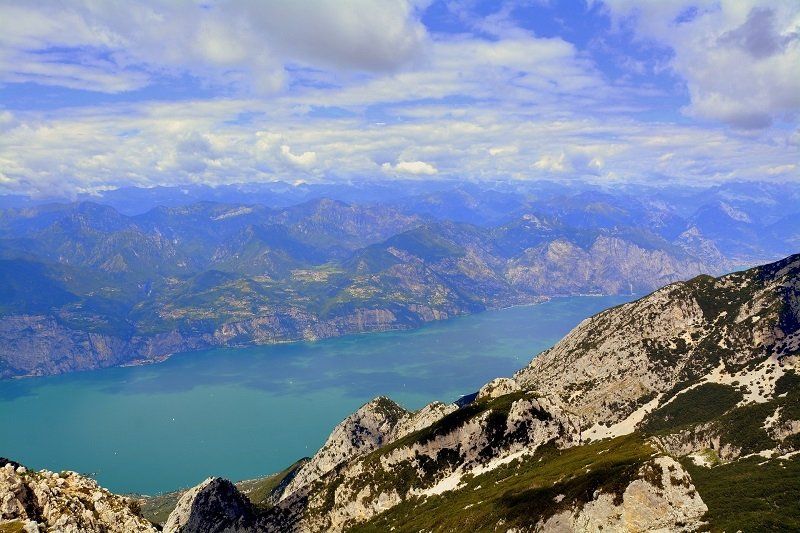 Lake Garda is ideal for leisurely walks offering stunning panoramic views. Photo: Pixabay
Wine tastings, boat tours and picturesque villages on Lake Garda
It is not without reason that Lake Garda is one of the most popular destinations for motor home and camper van holidaymakers. You can stroll along the water for hours, explore pretty villages with their authentic farmers' markets, and take leisurely walks with views over the largest lake in Italy. Windsurfers are also in their element – the village of Torbole in the north is a popular location for this action-packed sport. On your way to Lake Garda, you pass picturesque vineyards and their typical stonewalls. The local wine produced from the surrounding vines is a perfect accompaniment for Italian cuisine, and the wines from Lugana and Bardolino are especially well known. Many of the vineyards offer tours with wine tastings and meals – really worth a stop!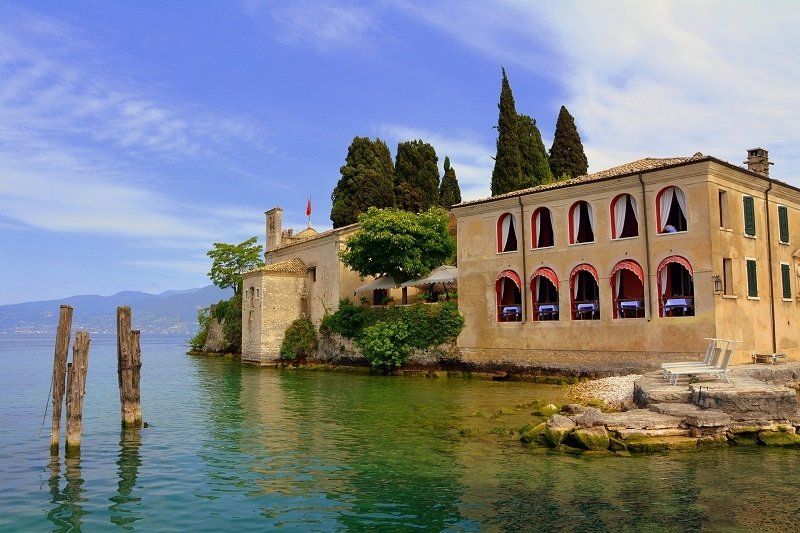 A tour with the camper right round Lake Garda. Photo: Pixabay
While the countryside to the south of Lake Garda is relatively flat, in the north it begins to become mountainous. The highest peak around Lake Garda is "Mont Baldo", rising to 2,218 m. The best seat for a view over Lake Garda is on the gondola lift, which will take you from Malcesine to the peak. Hikers will find here a network of both gentle and challenging routes. The view from the top is amazing – the water sparkles in the sun, and you can appreciate the deep blue water of Lake Garda in its fullest glory. Tickets cost 20 Euro per person. You can explore all the sides of Lake Garda by touring along the quayside "Via Gardesana", which runs right around the lake. The route is approximately 160 km long and can be driven in three to four hours. This way you get a good impression of the variety encompassing the lake in a short time, and you can stop just about anywhere you please.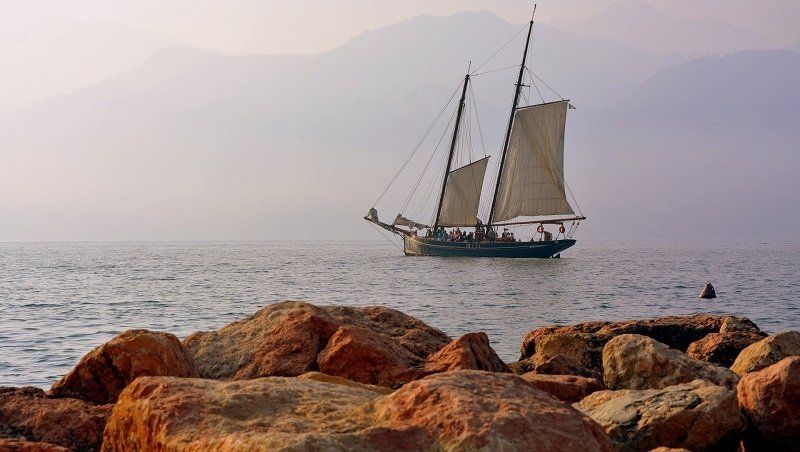 There are plenty of opportunities to experience Lake Garda from the water. Photo: Pixabay
The water is still a little too chilly for swimming in March, but there is nothing stopping you from taking a boat trip on Lake Garda. From a simple pleasure boat to a small charter yacht, there are numerous opportunities for admiring the pretty villages around the lake from the water. On "Hop-on, hop-off boat tours" you can quite literally hop off and explore the individual villages, before jumping back on again and cruising to the next. Among the most picturesque are bustling Riva, the wine-growing village of Bardolino, romantic Sirmione with its magnificent castle, and idyllic Lazise. But which is the most beautiful village of Lake Garda is a matter fiercely debated by locals and tourists alike. That you will need to decide for yourself.

Campsites ranging from basic to 5-star can be found at intervals around Lake Garda. For a good overview visit here.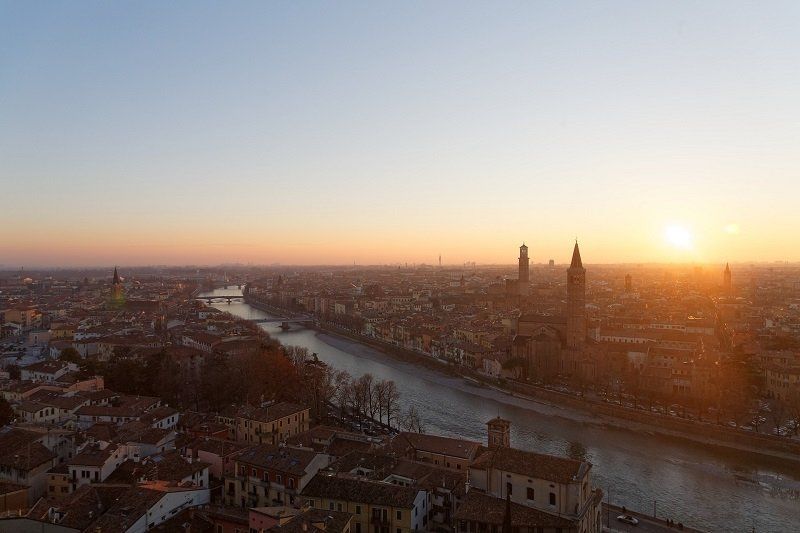 Verona is one of the most beautiful cities in northern Italy. Photo: Pixabay
Verona attracts visitors with its history, art and culture
After our stay at Lake Garda, we take in the air of the city – and that city is beautiful Verona. The Italian city in Veneto is only 30 km from Lake Garda – so just a short trip away. Verona is famous for its mediaeval scenery, and was the setting for Shakespeare's "Romeo and Juliet". The city is always bathed in warm sunlight, and the myriad of little squares and alleys are truly enchanting. Verona is dominated by the river Adige, which flows through the centre of the city, with arched bridges stretching between its banks. Secluded spots and inviting cafés jostle for space along its bubbling shores.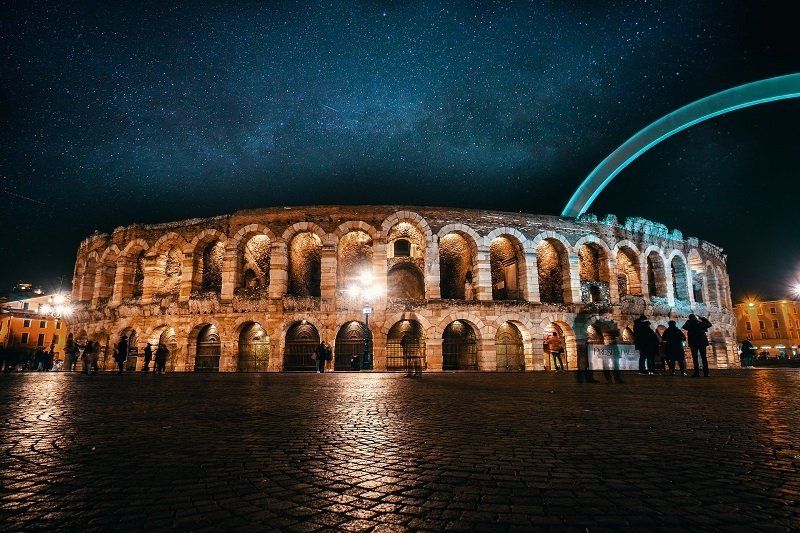 Verona Arena is one of the city's main attractions. Photo: Pixabay
Aside from this, Verona is steeped in history and surprises. Dotted about, antique statues, frescoes, fountains and gateways embellish the town. The "Arena of Verona" is a huge Roman amphitheatre dating from 1st century AD, built by the Romans for bloody gladiator fights. Today it is the venue for operas and concerts. Some of the most famous cultural events are the annual opera festival, the Shakespeare festival, and the international film festival for romance and relationships. In the year 2000, Verona was declared a World Heritage Site. UNESCO justified this by referring to the constant care and maintenance of the historical buildings despite over 2,000 years of city growth. The ancient city unites the history of the whole of Italy – Romans, Barbarians and many other tribes have left their marks on the architecture of the city.

Near Verona's city centre there is a campsite for 37 campers. Above Verona is the camping oasis "Camping Castel San Pietro". If you delay your tour until April – because that's when the campsite reopens after the winter break – you should really spend a night here. The campsite surrounded by trees offers superb views of the city and its city walls, making it picture perfect.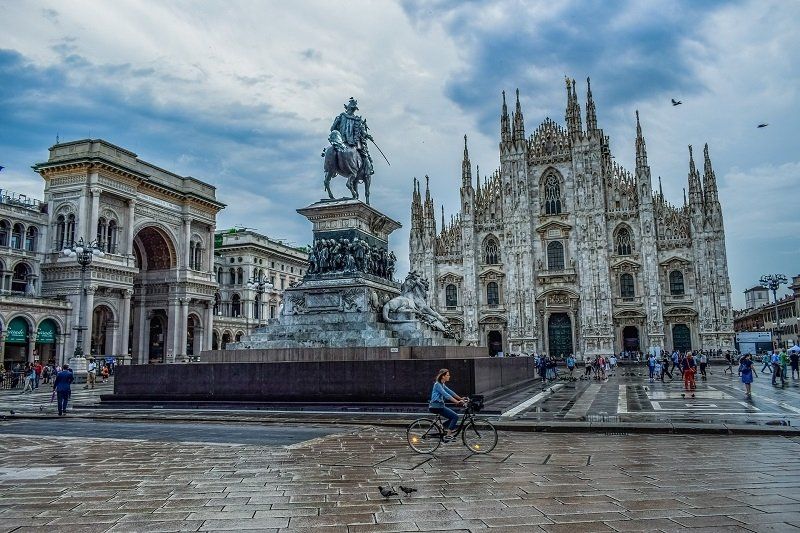 Milan cathedral is the emblem of Italy's unspoken capital. Photo: Pixabay
Milan – The charming metropolis of fashion
Hold on tight, we're going cosmopolitan! Welcome to Milan, the internationally renowned hub of fashion and design. The metropolis is only about a two-hour drive from Verona. It is not without reason that Milan is also known as "Italy's secret capital" – it is a city of cultural history, star-rated restaurants, exquisite boutiques and cultural highlights. The city's most famous piece of architecture is Milan cathedral, one of the largest cathedrals in the world, which took 600 years to complete. Even those who don't go in for culture in a big way, who don't normally appreciate churches, are fascinated by the white marble and the precision of the Gothic cathedral. You can reserve entrance tickets in advance to avoid long queues.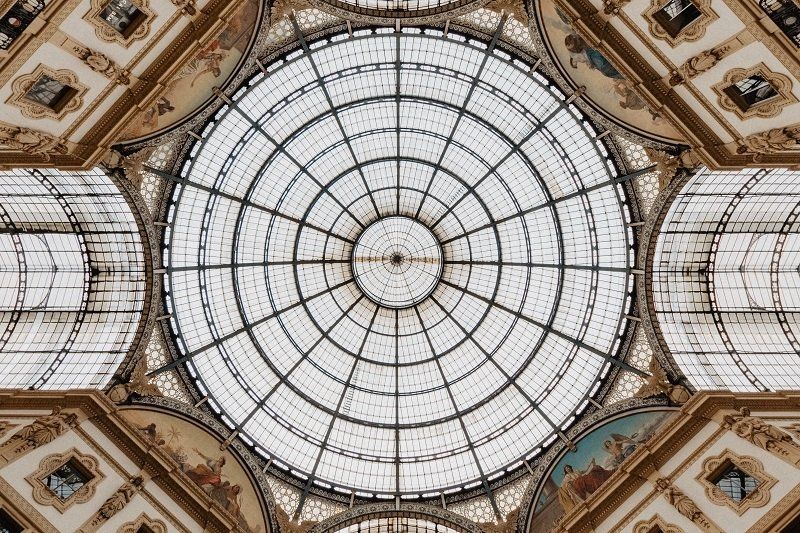 The Galleria Vittorio Emanuele II is not only a magnet for visitors keen to do some shopping; it is just as popular with those interested in its architecture. Photo: Unsplash/Pixabay 
Equally worth visiting is the cloister Santa Maria delle Grazie in Milan, where you can view the famous "Last Supper" by Leonardo da Vinci. Due to the very high visitor numbers to one of the most popular attractions in Northern Italy, we recommend that you also reserve entrance tickets for this visit in advance. The "Galleria Vittorio Emanuele II" is also an architectural masterpiece and a popular subject for photographs. The shopping centre with the majestic glass dome and exquisite mosaic flooring was opened in 1867 by King Emanuele II. But this is only a taster of the attractions to be found in Milan. The "Quadrilatero d'oro della moda", Milan's golden fashion quarter is certainly worth a visit, where the big-name designers present their latest collections in elegant showrooms. Opera fans should not miss an evening in the "Teatro alla Scala" – considered to be one of the most beautiful and original opera houses in the world. And did you know that the Italian sweet bread "panettone" originally comes from Milan? While it is possible to find this sweet temptation throughout most of Italy, it definitely tastes best in its home town. You can find "panettone" in almost every bakery and café in Milan.

Situated somewhat outside the centre of Milan - surrounded by greenery - is the campsite "Camping Village Città di Milano". From here, you can easily access the city centre by tube or bus.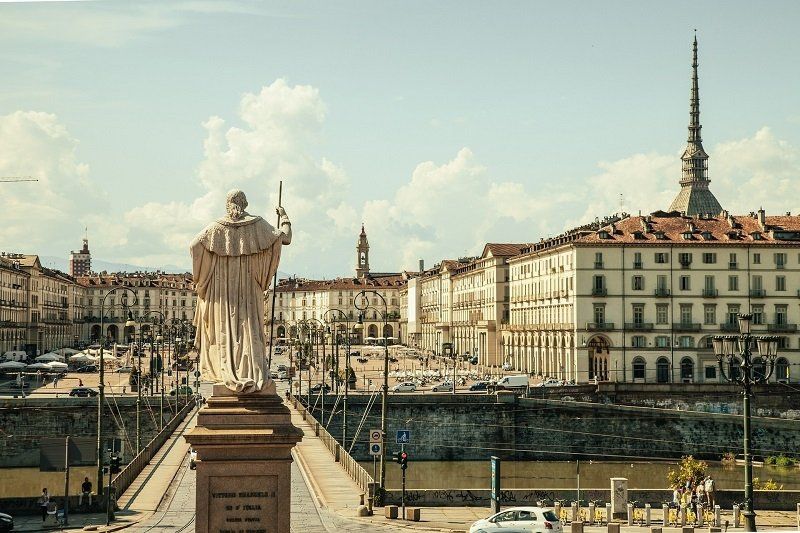 Turin is often overshadowed by Verona and Milan, but completely without reason. Photo: Pixabay
Turin wows with Baroque beauty & culinary delights
We're on the road again and in just over two hours, we reach Turin, a completely underestimated city with magnificent palaces, broad avenues and traditional coffee shops, regularly frequented by Friedrich Nietzsche. The car manufacturer Fiat is the first thing that springs to many peoples' minds when Turin is mentioned. These little runabouts have been manufactured here since 1899 and embody the relaxed Italian lifestyle. But Turin has much, much more to offer! At one time, 1861 to 1865, it was even the capital of Italy. So, rather than being a grey centre of the motoring industry as many tourists believe, Turin is one of the greenest cities in Italy. In front of the gates to Turin are inviting hiking routes such as the "Tourdella Bessanese" for a trip into the Italian Alps. For those not wanting to go to such heights, there is the fort "Fortezza di Fenestrelle", which offers a sweeping view over Turin.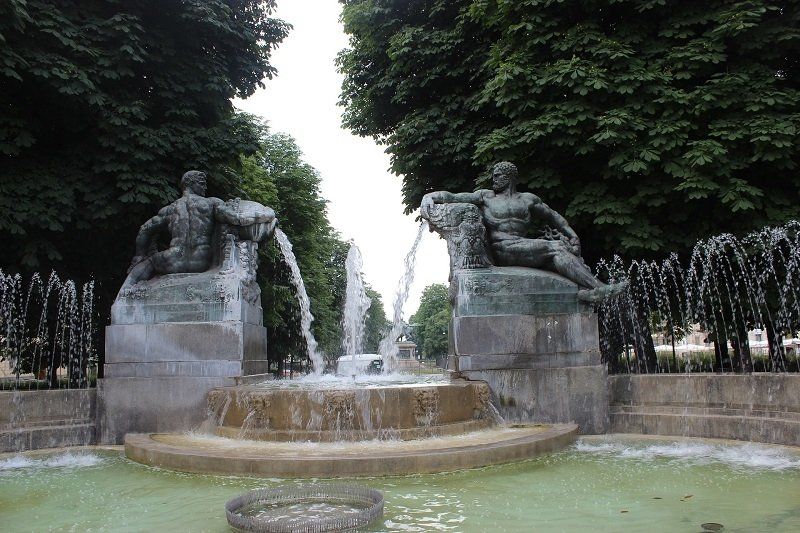 The fountain Fontana Angelica on the Piazza Solferino in Turin was built around 1930 and is a prime example of Art Déco. Photo: Pixabay
Not forgetting, of course, the wide range of well-known Italian dishes and wines from the capital of the province Piedmont. Grissini, martini, barolo, bicerin, vitello tonnato, gianduiotti – one or other familiar name amongst them? The best place to begin a walking tour of Turin is at the "Piazza Castello", an impressive square surrounded by Baroque museums, historic cafés and theatres, right at the heart of the city. In the centre of the square is a prestigious palace "Palazzo Madama" which was once home to the rulers of Savoy, and now houses a museum for art history. This is a prime spot to begin exploring Turin on foot. 

And when you decide to take a break, there are plenty of coffee shops ready to welcome you. These still harbour the charm of the 18th and 19th centuries, where intellectuals, writers, artists, revolutionaries and, of course, well-to-do ladies were once lost in conversation. Besides coffee – the company Lavazza has had its headquarters in Turin since 1895 – the city also offers a wide selection of aperitifs, chocolates and sweets. Our tip: You simply must try "bicerin" – a drink made from espresso, full-fat milk and cocoa – and where better to do so than in the place it was first created, in the "Café el Bicerin".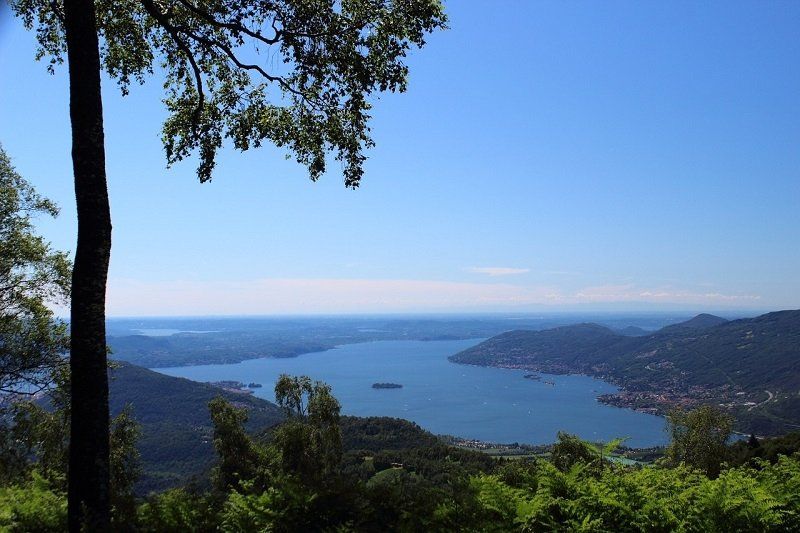 Lake Maggiore also offers a wide selection of activities and attractions. Photo: Pixabay  
Lake Maggiore
Our journey through northern Italy is slowly coming to an end, but don't worry – we've saved one of the best pieces for last. We're talking about Lake Maggiore, a little piece of paradise surrounded by the Italian Alps. Whether you are sporty, a culture fan, into nature, or enjoy fine food and fare, Lake Maggiore has activities and attractions to suit everyone. We start off in Locarno, the main city of the region Tessin, which is famous for its cultural life and annual film festivals. The sleepy old town invites you to lose yourself in its narrow alleyways and browse through its shops selling regional handmade goods and culinary delights. High above the city presides the pilgrimage church "Madonna del Sasso", which captivates art lovers with its wall and ceiling frescos and multitude of sculptures.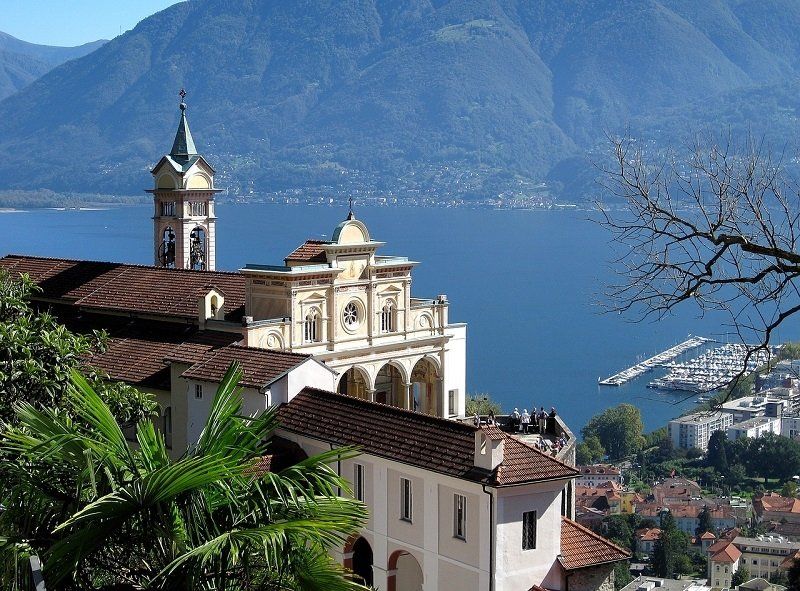 On the edge of the old town of the little town of Locarno stands the 12th century Cestello Visconteo. Photo: Pixabay 
Another attraction of Lake Maggiore is the weekly market in Luino. Every Wednesday, you will find fruit and vegetables from the region, locally produced wine, sausages and cheeses, as well as clothes at bargain prices. Be warned: The early bird catches the worm! The word has already spread about treasures you can find here. Those looking for some peace and relaxation should explore the Borromean islands. Boat trips run from Stresa to these three captivating green oases in Lake Maggiore, with their magnificent gardens and ancient palace estates. A further tip for those looking for relaxation is Lake Maggiore's little neighbour: Lake Mergozzo. The lake on the edge of the Alps with its crystal-clear water is considered to be one of the cleanest lakes in Europe. Water sports fans can enjoy a good range of angling, windsurfing, kayaking and canoeing opportunities. And last but not least, the bewitching little villages around Lake Maggiore. Just like at Lake Garda – it is difficult to choose a favourite. Campsites can be found predominately in the (north) west and south of Lake Maggiore.