Midsummer is nearly as important as Christmas for the majority of Swedes. And one of the most popular regions to celebrate midsummer is Dalarna in central Sweden. Many old traditions have been kept alive here and are upheld during the midsummer weekend and in the weeks that follow. Midsummer is usually celebrated privately with friends and family, but in Dalarna this festival can at times be a huge public experience. If you're travelling with a motorhome or caravan around Sweden at the end of June, head to Dalarna and see how the locals observe the longest day of the year.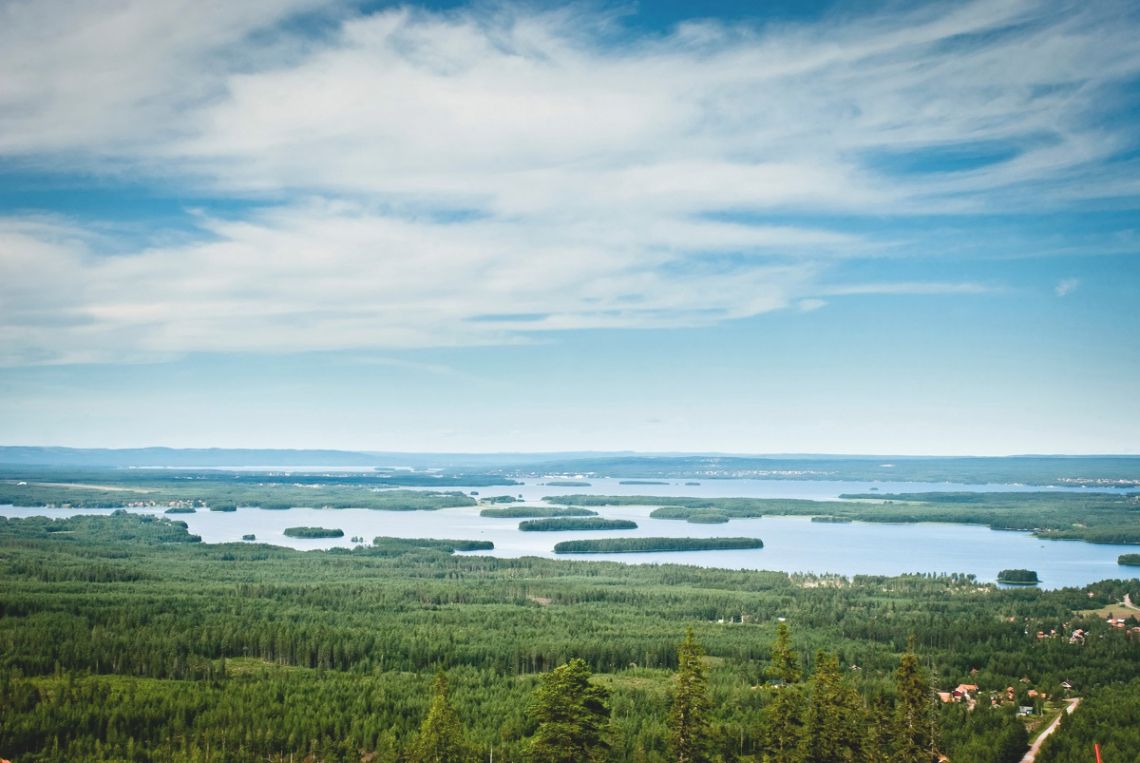 The landscape in Dalarna is dominated by lakes and forests, like here at Lake Siljan. Photo: Jacque de Villiers/Imagebank.sweden.se
Where is Dalarna?
The province of Dalarna is located in central Sweden, stretching over an area of 31,351 m² from the Norwegian border in the northwest through almost the whole of central Sweden to Uppland in the east. Accordingly, there's still a lot of untouched nature and a rich fauna in Dalarna, which also includes the four large domestic predators (bear, wolf, lynx and wolverine), waiting for you to discover. Deep green forests and countless crystal-clear lakes dominate the landscape of this region that is only about 200 km from Stockholm. Many of Dalarna's most interesting towns, villages, sights and tourist destinations are also located near Lake Siljan – famous for its unique blue colour, which is so light that Sweden has even named a shade after it: Siljan Blue.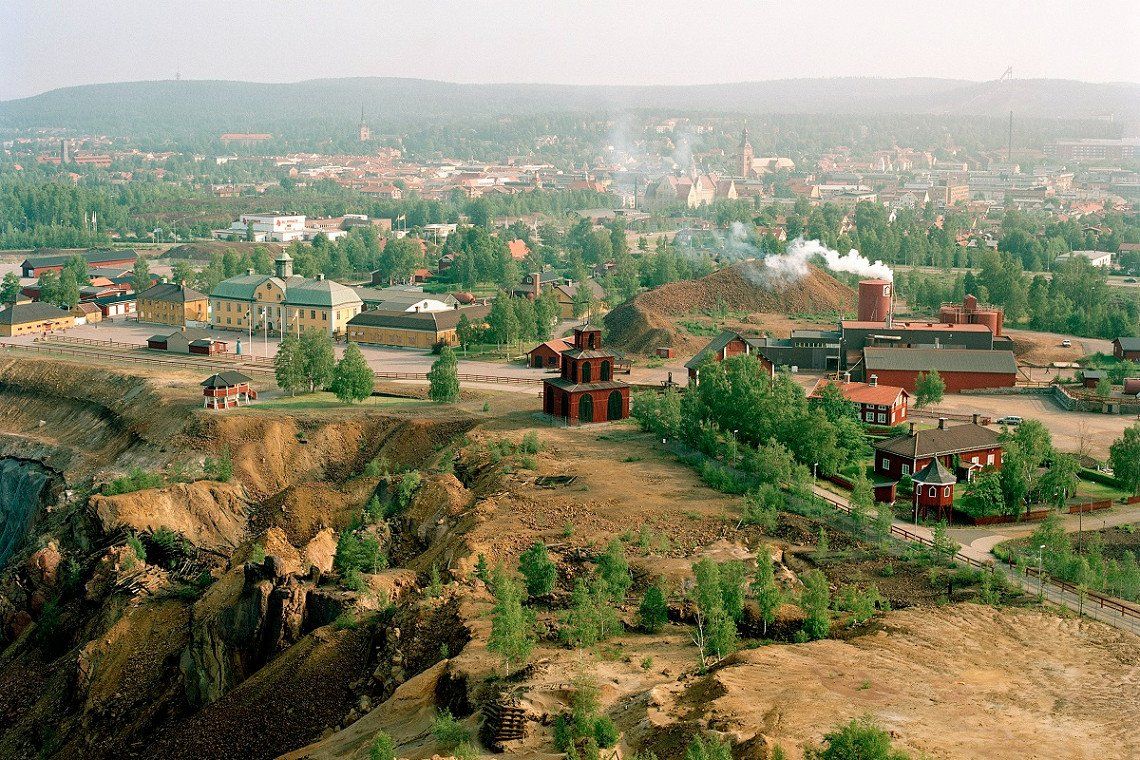 The World Heritage Site at the Falun Mine is one of the most popular sights in Sweden. Photo: Per Eriksson/Visit Dalarna
What does Dalarna have to do with the red Swedish houses?
And speaking of colour: where would Sweden be without its red wooden houses? Because this colour also comes from Dalarna. In fact, it was a waste product from the copper mines in Falun, with the iron oxide in the rock providing the colour and the copper vitriol the preservative effect – and it was also cheap. Copper was mined in Falun as early as the 11th century. In the 17th and 18th centuries, the Falun Mine was the largest copper mine in the world and one of Sweden's largest workplaces, employing over 1,200 miners. But those days have been over at least since 1992 when the copper mines were shut. Today, the entire mining complex, including the working-class districts and the industrial landscape, is a UNESCO World Heritage Site and definitely worth stopping over at during your motorhome trip.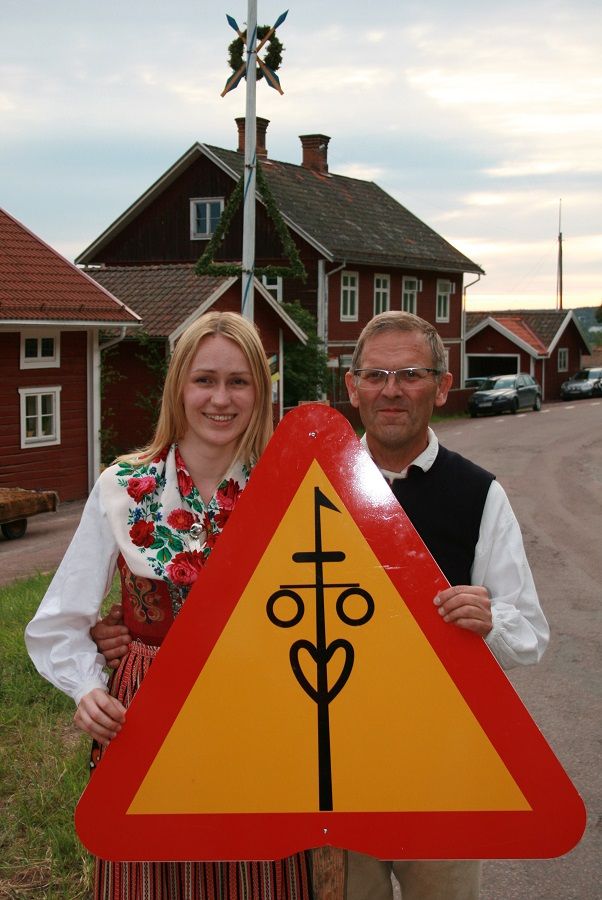 Warning, midsummer celebrations! You'll see this sign quite often while motorhoming through Dalarna during the midsummer weekend. Photo: Claudia Rothkamp
Midsummer in Dalarna
Dalarna is often referred to as the most Swedish of all Swedish regions because of the many red wooden houses, numerous lakes and endless nature. The way locals celebrate midsummer here may also have something to do with it. The majority of Swedes celebrate midsummer in the countryside with their family or friends, so that holidaymakers and tourists usually won't notice unless they are specifically looking for a public midsummer festival. However, it's a different story in Dalarna where you'll find it very difficult to avoid the midsummer celebrations. While the rest of Sweden only celebrates on the actual midsummer weekend, the festivities in Dalarna often start a few days before and extend into July.

Incidentally, the midsummer weekend consists of Midsummer's Eve and Midsummer's Day in a slightly topsy-turvy order. Midsummer's Day always falls on the Saturday between 20th and 26th June. Midsummer's Eve is the actual day that the celebration takes place and always falls on the Friday before Midsummer's Day. In 2023, Midsummer will be celebrated in Sweden on 23rd and 24th June.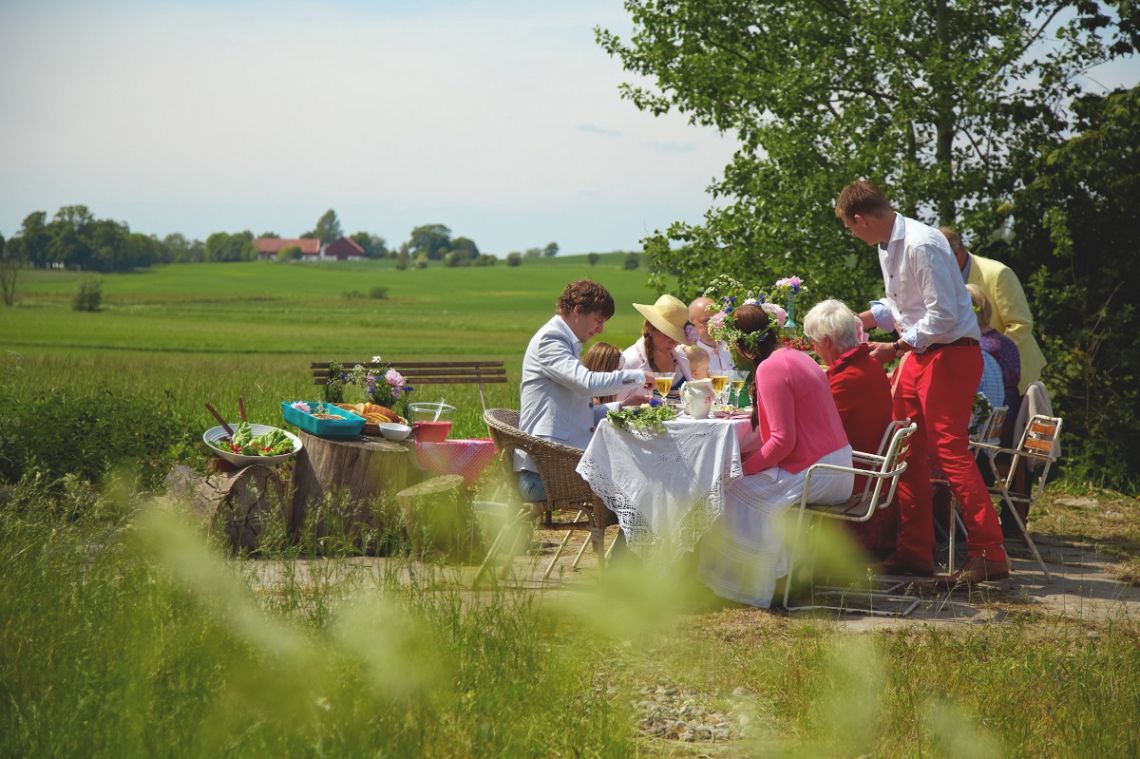 The majority of Swedes celebrate midsummer in the countryside with family or friends. Photo: Carolina Romare/imagebank.sweden.se
What does a traditional midsummer celebration involve?
Many Swedes start their midsummer festival at some point during the afternoon on Midsummer's Eve by enjoying a meal with their friends or family, preferably outdoors if the weather's good. They usually serve Swedish classics such as smoked salmon, different varieties of pickled herring and grilled meat, potatoes, crispbread and, above all, strawberry cream cake for dessert. The adults tend to complement their food with beer and a glass or two of aquavit and sing drinking songs and midsummer songs. And every self-respecting Swede sets up a small midsummer pole in their garden, decorated with wreaths and ribbons, around which the entire family dances during the celebration.

A midsummer classic is the children's song Små Grodorna (Little Frogs), which will have people of all ages hopping and dancing around the flower pole. Incidentally, a lot of women wear a flower crown – real or artificial – on their heads during Midsummer. The latter is not very expensive, and you'll be able to buy one in many local shops in June. But if you want to do it properly in Dalarna, you have to bind your own flowers. Your crown will, unfortunately, wilt quickly, but at least it proves that it's real.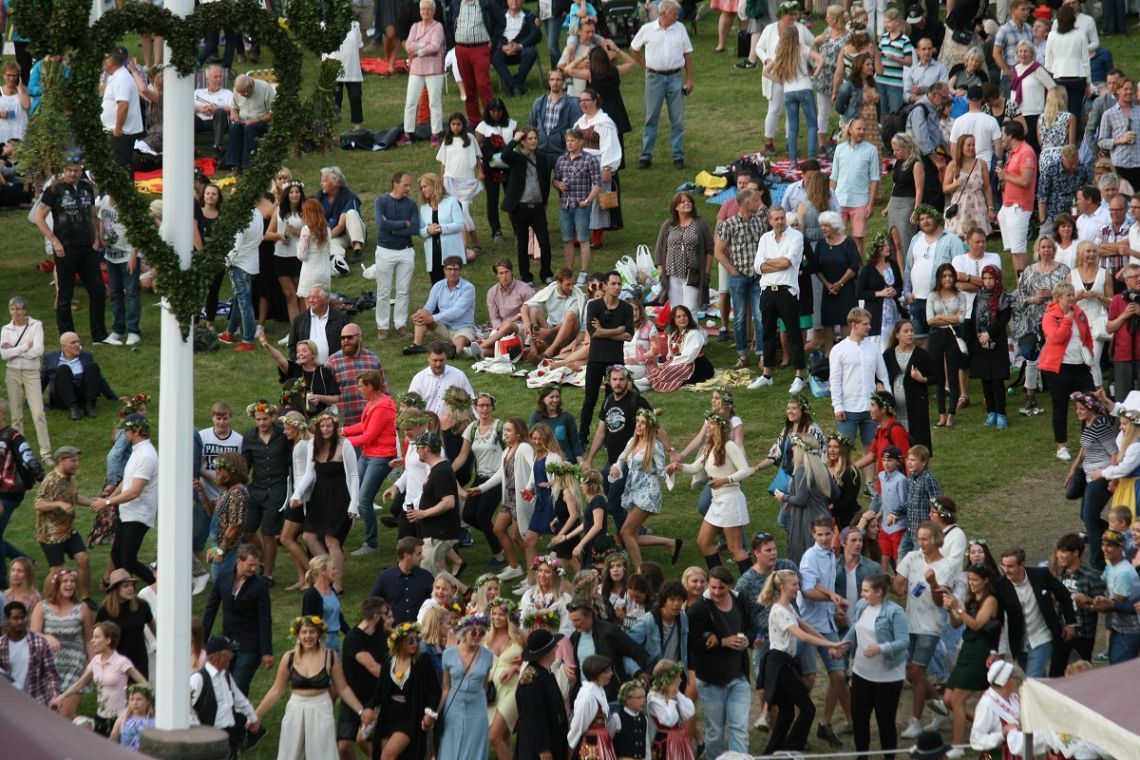 Dancing around the midsummer pole at Sweden's biggest midsummer celebration in Leksand. Photo: Claudia Rothkamp
Sweden's biggest midsummer celebration
Anything but private, however, is Sweden's biggest midsummer celebration in Dalarna. It takes place on Midsummer's Eve in Sammilsdal Park (or Gropen, in reference to the natural pit in the middle of the park) in the small town of Leksand. Nobody knows exactly how many visitors come here every year. The official figures are usually between 15,000 and 20,000, even 25,000 has been cited. But there's no denying the fact that there's an unbelievable number of people, by Swedish standards, in one place, with several thousand of them jumping and dancing around the midsummer pole at the end of the evening, following the instructions of 'Mr Midsommar' Anders Tull while singing Små Grodorna. What a glorious sight, seeing all generations taking part and enjoying themselves.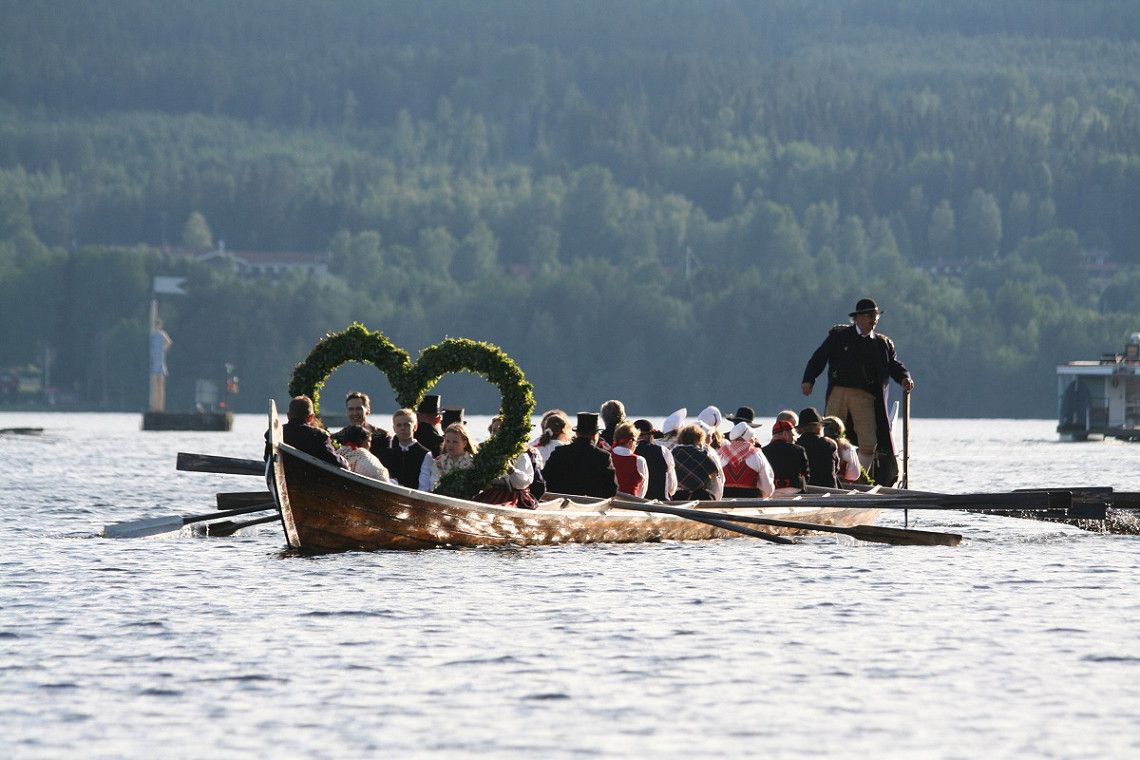 The wreaths for the midsummer pole that are transported to Leksand on church boats have different shapes and meanings. Photo: Claudia Rothkamp
Dancing around the pole for several hours is just the final part of the celebration. In Leksand, a procession of historic church boats traditionally kicks off the festivities. Make sure you get there early enough to see the meticulously hand-tied wreaths, garlands and symbols that will be used to decorate the midsummer pole later on being rowed to Leksand and carried to Sammilsdal with great ceremony. The whole thing lasts about two to three hours. After the last official dance, the previously jam-packed park empties surprisingly quickly.

Midsummer in Leksand in 2023: the church boat procession will start at the Österdal River on 23rd June at 7 p.m. and reach Sammilsdal around 7.45 p.m. The long midsummer pole will then be decorated before being raised by many young men in a joint effort. This will be followed by dance performances, music and dancing for everyone. Admission is free. We recommend taking a seat pad or picnic rug for more comfort and possibly your own drinks to avoid queuing at the drinks stalls.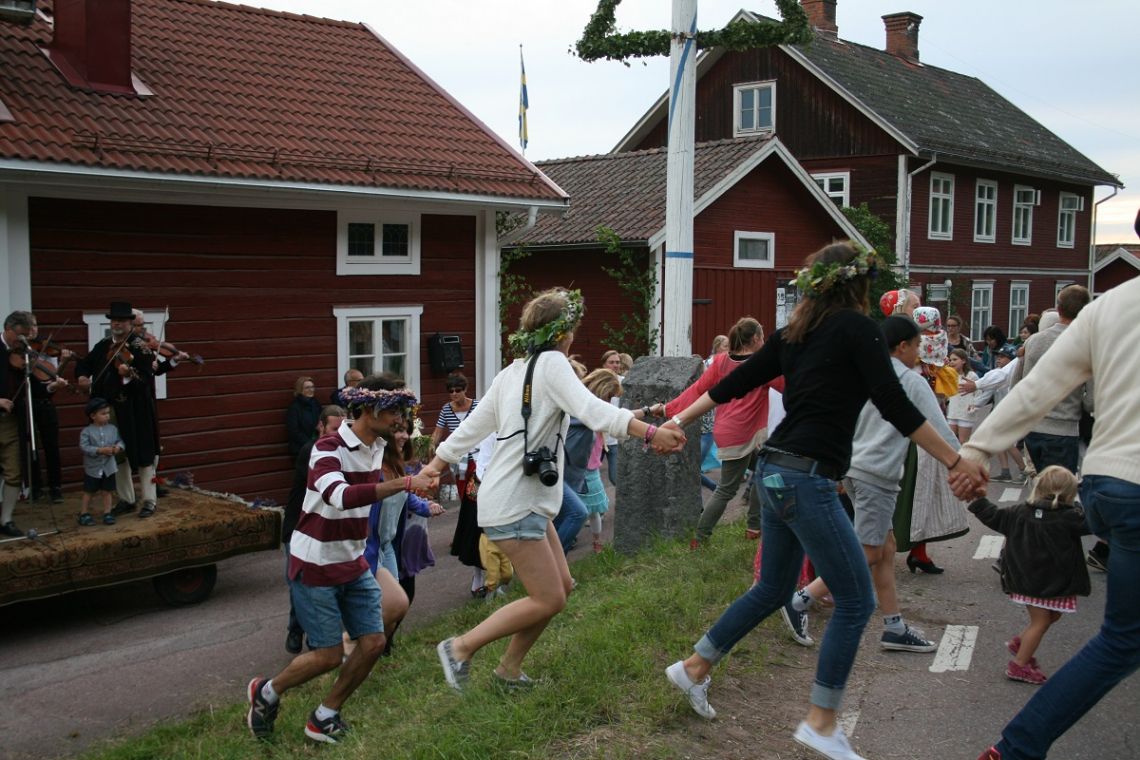 In the small town of Tibble, the locals welcome in midsummer the evening before. Photo: Claudia Rothkamp
More midsummer celebrations in Dalarna
A number of public midsummer celebrations are held in Dalarna, especially around Lake Siljan, e.g. in Mora, Rättvik and Orsa, as well as in small villages. Some take place before the Midsummer weekend, others after. Freeontour has put together a small selection for the midsummer celebrations in 2023:

Day before Midsummer's Eve – Tibble Bystuga: a midsummer pole will first be raised at the Tibble Bystuga community centre at 7.30 p.m. for children, who can then take part in a parade on a tractor. The official midsummer pole will be decorated and raised at around 8.30 p.m., accompanied by music and dancing. Admission is free. Locals and visitors can even help tie the wreaths on Tuesday evening from 6 p.m. Please note: due to road works in the area, the 2023 Tibble midsummer celebrations will only be held at Tibble Bystuga.

Day before Midsummer's Eve – Zorns Gammelgård in Mora: the children's midsummer celebration will start at 2 p.m at Zorns Gammelgård. Admission is free.

Midsummer's Eve – Sollerön: starting at 3 p.m., the midsummer pole will be decorated and raised right next to the Kulåra RV park. This will be followed by dancing and music. Admission is free, but donations are welcome. Please note: the use of the RV pitches may be restricted during midsummer, but you'll find a number of campsites on the island of Sollerön.

Midsummer's Eve– Orsa Hembygdsgård: the traditional midsummer festival in Orsa will be celebrated at the Orsa Hembygdsgård open-air museum. It will start at 4 p.m. Further details for 2023 have not been confirmed yet.

02/07/2023 – Lycka (Leksand municipality): the official midsummer pole will be decorated and raised at 5 p.m., followed by music and dancing. Admission is free. Take your own picnic basket so that you can eat together afterwards. You can help tie the wreaths from 6 p.m. on the Thursday before.

You'll find a large selection of midsummer celebrations elsewhere in the Lake Siljan region here.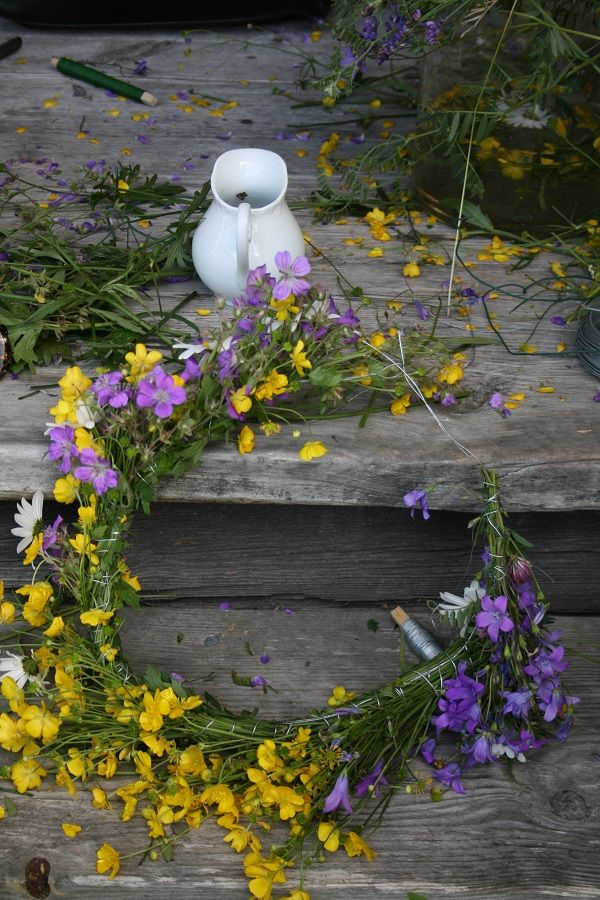 Midsummer celebrations at many campsites in Dalarna include picking flowers and tying crowns. Photo: Claudia Rothkamp
Campsites in Dalarna with their own midsummer celebrations
If you prefer to celebrate midsummer with other campers, you'll also find campsites in Dalarna that host their own midsummer festivals. Freeontour has put together a few of its favourites:
22nd/23rd June 2023 – Mora Camping campsite
: preparations will start on 22nd June by inviting all the guests on a bike tour to pick flowers, make wreaths and decorate the midsummer pole. Then on the next day, 23rd June, the campsite will offer an all-day midsummer programme with music, dancing and a midsummer buffet.
22nd/23rd June 2023 – Siljansbadets Camping campsite:
 at 6 p.m. on the Thursday, it's off to the meadows with a horse and cart to pick flowers for the wreaths, and everyone is encouraged to go along. Starting at 11 a.m. on the Friday, the midsummer pole will be decorated and raised before the celebrations then begin.
23rd 
June 
2023 – Rättviks Camping campsite:
 on Midsummer's Eve, at about 1 p.m., a horse and cart will be taken to the meadows to pick flowers for the wreaths. Then at 3 p.m., the campsite's midsummer pole will be decorated and raised before the celebrations commence.
21st & 23rd 
June 
2023 – Orsa Camping campsite:
 preparations start at 6 p.m. on 21st June, with everyone picking flowers together, making wreaths and decorating the midsummer pole. The campsite will offer a midsummer programme for children on 23rd June, which starts at 11 am. The midsummer procession will set off at about 5.30 p.m. from the Tingshuset courthouse in Orsa and should get to its destination (the campsite) at about 6.15 p.m., ending with music and dancing. An entertainment programme will start at 8 p.m., accompanied by a midsummer buffet at the McGregor's restaurant.
Please note:
 midsummer is the start of the main holiday season for many in Sweden. The campsites can, therefore, get very full, especially when the weather's good. We recommend making a reservation for and around the midsummer weekend – for ease, use the booking request form in the Freeontour campsite guide. Here's a
list of campsites in the Dalarna region
.
Video for inspiration: Midsummer at Siljansbadets Camping