Fancy a change of scenery? Then head to Normandy where you can enjoy culinary delights along with a contrasting, wild nature and cultural treasures. This region has the highest tidal current in Europe, impressive rock formations and the culinary three Cs. What are they and why is Normandy worth conquering by motorhome? Freeontour's travel report will reveal everything you need to know as well as provide inspiration for a fun camping holiday in Normandy.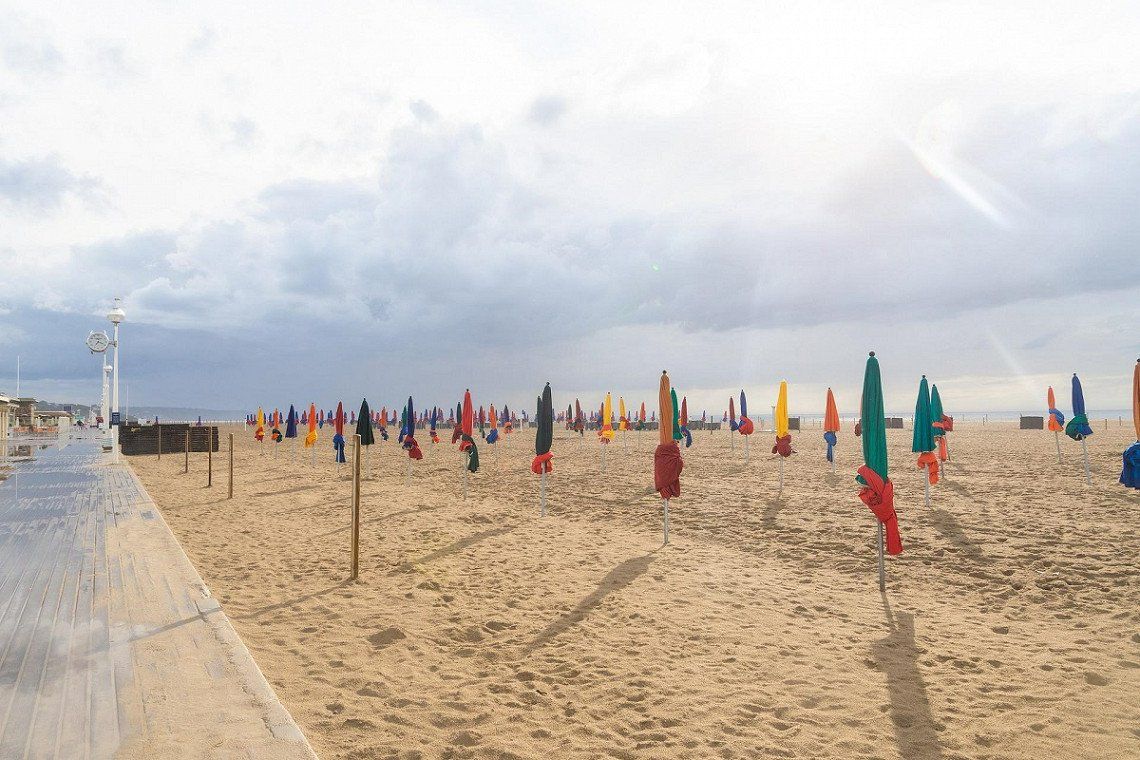 The beautiful beaches of Normandy, like here in Deauville, are best enjoyed between May and October. Photo: Pixabay
Where exactly is Normandy and when is the best time to go camping?
Normandy is located in northwestern France, just an hour west of Paris, and separated from Great Britain by the English Channel. You'll find plenty of attractions and natural treasures on the coast and inland alike. It is divided into five départements (administrative divisions) – from east to west they are: Eure, Seine-Maritime, Calvados, Orne and La Manche. The warm Gulf Stream has a huge influence on the climate in Normandy, which explains why the weather is comparatively mild all year round, while autumn and winter are relatively rainy. The months from May to October are considered to be the best time of year to visit this westerly region as it's warm, but not too hot. Even in the height of summer, it rarely goes above 30 °C. Summer is also pleasantly dry, with one to three days of rain per month.
Which cities are in Normandy and where is the border to Brittany?
The capital of Normandy is Rouen, a fascinating city on the River Seine in the region's interior. Normandy is also proud of its port cities such as Dieppe, Le Havre (a UNESCO World Heritage Site), Cherbourg and Granville. Medieval flair blows through the streets of the small cosy inland towns of Caen, Alençon and Bayeux. Brittany is to the west of Normandy, with the border between the two departments running along the coast through the middle of the Mont-Saint-Michel Bay (and only a few kilometres west of the famous abbey island). Inland, the communes of Domfront, Alençon and Val-au-Perche are very close to the border to Brittany.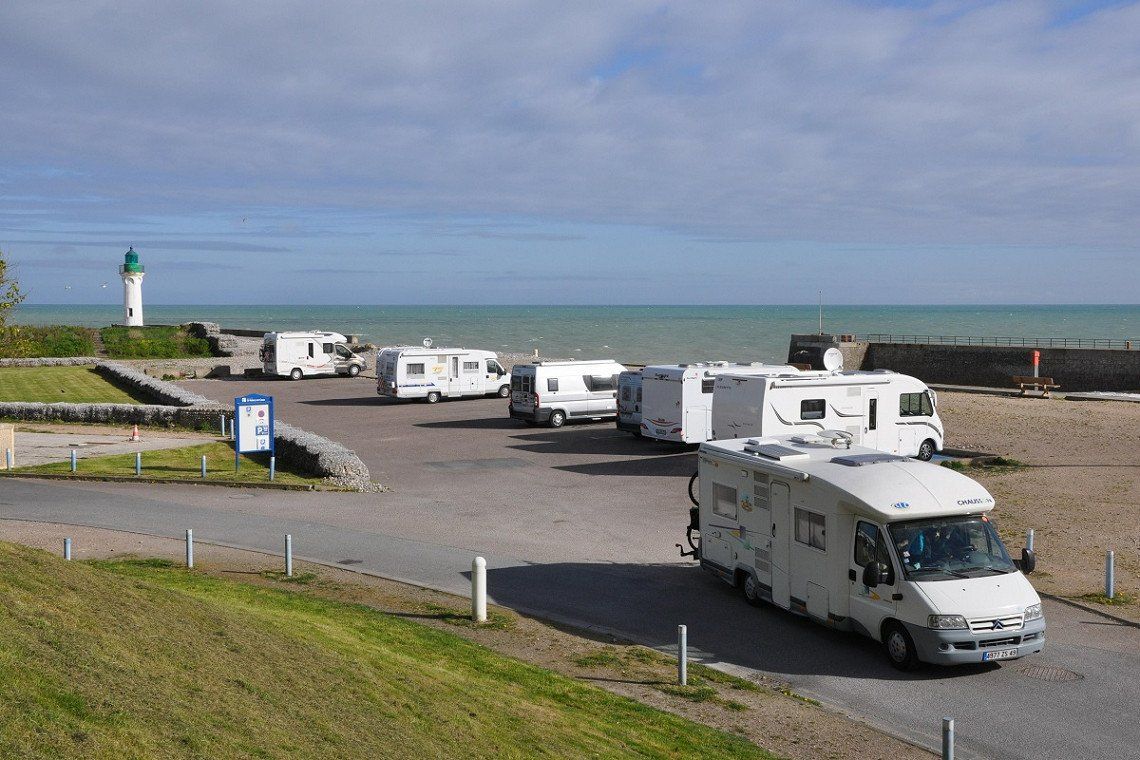 The RV park at Saint-Valery-en-Caux is just one example of the many great seaside locations in Normandy. Photo: Pixabay
Why is Normandy the perfect destination for campers?
Normandy proves just how easy it is to experience a wide range of small and large adventures in an area covering only roughly 30,000 km2 (as way of comparison, Bavaria in Germany has over 70,000 km2). Although not huge, the region has many captivating facets. So you'll save on fuel – and possibly even tolls – which is not only beneficial for your wallet and the climate, but also allows travellers to explore at a leisurely pace, knowing that they can see a lot of the region within a short amount of time and without too much effort. And it doesn't matter whether you're on a motorhome trip or spending your holiday in a caravan or tent on a campsite because Normandy is blessed with more than 500 campsites and RV parks. Many of them are surrounded by beautiful nature or lie right by the sea. So it's hardly surprising that Normandy is regarded as an all-round camper's paradise. The huge amount of space in the great outdoors makes the area an exciting destination for independent travellers, too. Also good to know: Normandy is less crowded than its neighbour Brittany in peak season.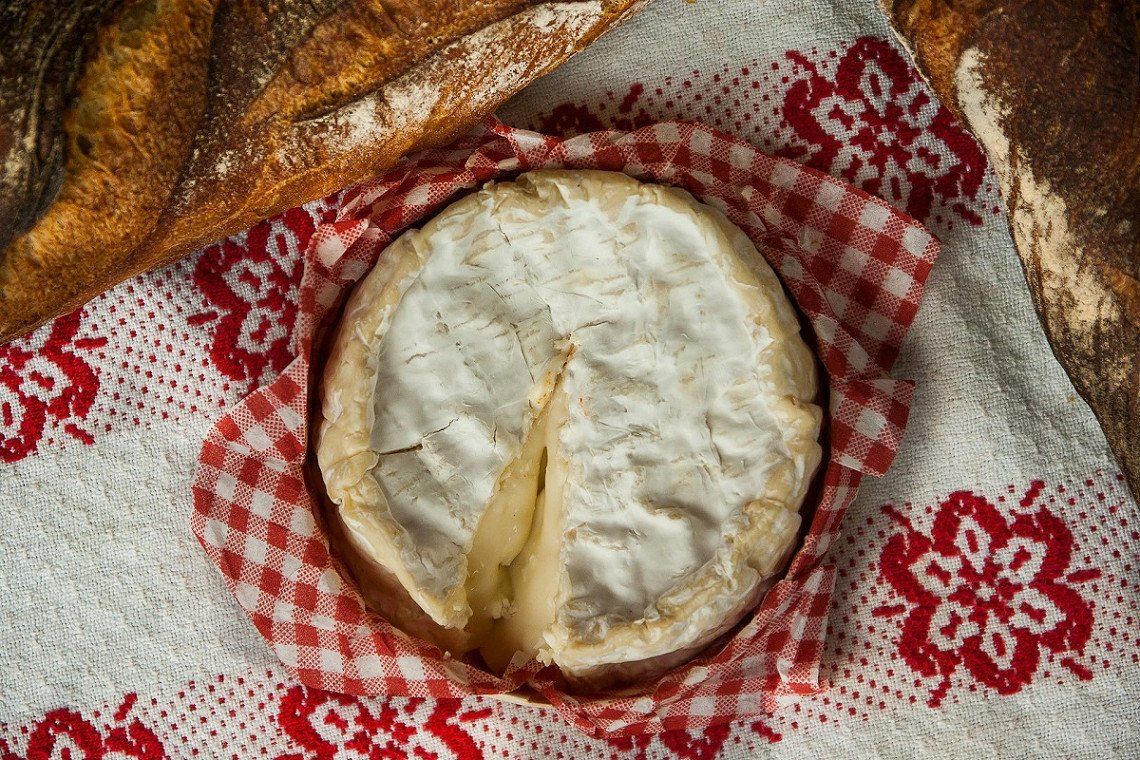 It's just as much a part of the culinary landscape in Normandy as is Cidre and Calvados: Camembert cheese. Photo: Pixabay
What culinary delights does Normandy have to offer? The three Cs and more
We finally get to the three Cs that you simply have to try when in Normandy: Cidre, Calvados and Camembert. Cidre is a fresh, summery sparkling wine made from apples; Calvados a fine amber-coloured apple brandy; and Camembert a soft cheese. Apart from the three Cs, Normandy offers a whole alphabet of dishes worth trying – and you'll soon notice that a trip to this region is always associated with culinary pleasure. Other Norman classics include freshly caught fish, mussels and oysters. And if you're brave enough: snails. Galettes, a savoury type of crêpe, are a good idea at any time of the day or night. And cheese lovers will be in gourmet heaven here. In addition to Camembert, the most popular cheese varieties include Neufchâtel, Livarot and Pont-l'Evêque. And fluffy tarts, such as the Tarte Normande apple pie, provide a sweet finale.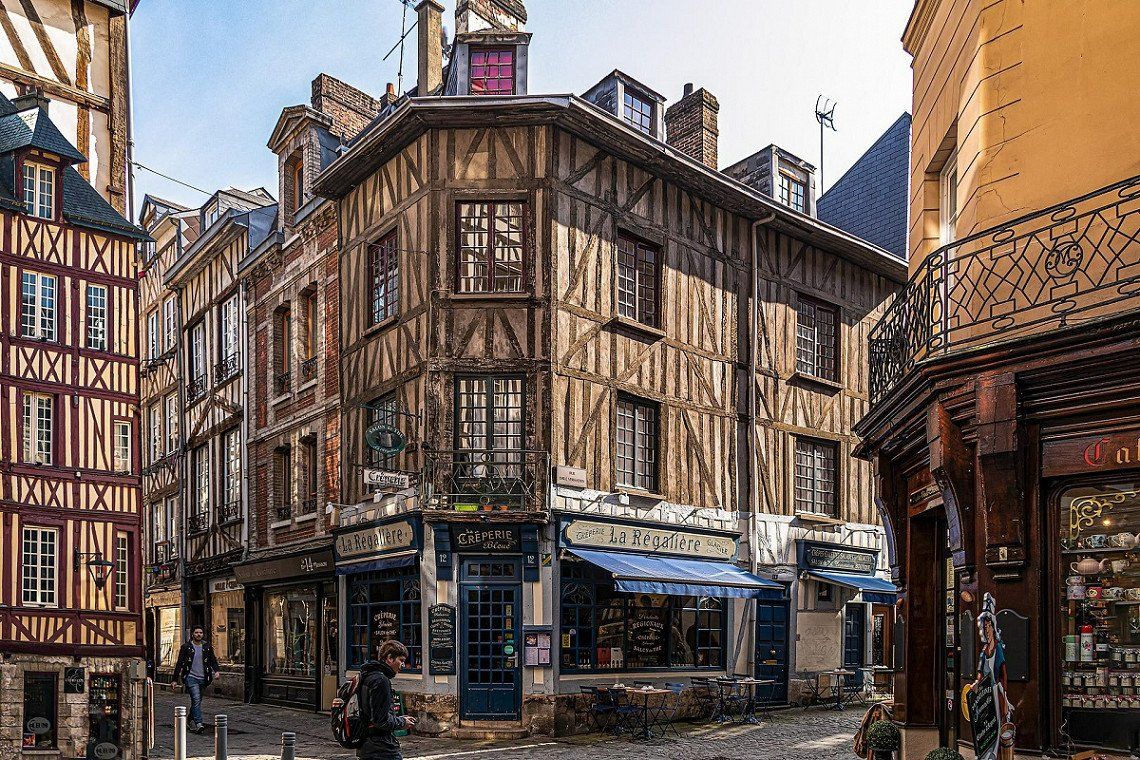 The towns of Normandy sometimes look like painted pictures. This is Rouen, the capital of the region. Photo: Pixabay
What are the most beautiful sights in Normandy? And what are the best day trips?
- Rouen, a must-see city: Normandy has an abundance of charming little towns. One of the most impressive is Rouen on the River Seine, the capital of the region. It recently became France's first city to be awarded the title of UNESCO Creative City for its creative and sustainable gastronomy. So you can tell that food is very important here! The Norman capital is simply beautiful with its colourful half-timbered houses, narrow streets and romantic bridges over the Seine.

- Coastal urban pearls: they include the elegant seaside resorts of the Côte Fleurie, the Flowery Coast, where the sweet whiff of France's Belle Époque wafts through the salty air. Great artists such as Monet, Picasso and Cézanne were inspired by the wide sandy beaches here. Parisian high society still escapes to the glamorous beach villas in the renowned seaside resort of Deauville. Bohemian flair radiates in the neighbouring town of Trouville, just a bridge crossing away. Known for its narrow, colourful half-timbered houses and old port, Honfleur on the Flowery Coast is one of the most beautiful coastal towns in Normandy.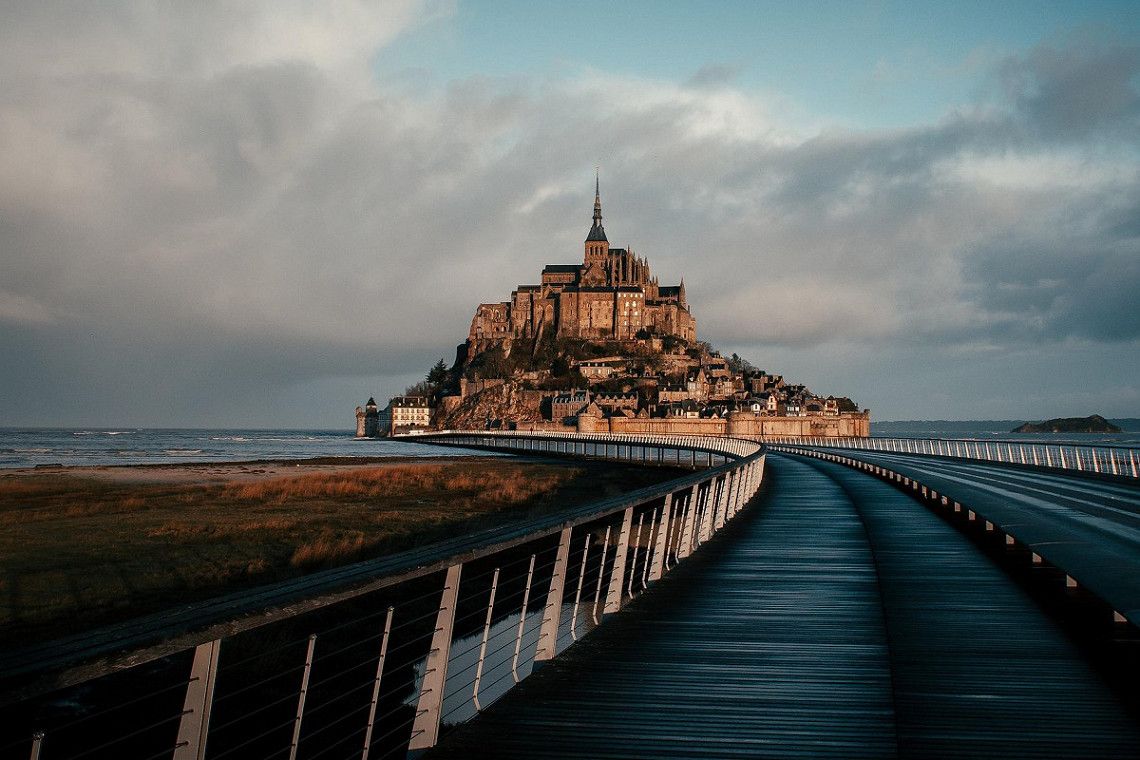 The abbey island of Mont-Saint-Michel is one of the main tourist magnets in Normandy. Photo: Pixabay
- Ebb and flow at Mont-Saint-Michel: one of the best-known and most popular highlights of Normandy is Mont-Saint-Michel. As this famous abbey island is a must-visit for travellers to Normandy, Freeontour has dedicated an entire article on Mont-Saint-Michel here.

- Historical villages with charm: if you're looking for tranquillity and want to go on a journey back in time to the Middle Ages, then you need to visit the small Norman villages beyond the coast. The idyllic, colourful half-timbered village of Beuvron-en-Auge with its many craft shops and cafés is considered to be one of the most authentic villages in Normandy. Intertwined with nature, the enchanted village of Saint-Céneri-le-Gérei on the Sarthe River exudes a high degree of mysticism. It still serves artists today as a peaceful oasis and motif for their works. You can find peace and quiet on a hike up to the observation point at the historic church, along the river banks or in the lush natural surroundings.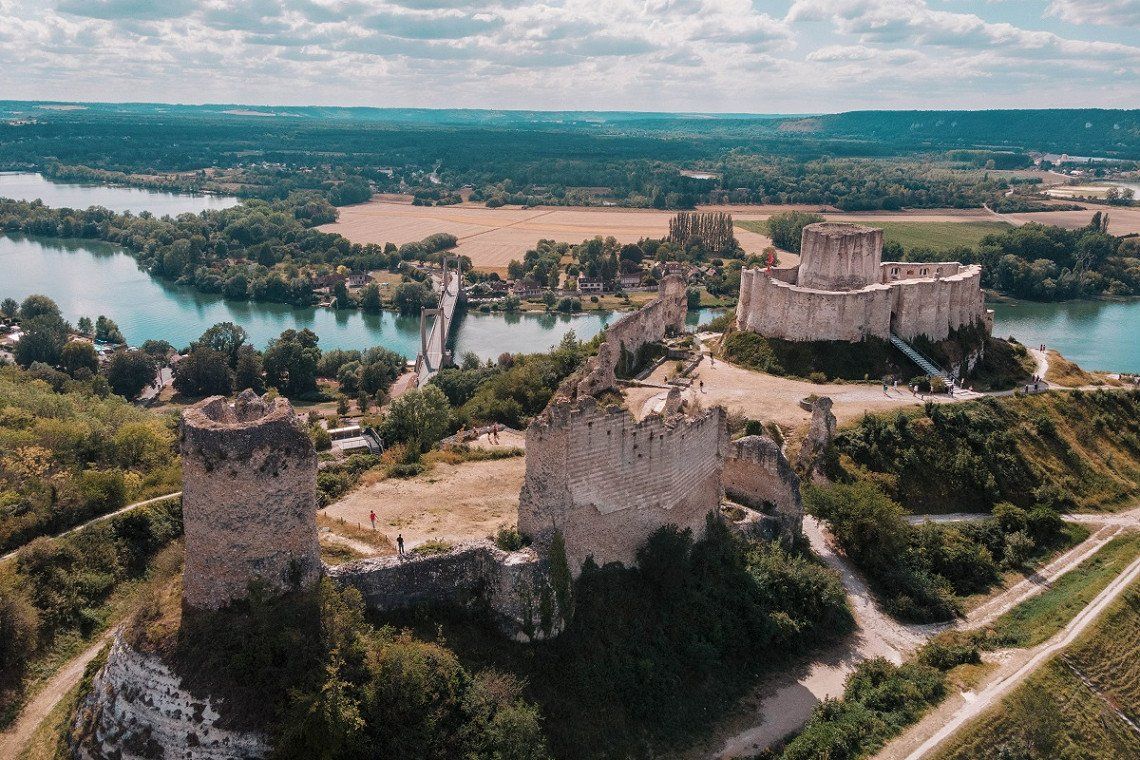 The ruins of Château Gaillard exude historical mysticism. Photo: Unsplash.com
- From Château Gaillard to Jumièges Abbey – a detour into the Seine valley: finally, an insider tip for the inland...the Seine winds its way from Paris through the fertile Seine Valley to the modern port city of Le Havre. One of the main attractions along this stretch of the river is Monet's garden at Giverny. It is truly idyllic, but often overcrowded. Less visited but no less mysterious and stunning is the ruined castle of Château Gaillard and the town of Les Andelys on the banks of the Seine that lies at its feet. King Richard the Lionheart lived in Château Gaillard in the 12th century. Also worth seeing and less frequented in the Seine Valley is Jumièges Abbey, which is also known as France's most beautiful ruin. The routes broadly around the river banks are scenically very beautiful, so don't be surprised if you suddenly find yourself daydreaming from your window during your trip.
Experience the natural wonders of Normandy
Nowhere in Europe is the difference between high and low tides greater than in Normandy. The highest tidal current prevails here, and it is undoubtedly an impressive natural spectacle. Some highlights by the sea that you shouldn't miss out on: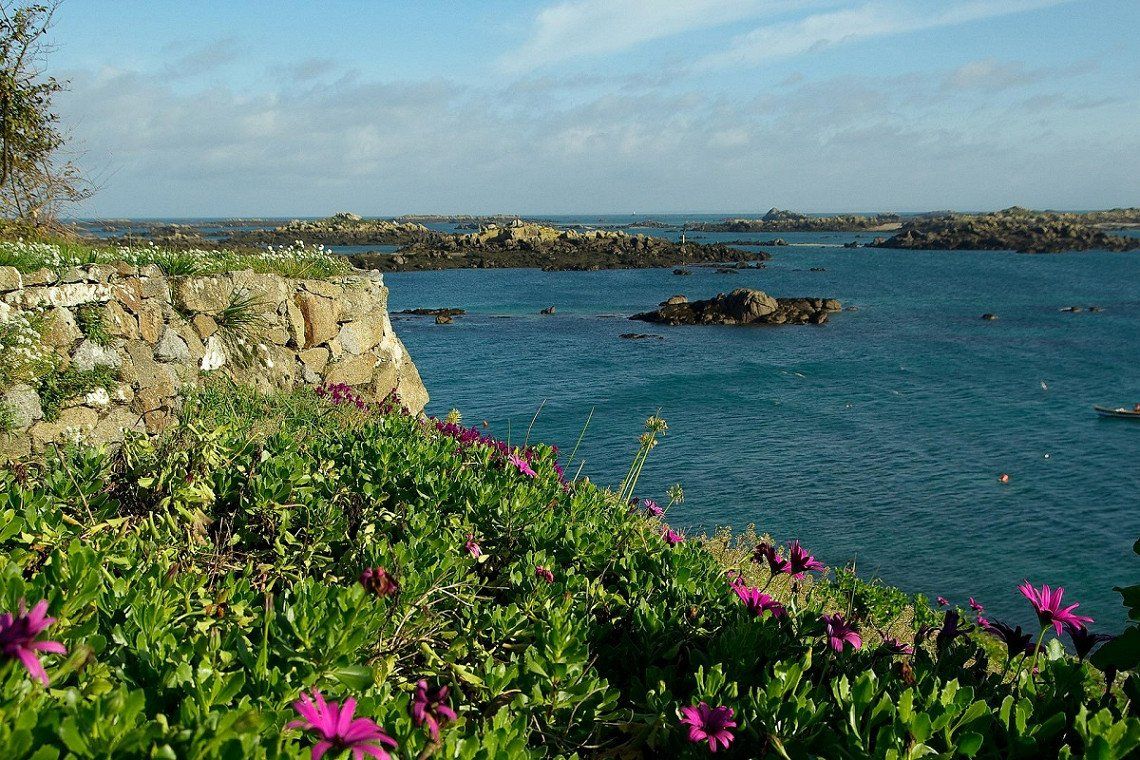 The Chausey Islands can be explored on foot or from the water. Photo: Pixabay
- Discover the Chausey Islands by kayak: the Îles Chausey off Granville are the largest island archipelago in Europe. About 350 small islands are visible at low tide and about 50 at high tide. The water is turquoise and clear and the islands are made of granite. In the Middle Ages, monks quarried the granite stones to build their abbey on nearby Mont-Saint-Michel. Today, this small island town in the mudflats is one of the most famous postcard motifs in Normandy and very much worth a visit. Back to the Chausey Islands – only one is inhabited, namely Grande Île. Ferries run to the car-free and very idyllic island from the port of the picturesque coastal town of Granville. Perfect for hikes with great panoramic views over the sea. If you're feeling adventurous, you can rent a kayak on Grande Île and explore the surrounding islands. Or go on a guided tour offered by a local expert.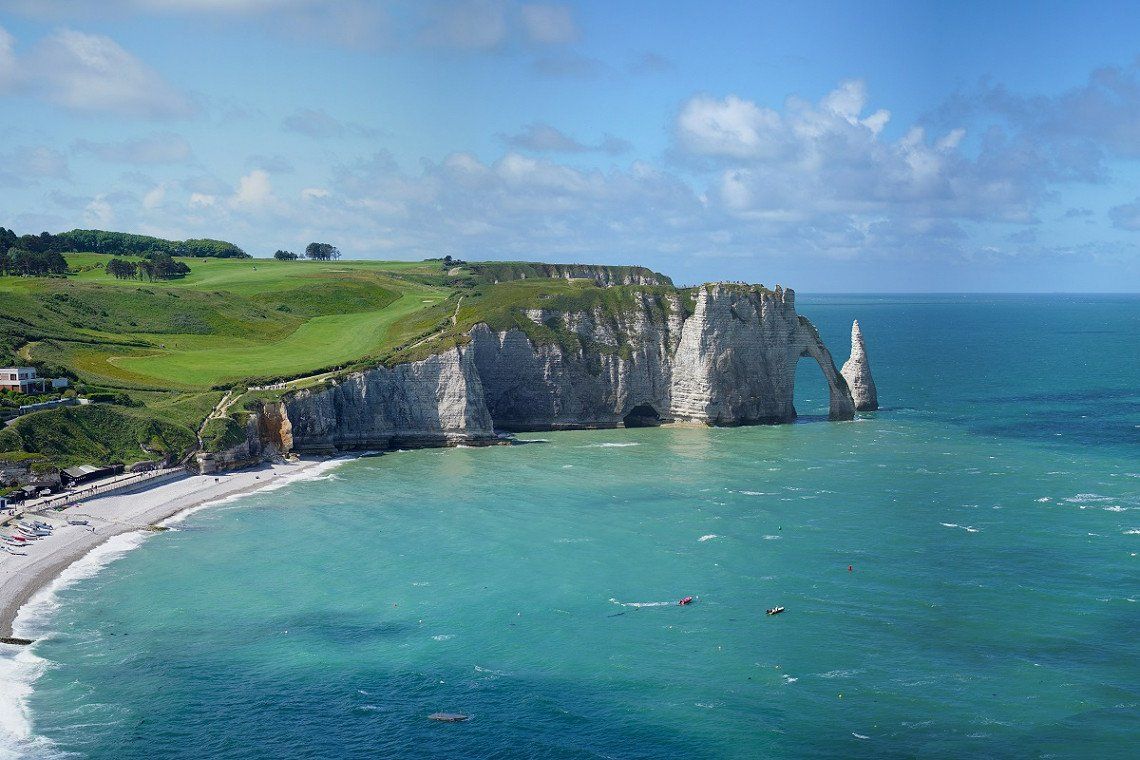 The imposing chalk cliffs of Étretat are one of the landmarks of Normandy. Photo: Pixabay
- Stand up paddling in Étretat: the imposing chalk cliffs of Étretat on the Alabaster Coast were once a popular motif for Impressionists and achieved international fame at least since the Netflix series Lupin first aired.

If you want to feel tiny next to the surreal rock formations, you can paddle under the pointed Needle on a stand up paddle board – a unique Norman experience organised by Voile et Galets, the local sailing school.

If you prefer terra firma, you can hike along the Alabaster Coast on the GR 21 coastal hiking trail.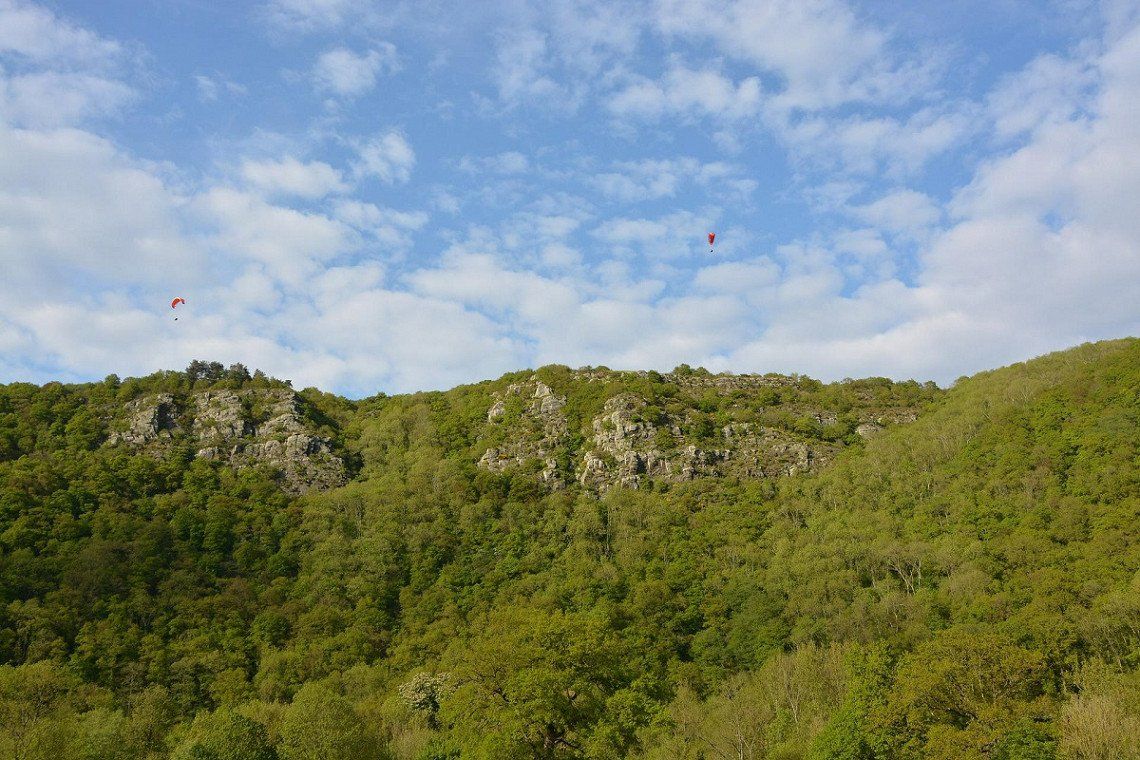 The wild side of Normandy: paragliders, climbers, hikers and mountain bikers will have hours of fun in Norman Switzerland. Photo: Pixabay
- A trip to Norman Switzerland: back inland, Norman Switzerland boasts a rugged natural environment. It is part of the Armorican massif, the largest mountain range in northwestern France, which runs through the departments of Calvados and Orne. Norman Switzerland owes its name to its resemblance of the Swiss Alps with its deep valleys and gorges, hills and wooded landscape carved by rivers. A paradise for canoeists, anglers, hikers, climbers, horse riders and mountain bikers. Our tip for an untouched, romantic view: the Roche d'Oëtre, an amazing 118 m high rock with a popular observation point where you can enjoy spectacular views of the surrounding valleys and gorges.