Camping has been a growing trend in Europe for several years now. Motorhomes, campervans and urban campers are becoming increasingly popular as they promise flexibility and independence for holidays in natural surroundings with a high level of comfort. The only question is whether you should buy or rent a camping vehicle. Freeontour explains the advantages of each option to help you decide what's best for you.
The various Hymer motorhome models alone show just how large the choice of camping vehicles in the caravan sector is. Renting is a good way to try them out. Photo: Hymer
1. The best way to get first-hand experience
Renting a motorhome is ideal if you've never been camping and want to try it out. Caravanning newbies should first test the waters and see whether the motorhome/campervan lifestyle is for them before committing financially. Moreover, camping rookies are not always sure of how large their camping vehicle should be, what equipment they need and which features are important to them. For instance, while some caravanners prefer a smaller, manoeuvrable campervan or an urban camper suitable for everyday use, others appreciate the comfort of a large seating area or a spacious bathroom area in a motorhome. And then there are others who find that a caravan is probably the best alternative for their preferred type of holiday. One key advantage for caravanning novices when renting a motorhome is that you can test-drive a range of RVs to find out which one is best suited to your holiday needs and preferences.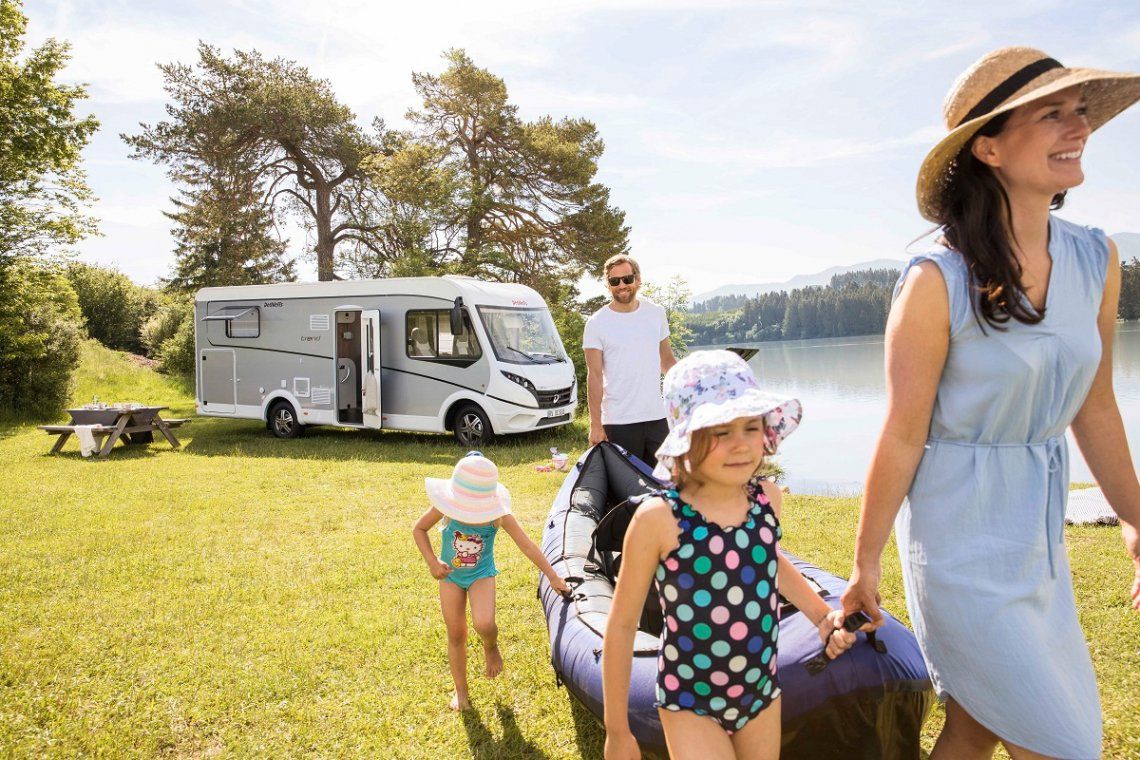 A rental motorhome lets you adapt flexibly to your family's space requirements. Photo: Dethleffs
2. More flexibility for casual campers
If you're only planning on holidaying in a motorhome a couple of times a year or every few years, you're best off renting one as it offers maximum flexibility and freedom. It allows you to adapt the rental motorhome to your current needs. Living situations can change quickly, especially for families with younger and/or older kids – one year all your children are on holiday with you, the next year they may have their own holiday plans and you'll only need space for two or three people. Or your family is growing and you need an increasing amount of space. The same goes for grandparents who at times will want to travel on their own and at other times take their grandchildren with them.
3. Perfect for campers with wanderlust
Renting a motorhome gives motorhome enthusiasts more flexibility in choosing a holiday destination, especially if they want to explore distant places such as New Zealand with a motorhome or campervan and, therefore, rent a motorhome locally. But there's nothing stopping you from renting in European countries if you want to shorten the travel time, such as when your destination is quite far away or can only be reached by a long ferry ride and you've only taken a few weeks off of work for your holiday, e.g. when travelling to Andalusia or Ireland.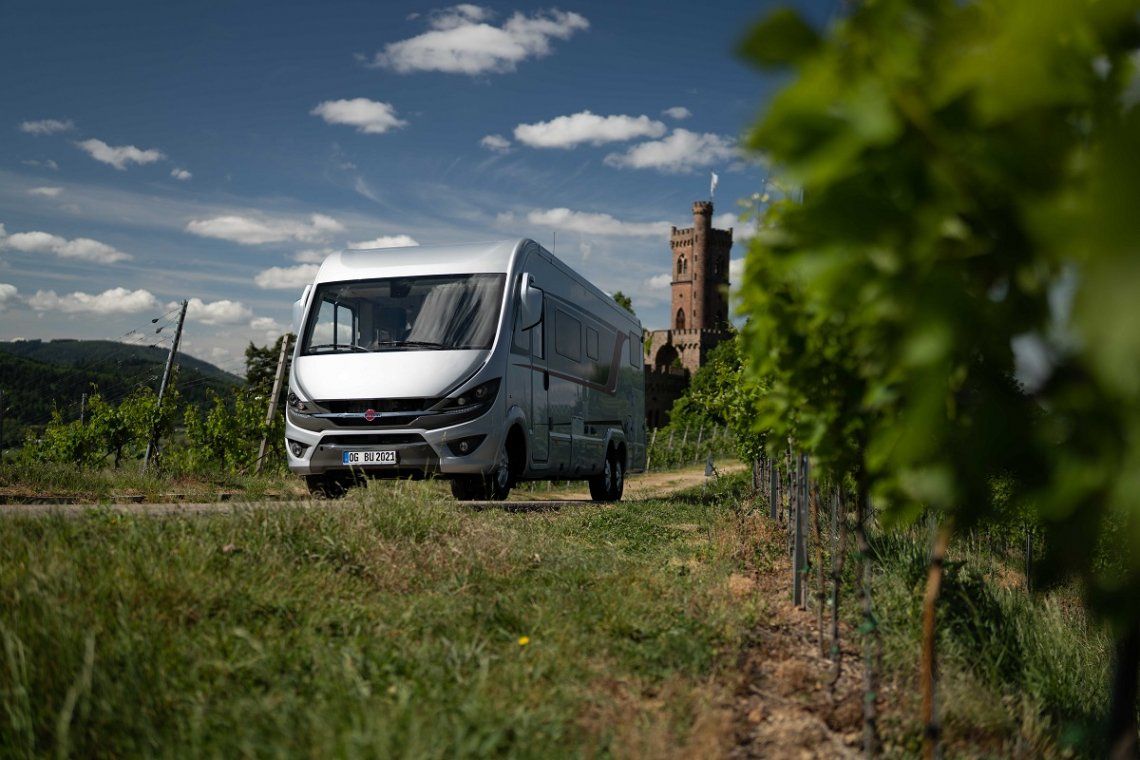 Rental motorhomes usually come equipped with everything you need for your motorhome trip. Photo: Bürstner
4. Camping vehicles in great condition and no additional costs
If you rent a motorhome or a campervan from a professional provider, you'll usually be supplied with a modern, well-maintained vehicle for your trip. For instance, the rental companies rent easy, McRent and Crossrent replace their vehicles regularly, at the latest after 24 months of use, often sooner. And if you do have a breakdown, the rental company will organise the repairs and, if necessary, a replacement. Another advantage of renting a motorhome is that you don't have any running costs such as insurance, storage/parking, maintenance, repairs and MOTs. Moreover, rental motorhomes are usually equipped with a wide range of accessories such as bicycle racks and awnings, so you won't have to worry about buying or fitting them should you need them for your trip.
5. A large selection of motorhome rentals available, even at short notice
As long as it's not peak season, last-minute travellers will usually find a wide selection of motorhomes, campervans and urban campers at large motorhome rental companies such as McRent, rent easy or Crossrent, even a few days before their trip. Incidentally, all three rental companies offer a discount on their vehicles to Freeontour members. They often have camping vehicles that accommodate two to four people even just before the holiday season starts. However, if you want to test-drive a specific motorhome model or travel with more than four people, we recommend booking a few months in advance.
Fully integrated or preferably semi-integrated? Not only size matters when choosing the right camping vehicle. Photo: Etrusco
Who would benefit from buying a camping vehicle?
Buying a new motorhome, campervan or caravan is usually anything but a spontaneous decision. You'll first need to seriously think about what type of camping vehicle is suitable for your intended purposes and what kind of layout works for you best. If you're planning on taking several short and long trips a year, you'll probably opt for a fully integrated motorhome or a semi-integrated motorhome. Families often choose alcove motorhomes or caravans, whereas young people and child-free couples prefer campervans. If you want to use your camping vehicle to get about every day and only go on the occasional trip, you should look at urban campers. You'll also have to take your budget into account and consider how you're going to finance your motorhome or caravan before making a final decision.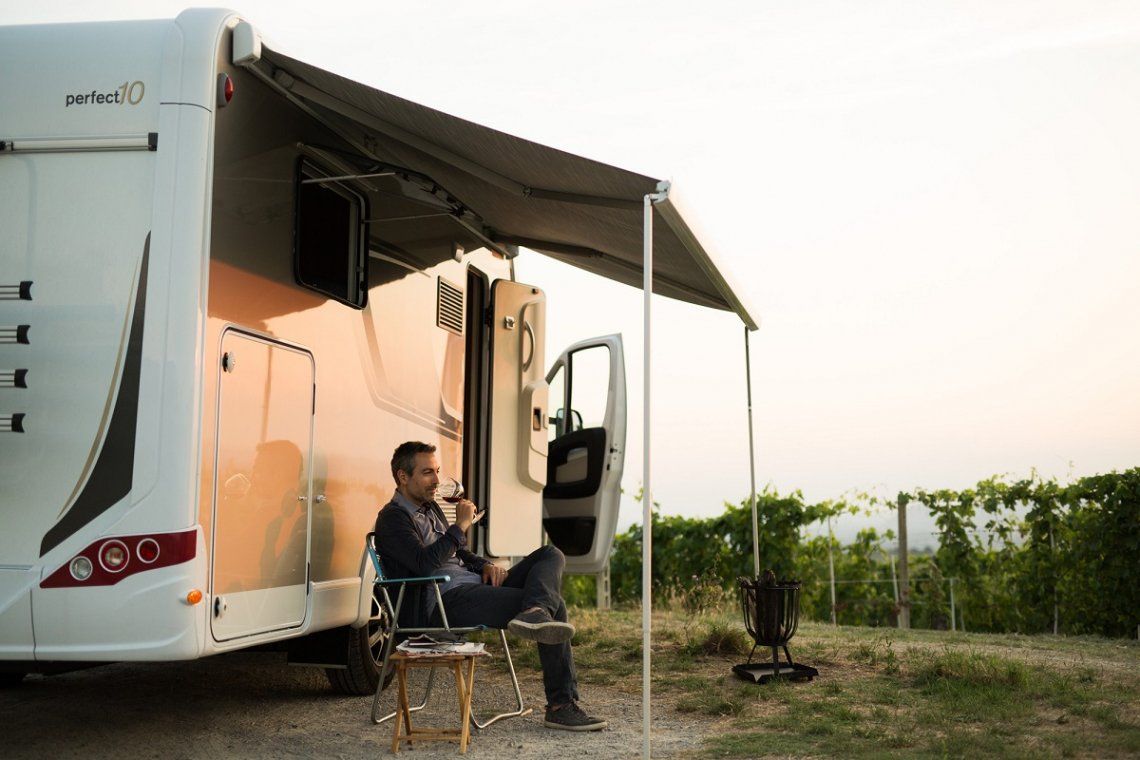 Your essentials are always packed and ready for your next spontaneous trip in your own motorhome. Photo: Carado
1. Always ready to hit the road
If you've decided to rent a motorhome, you'll need to plan your trip ahead and reserve as soon as possible, especially if you've got your eye on a specific model. If you don't mind what kind of motorhome you get, then obviously there's less time pressure. However, if you own your caravan or motorhome, you can hit the road at a moment's notice, e.g. for a spontaneous long weekend away when the weather's good. You won't need to waste time loading and unloading your essentials as you can leave your durable belongings, such as kitchen utensils, bedding, towels, tables and chairs, as well as a few well-packaged, non-perishable foods and spices in the vehicle during camping season.
2. Your chosen fittings and equipment
One major advantage of owning a motorhome or caravan is that you can personalise it, starting with the floor plan, seat cushion covers, mattress type and kitchen utensils, right through to the navigation device, awning and sun blind. Moreover, you can fit or assemble transport solutions for sports equipment such as bicycles or surfboards or even for your four-legged friends travelling with you as you like, without having to ask the rental company for availability or permission.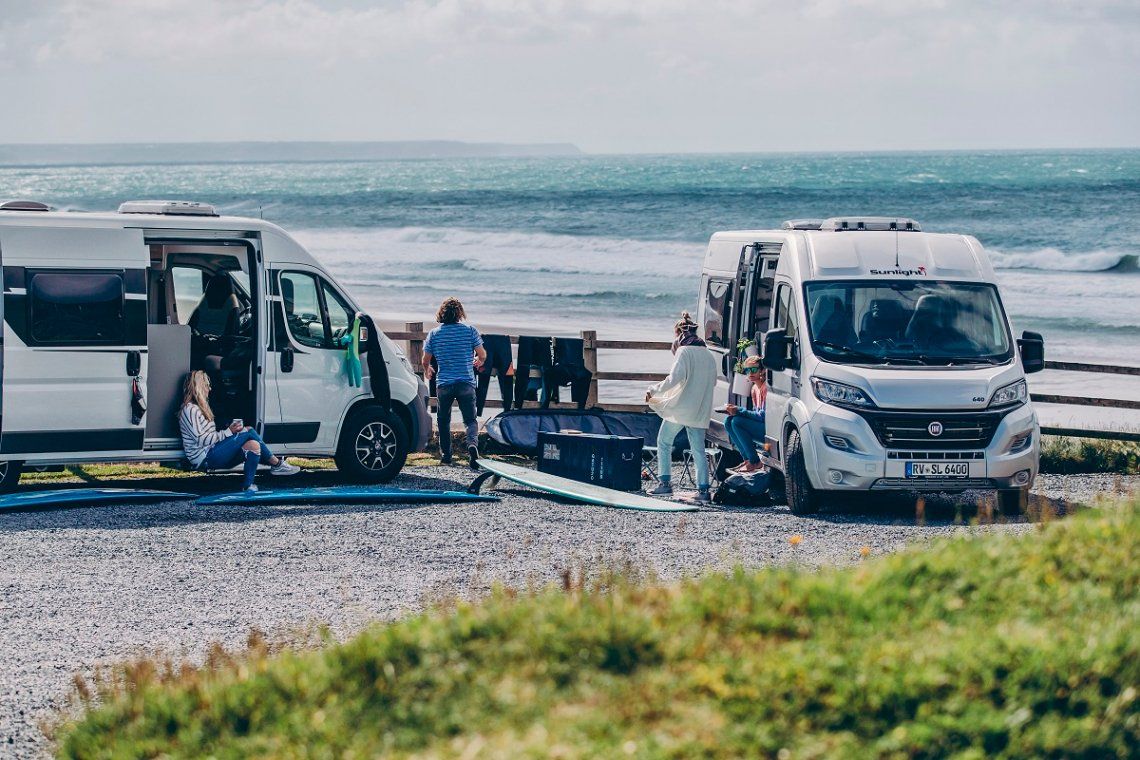 If you know that you're going to use a camping vehicle regularly, think about getting your own vehicle. Photo: Sunlight
3. More cost-effective in the long run
It makes financial sense to buy a motorhome if you know that you're going to be spending your holidays travelling around Europe in your camping vehicle and, therefore, on the road a lot in the next few years.

Furthermore, the value of motorhomes from well-known manufacturers tend to not drop very much, even after a few years.

If you want to buy a newer model later on or if your family situation changes, you'll often be able to sell your camping vehicle at a good price.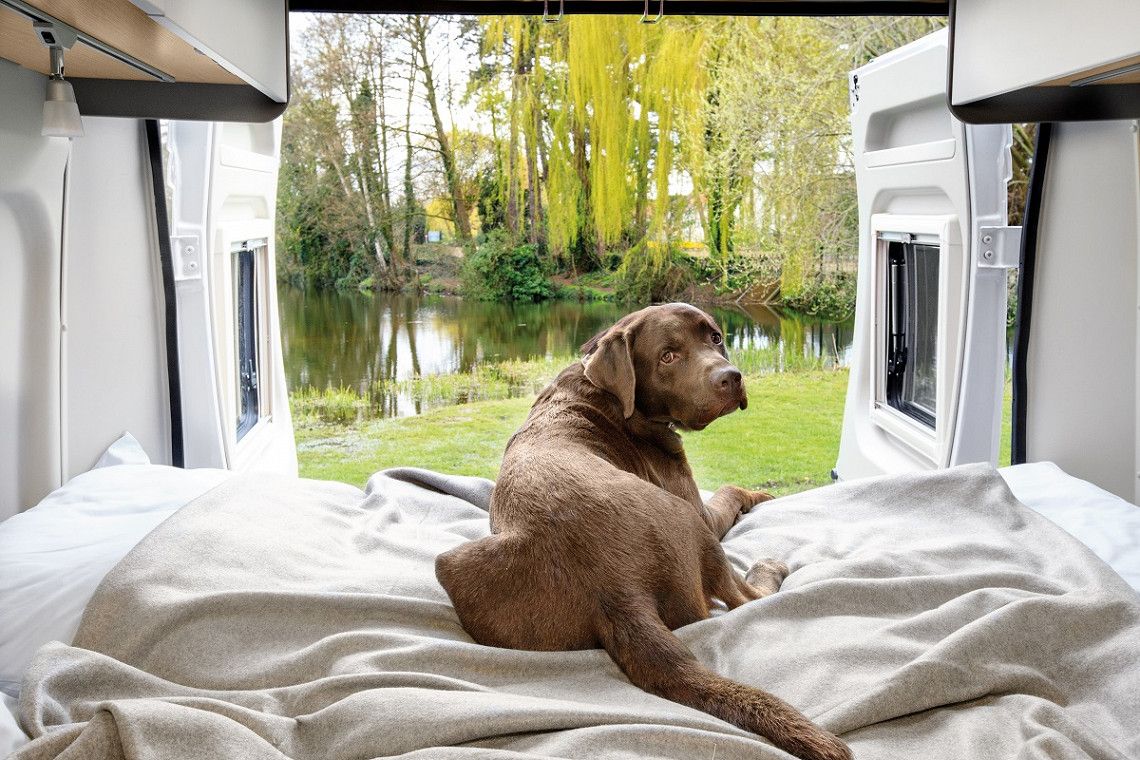 Your four-legged friends will also feel at home in your own campervan or motorhome. Photo: LMC
4. Take your pet with you
Not every motorhome rental company allows dogs and cats in their camping vehicles or only has a limited number of motorhomes where pets are also permitted to travel with you. Some may even charge a pet fee. This obviously makes the lives of allergy sufferers easier, but can be slightly inconvenient if you want to take your four-legged friend(s) with you on a camping holiday. Therefore, having your own motorhome or caravan is the best option for many dog owners, especially as it makes it easier for your furry friends to gradually get used to travelling in an RV. Moreover, if you have your own motorhome, you can fit the transport devices that you want to ensure the safety of your pet(s) when in transit.
5. No cleaning hassle and schedule constraints
The last thing you want when on your way back home after a fun camping trip is to get stressed about returning the motorhome on time or handing it over fully cleaned – which you won't have to with your own motorhome. It can be such a relief to know that you can postpone the unloading and cleaning of your motorhome until the next day or whenever you feel like it. Another advantage is that many rental companies will only allow you to pick up and drop off your motorhome on a weekday. When you own your vehicle, you can extend your holiday in to the weekend or for as long as you like without worrying about booking schedules.