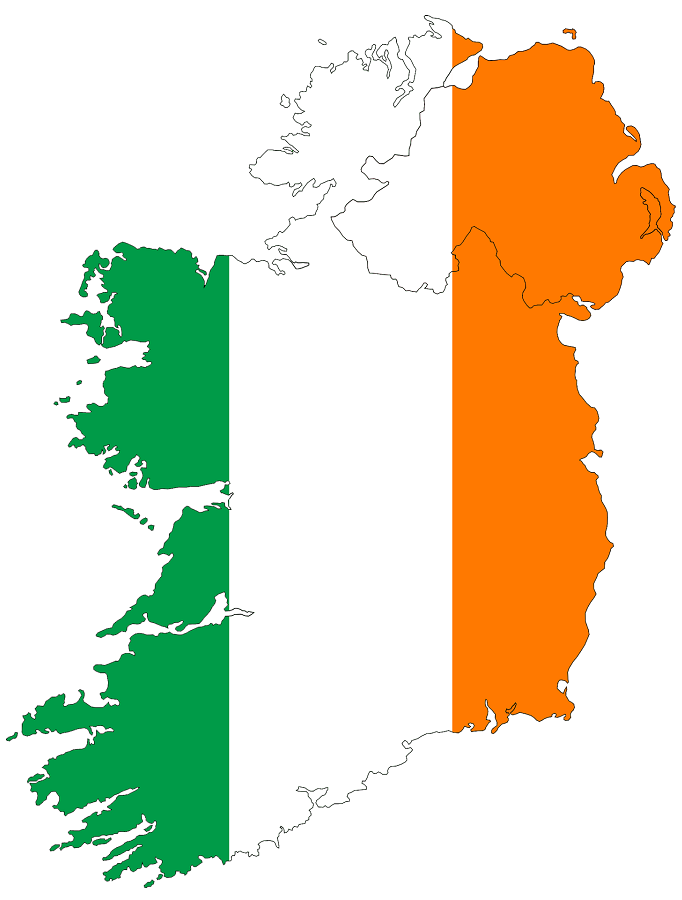 Important: the entry requirements for Northern Ireland are the same as for Great Britain. Graphics: Pixabay
Entry into Ireland
Entry requirements for EU nationals: when visiting as a tourist, you will need a (provisional) passport or a (provisional) ID card or a child passport. The travel documents must be valid for the entire duration of the stay. We recommend not using ID documents that have been reported as lost or stolen. Please note: if you are travelling to the Republic of Ireland via England, Scotland or Wales or are also planning on visiting Northern Ireland during your camping trip, you will need a valid (temporary) passport to enter. ID cards are no longer accepted for travel between the UK and the EU.

Entry requirements for British nationals: British nationals do not need a passport to visit Ireland when travelling from Great Britain, but will require some kind of official photo identification (e.g. driving licence). Irish immigration officers may also check the ID of visitors, especially if arriving by air, and ask for proof of nationality. Therefore, if you were born outside the UK, it is recommended to take your valid passport.

Entry requirements for children: minors (under 18 years of age) travelling with you, e.g. friends of your children, should carry a valid ID card/passport and a declaration of consent from their parents or legal guardian. The consent form should be accompanied by a copy of the child's birth certificate and a copy of proof of legal representative's identity, which is, however, not mandatory.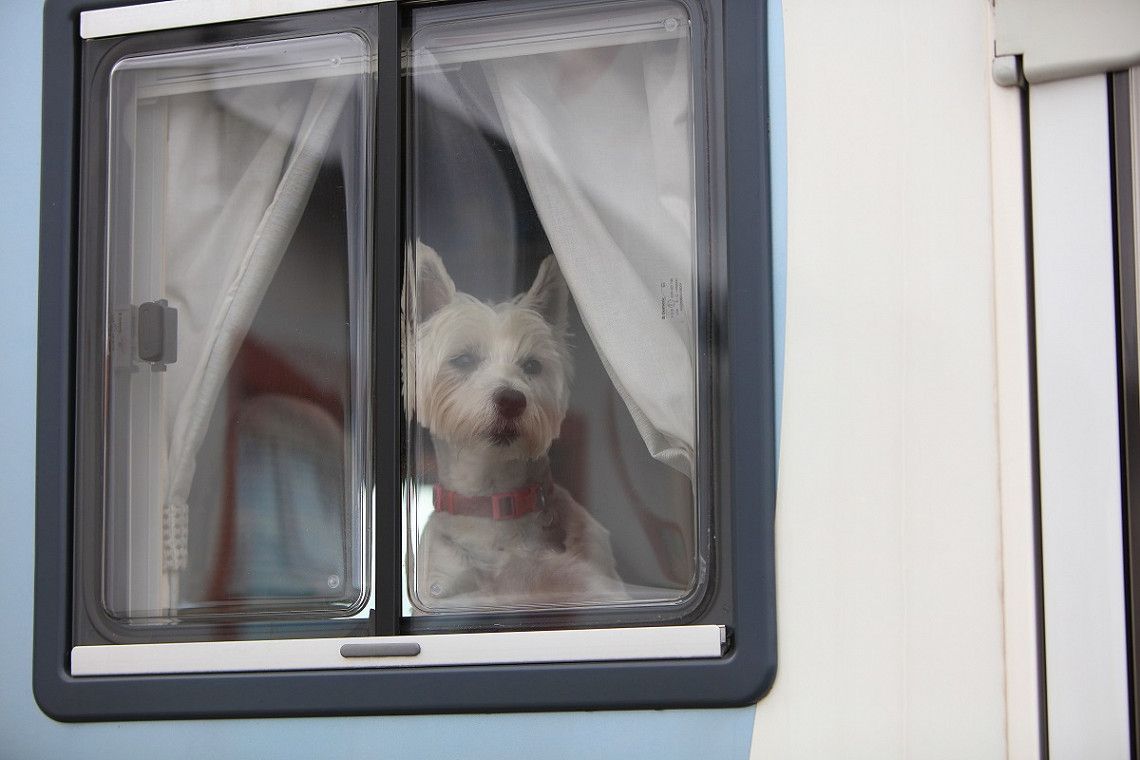 The EU Pet Regulations apply to pets entering Ireland. Photo: Courtesy Valerie O'Sullivan / Fáilte Ireland
Entry requirements for pets: dogs and cats travelling with you require an EU pet passport. It has to include a veterinary confirmation of their rabies vaccination, which must be at least 21 days old. Moreover, the animal must have a readable tattoo or, if marked after 3rd July 2011, a microchip. Dogs must also be treated against tapeworm at least 24 hours and no more than five days prior to entry, which a vet must also confirm in the EU pet passport.

Dogs must be at least 15 weeks old to enter Ireland. Dogo Argentinos, Fila Brazilieros, Japanese Tosas and Pitbull Terriers and dogs resembling any of these breeds are banned from entering Ireland. Dogs should be kept on a leash as encounters with free-roaming sheep or other wild animals are not uncommon.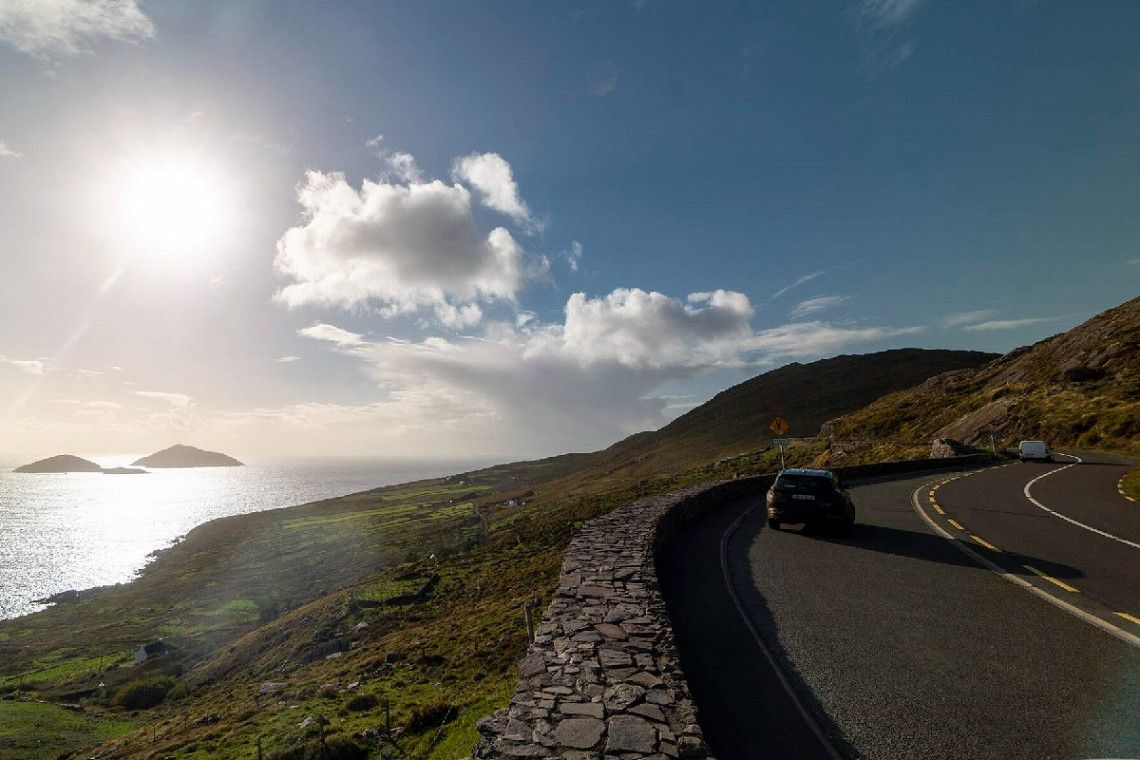 Ireland has stunning coastal roads, like here on the Derrynane coastal road – but it takes some getting used to left-hand traffic. Photo: Courtesy of Failte Ireland
The most important traffic rules for motorhomes and caravans in Ireland
Left-hand traffic: most visitors from mainland Europe often need a few days' driving practice in Ireland before they are comfortable with left-hand traffic. Therefore, given the weight and size of your motorhome or car/caravan combination, careful driving is a must. Try and avoid heavily frequented destinations and cities, at least in the first few days on the island, and instead switch to country roads with less traffic. This not only reduces the risk of accidents, but will also take you along scenic routes and stunning coastal roads. While on the ferry or just before leaving the ferry, set the headlights of your vehicle to left-hand traffic or tape off accordingly.
Speed limits on Irish roads
Road signs in the Republic of Ireland show speed limits in km/h, whereas Northern Ireland uses the British system of miles per hour (mph). You can take the speed limits in Great Britain as a guide for Northern Ireland.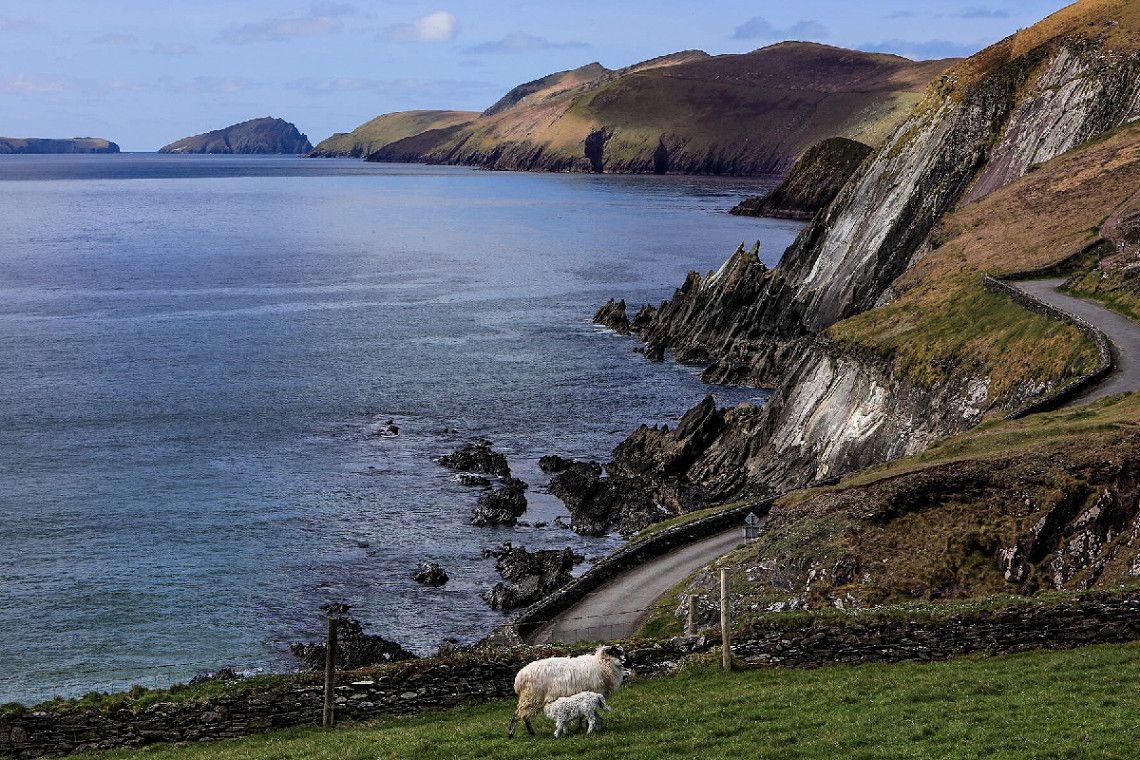 Follow the direction coaches are travelling in on small tourist ring roads such as the Ring of Dingle. Photo: Courtesy of Failte Ireland
Direction of travel for motorhomes and caravans on tourist ring roads
Larger camping vehicles, such as semi-integrated and fully integrated motorhomes and car/caravan combinations, should follow the recommended direction of travel when driving on tourist ring roads in Ireland. There is actually a reason for this: these roads are often very narrow and winding and used frequently by coaches and other large vehicles – but in only one direction. Therefore, do as they do and drive in the recommended direction, otherwise you will end up getting repeatedly stuck in oncoming traffic and blocking the entire road. For instance, buses drive on the Ring of Dingle on the Dingle Peninsula in a clockwise direction from Dingle Town. However, lorries and coaches travel anti-clockwise from Killarney on the Ring of Kerry (N70). Smaller urban campers and campervans that can manoeuvre easily in tight spaces do not have to stick to this rule. However, you will realise that it is considerably more relaxing when you adapt to the direction that the large vehicles are travelling in.
Tolls and environmental zones in Ireland
There are currently no environmental zones with specific access regulations in Ireland's cities. In Dublin, however, heavy goods vehicles with five axles or more are not allowed to enter the city between 7 a.m. and 7 p.m. every day.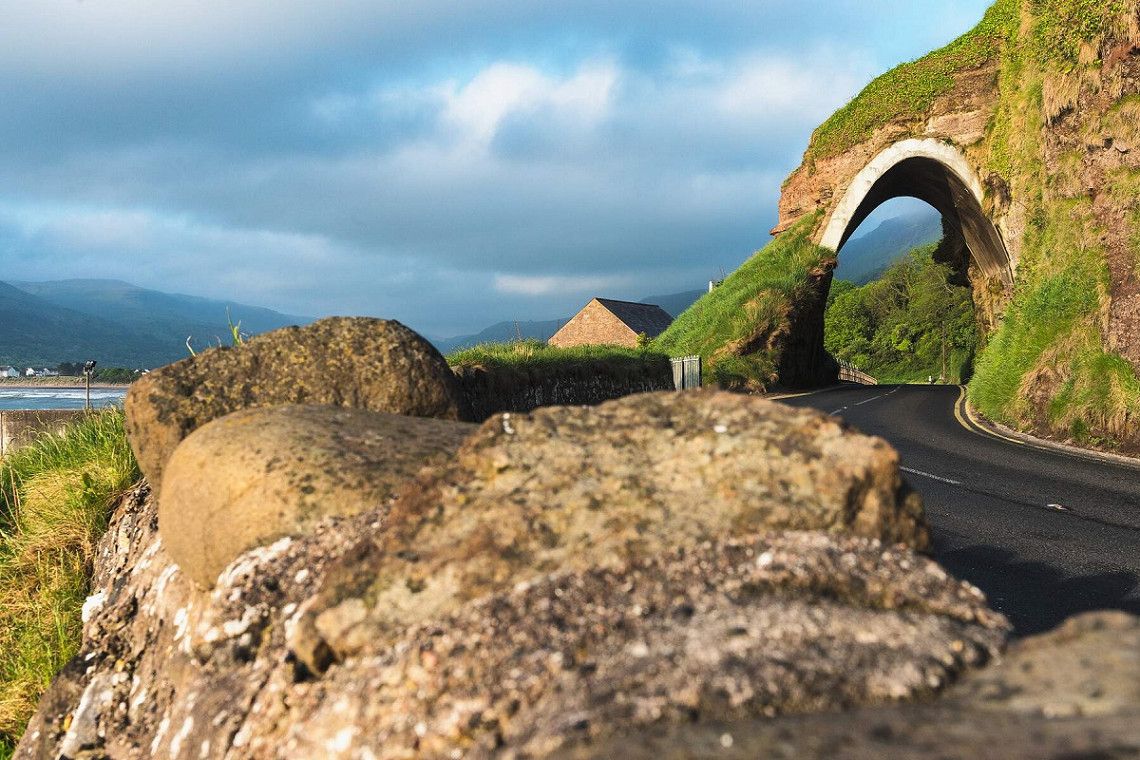 North of Waterfoot, the coastal road goes through the Red Arch. With such beautiful roads, who needs the motorway? Photo: Tourism Ireland photographed by Stefan Schnebelt
When it comes to tolls in Ireland, some motorways do impose an extra charge to use them, which varies depending on the motorway section you are driving on. Motorhome and caravan holidaymakers will be pleased to hear that they will be paying the same rate as car drivers, regardless of the permissible total weight. With the exception of the M50 (Dublin Ring Road), you can pay in cash (Euros) and at times by credit card at toll stations. You could also get an eToll box, but this is usually only worth it if you are a frequent driver. If you are planning on driving on the beautiful country roads and coastal roads of Ireland anyway, you won't really need a toll box.

There are no toll stations on the M50 around Dublin. Instead, a barrier-free tolling system called eFlow is in operation and detects number plates automatically. If you have not got a toll box, but want to or have to drive on the M50, register your vehicle's number plate in the eFlow system in advance or pay on the day following your journey at a shop or petrol station with the Payzone logo.

The Dublin Port Tunnel, the Limerick Tunnel and the East Link Toll Bridge are also subject to tolls, which you can pay at toll stations. Avoid driving through the Dublin Port Tunnel during rush hour as these times of the day are significantly dearer than the phases with less traffic.
Petrol stations in Ireland: opening times and payment methods
There is a well-developed network of petrol stations in Ireland, especially along motorways and main routes. Fuel prices vary from petrol station to petrol station and are stated in Euros in the Republic of Ireland and in pounds sterling in Northern Ireland. Almost all petrol stations accept both credit cards and cash.

At the petrol station, you first fill up at the pump and then pay at the till. Some petrol stations also have self-service pumps with credit card readers. Motorway petrol stations are often open 24/7, others from around 8 a.m. to 10 p.m. They often close earlier in rural areas.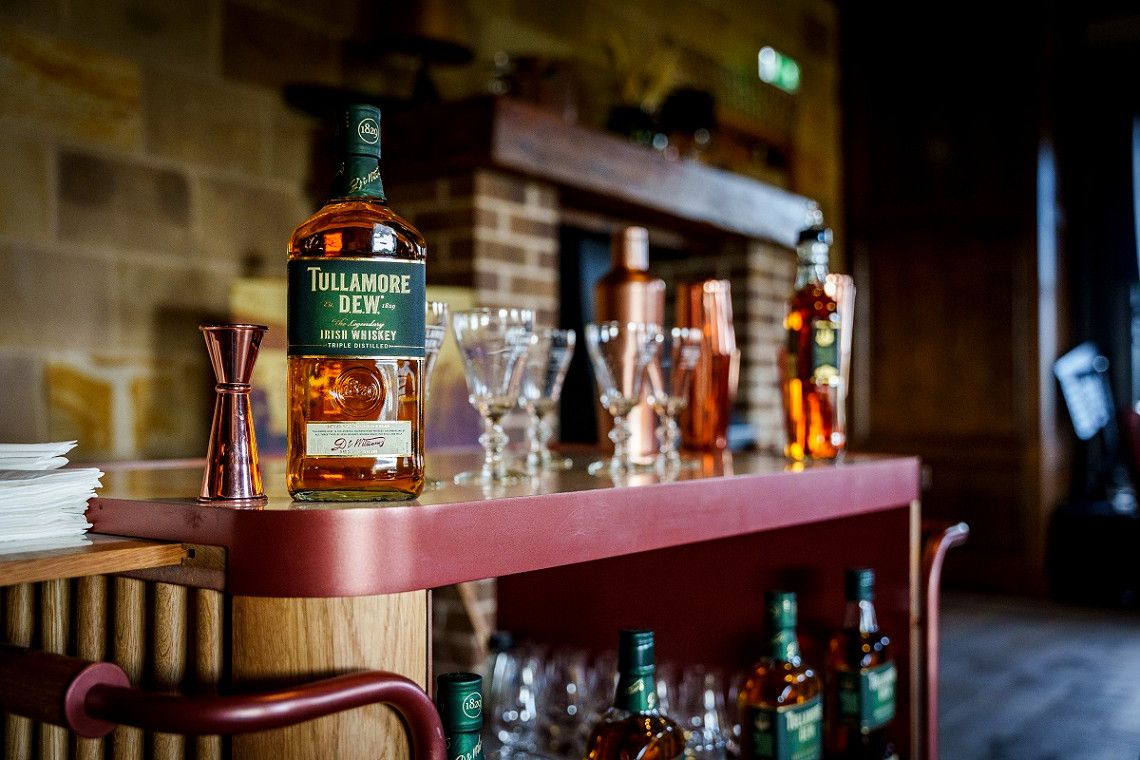 A visit to at least one whiskey distillery, like here at the Tullamore Distillery, is a must on any road trip to Ireland. But don't drive after a tasting. Photo: Courtesy of Failte Ireland
General traffic rules in Ireland
Alcohol limit: the legal alcohol limit for driving is 0.5‰ blood alcohol content and 22 micrograms of alcohol per 100 ml of breath. The limit for novice drivers who have had their driving licence for less than two years and professional drivers is 0.2 ‰ blood alcohol content and 9 micrograms of alcohol per 100 ml of breath. Even minor violations can result in fines and a temporary suspension of your driving licence. If you visit a whiskey distillery followed by a tasting, enquire in advance whether you can park your motorhome or caravan overnight in their car park, otherwise consider taking public transport there and back.

Driving licence and proof of insurance: an EU driving licence is sufficient for driving a motorhome or a car/caravan combination in Ireland. You must also carry the vehicle registration certificate with you.

In the Republic of Ireland, an EU car registration number with the relevant country code is sufficient proof of insurance. However, a Green Card (international motor insurance card) is recommended as this makes it easier to process any damage. If you also want to visit Northern Ireland during your camping holiday, you will need an international motor insurance card that covers Great Britain (GB). If this is not the case, you will be forced to take out short-term insurance at the border. This also applies if you travel to Ireland via Great Britain.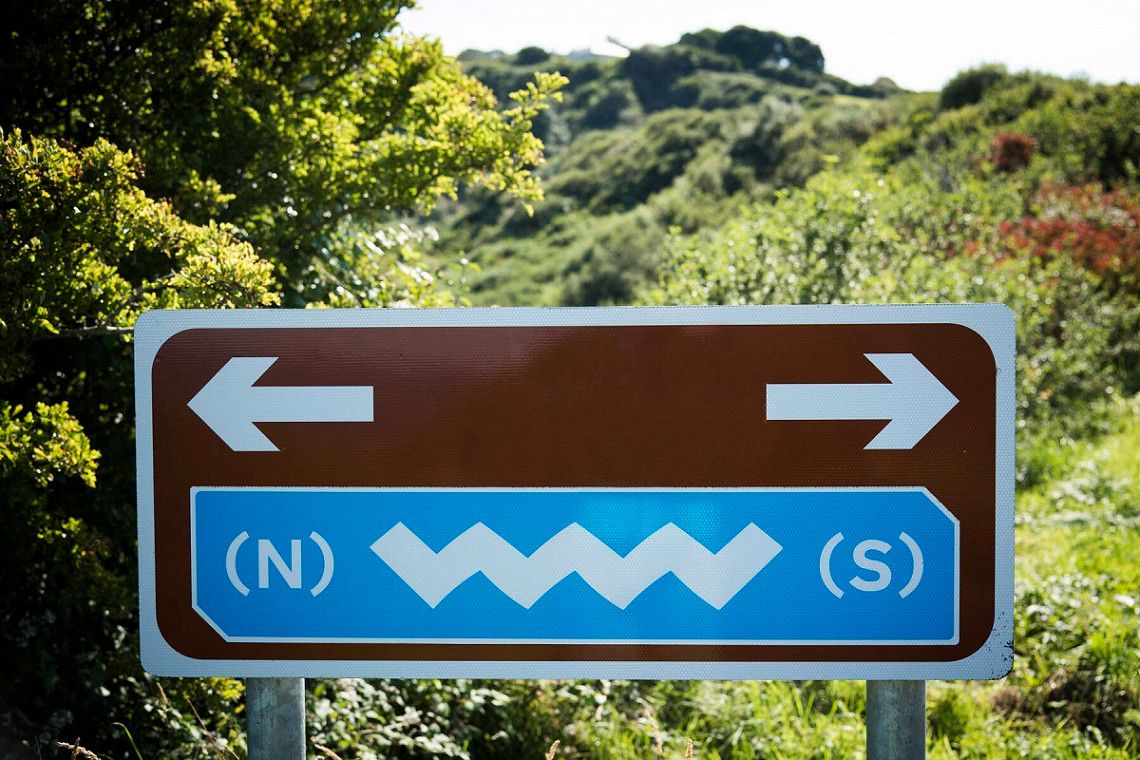 Brown road signs indicate tourist routes; the Wild Atlantic Way also has the wave symbol on a blue background. Photo: Tourism Ireland / Failte Ireland
Road signs: you will find motorways, two-lane dual carriageways, one-lane secondary roads with two-way traffic and small, winding country roads in Ireland. Motorways are identified by the letter M followed by a number. In the Republic of Ireland, National Primary Roads or national roads have the letter N and regional roads the letter R. Small roads do not have a letter. Brown road signs indicate tourist routes. In general, signage in Ireland is mostly bilingual (English and Gaelic). However, in Irish-speaking Gaeltacht regions where Irish is the official language and lingua franca, they are exclusively in Gaelic. Distances are stated in km in the Republic of Ireland and in miles in Northern Ireland.

The road signs in Northern Ireland are slightly different: an M also stands for motorways, an A for A-roads/national roads and a B for B-roads/country roads.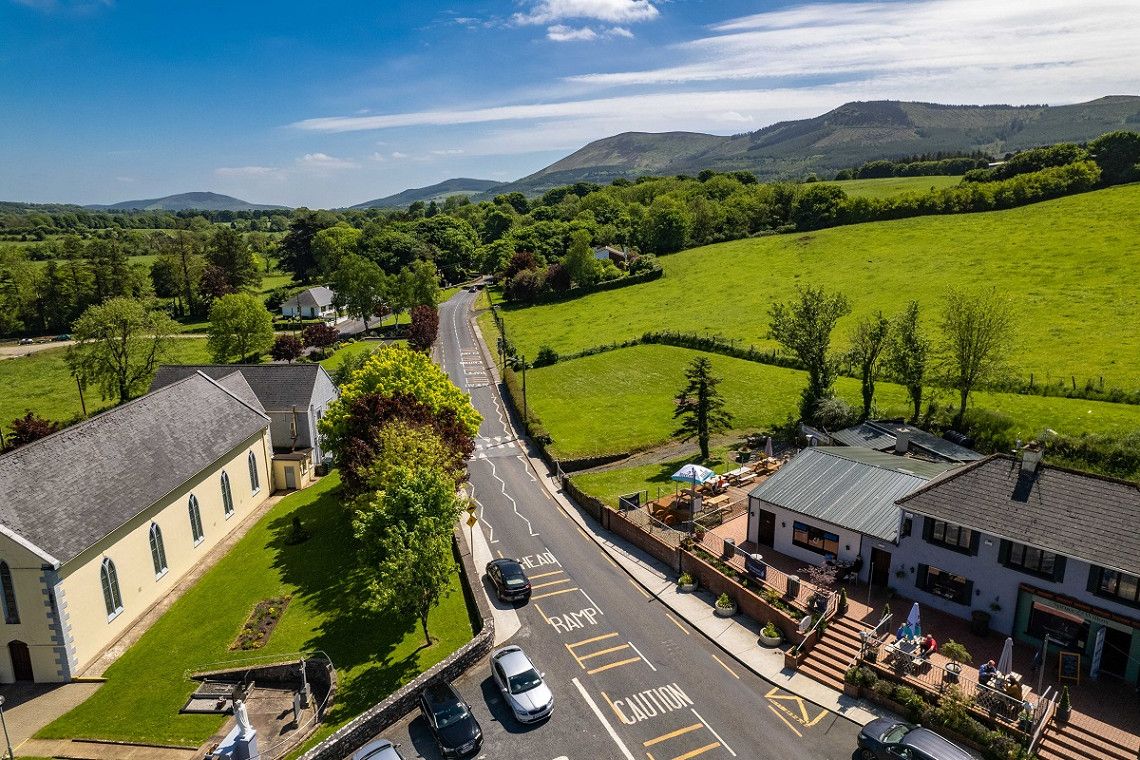 In Ireland, no-parking and no-waiting zones are usually marked by yellow lines on the roads, as shown here in the small municipality of Ardpatrick in County Limerick. Photo: Courtesy of Ballyhoura Fáilte
No-parking and no-waiting zones: a double yellow line and yellow zigzag lines always mean no parking or no waiting at any time; a single yellow line means no waiting at certain times of the day as indicated on nearby signs. Red and black signs, which are often attached to lampposts, indicate Controlled Parking Zones where you are not allowed to leave your car unattended, otherwise it could get towed. Official parking areas are usually signposted and can often be used with a parking disc or a parking ticket (Pay and Display). Parking machines can be paid for in part with coins, in part electronically via specific apps.

Mobile phone use in vehicles: you may only use a mobile phone in a hands-free device while driving.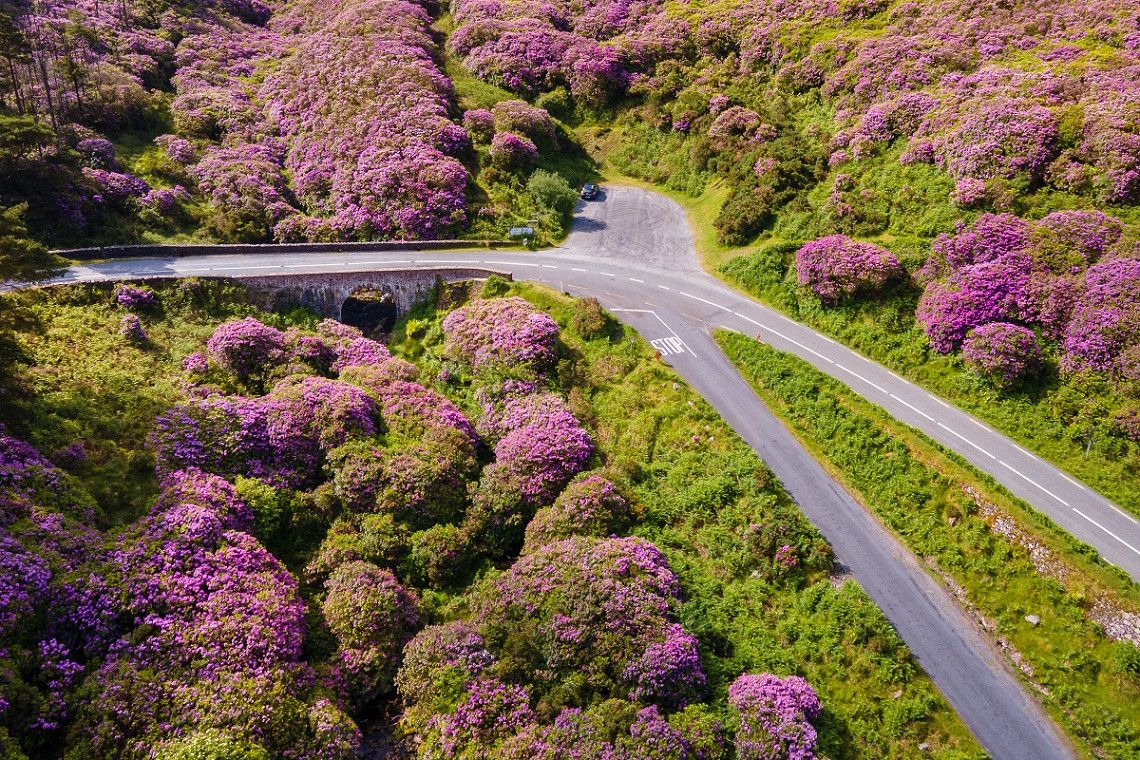 Despite driving on the left, traffic coming from the right usually has right of way in Ireland – here is an example on the Vee Scenic Drive. Photo: Courtesy of Tipperary Tourism
Roundabouts and right of way: despite driving on the left-hand side of the road, traffic coming from the right has right of way, unless otherwise indicated by Stop, Yield or Géill Slí (Gaelic) markings. This also means that when entering a roundabout, of which there are many in Ireland, you must turn left and give way to vehicles coming from the right already on the roundabout. Indicate when exiting the roundabout.

Light requirements: there is no general obligation to drive with dipped beams or daytime running lights during the day when it is bright. However, when there is bad weather and visibility is restricted, you have to turn on the lights.

High-visibility vest requirement: there are no regulations in Ireland regarding high-visibility vests in vehicles. However, it is advisable to have safety vests for everyone travelling in the car or motorhome.
Child car seats: children weighing less than 36 kg or smaller than 150 cm have to use a child seat or booster cushion with a restraint system suitable for their height and weight.

Winter tyres: winter tyres are not compulsory in Ireland, although they are recommended for difficult driving conditions in autumn and winter. Snow chains can be used when the roads are completely covered with snow, which rarely happens in Ireland.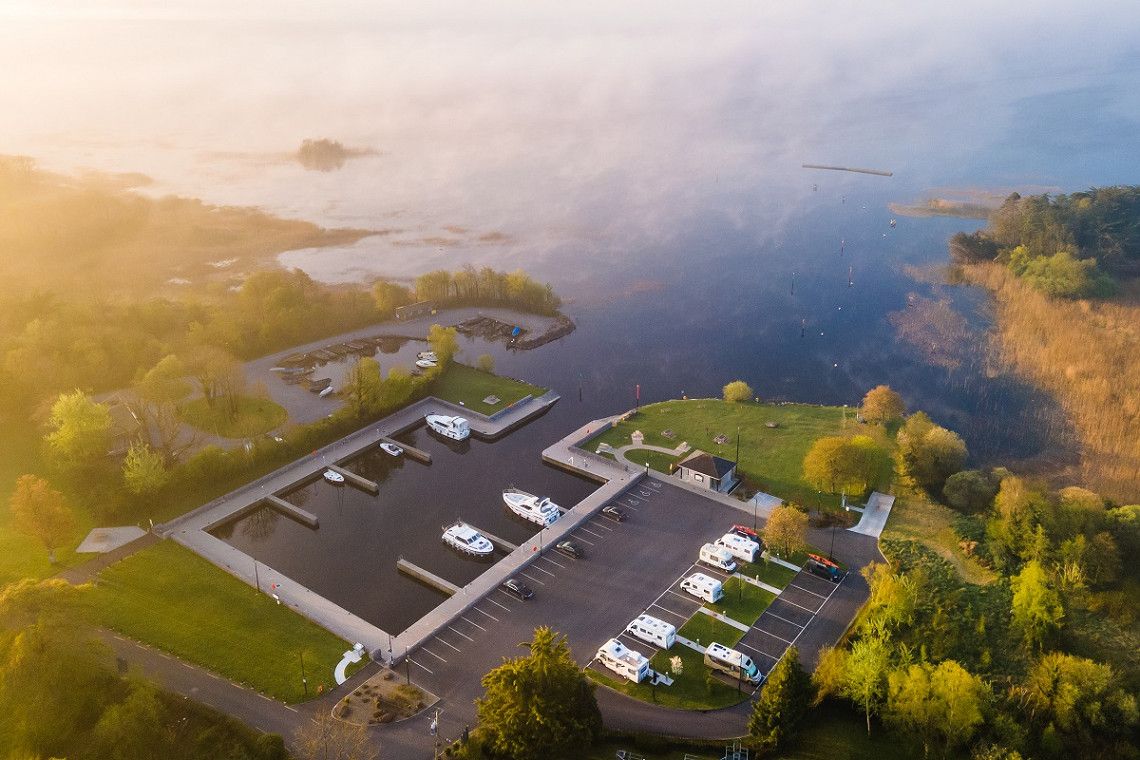 The Portumna RV park on Lough Derg offers year-round camping. Photo: Courtesy Destination Lough Derg
Wild/free camping: the national camping season in Ireland usually starts around Easter and ends in October, but some of the official campsites and many RV parks in Ireland are also open all year round. During the peak travel season between June and August, it is advisable to book your campsite in advance. Wild and free camping are generally not permitted in Ireland unless the local authorities have specifically allowed it by placing signs in designated areas or you have obtained the owner's permission on their private property. Much of Ireland's land is privately owned and reserved for grazing livestock. However, the majority of locals would not mind you parking your motorhome considerately for the night as long as you ask permission and leave the place as you found it.
Motorhome hire in Ireland
If you want to travel to Ireland with your own motorhome or car/caravan combination, you will have a long journey ahead of you – either by driving directly to Ireland via a ferry or by combining your trip to Ireland with a tour of Great Britain and a ferry crossing. If your time is limited or you do not have your own motorhome, we recommend renting a motorhome or campervan in Ireland – a great solution if you do not want to drive on the left-hand side of the road with your own left-hand drive vehicle.

For instance, the Freeontour partner McRent offers a wide range of camping vehicles at its two rental stations in Ireland, ranging from agile campervans to fully integrated motorhomes or alcove motorhomes with plenty of space for the whole family. Very practical: the McRent rental station in Dublin is only about two kilometres from Dublin Airport, allowing you to get to Ireland quickly to start your motorhome trip around the Emerald Isle.
Important addresses and telephone numbers for holidaymakers in Ireland
European emergency number: 112 or 999
Call either of these two central emergency numbers in the Republic of Ireland to get help from the local police, fire brigade, emergency doctor or ambulance. Calls are free from a landline and mobile phone, no area code is needed.

In Northern Ireland, you can only contact the police and emergency services on 999.