You've decided to take your bikes and sports equipment with you on your next trip, but your campervan or camper is packed to the roof – not a problem if you've installed a suitable rear rack. Read more to find out which carrier systems are available and what to look out for when buying one.
Many campers who go on holiday in a converted box van or a campervan enjoy being active in the outdoors, as amateur athletes, mountain bikers or touring cyclists. But apart from a few exceptions with a long wheelbase and fold-up bed or versatile furnishings and fittings, most floor plans prevent quick and easy access to two-wheelers of any type – be it bicycles, e-bikes or even scooters.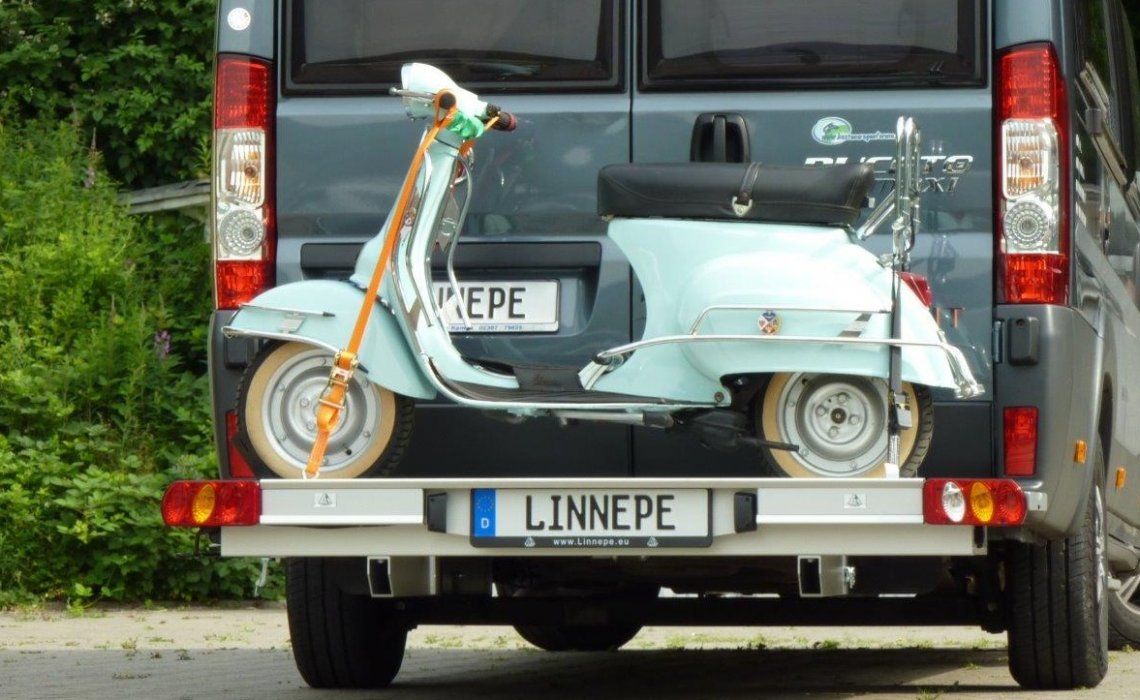 The Linnepe SlidePort can be moved sideways to allow access to the rear door. Photo: Linnepe
Factors to consider when choosing a campervan bike rack
As a simple transport solution, rear/load carriers come in a wide range of shapes and load-bearing capacities – and not just for bikes. Many of these sturdy constructions are also designed to accommodate storage boxes and special brackets for leisure equipment. The weight of what you intend to transport on the rear rack has a great impact on which type of rack mount you ultimately buy. The following three types are recommended for campervans: bicycle carriers that are screwed to the hinges of the rear doors or attached to the rear doors in some other way; carrier systems that are attached to the tow bar or models in the shape of sturdy frame extensions.
Rear door racks have a load capacity of up to 80 kg and are only suitable for bicycles or e-bikes. Tow bar mounted racks are usually designed to hold up to 150 kg on average, but they can also take a scooter. Racks mounted on the vehicle frame extension can take the highest load capacity – up to 200 kg. A light mid-range motorcycle can then be transported on their platforms, provided that neither the rear axle load nor the maximum permissible load is exceeded.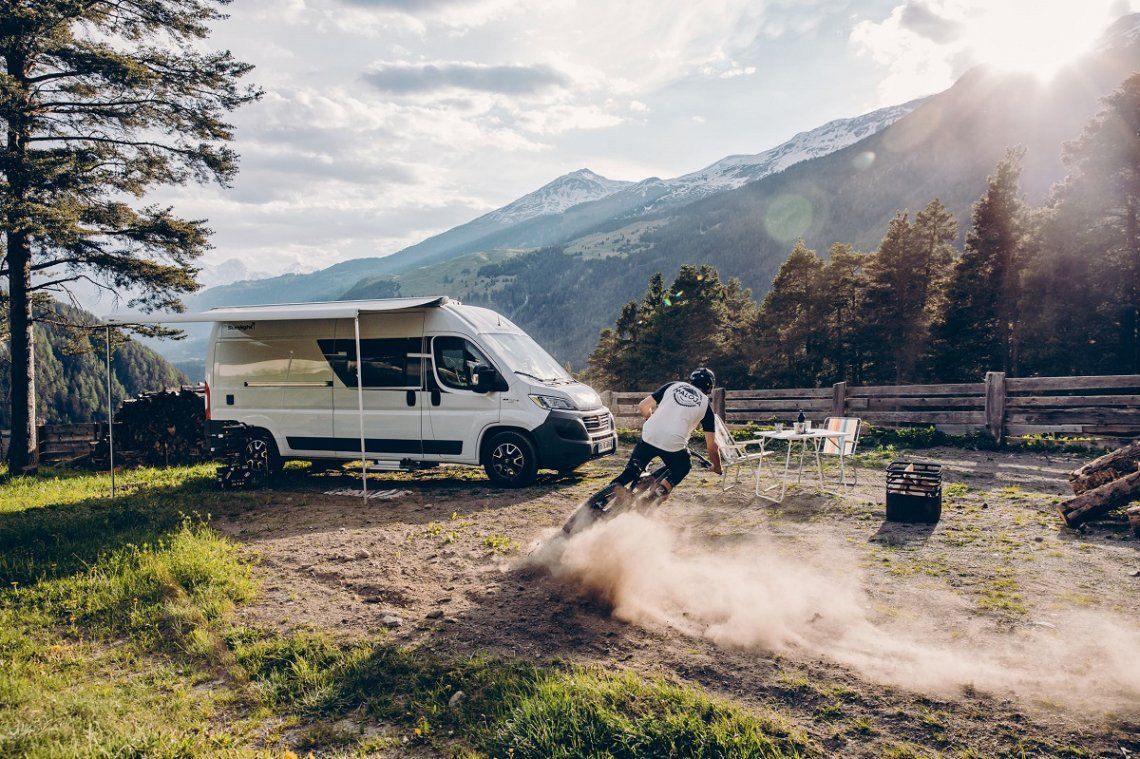 When choosing a bike rack for campervans, make sure that you can still open the rear doors. Photo: Sunlight
In addition to all these options, you need to pay attention to the rear doors of your campervan or box van. If you plan on mounting a bicycle rack that has been designed for a car or motorhome, you will usually not be able to open either the rear doors or the rear window. And since the rear doors give most campervan owners the best access to storage space and gas bottles, this kind of bike rack is more frustrating than beneficial. For this reason, camping accessory shops and campervan manufacturers offer rear bike racks specially adapted for box vans. They are only mounted on one rear door so that the doors can be opened even when loaded with bicycles. The Sunlight bike carrier for campervans does not even require screws or drilling in order to be mounted. Instead, the rails are glued to the rear door and the bike rack then clamped onto it. Moreover, the transport rails for the bicycles can be set to three different heights.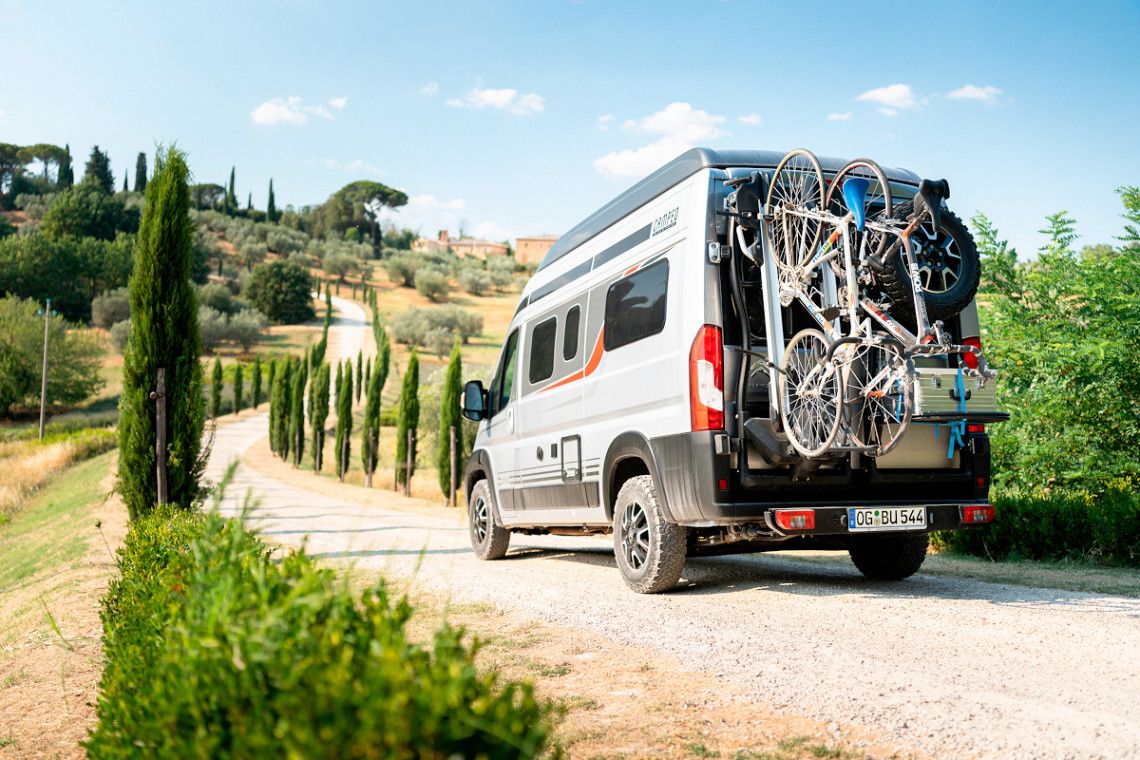 Flexible carrier systems, such as the Backrack+, allow you to transport all kinds of components on the rear of your vehicle as needed. Photo Bürstner
Versatile systems enable a flexible load
In general, all carrier systems developed for campervans are designed in such a way that the rear wing doors can still be opened. They can either be swivelled to the side or back, tilted or lowered, depending on the model. If you only want to transport bicycles, all you need is a bicycle rack, as described above. However, systems with a base carrier or a loading platform are more versatile. Individual brackets for all types of two-wheelers or transport boxes can be mounted onto them as needed.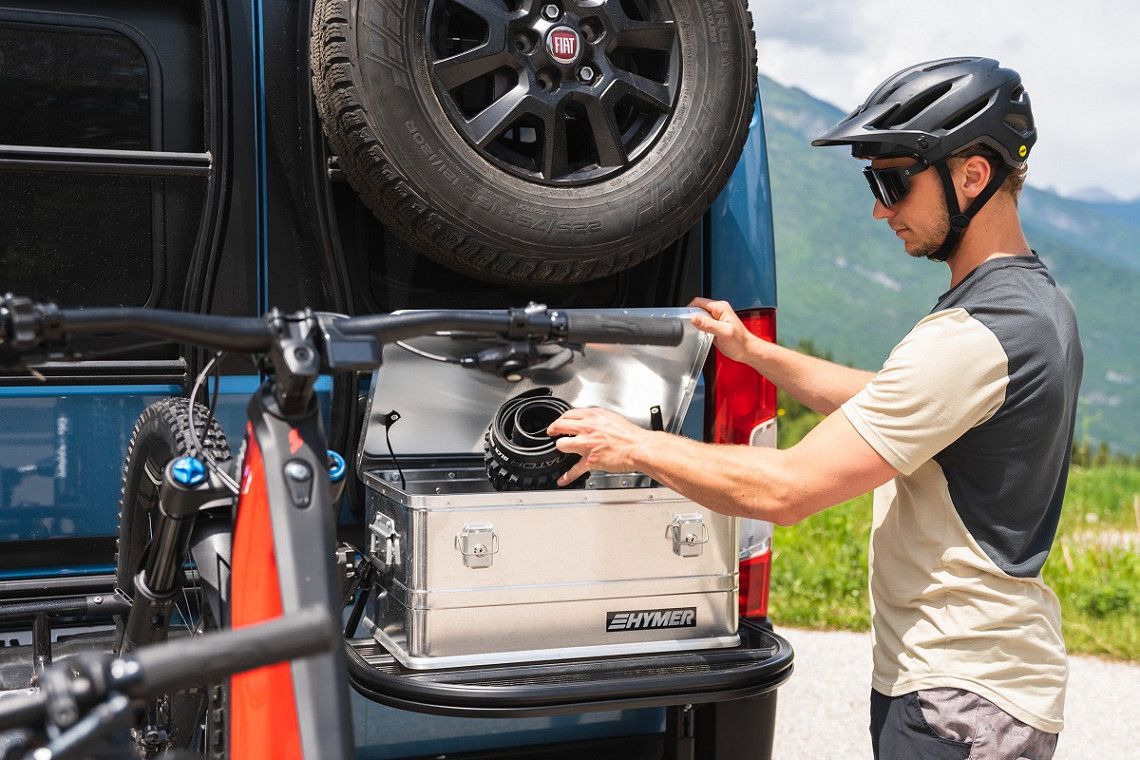 The Backrack+ component carrier can be customised with a wide range of modules. Photo: Hymer
Backrack+: an adaptable component carrier
The manufacturers Hymer, Bürstner and Etrusco have created an innovative and flexible component carrier with a load capacity of 80 kg for campervans with a Fiat Ducato or Citroën Jumper chassis. The Backrack+ base carrier can be mounted on one or both rear doors. The component carrier is simply screwed together with the vehicle's standard hinges. You won't have to update your vehicle's documents, while the area around your tow bar remains accessible at all times. You can  easily customise the Backrack+ base carrier with a wide range of modular components, such as the Mini Rack to stow additional luggage, the Wheel Holder for your spare wheel or the Number and Light Bar with a fold-down step function.
Innovative highlight: Bike Carrier Swing
It goes without saying that you can also use the Backrack+ to transport bicycles. A simple and practical solution is the Bike Carrier Swing module that can accommodate two bicycles/e-bikes weighing up to 30 kg per bike rail. Loading the bike carrier is extremely easy, even for people who don't necessarily have strong arms or are very tall:

To mount your bike(s), swivel the carrier out and place it onto the ground. Then simply push your bikes onto the rails and attach to the brackets. Subsequently, swing the carrier to the side and upwards and click into the Backrack+ in an upright position. The force required to operate the swivel arm is a mere 10 kg, regardless of whether loading or unloading your bikes. Due to the swivel function, the Bike Carrier Swing is currently only available for the left rear door, so you can take a maximum of two bikes with you on your trip. The right door remains fully accessible.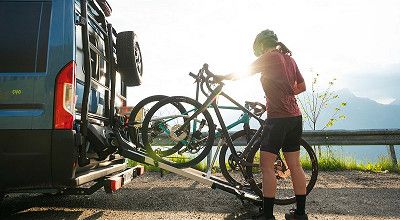 Simply push the bikes onto the Bike Carrier Swing and attache the bike with the brackets. Photo: Hymer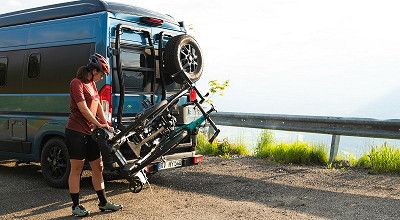 After attaching the bikes to the Bike Carrier Swing brackets, simply pull the swivel arm to the left. Photo: Hymer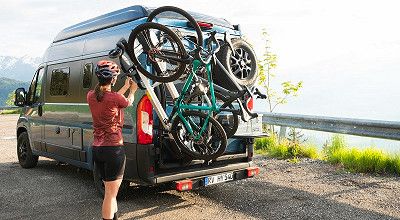 It only takes an actuating force of a mere 10 kg to fix the Bike Carrier Swing to the Backrack+. Photo: Hymer
Alternative: Bike Carrier Shuttle
If you want to transport more than two bikes with the Backrack+, you can fit a Bike Carrier Shuttle to both the left and right rear door. This module can also accommodate two bicycles/e-bikes weighing up to 28 kg per bike rail. However, it takes slightly more effort to operate: the bikes are mounted vertically into the bike carrier by first applying the bike's rear brake and placing it onto its rear wheel. Then all you have to do is lean the front wheel against the rear edge of the Bike Carrier Shuttle and roll the bike via the front wheel into the bracket with minimal effort. Once the bike is mounted in the bracket, simply secure the wheels. 

These two Backrack+ bike carrier components as well as the other component carrier modules and  the base carrier can be ordered from and retrofitted by dealers of the brands Hymer, Bürstner and Etrusco.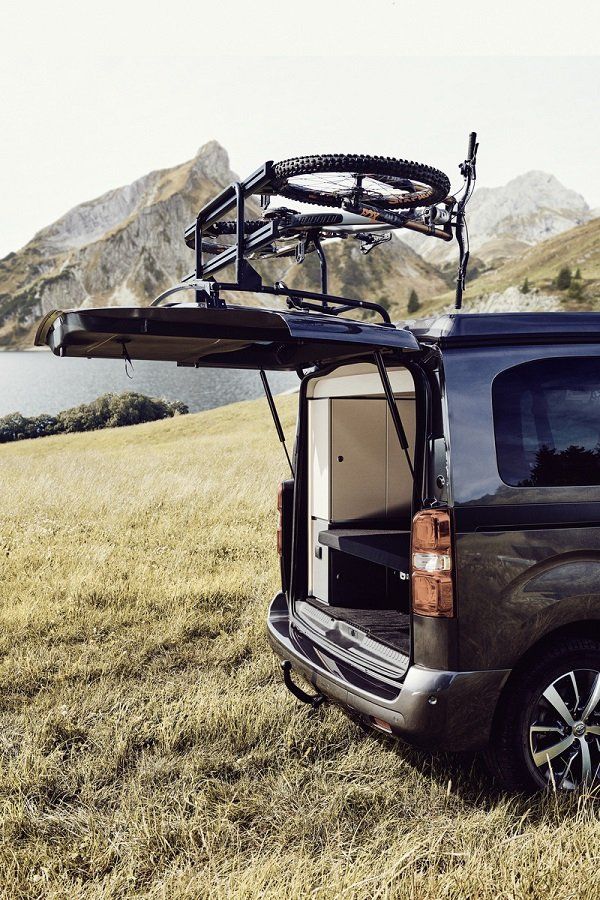 The Crosscamp bike rack allows the tailgate to be opened even when it is loaded. Photo: Crosscamp
Bicycle racks for campervans: tailgate or tow bar?
You will also find a host of bicycle rack systems for smaller campervans with a tailgate that swivels upwards, including ones that can be clamped directly onto the tailgate and fastened with tension straps. In this case, you will have to use pure muscle power to lift and hold the weight of your bicycles when you lift the tailgate as standard gas shock absorbers are usually not able to cope with the additional weight. Some tailgate bike racks also have advantages for campervans: the Crosscamp tailgate bike rack, for example, allows the tailgate to be opened when the rear rack is mounted and even loaded with bicycles. Therefore, the tailgate can also be used as spontaneous sun protection or as a canopy in light rain. The bike rack is simply attached to the tailgate and does not have to be screwed or glued, which means it can be quickly removed for everyday use. A slight disadvantage: the transport rails for the bicycles are mounted quite high on tailgate bike racks, so your arms will need to be strong enough to be able to lift the bikes onto them. Moreover, when buying a bike rack for the tailgate, you always have to make sure that the rack is compatible with your vehicle. However, the advantage here is that tailgate bicycle carriers usually weigh less than tow bar mounted racks. This can also be beneficial when it comes to the permissible rear axle load.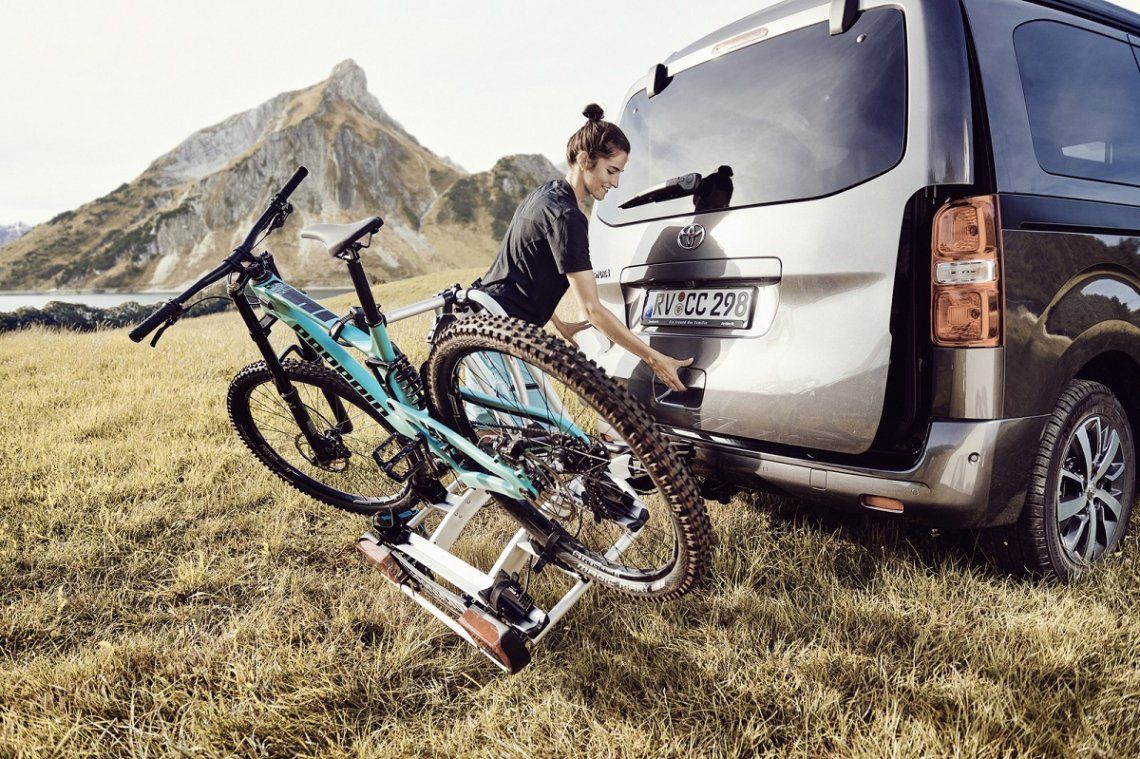 A fold-away tow bar bike rack allows the tailgate of the camper to be opened. Photo: Crosscamp
A key advantage of a tow bar mounted rack is the low loading height. The bicycle or e-bike no longer has to be lifted up and down, which can otherwise be quite cumbersome. Another advantage is that this kind of bike rack is suitable for most tow bars, therefore you can easily use it on your second car or lend it to friends. However, anyone who opts for a rigid tow bar mounted rack has to accept that the carrier will block the tailgate. But sophisticated solutions are available. Take for instance the Crosscamp tow bar bike rack whose roller system enables it to be easily folded down to open the tailgate. Our tip for anyone who doesn't want to overexert themselves while loading the bike rack: fold it back down again to lower the loading height.
Pay attention to quality
If you want to enjoy your rear rack system for a long time, make sure that the material is of good quality: most racks are made of aluminium. Where steel parts are used, e.g. on frame extensions, they need to be protected against corrosion (for instance, by hot-dip galvanising). And regardless of whether you are a technically-minded buyer or not, make sure that the carrier system can be mounted and removed again with just a few tools and little effort. Look out for packages with the appropriate lashing eyes, safety straps and fixings.

Moreover, you also need to observe important road traffic regulations when loading the rear rack. This will differ from country to country, but in Germany, for example, the distance from the outer edge of the transported goods to the centre of the rear light may not be more than 40 cm and the width may not exceed the 2.50 m limit. And before setting off on your journey, remove parts that can easily become loose or detached, e.g. the air pump on a bike, and stow in the vehicle.