Latest update: January 5, 2023  
Entry into Switzerland
Entry requirements for EU citizens: when visiting as tourists, EU citizens need a (temporary) passport or a (temporary) ID card or a child passport.
Entry requirements for British citizens: when visiting as tourists, British citizens need a (child) passport that has at least three months of validity after you plan to leave and is not older than ten years when entering the country. You will not need a visa if you stay up to 90 days every 180-day period. Visits to Schengen countries within the previous 180 days before you travel count towards your 90 days. Stays of more than 90 days will require a visa.
Entry requirements for children:
minors (under 18 years of age) travelling with you, e.g. friends of your children, should carry a certified declaration of consent from their parents or legal guardian.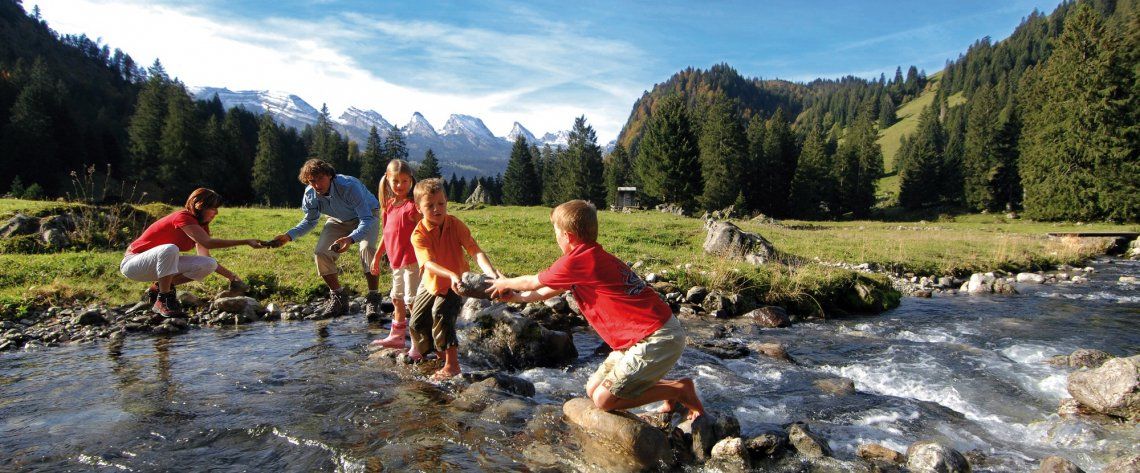 Family holidays in Switzerland mean adventure and lots of nature, e.g. on Laui-Alpli above Unterwasser in Toggenburg. Photo: Switzerland Tourism
Entry requirements for pets from an EU country: dogs, cats and ferrets need an EU pet passport, microchip identification and a valid rabies vaccination that is at least 21 days old. Animals younger than 15 weeks are not allowed to enter Switzerland. Warning: dogs with cropped ears or docked tails are prohibited in Switzerland. However, holidaymakers can enter the country with such a dog if they declare it at customs and pay a deposit, which will be refunded when they leave the country.

There is no uniform dog legislation in Switzerland. Each canton sets their own regulations for leash requirements and breed restrictions. Therefore, find out in advance about the laws in your destination.
The most important traffic rules for motorhomes and caravans in Switzerland
Speed limits in Switzerland for cars, campervans and motorhomes
Speeding violations can result in high fines. For instance, if you exceed the speed limit by 1-5 km/h in and outside built-up areas, you will have to pay a fine of CHF 40 (approx. €40.70); by 21-25 km/h outside built-up areas CHF 260 (approx. €265). Even higher offences always result in a charge and an even higher fine. Road rage in Switzerland can even be punished with imprisonment for up to a year.

Special rules for car/caravan combinations
Car/caravan combinations are not allowed to use the left-hand lane on a three-lane motorway.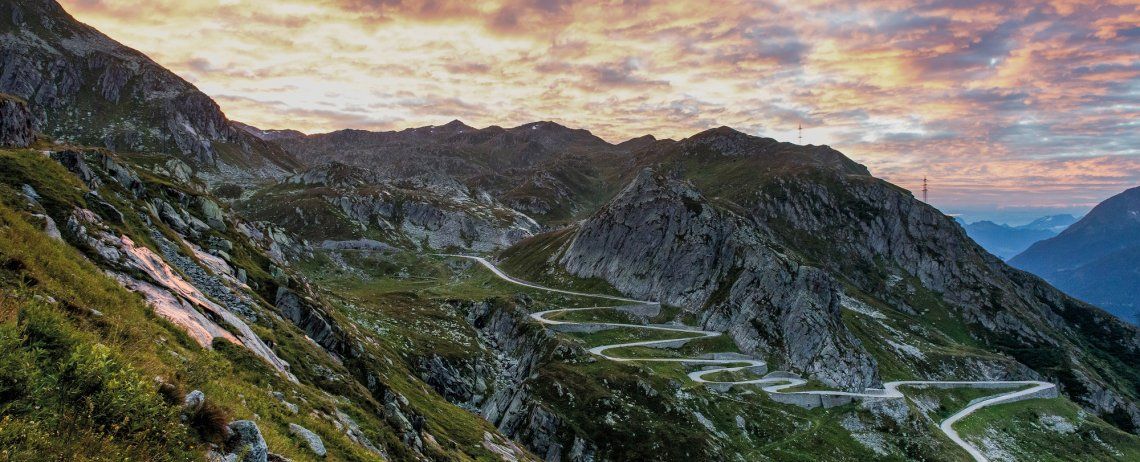 The Gotthard Pass is included in the Swiss toll fees and can also be used by mobile homes without weight restrictions. Photo: Switzerland Tourism
Toll roads in Switzerland
Tolls have to be paid when you enter Switzerland. The system is simple: you buy an annual vignette (CHF 40, approx. €40.70, in 2023) and can use all the Swiss motorways and national roads for 14 months. Additional tolls have to be paid on two sections: at the Great St Bernard Tunnel and Munt la Schera Tunnel. The annual vignette is valid from 1st December of the previous year to 31st January of the following year for all vehicles and trailers with a total weight of up to 3.5 tonnes. You can get the vignette directly at the border and at petrol stations near the border. You can also order the vignette online.

Important: a separate vignette is required for trailers and caravans even if the towing vehicle already has a vignette. It has to be attached "on an easily accessible and non-removable part" of the trailer. If for some reason this is not possible, the authorities will tolerate the vignette being stuck on a copy of the vehicle registration certificate and carried with you so that it cannot be stolen.

The "lump-sum heavy vehicle charge (PSVA)" must be paid for vehicles weighing 3.5 tonnes or more. You can find more information on how it is calculated here.
Petrol stations in Switzerland: opening times and payment methods
Most petrol stations in Switzerland are open from around 6 am to 11 pm, but there are also petrol stations in large cities and on the motorways with a 24-hour service or parking meters. You can pay in cash or by debit card.
Speed violations in Switzerland can be expensive. Photo: Pixabay
General traffic rules in Switzerland
Light requirements:
In Switzerland, lights are required all year round, including during the day. So always remember to switch on your dipped beam or daytime running lights.

Alcohol limit:
The permitted alcohol limit in Switzerland is 0.5‰. For novice drivers with less than four years of driving experience, the limit is 0.1 ‰. Violations are punishable by fines, driving licence confiscation and – in case of serious violations – even with imprisonment.

Child car seats

:

Child seats are compulsory for children under twelve years of age and smaller than 1.50 m. For vehicles with foreign registration plates, the rules of the country in which the vehicle is registered apply.

High-visibility vest requirement:

High-visibility vests are not mandatory in Switzerland. Nevertheless, it is recommended to have them in your vehicle in the event of a breakdown or an accident.

Overhanging load markers:

In general, overhanging loads must always be conspicuously marked. In principle, the load is not allowed to protrude beyond the width of the vehicle. Exceptions apply to sports equipment that cannot be taken apart and with a maximum width of 2.55 m on sports equipment trailers and bicycles that are attached to the rear of the vehicle if the overhang is not more than 20 cm per side and the total width is not more than 2 m. Likewise, the headlights and the number plate may not be covered by the load. However, a warning sign is not mandatory. You can find more information on the

Swiss load law here

.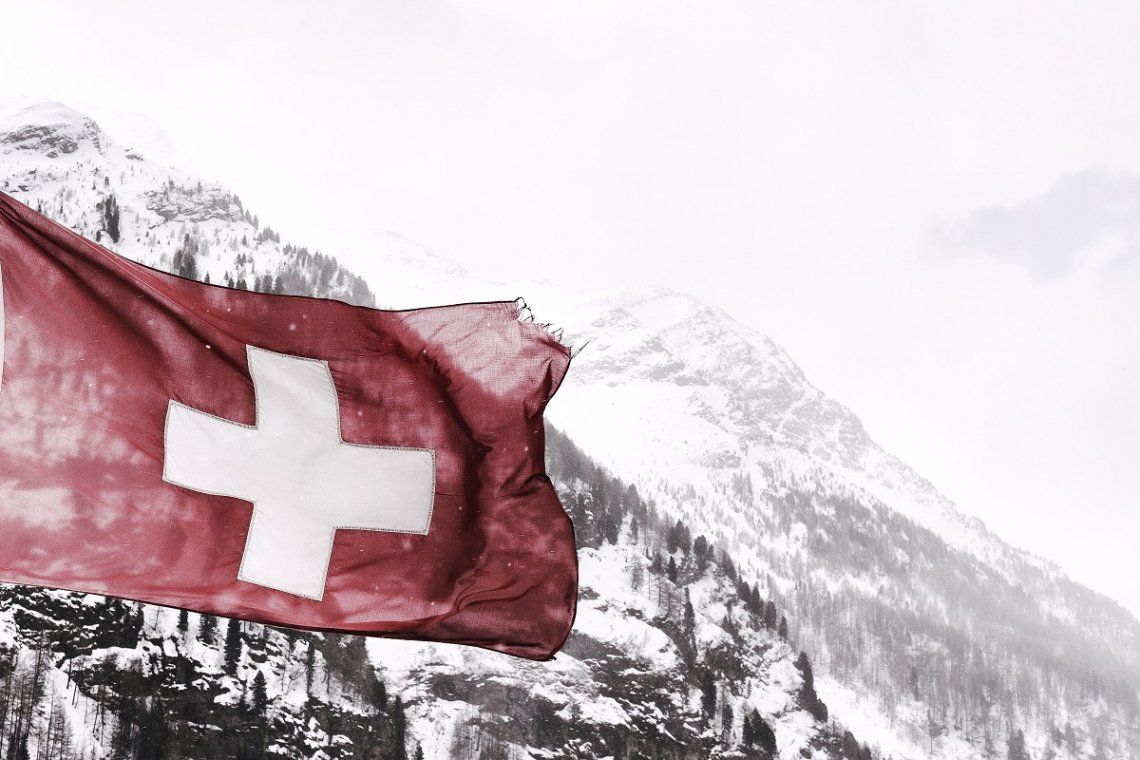 Always have snow chains in your vehicle in winter in Switzerland. Photo: unsplash.com

Winter tyres and snow chains:
Winter tyres are not required in Switzerland. However, they are recommended because the driver is legally obliged to drive a safe vehicle. And since it is not considered safe to drive with summer tyres in winter conditions, this is actually a criminal offence in Switzerland. Some regional roads are subject to winter tyres and sometimes snow chains. Moreover, the use of studded tyres for vehicles up to 3.5 t GVW is permitted between 1st November and 30th April. Each canton may also extend this period or allow its use on certain routes. So make sure you make your motorhome ready for winter. You can find more tips here.

Mobile phone use in vehicles:
You may only use a mobile phone in a vehicle for telephone calls or navigation with a hands-free device.
Important addresses and telephone numbers for holidaymakers in Switzerland
European emergency number: 112
Ring this central emergency number to get help from the local police, fire brigade, emergency doctor or ambulance. Calls are free from a landline and mobile phone, no area code is needed.

Roadside assistance:
Please check with your car insurance company or breakdown cover provider before travelling to Switzerland.