Caravanning in winter doesn't always have to revolve around skiing. How about a mix of culture, outdoor activities, culinary delicacies and relaxation? The rustic town of Chur in the Swiss Alps has everything you could want from a great winter holiday – so why not discover Heidi's world on your next winter adventure?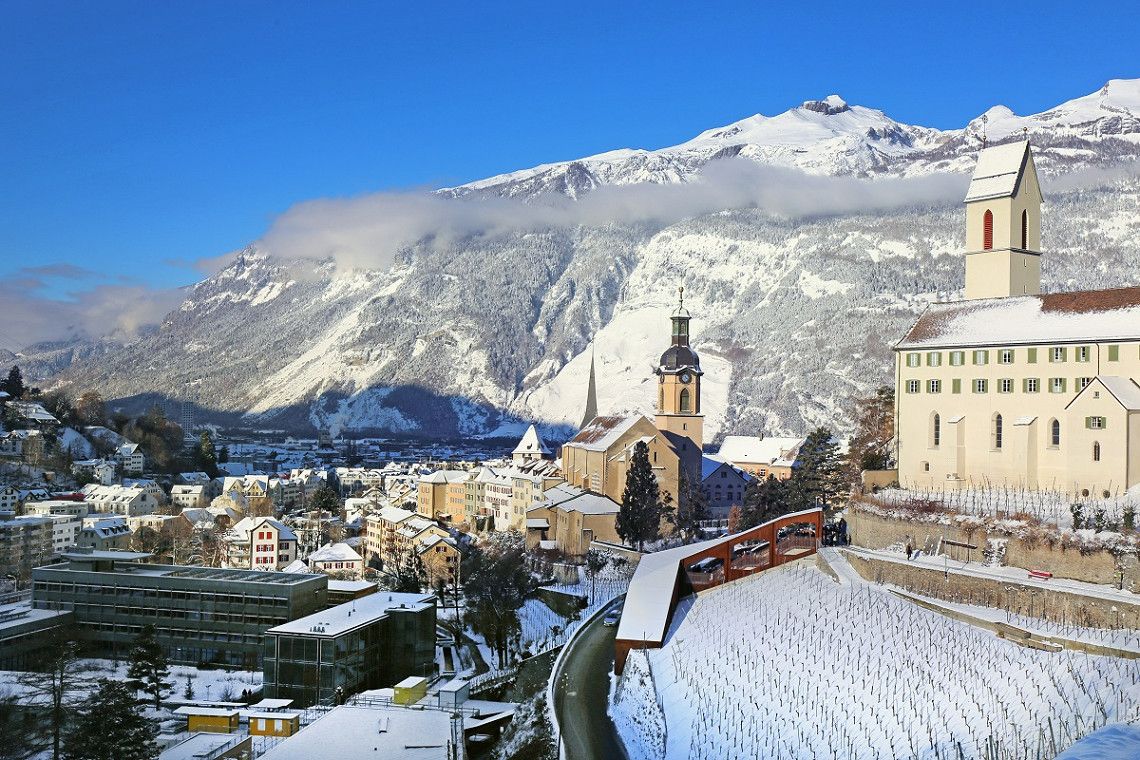 Located on the Rhine, the Alpine town of Chur is surrounded by several mountains. Photo: Chur Tourismus / Yvonne Bollhalder
Where exactly is Chur?
Chur is the capital of the Canton of Graubünden in eastern Switzerland. The city lies in the Alpine Rhine Valley, roughly in the middle of the Alpine arc that runs from Vienna in the east to Nice on the French Riviera. Almost 600 m above sea level, the city is easy to access by motorhome or caravan, even in winter. Nestled in the mountains of Brambrüesch, Calanda, Mittenber, Fürhörnli, Montalin and Pizokel, the city is in the fortunate position of being able to offer winter sports enthusiasts the best conditions for cross-country skiing, downhill skiing, tobogganing and winter hiking. To enjoy this winter wonderland in the Alps to the full, make sure your motorhome or caravan is winter-proof and find out in advance what the rules and regulations are regarding winter tyres, tolls and traffic laws for caravan and motorhome owners in Switzerland.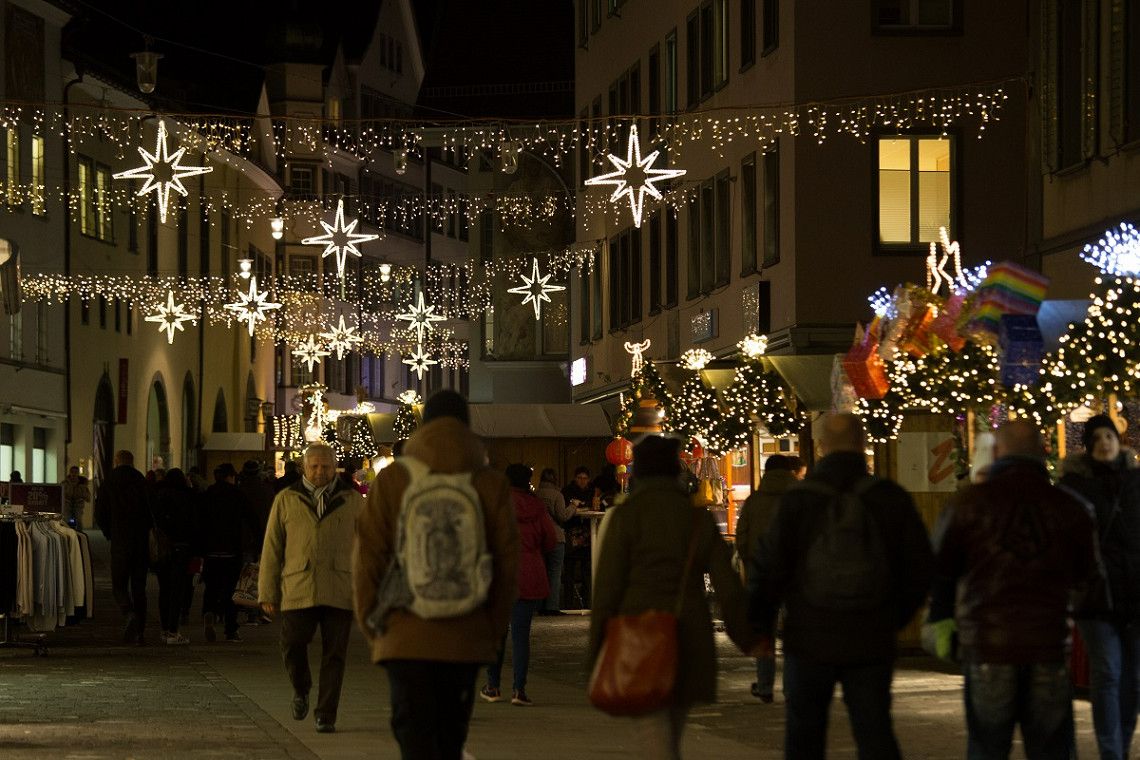 During the Advent season, the Old Town of Chur is transformed into a Christmas market. Photo: Chur Tourismus / Yvonne Bollhalder
Culture and sights in Chur
With evidence of human settlement stretching back 5,000 years, Chur is the oldest city in Switzerland. The historic Old Town with its winding streets is one of the most beautiful and intact of its kind in Switzerland. It's completely car-free, making it easy to explore on foot. You'll find small cafés and restaurants on every corner where you can relax and enjoy the environment after (window) shopping at the charming boutiques in the quarter. During the Advent season, the pedestrian zone is also transformed into a Christmas market (2022: 25th November to 23rd December) where you can stock up on culinary delicacies, decorative objects and regional handicrafts. Head to Poststraße to try out a variety of winter activities such as curling and cross-country skiing.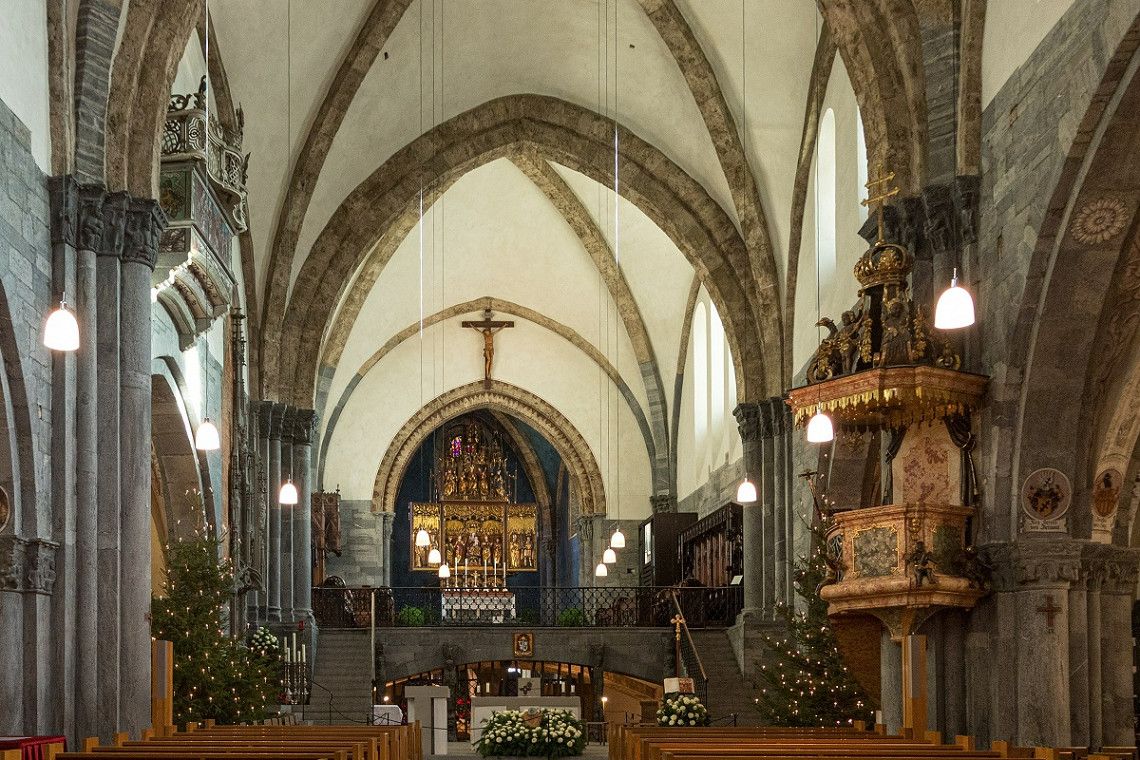 The late Gothic high altar is the focal point of Chur Cathedral. Photo: Pixabay
But Chur also has a few treasures in store for culture lovers. Housed in a Baroque patrician house that was built in 1675, the Rätisches Museum in the Old Town presents the history of the city and the Canton of Graubünden; the Natural History Museum and the Art Museum regularly hold temporary exhibitions; and the municipal theatre shows modern and traditional plays. The landmark of Chur's city centre is the Gothic/Romanesque Cathedral of the Assumption of Mary, which towers over the Old Town and whose construction started in 1150. It has a magnificent interior – especially noteworthy are the late Gothic high altar by Jakob Russ (1492), the choir stall carvings and the Romanesque sculptures on the pillar bases and capitals. The cathedral is one of the most important cultural monuments in Switzerland and is open daily to visitors.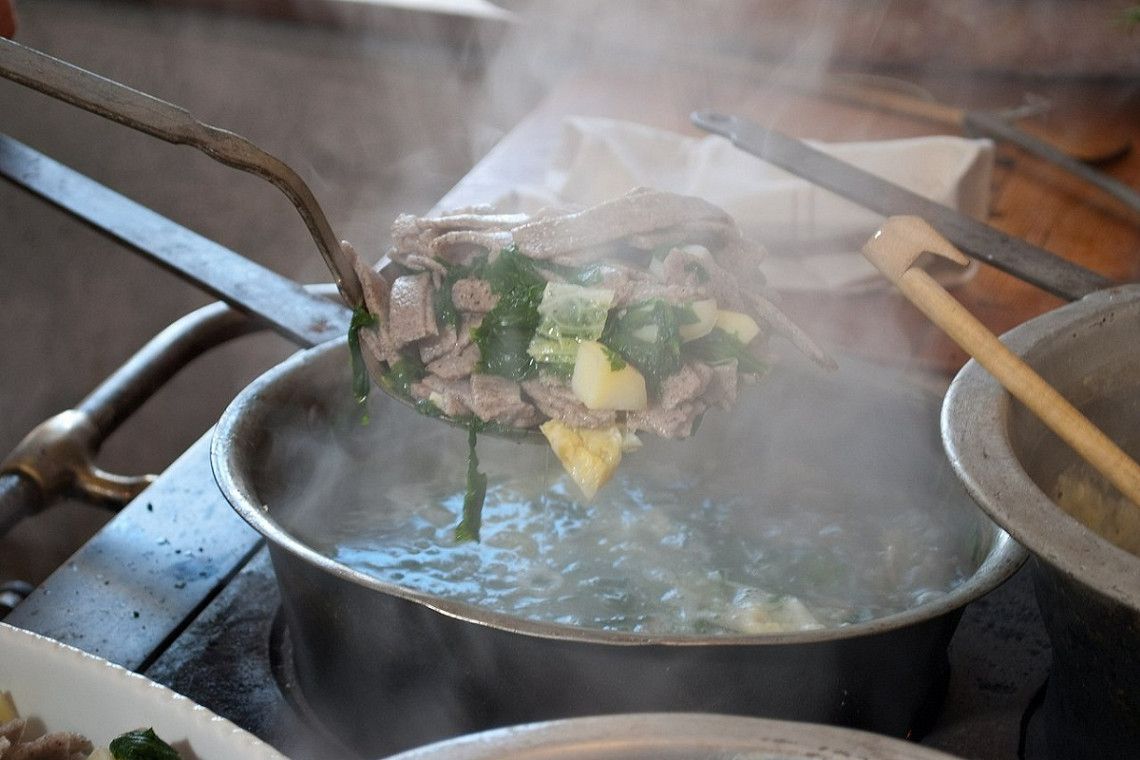 Hearty pizzoccheri tastes especially good in winter. Photo: Graubünden Ferien
Take a journey into Graubünden cuisine
Gourmets will find plenty to savour in Chur as the city is said to have the highest density of restaurants in all of Switzerland, ranging from gourmet restaurants to traditional pubs – there's something for everyone. How about some Swiss fondue in an authentic fondue restaurant? A number of restaurants in Chur serve traditional Swiss and Graubünden fare. Gasthaus Gansplatz in the Old Town of Chur is an established name, but you can also try out the mountain huts. Local specialities include game, pizzoccheri (a pasta dish made from buckwheat and served with potatoes and savoy cabbage), capuns (tasty chard rolls filled with spicy meat and vegetables) and maluns (crispy potato crumbs served with apple compote or red fruits). Don't forget to taste some Bündner Nusstorte (nut pastry), Bündnerfleisch (air-dried meat), cheese or Röteli cherry liqueur.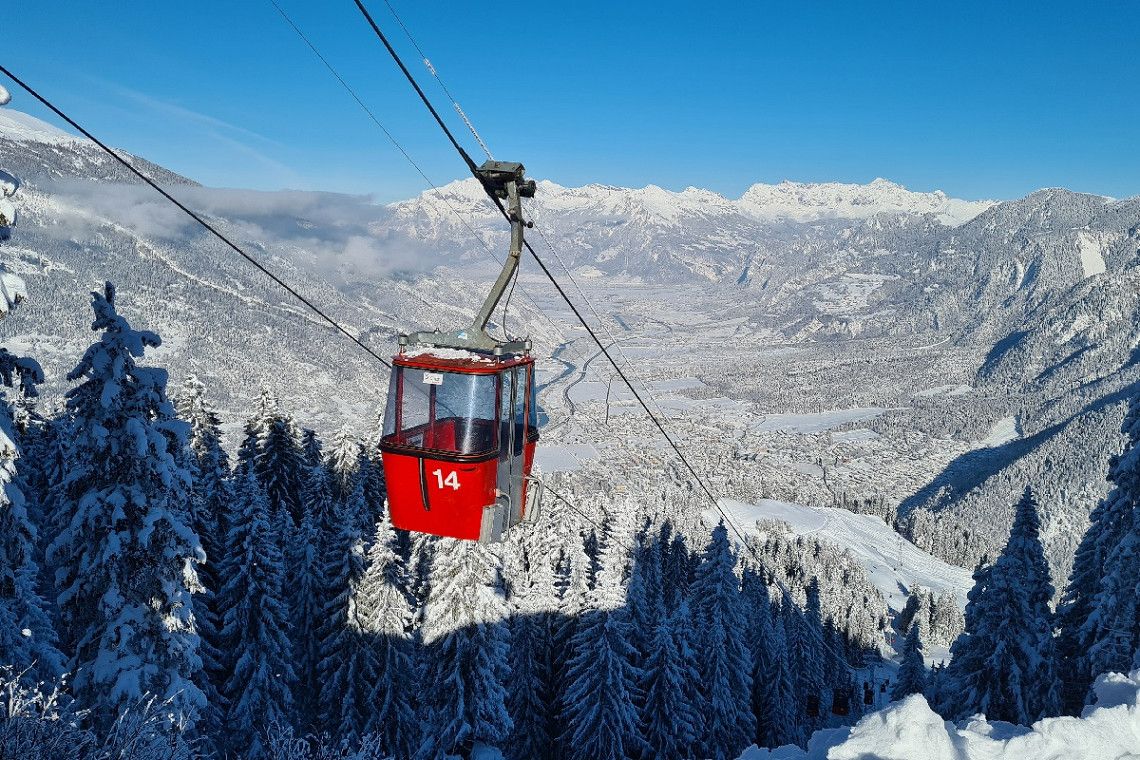 Unique in Switzerland: gondolas run straight from Chur to Brambrüesch, a local mountain. Photo: Chur Tourismus / Michael Christ
Day trips near Chur
When winter camping in Switzerland, a trip to the snow-covered mountains of the Alps is a must. And if you set up your base in Chur, your motorhome can also stay put. Why? Because you can take the gondola straight from the city to the Brambrüesch mountain where you can participate in your favourite activities. In addition to roughly 20 km of natural snow slopes for skiers and snowboarders, there is a 5 km toboggan run, a winter hiking trail and several waymarked snowshoeing trails on the Dreibündenstein plateau. If you prefer cosier surroundings, you can relax in one of the mountain restaurants with a sun terrace. You can also enjoy snow activities on the other local mountains. And if you want to visit one of the larger ski areas in Switzerland, you'll find the well-known winter sports resorts of St Moritz, Davos, Lenzerheide or the Bernina Pass with the Roseg Glacier within a 100 km radius.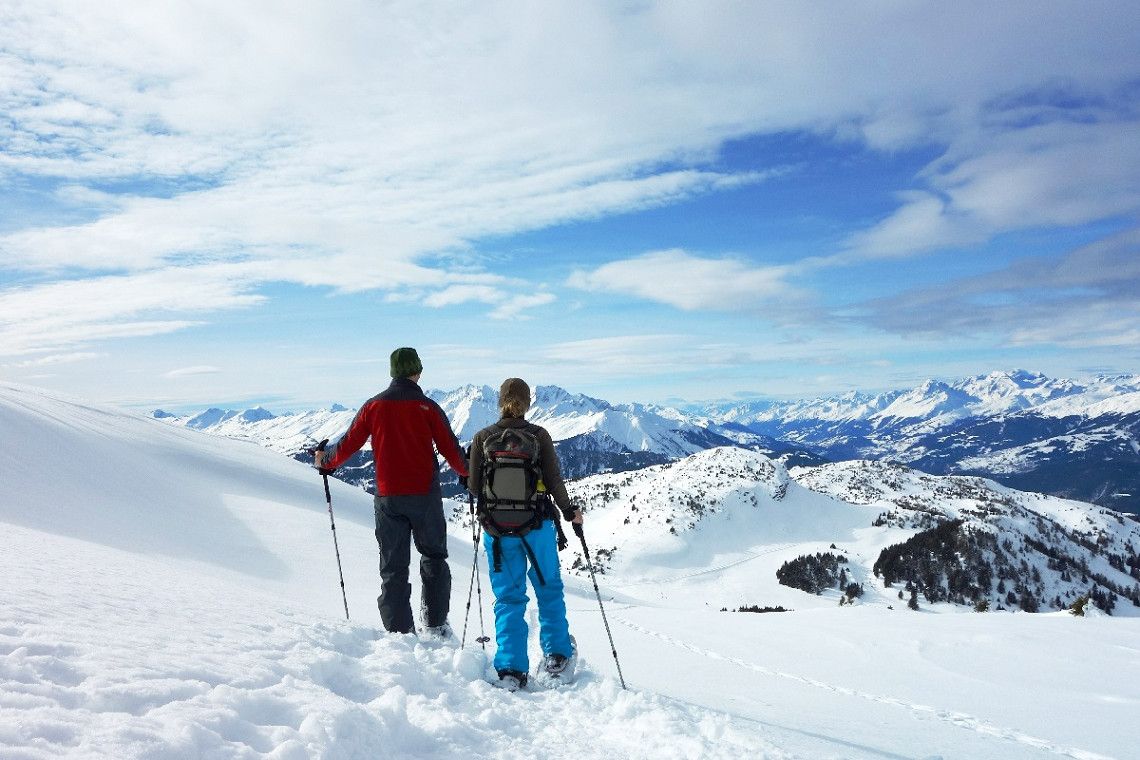 There are many options around Chur where you can go on a leisurely snowshoe hike on the Dreibündenstein plateau and avoid the ski slopes. Photo: Chur Tourismus / Michael Christ
Speaking of the Bernina Pass: if you wish to treat yourself to an extraordinary winter Alpine experience combined with a spring feel, go on a day trip to Tirano in Italy on the Bernina Express. The ride through the Albula Valley and over the Bernina Pass on the Rhaetian Railway is a fantastic experience also – or especially – in winter. You'll be amazed at how structural engineering and magnificent landscapes can merge into a breathtaking panorama.

Another stunning destination for a day trip is Arosa, a health resort that you can also get to by train. This fantastic ski area has many incredible cross-country skiing and snowshoeing trails.

Incidentally, the Heidi Village Maienfeld leisure park lies to the north of Chur. In winter, however, it is only open on sunny weekends. You can obviously stop off at the actual village that inspired Johanna Spyri to write about Heidi all year round. If you want to treat your body and mind, you can combine your visit with a trip to Tamina Therme in neighbouring Bad Ragaz where you can enjoy 36.5 °C thermal water from the Tamina Gorge or relax in any of the saunas. You can also get to Bad Ragaz by bus or local train from Chur.
Where can you camp in Chur?
Open all year round, the Camp Au Chur campsite is located on the beautiful banks of the Rhine. It also has five motorhome pitches in front of the barrier. You can have breakfast and dine during the day at the small on-site restaurant. A regular bus service runs to the centre of Chur.

The campsite has everything you need for winter camping – power connections, heated sanitary facilities, a ski room, a washing-up room and waste disposal facilities. There is a swimming pool, which is covered and heated in winter, within a five-minute walk from the campsite. The complex also has an indoor pool, a sauna, whirlpools and children's water slides.

If you prefer to camp with your motorhome or caravan slightly further away from Chur, you will also find a number of campsites and pitches near Chur.