Last update: March 29, 2023 
Entry into Great Britain
Entry requirements for EU citizens: when visiting Great Britain as tourists, EU citizens need a (temporary) passport or child passport, which must be valid for at least the duration of your stay. It has no longer been possible to use an ID card since October 2021. You will need a visa if you stay for longer than six months. Transiting passengers also require a valid passport.

Another tip: to be on the safe side, avoid using ID documents that have been reported as lost or stolen. The British border police tend to confiscate these documents as they are often still listed in the Interpol database even when the lost entry has been deleted.
There are no entry restrictions related to COVID-19 right now, but they might be imposed at short notice. Please look at the UK government's website before you travel to find out what the current restrictions and entry requirements are.

The Seven Sisters chalk cliffs between Eastbourne and Seaford are a popular tourist destination in England. Photo: Pixabay
Entry requirements for children: when children under the age of 18 enter Great Britain, UK Border Force officers may check the relationship of the adult to the child that they are accompanying or collecting. However, this is usually only the case if the child and accompanying adult have different surnames or if the minor is travelling alone. In this case, it may be helpful to have additional documents with you that prove your relationship with the child or contain the travel consent form completed by the legal guardian (e.g. a copy of the child's birth or adoption certificate or, if applicable, a copy of the divorce or marriage certificate). However, these documents are not mandatory. Unaccompanied minors require a declaration of consent from their legal guardians.
Entry requirements for pets: anyone travelling to Great Britain with their four-legged friends must note the following: the animal must be at least 15 weeks old. Pet owners must have an EU pet passport and the animal must have identification (a readable tattoo before 3rd July 2011) or microchip. It must also have a valid rabies vaccination that is at least 21 days old. Dogs must also be treated against tapeworm up to five days before entry. Both the vaccination and the tapeworm treatment must be entered in the EU pet passport by the vet. You can easily take up to five pets with you to Great Britain.

The following breeds are banned in Great Britain: Pit Bull Terrier, Japanese Tosa, Dogo Argentino and Fila Brasileiro. Please note: the ban also applies to dogs that resemble these banned breeds. If a dog does not meet all entry requirements, it may be quarantined – and the owners will have to pay for any costs incurred.

Great Britain is a great travel destination for dog owners who enjoy hiking. Photo: VisitBritain/Nadir Khan
The most important traffic rules for motorhomes and caravans in Great Britain
Warning, left-hand traffic!
Most visitors from Europe usually become comfortable with driving on the left in Great Britain after just a few days. Therefore, given the weight and dimensions of a camper or caravan, you need to drive even more carefully. Our Freeontour tip: avoid busy destinations and cities, at least in the first few days, and instead travel on country roads with less traffic. This will not only reduce accident risks, but will also take you through scenic routes where you can stop and visit any sights or attractions that appeal to you along the way. People often forget to adjust their headlights to left-hand traffic. You can usually change them on the vehicle or mask them off accordingly.
Speed limits on British roads in mph
Please note: speed in Great Britain is measured in miles per hour (mph). A mile is approximately 1.6 kilometres. The table also shows the conversion to km/h.
Speeding fines: speeding violations in Great Britain can quickly result in high fines. If you exceed the speed limit by 20 km/h, you will have to pay a fine of €200; by 50 km/h, you will be facing a fine of at least €2,850.

You'll have to get used to driving on the left, including on the motorway. Photo: Pixabay
Toll roads in Great Britain
Road use is generally free in Great Britain. However, there are exceptions, e.g. some tunnels and bridges, the M6 motorway section between Birmingham and Wolverhampton, Durham and Birmingham city centre and central London. Car/caravan combinations are subject to different tolls depending on the height of the front axle of the towing vehicle (up to/from 1.3 m) and the number of axles. The toll amount for motorhomes depends on the vehicle height on the front axle (up to/from 1.3 m) and the number of axles.

There are strict vehicle restrictions in London – the Congestion Charge, which costs £15 a day at the moment, was introduced in central London to reduce traffic and emissions. Since April 2019, foreign vans and motorhomes with a GVW of 2.5 t or more also have to be registered for the Ultra Low Emission Zone before entering the city centre and, if applicable, pay an additional £12.50 if they do not meet the current emission standards.

Vehicles with the following emission standards have to pay:
Euro 0-3 petrol vehicles up to 3.5 t (first registration up to and including 2005)
Euro 0-5 diesel vehicles up to 3.5 t (first registration until September 2015)
Euro 0-2 motorcycles
Euro 1-5 vehicles with a GVW over 3.5 t

All other vehicles have to register free of charge with Transport for London (TfL) before entering central London to demonstrate that they are exempt. Please note that it takes about ten working days to process the registration, therefore, take care of it in time. There are CCTV cameras everywhere in London – anyone caught who hasn't registered will face a high fine.

Depending on your motorhome type, you may have to pay an additional daily fee of £100 in the Greater London area (Low Emission Zone).

Read more about toll roads in Great Britain here.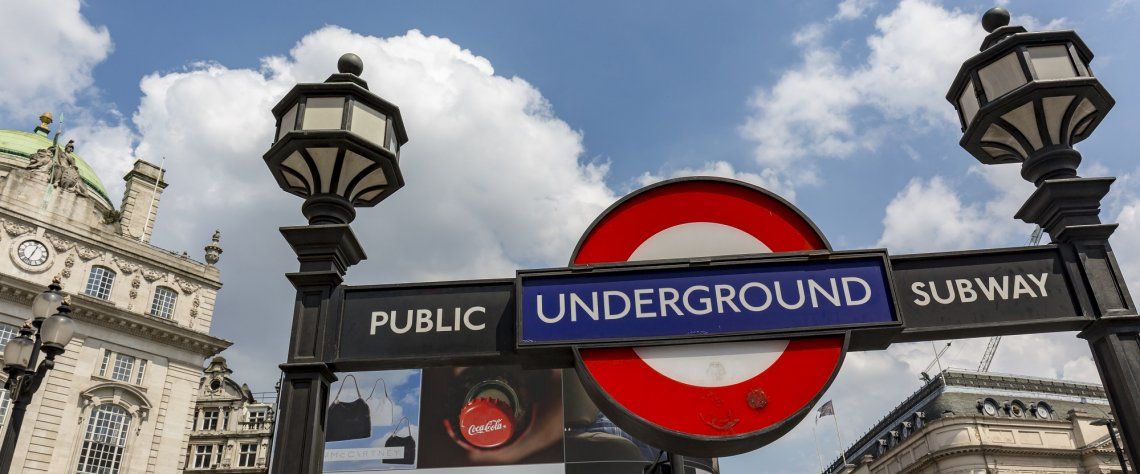 Park your campervan at the gates of London – it's not only easier to get into London by public transport, but you'll also avoid having to pay the Congestion Charge and parking fees. Photo: Pixabay
Petrol stations in Great Britain: opening times and payment methods
Most UK petrol stations are open from around 7 or 8 am to 9 or 10 pm. Some motorway service stations also offer a 24-hour service and petrol stations at larger supermarkets tend to be slightly cheaper. There are also automated petrol pumps in many places. You first need to type in the amount you want to fill up, therefore, you should roughly know what your vehicle's tank capacity or mileage is. You usually pay at the machine by credit card, sometimes you can even use your Maestro card. Cash is also accepted at manned petrol stations.

Good to know: diesel is often more expensive than petrol in Great Britain. 
General traffic rules in Great Britain
Alcohol limit in Great Britain: the permitted blood alcohol limit is 0.8 ‰. Violations are very expensive and you will have to pay a high penalty – it is not unheard of to be charged €6,000 or more.

Driving licence and insurance card: you can drive with your EU driving licence in Great Britain. However, you should always have your vehicle registration certificate and an international insurance card (also called a Green Card) with you. If you drive to Great Britain without any proof of insurance, you may be forced to take out British car insurance at the border.

Road signs: in Great Britain, blue signs with an M and a number convey a motorway, while an A on green signs indicates a dual carriageway or main road, which sometimes has two lanes in each direction. The B on white signs marks a subsidiary road through a rural area.

No-parking and no-waiting zones: avoid parking on a double red or yellow line as they mean a no-parking and/or no-waiting zone. A single yellow line means a restricted parking zone, which is suspended at certain times as indicated on a nearby sign. Official parking areas are marked with a blue P.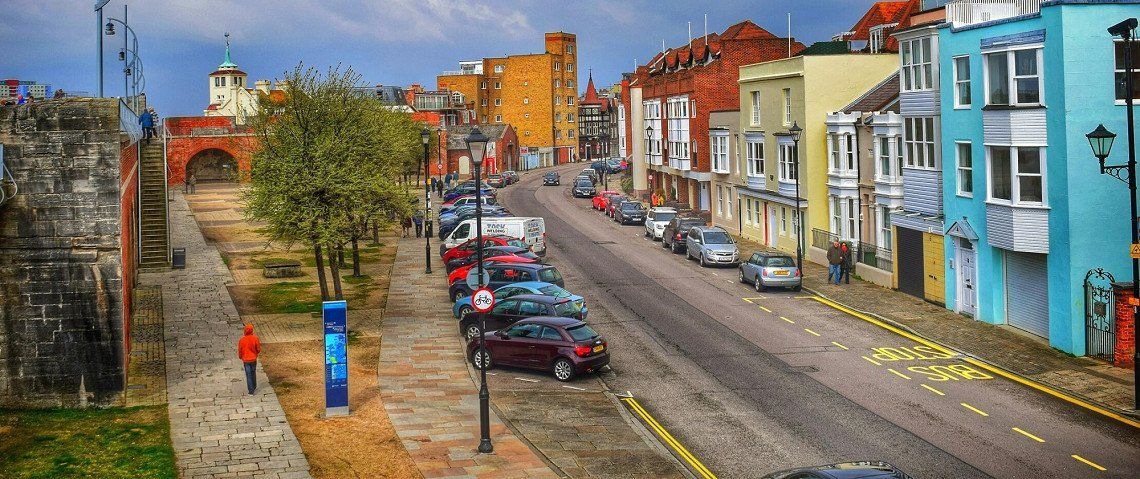 Solid yellow lines, like here in Portsmouth, always mean no parking. Photo: Pixabay
Mobile phone use in vehicles: you may only use a mobile phone in a vehicle with a hands-free device. Fines start at about €230.

Wild camping/parking: wild camping/parking on public roads and in car parks is only permitted if the local authorities have officially allowed it. It's generally forbidden along roads and bridges. You need the owner's consent on private property.

High-visibility vest requirement: high-visibility vests are compulsory in Great Britain.

Child car seats: child seats or booster cushions are compulsory for children under twelve years of age and smaller than 135 cm.

Winter tyres: winter tyres are not compulsory in Great Britain, although they are recommended for difficult driving conditions in autumn and winter. Snow chains may be used if the road is completely covered in snow.

Light requirements: there is no general obligation to drive with dipped beams or daytime running lights during the day when it is bright.

Roundabouts: you need to indicate before entering a roundabout.
Important addresses and telephone numbers for holidaymakers in Great Britain
European emergency number: 112
Ring this central emergency number to get help from the local police, fire brigade, emergency doctor or ambulance. Calls are free from a landline and mobile phone, no area code is needed.