Camping in winter is a tradition for many motorhome enthusiasts and caravanners. But if you have decided to camp for the very first time during the frosty season, you will need more than just a few warm thoughts – especially when it comes to protecting the fresh water and waste water system from frost. Freeontour gives a quick guide on what you need to take into consideration.
1. Heated water tanks
Your motorhome or caravan will greatly influence how comfortable your winter camping experience is. If you are about to purchase one, check the technical data to make sure that both the fresh and the waste water tanks are insulated and heated. This will usually be the case with large motorhomes with a double bottom as this is where the waste water tank is contained and the heater hoses laid. By the way: most motorhomes and caravans have the fresh water tank in the base of the bench in the living area. The fresh and waste water tanks in campervans and converted box vans are also insulated and heated to protect them from frost and integrated in the base of the rear beds.
2. Take enough gas with you
It's all about the heating: diesel or gas heating is standard today in motorhomes (diesel, gas) and caravans (gas). Make sure you take enough gas (bottles) with you and that the chimney flue for the heating system is always free of snow.
If you want your Hymermobil to be nice and warm after skiing, make sure that you have enough gas in winter. Photo: Hymer
3. Turn on the heating before using the boiler
A hot water boiler with a frost thermostat is also standard in motorhomes. It is fitted with a cold sensor that automatically opens its valve when it detects that the outside temperature has fallen roughly below 4 °C, therefore draining – instead of freezing – the water. However, to prevent draining, turn on the on-board heater at least half an hour before using the boiler. You can regulate the water temperature either with a turn-switch or display panel. The turn-switch has two symbols where you can choose between 40 °C or 60 °C, while the screen allows you to freely adjust the temperature.
4. Retrofit missing winter equipment
Not all motorhomes and caravans are well-equipped for winter camping. However, you can retrofit frost thermostats and heating cables to prevent non-insulated fresh and waste water tanks and their pipes from freezing. Frost thermostats are high-performance electric heating cartridges that can be easily installed in fresh and waste water tanks. As soon as the external tank temperature drops to near freezing point, the frost thermostats start to heat the water in the fresh or waste water tank before switching off automatically. This is a reliable way of keeping the liquids frost-free while using as little power as possible. As for heating wires, they are wrapped around the pipes and keep the water in them at the right temperature. In fact, they can even be used to thaw frozen pipes. Since these heating solutions can be operated via the 12-volt on-board power supply system, they can also be used without shore power.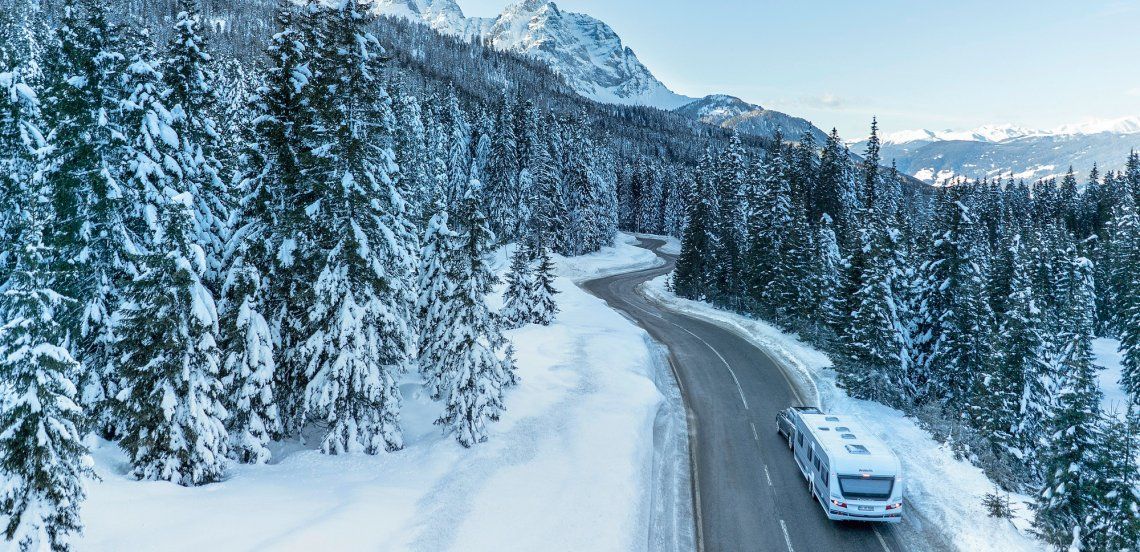 Even when caravanning in winter, you can use simple tricks to deal with waste water. Photo: Dethleffs
5. Antifreeze for the holding tank
Frost is a general threat to the holding tank in the cassette toilet because it is located in an external service compartment below the bathroom in most campervans, motorhomes and caravans. The heat from the heater barely reaches this area. Therefore, we recommend using antifreeze, especially in view of the constant freezing temperatures when camping in winter. Specialist stores offer bathroom liquids containing antifreeze for this very purpose. Some are designed for temperatures down to -20 °C, are also suitable for waste water tanks and can even be added to the rinsing water.
6. Non-chemical household tips
If you want to do something positive for the environment and avoid chemical additives, you can use a few old household tips for the waste water tank: simply place a large bucket or tub under the vehicle for the waste water and leave the drain slide open. A lump of ice will form in the bucket, which you can simply tip out by giving it a little shake – in marked contrast to a frozen waste water tank in a motorhome or an otherwise practical rollable waste water container in a caravan.

Another tip, albeit quite banal: pack a hairdryer when winter camping, even if there's not much hair on your head to dry! Should the water pipes freeze despite all precautionary measures, you can use the hairdryer to slowly thaw them.