When winter is just around the corner and the temperatures drop, it does not mean you have to send your motorhome or caravan into hibernation. All you need is a powerful heater to make your mobile home nice and warm, and the ice and snow outside is forgotten. Freeontour has put together the most common heating systems for your camper, including advantages and disadvantages.
1. Gas heaters: a choice between air and water heating systems
Gas is one of the most important sources of energy on board a camping vehicle: kitchenettes almost always have a gas cooker, and it can also be used to run the refrigerator – so it makes sense to use the gas bottle to heat your motorhome as well. Accordingly, gas heaters are installed in most mobile homes and caravans. Almost all entry-level and mid-range caravans and motorhomes have forced-air heating as standard. It works by sucking in the indoor air, heating it in a gas-powered burner and then distributing it evenly throughout the camper via several outflow channels. This heating technology has many advantages: thanks to its simple construction, it is inexpensive and not very heavy, which is especially beneficial for compact models with a relatively low payload capacity.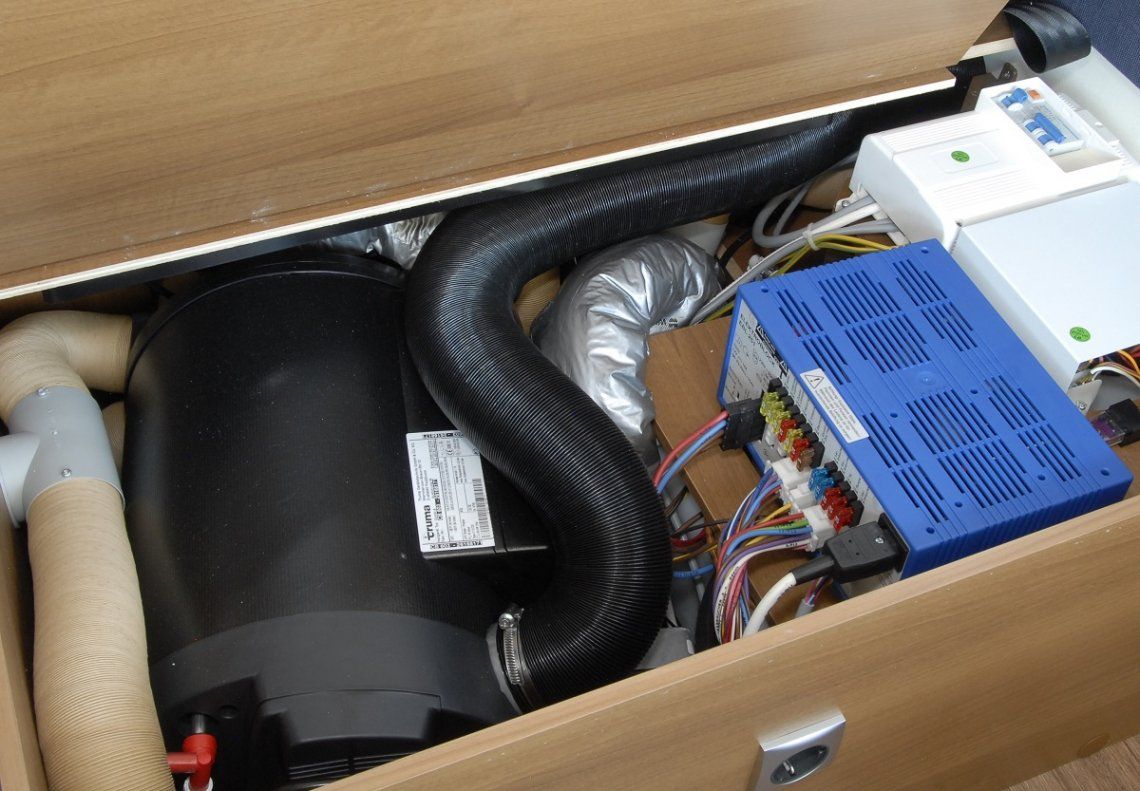 The Truma Combi 6 is light and compact and also suitable for larger caravans and motorhomes. Photo: Theo Gerstl
Hot water heating systems – advantages and disadvantages
The alternative is a hot water heating system. It has a closed water circuit that is heated, which then makes the indoor air hot via heat exchangers. The advantage of this type of indirect heat generation is the high level of comfort it offers. It allows you to add underfloor heating as well as heat your camping vehicle in a uniform and draught-free way, which many users experience as a pleasant indoor climate. However, its design, which is complex compared to air heating systems, has its price – literally and figuratively. Warm water heating is expensive to purchase, which is why it tends to be standard only in luxury models. Moreover, it has a greater impact on the dead weight than an air heater does and it also takes longer to heat the interior. But you can compensate for the latter by adding an electric auxiliary heater to the hot water circuit – as long as you can connect it to shore power.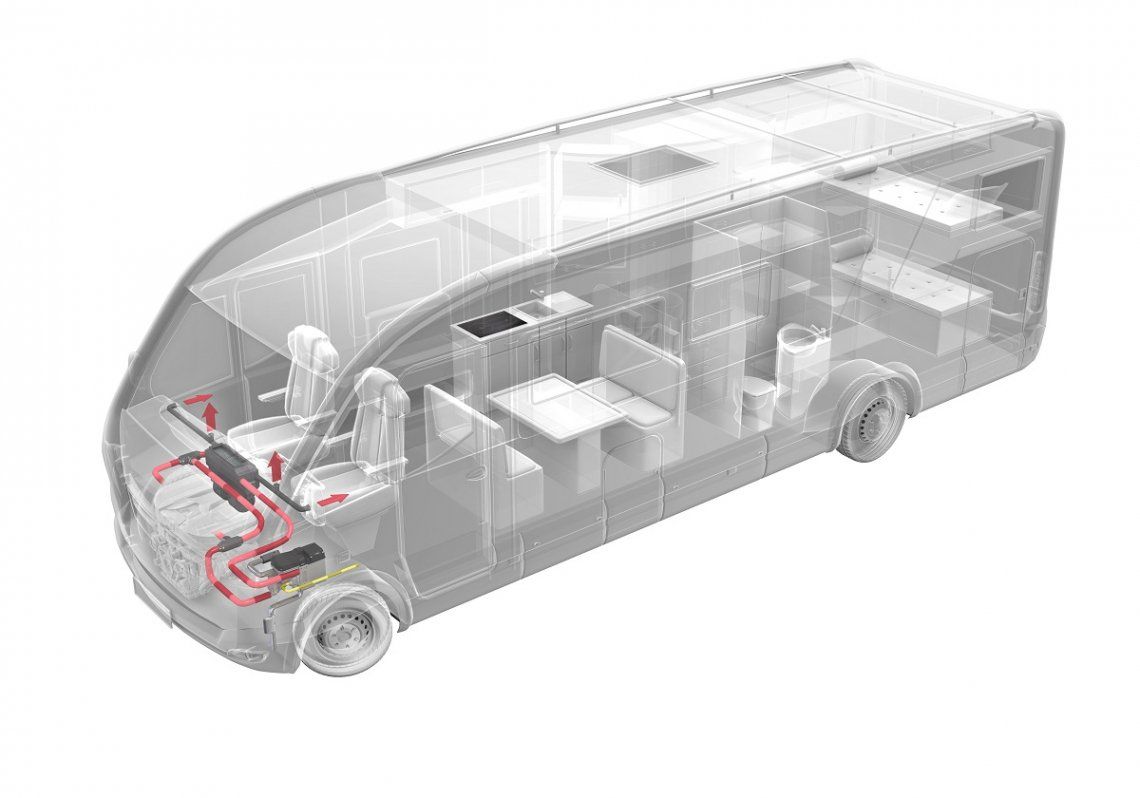 Auxiliary diesel heaters specially developed for motorhomes can be integrated into the engine cooling circuit. Illustration: Thermo Top by Webasto
2. Diesel heaters: an additional option
Automotive manufacturers often offer stationary heaters as optional accessories for their cars. They heat the air by directly using the vehicle's own heating system or cooling water and then blowing the air heated by the heat exchanger into the vehicle. Similar heating systems have also been specially developed for mobile homes. These include the Thermo Top auxiliary heaters from Webasto – a series of compact water heaters that can be integrated into the motorhome's engine cooling circuit by means of vehicle-specific installation kits. This kind of stationary heater undoubtedly has advantages, but since the air is only discharged through the air vents in the driver's cab, it is best used as a mobile home heater when it is not too cold. It can, however, serve as an additional heater to make the driver's cab with its large windows nice and warm, while a gas heater heats the rest of the living area. If a motorhome is going to be fitted with an air-conditioning system anyway, then there's no getting round a combination of stationary and electric heating. Should you choose a model with an integrated heating system, the two different systems together produce an electric diesel heater, which at least will bring you through the cold nights – provided an external power supply is available.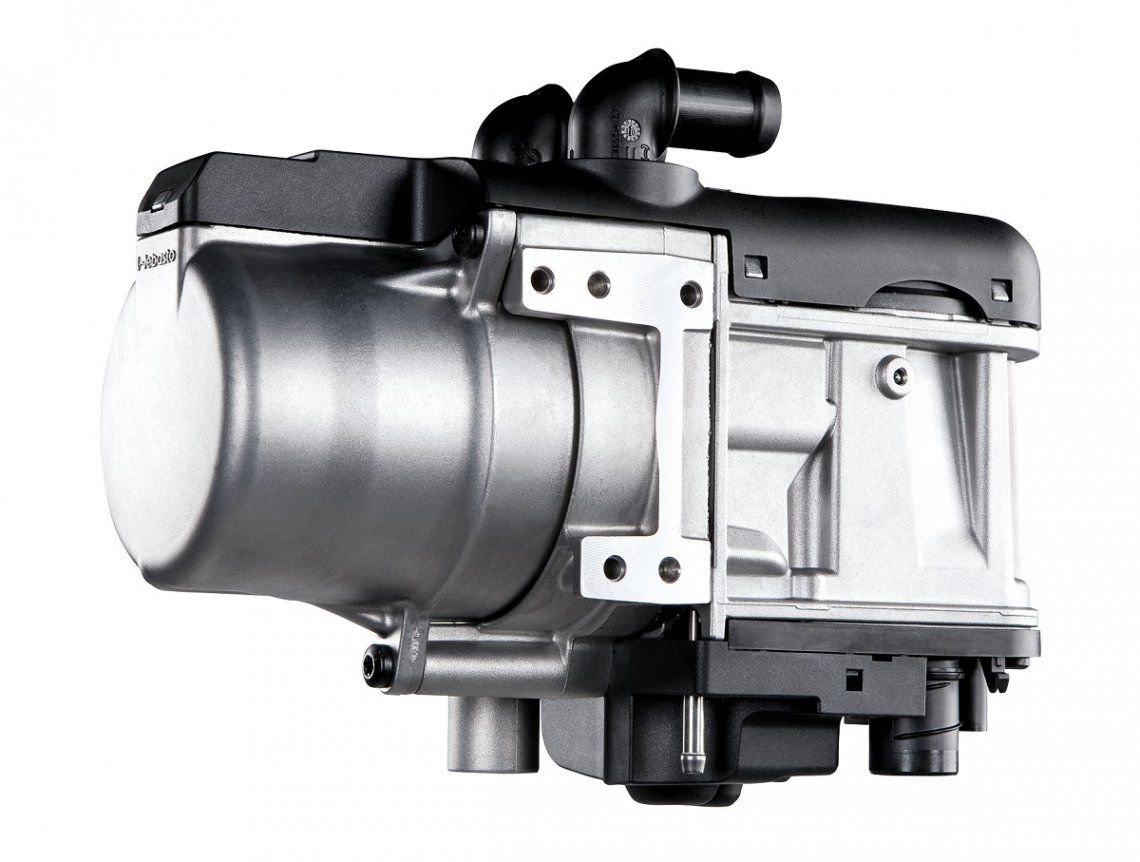 The Dual Top Evo diesel air heater is installed under the vehicle to save space. Photo: Webasto
3. Full diesel heating systems: an alternative for compact motorhomes
In addition to auxiliary diesel heaters, full diesel heating systems are available for motorhomes, too. They not only heat the air in the living area, but also provide hot water. For example, the Dual Top Evo diesel air heater from Webasto can be installed outside of the camping vehicle to save space. An 11-litre boiler is also integrated, which means that this system can even replace a gas heater in smaller mobile homes. These two factors are especially important for smaller campervans and campers because of their limited space and low payload. A second gas bottle, which is recommended for heating and hot water, is very heavy and also requires additional space in the vehicle. In contrast, a diesel tank is already on board and, therefore, does not need additional storage space nor will it increase the dead weight of the vehicle.

Moreover, heating with diesel makes campervans less dependent on a campsite's infrastructure as the heater does not have to tap into the gas supply, allowing it to be used for other devices, such as the refrigerator and stove. Anyone who has ever tried to exchange their gas bottle from home while abroad will certainly appreciate this advantage. Since the capacity of a full vehicle tank is significantly greater than that of a gas bottle, you will not need to worry about the diesel heater going out in the middle of the night and waking up in the cold. However, there are disadvantages: the diesel smell and negative environmental footprint.
4. Electric heaters for upgrading and retrofitting
However, some heaters in motorhomes or caravans will tend to reach their limit if, for example, you want spend winter camping in the Alps. You will, therefore, need to upgrade your heating system to prevent your feet from getting cold when you go to the bathroom in the morning as well as the external water tanks and water pipes from freezing. A fan heater can be an inexpensive addition to a gas or diesel heater and for warming up the living area more quickly. In addition to the price, its compact dimensions and low weight are great advantages as is the option of being able to heat the awning. If you then choose a rotating device, the built-in fan will distribute the heated air relatively evenly in the room. However, make sure that the fan heater has tilt and overheating protection for safety reasons.
Alternative infrared heaters – advantages and disadvantages
An alternative to fan heaters are infrared heaters, which can also be plugged into a 220-volt power supply system. Fan heaters have metal wires that are heated, which then heat the air flowing past, whereas infrared heaters emit heat waves. The surfaces they beam at, such as furniture or walls, absorb the heat slightly, therefore increasing the temperature of the entire living area. The advantage of infrared heaters lies in their very slim design, which ensures they will not get in the way even in small spaces. They do not blow up dust, which not only allergy sufferers will appreciate, and do not require much energy. The disadvantage: their heating capacity is accordingly moderate. However, this can also be an advantage since the components will not get too hot. And since it can be quite easy to overload power pillars at parking lots and camping sites, make sure that the electric heater you choose can run on low power. These simple electrical systems are not only suitable for the transition period, but also make a great addition to a gas or diesel heater.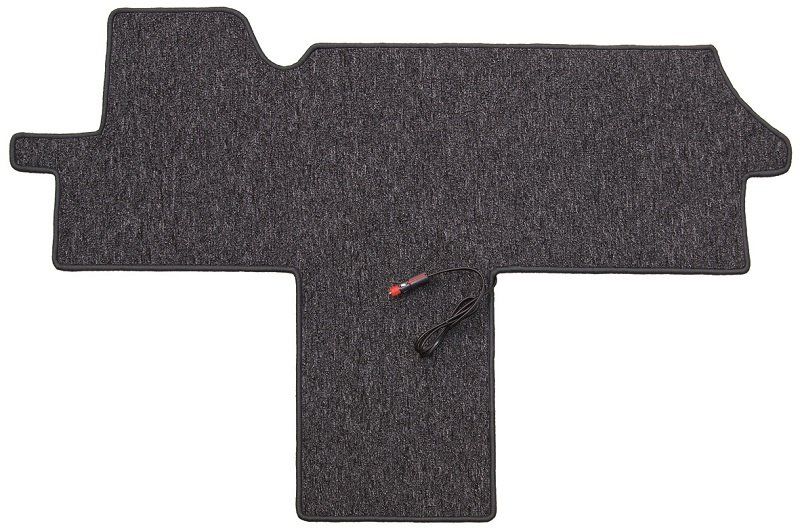 There are tailor-made heated mats for the Fiat Ducato. Photo: Fiat
Additional heat sources
Prevent cold bridges in the driver's cab and cold feet in the bathroom or dinette by installing additional heat sources such as electric heating films. They can be integrated in a number of ways, e.g. sewn directly into the seats or beds or laid either under the flooring or as a heated carpet. Their radiant heat provides a pleasant indoor climate and warm feet. Electric heating curtains also counteract the cold bridges that can occur on the windows in the driver's cab. Adhesive heating films or heating cables protect external fresh and waste water tanks and their pipes from frost. As soon as the external tank temperature is near freezing point, these electrical systems automatically heat the water and then switch off by themselves, therefore regulating the heat depending on the ambient temperature. This keeps the fresh and waste water free of ice with the lowest possible power consumption.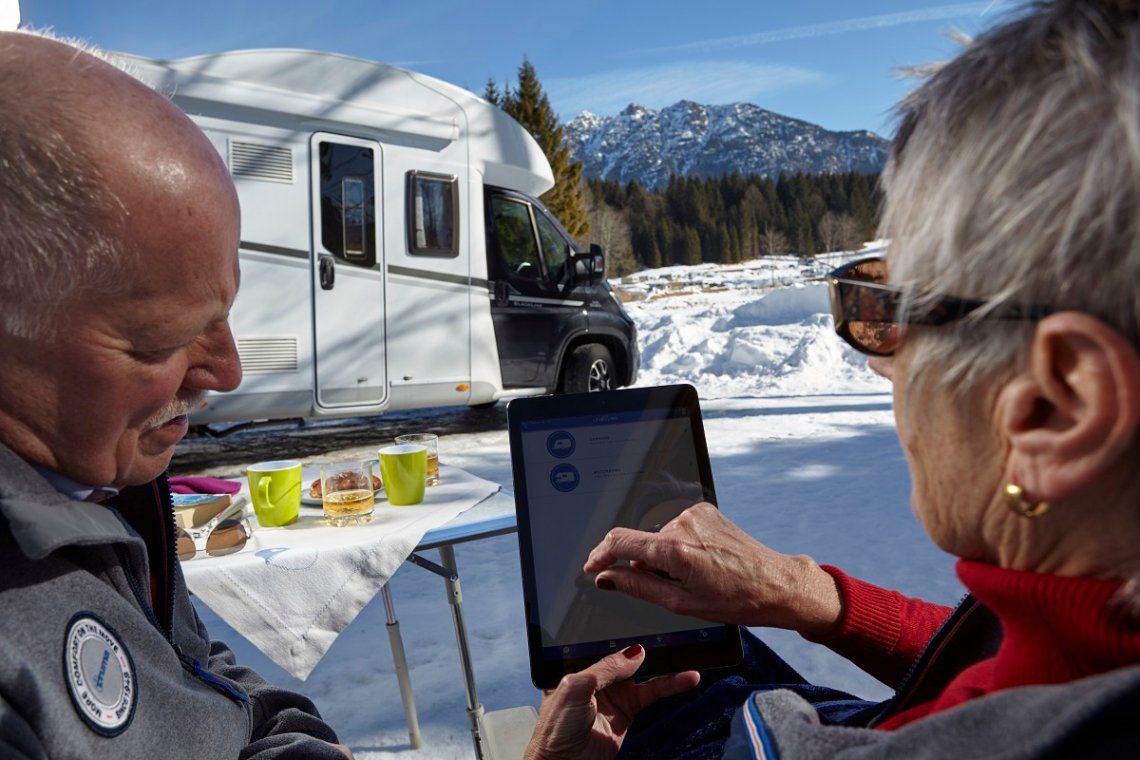 Many gas and diesel heating systems can now be easily controlled with an app. Photo: Truma
5. App-controlled heating comfort
Gas and diesel heating systems have become much easier to use in recent years. Gone are the days when you had to let the heating run the whole day so as not to come back to a frosty living area. Heating timers are also becoming a thing of the past. Modern heating systems in caravans and motorhomes are now controlled with an app on a smartphone and a receiver installed in the vehicle. These kind of systems, which every well-known heating manufacturer from Alde to Teleco to Truma offers, can be programmed to switch on the heating in the camper at the desired temperature just before you embark on your last ski descent. So when you get back to your camping vehicle after a day of skiing, you will be welcomed by a cosy warmth. And if a system-compatible air conditioning system is also installed in your motorhome, then your fully automatic air conditioning system is complete.