Icy temperatures and a fairytale winter landscape – the Finns who live in Pyhä-Luosto National Park have this at their doorstep every day. When Europeans, who don't live so far north, come here, they enter an unknown world that surprisingly offers a wealth of activities. It may start with a snowmobile tour or dog sledge ride, but it doesn't just end with a snow sauna and the Northern Lights. Freeontour dared to venture to Lapland in the midst of winter.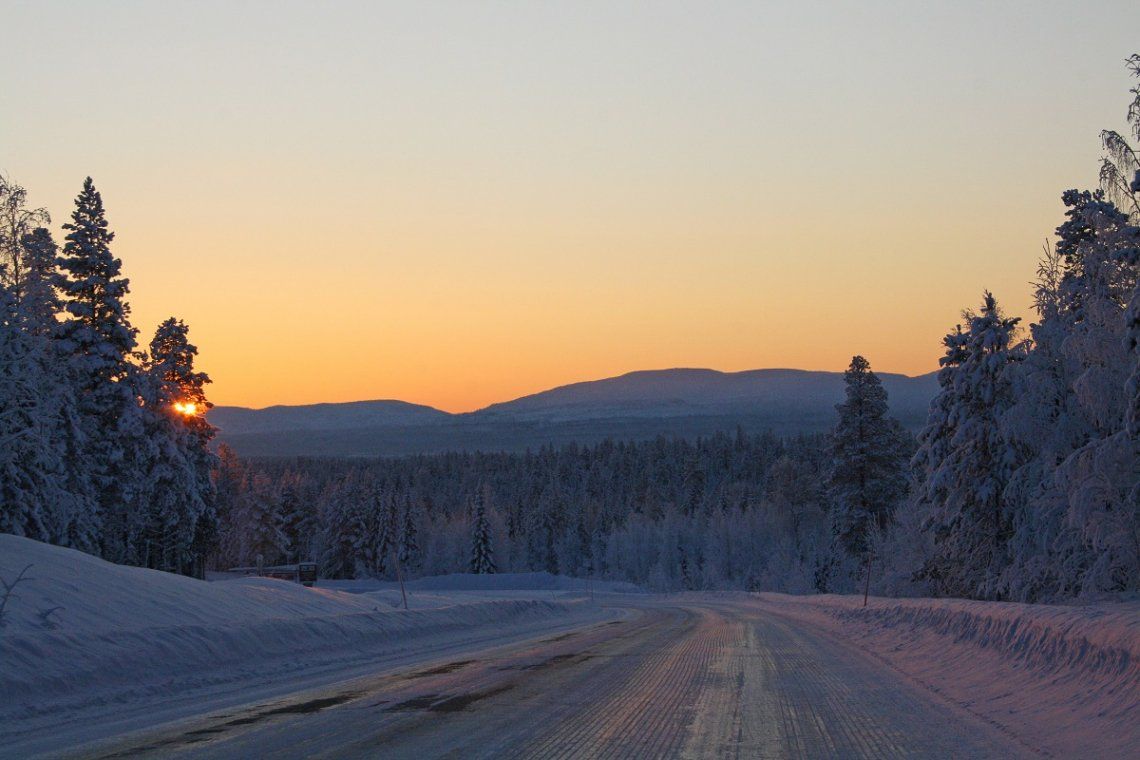 The roads in Finland are not gritted – winter tyres are mandatory at least until the end of February. Photo: Claudia Rothkamp
Where is Pyhä-Luosto National Park located?
Covering 142 km², Pyhä-Luosto National Park is located in Finnish Lapland, about 120 kilometres northeast of Rovaniemi and the Arctic Circle. The national park consists of the Luosto and Pyhätunturi fells, which tower above the flat surroundings for 35 kilometres at a stretch. The highest peaks are Noitatunturi (540 m) and Ukko-Luosto (514 m), while the tree line runs at an altitude of 320 to 400 metres. There are several winter sports areas in Northern Finland, including Pyhä and Luosto – both are relatively small, allowing you to enjoy your winter pursuits here without too much hustle and bustle. The NAAVA Visitor Centre in Pyhätunturi can provide you with more information on activities, the history and geology of the national park and the surrounding area. Freeontour has put together a few favourites: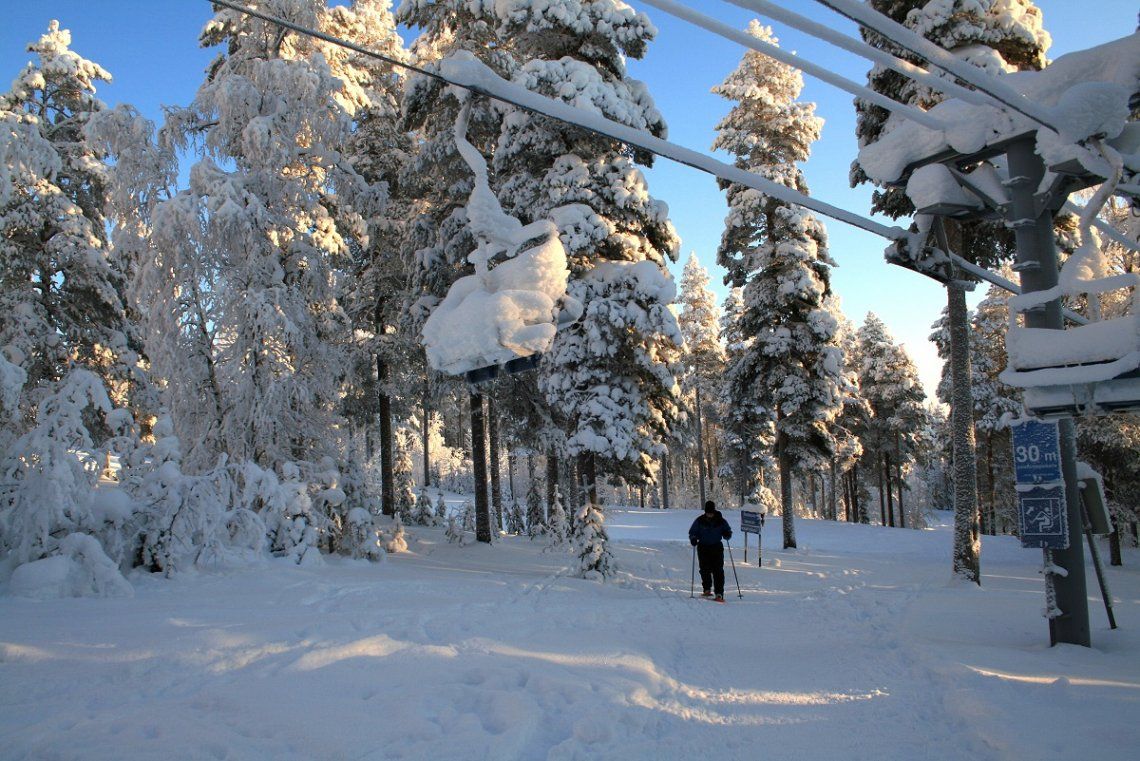 It's just too cold to go skiing when it's nearly -30 °C. Photo: Claudia Rothkamp
Tip #1: A snowshoe tour to the Pyhänkasteenputous Waterfall
A little word of warning: winter in Finnish Lapland is often very, very, very cold. Insulation is the name of the game in this part of the world – for people, vehicles as well as cameras and smartphones. The thermometer rarely rose above -28 °C below Kultakero mountain at the Pyhä ski resort when we were there at the beginning of February. This is actually too cold for most skiers. The pistes are almost deserted and many a chairlift has been stationary for days. Instead of skiing, you could go on a snowshoe tour at the foot of the mountain to Pyhänkasteenputous waterfall. However, even with three layers of gloves on, it will only take a few minutes for your thumbs to go numb from the cold, so it's better to wear mittens as they allow your fingers to share body heat. Nevertheless, this will affect your dexterity, and in turn how you hold your sticks, but at least you won't be risking frostbite.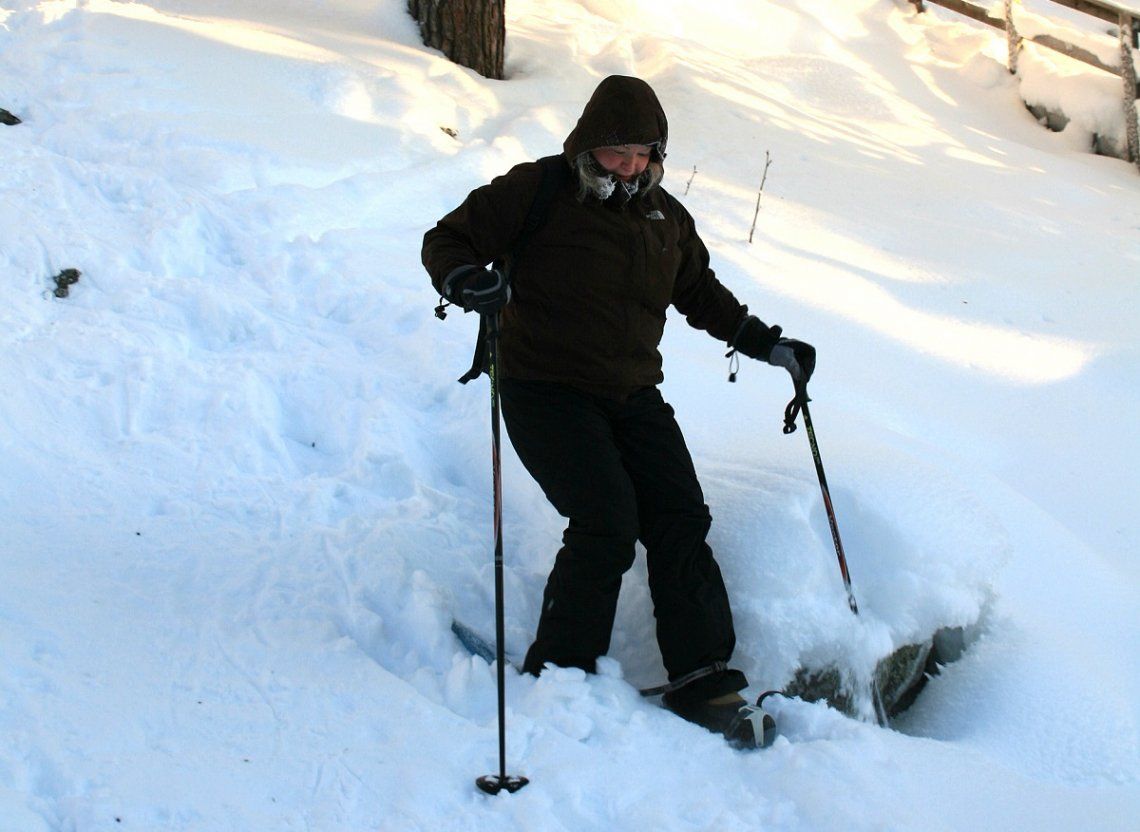 Snowshoes and sticks are essential aids in helping you get down to the waterfall. Photo: Claudia Rothkamp
Our route first crosses a few ski slopes and then goes through the snow-covered forest for about 1.5 kilometres until we reach a small forest hut. Now is the time to buckle up your snowshoes, if you haven't already, and to hold your sticks firmly as the trail starts to descend steeply into the valley and you probably don't want to end up in the frozen stream below. The only problem is that the snow makes it difficult to see the stream, so it can be quite challenging to follow the trail along the torrent through Isokuru Gorge. After walking for about an hour, we get to our destination: the 17-metre-high Pyhänkasteenputous ("Holy Baptism") waterfall. The old Sami name dates back to the time when the Swedes tried to Christianise the local Sami by forcing them to be baptised in the waterfall.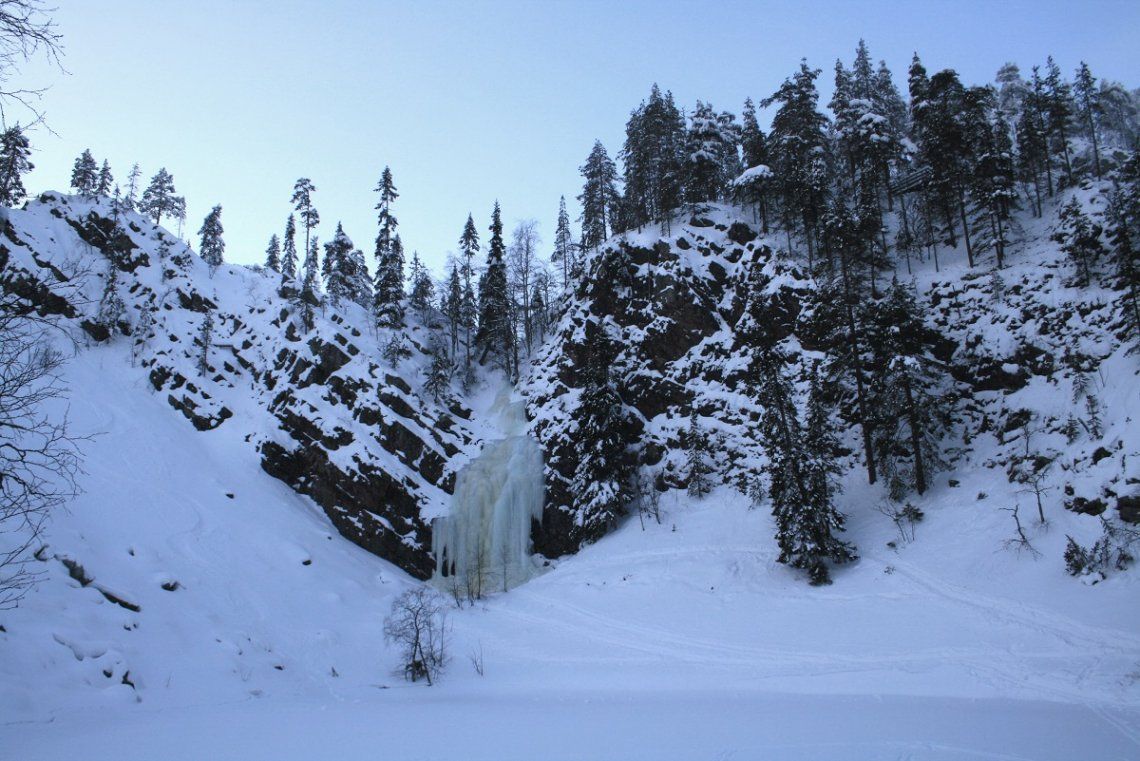 There's an almost eerie silence at Pyhänkasteenputous waterfall in winter. Photo: Claudia Rothkamp
In theory, you could stop here for a while and enjoy a hot drink, but as it's extremely cold in the shady valley, we stay just for a brief moment. The aim is to get moving again as quickly as possible as standing still in these temperatures is anything but pleasant. The short but steep ascent back to the forest hut will warm you up again. However, if you wear glasses you'll have to decide whether you want to trudge through the landscape half-blind or risk frostbite as wearing both face protection and glasses will make your glasses freeze up practically immediately.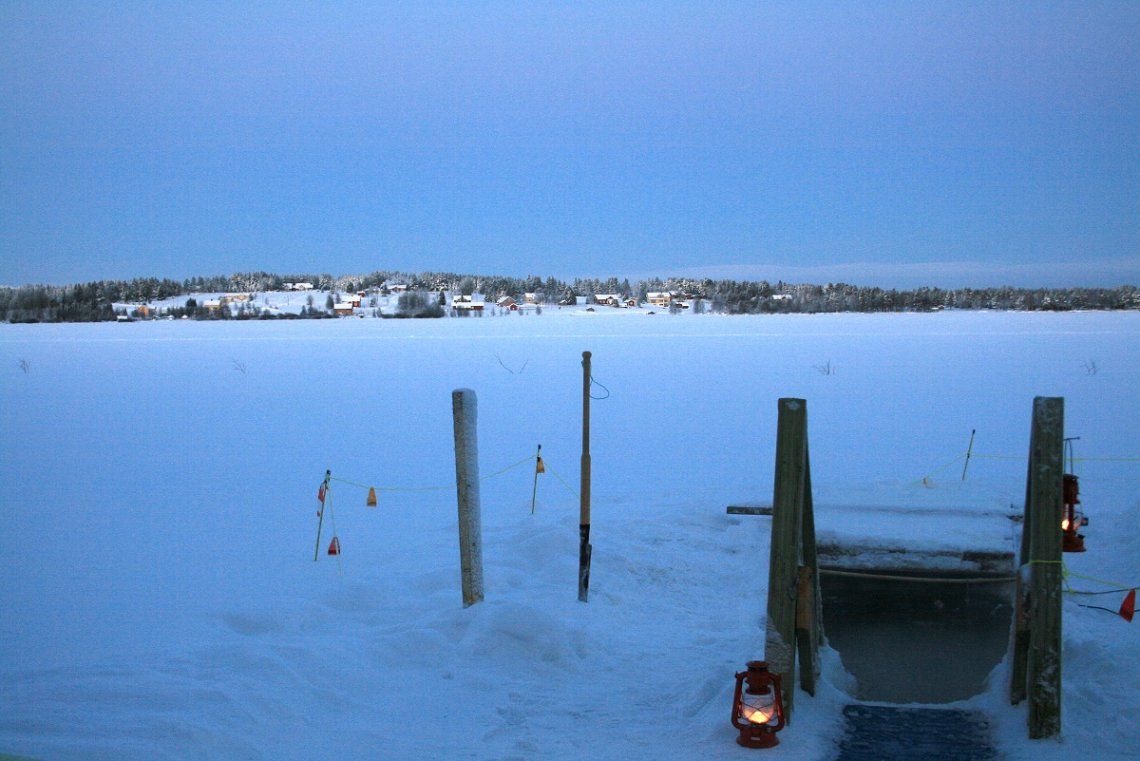 For the Finns, ice baths are a natural part of their winter sauna programme; Central Europeans often have to conquer their inhibitions the first time they try it. Photo: Claudia Rothkamp
Tip #2: Saunas and ice baths
You'll probably want to thaw out after your trek, and the obvious solution would be to have a traditional Finnish sauna, e.g. at the Luosto RV site, which is very close to the ski slopes and operated by Hotel Luostotunturi. The sauna is included in the price of the pitch. To cool off afterwards, we recommend rolling in the snow – there's definitely plenty of it right at your door. Incidentally, most RV sites in Finland that are also open in winter have a sauna. But if you want a unique experience, go for the Kairosmaja smoke sauna combined with an ice bath in Lake Pyhäjärvi.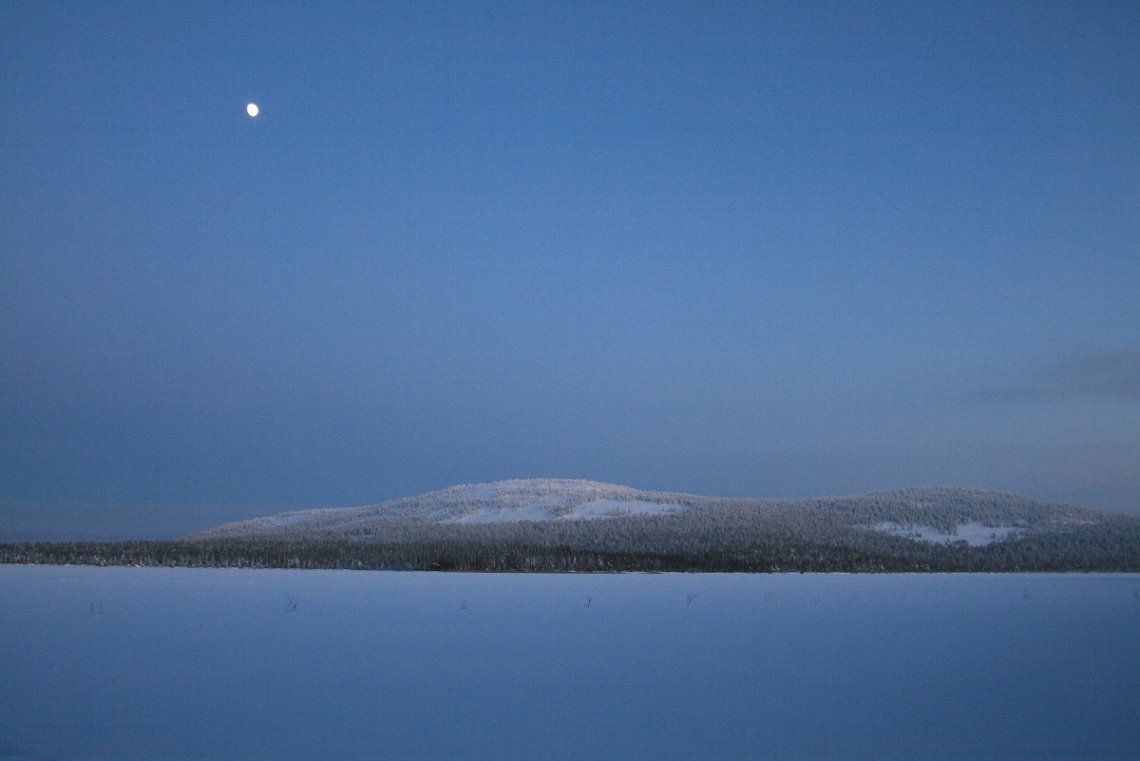 Blue hour at Lake Pyhäjärvi in Finnish Lapland. Photo: Claudia Rothkamp
In winter, this sauna is open to the public every day between 3 pm and 5 pm, and until 7 pm on Wednesdays. Moreover, adventurous sauna goers can cool down in an ice hole, which is only a few metres away from the sauna. The 4 °C water seems almost warm compared to the outside temperature, which is now -30 °C – but only almost! In any case, you have to conquer quite a few inhibitions the first time you take a dip in the ice hole. But once you've tried it, you'll be raring to go again. And in the blue hour of twilight, your post-sauna drink will taste even better while you're enjoying a view of the lake.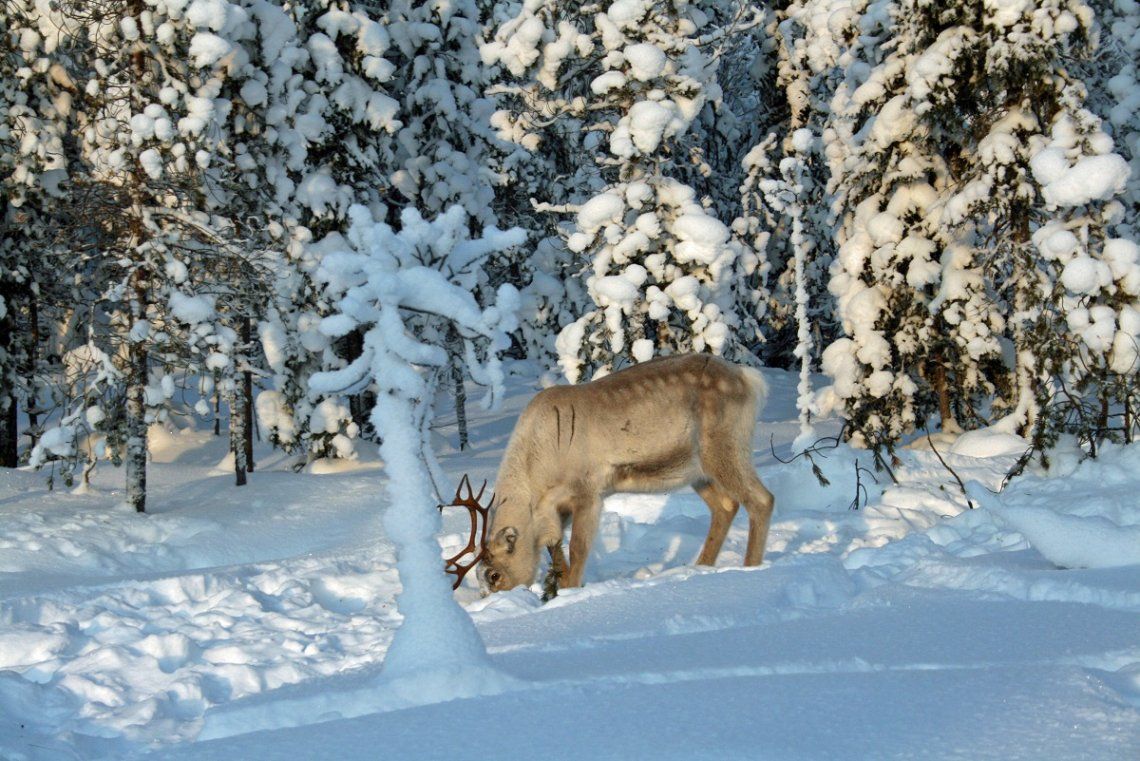 You can watch reindeer looking for food at the Kopara reindeer farm. Photo: Claudia Rothkamp
Tip #3: A visit to a reindeer farm
Incidentally, food also keeps you warm. The Finns in Lapland know that eating leads to an increase in body heat that can last for up to two hours. Proteins and fat, e.g. dried and salted reindeer meat, are said to be best suited for this. It, therefore, stands to reason that Anssi Kiiskinen is also convinced of the benefits of delicious reindeer meat – after all, he is one of about 6,500 reindeer owners in Lapland. In addition to traditional breeding, Anssi and his uncle Ari have also created a tourist sideline at the Kopara reindeer farm in Pyhätunturi. Visitors can learn more about the reindeer, go on a reindeer safari, walk among them and even feed them. They also have a traditional kota (wooden hut) where Anssi talks about the life and culture of the Sami around a campfire. If you prefer something less traditional, you can get warm and eat something in the wooden house café and then browse for reindeer souvenirs.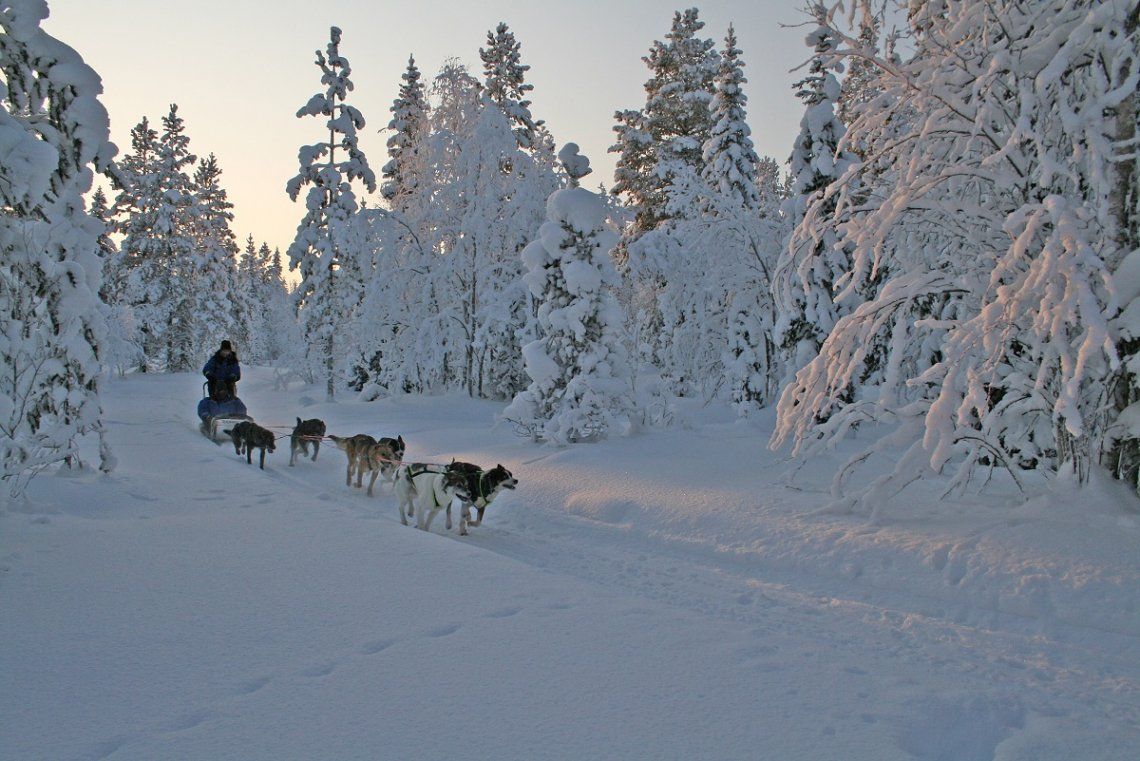 The 200+ huskies at the Arctic Husky Farm really get going at sub-zero temperatures. Photo: Claudia Rothkamp
Tip #4: The Arctic Husky Farm and dog sledge rides
Located right next to the reindeer farm, the Arctic Husky Farm offers a variety of dog sledge rides. At any rate, you won't be able to not hear the 200+ dogs who tend to loudly greet visitors from afar and are more than happy to pull the sledges even at temperatures of below -30 °C. After all, running warms them up. However, these temperatures are extremely challenging for the sledge drivers as the airflow causes their faces and hands to freeze in no time at all.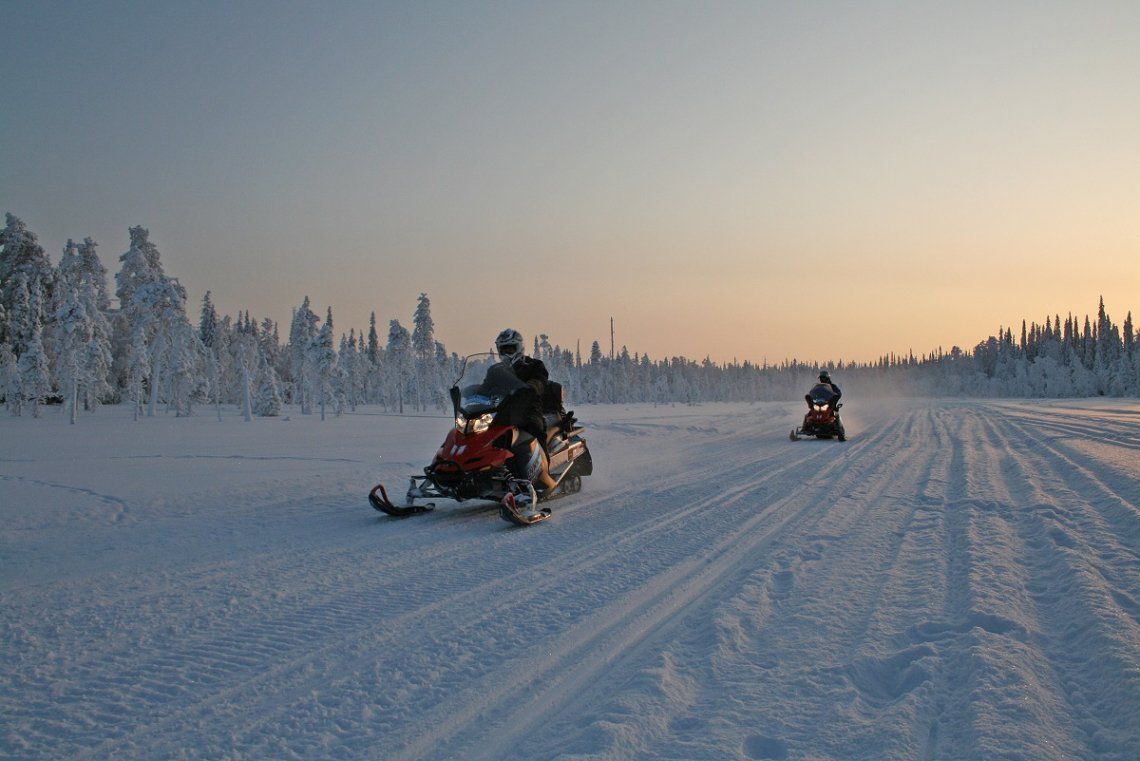 Snowmobiles are an everyday means of transport in Northern Finland, but are also an exciting experience for tourists from Southern and Central Europe. Photo: Claudia Rothkamp
Tip #5: A snowmobile tour through the woods
Riding a snowmobile is much more pleasant – albeit a lot louder. It's not for nothing that these high-horsepower companions come with hand warmers – a huge advantage at these freezing temperatures! However, opinions are divided when it comes to snowmobiling as a leisure activity. While some enjoy speeding through the deep snow-covered forests, others find that these loud diesel guzzlers have no place in nature and only hamper with the way you experience your natural surroundings. Ultimately, everyone has to decide for themselves.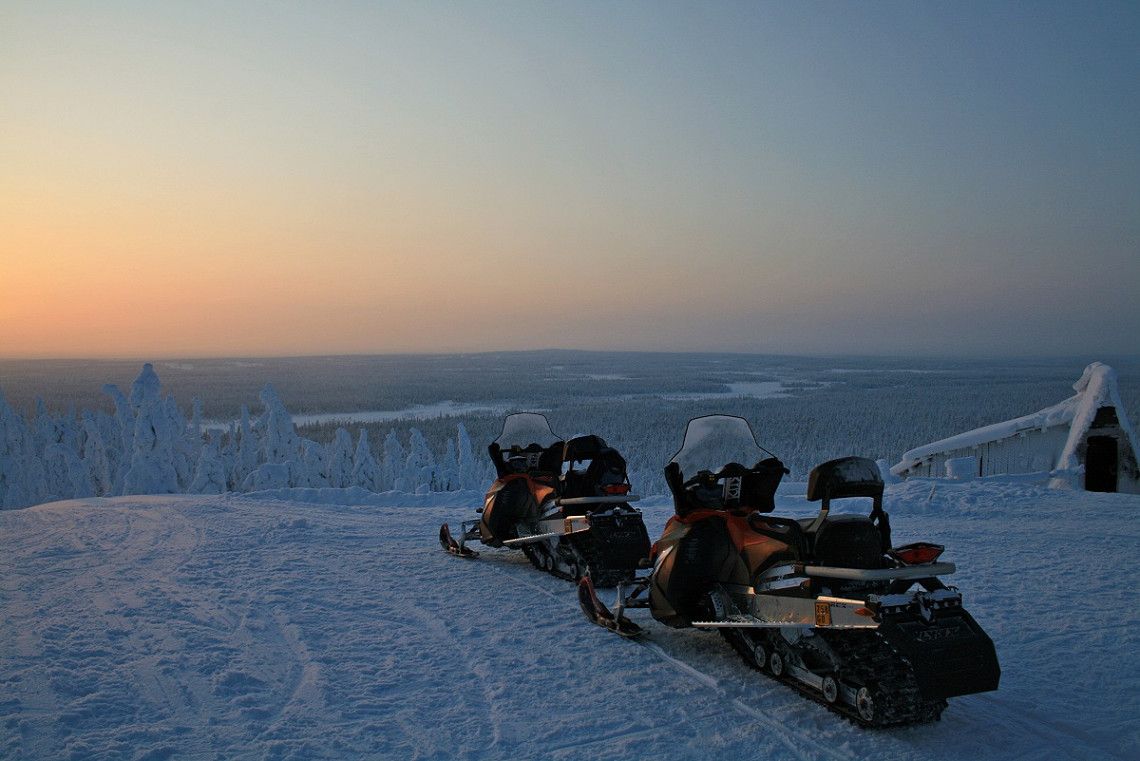 The best way to reach the Lampivaara Amethyst Mine in winter is by snowmobile. Photo: Claudia Rothkamp
And a snowmobile is often your only option if you want or need to get to hard-to-reach places in the mountains, such as the Lampivaara Amethyst Mine – the only mine of this type in Europe still in operation. Contrary to expectations, however, you won't be going deep into a mountain, but instead into a large wooden shed used as weather protection. You're allowed to dig at the surface of the ridge, and if you happen to find a small amethyst, you can keep it, too. However, you'll have to hand over larger pieces.

Incidentally, it's the opposite with ice fishing, which you can also take part in at any of the many lakes near the Luosto fell: fish that are too small can go back into the water, whereas the larger specimens are destined for the barbecue.
Tip #6: The Northern Lights at the Arctic Snow Hotel and snow saunas
You should definitely plan a stopover at the Arctic Snow Hotel on the way to or from Pyhä-Luosto. It lies in the Arctic Circle, about 26 kilometres from Rovaniemi. Similar to the famous Icehotel in Jukkasjärvi in Northern Sweden, the temperature in the rooms is constantly around -5 °C.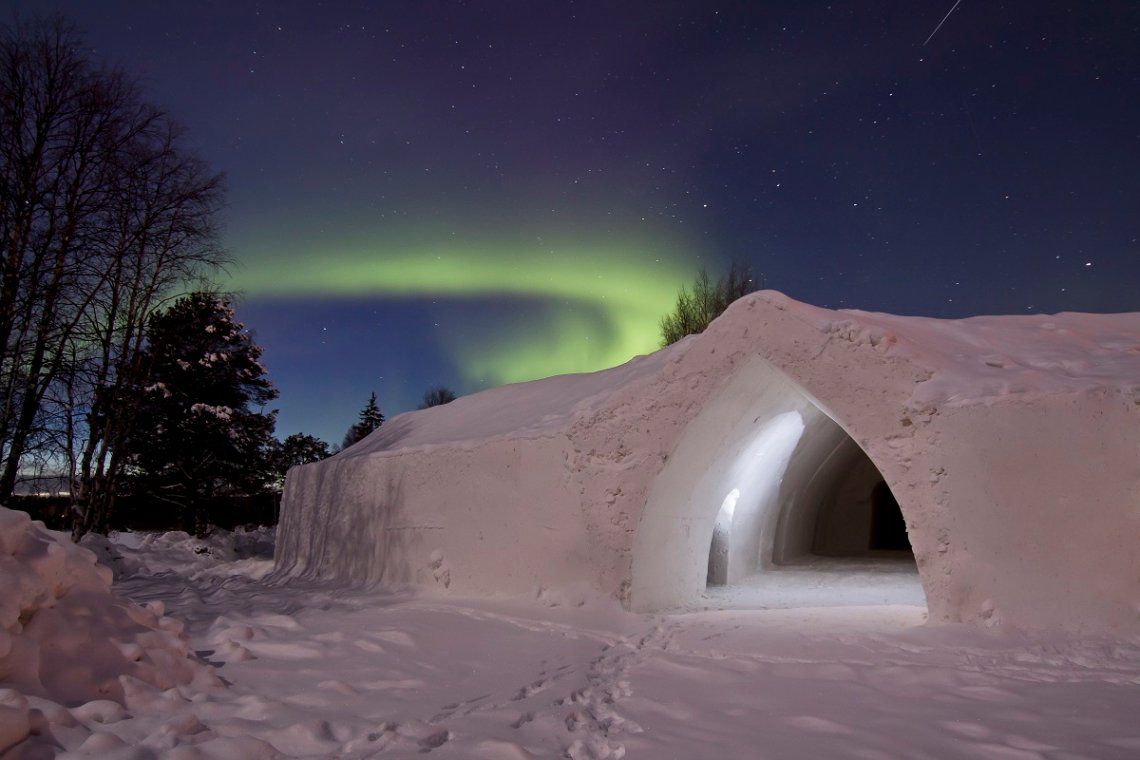 The Arctic Snow Hotel near Rovaniemi in the Arctic Circle is a great place to observe the Northern Lights. Photo: Arctic Snow Hotel
The Arctic Snow Hotel also took inspiration from the Swedish hotel in many other areas, albeit on a smaller scale. The room prices are slightly more moderate than in Jukkasjärvi. But you don't have to stay here overnight as you can also buy a day ticket to just explore the snow hotel. Moreover, the Arctic Snow Hotel offers something that is hard to find anywhere else in the world: a sauna made from snow. You can book a separate ticket for that as well. Simply relax and listen to the crackling sound that encompasses the room when a new infusion lets the dense steam rise every thirty seconds while the meltwater drips from the ceiling. Unfortunately, this fascinating experience is over after about ten minutes as the thawed walls of snow have to cool down and freeze again before the next visitors can enjoy the sauna. But it doesn't matter because nobody wants to sit in the sauna anyway when the Northern Lights are dancing outside in the sky. Incidentally, you can also watch the Northern Lights from a warm bed in a glass igloo if you don't mind spending a night away from your motorhome.