Many package holidaymakers go to Ibiza or Formentera for the beach, beach and more beach. But there is so much more to see and do in the Pityusic Islands in terms of attractions, activities and amazing landscapes that are easy to discover by motorhome or caravan. We have put together a few highlights for you to explore: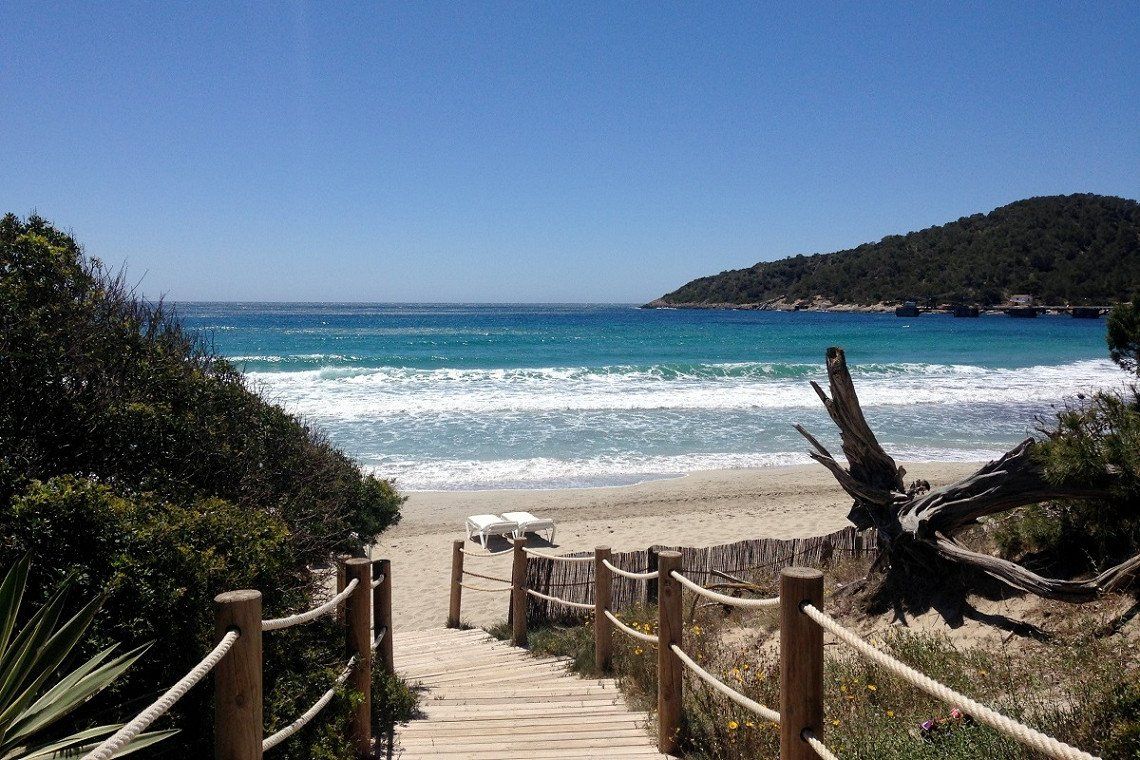 Ibiza has is a wide selection of beaches and bays. Photo: Pixabay
Vamos a la playa – The most beautiful bays in Ibiza
Long and fine sandy beaches, rugged rocky bays, red sandstone cliffs, coarse shell sand, black sandy beaches or preferably secluded fishing bays surrounded by pine forests? With roughly 70 bays ("calas") scattered around the island, there's a beach for everyone. Want to find out more? Maybe your beach is at...
- Cala Comte in the west of the island, with sloping rock terraces, Caribbean sea water and the laid-back Sunset Ashram beach bar?
- Ses Salines in the south, a trendy and wide sandy beach named after the salt basins where "white gold" has been extracted for thousands of years and where the rich and beautiful spend time between their yachts and the Bali beds at the hip beach clubs? Our tip for music lovers: end your day at Sa Trinxa, an iconic beach bar that plays hypnotic electronic beats.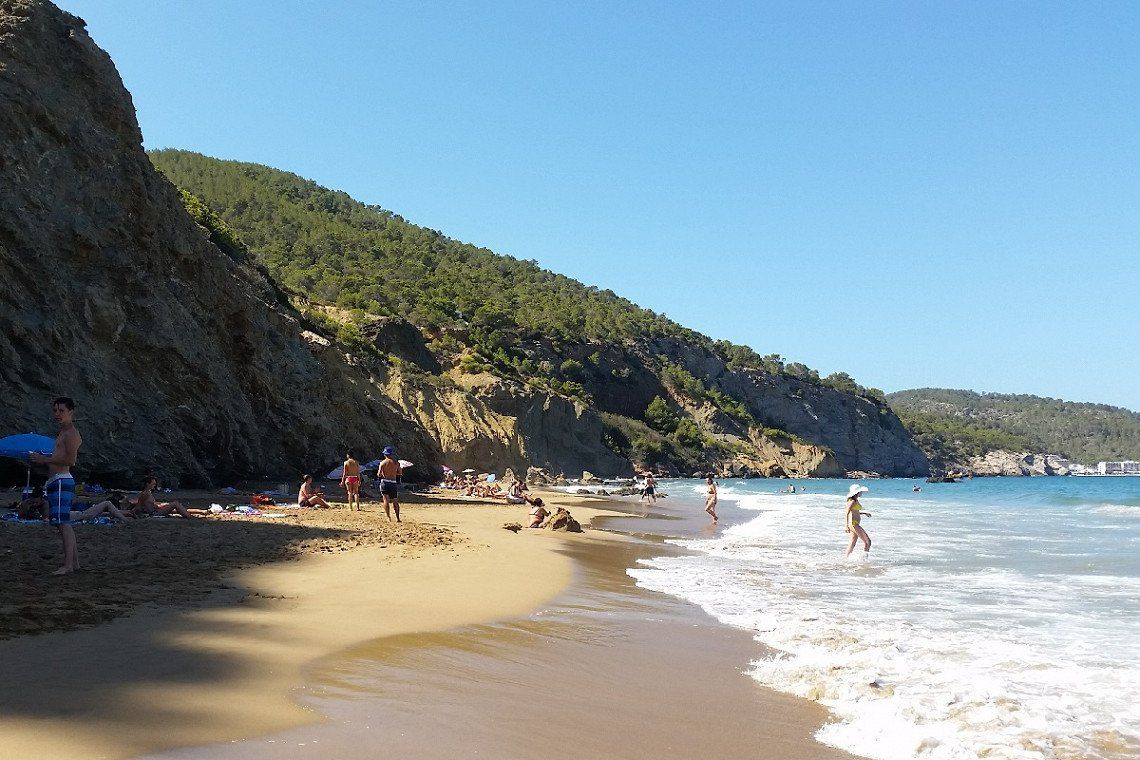 The bay of Aguas Blancas has its very own Ibiza contrast: dark sand and turquoise sea. Photo: Carina Neumann
- Pou d'es Lleo, a small quiet bay in the northeast of the island, surrounded by old fishermen's huts and red rocks, where the Phoenicians once used common purple snails to create purple dye and whose laid-back beach kiosk sells probably the best mojito on the island?
- Sa Caleta in the south, where high red cliffs provide a surreal contrast to the turquoise sea water and whose beach restaurant not only serves excellent fish, but is also the very place where the cult drink Café Caleta was invented? Flavoured with rum, brandy, oranges, lemons, sugar and cinnamon, the coffee is served alight in a clay mug – quite spectacular, don't you think?
- Aguas Blancas in the northeast, with steps going down to a rocky bay with dark sand, where surfers can ride the waves to their hearts' content and the more adventurous can smear themselves with the black mud? This is said to be especially good for the skin due to the high sulphur content.

Touring Ibiza by motorhome or campervan gives you the freedom to explore Ibiza's bays as you like. Most have large gravel car parks where you can also park larger vehicles (sometimes for a fee).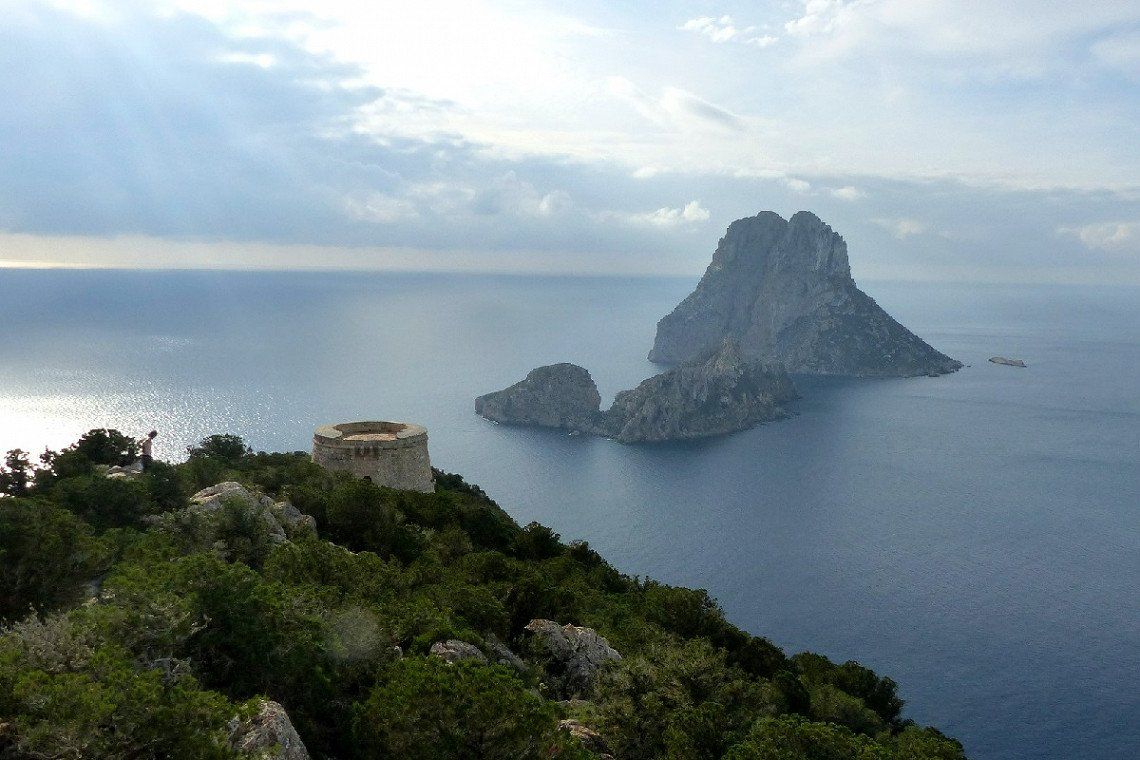 You have a great view of Es Vedrà from the watchtower. Photo: Pixabay
Day trip destinations in Ibiza: Es Vedrà, the magical rock
The rocky island of Es Vedrà in the southwest of Ibiza is one of the landmarks of the Pityusic Island. Numerous myths and legends are associated with this mysterious place, such as secret Walpurgis nights, UFO sightings, beautiful nymphs and the sunken city of Atlantis whose highest peak is said to rise out of the water as Es Vedrà off Ibiza. Fishermen report of compasses not working near the island and of mysterious currents that throw ships off course. In the 1970s, a passenger plane from Valencia crashed into the Sa Talaia mountain near Es Vedrà – unfortunately encouraging more mystical theories. In the 19th century, the Carmelite monk Francesc Palau is said to have lived as a hermit in a cave in Es Vedrà after being exiled from Barcelona to Ibiza.

How to get there: there is a beautiful viewing platform near Cala d'Hort bay. Enter "Aparcament Es Vedrà" in your navigation device and park as far to the front on the gravel path as you can because it gets quite tight further back. Follow the hiking trail – it takes about 20 minutes – towards the sea and you will soon see the mighty peak of Es Vedrà. You might even feel some energy emanating from the rock...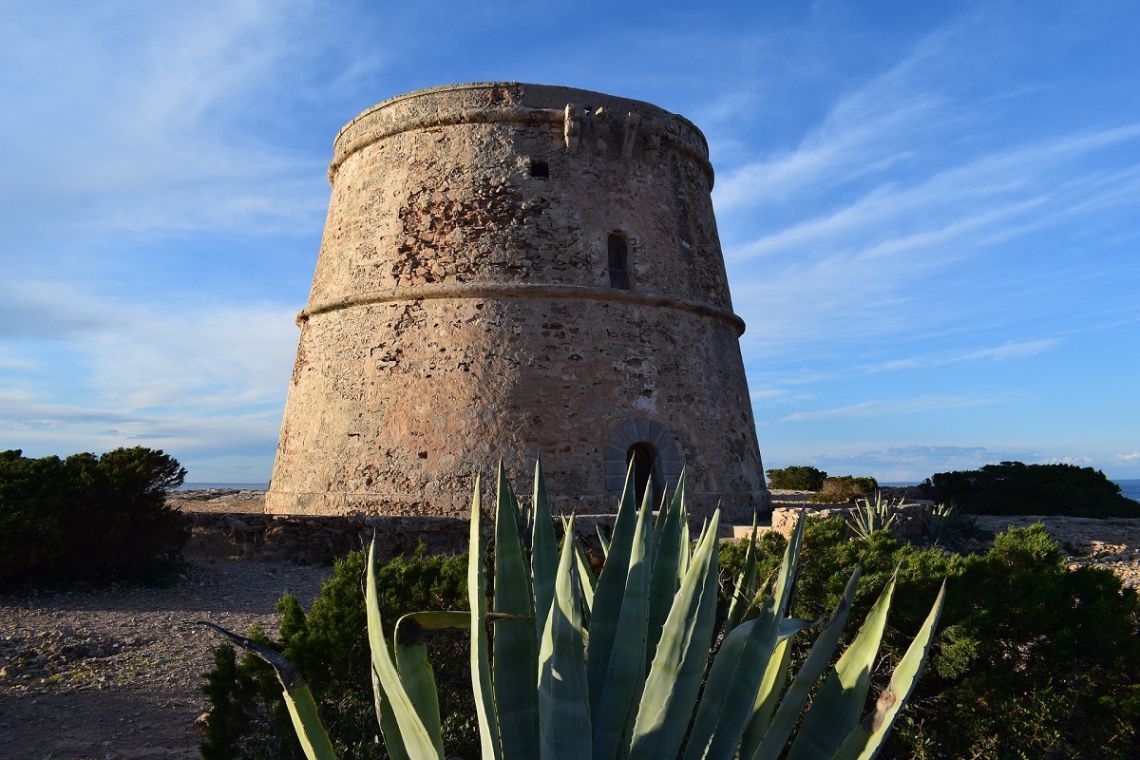 The watchtowers in Ibiza and Formentera were once part of an elaborate pirate warning system. Photo: Pixabay
Watchtowers and fortified churches to ward off pirate attacks
Incidentally, the stone tower that stands above the viewing platform is a relic of Ibiza's dark era when pirates plundered the villages and terrified the inhabitants – until they started to defend themselves with cannons and castle drawbridges and even in large churches, hence the name "fortified churches". Towers were built around Ibiza and Formentera, each aligned within sight of each other. Guards were placed on them and watched for enemy ships all day and night. If a pirate ship appeared on the horizon, the guards would light a fire and within minutes the towers around the island were ablaze, allowing the population to take refuge in the fortified churches.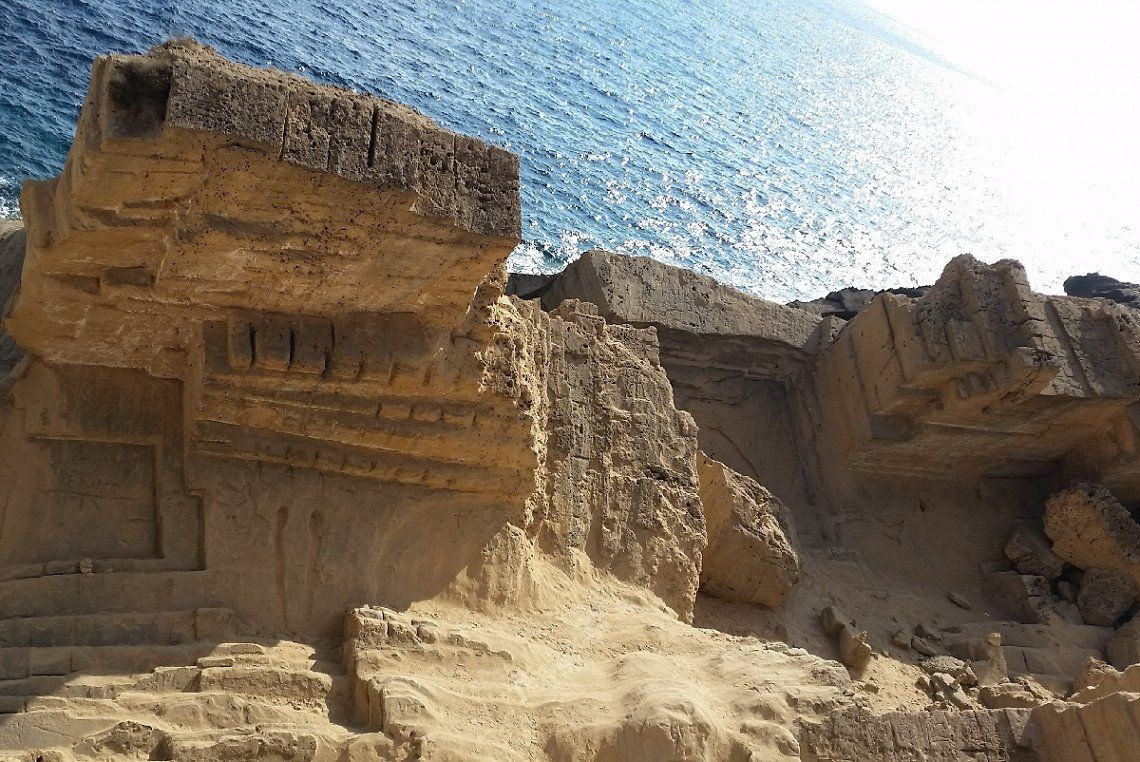 The name Atlantis has nothing to do with the legendary sunken city. Photo: Carina Neumann
Atlantis in Ibiza: Quarries can be so mystical and beautiful
Our tip for anyone who likes hiking: near Es Vedrà, make a detour to the bay of Sa Pedrera, which is also known as Atlantis. The Romans once removed large pieces of stone from this quarry and transported them by ship to Ibiza's capital, Eivissa. These stones were used to expand the castle in the port of the old town. Today, the bizarre stone formations attract spiritual people, divulged by the many stone circles and towers on their way there. The steep descent takes about an hour and goes in part over sand – so make sure you wear sturdy shoes. Once at the bottom, you can snorkel in the rocky cove. On hot days you should either set off in the morning or in the afternoon and take plenty of water with you as the sun shines right on the slope during the day. The cliffs are also popular with sport climbers.

To get to Atlantis, don't go straight ahead towards Es Vedrà at the end of the car park, facing the sea, but instead turn left. You will soon reach the slope where the descent begins.
Visit the old town of Eivissa
You should make time for at least one evening in Dalt Vila, the old town of Eivissa or Ibiza Town, strolling through the narrow streets and looking at the numerous boutiques and tapas bars. It's best to go up to the castle at sunset, from where you can observe the yachts returning to the port and slowly watch how the setting sun gives way to the colourful lights of the city. Then wander down to the harbour for a drink and some tapas.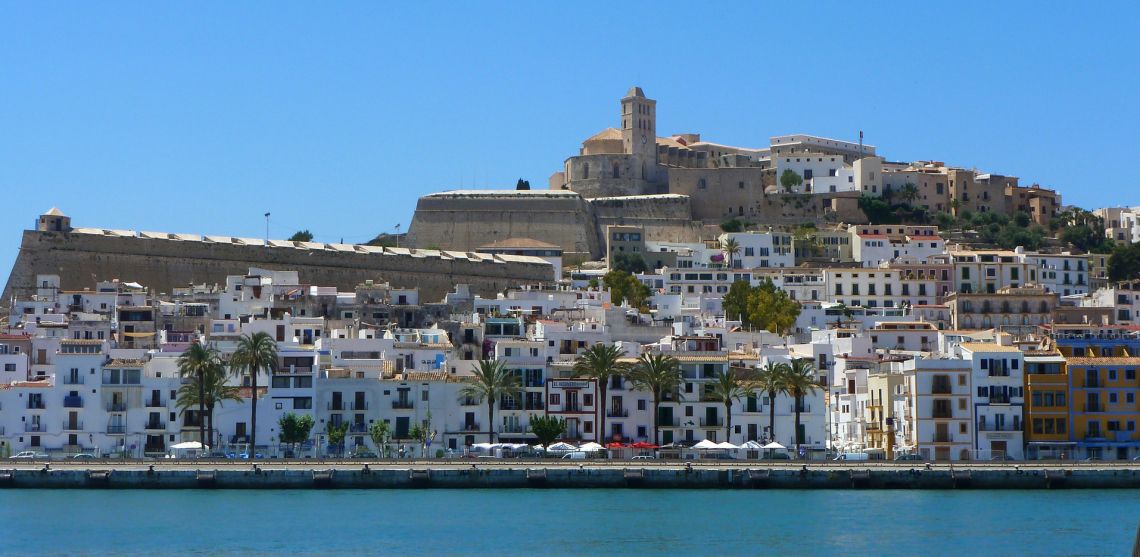 The fortified old town of Dalt Vila in Ibiza is a UNESCO World Heritage Site. Photo: Pixabay
Our recommendation: try "pimientos de padrón" (fried small peppers, some can be hot), "calamares a la romana" (fried squid rings), "chorizo picante" (spicy paprika sausage), "rabo de toro" (tender oxtail), "flaó" (Ibicencan cheesecake with peppermint) and – a must – "pan y alioli" (farmhouse bread usually eaten with homemade garlic mayonnaise and olives). After the meal, enjoy a glass of "Hierbas" as a digestif: the Ibizan miracle cure for health, fertility and everything else you need for a happy life is a tasty liqueur made from local herbs that is best enjoyed over ice. The top-secret recipe is still carefully guarded by the old Ibicenco families.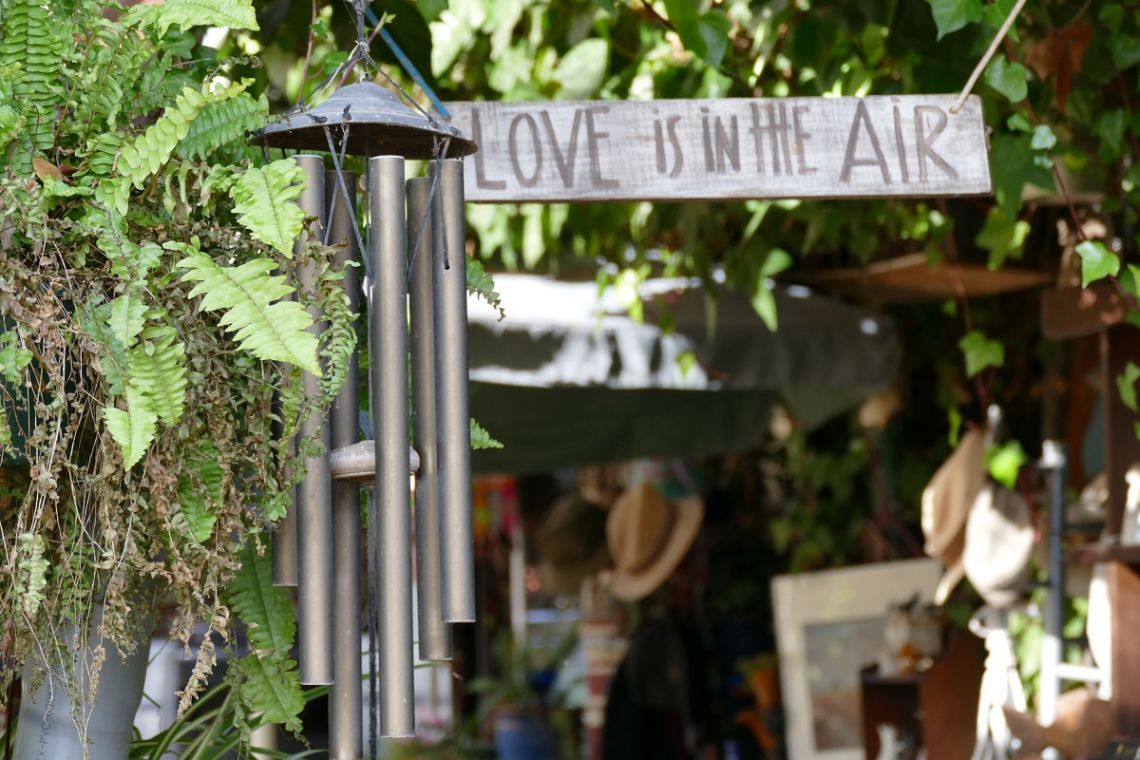 Ibiza and Formentera used to be on the Hippy Trail, which has left its traces here and there. Photo: Carina Neumann
Relive the hippy days
The hippy lifestyle has left its traces throughout Ibiza and Formentera, and not just at the beaches. After all, the two islands held a special attraction for flower children in the 1960s and 1970s. Initially, travelling the "Hippy Trail" from Europe to Asia, many hippies fell in love with the islands and stayed. In part to this day: you will still see a few first-generation hippies at the hippy markets selling handmade clothing and jewellery. There are several of these markets spread across the island, two of which are particularly worth visiting:

Las Dalias in San Carlos: the place where Bob Marley once sat on the floor and jammed still holds many live concerts and markets today. Colourfully painted by international street artists, the old finca is transformed into a buzzing market every Saturday and even on weekdays during the high season. Las Dalias is no longer an insider tip, but there is always something to discover and the atmosphere is fantastic. Our tip: after visiting the hippy market, stop by "Bar Anita" near the church of San Carlos for a few tapas or refreshing drinks. The bar is named after the former landlady who was once considered the "mum of the hippies". Anita lovingly looked after the "peludos" – "the hairy ones", as the Ibizans called them – who would flock here in large numbers. "Bar Anita" was not only a social meeting place, but also a connection to the outside world as it provided mailboxes where the flower children could receive their mail and send letters home, and some of which still exist here today. "Bar Anita" is still run by members of Anita's family.

Mercadillo Artesanal Sant Joan: this Sunday hippy market in Sant Joan is a little quieter and more authentic. Once a week, the small village in the north of the island turns into a hub for live music and all kinds of island products. After going around the market, enjoy the relaxed atmosphere on the church square under shady trees with a shandy in one hand a hand-held fan in the other.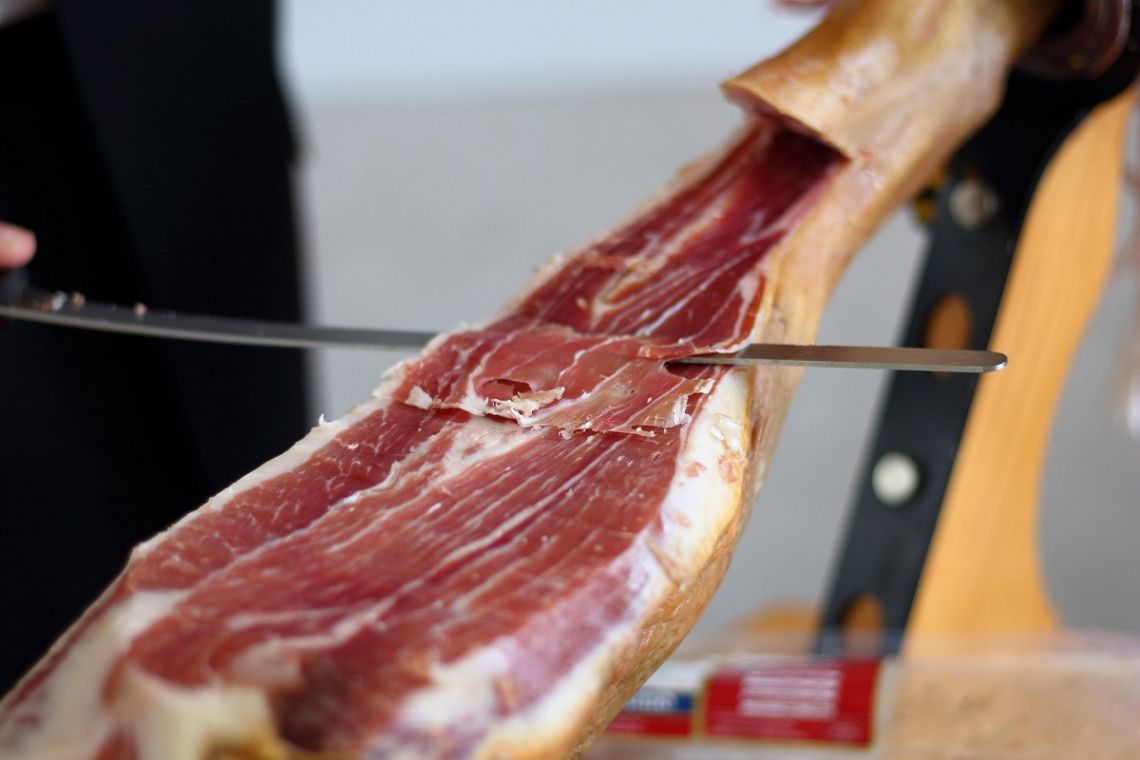 Tapas with real Spanish ham and Manchego cheese are a must when holidaying in Ibiza. Photo: Pixabay
Nothing for vegetarians: Ham heaven at Bar Costa
Lovers of Spanish ham have no other choice but to head to the traditional "Bar Costa", especially as it lies in Santa Gertrudis, the geographic heart of Ibiza. Artists used to exchange their paintings here for food and drink, which is why the walls of the rustic bar are decorated from top to bottom with lots of works of art. In summer, the stone walls keep the bar nice and cool, in winter a round fireplace provides a cosy atmosphere. And most importantly: hundreds of legs of Spanish ham hang from the ceiling! In addition to the popular "Jamón Serrano", you will also find "Jamón Ibérico" made from precious Iberian pork along with delicious Manchego cheese. After feasting at Bar Costa, take a stroll through the small, pretty town of Santa Gertrudis. Lots of authentic bars and boutiques await you here as well as the Casi Todo auction house where you can go on a treasure hunt for rare antiques. If you're lucky, you might even catch an auction when visiting the island.
Just see where the roads take you
Ibiza is also perfect for anyone who likes being spontaneous on their camping trips. Simply get into your motorhome, follow the winding country roads that go through red fields, pine forests and along the blue sea, and see where the roads take you. You might see pink flamingos in the Ses Salines salt pans or lean, two-coloured Ibizan hounds, a native breed of greyhound once bred to hunt rabbits. You'll be surprised by the many beautiful spots and thanks to your mobile home you can simply stop when and where you feel like it. Because that is also Ibiza – a lifestyle of freedom, spontaneity and easygoingness.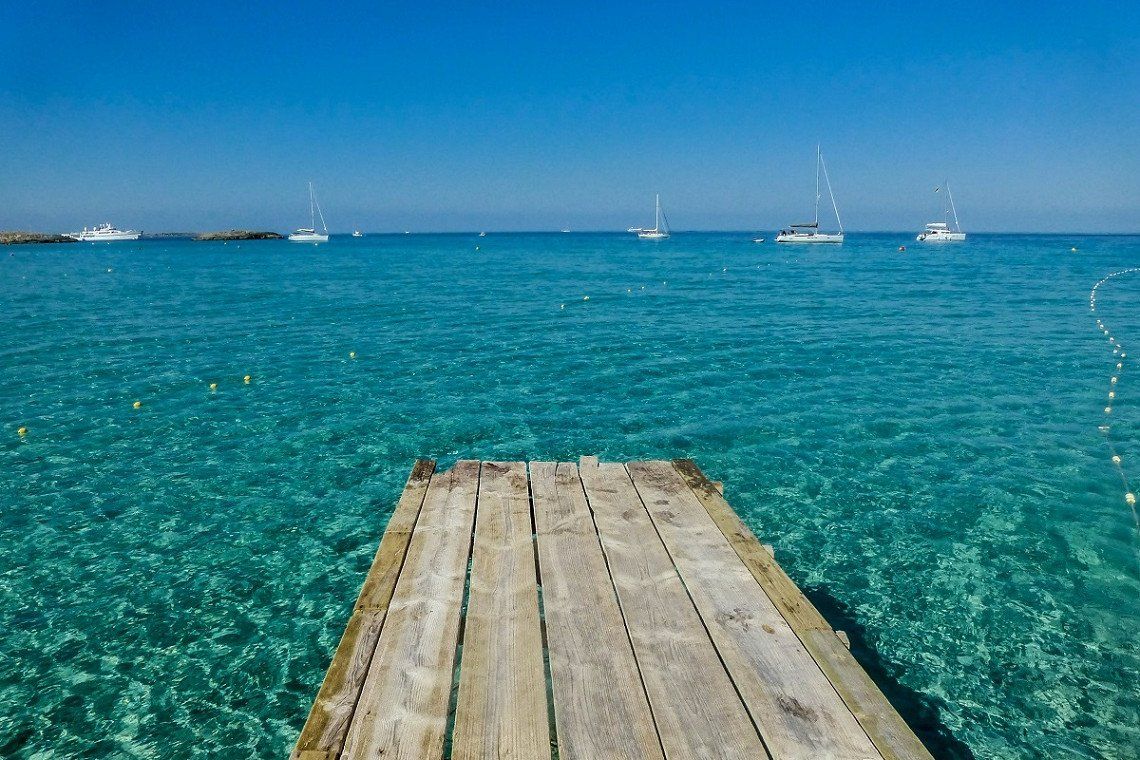 Snorkelling and sailing are some of the most popular activities in and on the crystal clear waters around Formentera. Photo: unsplash.com
Day trip to Formentera, the "little Caribbean"
Since there are no campsites in Formentera and wild camping is prohibited, the island makes a perfect day trip destination for campers. However, please note that all kinds of camping vehicles are banned from entering Formentera, that includes motorhomes, campervans and campers as well as caravans. For environmental reasons, car traffic has also been heavily regulated since the summer of 2019. For instance, only a certain number of vehicles (12,450 in total) are allowed to enter the island between 1st July and 31st August. If you want to take your car to the island, you must first apply online to the Island Council of Formentera and pay a daily fee, which is €0.50 to €1 per day, depending on the type of vehicle.

Ferries run regularly to Formentera from the port of Eivissa/Ibiza Town in Ibiza. The fast ferries only take 30 minutes and the last ferry back to Ibiza leaves after sunset – giving you plenty of time to discover the Pityusic Island.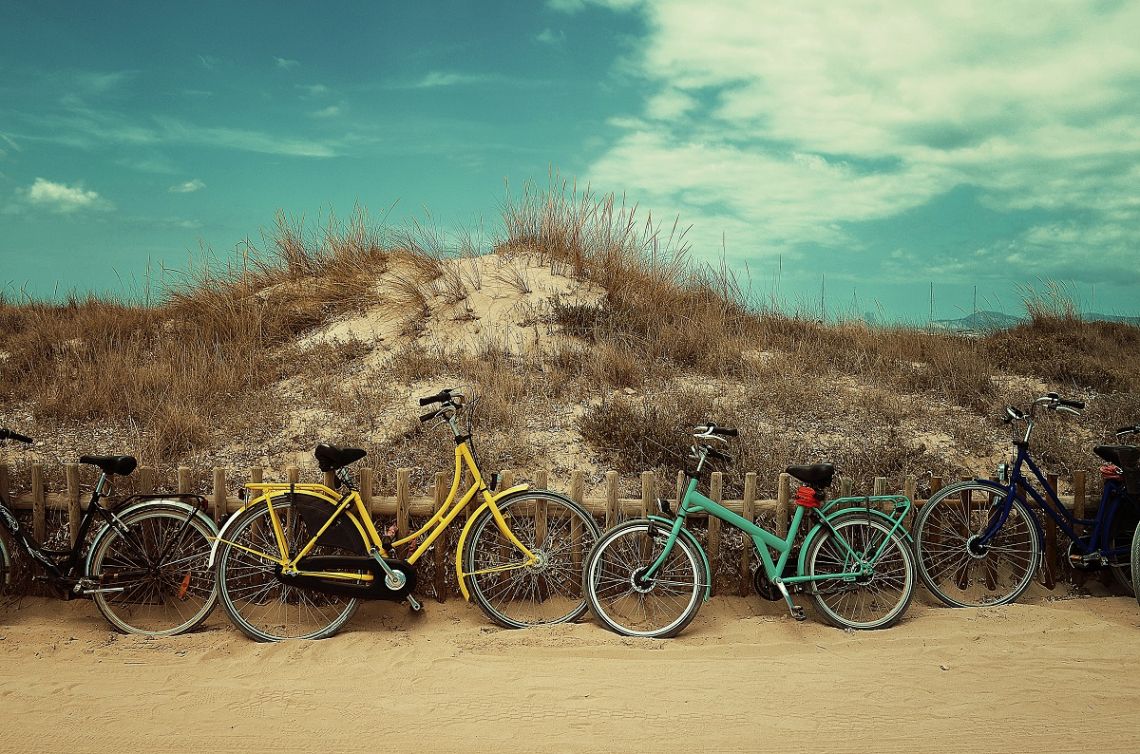 Formentera is the smallest of the Balearic Islands and very easy to discover by bike. Photo: unsplash.com
Explore Formentera on two wheels
Formentera has long since earned its reputation as a cycling destination, its small size and flat landscape making it ideal for an active day out and being conquered on two wheels. If you don't have your own bike with you, you can rent a bike, e-bike or scooter at the harbour. Formentera is only about 20 kilometres long and covers an area of 83 square kilometres, so you will also be able to see a lot by bike. The island has a well-developed and signposted hiking network as well.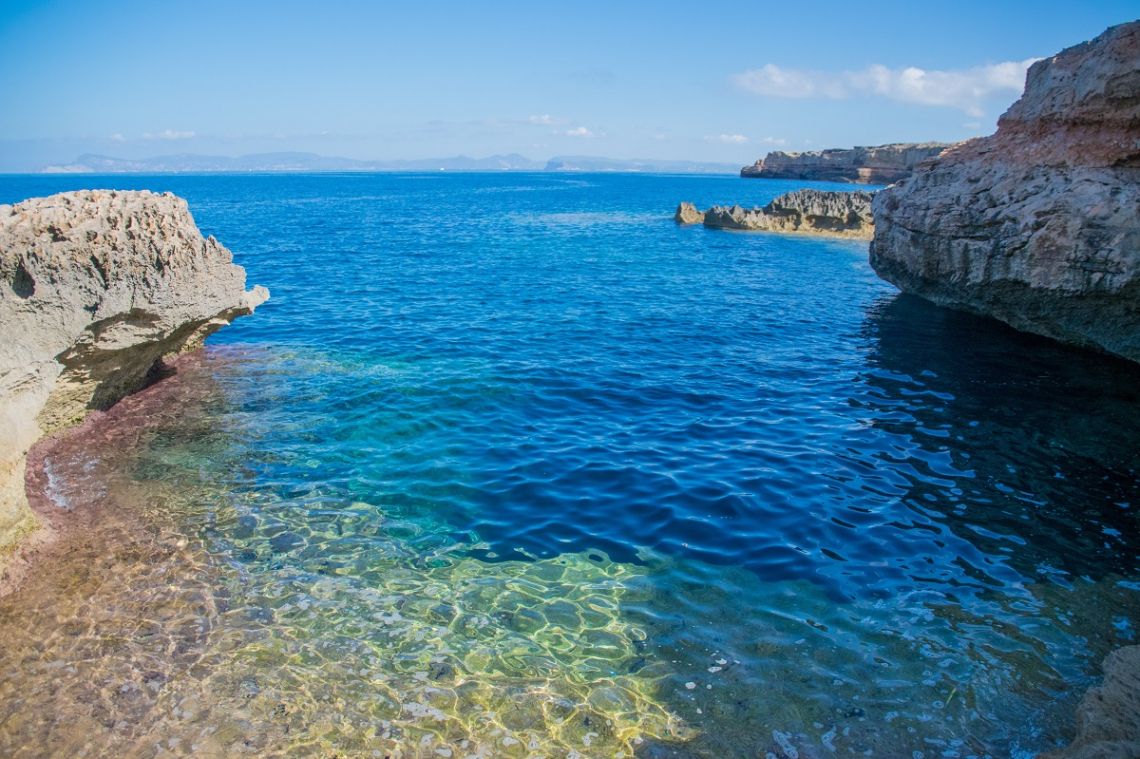 Formentera has countless small bays and beaches, like here with a view of Ibiza. Photo: Pixabay
Beaches and destinations in Formentera
If you visit Formentera in spring or autumn, you will come across secluded and pristine beaches so often that you wouldn't really be surprised if Robinson Crusoe suddenly appeared in front of you. One of the most beautiful bays is Ses Illetes on the northern promontory that is only about one kilometre wide, boasting a white sandy beach, crystal clear water, a view of Es Vedrà and boardwalks that will take you through the dunes to beautiful, yet expensive, beach restaurants.

Es Migjorn in the south of Formentera also has a beautiful bay. There are seven kilometres of bright white sandy beach and laid-back beach bars here, e.g. the legendary "Blue Bar" where Bob Dylan, Jimmy Hendrix, Bob Marley and Pink Floyd slurped mojitos in the 1960s or the rustic "El Pirata" bus where you can sit with your feet in the sand and gaze at the blue water.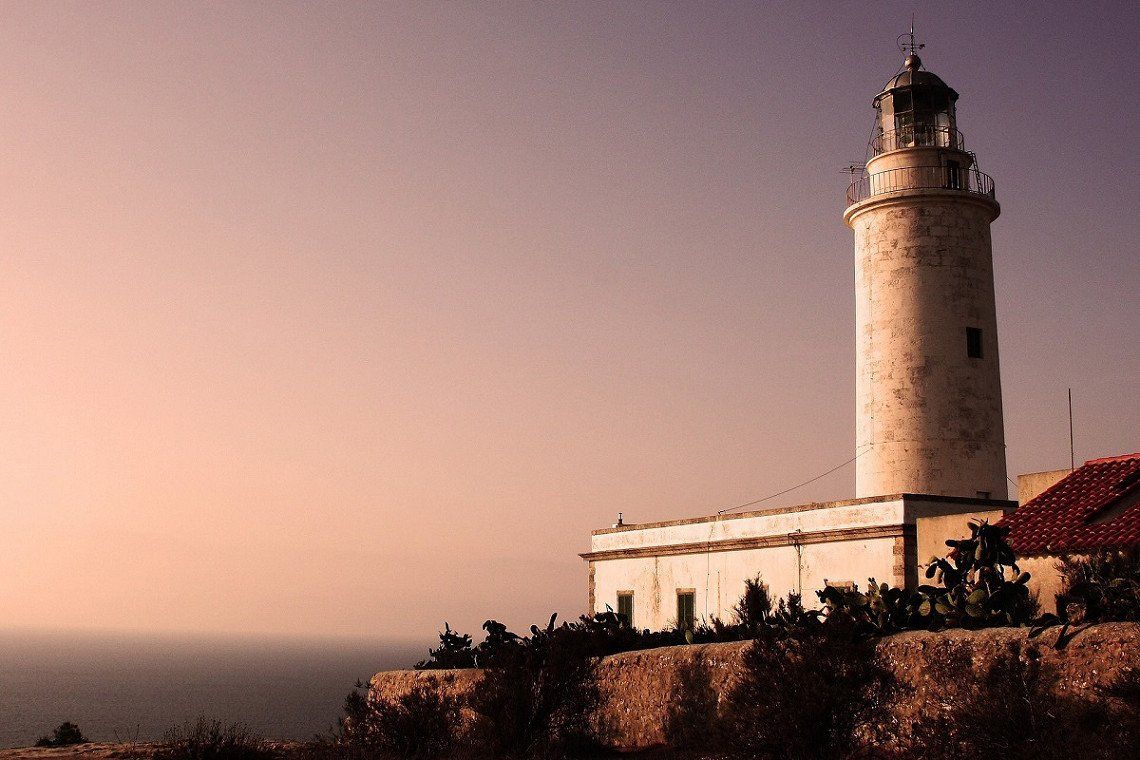 The La Mola lighthouse also features in Jules Verne's novel "Off on a Comet". Photo: Pixabay
Cala Saona is a small bay on the west coast of the island protected by coppery cliffs and surrounded by calm water, shady pine trees and a cosy "kiosko".

Another attraction in the island is the La Mola lighthouse in the east of Formentera. It towers around 200 m above the crashing surf and even appears in stories written by Jules Vernes, who visited the island at the end of the 19th century and described it as the "lighthouse at the end of the world" in his works. Rumour also has it that Bob Dylan lived in a nearby windmill for a while and was inspired here for his global hit "Blowin' in the Wind".