Fragrant gingerbread, festive lights, warming punch and mulled wine – we all look forward to the end of the year when cosy Christmas markets open for business again. Freeontour has selected ten spectacular markets where you can experience a magical winter wonderland. Whether cribs with real animals, a journey back to the Middle Ages or chalet stalls in forests, gorges or along the Danube – they all have something amazing to offer!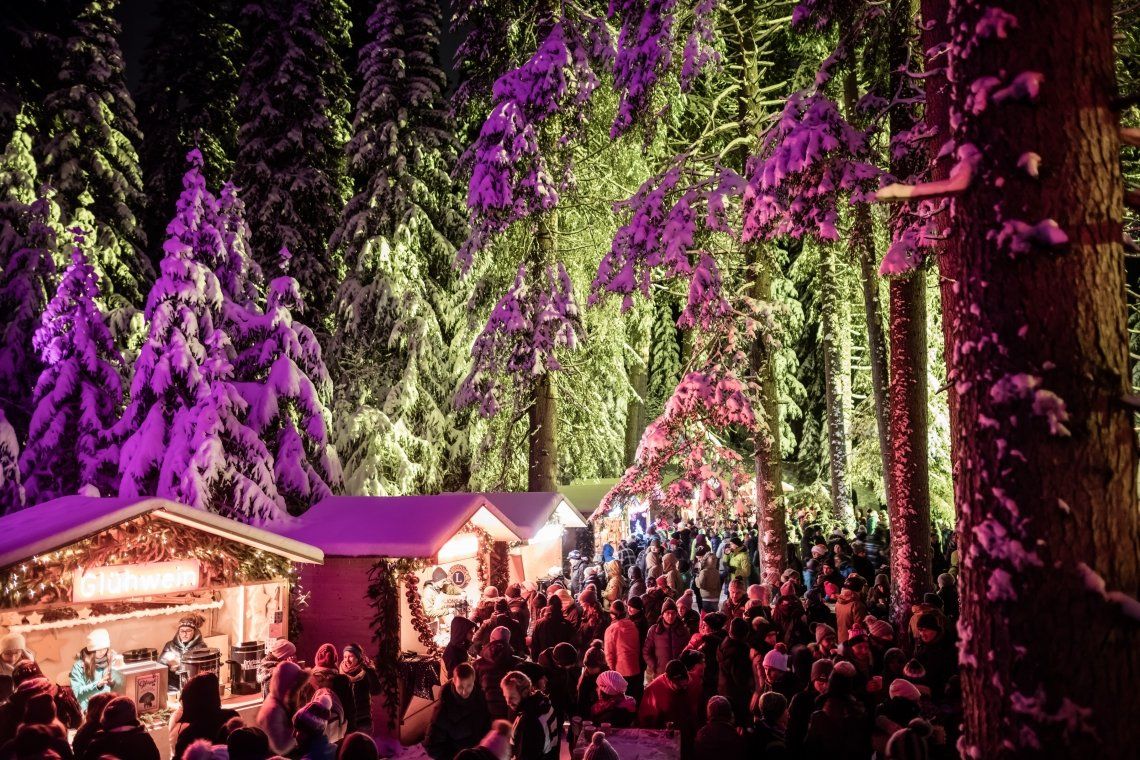 The snow and cosy surroundings create a Christmas wonderland in the Magic Forest. Photo: Association Lenzerheide Zauberwald / Johannes Fredheim
1. The Magic Forest in Lenzerheide
Snow-topped trees dotted with golden lights and rustic wooden chalet stalls create a Christmas wonderland in the Magic Forest. The many lights illuminating this forest in the Swiss town of Lenzerheide will cast a magical spell over you and all the other visitors.
The Magic Forest is not your ordinary Christmas market. Handicrafts and traditional Swiss cuisine in the market village, light art, performances and concerts make this enchanted forest an unforgettable experience for the whole family. The Lenzerheide Magic Forest is located in the Lenzerheide Squirrel Forest – we recommend sturdy shoes with non-slip winter soles, or, even better, with spikes.
The Lenzerheide Magic Forest will be open from 16th December 2022 to 4th January 2023 between 5pm and 10.30pm. Tickets have to be bought online in advance. There are currently no Covid-19 restrictions in place, but we recommend checking the latest coronavirus regulations in Switzerland before visiting.
2. Munich Advent Spectacle medieval market
Traditional Christmas crafts, a range of music and spectacles, mead and punch drank from rustic tankards, savoury delicacies, knights wearing heavy armour, mischievous jugglers, devout damsels and forest elves – a medieval Christmas market couldn't get any more authentic.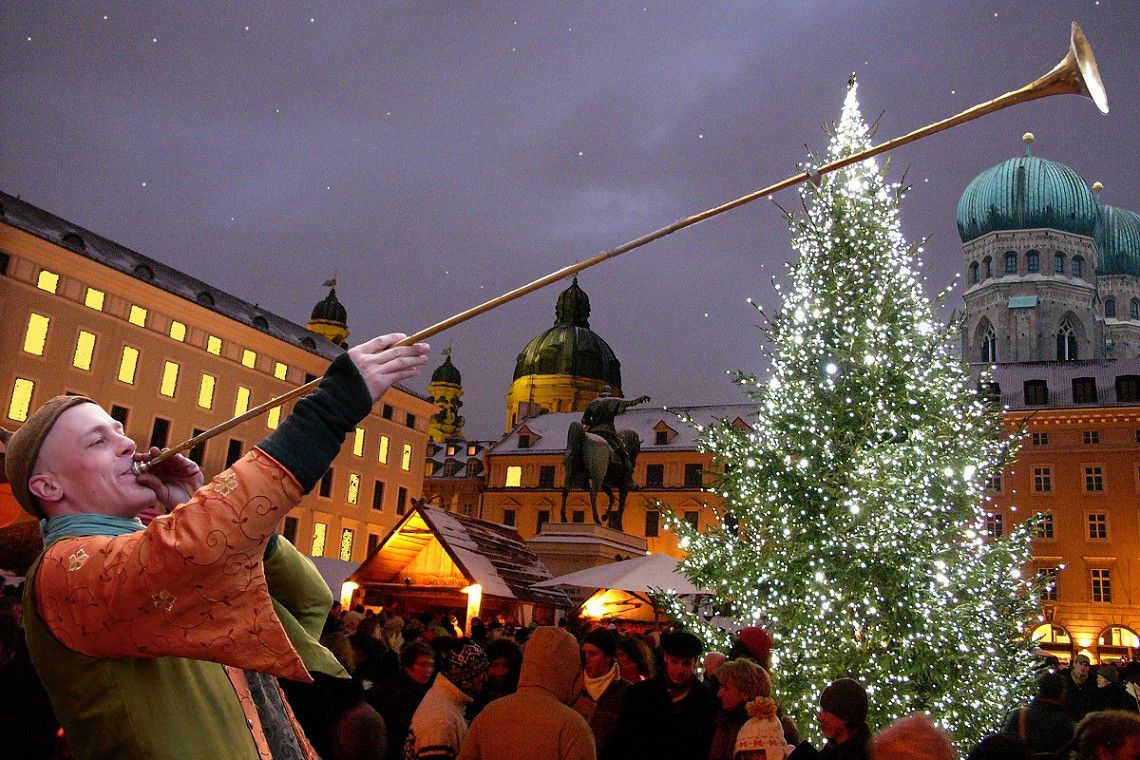 The Medieval Spectacle on Wittelsbacher Platz attracts thousands of visitors every year. Photo: Medieval Monacum
The Munich Advent Spectacle takes place on Wittelsbacher Platz, near Odeonsplatz. It shows visitors what the first Christmas markets looked like as this custom goes back to medieval, pre-Christmas markets where the citizens stocked up on all kinds of supplies for the cold winter months.
Craft stalls selling handmade items created by e.g. confectioners, toy makers and basket weavers were introduced in around the 14th century. Small items such as almonds, chestnuts and other nuts were also offered. Over the centuries, these winter markets have developed into the Christmas markets that we know and love today.
The Munich Advent Spectacle will be held on Wittelsbacher Platz in the Maxvorstadt district from 21st November to 23rd December 2022 between 11am and 9pm. There are no specific coronavirus restrictions in place, but we recommend checking the latest Covid-19 requirements in Bavaria and Munich before visiting.
3. Christmas fun with animals at Gut Aiderbichl
Have you ever been surrounded by pigs, donkeys, cows or ponies while strolling through a Christmas market? If not, then it's high time to visit the Gut Aiderbichl markets.
This German animal sanctuary association gives rescued animals a new home. The three estates in Iffeldorf near Munich, Deggendorf near Passau and Henndorf near Salzburg are beautifully and lovingly decorated for Christmas.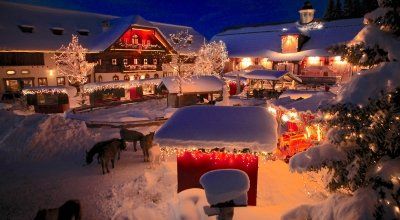 Christmas spirit is pre-programmed at Gut Aiderbichl. Photo: Gut Aiderbichl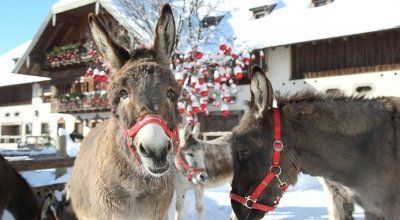 Taking care of the donkeys is a highlight of the pre christmas visit for children. Photo: Gut Aiderbichl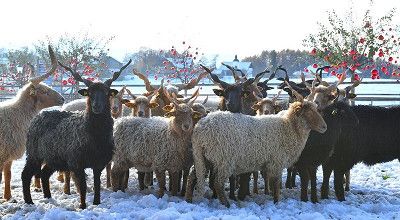 The sheep are also part of the Christmas happenings at Gut Aiderbichl. Photo: Gut Aiderbichl

Wooden stalls with Christmas handicrafts, festive decorations and winter delicacies will have you feasting and browsing for gifts. A host of lovable four-legged friends are part of this festive event, and it's exciting to see the traditional Christmas cribs with real sheep, oxen and other animals. In any case, the peaceful scenario in the decorated courtyards full of animals looks like one huge Christmas crib.
And this is very much a paradise for children. They can jump around on hay, groom and feed the donkeys and ponies and even visit Father Christmas as well as take part in a guided tour of the farm.
The Christmas markets can be enjoyed from mid/late November to early January, depending on the farm, with the proceeds going to the welfare of the animals.

Dates for 2022/23
Gut Aiderbichl Christmas market in Henndorf: 11th November 2022 to 8th January 2023
Gut Aiderbichl Christmas market in Deggendorf: 19th November 2022 to 8th January 2023
Gut Aiderbichl Christmas market in Iffeldorf: 19th November 2022 to 8th January 2023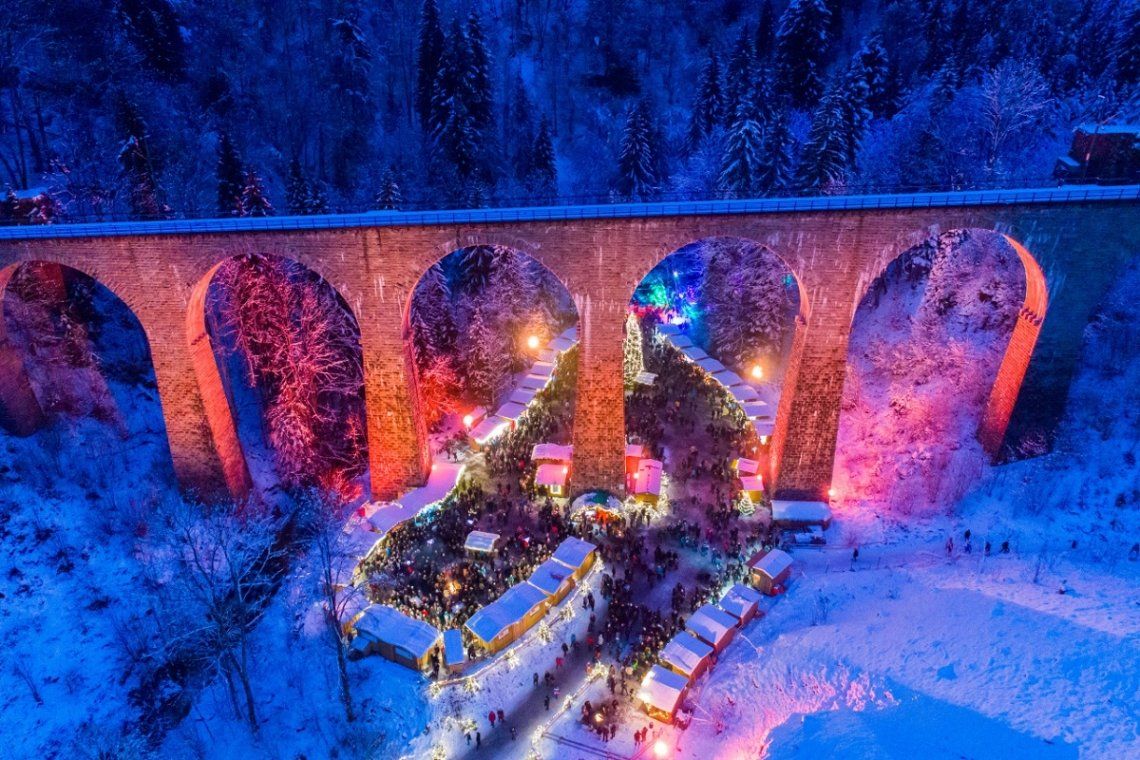 The Ravenna Gorge Christmas village can be reached on foot or by shuttle bus, depending on the weather. Photo: Hochschwarzwald Tourismus GmbH
4. The Ravenna Gorge Christmas Village
How about some punch in a gorge under an imposing railway viaduct? You can do that and more at the Ravenna Gorge Christmas village in the Black Forest, Germany, where around 40 merchants present their local products, handicrafts and original gift ideas. A sea of colourful lights creates a cosy and festive atmosphere. You can even take part in a romantic torch-lit walk to the Christmas village.
This unique Christmas market in the Ravenna Gorge is expected to be open from 25th November to 18th December 2022, Friday to Sunday. Tickets for entry to the Christmas village will only be available online in advance – and can be purchased here. Fixed time slots will be assigned to avoid overcrowding. There are currently no coronavirus restrictions in place, but we recommend checking the latest coronavirus regulations in the state of Baden-Wuerttemberg before visiting.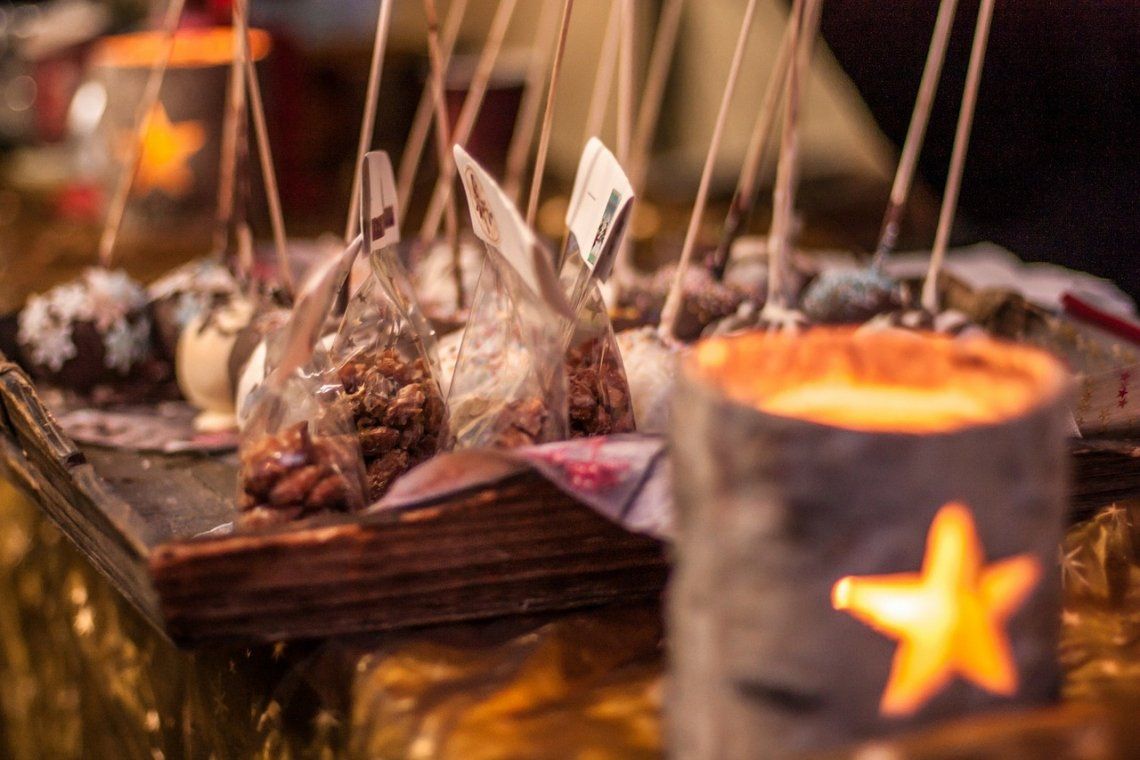 In addition to a wide range of handicrafts, you will also find a host of delicacies at Spittelberg Christmas market. Photo: Pixabay
5. Artistic flair at the Spittelberg Christmas Market in Vienna
If you are looking for original Christmas gifts, then look no further than Spittelberg Christmas market in Vienna where you are bound to find something special. The cobbled streets in the artists' quarter in the 7th district are usually home to roughly 100 stall holders offering unusual handicrafts. However, this number will be slightly less in 2022 due to coronavirus in order to allow for more distancing and to put up additional bar tables.
As always, the festive Christmas decorations make this romantic Biedermeier district even more dazzling, so make sure you come here after sunset to make the most of the atmosphere.
You can stroll through Spittelberg Christmas market slightly earlier this year: from 11th November to 23rd December 2022. There are currently no coronavirus measures in place, but we recommend checking the Covid-19 restrictions in Austria before visiting.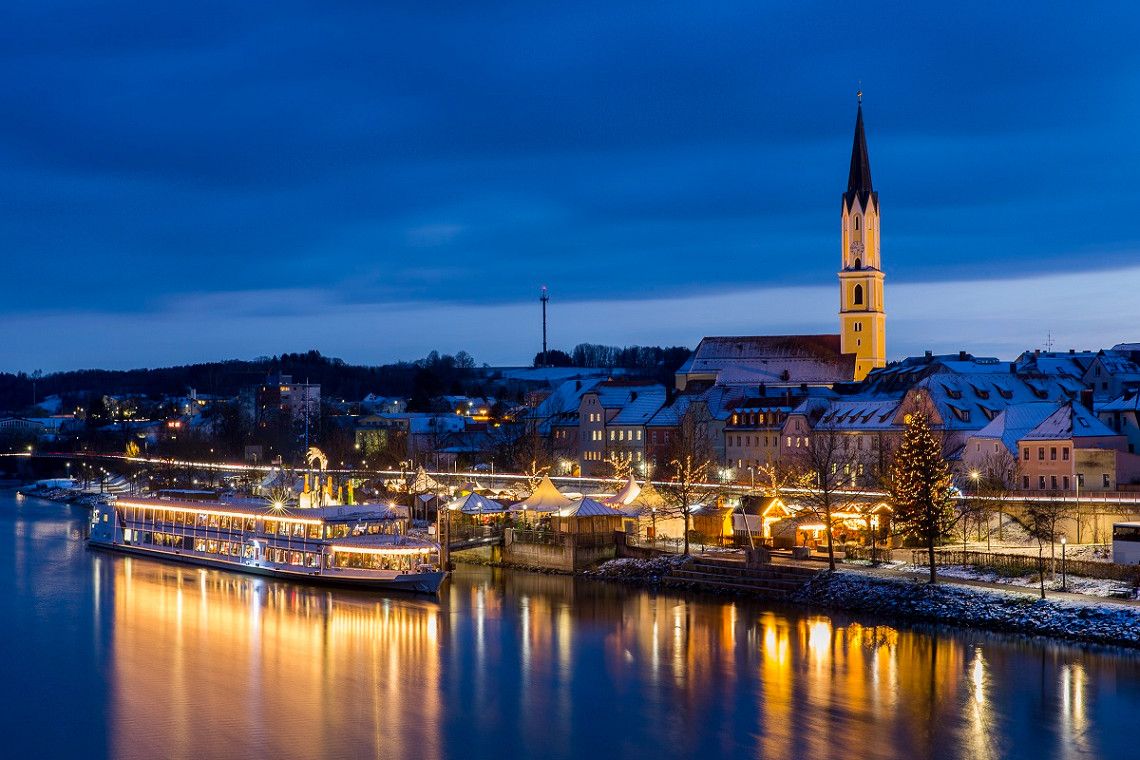 The "Floating Christmas Market" in Vilshofen an der Donau has a unique atmosphere. Photo: Laudi
6. The Floating Christmas Market in Vilshofen an der Donau
The residents of the small village of Vilshofen an der Donau near Passau, Germany, are very proud of their floating Christmas market where the stalls are not only set up along the illuminated river bank, but also on the ship Stadt Linz. Other attractions include the nine-metre-high mulled wine Christmas pyramid, what is probably the world's largest wooden crib and a magnificent Christmas tree decorated with about 4,000 lights and 1,500 baubles. Treat yourself to Lower Bavarian specialities while enjoying the romantic flair along the promenade. You can stroll through Vilshofen Christmas market from 25th November to 11th December 2022, every Friday to Sunday. Please check the coronavirus regulations for events in Bavaria before visiting. Incidentally, should you happen to be in the region anyway, you could also make a detour to Passau where you will also find some wonderful Christmas markets.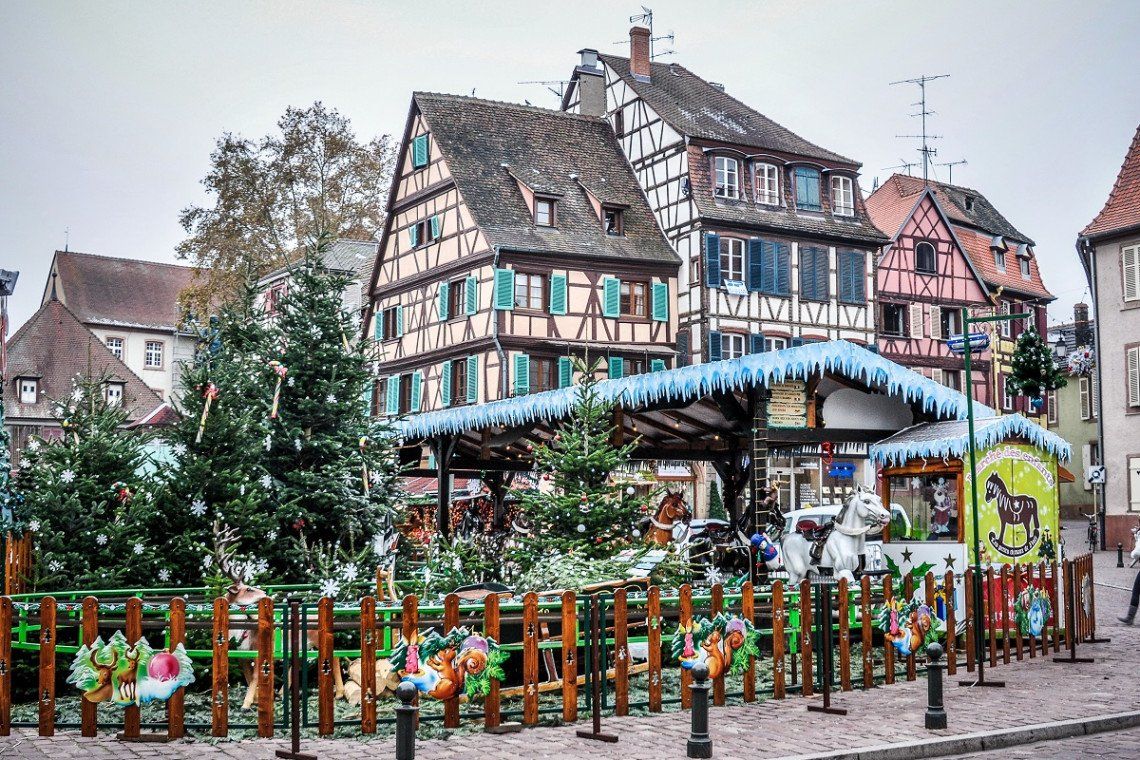 One of the six Christmas markets in Colmar. Photo: Pixabay
7. Christmas wonderland in Alsace
The picturesque villages in French Alsace are beautiful, whatever the season. But they step up their charm offensive in the run-up to Christmas by setting up their Christmas markets between historical half-timbered houses, thus making the villages look as though they came straight out of a Christmas fairy tale.
Colmar is one such place – its six stunning Christmas markets are the reason why it is sometimes referred to as "Christmas City". You can stroll from market to market in the tranquil old town, taste Alsatian cuisine and enjoy the magic of Christmas. The Colmar Christmas markets will be open from 24th November to 29th December 2022. But you can also enjoy a fairy-tale atmosphere at the Christmas market in the smaller, nearby town of Riquewihr as well as in the surrounding villages. If you prefer larger and more grandiose settings, head to the Christmas market in Strasbourg. Alsace is simply full of wonderful Christmas markets!

Please check the latest Corona regulations in France before visiting.
8. Christmas at Satzvey Castle in the Eifel
No longer an insider's tip, the medieval Christmas market at Satzvey Castle in Mechernich, Germany, can get quite crowded. But don't let this dissuade you as it's still worth a visit, just make sure you get there as early as possible to get a parking space. Large car parks, which can also accommodate motorhomes, will be set up at the village entrances for the duration of the Christmas market.
The Christmas market at the castle takes place every Saturday and Sunday during Advent from 12 noon. The likelihood of snow here is quite low, but the atmospheric setting of the castle with the festive lighting, various market stalls, great attention to detail and a medieval nativity play from the Hohenstaufen era more than make up for it. Furthermore, there is a Santa's workshop for children where elves are hard at work helping to make the handicrafts as well as a bakery in the castle. The festive performances in Latin and Middle High German in the Satzvey Castle park are also very popular.

Admission to the Christmas market costs €10 per person when bought in advance and €12 at the door. Adolescents aged 12 to 18 and students pay €7 and €8 respectively, whereas it is €5 and €6 for children aged 4 to 12. A family ticket costs €25 in advance and €30 at the door. There are currently no Covid-19 restrictions, but please check the coronavirus regulations in North Rhine-Westphalia before visiting.
9. Annaberg Christmas Market in the Ore Mountains  
Annaberg Christmas market is often referred to as one of the most beautiful Christmas markets in all of Germany and is practically the hallmark of all that is Christmas in the Ore Mountains. Once a year, the unique carved figures on the pyramid come to life, mingle with the visitors and tell stories of the city, the local mining industry and Christmas.
Typical Ore Mountain products can also be found at the many Christmas stalls from 25th November to 23rd December 2022, such as candle arches, pyramids, nutcrackers, incense smokers, angels and miners, classic folding stars, Annaberg bobbin lace and Annaberg Christmas stollen. Moreover, the market is complemented by other festive "worlds", including the Factory of Dreams, the "Secret Santa City", the miners' nativity at St Mary's mountain church, the Erzhammer Christmas house as well as Advent concerts and nativity reenactments at St Anne's church.

There is free parking at Kätplatz, the central car park (apart from Sunday, 18th December 2022 when the mountain parade takes place). It will take about ten minutes to walk from there to the Christmas market. A free bus shuttle to Annaberg Christmas market runs during the Advent weekends.

Before visiting, we recommend checking the latest coronavirus regulations in Saxony for events.
10. Historical Christmas market at Guteneck Castle
After a two-year break, the historical Christmas market at Guteneck Castle near Nabburg in the Upper Palatinate, Germany, finally opens its doors again in 2022. It is a wonderfully unique setting: roughly 120 market stalls lined up along the ascent to the castle are divided into three areas: castle romance, traditional craftsmanship and the Middle Ages.
Stretching over 50,000 m², the Christmas market is open every Advent weekend from 25th November to 18th December 2022, Friday to Sunday, and two additional Thursdays (8th and 15th December.). Admission costs €6 per person on Thursdays and Fridays and €8 at the weekends. Children up to 12 years of age have free entry – as does everyone else who comes to the Christmas market dressed up in medieval clothing.
1,000 parking spaces are available below the castle for a fee of €2. If coming by train or using the Nordgauhalle Nabburg car park, you can take a shuttle bus, which costs €1. Before visiting, please check the coronavirus regulations for events in Bavaria.