The days are getting shorter and Christmas is getting closer – 'tis the season for Christmas markets in Germany! And they are set to open again in 2022, offering mulled wine, gingerbread, chestnuts, roasted almonds and other delicious delicacies while spreading festive cheer among visitors and locals. Many campers hope these festivities will be surrounded by a snow-covered landscape. We can't promise snow, but Freeontour has selected five of the most beautiful Christmas markets for a motorhome road trip in the Black Forest – well worth visiting with or without snow.
Please note: we recommend checking the latest coronavirus regulations in the state of Baden-Wuerttemberg before visiting.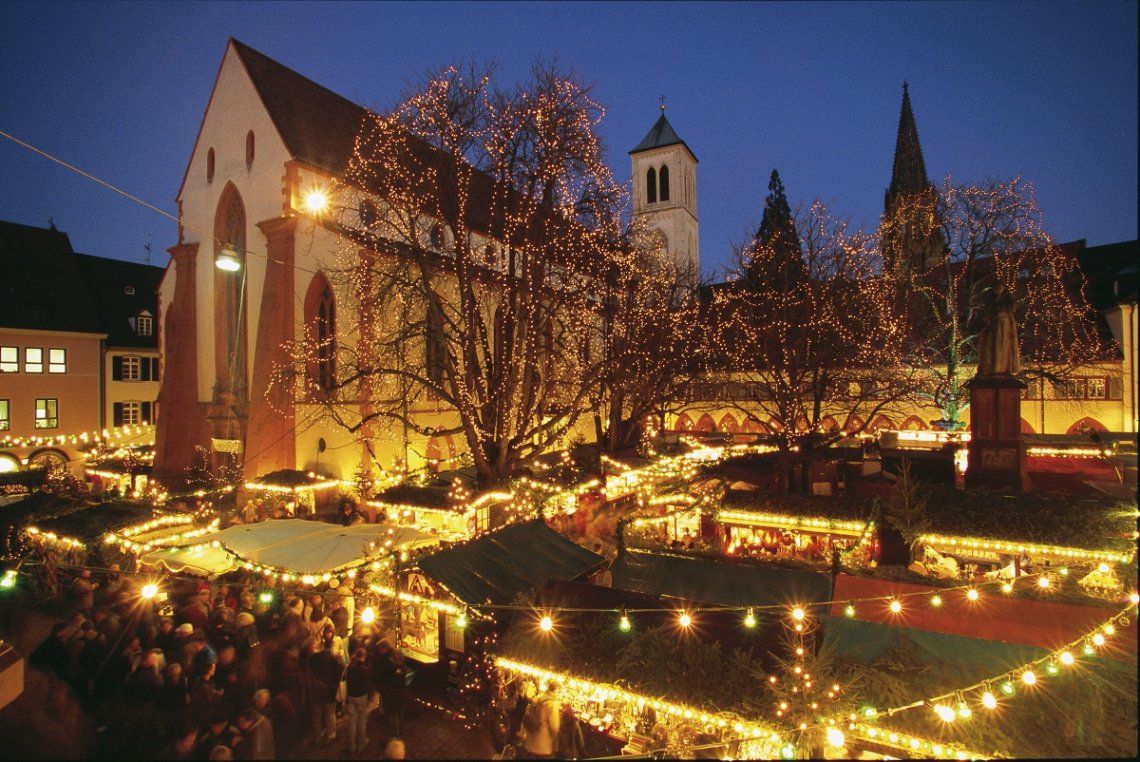 The Christmas market in Freiburg has been a tradition for almost 50 years. Photo: FWTM / Raach
1. The Christmas Market in Freiburg, the capital of the Black Forest
The Christmas market at Rathausplatz in Freiburg's city centre opens on 17th November 2022. More than 150 market stalls invite you to discover handicrafts, Christmas decorations and delicacies. You can treat yourself to a "Freiburg Red" sausage, sweet waffle or local mulled wine between St Martin's Church, the town hall and Unterlindenplatz daily until 23rd December. And the many pubs, cafés and wine bars in the romantic Old Town are the perfect place to rest, warm up and watch the world go by.
Pitches & Parking:
There are two RV pitches in Freiburg relatively close to the city centre from where you can either walk or use public transport. About a 15-minute walk from the city centre, the Stellplatz Freiburg motorhome park also offers short-stay parking. The Extrol station car park is slightly further away, but could be practical if you have to refuel anyway and want to save on parking fees.
2. The Ravenna Gorge Christmas Market
If you can wait until the first Advent weekend, then make a detour from the Freiburg Christmas market to the Ravenna Gorge in the Upper Black Forest. There is a small Christmas market here with around 40 market stalls under the illuminated viaduct of the Höllentalbahn railway line every Friday to Sunday.
You will not only find traditional handicrafts and local cuisine, but can also enjoy Christmas concerts. Admission costs €5 (before 4 pm) and €6 (after 4 pm) for adults and is free for children up to the age of 15. Please note: tickets for the Christmas market have to be bought online in advance as they will not be sold on site. There is also a beautifully illuminated nativity trail in the forest near the Ravenna Gorge that tells the Christmas story with carved wooden figures.

Arrival & pitches:
The Ravenna Gorge Christmas market cannot be reached by motorhome or campervan and does not have parking facilities. Instead, shuttle buses run to and from Hinterzarten/Himmelreich, but you will have to buy a ticket. Park & Ride parking is available there, but it can get overcrowded quickly during the Advent weekends. An alternative is the Bankenhof campsite, which is open all year round and has motorhome parking spaces just before the barrier. Shuttle buses also run from Freiburg.
3. The Gengenbach Advent Calendar and Advent Market
The Gengenbach Advent calendar has been held here for more than 20 years and houses the world's largest Advent calendar according to town officials. Thanks to its 24 windows, Gengenbach town hall will be transformed into an Advent house calendar from 30th November to 23rd December 2022, with a new window being "opened" every evening at 6pm until 23rd December.
They have even been known to conceal real art treasures, e.g. works by well-known artists such as Otmar Alt, Quint Buchholz, Marc Chagall, Tomi Ungerer, Jan Peter Tripp and Andy Warhol – but in all likelihood not the originals. The drawings of the Little Prince will be on display for the last time in 2022. The Advent calendar can be seen up to and including 6th January 2023. In addition to the Advent calendar, there is an accompanying programme on the stage in front of the town hall that starts at 5 pm on weekdays and 3 pm at the weekends.

After a two-year break because of coronavirus restrictions, the Gengenbach Advent market is back again in 2022 and will take place in front of the Advent calendar building until 8 pm every day.
Parking & pitches:
The
WoMo-Park Gengenbach motorhome park
 is ideal as you can simply walk to the city centre from here. You can also combine the route with a nice stroll along the river.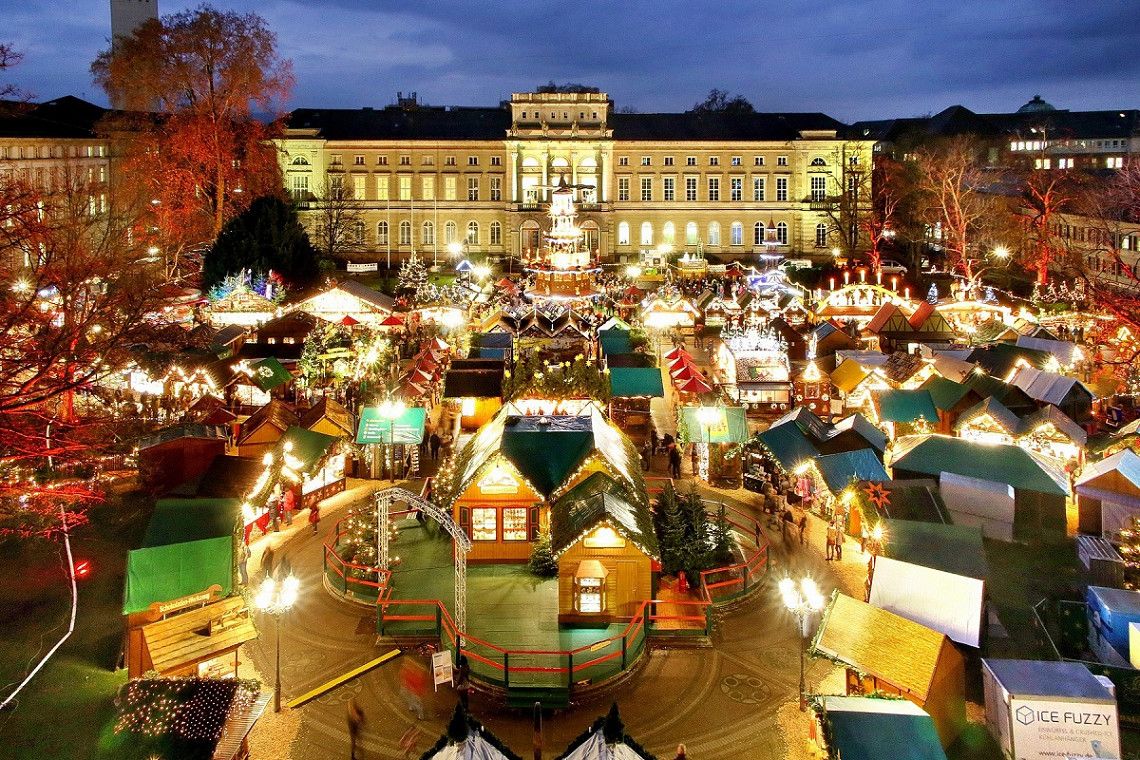 In 2022, the theme of the Christmas market at Friedrichsplatz in Karlsruhe is Christmas in the woods. Photo:  Stadtmarketing Karlsruhe GmbH / Roland Fränkle
4. Roller skating and Christmas markets in Karlsruhe
Visitors to Karlsruhe in 2022 can expect a slightly different version of the "Christmas City" on account of the energy crisis. There will be three Christmas market areas open again between 24th November and 23rd December 2022: at Marktplatz, Friedrichsplatz and St Stephan church square. Furthermore, a medieval Christmas market will be held in front of Karlsburg Castle in the Durlach district from 25th November to 21st December 2022. In order to save energy, the traditional ice-skating rink in front of the baroque Karlsruhe Palace will be turned into a roller-skating rink this winter. Covering more than 1,000 m², you'll be able to roller-skate – and even rollerblade when the weather is dry – around the monument of Charles Frederick, Grand Duke of Baden, from 24th November 2022 until 8th January 2023. You'll be able to rent roller skates if you don't have any of your own. Moreover, you'll also be able to try out Bavarian curling, but obviously not on ice.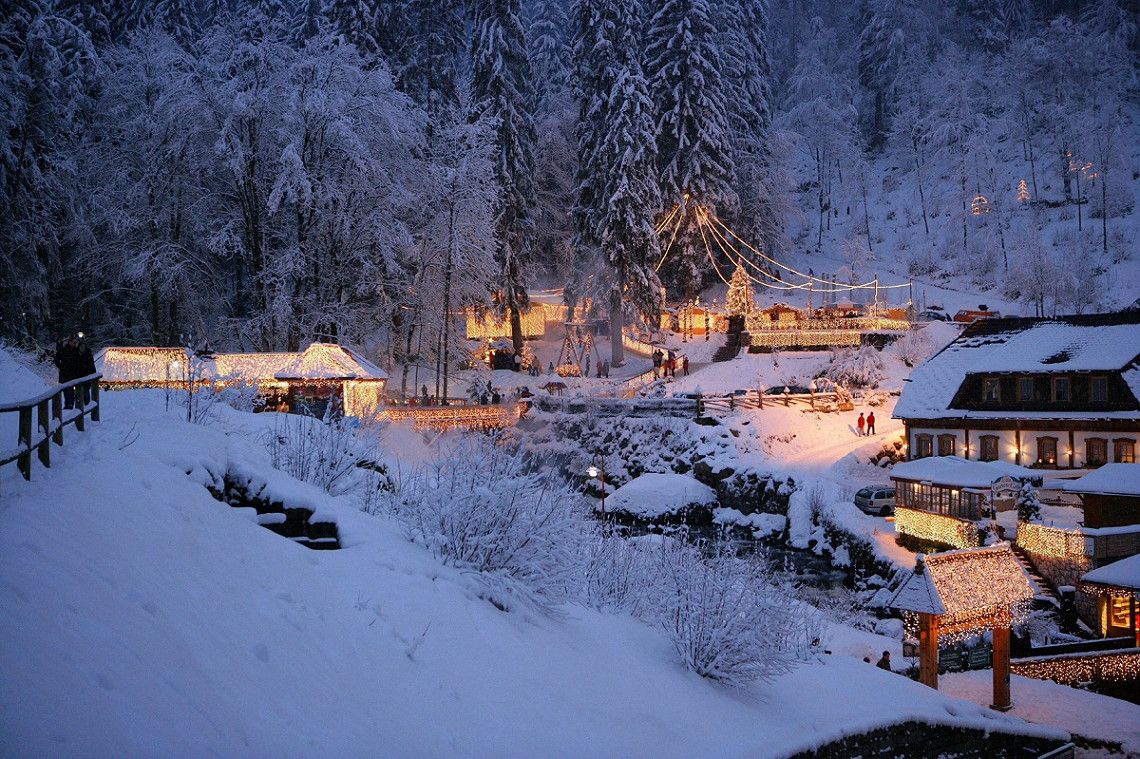 Triberg Christmas Magic is back in 2022 after the coronavirus break. Photo: TI Triberg
5. Triberg Christmas Magic between Christmas and New Year's Eve
We recommend anyone heading to the Black Forest with their campervan after Christmas Eve to make a detour to Triberg Christmas Magic near Triberg in the central Black Forest, which is back in 2022 after a two-year coronavirus break. The cascades of the Triberg Waterfalls will provide the backdrop for a romantic winter scenario once more from 25th to 30th December 2022. More than a million lights will then put the spotlight on the winter waterfall area. It will all be accompanied by music and shows on two stages, a magical children's world with a storyteller, a labyrinth, light castle and children's world stage as well as a fire show that transforms the winter waterfall into a fairy tale of ice and fire five times a day. There will also be a spectacular fireworks display at the end of each evening from 27th to 30th December.

Please note: tickets for Triberg Christmas Magic 2022 can only be purchased online in advance. There will be a limit on the number of visitors to make it easier for everyone to keep their distance.