Aceto Balsamico, Parmigiano-Reggiano, Lambrusco and Parma ham – these delicious originals and many more are at home in Emilia-Romagna. In autumn, the northern Italian gourmet region even ups the ante with delights such as truffles, chestnuts and pumpkins. We have put together four must-do culinary experiences for a motorhome tour through Emilia-Romagna.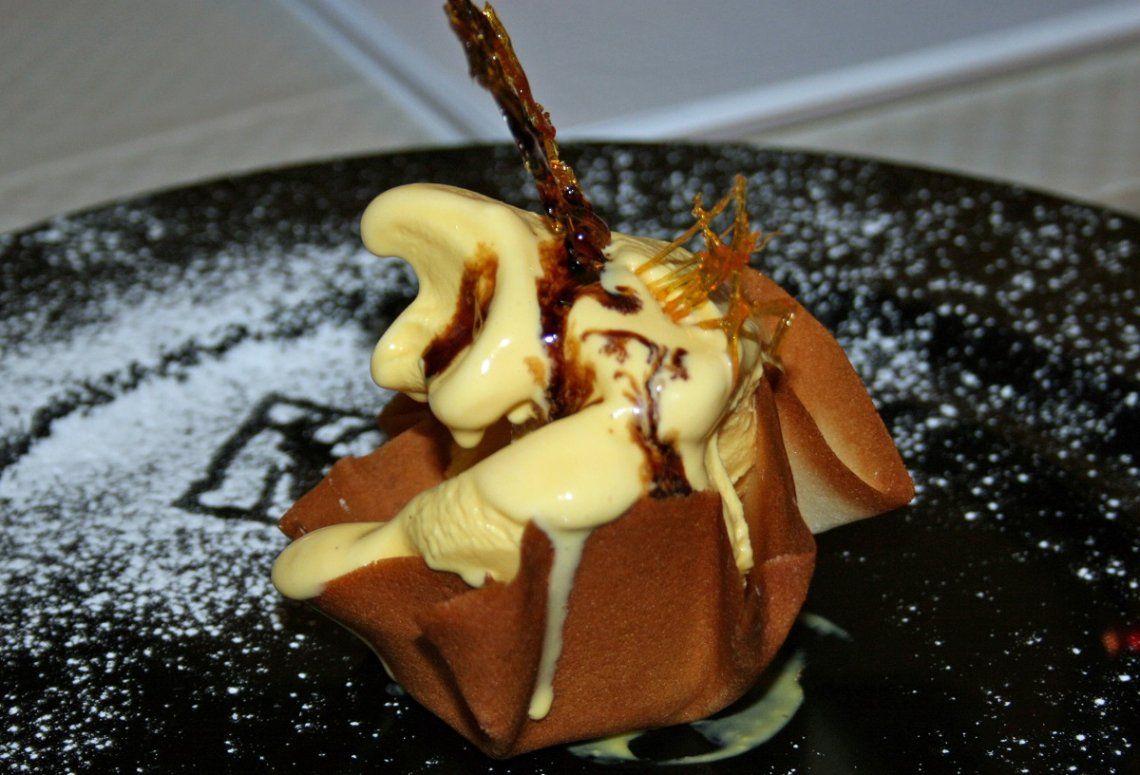 Real Aceto Balsamico Tradizionale can also be used to refine desserts. Photo: Claudia Rothkamp
Freeontour tip #1: visit a traditional "acetaia"
Whether Parmigiano-Reggiano, Aceto Balsamico Tradizionale or Parma ham – some of Italy's most world-famous specialities originate from Emilia-Romagna. The city of Modena is an important culinary centre. But anyone who thinks that the local Aceto Balsamico Tradizionale has anything in common with the Aceto Balsamico di Modena found in many supermarkets is very mistaken. The latter uses grape must and wine vinegar, and is usually produced industrially within a few days. By contrast, Aceto Balsamico Tradizionale, which has had the Protected Designation of Origin (PDO) since 2000, takes at least twelve years to develop its distinctive taste. Why this is so becomes clear when you visit a traditional acetaia, of which about 50 exist in and around Modena today. They are mostly concealed in the attics of residential houses as the high temperature in summer and low temperature in winter there provides the best conditions to facilitate alcoholic fermentation, acetification and ageing.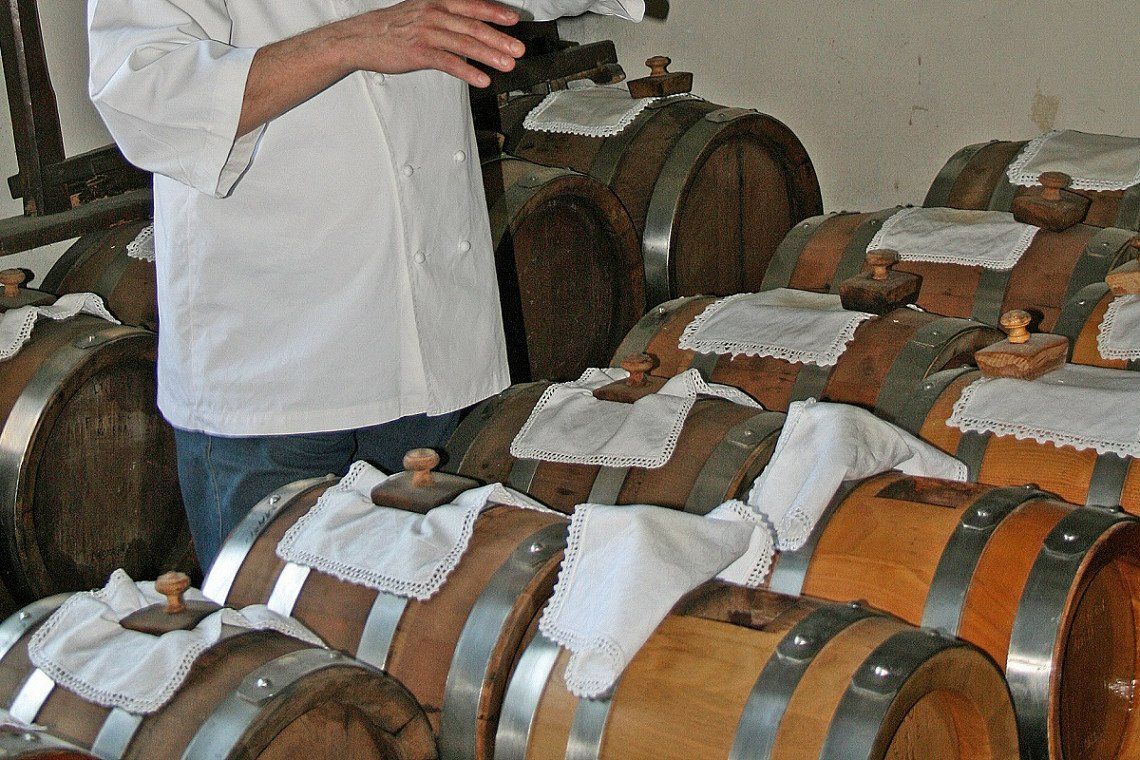 In a traditional acetaia in Modena, the Aceto Balsamico Tradizionale is gradually decanted into smaller wooden barrels. Photo: Claudia Rothkamp
Often only a few rays of sunlight penetrate the darkened windows. Depending on the size of the acetaia, between 20 and several hundred wooden barrels of different sizes are lined up next to each other. It's warm and stuffy and the smell of vinegar is in the air. The late harvested – and therefore particularly sweet – white Trebbiano grape must, which is mixed with red Lambrusco grapes or Ancellotta grapes, is stored in the barrels. They are pressed straight after harvesting. The must is then boiled for up to 18 hours, reduced to around a third and then filled into a wooden barrel, the "mother barrel". This is where the first natural fermentation takes place. The rest of the manufacturing process takes place in barrel sets consisting of at least five barrels made of different types of wood and in decreasing sizes – and over many years because Aceto Balsamico Tradizionale (ABT) has to be stored for at least twelve years, and ABT Extra Vecchio for even 25 years. During this period, the vinegar becomes increasingly denser and concentrated and is poured gradually into the smaller barrels. An acetaia with e.g. 70 wooden barrels of different sizes will only produce 24 litres of Aceto Balsamico Tradizionale di Modena PDO per year.

Aceto Balsamico Tradizionale becomes increasingly denser over the years and is poured into smaller barrels.
This also explains the high price of the strictly controlled liquid, of which only around 100,000 bottles à 100 ml are produced in the roughly 50 acetaias in and around Modena every year. Gourmets have to pay around €50 for a bottle of the twelve-year-old Aceto Balsamico Tradizionale Affinato, and even around €100 for the 25-year-old Extra Vecchio. Therefore, you should use the thick delicacy sparingly in the kitchen and not necessarily waste it on salad dressings. Traditional restaurants around Modena create true culinary delights with just a few drops of the slightly sweet balsamic vinegar, e.g. on vanilla ice cream, strawberries, smoked duck breast, risotto or simply on a small chunk of Parmigiano-Reggiano. If you want to visit a traditional acetaia or need tips on restaurants with local cuisine in and around Modena, take a look at the Visit Modena website.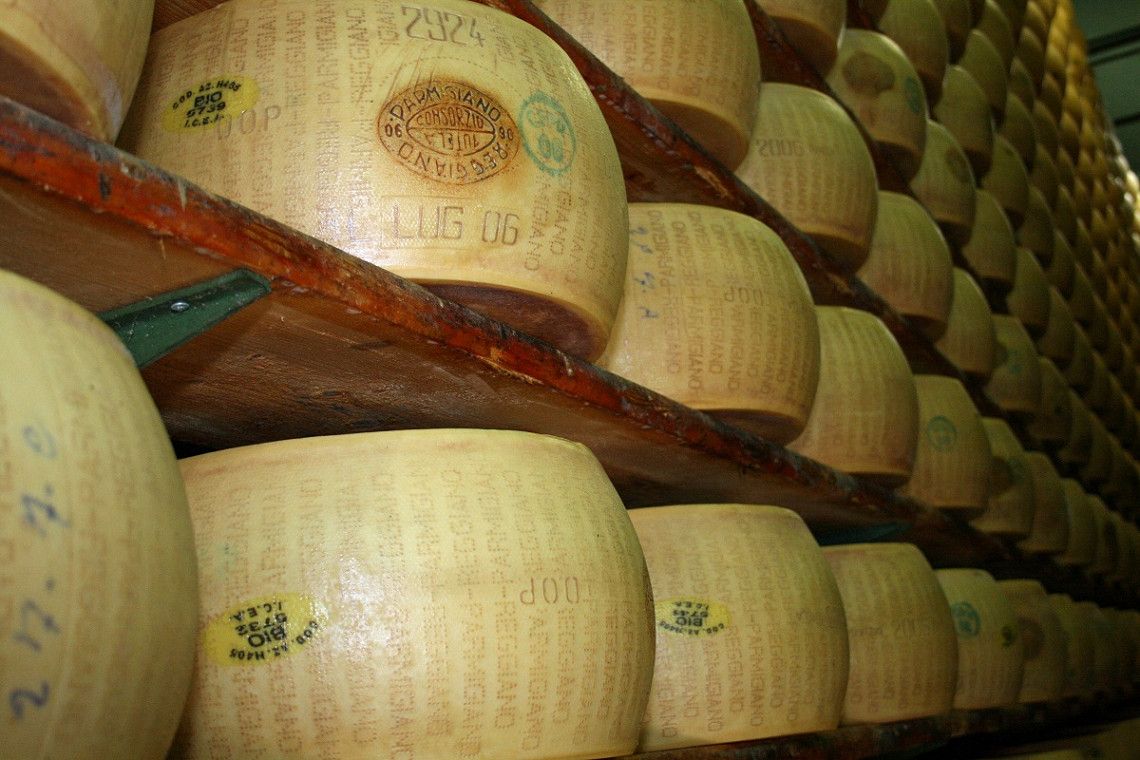 Original Parmigiano-Reggiano is branded, which confirms its authenticity and quality. Photo: Claudia Rothkamp
Freeontour tip #2: visit a Parmigiano-Reggiano cheese dairy
It goes without saying that no self-respecting restaurant in Emilia-Romagna would serve anything but original Parmigiano-Reggiano. After all, this hard cheese has been made in the region for more than 800 years – a tradition that is almost is as old as that of balsamic vinegar, but not nearly as exclusive. The golden yellow Parmigiano-Reggiano is produced for the world market in many cheese dairies in Emilia-Romagna. The "Consorzio del Formaggio Parmigiano-Reggiano" consortium arranges guided tours with tastings, e.g. in the "Hombre" organic Parmesan cheese dairy in Cittanova near Modena. There is an intense smell of cheese in the air. In the storehouse, huge 40 kg Parmesan wheels, each containing up to 600 litres of milk, are stacked in five rows right up to the ceiling. They have already been soaked in brine for 30 days and will then need to age for one to three years before they receive their quality label. A major difference to the hard cheese Grana Padano, which is also at home in northern Italy, lies in the feed: cows whose milk is used for Parmigiano-Reggiano are only allowed to eat grass, hay and cereals. Silage is forbidden as the fermentation substances in the silo would also cause the cheese to ferment. Theoretically, this could be prevented with additives, but this is not allowed in original Parmigiano-Reggiano.

The Panini family's private car museum near Modena houses Maseratis and other treasures. Photo: Claudia Rothkamp
By the way, if you are not only interested in cheese, but also in cars, then the Hombre organic cheese dairy is most certainly the right place for you. Because Umberto Panini, the late father of the current owner and one of the co-founders of the Panini sticker collections, set up one of the most spectacular private classic car collections on the site. Surrounded by cowsheds, a dairy, a sales room and a cheese storehouse, rarities such as the Birdcage from 1963, a Maserati Ghibli convertible or the Maserati 6C 34, of which only four were built in the 1930s, are hidden away in an inconspicuous barn. It even has one of the yellow vending machines where the boys once used to queue up to pull out their football cards.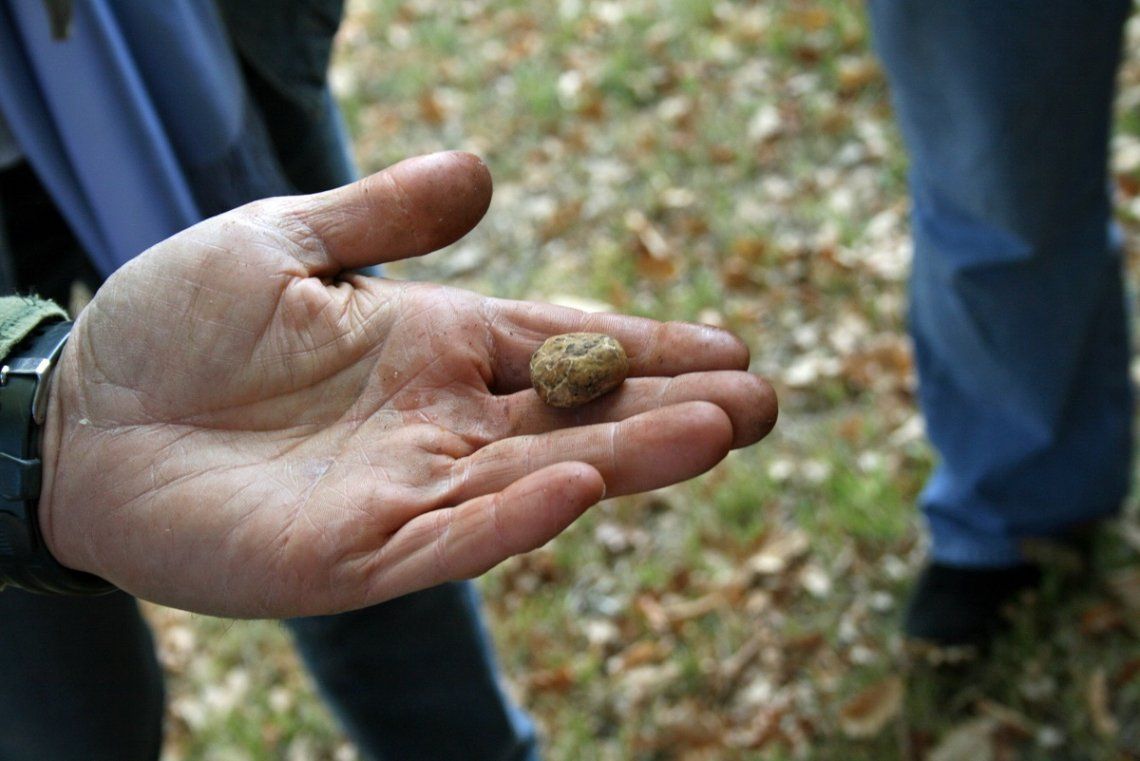 Inconspicuous, but extremely tasty: white truffle around Bologna. Photo: Claudia Rothkamp
Freeontour tip #3: truffle hunting in the Apennines around Bologna
But culinary delights are not only waiting to be discovered in Modena, the second largest city in Emilia-Romagna. The local cuisine is at its best in autumn as the tartufesta truffle festival takes place in the region every year in October and November. And that includes numerous markets, fairs and festivals in the different communities of the Colli Bolognesi wine-growing region. It obviously also revolves around seasonal products such as wine, porcini mushrooms, chestnuts and pumpkins, but the undisputed culinary star of these events is the precious white truffle that can be found in the hills of Bologna and the surrounding area. Consequently, many truffle collectors go to the Apennine hills near Bologna at this time of year to look for the valuable fungi with specially trained truffle-hunting dogs – the Lagotto Romagnolo.
Some truffle hunters also offer guided hikes and will gladly share their truffle expertise. Graziano Zivieri has not only been hunting truffles for years, but is also convinced that the soil conditions for truffles in the hills around Monzuno are even better than in Piedmont. However, if you want to enjoy the fresh speciality on your holiday here, you will need a little luck and some local knowledge as truffle dishes are not usually found on restaurant menus. You will have to ask for them specifically because the restaurateurs use this white fungus very sparingly. This is especially true in a bad harvest year. During the truffle festival, a few restaurants also offer special truffle tasting menus. Their dishes are simple and not too overpowering so that the white truffle can shine as the star of the menu. Our Freeontour tip: homemade pasta tossed in butter and sprinkled with finely shaved raw white truffle.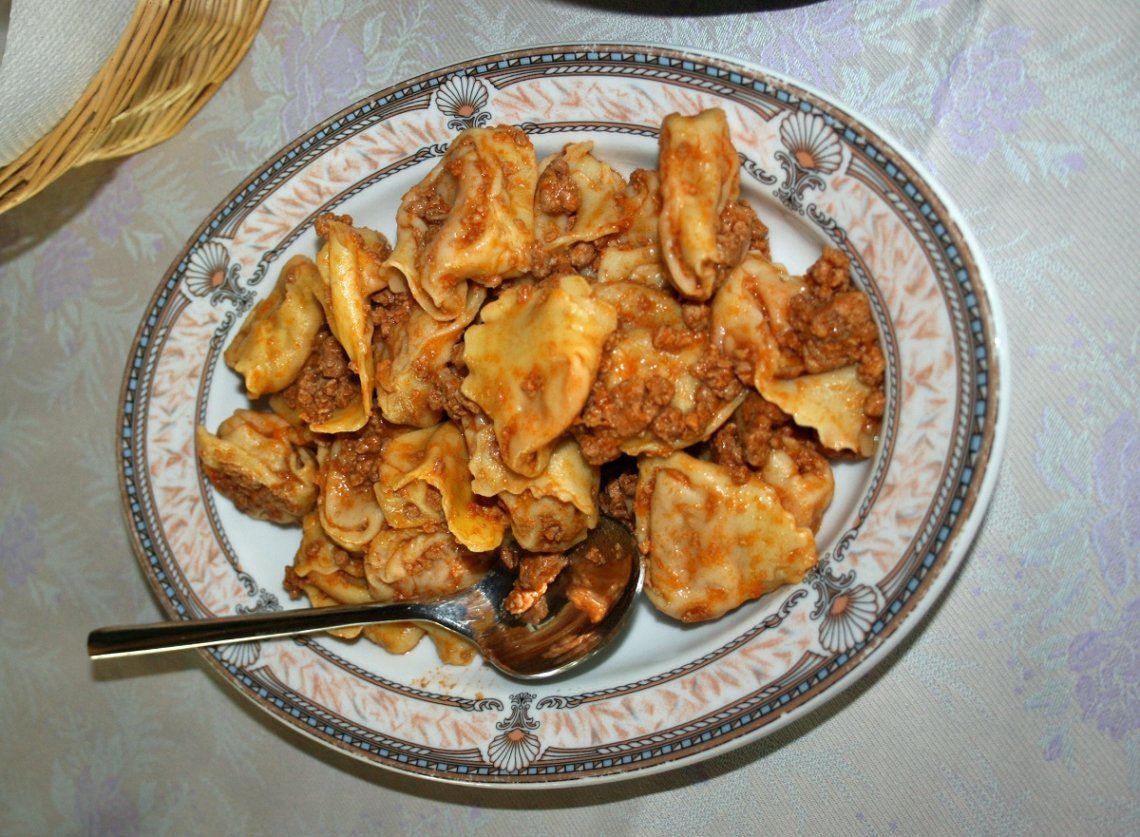 Cappellacci filled with pumpkin ragout at Agriturismo La Rocchetta. Photo: Claudia Rothkamp
Freeontour tip #4: a hearty detour to the countryside and the coast
While the restaurants around the cities of Modena and Bologna like to combine traditional with modern, experimental cuisine, food in the rural districts of Emilia-Romagna is usually quite hearty. This is certainly the case at the Agriturismo La Rocchetta restaurant in Sant'Egidio near Ferrara, which also provides parking spaces for up to ten mobile homes. Traditional regional food culture is important here. Be it different types of salami and cheese, jams, meat, fruit, vegetables or herbs – they cook with raw materials that they produce themselves or that come from the surrounding area as much as possible. The speciality here is "cappellacci", a ravioli-like type of pasta native to this region. The small homemade pasta pieces are primarily filled with a special pumpkin ragout in autumn. You can see for yourself just how much manual dexterity is required by taking part in one of the cooking courses that are sometimes offered here on request.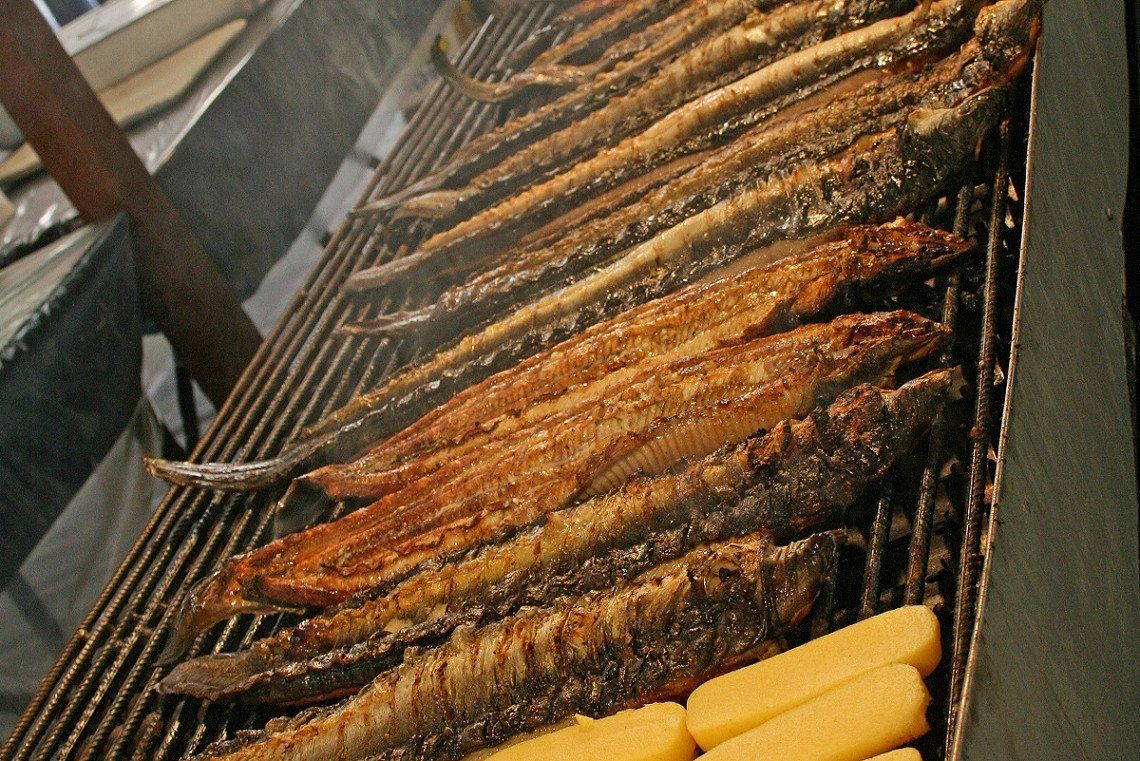 Even if eels are not necessarily for everyone – in Comacchio it is a must on every menu, with 40+ variations. Photo: Claudia Rothkamp
Between the beginning of May and the end of October, numerous "sagras" in the region are also great opportunities to get to know local specialities. These culinary festivals focus on a specific product. Everything during the first two weekends of October in the small lagoon town of Comacchio revolves around a wide variety of eel dishes – from risotto and eel soup to sweet and sour eel cutlets to marinated fillets and smoked eel. Why eels? Because Comacchio is in the middle of the Po Delta Park. As a legacy of ancient Spina, the old town in this lagoon city, which is often compared to Venice, has preserved its traditional character. Monuments such as the unmistakable Trepponti Bridge with its imposing stairs, the Basilica of San Cassiano from the 17th century, the elegant Palazzo Bellini and the characteristic "Manifattura dei Marinati" – a factory for preparing and marinating eels – also have their charm. Eels have found a natural habitat in the humid environment of the lagoon lakes for centuries and have influenced both the economic and culinary life of Comacchio for a very long time.