Slow living describes the art of enjoying life at a relaxed and leisurely pace – a way of life that the inhabitants of Friesland are only too familiar with. Time has a different beat in this northern Dutch province. Could it be because the omnipresent water radiates calm? After all, there are more names for different types of water here than for bread. Friesland is also a land of contrasts, of white sheep and black horses, of tradition and modernity. Freeontour has put together some inspiration for your next slow travel holiday with your camping vehicle.

Sand in your underpants, reading the newspaper in gale force 4 and drinking cocktails in the dunes. You don't have to go to the Caribbean for a sense of freedom, according to Friesland's tourism website. Well then, let's go to the north of the Netherlands!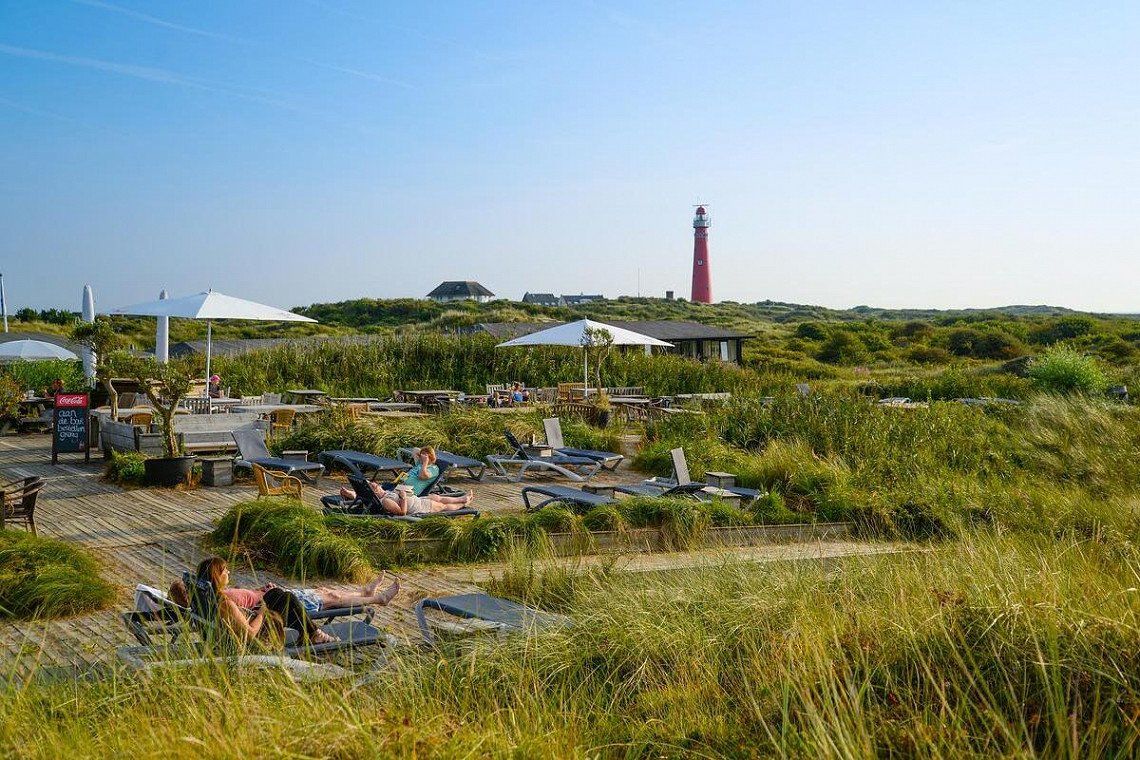 It's a hard life – sunbathers on the island of Schiermonnikoog. Photo: Pixabay
Where exactly is Friesland and when is the best time to go camping?
The province of Friesland is located in the north of the Netherlands and borders on the neighbouring provinces of Groningen, Drenthe, Overijssel and Flevoland, with the North Sea and the IJsselmeer (a closed-off inland bay) acting as a natural water border. The Wadden Islands of Ameland, Schiermonnikoog, Terschelling and Vlieland also belong to Friesland. The province has 31 municipalities and the capital is Leeuwarden. Eleven towns in Friesland, some of which are quite small, have city rights. In addition to the capital, they are Sneek, Stavoren, Harlingen, Dokkum, Hindeloopen, Franeker, Workum, Sloten, Bolsward and Ijlst.

The Frisian landscape is very varied, ranging from lakes in the southwest, hills and woods in the south, sand dunes on the coast to the mudflats of the Wadden Sea. The official languages are Dutch and Frisian. The best time to travel is usually between the months of May and September as there is less precipitation and many hours of sunshine, but October can still be very pleasant. The water temperature in the North Sea can go up to 20 °C in July and August.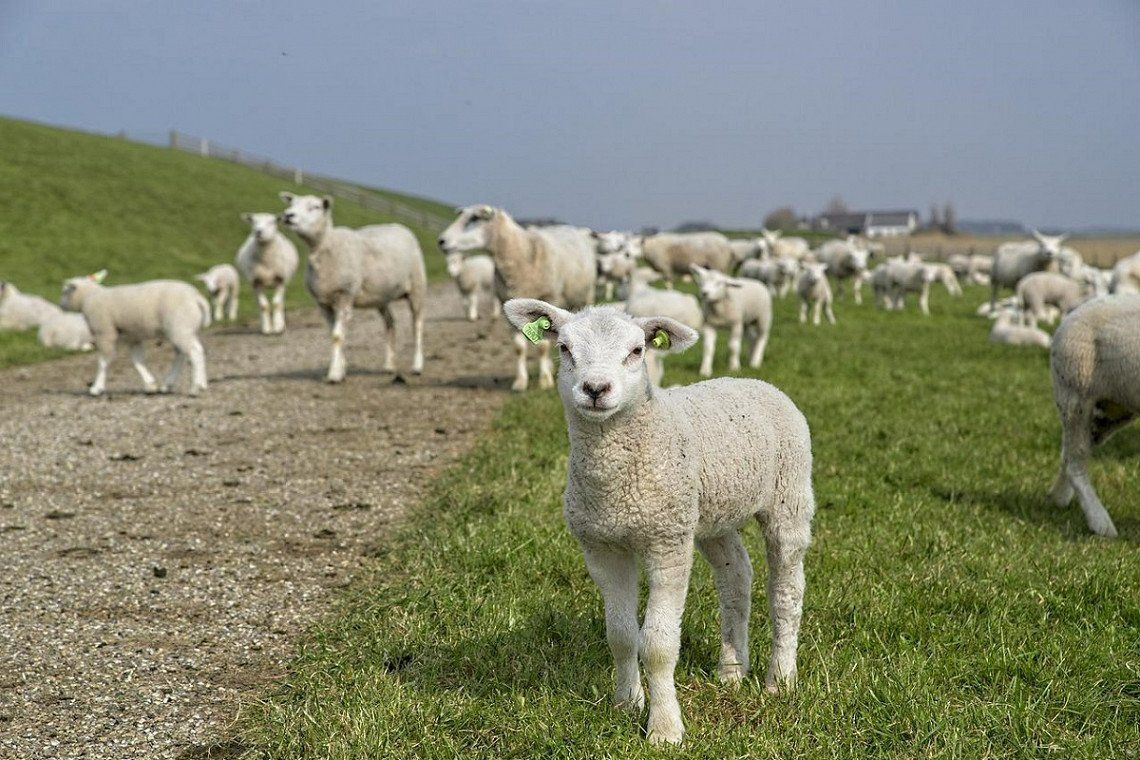 Friesland's heraldic animals include sheep as well as the proud black Friesian horses. Photo: Pixabay
Why is Friesland an ideal destination for campers?
This region has a great infrastructure for camping holidays and motorhome trips as there are many campsites and RV parks spread across the province. Some of them are in the heart of nature, with the ones on the coast or on the islands guaranteeing a sea view.

Freeontour has an overview of campsites and pitches in Friesland here.

As the province is quite small, you can see many sights in a small area, ensuring a varied and comparatively fuel-efficient camping holiday. Campers can expect an exciting combination of the North Sea, the Wadden Sea, the IJsselmeer, numerous lakes, beautiful towns and green inland.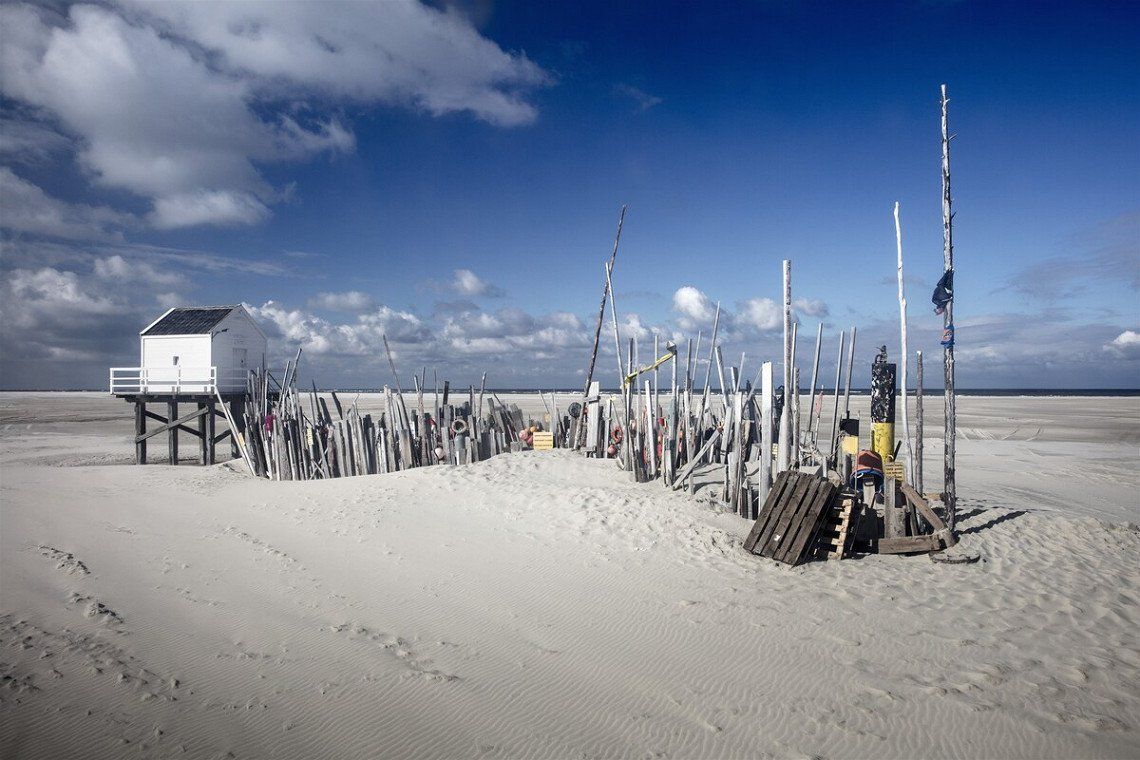 Friesland is famous for its wide, picturesque sandy beaches, such as here on Vlieland. Photo: Hollandse Hoogte ANP Foto, via Tourism Netherlands
Where are the best beaches in Friesland?
By its very nature, Friesland has an abundance of stunning beaches. Long, white sandy beaches with soft dunes line the North Sea coast. The West Frisian islands such as Ameland, Terschelling, Schiermonnikoog and Vlieland seem like paradise with their dreamy beaches. However, there's one small disadvantage: the car-free island of Schiermonnikoog can only be used by tent campers. But Friesland doesn't only have beaches on the North Sea coast: the IJsselmeer, a former sea bay now dyked off, is a magnet for visitors with its wide sandy beaches, such as in Makkum, Lemmer and Hindeloopen. The mild winds attract sailors, windsurfers and kitesurfers.

And if you prefer swimming in fresh water, head to the Frisian Lake District where 35 lakes, brooks and rivers form a water-rich recreation area surrounded by natural beauty.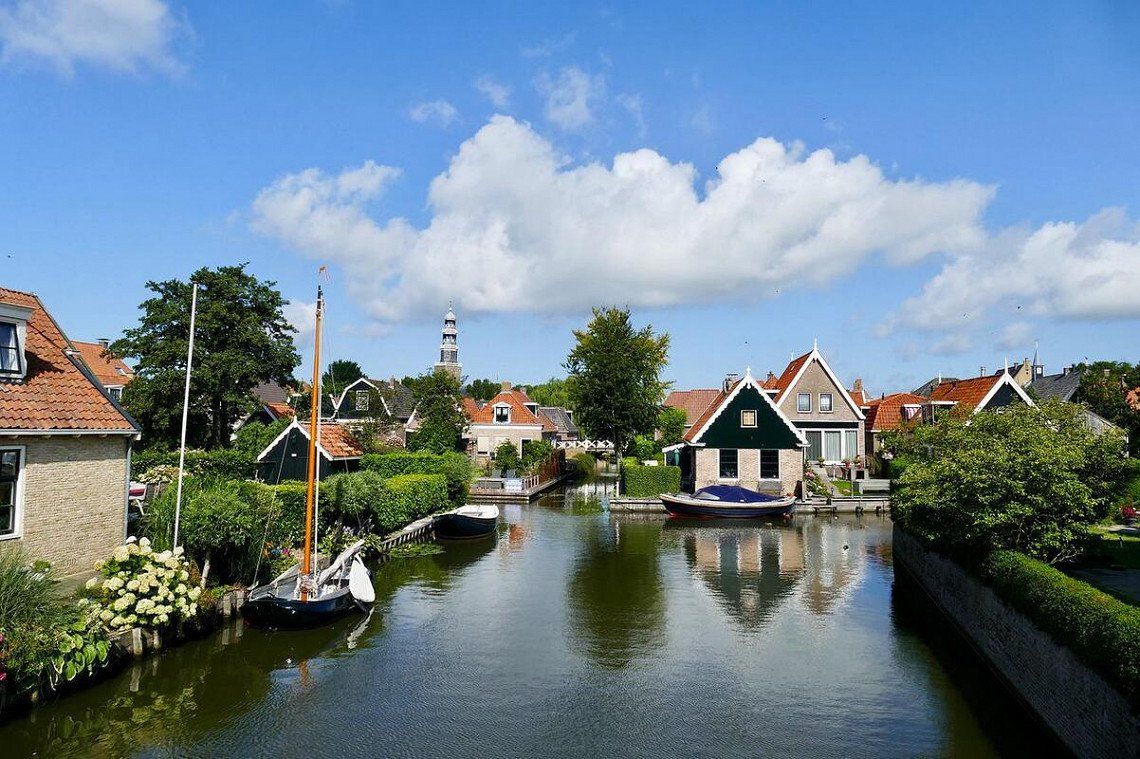 Hindeloopen is one of the charming small towns in Friesland. Photo: Pixabay
What to see and do in Friesland
As already mentioned, the eleven cities of Friesland are Leeuwarden, Stavoren, Sneek, Harlingen, Dokkum, Hindeloopen, Franeker, Workum, Sloten, Bolsward and Ijlst. Popular with locals and tourists alike, the Eleven Cities Tour is a bike route that connects these towns – and completed on ice skates when all the canals freeze over. This tour has become a huge folk festival, which you can also follow in your motorhome.

Each of the eleven Frisian cities has its own charm. The fact that even the capital Leeuwarden has just under 126,000 inhabitants fits in with the Frisian philosophy of life – slow living. And in a province where there is at least as much water as land, it's hardly surprising that many of the places are on rivers, streams, lakes or even the sea. Stavoren, Hindeloopen, Workum and Harlingen are proud little port towns radiating maritime flair, whereas Sneek, Sloten and Ijlst are surrounded by many bathing lakes. They are all picturesque and romantic in their own way. Hindeloopen, with fewer than 1,000 inhabitants, Ijlst and Sloten with their many small canals, enchanted windmills and lush green surroundings make for particularly beautiful postcard motifs.

Our tip for exploring the cities: there's an 11 fountains walking tour in each of the eleven cities: walks stretching 1.5 to 5 km through the villages along eleven unique fountains. Make sure to read the information boards, which explain the background of the artistic fountains and the history of the cities.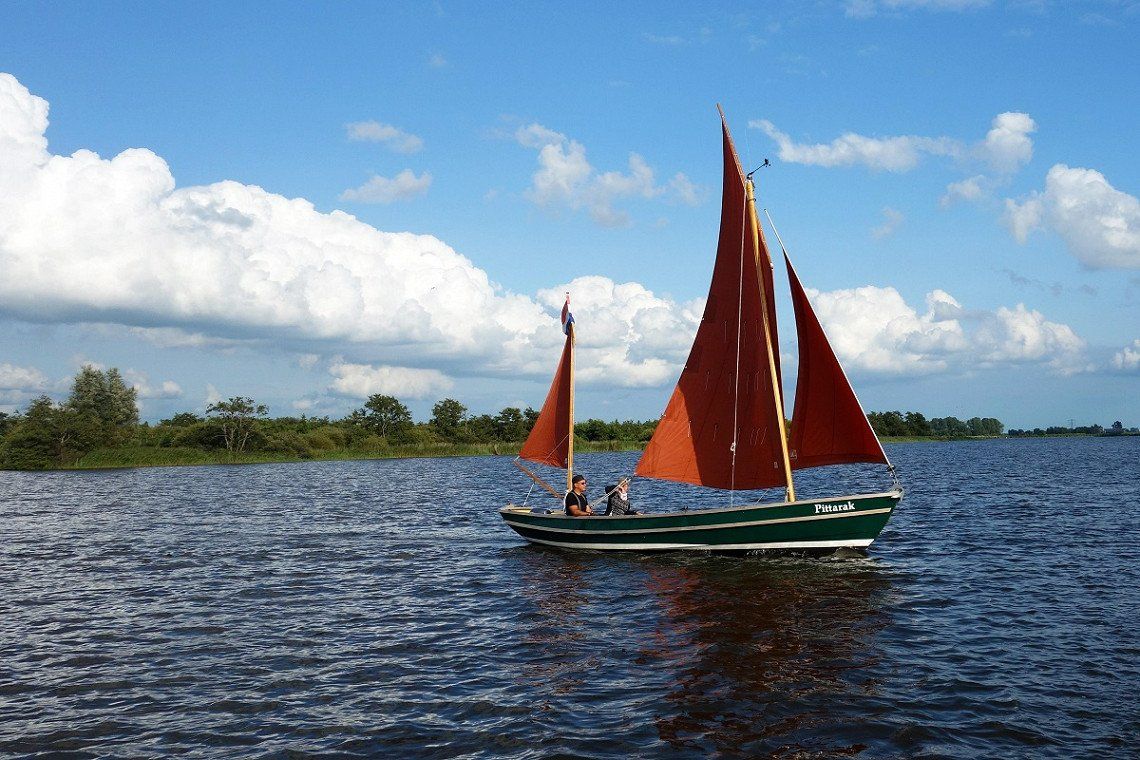 Sailing is very important in Friesland and there are many opportunities for sailing on your own or with an expert guide. Photo: Pixabay
Activities: water sports, dune hiking, cycling and more

Water sports: it's really difficult to find a place in Friesland where there isn't any water. That's why you'll find a wide range of water sports activities for both beginners and experts, such as sailing, kitesurfing, windsurfing and kayaking. There are water sports centres on the lakes and rivers, too. And if you prefer to lean back and let someone else do the steering, you can go on one of the many leisurely boat tours on the rivers, canals or lakes.

Our tip: sailing by night in the Alde Feanen National Park. Take a guided tour of the National Park's waters to learn about the region's ecosystem and the natural beauty surrounding the idyllic village of Earnewâld.

Conquer Friesland by bike: no mountains around, always a fresh breeze on your face and a fantastic view over green landscapes, white dunes, romantic windmills and the sea; with sheep bleating here, magnificent Friesian horses galloping across the pasture there – could life get any better than this? There's a well-developed network of cycling routes that is perfect for bike tours, e.g. there are trails from Sneek and Ijlst that go throughout the Frisian Lake District. There's also a well-developed cycling network in the middle of the natural idyll in the Alde Feanen National Park. The cycle path from Hindeloopen to the port town of Stavoren runs right by the shore of the IJsselmeer – water views guaranteed! And several long cycle paths run parallel to the coastline in a few other coastal towns, too.

Our island hopping tip: some of the West Frisian islands are car-free, but bikes are usually allowed on board the ferries. You can even hop from one dream island to another, e.g. take the ferry from the port of Harlingen to Vlieland or Terschelling and then hop from the ferry ports on these islets to the next island.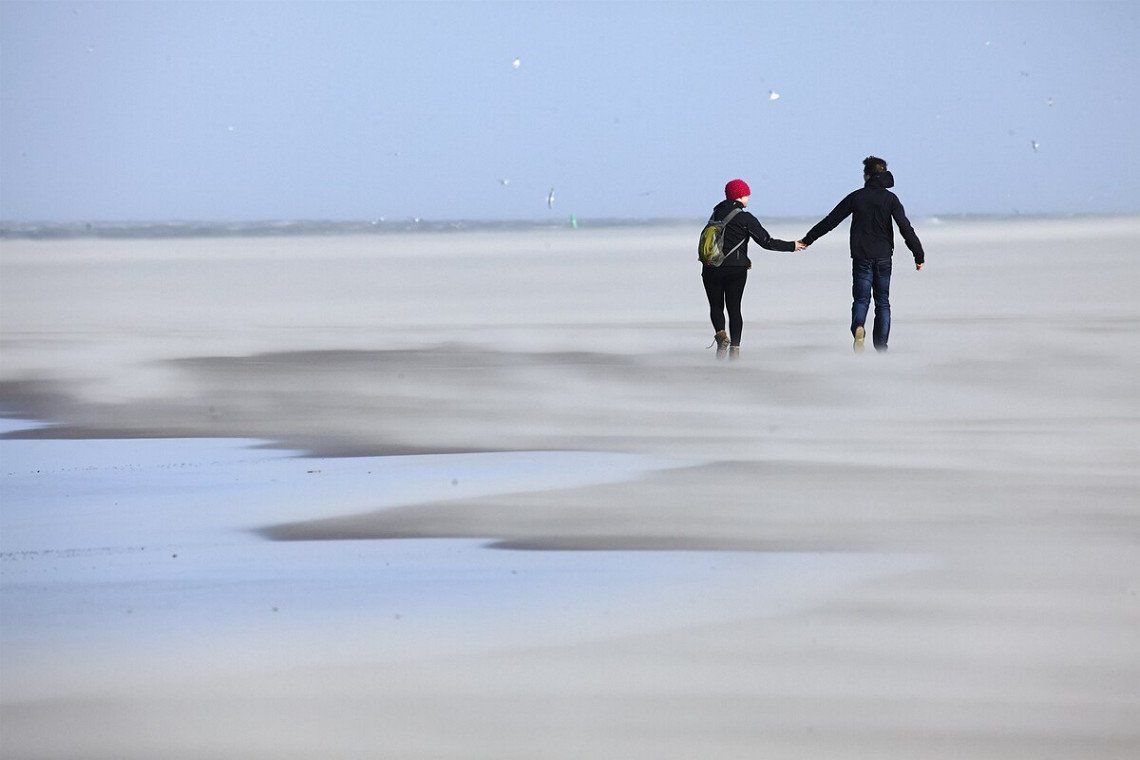 The Wadden Sea is a UNESCO World Heritage Site. Many coastal towns offer guided mudflat tours. Photo: Hollandse Hoogte ANP Foto, via Tourism Netherlands
Hiking through the dunes and the Wadden Sea: two legs are just as good as two wheels! Friesland has a wealth of scenic hiking routes. A highlight is the Wadden Sea, which is a UNESCO World Heritage Site. Many places also offer mudflat tours with a guide who can tell you interesting facts about this unique ecosystem. Dune hiking is just as exciting: you can explore the dune landscapes in many places along a network of (wooden) paths. Don't forget your binoculars as you might just get to see a seal or two.

Our tip for adventurers: there's an old, mystical shipwreck in the mudflats off the small coastal town of Wierum in northern Friesland. Hike there at low tide and absorb the atmosphere of the decomposing ship from a bygone era.

Visit the planetarium in Franeker: this small, pretty town has the oldest mechanical planetarium in the world. Self-taught Eise Eisinga spent seven years building it in the 18th century. His wife must have had a lot of patience because she and her children lived on a seemingly never-ending construction site for years – his model of the solar system is right in the middle of the living room. But her patience paid off: the oldest mechanical planetarium in the world is a small sensation today.

Enjoy a wide variety of pancakes: pancakes are a Frisian national dish and you'll find pannekoek on the menu in almost every major town. In Leeuwarden you can even go on board a pancake ship and then spend ages deciding on what to eat as the choice is vast. We find that the best and easiest solution is to simply stay there for several hours and eat them all.