Latest update: April 18, 2023 
When you think of camping holidays in Sweden, you automatically think: elk watching! Elk still roam the great outdoors in many Swedish regions – but to catch a glimpse of one, you either need a little luck or a lot of patience. And the latter is not always easy, especially for families with younger children.
Fortunately, there is an alternative. The southern Swedish region of Småland is abundant with elk parks, which are very popular with family holidaymakers as they practically guarantee that you will see at least one elk. However, their concepts and experience factor often differ. For this reason, Freeontour has put together a selection of elk parks in various parts of the Småland region.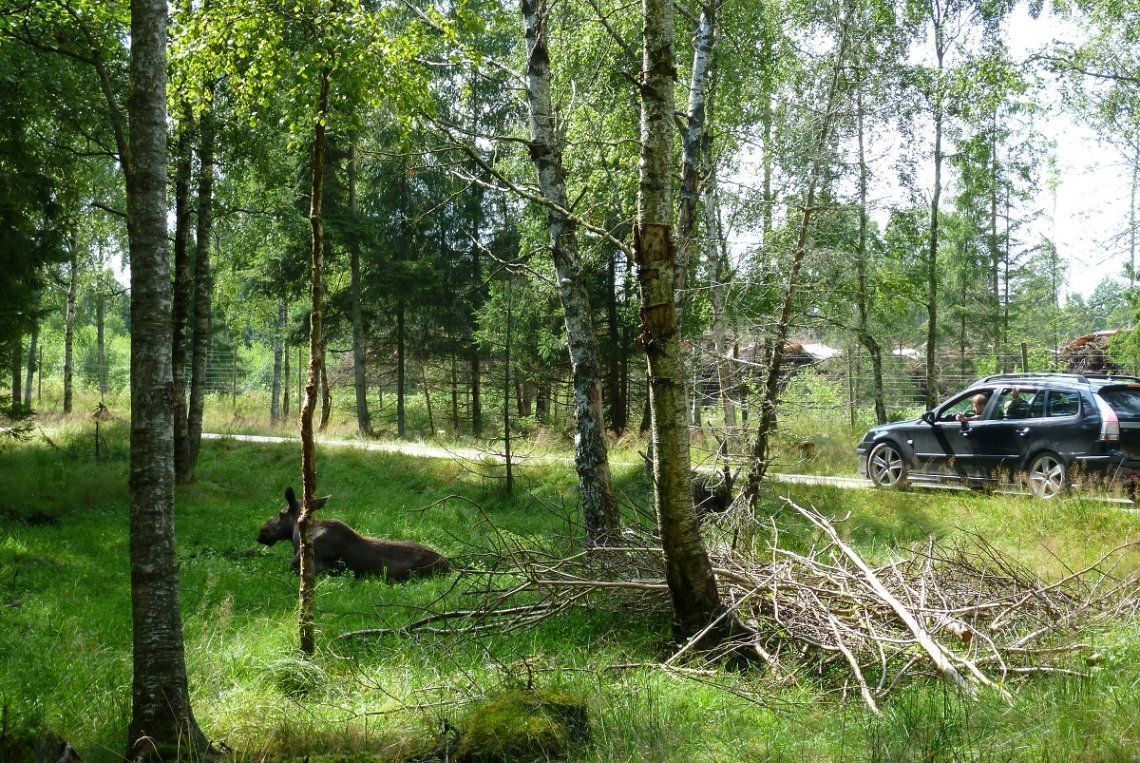 Observe elk to your heart's content from your own vehicle when you visit Smålandet Elk Park near Markaryd. Photo: Claudia Rothkamp
Tip #1: Feed elk straight from your motorhome at Smålandet Elk Park
Anyone travelling from southern Sweden to Småland via the E4 can give their children a unique elk experience right from the start: at Smålandet Elk Park near Markaryd, visitors can either observe elk from their own car or an open safari train – or even their own motorhome. The circular route winds along forest paths about 3 km long, through a 15-hectare forest where elk and a herd of bison live freely. If you go on safari with your own vehicle, you can observe the animals to your heart's content from a few metres away and, in principle, organise the tour around their willingness to remain in your proximity. However, this approach will only work when there are not too many visitors at the park – otherwise you will soon have cars queuing behind you and your time spent watching the elk will be very limited.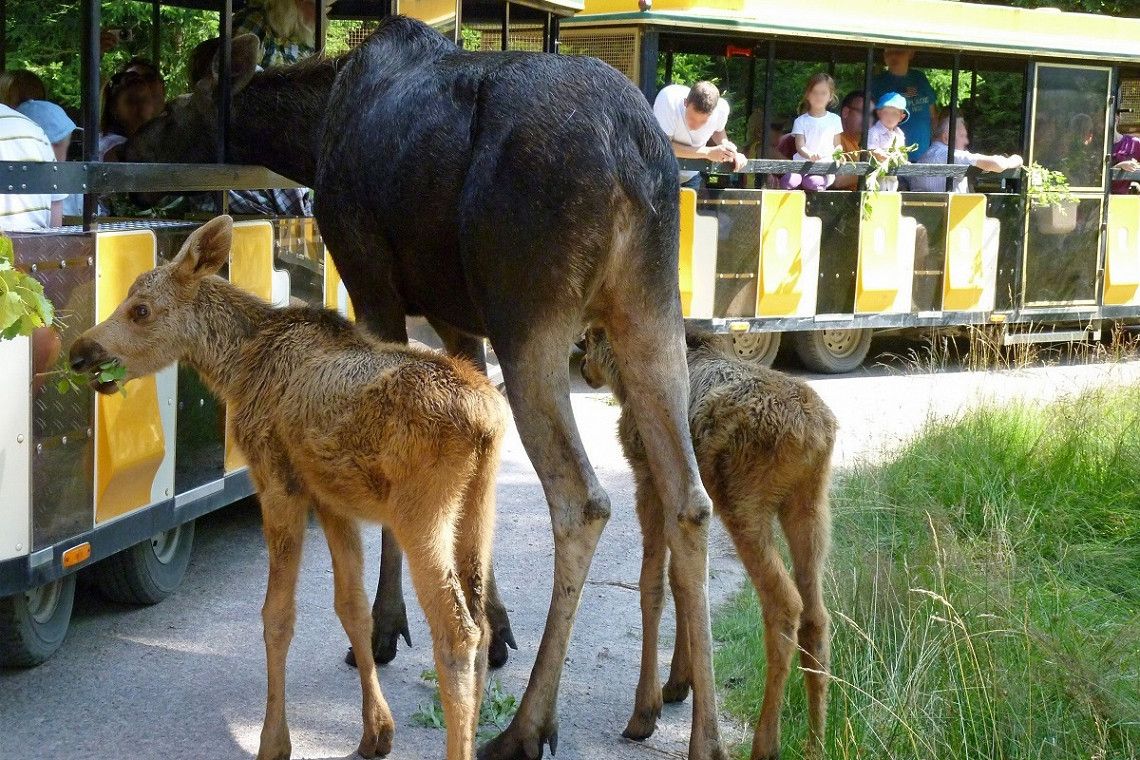 When it comes to food, the elk in Smålandet Elk Park are not afraid of physical contact. Photo: Claudia Rothkamp
There is also a safari train – a fun alternative for anyone who does not want to or cannot drive into the park with their own vehicle, e.g. car/caravan combinations where the caravan has not been uncoupled. The safari train has set departure times depending on the season and runs daily between the beginning of April and the beginning of November. In the high season between the end of June and the end of August, it runs particularly frequently. The best time to visit the park is early or late in the day, especially in the peak season. What makes the safari train tour so special? Both the elk and bison know that they will be fed birch twigs by the passengers in the train. This is why they get very close and do not shy away from physical contact. Feeding and petting the elk is a true highlight, in particular for the little ones.
Tip #2: Elinge Elk Park for anyone who wants to avoid the crowds
Follow the E4 further north and you will find the small Elinge Elk Park, just west of Ljungby, which has a completely different concept. Ten elk are spread over three enclosures scattered around a former farm in an idyllic landscape and can be explored on foot. Visitors are encouraged to feed and stroke the elk through the fence. Many people feel that the actual elk experience is better in other parks. However, due to its rural location, the park is not so overcrowded and the journey through the fantastic natural surroundings and villages in the area alone are worth the trip.
Tip #3: Laganland Elk Park for anyone in a hurry
Due to its location near the E4 motorway and just off exit 81, about 10 km north of Ljungby, Laganland Elk Park is certainly the easiest to reach. Accordingly, it is also one of the most frequented elk parks in Sweden. However, the elk park does not really offer a unique experience factor. The elk live in a relatively small enclosure and it looks more like a zoo. Many a visitor has left the park disappointed rather than enthusiastic.
Tip #4: Virum Elk Park for visitors to Vimmerby
If travelling to Småland with children, it is very likely that you will stop over in the small town of Vimmerby. After all, practically everything here revolves around Astrid Lindgren and her children's book characters, which are popular all around the world. Located southeast of Vimmerby near Tuna, Virum Elk Park offers another highlight for families. Here, too, there is a kind of open safari train that will take you within touching distance of the elk roaming around the 8 hectares. And if you're lucky, you might get to see elk swimming in the lake.

Children will love riding on the roof of the safari train where nothing and nobody can block their view of the animals. You can also feed and stroke them here. However, this moose park is only open daily during the high season between midsummer and the end of August. Limited opening hours apply from April to June.
Watch a short video of Virum Elk Park
Tip #5: Grönåsen Elk Park near Kosta for visitors to the Swedish Kingdom of Crystal
Grönåsen Elk Park in Kosta is one of the oldest of its kind. What began almost 30 years ago with selling elk postcards and souvenirs has grown into an extremely successful business focused on elk. The main protagonists are the 25 or so elk that live here in three enclosures spanning 27 hectares. However, due to the size of the park, you are only guaranteed to see the elk housed in the smallest enclosure right at the entrance of the park.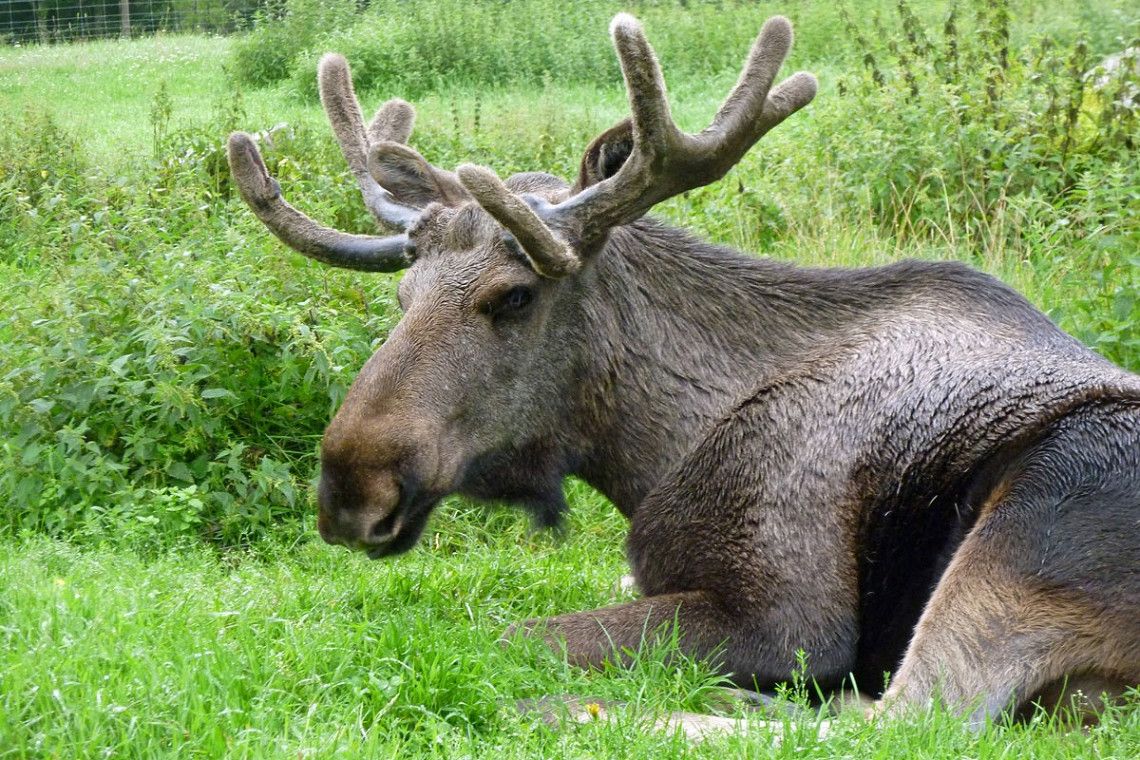 No feeding or petting allowed at Grönåsen Elk Park. Photo: Claudia Rothkamp
A footpath, roughly 1,300 m long and suitable for prams and wheelchair users, winds its way from here through the forest around the two large enclosures where the animals mainly live on their own terms – so if they want some peace and quiet, they simply retreat into the forest. Several observation towers around the enclosure offer a good view over the area and kids find it very exciting to spot elk in the forest. The elk in Grönåsen Elk Park are fed in the evenings, but this is closed to the public to avoid stressing the animals. In addition to a variety of elk souvenirs, you can also purchase frozen elk sausages and meatballs from the elk shop on site, and then turn them into hamburgers and hot dogs in the outdoor barbecue hut or at your campsite later on. The park also has a small exhibition on the natural enemies of elk.
Other alternatives in the Swedish Kingdom of Crystal
There are two more options for observing elk not far from Kosta: Kosta Safari Park has over the past years become home to some elk in addition to the many other animals it houses. It is located southwest of Kosta and visitors can go on safari and explore the 200-hectare site with their own vehicle, including campervans and motorhomes. You can also take part in a guided tour of the park by minibus. There is also a motorhome pitch right next to the park with supply and waste disposal facilities. Guests of the campsite receive a discount for visiting the moose park.

If travelling further east, towards Kalmar and Öland, you will find another elk park near Nybro: Glasriket's Elk Park. This park has a similar safari train concept as Virum Elk Park. Furthermore, you can also take your own vehicle to go elk viewing.
The best place for unusual elk souvenirs
What do all the elk parks mentioned in this article have in common? They all have a restaurant or café, picnic or barbecue facilities and, above all, souvenir shops where you can buy tonnes of different elk souvenirs, ranging from popular elk T-shirts, bags and socks to wood and glass products to backpacks and slippers made of elk leather – and much, much more.