Travelling to France
Entry requirements for German nationals
German nationals require a (provisional) passport, a (provisional) identity card or a child's passport to enter as a tourist.
Travelling to France with children 
If you are bringing under age friends of your children, then we recommended you have a letter of consent signed by the parent(s) or guardian(s). This should be legally certified if the child is under the age of 15. 
Travelling to France with pets
Cats and dogs travelling with you need an EU pet passport with, among other things, veterinary certification that the animal has received an anti-rabies vaccination, with the first vaccination at least 21 days prior to arrival in France, and a microchip if the animal was not tattooed before 03.07.2011. Dogs must not be younger than 3 months old. Listed dogs can only enter the country if they are pedigree American Staffordshire, Tosa, or Staffordshire terrier, or pedigree and non-pedigree Rottweiler and similar. These must always be on a lead and muzzled, and accompanied by an adult. They are not allowed inside public buildings or on public transport. Non-pedigree American Staffordshire (American Staffordshire terrier, pitbulls), Mastiffs (Boerboels), Tosa or Staffordshire terrier (all non-pedigree) and listed dog crossbreeds are not permitted to enter the country.
The most important traffic regulations for motorhomes and caravans in France
Speed limits on French roads in km/h
| | | | | |
| --- | --- | --- | --- | --- |
| | Urban areas      | Non-urban areas      | Dual carriageway      | Motorway      |
| Car | 50 | 80 | 110 | 130 |
| Car and trailer | 50 | 80 | 110 | 130 |
| Motorhome up to 3.5 t    | 50 | 80 | 110 | 130 |
| Motorhome exceeding 3.5 t    | 50 | 80 | 100 | 110 |
Important information: Since 1st July 2018, the speed limit for all motorists on main roads in France is 80 km/h. Previously, 90 km/h was allowed.
Additional information for caravan and motorhome drivers in France
Petrol stations – opening times and payment
Petrol stations on motorways are open 24 hours. You can pay using Euros, by credit card or EC/bank card. It is possible to pay by card at machines at many of the other petrol stations outside opening hours. Warning: Many of these do not accept bank cards or only EC cards and/or credit cards with a chip and PIN.
Tolls in France
You must pay a toll to drive on a motorway in France, with only a few exceptions. You can pay this at manned or automatic toll stations either in cash, by credit card or toll box.
The toll rate depends on the length of the route and the vehicle category:
Category I: Vehicles and those towing trailers up to and including 3.5 t GVW (with trailers only the towing vehicle) and a maximum height of 2 metres
Category II: Cars and trailers up to and including 3.5 t GVW (with trailers only the towing vehicle) and of a height between 2 and 3 metres
Category III: Vehicles with two axles, total height over 3 metres or more than 3.5 t GVW
Category IV: Vehicles and those towing trailers with more than two axles, exceeding 3 metres height or over 3.5 t.
The following electronic toll boxes exist in France: Liber-t for vehicles up to 3.5 t and not exceeding 3 meters in height. TIS-PL for vehicles exceeding 3.5 t or over 3 meters in height (also applies to some motorhomes).    
Main roads – avoiding tolls the attractive way
If you want to avoid a toll road, you can enter this into your navigation system (avoiding toll roads). The main roads in France are very well maintained throughout the country. Additionally, the minor roads pass through a lot of beautiful regions and towns. 
Caution cyclists!
If you fancy swinging yourself onto your bike, then you will benefit from the 2,600 kilometres of cycle paths known as "Véloroutes". Depending on your condition and ability, these take you through lavender fields, vineyards, along rivers or the coast. More demanding routes lead through the Alps or Pyrenees. 
The Voies vertes, with 20 to 50 kilometres, are particularly suitable for families or those who are less experienced. Those cycling at night or in poor-visibility conditions outside urban areas must wear a high-visibility vest. Wearing a bicycle helmet is compulsory for children under the age of 12.
General traffic rules in France
Drink-drive limit in France
This is generally 0.5 ‰. The limit for drivers who received their driving licence within the last 3 years is 0.2 ‰.
Driving licence and vehicle registration documents for the holiday in France
To drive a motorhome or car with caravan in France you require your national driving licence and the vehicle registration document Part 1. A green insurance card is also recommended.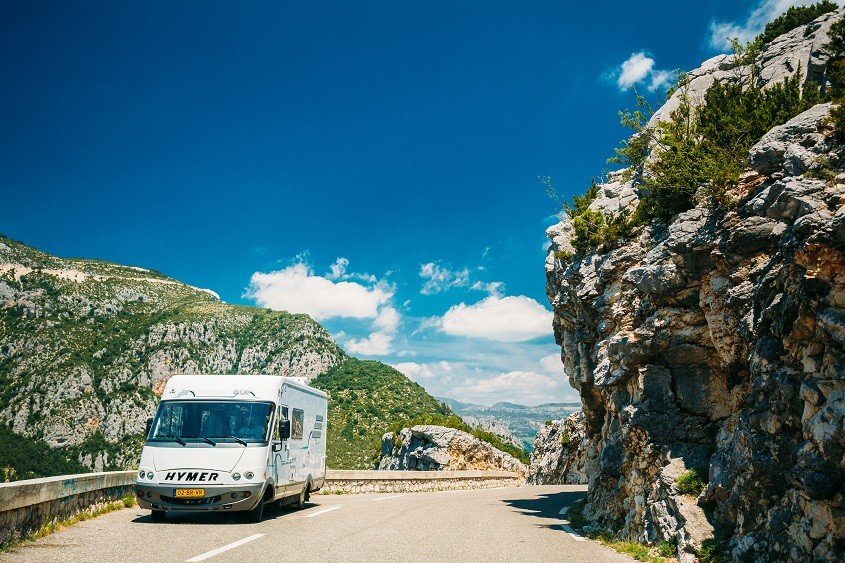 Child car safety seats
Children under the age of 10 must be secured on the rear seat using a restraint system. 
High-visibility vest requirement on French road
In the case of a breakdown or accident outside urban areas, the driver must wear a high-visibility vest when leaving the vehicle.
Furthermore, you must carry an alcohol breathalyser test in your car, which can be purchased in pharmacies and motorway service stations.
Marking overhanging loads
Loads must not extend over the front of the vehicle. A maximum of 3 metres overhang to the rear is allowed, as long as the load does not touch the ground. An overhang of 1 metre or more requires a reflector and a red light at night.

Telephoning while driving
You are only allowed to use a telephone with a hands-free set.

Parking in urban areas in France
Parking zones subject to charges are marked throughout the country:  
·         Blue markings indicate restricted and/or parking where payment is required.
·         No stopping or parking is allowed where there is a single unbroken yellow line. You must also not stop or park in tunnels, underpasses or under bridges.
Failure to observe a no-parking zone will result in a fine, clamping or towing.
Motorhomes or caravan drivers can park in spaces marked with the wheelchair if they possess a blue EU disabled parking permit.
Since July 2016, there are emissions and fine particle zones stickers called Crit'Air for the emissions zones in Paris, Lyon, Grenoble, the Arve Valley, Lille and Strasbourg. Here, you can find out more about the 6 categories that also apply to overseas vehicles: Emissions zones in France and the online address for ordering toll stickers.
Important addresses and telephone numbers for holidaymakers in France
European emergency number: 112
With this central emergency number, which can be dialled using a landline or a mobile telephone without a dialling code, you will receive assistance from the local police, fire brigade, an emergency doctor or ambulance.