Sun, sea and sand – this is what a perfect holiday looks like for most of us. But when you get back to your caravan or motorhome after spending a day at the beach, the heat that has accumulated during the day will often knock you sideways when you open the door. If you happen to have electric air conditioning on board, then you can consider yourself lucky. If you haven't, then you might have started thinking about retrofitting your motorhome. But what are your options?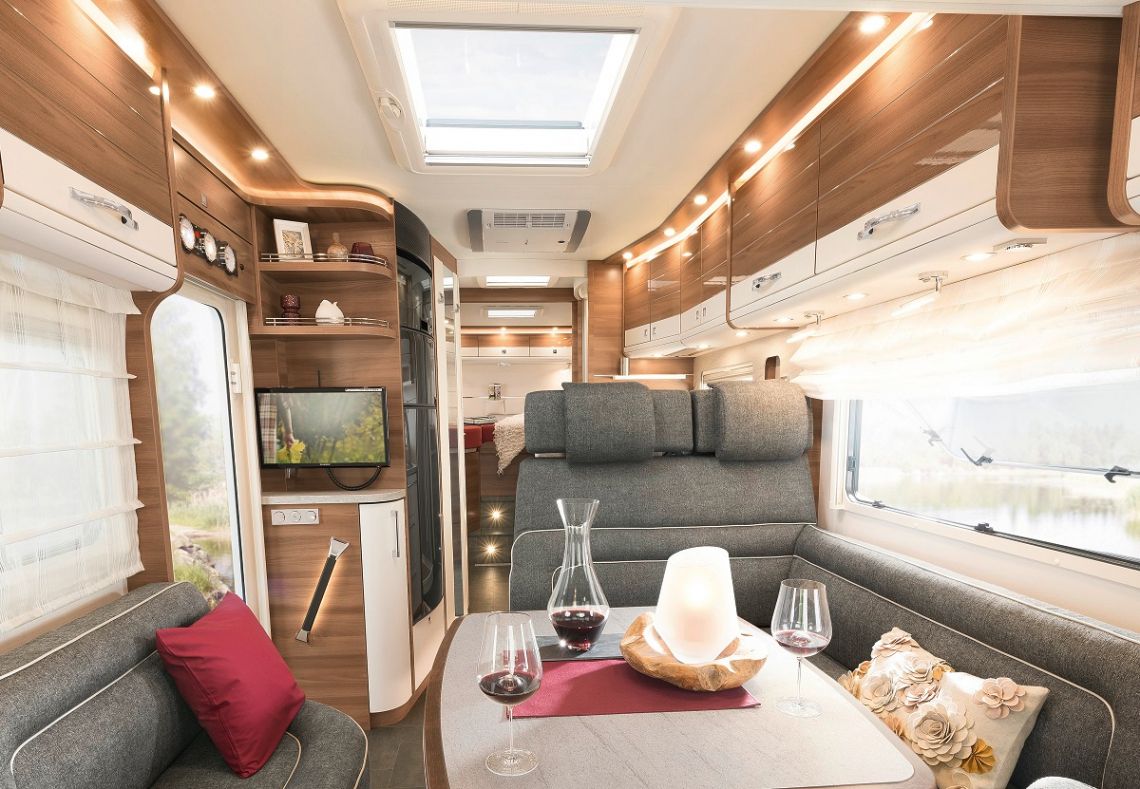 Roof-mounted air conditioners save space in caravans and motorhomes. Photo: Dethleffs
Advantages and disadvantages of roof-mounted air conditioners
There are generally two types of air conditioning units for motorhomes and caravans – ones that are mounted on the roof and ones that are installed in storage boxes, the rear garage or the double bottom. Roof-mounted air conditioners are fitted to the existing roof hatch and blow cold air into the living area via several adjustable vents on the underside. This is a perfect way to distribute cool air because, as we know, cold air sinks whereas warm air rises. However, despite roof-mounted air conditioning units being simple to install as well as equipped with a practical air distribution system, they have one main disadvantage – they raise the vehicle's centre of gravity. With air conditioning systems weighing roughly 25 to 30 kg, this can especially impact the roadability of car/caravan combinations. They can also cause problems with other devices fitted on the roof, such as satellite dishes or roof boxes.
A new caravan or motorhome will usually come with a rooftop air conditioning unit ex works as an optional feature. In addition to practical air distribution, it also has the advantage of not taking up any space in the living area of the caravan or motorhome. However, please note that you will lose natural light inside if you want to use an existing roof hatch for the retrofit.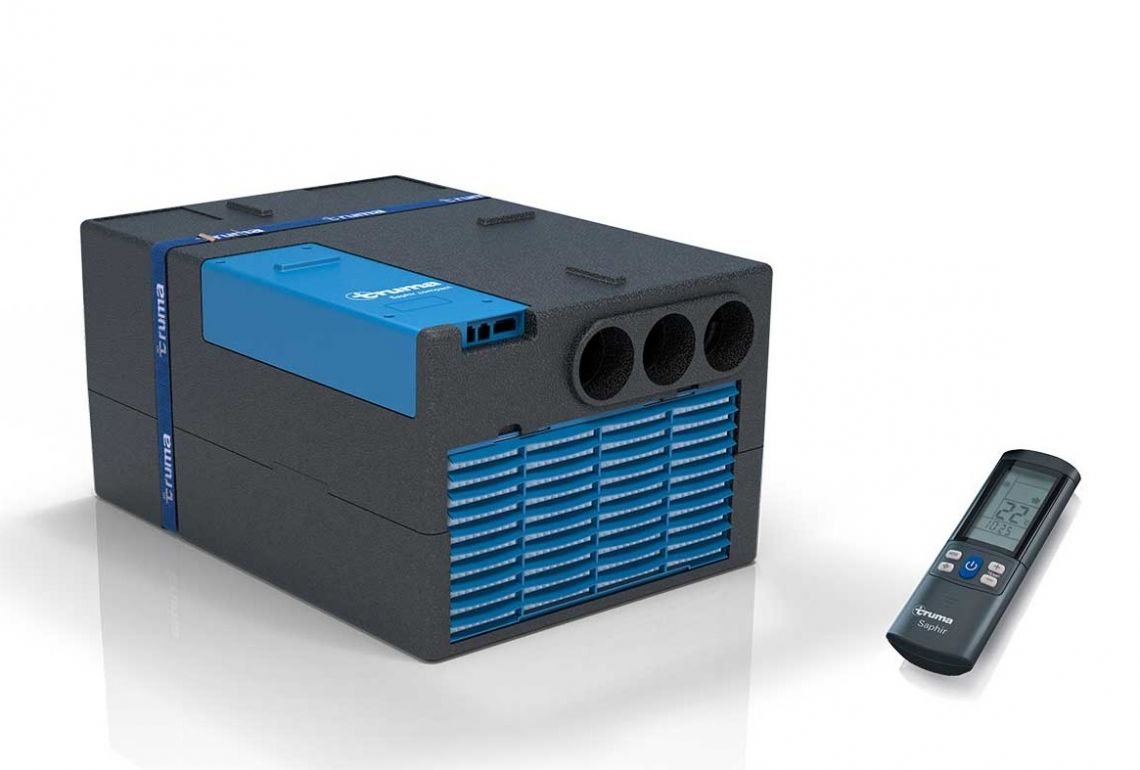 Storage box air conditioners can be concealed in caravans or motorhomes, but require more time and effort for the installation. Photo: Truma
Storage box air conditioners are ideal for retrofitting
If you have more space than you need in the storage compartments in your caravan or motorhome, you should think about installing a storage box/underbench air conditioning unit. The main advantage: it will not alter your vehicle's centre of gravity and thus roadability remains the same. However, as it is hidden from view, cold air has to be distributed through air ducts, which in turn requires more time and effort for the installation – but it's worth it. The air ducts let you easily distribute cold air to specific areas of your motorhome, e.g. the dining area or sleeping area. Please note, however, that the existing heating air ducts cannot be used as the airflow of the air conditioning system as they are not suitably insulated to protect against condensation.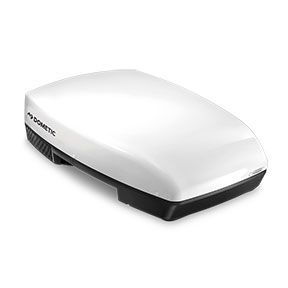 Many modern air conditioners can both cool and heat, like the Freshjet from Dometic. Photo: Dometic
Cooling and heating in one unit?
Conventional air conditioning systems work on the principle of compressor technology. A compressor turns gaseous refrigerant into liquid, which then turns into gas again in the evaporator. The heat exchanger cools the refrigerant itself and the inside air. However, many compressor cooling systems can also heat. A basic unit will have a simple electric heating element integrated in the air conditioning system. But its heat output is sufficient enough to keep the inside of your motorhome comfortably warm on cool evenings. However, heat pump technology is more effective as it reverses the principle of compressor cooling and in turn produces heat instead of cold. Its heat output can easily warm up the vehicle even when the ambient temperature is near freezing. However, if the thermometer drops below zero, heat pump technology will also reach its physical limits. This effect is compensated by combination air conditioning units, which have a built-in heating element.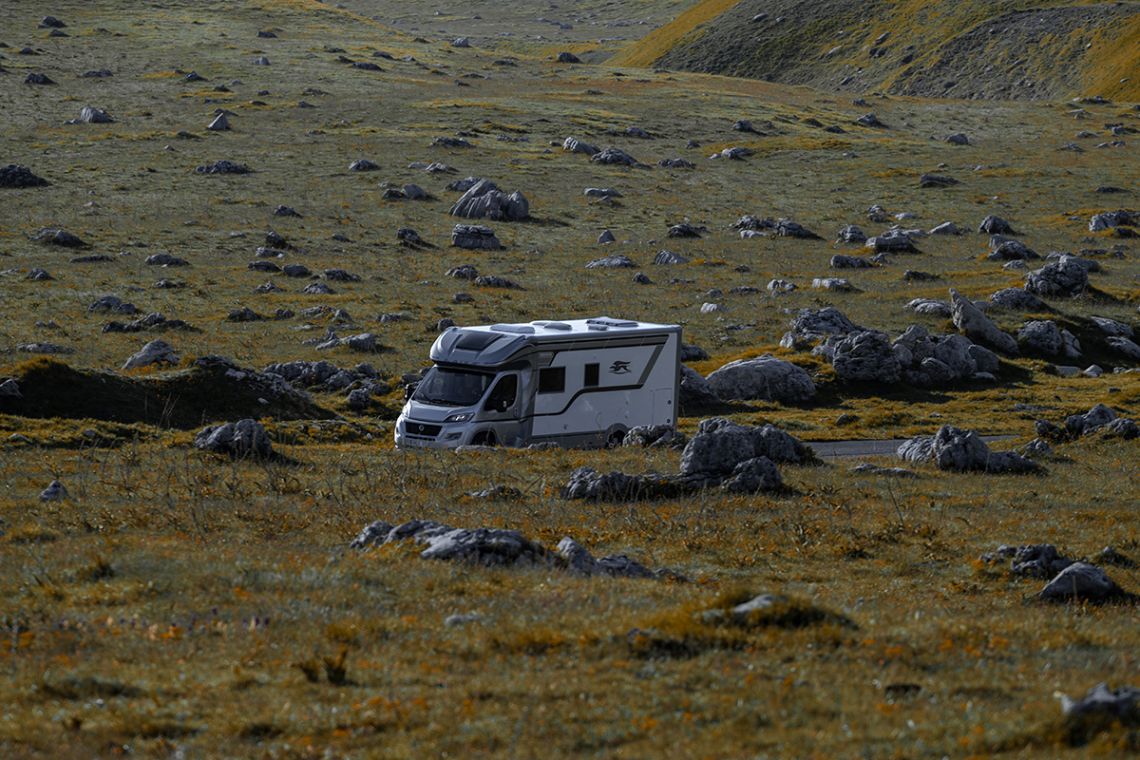 The size and power of an air conditioner for a motorhome or caravan also depends on the existing window areas. Photo: Laika
How big and powerful does an air conditioner have to be in an RV?
Even well-insulated RVs can get hot after the sun has been shining all day, rising up to 30 °C or more inside. And not only in the hot south, but also in temperate climes. In this case, the obvious answer is to turn on the air conditioning to enjoy a refreshingly cool breeze. We find temperatures of 18 - 23 °C and a humidity of 40 - 70% comfortable. At least that's what the experts say – while also emphasising that the inside temperature should be no more than 8 °C below the ambient temperature. Otherwise you risk getting a cold.

But how powerful does an air conditioning unit have to be to create a cool and comfortable temperature in a caravan or motorhome? Unfortunately, there is no one size fits all formula. One key factor is naturally the climatic condition of your destination, e.g. Scandinavia lovers need a less powerful unit than holidaymakers who regularly travel to southern Europe. The size of the vehicle is just as important as it determines the volume of space that needs to be cooled. You might think that it is simply a case of "large caravan = large air conditioning unit" – you're not completely wrong, but not right either because even caravans or motorhomes of the same size have different demands on an air conditioning system, e.g. due to their different sized windows. Therefore, when retrofitting an air conditioning unit, it's always best to contact a specialist for advice.
Other cooling solutions
In addition to the compressor air conditioning systems described above, there are also a few products in the caravan market that work according to the evaporation principle. If you prefer being self-sufficient when travelling in your motorhome, the advantage of these devices is that they can be operated with the 12-volt on-board battery for longer periods due to their low power consumption. However, when it comes to cooling capacity, these air conditioners can't compete with compressor air conditioners. A roof fan can also be an inexpensive solution for temperate climate regions as it quickly removes the accumulated heat from the inside of your motorhome without the need for a cooling unit.