On a farm with your motorhome? Why not, with the smell of fresh straw and ripe oranges, the tickle of the sun on your skin, and the sounds of grazing animals making a camping holiday in Italy a really special experience. Here and there, you'll hear young goats calling, and the beautiful countryside is perfect for walking and exploring, while in the evening you can enjoy a glass of homemade wine and local dishes. And the best part is: Your motorhome is always there with you. 
We leave the hectic of everyday life behind us and begin our motorhome tour through the idyllic farmyard pitches in beautiful South Tyrol. From there we continue to head south. The comfort and peace of the farmyards is very inviting, so you need to decide for yourself whether to stay longer in one location or whether a proper motorhome tour with several destinations is the right thing for you.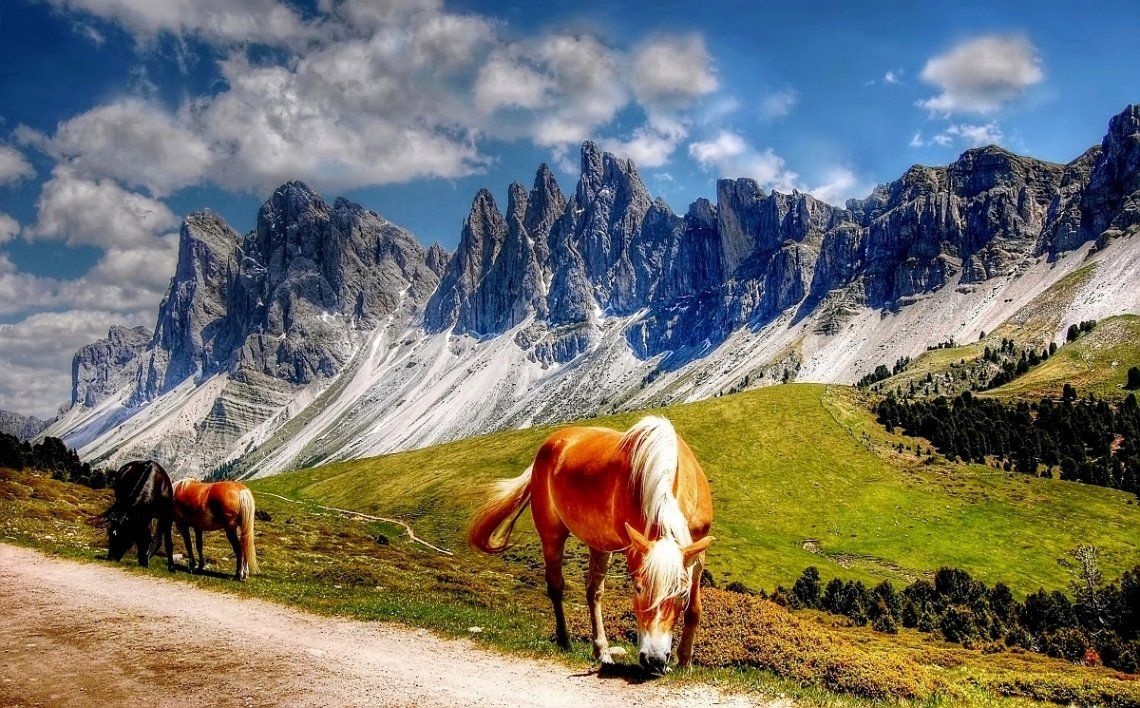 Haflinger from South Tyrol are considered to be very foot-sure. Photo: Pixabay
Tip 1 for your motorhome tour: Sitting Bull Ranch in South Tyrol
We begin our motorhome tour with a somewhat different motorhome pitch, which is directly next the small riding stable "
Sitting Bull Ranch
" in the South Tyrolean village of San Martino (San Martin de Tor). The ranch does its name justice, as here you really have that cowboy feeling, with hacks and trail rides in Western style and even a colourful painted totem pole to add to the atmosphere. If you enjoy riding, this is the pitch for you. The majority of the horses are "blond" Haflinger. The mountain horses from South Tyrol are considered to be especially sure-footed and even-tempered, and are therefore also very suitable for beginners. But motorhome travellers with respect for the large four-legged friends will also feel comfortable, as the peaceful surrounding of the Dolomites are inviting to walkers, climbers, and those who like to enjoy the local gastronomy – which you certainly shouldn't forego in South Tyrol.
Pitch details:
– 20 pitches
– Electricity hook-up
– Fresh water supply
– Grey water disposal
– Dogs allowed
– Caution: Winter break between November and May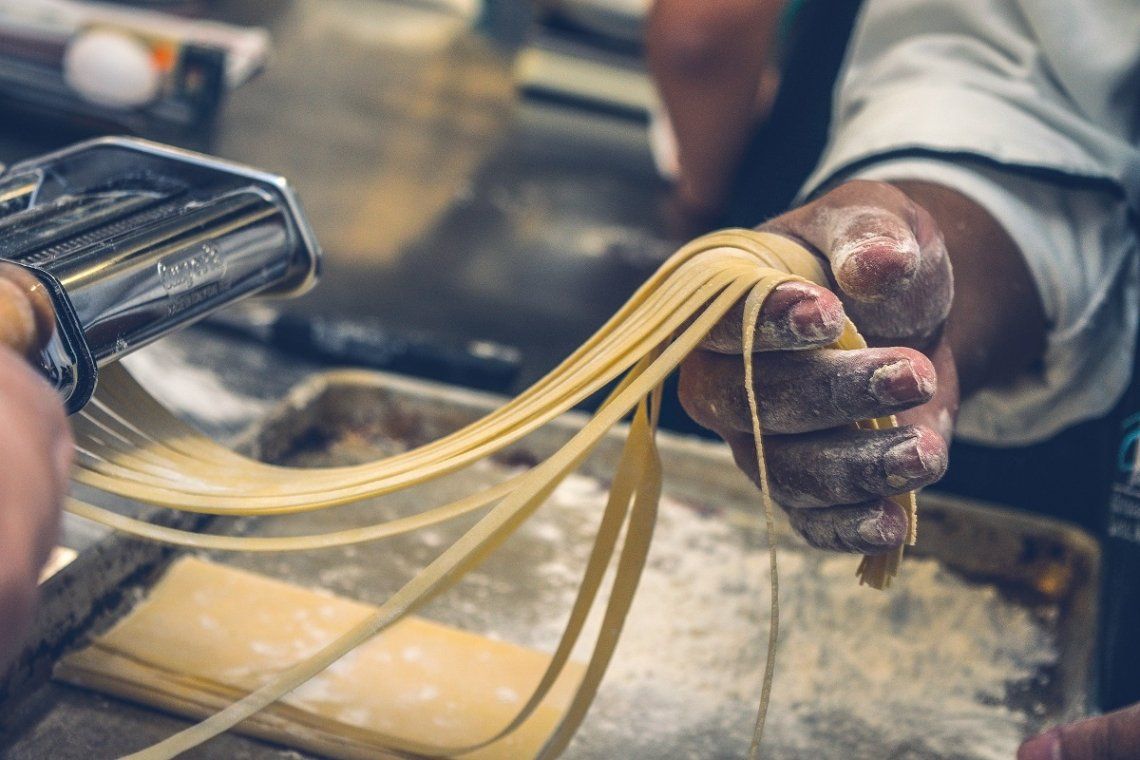 It's a matter of pride for the cook Donatella that the pasta is fresh and homemade. Photo: Unsplash
Tip 2 for your motorhome tour: Agriturismo Ca´Du Chittu in Liguria
Looking from the Agricamping 
Ca´Du Chittu
 over the "Val di Vara Tal" by Carro (La Spezia Liguria), all you will see at first glance is: Green, green and more green! And maybe a couple of pigs, geese, chicken and rabbits. The cosy farmhouse at the heart of it all was built in the 1950s and sits on a hill with amazing panoramic views. What's more, it's only a 30-minute drive from the sea. If you don't fancy cooking for yourself, you are bound to find something to your taste among the seasonal organic dishes offered by the farmhouse restaurant. The Ligurian cuisine prepared by the cook Donatella is so popular that she is even mentioned in the Michelin Guide. Numerous fruit and vegetable varieties, as well as herbs and wines grow here literally in front of the door, and there is no question of using chemical plant protectants! If you want to try your hand at reproducing Donatella's incredible dishes yourself, why not book a cookery course with her and learn some of her secrets.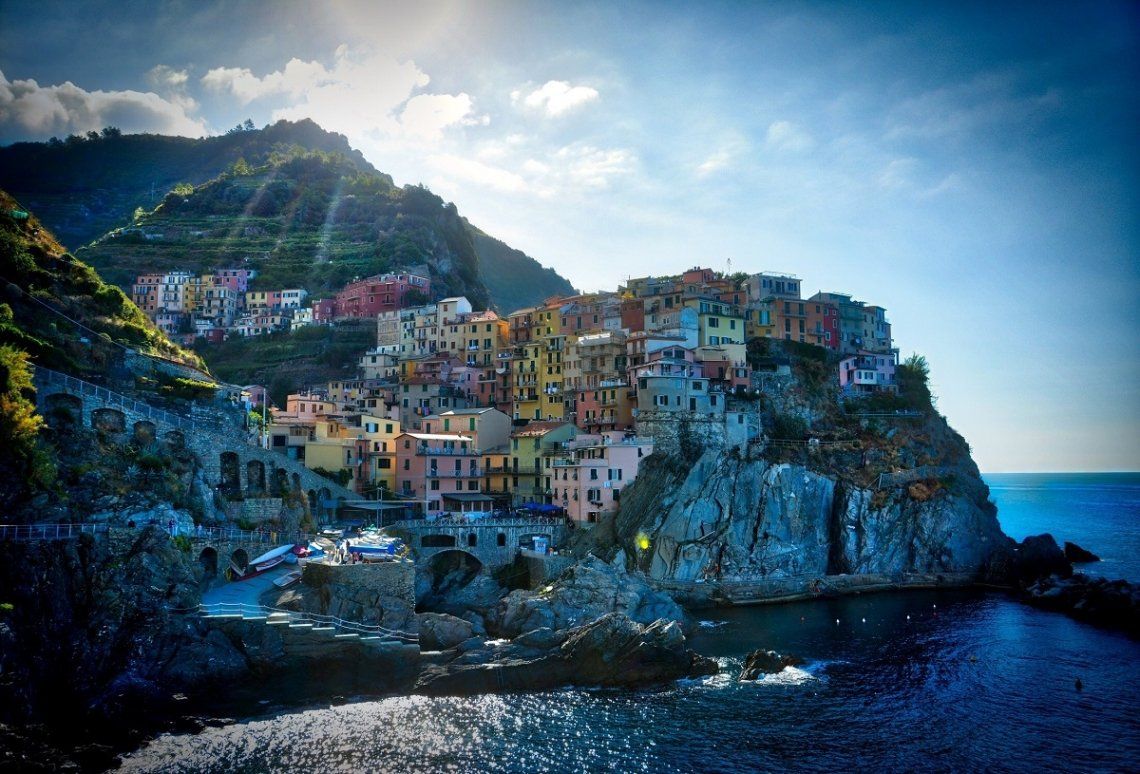 Manarola is one of the five villages of the Cinque Terre. Photo: DavidMercier / Unsplash.com
The surrounding countryside is ideal for a wide range of activities, such as hiking or mountain biking, or perhaps for a hack from the nearby riding stable. And don't forget a day trip with the motorhome to the little town of Carro, or a visit to the "Cinque Terre", five ancient, colourful coastal villages on the Italian Riviera. Or how about taking a tour through picturesque Varese Ligure, Portovenere, Lerici, Portofino or the Gulf of Tiguillio. A tip: Remember to pack a few old records in your motorhome. You are promised a discount on your stay if you play them on the local record player.
Pitch details:
– 7 grass pitches
– Common barbecue
– W-LAN
– Fresh water supply
– Dogs allowed
– Approx. 20 Euro per night / motorhome
A motorhome tour between the vineyards and olive groves of Tuscany is an absolute pleasure. Photo: Pixabay  
Tip 3 for your motorhome tour: Agriturismo "La Colline delle Stelle" in Tuscany
Hidden in the picturesque vineyards of Tuscany, in the Casentino Valley, is a green oasis with 
Pitches for motorhomes and caravans
, while horses, pigs, Limousin cattle and donkeys graze peacefully on other fields. There is really something for every motorhome holidaymaker here - regardless of whether you are into sports, health and well-being, countryside or culture: The farm offers, for example, a well-equipped relaxation oasis, with Turkish baths, sauna, massage and quiet area. For more active campers there is a fitness area, and the surrounding countryside is perfect for walking, trekking and cycle tours. If you haven't brought your own bike with you, you can hire a mountain bike at reception - just ask. And don't forget there are riding stables only a couple of kilometres from the farm. For those wanting to try something new: An astronomy evening attended by astronomy experts is held occasionally on the little hill in the farmyard, why not join the group for an interesting and unusual evening.
The Palazzo Publico is only one of the many architecturally interesting buildings in Siena. Photo: Davide Cantelli / Unsplash.com
Tuscany has a wide selection of cultural daytrips for you to choose from. How about, for example, the pilgrimage destination La Verna, with pilgrimage church Madonna del Sasso, Bibbiena old town, the romantic town of Poppi with its castle belonging to Conti Guidi, the hermitage l'Eremo di Camaldoli and its mediaeval pharmacy. And then there is the fortress Castello di San Nicolò, the Etruscan archaeological sites such as the Lago degli Idoli (Lake of Idols) or the Etruscan altar in the church in Pieve a Socana. Not to mention the cities of art Arezzo, Florence and Siena, which are all relatively close by and easy to reach with the motorhome.
Pitch details:
– 8 grass pitches with a panorama view over the countryside 
– Lighting, energy tower, disposal point for black water and grey water
– Drinking water supply close to the pitches
– Approx. 15 Euro / night off-peak season (for motorhomes with 2 persons), 20 Euro peak season
– W-LAN
– Own restaurant, with dishes prepared daily by the cook with fresh ingredients from the farm and local sources
– Common kitchen and barbecue 
– Sustainable energy and water supply from solar energy
Whether you are interested in culture or not: The Colosseum in Rome is always worth visiting. Photo: DennisVanDenWorm / Unsplash.com
Tip 4 for your motorhome tour: Farm camping on the outskirts of Rome with Agriturismo Montecaminetto
A meander through the countryside, enjoying the fresh air and local dishes, made from produce taken straight from the soil – those are the last things you would associated with Rome. But they really are waiting for you in a little paradise in front of the gates to this city steeped in history: The camping farm "
Agriturismo Montecaminetto
". Only 15 kilometres from Rome, snuggled in the green surroundings of the "Veio Park", you can relax in pure rural idyll. The dishes served in the farm restaurant are made using products straight from its own farm and others close by. The shaded pitches under the trees offer incredible views over the surrounding landscape. And all this, despite the hustle and bustle of Rome being only 25 minutes drive away.
Agriturismo Montecaminetto even offers a shuttle service to the station "Montebello" for guests who want to quickly be in the heart of Rome but don't fancy negotiating their way through Italy's capital with the motorhome. To include a list of all the places of interest in Rome is by no means possible in this guide. Especially when it comes to cultural attractions, this ancient city has so much to offer that it's difficult to know where to begin. These include the city's almost 3,000 years of art history, the Colosseum, St. Peter's Basilica, the Pantheon, the Forum Romanum, and countless other sites of interest. What's more, you're not only close to the capital city of Italy, but the sea is also not far away. It's only about a 30-minute drive with the motorhome to the coast from here, passing through numerous charming farming villages.
Pitch details:
– Large, shaded grass pitches for motorhomes and caravans 
– Electricity and (waste)water connections
– Access to toilets and bathroom with individual showers
– Barbecue and picnic areas
– Restaurant with local cuisine
– Pretty hiking routes in the immediate vicinity
– From 15 Euro/night
– Dogs allowed
– Shuttle service from the campsite to the railway station
– 15 kilometres from the city centre
Naples is an exciting destination for a motorhome tour, if only due to its proximity to Vesuvius and the buried Roman city of Pompeii.  
Tip 5 for your motorhome tour: Into the 15th century with the motorhome at Terracina, Lazio
Between Rome and Naples, by the little coastal town of 
Terracina
, is a rustic, ivy-covered stone house, which offers motorhomes a pretty place to stay within its grounds. The perfect location for trips to the seaside, into the mountains and for exploring the little picturesque towns of the region. And the nearby river invites you to take a stroll, set up your fishing rod, or maybe even enjoy a kayaking tour. You can hire kayaks locally, and afterwards gather your strength again in the pizzeria. A multitude of hiking routes are waiting to be discovered in the nearby hills, and a trip to the unspoiled Circeo National Park is perfect if you fancy moving the motorhome from its parking spot. Not forgetting the beaches at Terracina, San Felice Circeo, Sabaudia and Sperlong, which are also ideal for daytrips.
The Garden of Ninfa was built on the ruins of the mediaeval town with the same name. Photo: Harald Brendel / flickr.com 
Naples is the ideal destination if you are interested in culture, although we do recommend you take a train into the city centre rather than your motorhome. But you are welcome to take your motorhome to the Garden of Ninfa, the romantic park surrounding the mediaeval town of Ninfa, and why not then continue on to the other mediaeval towns of Sermoneta, Sezze and Cori. The same applies to the Benedictine Cloister Fossanova, which is now a national monument.
Pitch details:
– Pitches in a large garden
– Electricity connection
– Dogs allowed
– W-LAN
– Barbecue area
– Washing machine, drying line, toilets and showers available
– From 15 Euro / night
– Romantic atmosphere
– Natural pool
– Mild climate all year round