Join us on a short imaginary journey through Italy to Sicily
Sicily © pixabay.com
There are plenty of reasons for taking a well-earned break as a camping holiday on Sicily. A pretty motorhome pitch right on the coast and camping by the sea, the Italian flair and the hospitality of the Sicilians, the famous volcano Etna, long sunny days and fabulous Mediterranean cuisine already all sound very promising. It's high time to plan a journey route to Sicily with its famous cities of Marsala, Palmero and Catania, and to check out the most spirited and largest island in the Mediterranean.
Preparing to travel to Sicily with FREEONTOUR
Before you can start your holiday and set up camp on Sicily, first you need to find the right holiday destination and a suitable campsite. Sicily boasts over 70 campsites on the coast and inland. We are happy to help your with your journey preparations for your camping holiday on Sicily. In the FREEONTOUR portal you can find helpful tips and suggestions, and information about the amenities available on the Sicilian campsites. Join us on a short imaginary journey through Italy to Sicily.
Sicily, Agrigento: the Temple of Concord © De Agostini Picture Library Fototeca ENIT; Taormina © pixabay.com

The route to Sicily with your motorhome
So let's get started with planning the route to Sicily. The exciting part about the journey to your holiday destination in Sicily is that you have to drive right across an entire country with your motorhome or caravan, and make overnight stops in some of the most amazing cities in Italy. A journey to Sicily takes us from Germany to Verona, and then on to Bologna (to the campsite Campeggio Citta` di Bologna). Then we continue straight on with our Italian tour to Florence (stopping at Camping Firenze), where we can visit the historical Florence Cathedral with all its steps up to the famous dome, and the Palazzo Vecchio. If you want to, you can shorten your trip to Sicily here and take the ferry from Livorno to Sicily - Livorno is approximately 100 km west of Florence.  
Camping in Northern italy
From Lake Garda to Lake Maggiore
For everyone else, the next stop at the historical Vatican city in Rome (campsite: 
Roma Camping
) is, of course, a highlight of the trip. Our journey then takes us on to Naples and Vesuvius (pitch 
Parcheggio IPM
) and from there on to Calabria and to the harbour at Villa San Giovanni, where we catch the ferry to Messina on Sicily. All in all, the journey to Sicily covers about 1,550 km. Alternatively, you can also take a Ferry crossing from Naples.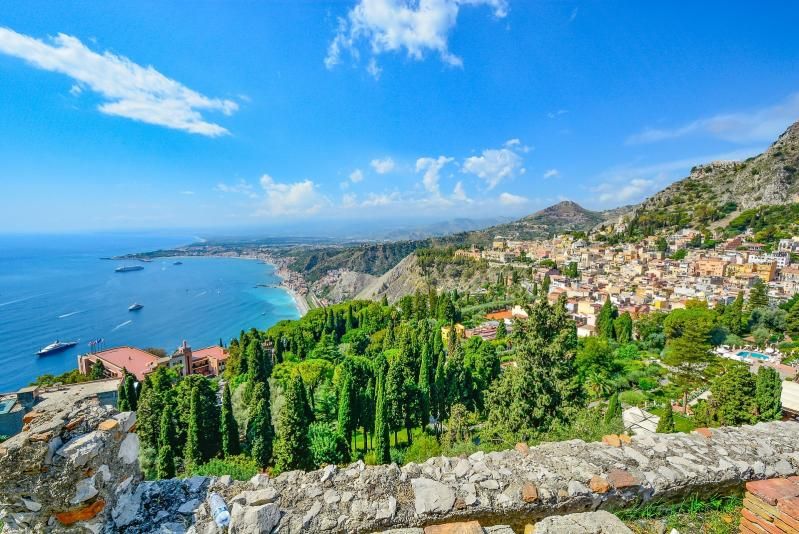 Sicily © pixabay.com

You can plan your own route to Sicily with your motorhome or caravan in the FREEONTOUR portal, and plan the stops and journey timetable. You can record your impressions and memories in your personal travel diary and share your experiences with your friends.

On the road on Sicily with your motorhome
If you are travelling with your motorhome in Sicily, keep in mind that the Sicilian countryside is made up of hills, mountains and coastline. The roads can have a lot of curves, but the campsites are generally easy to access. Be sure to check out what excursions are available through tourist information, and consider the possibility of hiring a car at rental points as the side streets are not always well paved and can be very twisty. There are also a lot of mopeds on the roads in Sicily.
About the island of Sicily /Sicilian attractions
What would a camping holiday on Sicily be like without daytrips, places of interest and activities? There is plenty waiting for us now that we have arrived in Sicily: The unique landscape around the volcano Etna and the lagoons along the coast, little towns with mediaeval alleys and fishing villages, as well as attractions documenting the history of art, Norman fortresses and objects of Sicilian cultural history. Many of the towns hold historical, musical and cultural festivals at different times of the year.
Sicily, Salina: the secluded little harbour Pollara has been used as a filming locations in numerous films. © Fototeca ENIT; De Agostini Picture Library and Pollara harbour Photo Sandro Bedessi 

Top 5 highlights on Sicily
1. Take yourself off on a tour to discover one of the nature reserves and experience natural treasures really close up, such as the volcano Etna, one of the most important attractions on Sicily. Examples of Sicilian nature reserves: Parco Naturale dei Nebrodi, Parco dell« Etna, Riserva natura, Parco Naturale Regononale delle Madonie.

2. The Greeks also left their mark on the Sicily. Why not visit the Temple of Concord in Agrigent in the "Valley of Temples", and marvel at the eight columns of the Temple of Hercules. In Taormina, you can view the most famous Greek theatre "Teatro Greco", where gladiator fights were held during Roman times.
3. The beaches on Sicily are considered to be among the most beautiful in Europe. White sand, crystal clear water and plenty of space for beach activities. So coastal areas are among Sicily's attractions, including the beach "San Vito lo Capo" in the north-west, and the lagoons Oliveri in Tindari, Mondello close to Palermo, and Lido di Noto by the World Heritage City Noto.
A camping holiday on a farm in Italy
Agricamping: A beautiful country pitch for your motorhome in Italy
4. If you are out and about in Palermo, make sure you visit the "Cattedrale di Palermo" and look around the large vegetable and fish market Vucciria on the Piazza San Domenico, where you can try some Sicilian specialities. Sicily is also famous for its opera performances, which often take place in the "Teatro Massimo". And there are lots of small parks and green areas to sit in and relax. Away from Palmero, it starts to become mountainous.
5. After visiting Palmero and all its attractions, you should really take a trip to the ancient town of Syracuse in south-east Sicily. At the highest point is the cathedral "Santa Maria delle Colonne" with its stunning baroque façade.

Syracuse - Catacombs of San Giovanni and the Church of Santa Lucia, Photo © De Agostini Picture Library, Sandro Bedessi, Fototeca ENIT

Video Sicilia, tourism in Italy
Camping at the sea in Sicily — Campsites on Sicily
Sicily has the longest camping season in Italy (April to November). Some campers even use Sicily as a place to overwinter in their motorhomes. The campsites locations are simply fantastic, with the majority of them right at the sea. The incredibly beautiful sandy beaches are perfect for beach holidays, and with a bit of luck you can still take a dip in November. The best Campsites on Sicily are unspoilt sites with shading, where you can enjoy fun evenings together around the fire at established barbecue areas. Some of the high-rating campsites have their own pool and Sicilian restaurants, and even entertainment programmes.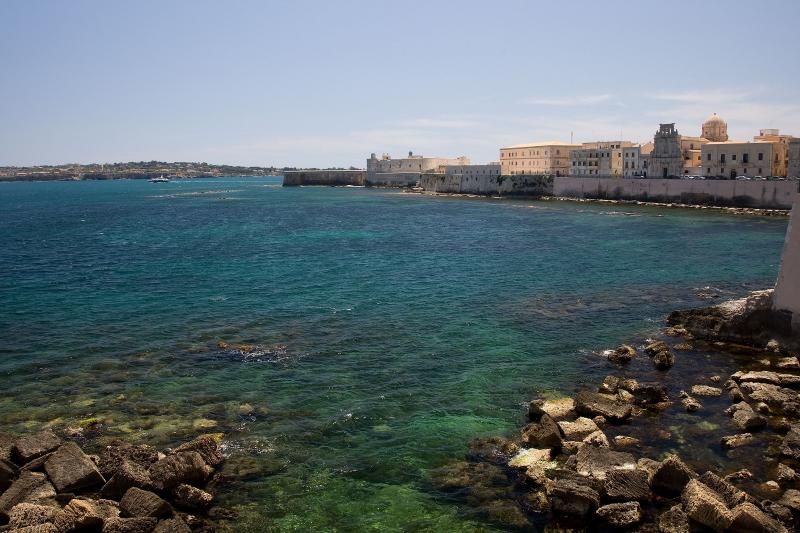 Sicily © Sandro Bedessi, Fototeca ENIT

The countryside around the volcano Etna is covered in vineyards. Here, you can find motorhome pitches nestled among the Sicilian vines offering a really special camping experience — why not watch the vintners go about their daily work, and then taste the wine and enjoy the local produce.                                                                               
You can find a selection of the best campsites on Sicily at the end of this article.
The volcano Etna, © pixabay.com
A hiking tour to the volcano Etna
The mysterious and active volcano Etna stretches up to its full height of 3,300 metres on the island of Sicily. The huge structure of concentrated natural energy has a mystic effect, drawing tourists to it. A fascinating hiking tour at the foot of Etna enthrals nature lovers, and from there you can travel by bus or cable car to the peak to learn more about the volcano's formation and activity.
And for thrill-seekers, there are mountain hikes to the dangerous crater, from which you can paraglide over the spectacular scenery back to safer ground. This is guaranteed to make a holiday on Sicily an unforgettable experience. The volcano is also pretty amazing when viewed from further afield, for example during a boat trip.                                                                                                             
Video Speed flying at the volcano Etna (Source: Mammut)