Sicily is not only the largest island in the Mediterranean, it is also blessed with an abundance of nature. There are almost 80 nature reserves to choose from, including five regional parks and one national park. Freeontour reveals the three largest – and maybe even the most beautiful – regional parks in Sicily: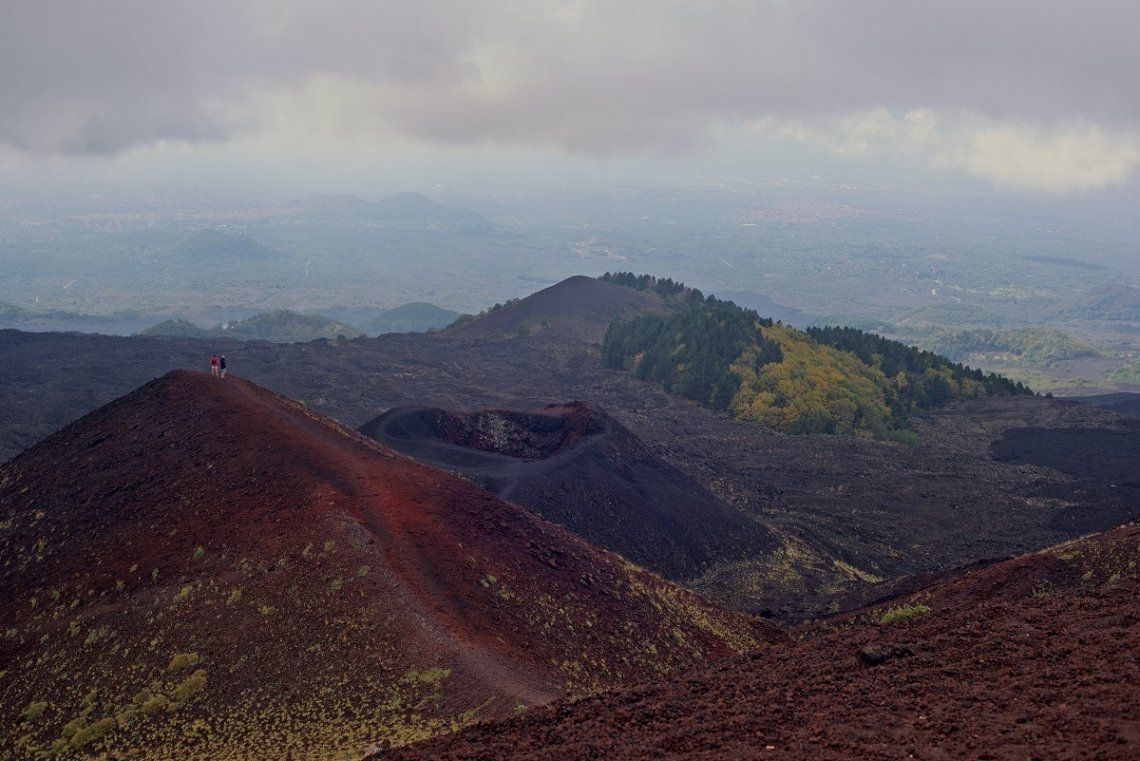 Etna's volcanic activity is omnipresent in Parco dell'Etna. Photo: Pixabay
Parco dell'Etna – under the spell of Mount Etna
This is probably the best known nature park in all of Sicily – because of Mount Etna, Sicily's fire-breathing landmark, which you can get very close to here. At about 3,350 m above sea level, Etna is the highest active volcano in Europe. In 2013, UNESCO added Mount Etna to the list of World Heritage Sites. Numerous myths and legends surround the volcano. In Greek antiquity it was the setting for many a legend. For instance, Hephaestus, the god of fire and husband of the beautiful Aphrodite, created an eruption whenever he was jealous of his wife's infidelity. If you believe Greek mythology, Aphrodite hasn't stopped being unfaithful as Mount Etna continues to spit black clouds of smoke into the air, occasionally causing earthquakes. But don't worry – the Sicilians have always lived with this moody, roughly 600,000-year-old volcano and when you get here, they will tell you what the actual status is and if there are any precautions you might have to take.

Parco dell'Etna is located in Catania, in the northeast of Sicily. Tarmac roads will take you to the
Piano Provenzana
(North) and
Rifugio Sapienza
(South) visitor centres at almost 2,000 m above sea level. You can park your vehicle or motorhome here and then walk, ride your mountain bike, take a chairlift or a 4x4 bus to the lava desert higher up. Hiking fans can enjoy eight different nature trails and hiking trails in Parco dell'Etna whereas mountain bikers will get their money's worth on well-groomed trails. But be careful: even experienced hikers will find climbing up Mount Etna challenging because of falling rocks, jagged terrain and gas emissions on the rim of the crater. If you want to go further up, do some research beforehand and take a mountain guide and good equipment with you.
Pack warm clothes for your trip to Mount Etna. The altitude makes the climate here much harsher than in the rest of the region. Our tip: take the narrow-gauge railway
Circumetnea
, which circles around Mount Etna while offering a spectacular panoramic view of the volcano.
Campsites nearby:
Campeggio Etna
,
Mons Gibel Camping Park
,
Campeggio La Zagara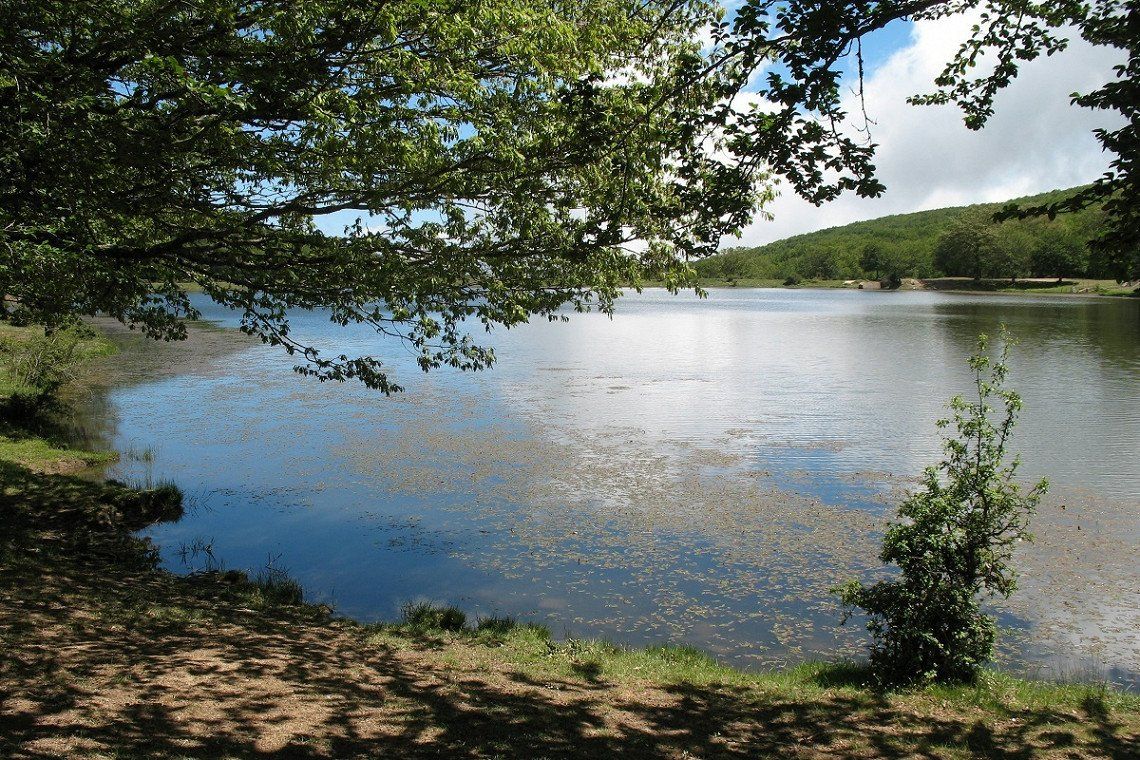 Lago Maulazzo in Parco dei Nebrodi is rich in aquatic vegetation and attracts a variety of birds and animals. Photo: Pixabay
Parco dei Nebrodi – Sicily's evergreen paradise
When the summer heat settles over Sicily, the best thing you can do is to saunter between the beach and ice cream parlour as slowly as you can. Or go to Parco dei Nebrodi in the north of the island. Thanks to its mountain lakes, streams, rivers, waterfalls and wetlands, it's a true evergreen paradise even in the height of summer and will cool you down on hot days. Covering around 50,000 hectares, this park is one of the largest forest areas in Sicily. Holm oaks, cork oaks, cedars, maple trees, chestnuts, beeches and ash trees tower majestically towards the sky. Orange and lemon trees and almonds also thrive in the fertile soil. The Arabs cultivated the land and called this area the island within the island because of its lush vegetation. Parco dei Nebrodi is regarded as a hiking Eldorado and has many easy to challenging routes. Here is an overview of the trail network.

Campsite nearby: Agriturismo Il Noceto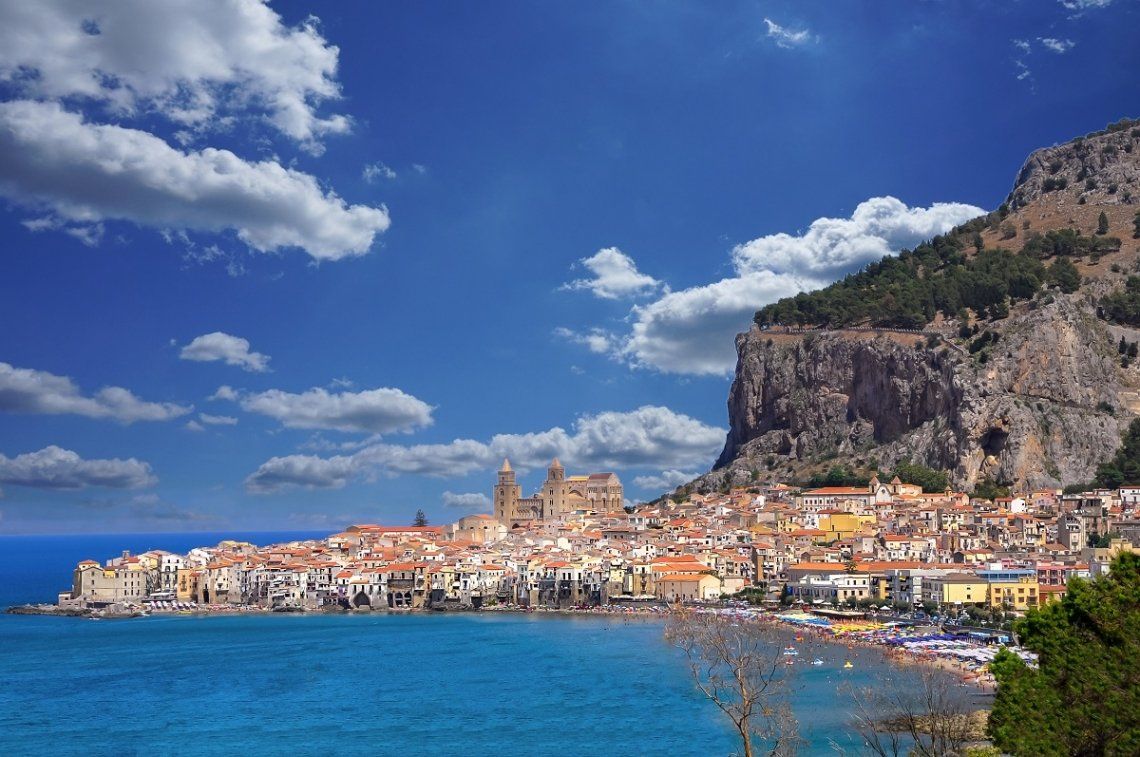 Parco delle Madonie extends inland from the fishing village of Cefalù in Sicily. Photo: Pixabay
Parco delle Madonie – quaint mountain villages and local cuisine
If you want to experience original Sicily, you should pay a visit to the Parco delle Madonie nature park, also located in the north. With around 150 km of well-connected hiking trails, it's not only another hikers' wonderland, but you will also come across many very old, winding mountain villages where time seems to stand still. The Sicilians from this northern region often hold traditional village festivals as they always have something to celebrate. You can only get local cuisine here, and you will be impressed by its simplicity and quality. At the farmers' markets you will find ricotta cheese, olive oil, wine, wild mushrooms and chestnuts from the region and much more. If you want to smell the sea air, head to the picturesque fishing village of Cefalù. The Norman castle hill watches over the small historic town on the north coast, where you can eat excellent freshly caught fish, stroll through the narrow streets and walk in the footsteps of history.

Campsite nearby: Campeggio Sanfilippo