Winter camping in Norway may seem a bit exotic at first, but snow lovers will find a wide range of activities to do. The winter sports resorts of Geilo and Gol in the Hallingdal region can be quickly reached from Oslo. It snows here until late spring, so locals and visitors alike can enjoy alpine skiing, cross-country skiing, dog sledge rides and snowshoe tours for several months. Moreover, both locations have two campsites each that are open all year round.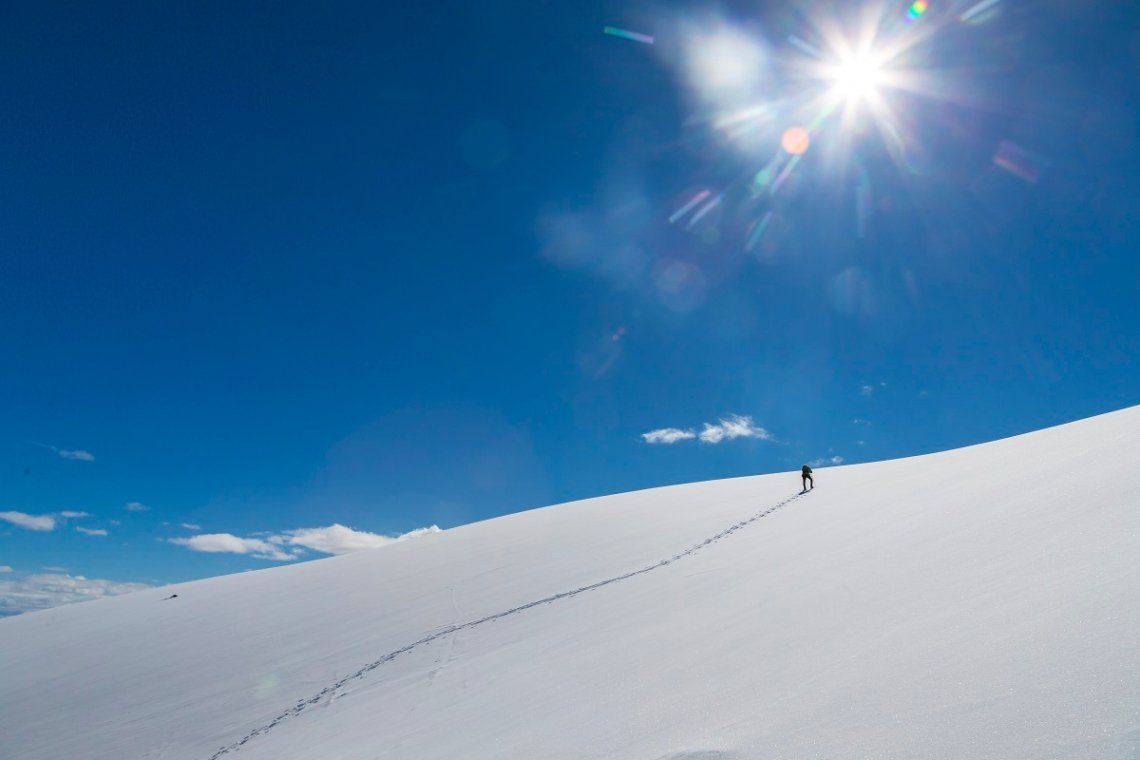 The mountains around Hallingdal are also suitable for wonderful winter tours in spring. Photo: Thomas Krämer
Where is Hallingdal?
Hallingdal is a valley and region in southern Norway. Stretching roughly 150 km, it runs north-east of the Hardangervidda plateau to the south of Hemsedal. When you set off from Oslo in your motorhome in spring and drive through a glorious but green Hallingdal, it's hard to believe that you're actually on your way to do some winter sports. It takes just under four hours from Oslo: passing Lake Tyrifjord, then along the Hallingdalselva river and finally up to Geilo, a ski resort 800 m above sea level – covered in a white blanket. The perfect location and conditions for a wonderful winter adventure.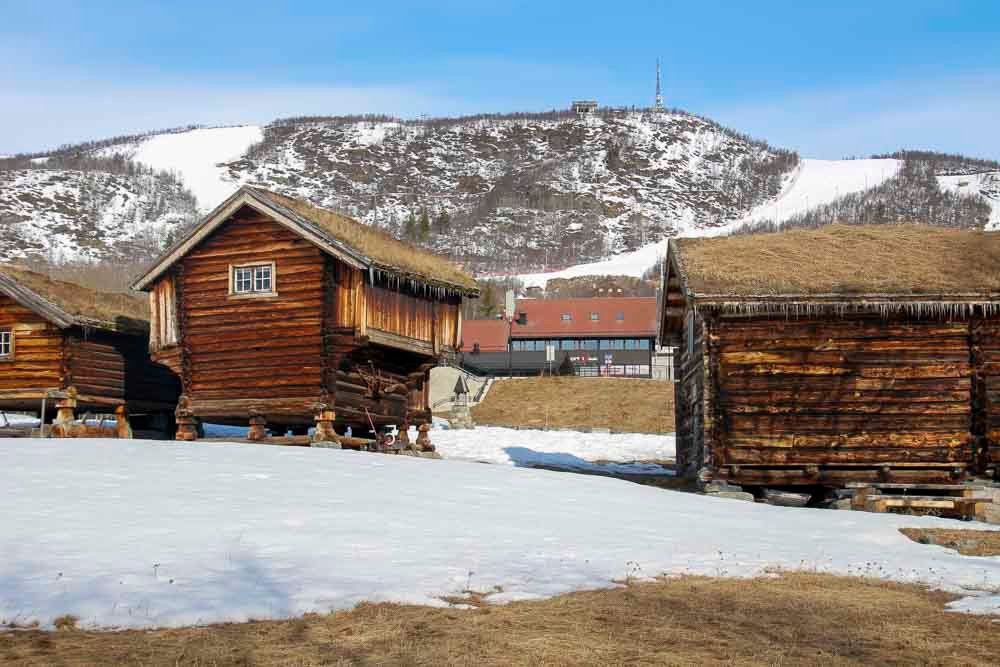 Even if Geilo ski resort sometimes has the occasional brown patch in spring, there is still plenty of snow on the ski slopes. Photo: Thomas Krämer
What does Geilo ski resort have to offer?
Surrounded by two ski mountains, Geilo is the oldest ski resort in Norway. The slopes up to the 1056 m high Bjødnahovda mountain are well groomed, boasting blue pistes for beginners, red for the advanced and black for experts. The sun lures you to the other side of town, where you can work up a sweat in the soft snow. It's worth taking a trip up the almost 1200 m high Havdalshovda mountain where you will be rewarded by a magnificent view of Hardangervidda and the Hallingskarvet mountain range at the top. Moreover, the slopes running down from here into the valley are ideal for beginners. You can watch Norway's talented young skiers in the ski school area and admire the teenagers performing their tricks on snowboards with flapping jackets and trousers in the snow park.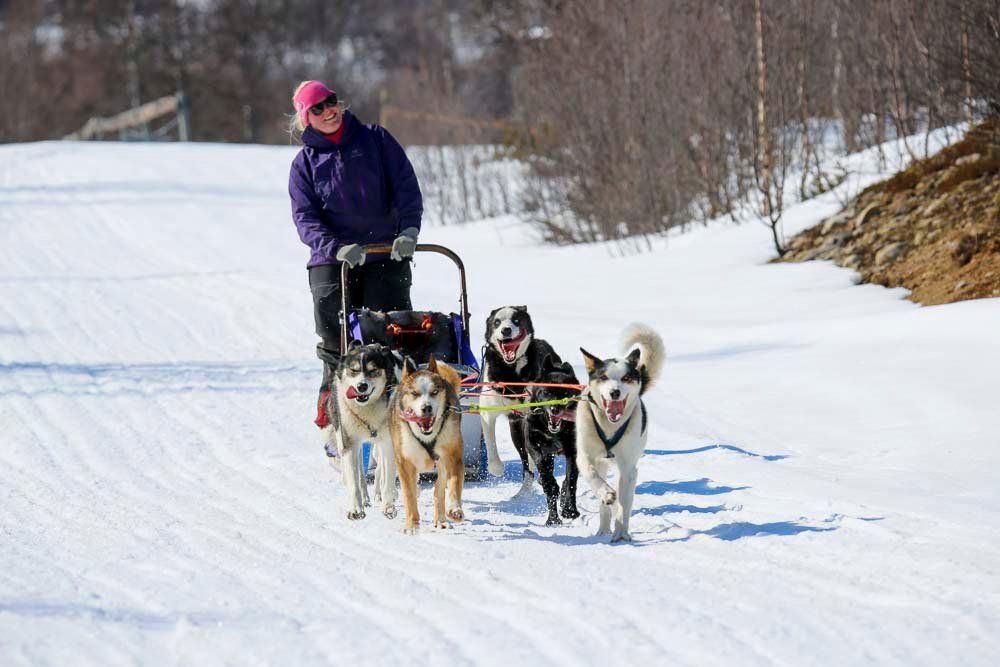 You can also go on a dog sledge ride around Geilo. Photo: Thomas Krämer
Overview of winter sports in Geilo
Alpine skiing:
A total of 40 pistes run down into the valley from two sides in Geilo and are connected by a ski bus service. The altitudes of the pistes differ by up to 378 m and are up to two km long. The spectrum ranges from very easy to very difficult. You can borrow equipment for the slopes and the cross-country ski trail from the ski shop at the Dr. Holms Hotel.

Cross-country skiing:
There are around 550 km of cross-country ski trails in and around Geilo, which are suitable for both beginners and experienced skiers.

Dog sledge rides:
The company Geilo Husky offers husky rides through the magical mountain landscape around Geilo.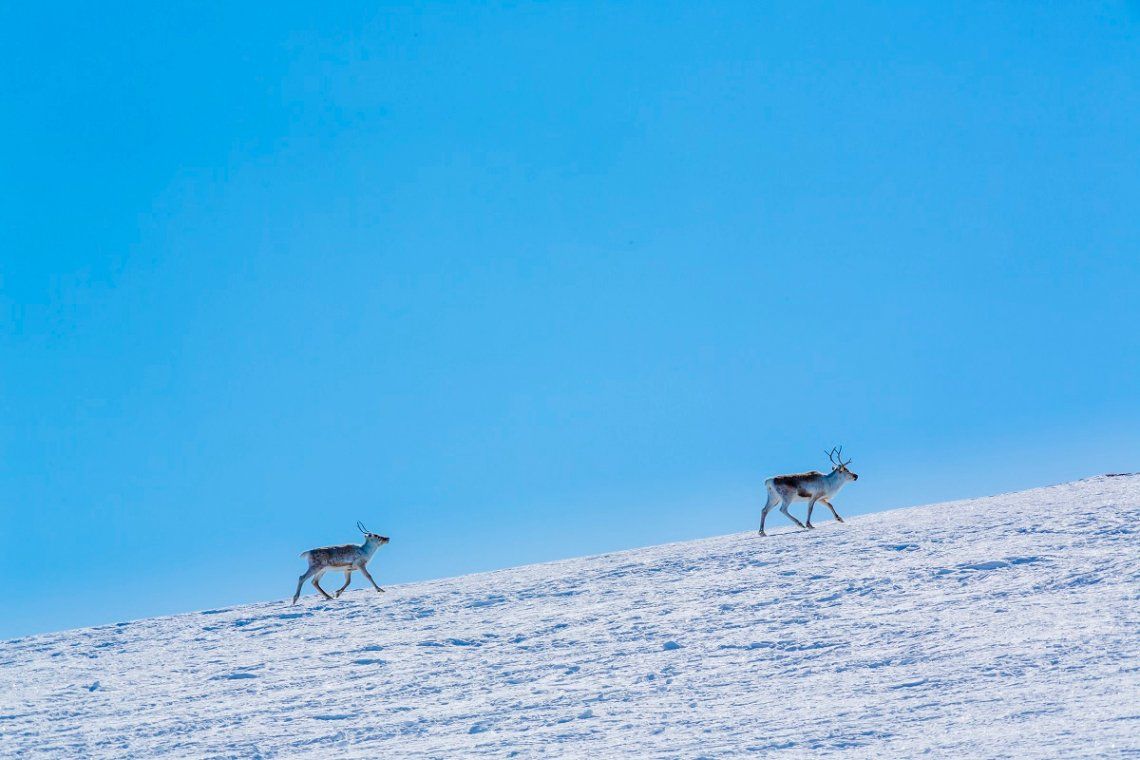 Winter camping in Norway's Hallingdal also means getting within touching distance to reindeer. Photo: Thomas Krämer
Winter camping and campsites in Geilo
The Øen Turistsenter family campsite, which is open all year round, can accommodate about 70 mobile homes and caravans. Power connections are available as well as free sanitary facilities with a toilet, shower and sauna, a drying room and communal kitchen. Washing machines and dryers can be used for a small fee. A little further north of Geilo is Birkelund Camping, which is also open all year round. This campsite is slightly smaller with around 40 camping pitches with electricity. It also has all the amenities you need and is close to ski slopes and cross-country ski trails.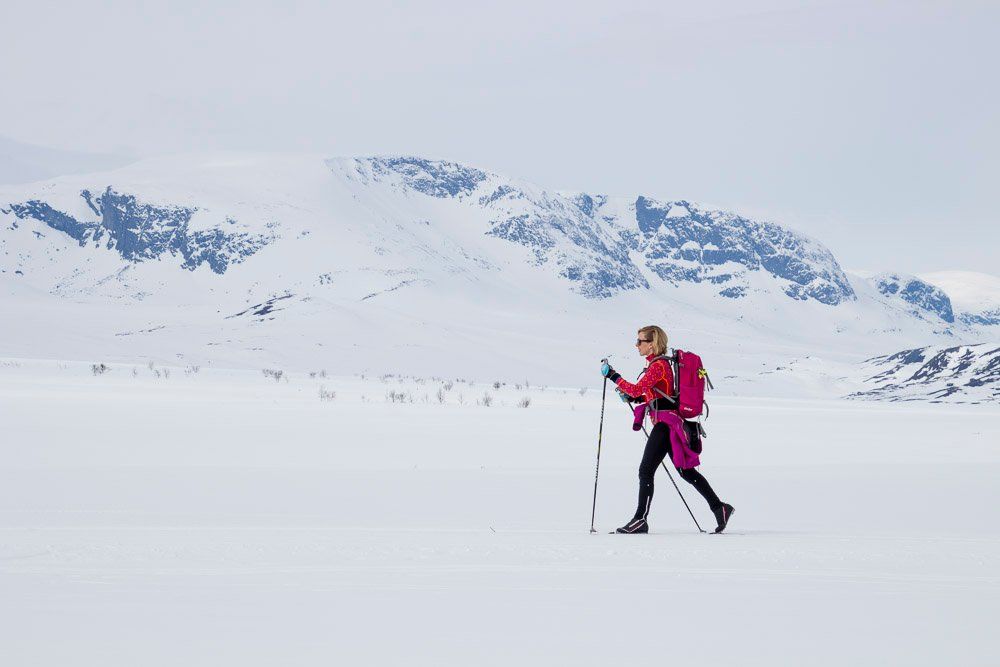 The cross-country ski trail around Budalsvatnet lake can be enjoyed at a leisurely pace – with a glorious mountain backdrop thrown in. Photo: Thomas Krämer
Winter excursion tip from Geilo: Budalsvatnet lake
There are 2000 km of groomed, or at the very least marked, trails in the mountains above Hallingdal. One amazing destination that is easy to reach on cross-country skis is Budalsvatnet lake. It is surrounded by the rugged rocks of Hallingskarvet rising out of the snow. The mountain philosopher Arne Næss, whose mother had a cabin in the neighbouring town of Ustaoset, once described the prominent ridge as "overwhelmingly powerful, stable, at one with itself and self-confident – all qualities that I would have liked to have had, but to a great extent never did". This leisurely tour will take you around the lake, not up the mountain.

However, you can enjoy the Geilo region without having to be active yourself and let someone else do all the work for you, such as a couple of sledge dogs. The valley of the Numedalslågen river near Dagali is ideal for a dog sledge tour. The river has its source on the broad Hardangervidda plateau, and you will glide almost silently through its eastern foothills. Silently, because the dogs, who were extremely excited at first, become quiet rather quickly as they need their breath during this route through the Norwegian mountains.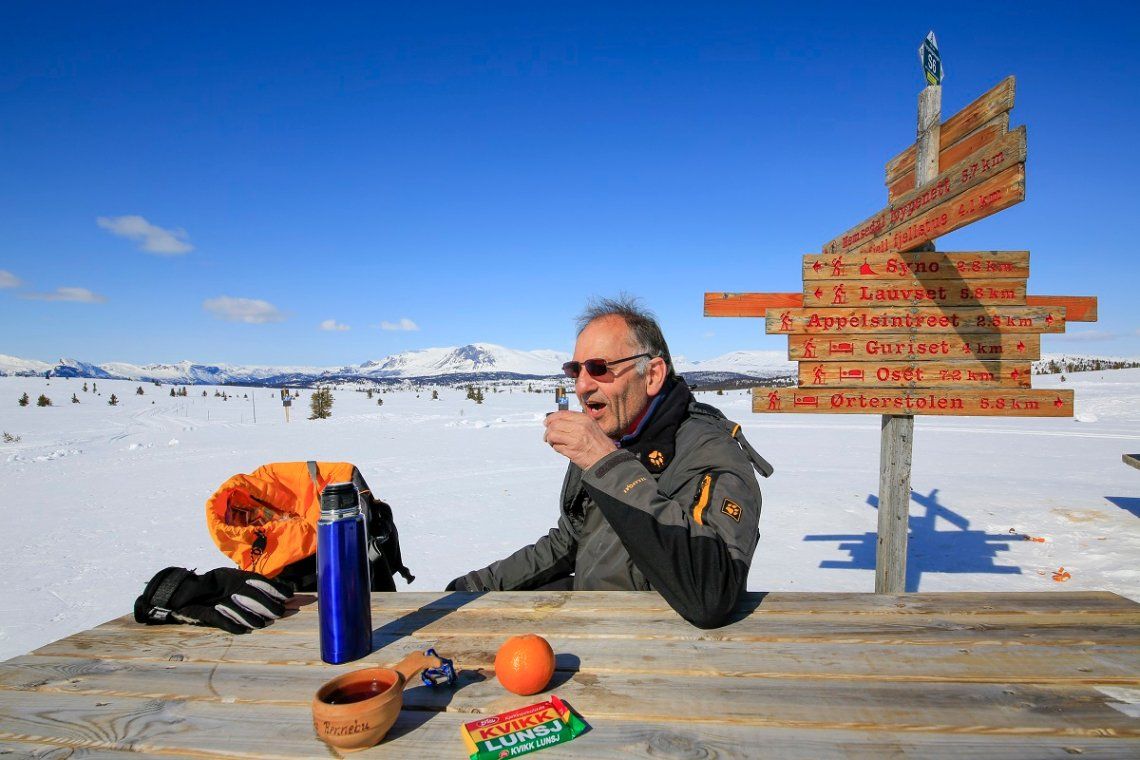 The classic Norwegian snack for winter outdoor tours: hot tea, oranges and the famous chocolate bar. Photo: Thomas Krämer
Snowshoe tours on Golsfjell
Down into Hallingdal, then up again to Golsfjell. It takes about an hour to get to Gol from Geilo, during which you will also step into a completely different landscape. And get to snowshoe through the natural scenery. Fasten the straps on your shoes, slide your hands through the loops on your poles and off you go. At a nice leisurely pace. Taking the time to chat and notice your surroundings. For instance, a snow grouse making a dash for it. With its white plumage camouflaging it against the snow, we would have probably missed it had it not blown its cover and flown away. Then a little later on we spot hare tracks on the white layer of snow.

It's a wonderful feeling to not have to follow a path, and instead just a direction. We're heading westwards, where a few smaller hills protrude from the generally flat terrain. We eventually climb up Auenhaugen (1119 m). After reaching the summit, we enjoy a well-deserved break. Snowflakes melt in our cups of hot tea. Then we start on our apples and the classic Norwegian snack – "Kvikk Lunsj" chocolate bars.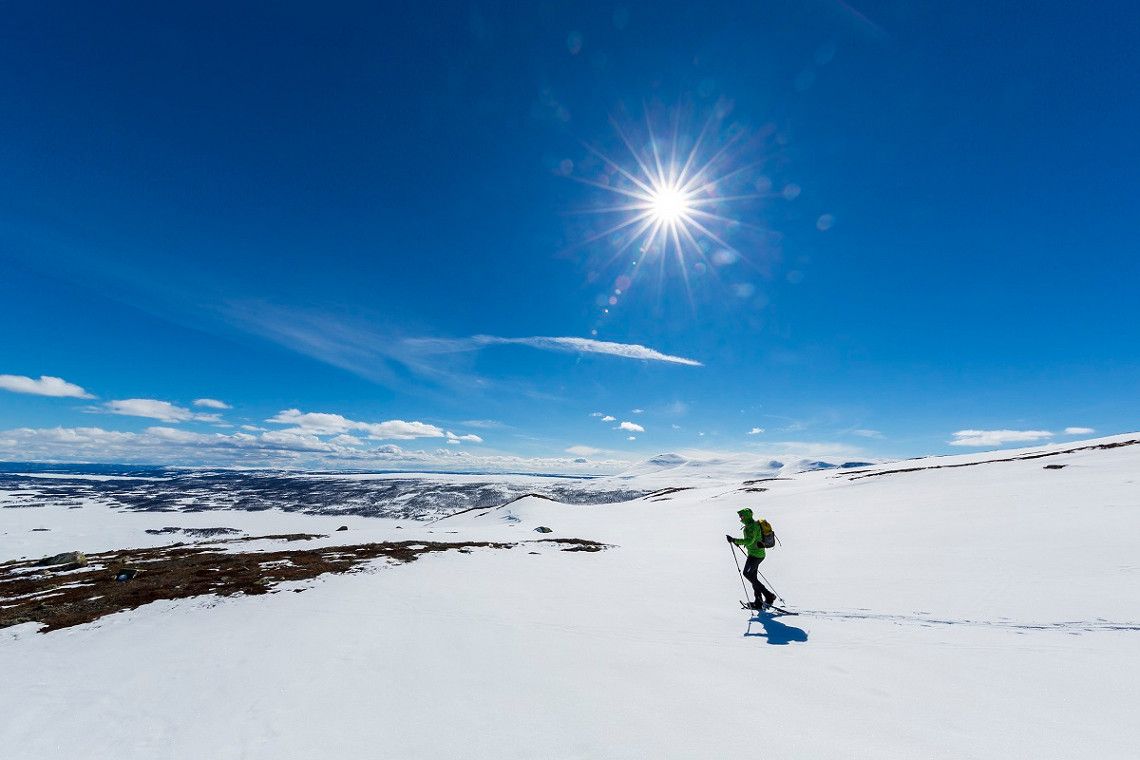 The Golsfjell offers many opportunities for snowshoe tours on your own. Photo: Thomas Krämer
Snowshoe tours at Storfjord
The mountains of Valdres rise not too far away and are also perfect for snowshoeing. Our mobile home stops at the north end of Storfjord. Above the frozen lake, a seemingly endless white flank rises up into the deep blue sky. It is Gråkampen, a 1565 m high peak that is part of the Storlifjell mountain range. We make our way up first across the water, then through a dense birch forest and finally over a treeless area. The conditions are ideal. Our snowshoes grip firmly in the fresh new snow covering the steeper terrain. The ground is hard enough to prevent us from sinking in deeply. It soon gets a little flatter, and we trudge towards the summit as though we are walking on a large white carpet. We reach the highest point, and the sweet tea we treat ourselves to does wonders to our dry throats. We obviously have some more "Kvikk Lunsj", although this break is anything but "quick". The sun and wind have blown a stone into the open space. We spread our jackets over it, quietly enjoying this moment. But being able to make out the striking summit of Bitihorn is the crowning glory of this tour.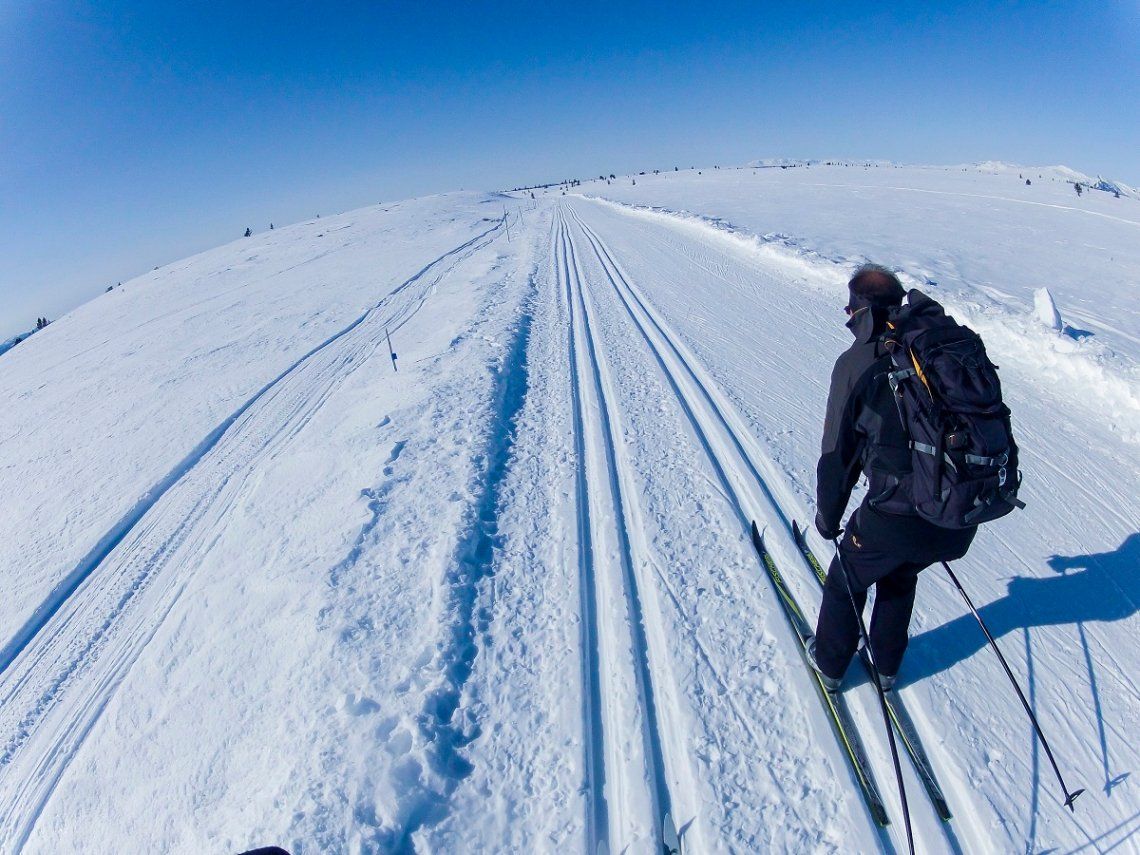 Golsfjell is ideal for cross-country skiing. Photo: Thomas Krämer
Winter camping and winter activities on Golsfjell
Alpine skiing:
There are three small alpine skiing areas in Gol and on Golsfjell that are aimed more at children and beginners.

Cross-country skiing:
Golsfjell offers excellent conditions for cross-country skiing well into spring. 150 km of trails are groomed regularly. More options are available on the Nystølfjellet mountain range with tours of up to almost 1300 m. Alpine skiing is also possible.

Snowshoeing:
Golsfjell and the mountains of the Valdres region are perfect for snowshoe tours, with easy to challenging terrains.

Campsites near Gol:
There are also two campsites suitable for winter camping near Gol. Pluscamp Gol Campingsenter has about 600 camping pitches with electricity, which makes it quite large by Norwegian standards. Accordingly, it also has several modern sanitary buildings, playgrounds, a grocery store and disposal sites. Cabins and apartments can also be rented here. A little further south of Gol, on a peninsula in the Hallingdal River, lies the Sutøya Feriepark campsite. It's slightly smaller, but has all the facilities you need.