If you've ever wanted to go to France on an active holiday in close contact with nature, you probably won't be surprised by the variety of landscapes to choose from: coasts, green valleys, hilly countryside and high mountains are just waiting to be explored by bike à la Tour de France (or at a more leisurely pace).
Provence, one of the most beautiful holiday regions in France, has many well-developed cycle paths. The hilly area around the Luberon is perfect for nature-loving holidaymakers as the trails are varied but not too challenging. Thankfully, the medium gradients make the routes easy to conquer, especially with an e-bike.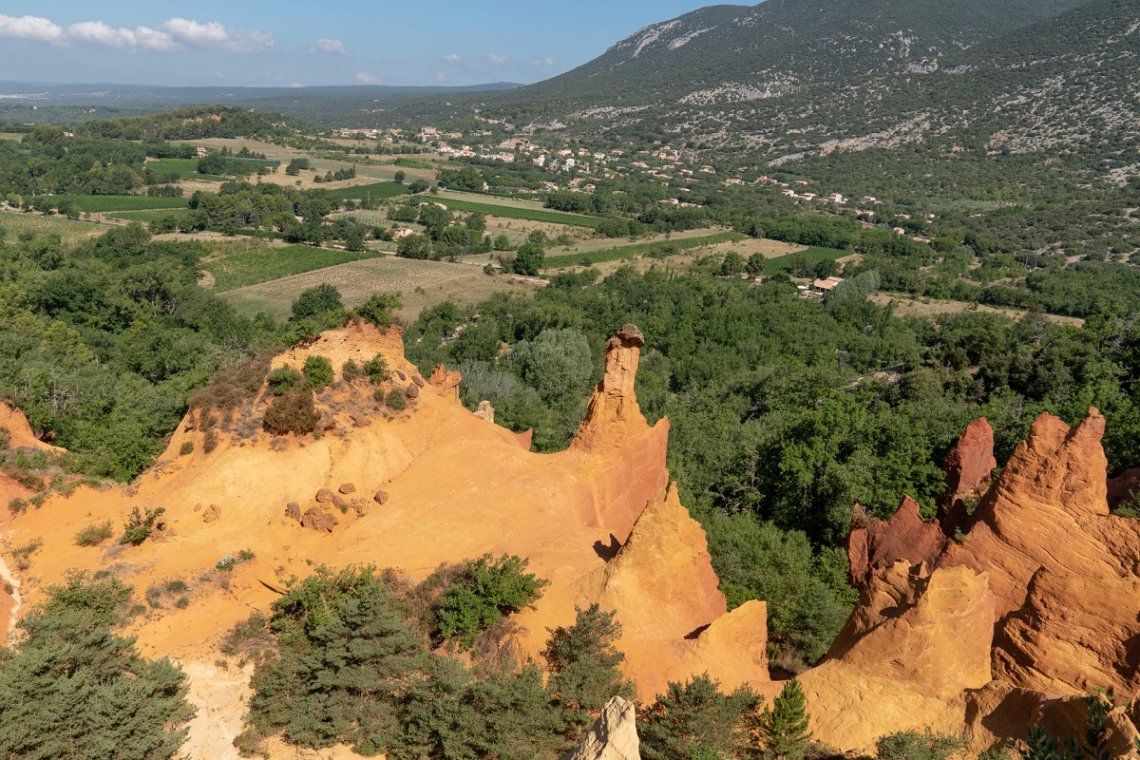 The ochre cliffs in Provence can be admired either in Roussillon or further east near Rustrel. Photo: fotolia.com © OceanProd # 287228716
The area and its attractions
The Luberon is a small mountain range south of Avignon, just under 50 kilometres long. The only major town nearby is Cavaillon with roughly 25,000 inhabitants, revealing just how tranquil and rural this location actually is. The hills lie in a regional natural park, a large part of which is covered by oak forests. The valleys around the mountain range are crossed by the rivers Calavon and Durance, while the Aigues Brun, which flows through the Lourmarin gorge, divides the Petit Luberon from the Grand Luberon range. Gorges alternate with fields, forests and vineyards. The Luberon landscape is one of the most beautiful in Provence as well as a designated UNESCO Biosphere Reserve. And what's more, as the Luberon is in the hinterland of the southern French coast, it's not overrun by tourists and hotel chains. In turn, the cycle paths that go through beautiful sceneries and laid-back settlements, such as Gordes, are not crowded. However, try to avoid Gordes at the height of summer as it is one of the most popular tourist destinations in Provence. It's not for nothing that Gordes has been officially recognised as the Most Beautiful Village in France.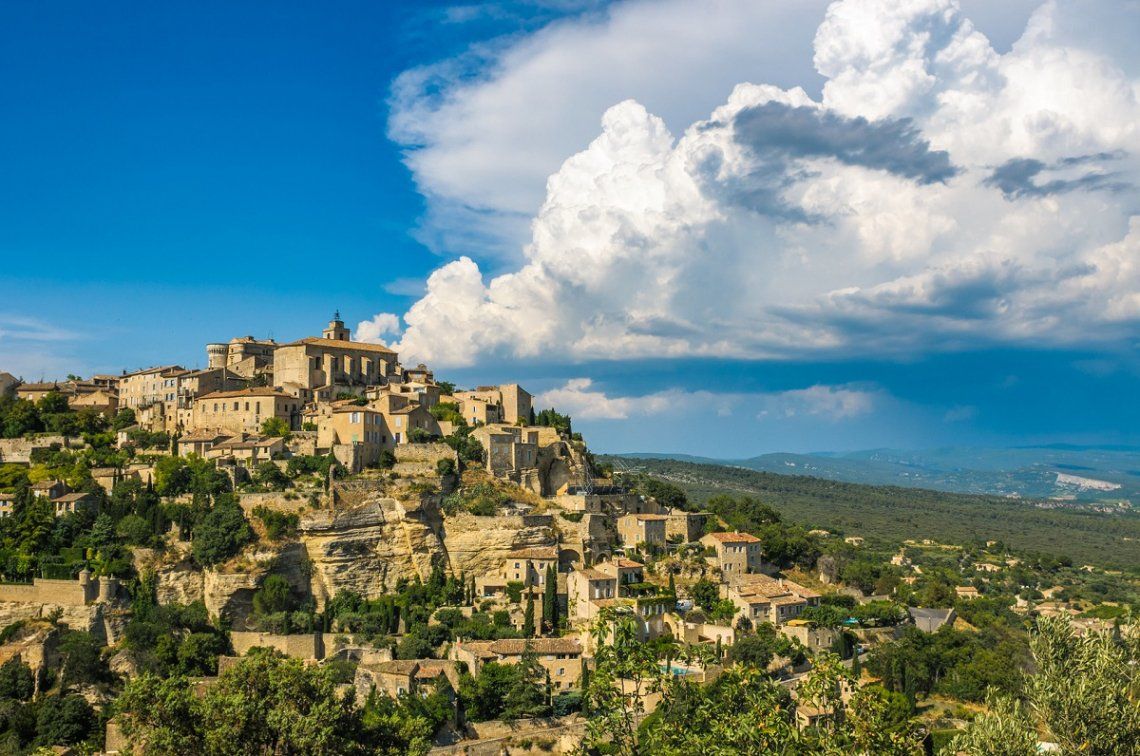 The village of Gordes is one of the main tourist attractions in the region. Photo: fotolia.com ©javarman #265312389
This small, picturesque village sits on the slope of a limestone cliff – a spectacular sight from afar and with a fantastic view over Provence. Wine is grown in many of the surrounding villages as they are located in the Côtes du Luberon wine-growing region. Wine lovers will find an abundance of culinary delights in the villages between the numerous vineyards. You will generally have to walk through the villages, not least because of the myriad of steps. As the area is so diverse and stunning, it's best to get off your bike and explore further on foot. We guarantee that as soon as you see the first lavender fields, you'll want to jump off your bike and wander through the fields to enjoy the scent. Don't forget the right footwear to ensure that you can both cycle and use the footpaths easily. Proper cycling shoes or even a click system would not be suitable here.
The many other small communities all lie in a very idyllic location, their Provençal architecture between the hills and lavender fields making them a feast for the eyes. If you want to marvel at some unique ochre rocks, make sure to stop over at the towns of Roussillon and Rustrel on your bike or day trip.
A path in the cultural landscape of Roussillon (Vaucluse). Photo: fotolia.com © OceanProd # 288567179
Cycle paths around the Luberon
There are many cycle paths throughout the nature park connecting the villages with each other while passing through wonderful landscapes in between. These paths have grown significantly in number in recent years thanks to the French Association for the Development of Bicycles and Greenways. The "Autour du Luberon" trail, i.e. the circular route around the Luberon mountains, is signposted, with white arrows pointing clockwise and orange arrows anti-clockwise. The route covers a total of 236 kilometres, therefore ideal for ambitious cyclists or for a more leisurely ride in stages. Most of the paths are tarmacked, only a few sections have been macadamised. Being a mountain range, you will have to expect sections with a gradient. If you aren't too keen on pedalling uphill, you can cycle a leg of the southern route between Cavaillon and Forcalquier with mainly short, steeper ascents that will then reward you with nice, long descents.
There are more signposted cycle routes around the Luberon:
• In the south: "Le Pays d'Aigues à vélo", a good 90 kilometres by bike. As this route is not too close to the mountain range, it is slightly flatter than the long circular trail.
• In the north: "Les Ocres à vélo", a 51-kilometre cycling route, which also connects the aforementioned towns of Rustrel and Roussillon with the ochre quarries.
• In the northeast: "Le Pays de Forcalquier – Montagne de Lure à vélo" loop trail, 78 kilometres long, which can be shortened to 44 kilometres.

The surrounding area also has several more cycle paths and many unofficial trails through forests and mountains, so that even curious adventurers can cycle to their hearts' content. It is not uncommon to find dirt roads that go right through vineyards. You will definitely find plenty of cycle routes here for long cycling trips.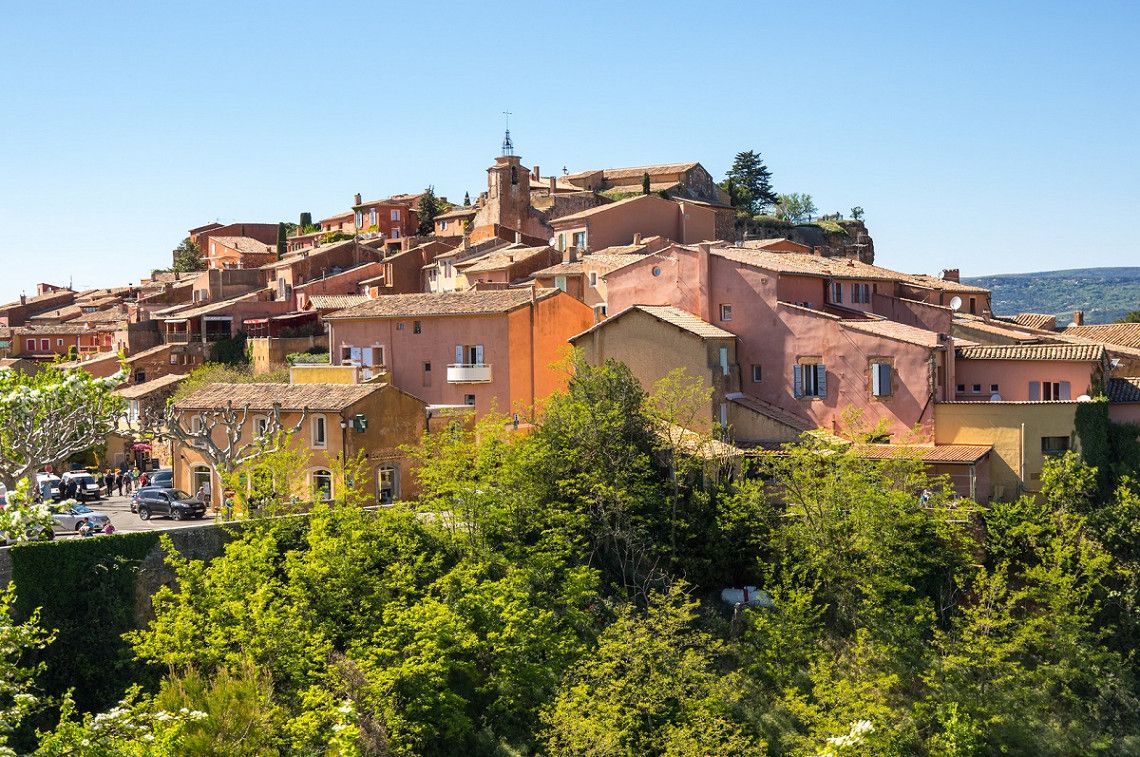 Roussillon is the second most popular village in the Luberon after Gordes. Photo: fotolia.com © gumbao #216330017
Campsites and pitches in the Luberon area
If you come here without your own bike, you will be able to rent one at a number of locations, e.g. in the towns of La Tour-d'Aigues, Cavaillon, Bonnieux and Saint-Rémy-de-Provence. You can also rent an e-bike or pedelec if you want to make exploring the hilly landscape slightly less strenuous. There is also a wide choice of campsites and pitches in the region, ranging from small family campsites and free pitches to large luxury campsites with many facilities and pools. Getting there by motorhome is usually not very difficult on the somewhat larger roads as a few campsites are located along the well-developed roads. However, some routes do have tight curves and hairpin bends. Freeontour has put together a selection of pitches and campsites in the region below.