900 kilometres of trails specifically signposted for mountain bikers along with cosy huts and a non-invasive way of enjoying the natural surroundings – this is why many biking enthusiasts regard the Palatinate Forest as one of the best MTB terrains in Germany. And to make your motorhome or campervan trip doubly worthwhile, it's best to go during the harvest and wine season in autumn. Happy biking!
When life gives you grapes, make wine! And this most certainly seems to be the credo of the wine-loving Palatines. You'll come across old and quaint wine-growing villages and beautiful hiking trails on your active adventures between the Upper Rhine and the Palatinate Forest in the southwest of the federal republic. But mountain bikers will also find ideal mountain biking terrain in the Palatinate Forest.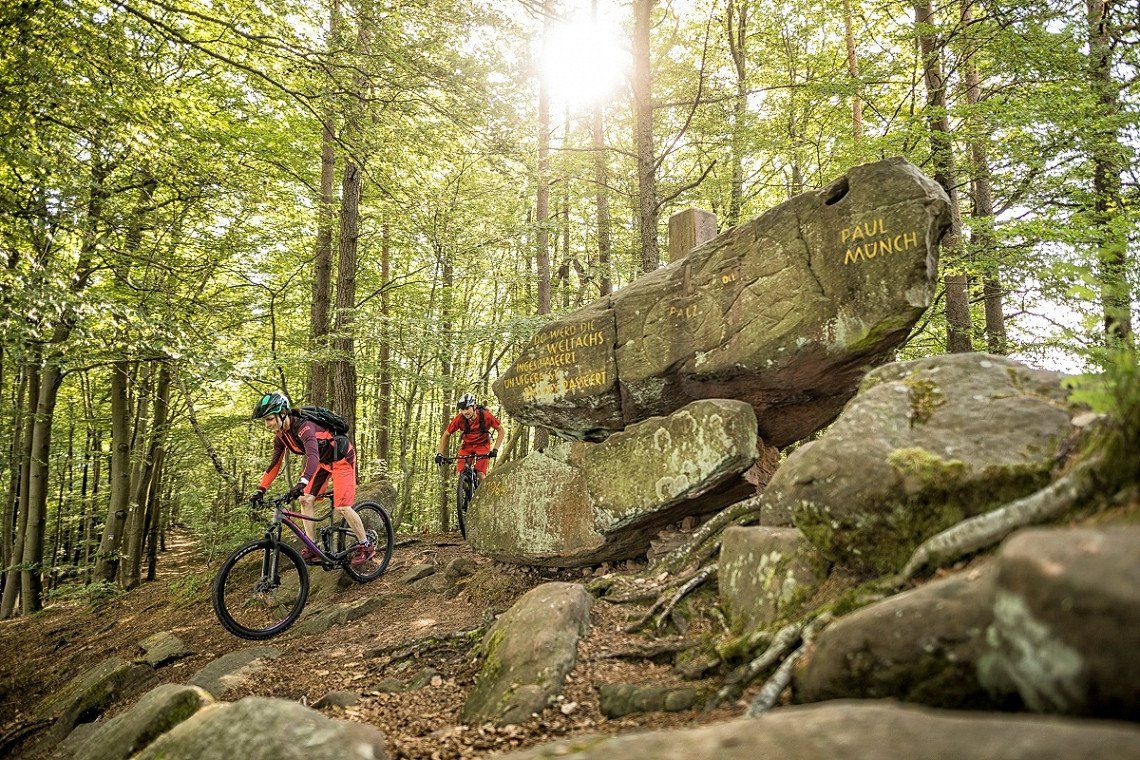 Bikers at the Palatinate World Axis on MTB Route #4 in the middle of the Palatinate Forest Mountain Bike Park. Photo: Andreas Meyer / World of MTB
The Palatinate Forest Mountain Bike Park
Together with the adjacent Vosges mountains, the Palatinate Forest Nature Park is the largest contiguous forest region in Europe. The vast forest areas in the sparsely inhabited territory have become an increasingly popular hiking and mountain biking region. The Palatinate Forest Mountain Bike Park was founded in 2005 and expanded again in 2016. Boasting more than 900 km of waymarked mountain bike trails, it has now blossomed into one of the largest mountain bike parks in Germany. The wooded low mountain range features relatively short ascents and descents. Technically tricky trails alternate with wide, flat paths between a few bizarre red sandstone rocks, thus providing a varied terrain and lots of fun. Since extending the trail, the route network has opened up the Palatinate Forest from Kaiserslautern to the French border and to the German Wine Route in the Annweiler and Bad Bergzabern area. The Dahner Felsenland alone has four MTB routes roughly 180 kilometres long.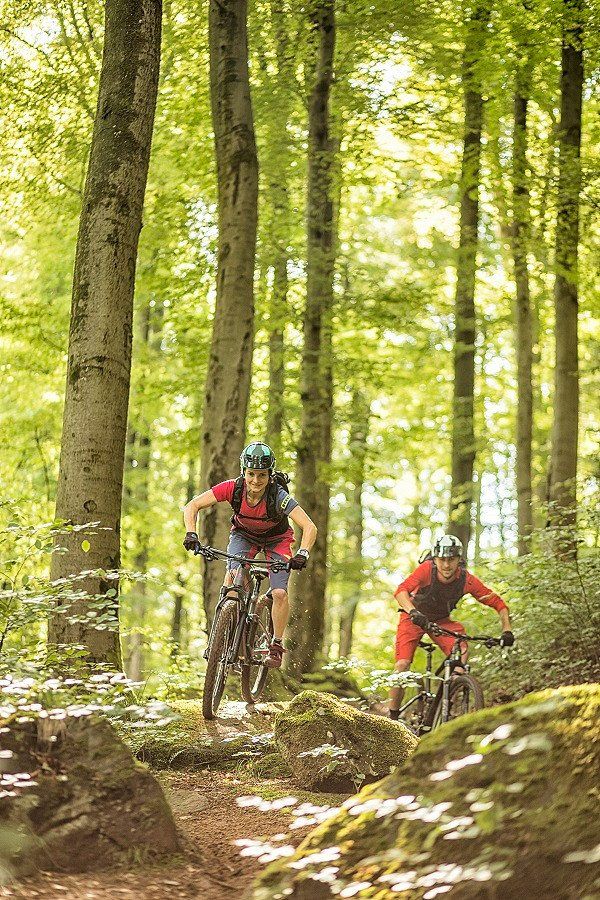 The waymarked MTB trails also include more technically demanding single-track trails, such as here on Route #2 near Trippstadt close to the Sägmühle campsite. Photo: Andreas Meyer / World of MTB
20 MTB routes on trails stretching over 900 km
The official trail network currently covers around 900 kilometres and 20 trails of varying levels of difficulty, of which about 140 kilometres are single-track trails – some routes even consist of up to 25% single-track trails. A number of tours can also be combined with each other. Care was taken to ensure that the starting points of the MTB routes are in the vicinity of a train station to allow for an environmentally friendly journey to the park. Where this is not possible, the starting point is at a large car park. Moreover, there is a single-track trail course in Hochspeyer and a freeride dirt park for practising in Trippstadt and Dahn.

The 20 MTB routes in the Palatinate Forest Mountain Bike Park are roughly divided into three areas. Around the hamlet of Johanniskreuz in the middle of the Palatinate Forest you will find six routes through deep beech forests, which not only have the highest proportion of single-track trails, but were also created in the shape of an eight so that mountain bikers can ride short and long distances. There are another four routes along the edge of the Haardt hills on the Southern Wine Route and another ten in the rocky Wasgau hill range in the Southwest Palatinate. All these routes are well marked, can be used all year round and were created with nature conservation in mind. The Palatinate Forest Mountain Bike Park provides detailed descriptions and GPX data for each MTB route on its website as well as a detailed MTB map that you can order. Moreover, you can view the routes on various apps such as Komoot and Outdooractive.

Good to know: many of the MTB routes go past campsites or RV sites, so you can jump on your bike and start cycling right from your doorstep.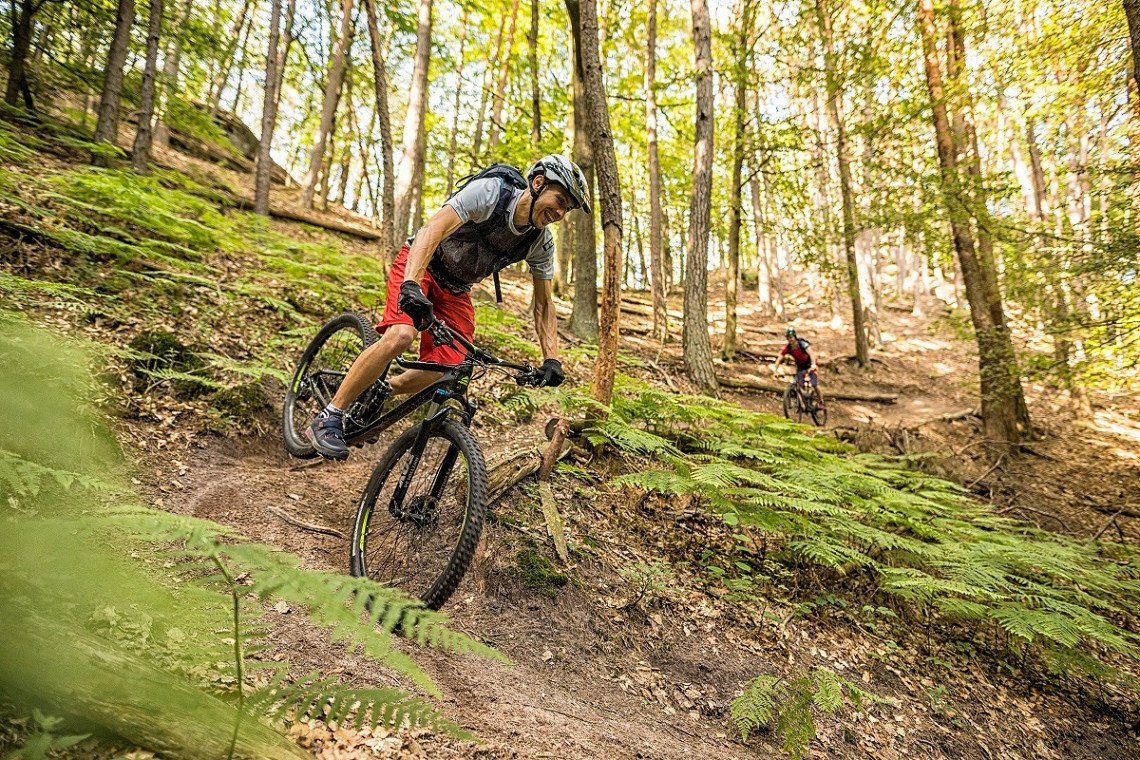 Be considerate of any hikers, especially on narrow trails, like here on a switchback trail near Hauenstein (Route #11) . Photo: Andreas Meyer / World of MTB
Be considerate of each other
It doesn't matter whether it's fast-paced single-track trails or leisurely forest trails: the Palatinate Forest has something for everybody. Thanks to the extensive network of trails in the Palatinate Forest and the mutual respect between hikers and mountain bikers, sporty single-track trails were made possible. However, as they are usually so narrow by nature that only one person can walk – or ride – on them at a time, everyone needs to be considerate of each other. Even though hikers and mountain bikers have both been enjoying the lush nature in the Palatinate Forest for many years, hikers always have priority. Therefore, mountain bikers should ring their bell in good time, slow down and dismount where necessary. After all, life is so much easier with some mutual consideration and the prospect of spending an evening together enjoying local specialities.

Our tip: weekends can get a little crowded, especially around the tourist attractions, viewing platforms and huts. We recommend not choosing the most obvious hiking trail from the car park to a hut, but to plan a slightly longer route and avoid hotspots such as Kalmit, Neustadt an der Weinstraße and Hambach Castle.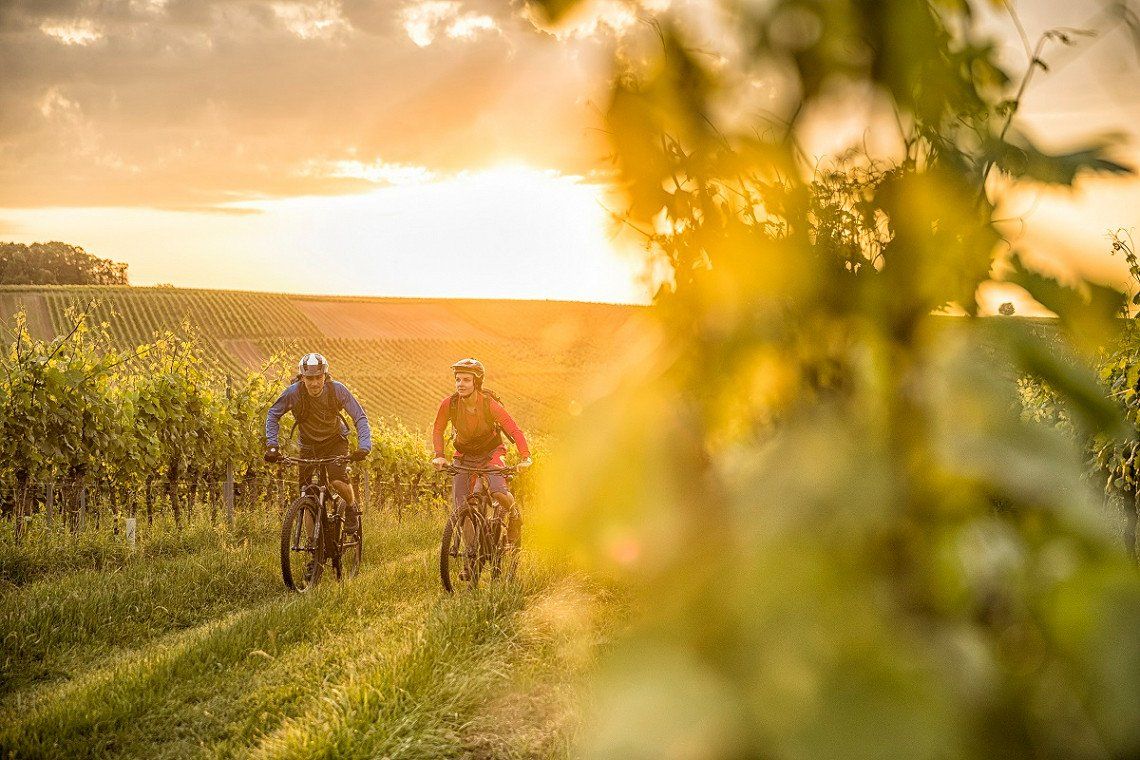 Wine is obviously key on the Southern Wine Route. But if you stop at a hut while biking, go for the regional cuisine and wait until the end of the tour to reward yourself with some wine in a Dubbeglas. Photo: Andreas Meyer / World of MTB
Combining MTB trails with wine?
The typical drink of the Palatinate Forest is wine spritzer served in a "Dubbeglas" – a half-litre glass featuring round dimples. This type of glass apparently improves your grip even if you've had a glass of wine too many. You can't come to the Palatinate and not try any delicious wine or wine spritzer nor the traditional "Saumagen" (stuffed pig's stomach). And there are many wine festivals in old wine-growing villages that you can visit. Wine and MTB trails are not mutually exclusive and do go hand in hand, but it's all a matter of timing. It's not always that easy when mountain biking in the Palatinate Forest and you want to quench your thirst with a good wine, but you won't regret it: enjoy some local fare at the rustic huts along the trails and then wait until the evening to treat yourself to a wine spritzer. After all, it would be a shame not to be able to ride the beautiful mountain bike routes and single-track trails properly and appreciate the natural surroundings. Our solution: find a campsite or RV pitch near a good source of wine.

Good to know: the portions served in the Palatinate Forest Club huts and other private huts are often so generous that we recommend adding a hill to your tour to burn off those extra calories.