Almost deserted sandy beaches for you to enjoy and go on walks along combined with a fresh North Sea breeze and stunning dune areas: autumn and winter are the perfect time of year for a trip to the Dutch coast with your four-legged friend. Freeontour has selected five destinations in the Netherlands where you can camp in the colder months.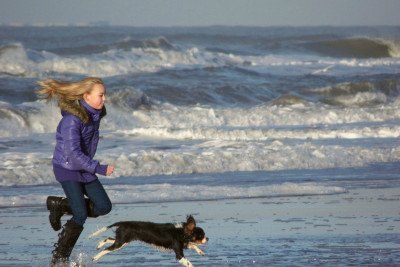 Zandvoort has a nine-kilometre-long beach for running and other activities. Photo: Pixabay
Tip #1: Sandy beaches and nature reserves near Zandvoort
It will take you about half an hour by motorhome or caravan to get to Zandvoort from Amsterdam – and you won't be disappointed by the wide range of options for nature lovers and dog owners here. This popular bathing resort has a sandy beach stretching a total of nine kilometres where dogs are allowed to run around all day long from 1st October to 15th April. There are also a number of free running areas such as the public dune area between Kennemerweg and Herman Heijemansweg, the dunes east of Boogkanaal or the dune area between Heimansstraat and Keesomstraat. Moreover, the Zuid-Kennemerland National Park is ideal for long hikes, both for people and dogs.
The Zuid-Kennemerland National Park lies north of Zandvoort and is characterised by calcareous dunes full of rare flora and fauna. Tall bluestems, pines, thorn bushes, elderberries, sea holly, orchids and beach morning glory are all at home here, as are fallow deer, squirrels, rabbits, foxes, Scottish Highland cattle, Konik wild horses and a variety of birds and butterflies. Needless to say, our four-legged friends are only allowed to enjoy this natural environment on a leash.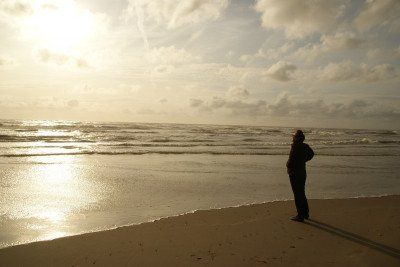 Dress warmly and enjoy the North Sea wind on the beach in Zandvoort. Photo: Pixabay
Unfortunately, dogs are not welcome at the Amsterdamse Waterleidingduinen ("Amsterdam water supply dunes") nature reserve south of Zandvoort. If your furry friend is not with you, you'll find a fascinating landscape for hiking: water is collected in the dunes in a multitude of channels and gullies, filtered naturally and then treated to produce clean drinking water. Its forests, small lakes and grassy landscapes make it popular with birds and ornithologists. There are also several beach restaurants in Zandvoort that are open all year round and perfect for taking a short break and warming up, such as Tijn Akersloot, Parnassia, Thalassa and Nius Beach House.
Freeontour pitch tip for Zandvoort in the low season
The pitches on the boulevard in Zandvoort are open throughout the year and suitable for campers with self-contained motorhomes in autumn and winter. It costs €15 per night and vehicle in the low season.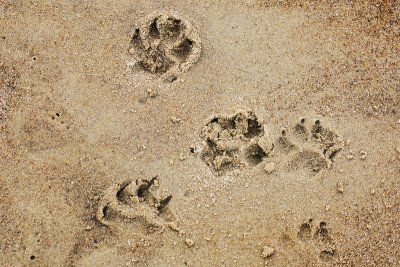 Digging holes in the sand or playing with a stick or Frisbee? There's lots to do on Noordwijk beach in autumn and winter. Photo: Pixabay
Tip #2: Long walks & culture in Noordwijk
The main attraction in Noordwijk for dogs and their owners is without a doubt the 13-kilometre white sandy beach, which is perfect for digging holes in and playing catch in autumn and winter. Dogs can only use the dog beach at the end of Koningin Astrid Boulevard from 1st May to 1st September – an excellent reason to come in autumn or winter as a number of beach restaurants are also open all year round and accessible for dogs, e.g. Beachclub O and Alexander Beach Club. You will also find many hiking and cycling opportunities in and around Noordwijk.
If you're interested in culture, make sure you go on the Max Liebermann hiking and biking trail. The roughly 11-kilometre route starts at Museum Noordwijk and goes mainly along the outskirts of the town. It has 23 stops where you can admire reproductions of Liebermann's works of art at the exact spot where the impressionist painted them.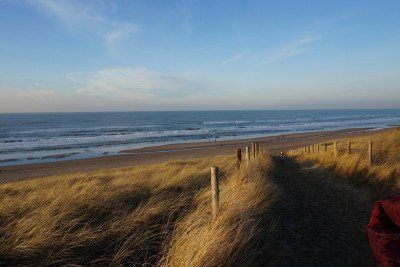 From the beach in Noordwijk, the trail leads through the dunes towards Hollandse Duinen National Park. Photo: Pixabay
Moreover, there's a short 4-kilometre walking tour along the remains of the defence constructions built during the Second World War, which starts at the Atlantic Wall Museum in Noordwijk. Incidentally, you'll also go past the complex if you hike the roughly 11-kilometre trail through the Hollandse Duinen National Park. Dogs are welcome on a leash and will most certainly enjoy discovering new and exciting smells. Generally speaking, Noordwijk is a very dog-friendly town. There are several places where dogs are allowed to run free, e.g. in the forest area north of the city between 15th August and 15th March and in the Coepelduynen area all year round, provided the animals stay on the paths. However, this does not apply to the region east of the hiking and cycling trail through Coepelduynen between Noordwijk and Katwijk and in the core area of Coepelduynen south of Noordwijk as they are closed to dogs all year round, which is also signposted. Dogs can be off-leash in all of the other areas around Noordwijk that are managed by the Dutch State Forestry Agency ("Staatsbosbeheer") between 16th August and 14th March.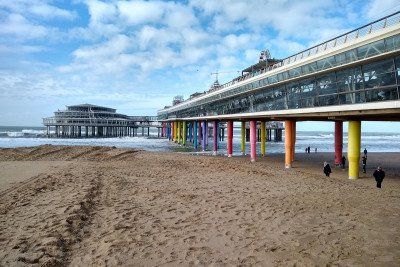 The pier is one of the main attractions in Scheveningen. Photo: Pixabay
Tip #3: Beach fun and a seaside resort feel in Scheveningen
The former fishing village of Scheveningen is a district in The Hague and regarded as the largest lido in the Netherlands. Millions of visitors are drawn here in summer, but if you come here in autumn and winter you'll usually be one of very few people enjoying the beach. Between 1st October and 15th May, dogs are allowed to run free all day long on all sections of the beach. For the rest of the year, they can only do so on the dog beaches north of pole 47 and south of pole 36, therefore banned from the other parts of the beach. Since dogs are not allowed on the main beach at Scheveningen during the summer months, come with your four-legged friend in autumn or winter when you can stroll along the pier together, which opened in 2015. Stretching almost 400 metres, it has a lot to offer, e.g. a Ferris wheel and a number of shops and restaurants – but most importantly a great view.
Freeontour campsite tip for Scheveningen in the low season
Camping Kijkduinpark is very centrally located, dog-friendly and open all year round – you can walk to the beach in just five to ten minutes. Or you could opt for the Vakantiepark Duinrell campsite, which is also open throughout the year, but slightly further away. A discount is offered to Freeontour members with their loyalty card.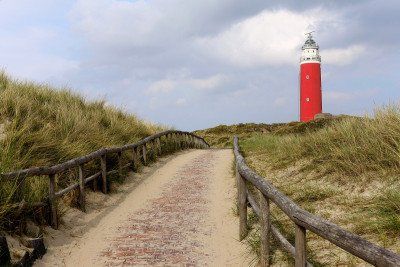 Texel's bright red lighthouse serves as a good landmark for orientation. Photo: Pixabay
Tip #4: Island adventures with a dog on Texel
The island of Texel is the largest and probably most varied of the Dutch Wadden Islands. Its attractions include a 30-kilometre sandy beach, a beautiful lighthouse and thousands of sheep. Dogs are welcome on the island throughout the year, but will generally have to remain on a leash. However, they can run around unleashed on De Hors beach from 1st September to 1st March. As you are on a Wadden island, take the time to walk across the mudflats. You can also use the bright red lighthouse in the north of Texel as a landmark when exploring the island. But you should visit it anyway as you'll be rewarded by an amazing view over the island from the observation platform of the 150-year-old lighthouse.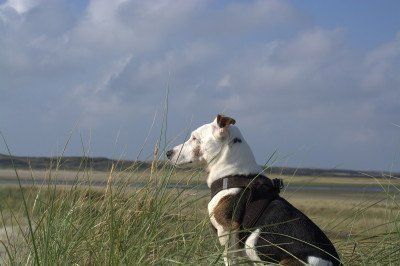 Our four-legged friends have a lot to discover at the De Slufter nature reserve. Photo: Pixabay
Your four-legged friend will also enjoy the De Slufter nature reserve. This dune area has tidal creeks and a variety of salt-loving plants such as sea thrift, sea meadow grass, sea lavender, sea wormwood, glasswort and sea purslane. Moreover, a number of birds feel at home here, feasting on the crabs and shrimp washed up through the tidal creeks. If a particularly high water level is to be expected at high tide, avoid the area as far as possible as it will be completely flooded. To warm up and relax after a long day at the beach, you can go to any of the beach restaurants that are open all year round, such as Paal 9, Kaap Noord, Paal 17 and Paal 21.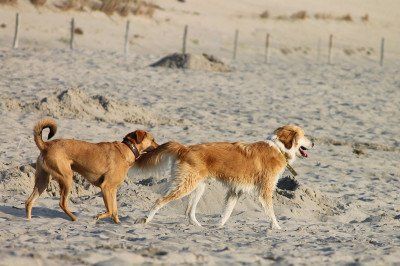 Dogs can play to their heart's content on the sandy beach in Renesse in autumn and winter. Photo: Pixabay
Tip #5: Autumn breeze & culinary delights in Renesse, Zeeland
The Zeeland region is a very popular tourist destination on the Dutch coast. This is true especially of Renesse, a seaside resort that can get extremely overcrowded during the summer months. For this reason, autumn is the best time of year to visit this town in Schouwen-Duiveland, the largest island in the province of Zeeland. There are fewer visitors, leashes are unnecessary on the beaches and both humans and dogs can enjoy the 21 kilometres of beaches. Dogs do not need to be on a leash on the beaches in Renesse from October to April, but they must be kept on a lead from May to September.
Zeeland has many culinary delights in store for foodies. If you want to enjoy some delicacies from the waters of Zeeland after a long walk with your four-legged friend, you'll find a wide range of restaurants in Renesse that welcome dogs and that are also open in autumn and winter. This includes the Strand Café DOK at Strandpark De Zeeuwse Kust – a campsite open all year round, which incidentally also has a separate dog shower to prevent you from ending up with half the beach in your caravan or motorhome after your walk. You can also take a culinary motorhome trip around Zeeland and savour the delicious Zeeland oysters, mussels and crabs elsewhere in the region.
Freeontour campsite tip for Renesse in the low season
In addition to the above-mentioned De Zeeuwse Kust campsite where Freeontour members with a loyalty card can get one free entry to the sauna, the Camping Duinhoeve campsite is also open in autumn and partially in winter (closed in January and February).