Wine, cheese, apples, freshly caught fish, meat and sausages right from the farms and much more: culinary trips around Lake Constance are popular, especially in autumn when visitors have their sights on the many local products they can purchase straight from the producers. Freeontour gives tips for a sustainable motorhome tour around Lake Constance – away from the tourist hustle and bustle.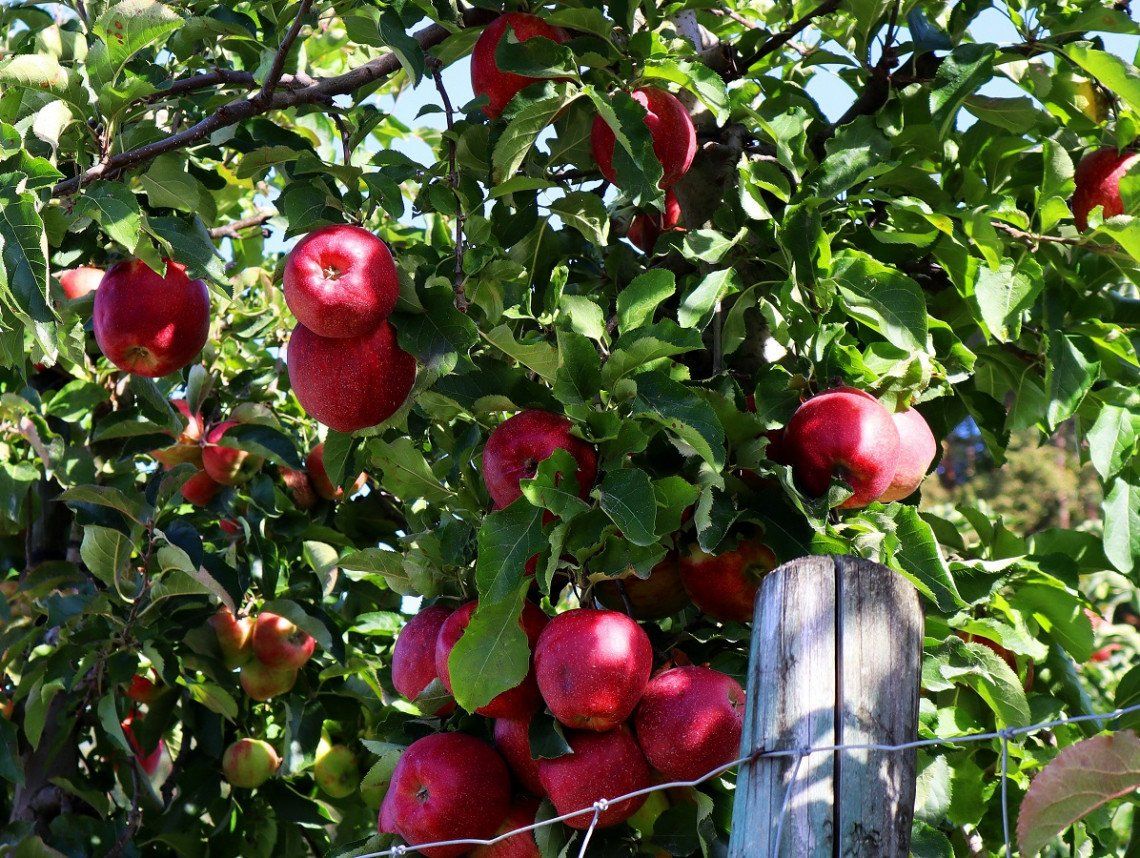 Around 1.6 billion apples are harvested around Lake Constance every year. Photo: Pixabay
Stopover #1: Bodman-Ludwigshafen on the western shore of Lake Constance
Bodman-Ludwigshafen is the ideal starting point for anyone who wants to take it easy. This small double municipality on Lake Überlingen is perfect for excursions into the great outdoors as well as for trips to more touristy destinations. For instance, Überlingen (just under 12 km away) is easy to get to by bike and by boat. You can also cycle to Constance and Mainau Island. Nestled right between the two villages of Bodman and Ludwigshafen, the Aachried nature reserve has a number of hiking trails. The prehistoric museum in Bodman is also worth visiting as you can see some of the world's most amazing fossils on the 180-million-year-old slates dating from the Jurassic period, such as dinosaurs, fish, sea lilies, ammonites and belemnites.

Culinary highlights in and around Bodman-Ludwigshafen
- There are several fruit farms with farm shops in both Bodman and Ludwigshafen, specialising in local seasonal fruit. Some also sell fruit brandies, juices and liqueurs, local vegetables as well as regional baked goods and sausages. Here is an overview of the farm shops in and around Bodman-Ludwigshafen.
- Apple Weeks at Lake Constance between mid-September and mid-October: in autumn, retailers and restaurateurs celebrate the Lake Constance apple – at times with surprising and experimental results. This includes Café Hasler in Bodman where you can enjoy delicious apple cakes as well as hearty delicacies on your very own lakeside terrace. This is also true of the Bodano restaurant in Bodman. Several restaurants in Überlingen create special apple menus during the Apple Weeks, including Landgasthof Keller, a purveyor of slow food with local products.
- Lake Constance Fish Weeks: in September, many restaurants also concentrate on whitefish, perch and carp. Restaurants participating in the Lake Constance Fish Weeks serve three-course meals at a standard price on the western banks of Lake Constance.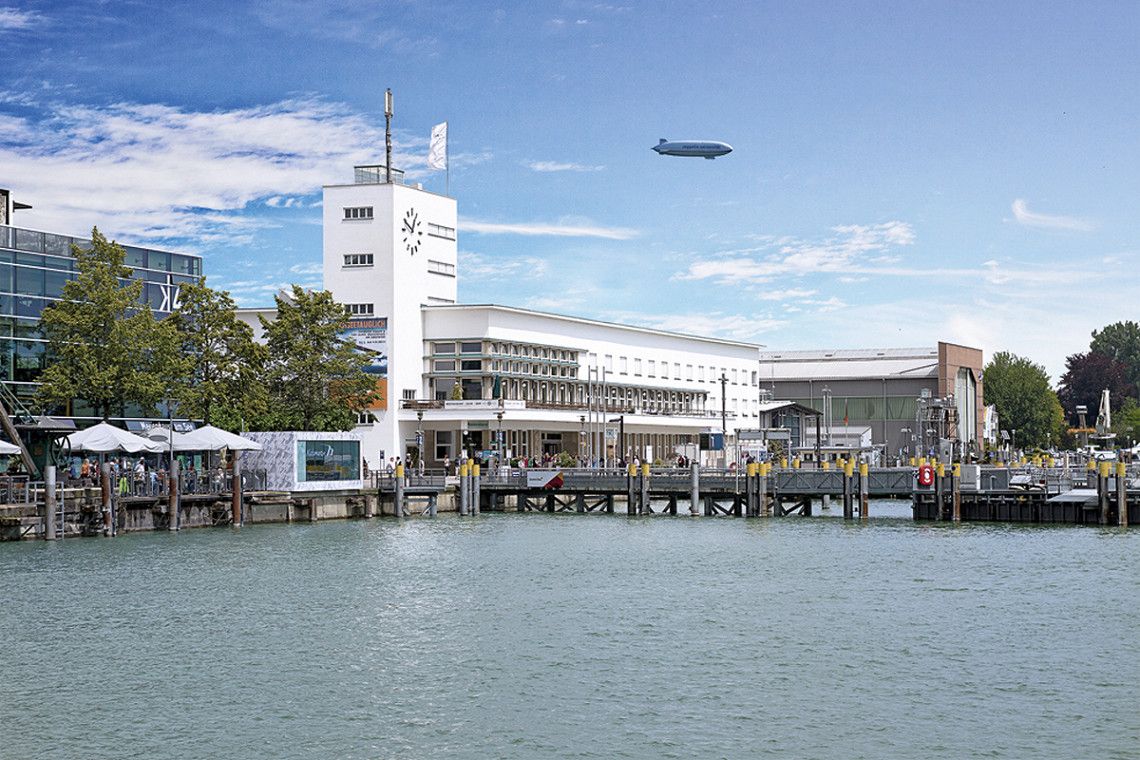 The Zeppelin Museum in Friedrichshafen is located in a former harbour train station from the 1930s with Bauhaus architecture. Photo: id office
Stopover #2: Hops, wine & Zeppelins in and around Friedrichshafen
Beside all the many small, idyllic places dotted around Lake Constance, Friedrichshafen does not necessarily stand out for its beauty. If you're interested in aviation and Zeppelins, then a visit to the Zeppelin Museum is a must. It houses the world's largest aviation collection and a partial replica of the famous LZ 129 Hindenburg Zeppelin that visitors can even board. If you're looking for a unique experience, the museum also offers Zeppelin sightseeing flights from Friedrichshafen, e.g. towards Meersburg or Lindau. But be warned, these flights will really eat into your holiday budget, costing several hundred euros each.

Culinary highlights in and around Friedrichshafen
- Culinary experiences near Friedrichshafen are significantly cheaper – such as at Hopfengut No 20 in Tettnang. Guests can try the beers that they brew in the adjoining restaurant as well as see which dishes they can creatively improve with hop-containing products. Moreover, the small farm museum has a host of information on growing hops. And if you're lucky, you might just catch the autumn hop harvest for an authentic feel.
- The Kressbronn Farmers Path also offers tangible culinary delights, with panoramic views thrown in. This educational trail has information on hops, wine, fruit, berries, geology, forests, cattle and dairy farming in the region at several points along the route. Offering breathtaking views of Lake Constance with its impressive alpine panorama, it goes through orchards, hop fields and grapevines. There is even an edible garden on the trail.
- Farm-reared beef paired with self-brewed beers and traditional regional and sustainable cuisine: you can enjoy as many beers as you want at the Brauereigasthof Schöre restaurant as up to four motorhomes can park here overnight.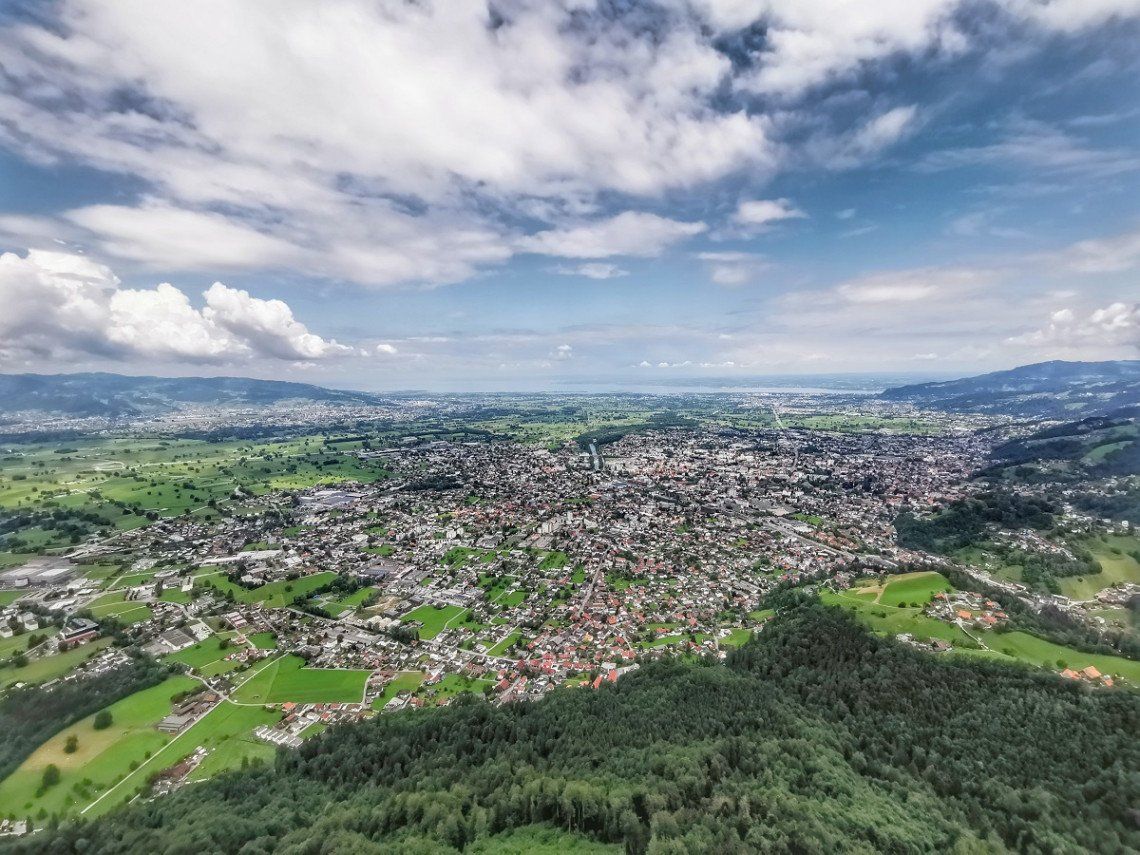 Panoramic view of Dornbirn and Lake Constance from the Karren mountain – you can get up there on foot or by mountain railway. Photo: Pixabay
Stopover #3: Dining with a view in Vorarlberg
If you're going to drive through Vorarlberg on your Lake Constance tour anyway, stock up on local cheese specialities at one of the weekly markets or numerous farm shops in Bregenz or Dornbirn. We also recommend dining with a panoramic view of Lake Constance, e.g. at Panoramarestaurant Karren in Dornbirn or Burgrestaurant Gebhardsberg in Bregenz – it goes without saying that you can combine either experience with a hike. Another tip is Gasthaus Ochsen in Bildstein near the pilgrimage Church of Maria Bildstein. Perched high above the Rhine Valley, this restaurant serves traditional dishes made with food from regional producers and selected Austrian wines. Moreover, you can buy fresh products from local producers from Oxa Lädele next door.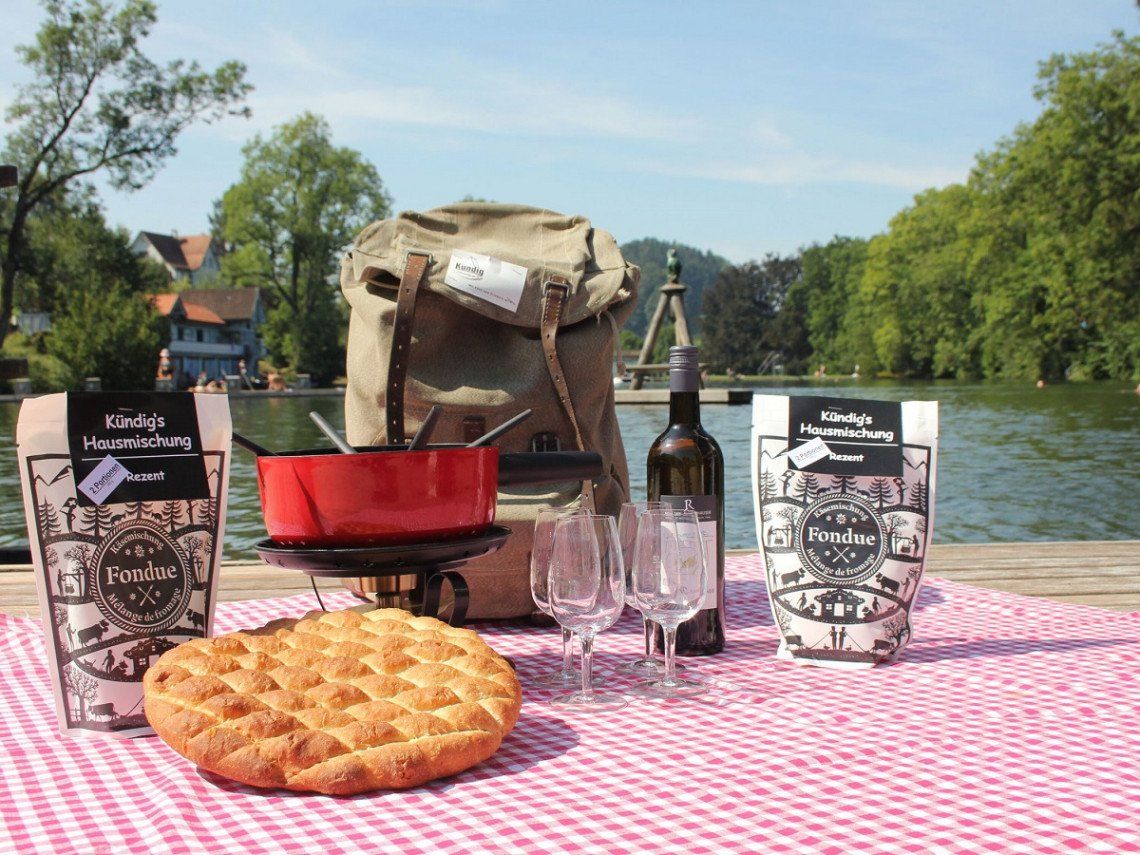 The St Gallen fondue backpack contains everything you need to enjoy a delicious cheese fondue in the great outdoors or a mobile home. Photo: St-Gallen-Bodensee Tourismus
Stopover #4: Cheese fondue & wine in and around St Gallen
The next stop is the St Gallen region on Lake Constance. The city of St Gallen has a high density of restaurants and gourmet shops, making it perfect for a culinary stroll through town. A visit to one of the many "Erststockbeizlis" found on the first floors of historic half-timbered houses in the Old Town is a must. These restaurants serve regional products such as blue potatoes or a "Ribelmais" corn dish. Different grape varieties are grown here, making the Rhine Valley wines exceptional. Wine hiking routes are ideal for anyone who wants to actively learn more about the fine local wines. For instance, the 3.5 km long Rhine Valley Wine Route provides plenty of information on the different grapes and the work in the vineyards and also offers several opportunities to taste the wines, e.g. every Saturday at the House of Wine in Berneck.

Dining experience tip: how about enjoying an original Swiss cheese fondue in your motorhome or the great outdoors? You can pick up a pre-ordered, pre-packed fondue backpack containing a cheese fondue mix, a caquelon pot and food warmer, bread and white wine as well as a tablecloth, forks and glasses from the company Kündig Feinkost in either St Gallen or Rorschach.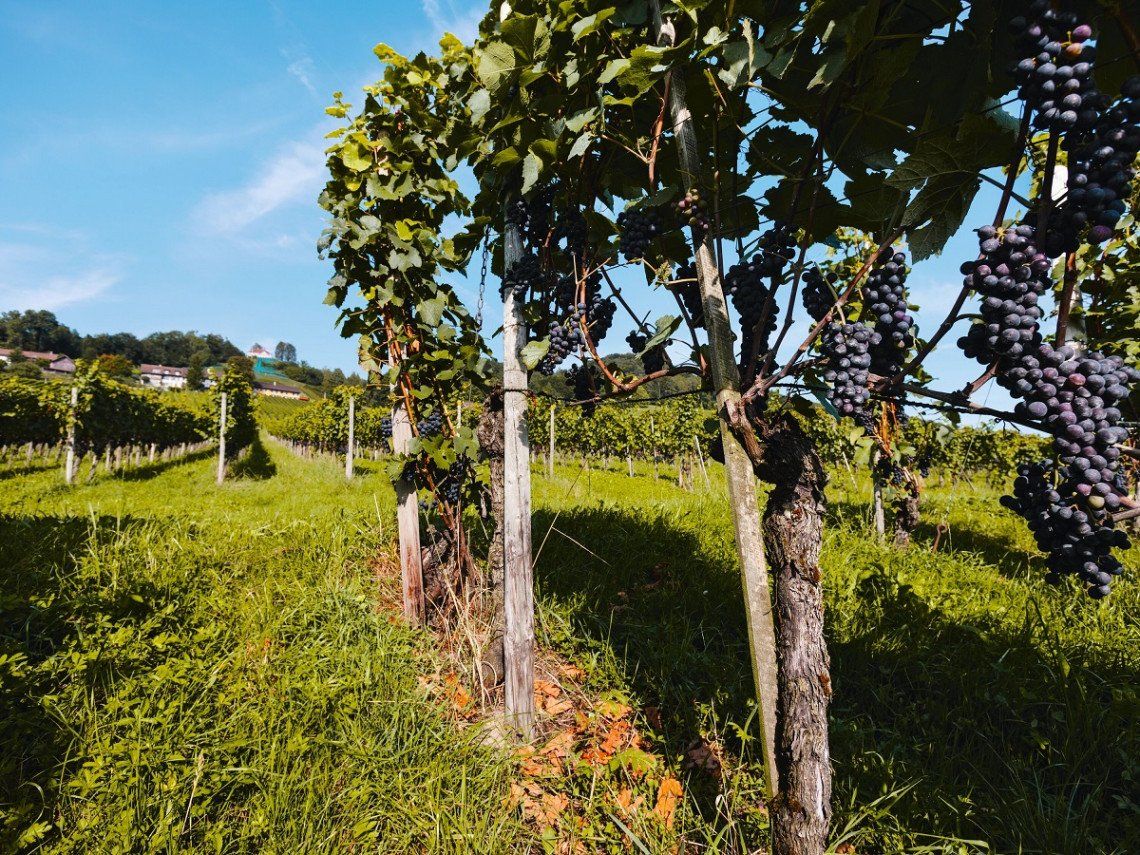 The Weinfelden Wine Trail runs past vine plots with different grape varieties. Photo: Roland Gerth / Thurgau Bodensee Tourismus
Stopover #5: Wine experiences in Thurgau
On the Swiss side of Lake Constance, the canton of Thurgau stretches towards the southwest, its landscape dominated by gentle rolling hills. This region is known for its wines, so it makes sense to devote yourself to its fine wines, e.g. on the Weinfelden Wine Trail. About 9 km long and 200 m in altitude, it runs through the historic town centres and vineyards of Weinfelden, Boltshausen and Ottoberg. Information boards scattered along the path have interesting facts on how grapevines grow, the grape varieties cultivated here, the winemaking process and the local vintners. If you buy a tasting backpack at Weinfelden train station, the starting point, you can even open the wine safe along the trail, which holds various wines for tasting.

There are a number of bars and restaurants in the places along the trail that you can visit, and even some winegrowers open their doors at the weekends. Depending on the weather, you can do other activities as well, such as cycling, paddling or boat tours on Lake Constance in Thurgau. The Hagenwil moated castle, which incidentally houses an excellent restaurant, is also worth seeing.
Finish at the Rhine Falls or in Constance?
You can choose between two destinations to finish your Lake Constance tour, both of which are appealing: the natural spectacle of the Rhine Falls near Schaffhausen beckons as do more wine experiences with Pinot Noir. The Pinot Noir grape is omnipresent here. The small medieval town of Stein am Rhein with its magnificently painted facades is also worth a visit. If you're in the mood for an urban adventure, treat yourself to Constance and one last delicious delicacy accompanied by a view of Lake Constance before heading back home.